Just as the country was coming out of the pandemic lockdown and was ready to spend some money again, the economy started to take a downturn, and interest rates started rising sharply, eventually hitting numbers not seen in 40 years. While people still wanted to get out and shop, they were beginning to feel the impact of inflation and interest rates and to hear the continual talk of a possible recession. Many began to wonder if they should be tightening their belts instead of spending money.
But there is a company that can give consumers an option. Klarna allows consumers to buy now and pay later (BNPL) both online and, in some cases, in a brick-and-mortar store. Klarna customers can choose to split the price of their purchase into four bi-weekly payments with no interest, a monthly payment plan with terms of up to 36 months, with an APR of between 0% and 29.99%.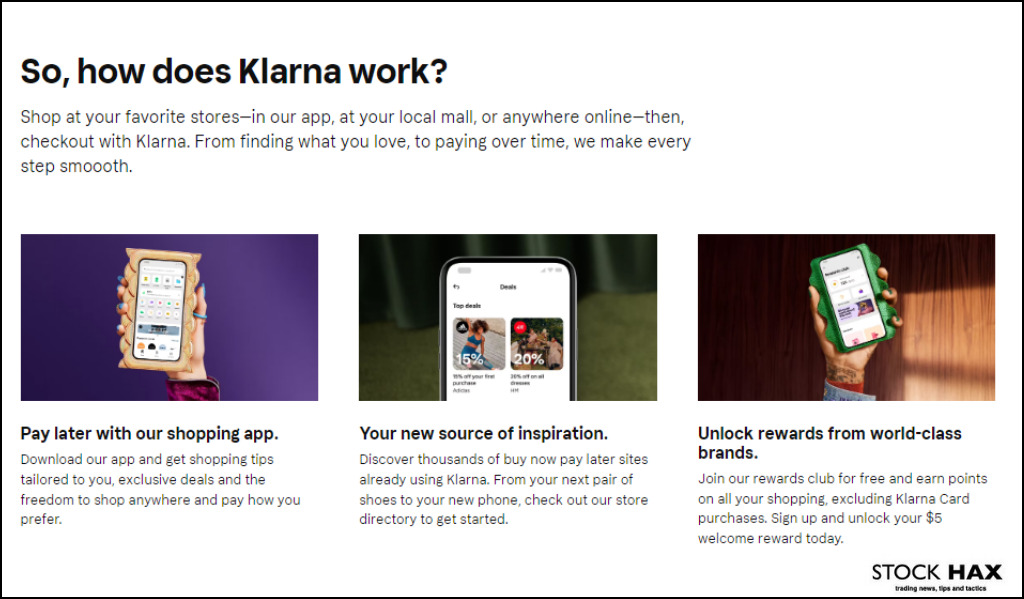 With Klarna's business model, the company can sometimes be paid twice. Once by their retail partner, which pays merchant and interchange fees, and possibly again by the consumer if they pay interest or late fees on the purchase.
Pulling out that credit or debit card is a little easier, knowing you don't have to pay the total amount, or in some cases, any amount, at the time of purchase. And unlike layaway, you can have the product immediately; you don't have to wait until it's been fully paid for. Klarna does perform a soft credit check on potential customers.
The BNPL industry is growing. BNPL accounted for 3.8% of e-commerce transactions in North America in 2021 and is projected to increase to an impressive 8.5% by 2025, making it an intriguing prospect for investors.
At the time of writing, Klarna stock is not available for potential investors to buy as the company is privately owned.
Can You Buy Klarna Stock? Is Klarna Publicly Traded?
Because it's not a public company, Klarna is not listed on any stock exchange. When investors want to research public companies before making an investment, it's easy to do. Most of the information they need is made public by the company or can be found through the SEC (Securities and Exchange Commission). Additional information, including revenue, year-over-year growth, and the number of employees the company has, is just an online search away.
That isn't true for privately owned companies like Klarna. As there is no stock to sell, private companies are not obligated to report or disclose financial or other types of operational information to the SEC or the public. Tax filings are also not a matter of public record, and employees, investors, and in some cases, even customers and partners may not be able to provide this information due to non-disclosure or confidentiality agreements. Given these circumstances, it's difficult and sometimes impossible for interested parties to find information on private companies.
Who Owns Klarna?
Klarna is owned by the Klarna Group, its parent company which was founded in 2005 in Stockholm, Sweden, by Sebastian Siemiatkowski, Niklas Adalberth, and Victor Jacobsson, who were students at the Stockholm School of Economics.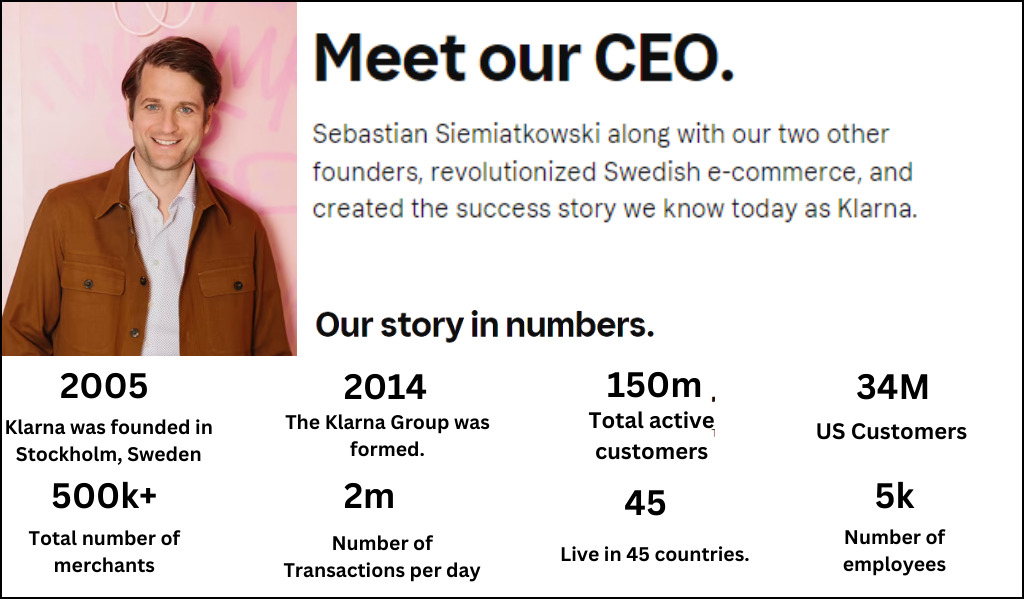 Large investors in Klarna include Sequoia Capital, Ant Group and Atomico, Bestseller Group, Dragoneer, Permira, Silver Lake, and Visa. Sequoia Capital is Klarna's largest shareholder, and Sequoia Partner Michael Moritz is the Chairman of Klarna's board.
Over 31 rounds, Klarna has raised $4.5 billion in funding, the last round taking place in July 2022. Klarna has been funded by 75 investors, the most recent being Canada Pension Plan Investment Board and Disruptive Ventures.
Some of Klarna's notable acquisitions seem to show plans to expand beyond the BNPL business and provide customers with a one-stop-shop experience. Klarna acquired PriceRunner, a price-comparison site, and Inspirock, a travel-planning platform.
Is the Parent Company Publicly Traded?
Neither the Klarna Group nor Sequoia Capital, its largest investors, are publicly traded, but there are companies the group has invested in that are including:
Apple: NASDAQ: AAPL
Google: NASDAQ: GOOGL
PayPal: NASDAQ: PYPL
Zoom: NASDAQ: ZM
Apple and PayPal also happen to be amongst Klarna's biggest competitors.
As the BNPL sector continues to grow, it could indirectly have a positive impact on Klarna's many partnered retailers. Some of the largest ones include:
eBay: NASDAQ: EBAY
Etsy: NASDAQ: ETSY
Macy's: NYSE: M
Visa is another Klarna investor and a well-known company that is publicly traded (NYSE: V).
While there is no way for retail investors to invest directly in Klarna unless or until the company IPOs (Initial Public Offering), investing in the above companies can offer an indirect way to invest in the meantime. The stocks can be bought through online brokers, including TD Ameritrade, Charles Schwab, TradeStation, Fidelity, and Interactive Brokers.
How to Invest in Klarna Stock
While Klarna, the Klarna Group, and Sequoia Capital are private companies, so they do not sell shares, investors can buy shares in affiliated companies that are public, including Visa, Apple, Google, Zoom, eBay, Etsy, and Macy's.
There are also some companies in the BVPL sector that are publicly traded:
Apple (APPL): Best known for its tech products, Apple is moving into the BNPL business with Apple Pay Later. The service allows users to split payments for purchases into four equal amounts spread out over six weeks. Users can track and repay the loans using their digital Apple Wallet. Users can also apply for loans ranging from $50 to $1,000 and use the funds to make in-app and online purchases.
PayPal (PYPL): PayPayl has been in the BNPL business for about three years. Originally, it offered the standard BNPL option of small loans that could be paid in four equal payments over six weeks. Customers will also have the option of installment payments on much larger purchases, from $199 to $10,000, paid off over as long as two years.
Affirm Holdings (NASDAQ: AFRM): Affirm offers BNPL loans ranging from $50 to $25,000 and the option to pay in four equal payments or a monthly payment plan. Experts consider Affirm the biggest gamble among the three named companies but the best bargain with a share price of less than $15 at the time of writing. The company saw a 70% drop in 2022/2023, and the company remains unprofitable. But experts like how quickly the company is growing and believe it is showing signs of continued strength in the industry.
How to Buy the Klarna IPO
Klarna has not yet announced an official date for its IPO, but it's expected to happen sometime in 2023. Klarna is in the process of filing paperwork with the SEC, and reports have indicated that it could be valued at approximately $6.7 billion and that the IPO will happen on the NYSE. Klarna plans to raise up to $800 million in funding prior to launching its IPO.
A Klarna IPO will enable the company to raise more capital, and it's expected the company will use the influx of cash to continue to expand and make additional acquisitions in the e-commerce space, something they have already been doing.
If there is eventually an IPO, these are the steps investors can take to buy Klarna stock:
Create or log into your brokerage account
Search for Klarna or its stock ticker symbol
Choose the number of shares you wish to buy or the dollar amount you want to invest
Place your order
Monitor your trade regularly to make sure it continues to fit into your overall investment portfolio
Klarna Stock Price Chart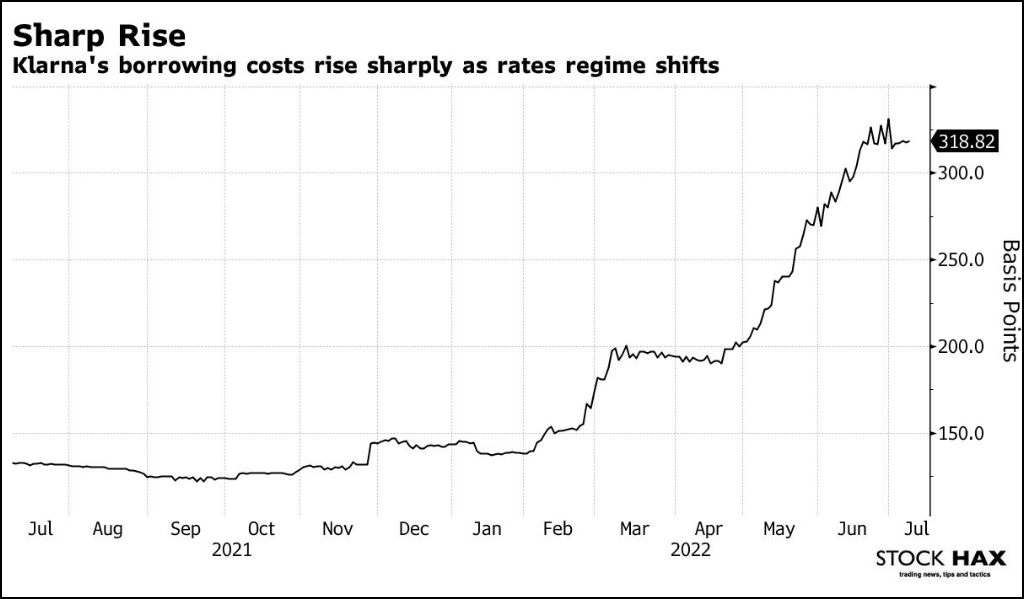 A stock chart can give potential investors a lot of useful information. It will show a stock's current price, historical highs and lows, and trading volumes. Because Klarna is not a public company, there is no stock chart available. This is some information that is publicly available:
Founded: 2005
Headquarters: Stockholm, Sweden
Founders: Sebastian Siemiatkowski, Niklas Adalberth, Victor Jacobsson
Sector: Fintech
Industry: BNPL
Number of Employees: 5,000+
Total Funding: $4.5 billion
Klarna Valuation Estimate: $6.7 billion
Conclusion
Klarna is a big player in the lucrative BNPL space with more than 500,000 retail partners in 45 countries, including well-known brands like Samsung, Ikea, Macy's, Expedia, AliExpress, Saks, and Shopify. Klarna boasts 150 million active users and many positive customer reviews.
While Klarna is privately owned, the company has been at the center of IPO rumors since 2021, a year many companies that had planned to IPO opted instead to wait thanks to poor economic and geo-political conditions. It is taking some of the necessary steps to make that happen. Experts expect a Klarna IPO sometime in 2023.
Giving credence to this rumor, in April 2023, S&P Global gave Klarna an investment-grade credit rating of BBB/A-3 based on the company's ability to maintain and define its competitive position in key markets and keep a strong capital buffer.
This is something of a comeback, as the company had a rocky 2021. The current $6.7 billion valuation is down from its June 2021 valuation of $45.6 billion. Klarna wasn't alone; thanks to the war in Ukraine and rising interest rates, the whole BNPL sector took a hit. This may be a big reason the 2021 IPO didn't happen.
Despite some recent turbulence, a Klarna IPO is worth watching for potential investors who want to gain exposure to the lucrative BNPL sector. The company has solid financials, saw a 219% growth between 2018 and 2022, an investment-grade credit rating, and a huge market presence.
FAQs
What does Klarna do?
Klarna is a buy now, pay later (BNPL) provider that offers consumers a pay-in-four option as well as longer financing options. The pay-in-four plan comes with no interest or fees when payments are made on time. Late fees are charged for missed payments.
Who founded Klarna?
Klarna was founded in 2005 in Stockhom, Sweden by Sebastian Siemiatkowski, Niklas Adalberth, and Victor Jacobsson. The company has offices in two dozen cities across Europe and the United States.
Who owns Klarna?
Klarna is privately owned by The Klarna company but has several large investors, including Sequoia Capital and Visa.
Is Klarna publicly traded?
At the time of writing, Klarna is not publicly traded, but the company is expected to have its IPO sometime in 2023 and has filed paperwork with the SEC to that end.
What is the Klarna stock symbol?
Because Klarna is not yet a publicly traded company, it does not have a stock symbol.
Are there any concerns about Klarna?
Klarna has a lot of competition, including heavy hitters Apple and PayPal. Because Klarna provides financing to customers, it faces a credit risk if enough clients were to default on their payments. The BNPL industry is relatively new, and at some point, regulation could become an issue. Klarna relies on consumer spending money. In a recession, people may be shopping less.
Which stock exchange will Klarna be traded on?
It's expected that Klarna will be traded on the New York Stock Exchange (NYSE).
Risk Disclaimer
StockHax strives to provide unbiased and reliable information on cryptocurrency, finance, trading, and stocks. However, we cannot provide financial advice and urge users to do their own research and due diligence.
Read More