Social Trading
Wide range of assets
Easy to use platform
Pros
eToro's social trading feature allows traders to connect with each other and copy the trades of more experienced traders, making it possible to automate the trading process.
eToro offers a large selection of assets, including stocks, commodities, currencies, and cryptocurrencies, making it a versatile platform for traders.
eToro's platform is user-friendly and intuitive, making it accessible for traders of all experience levels.
eToro has low fees compared to other online brokers, making it accessible to a wide range of traders.
eToro is regulated by top-tier financial authorities, such as the FCA and CySEC, which means that the platform must adhere to strict regulatory policies.
Cons
While eToro offers a wide range of assets, it does not offer all the products that more traditional online brokers do, such as mutual funds or bonds.
When copying other traders on eToro, there is a risk that the trader being copied may make poor decisions, leading to losses for the copier.
While eToro's platform is user-friendly, it may not offer the level of customization that more experienced traders are looking for.
While eToro does offer some research and educational resources, it may not be as comprehensive as what is offered by other online brokers.
eToro Review Highlights

| | |
| --- | --- |
| 💰 Account Minimum | $50 for U.S., $200 for others |
| 💸 Commission Fees | 0% for stocks and ETFs, 1% for crypto, other fees may apply |
| 💼 Investment Options | Stocks, ETFs, CFDs, forex and cryptos |
| 🤖 Robo-Advisor | No |
| 📊 Research and Analysis | Daily market rundowns, social feeds, advanced charting and alerts |
| 📱 Mobile App | Yes, available for iOS and Android devices |
| 🏦 Retirement Accounts | No |
| 🎓 IRA Accounts | No |
| 📈 Trading Platform | Web-based and mobile app, user-friendly and social-oriented |
| 📞 Customer Service | Limited, online ticketing system or help center only |
| 📚 Educational Resources | Comprehensive, videos, podcasts, articles and webinars |
| 🌕 Fractional Shares | Yes, minimum trade amount is $10 |
| 🌱 Socially Responsible | No |
| 🌎 International Investing | Yes, available in over 140 countries with varying features |
| 💳 Cash Management | No |
| 🔍 Margin Trading | Yes, up to 30:1 leverage for CFDs depending on the asset and regulation |
| ⚙️ Options Trading | No |
| ₿ Cryptocurrency Trading | Yes, 30+ cryptos available with copy trading features and crypto wallet option |
| 🛡️ Account Security | High, two-factor authentication, SSL encryption and segregated accounts for client funds |
| 💹 Leverage | Up to 30:1 for CFDs depending on the asset and regulation |
| ⚖ Regulation | Regulated by multiple authorities such as FCA, CySEC and ASIC depending on the region of operation |
Online brokers can be a one-stop solution for traders who prefer hassle-free trading over conventional mediums. These brokers provide a platform for individuals to trade stocks, bonds, options, and other securities over the Internet. The major advantage they have over old-school trading brokerage is the advanced tools such as real-time market data, charting, and research. Along with these trading options, they also allow investors to place trades quickly and easily.
One of the similar trading platforms is eToro. The online brokerage was founded in 2007 in Israel with a vision to enable convenience in trading and revolutionize the trading industry through advanced trading options.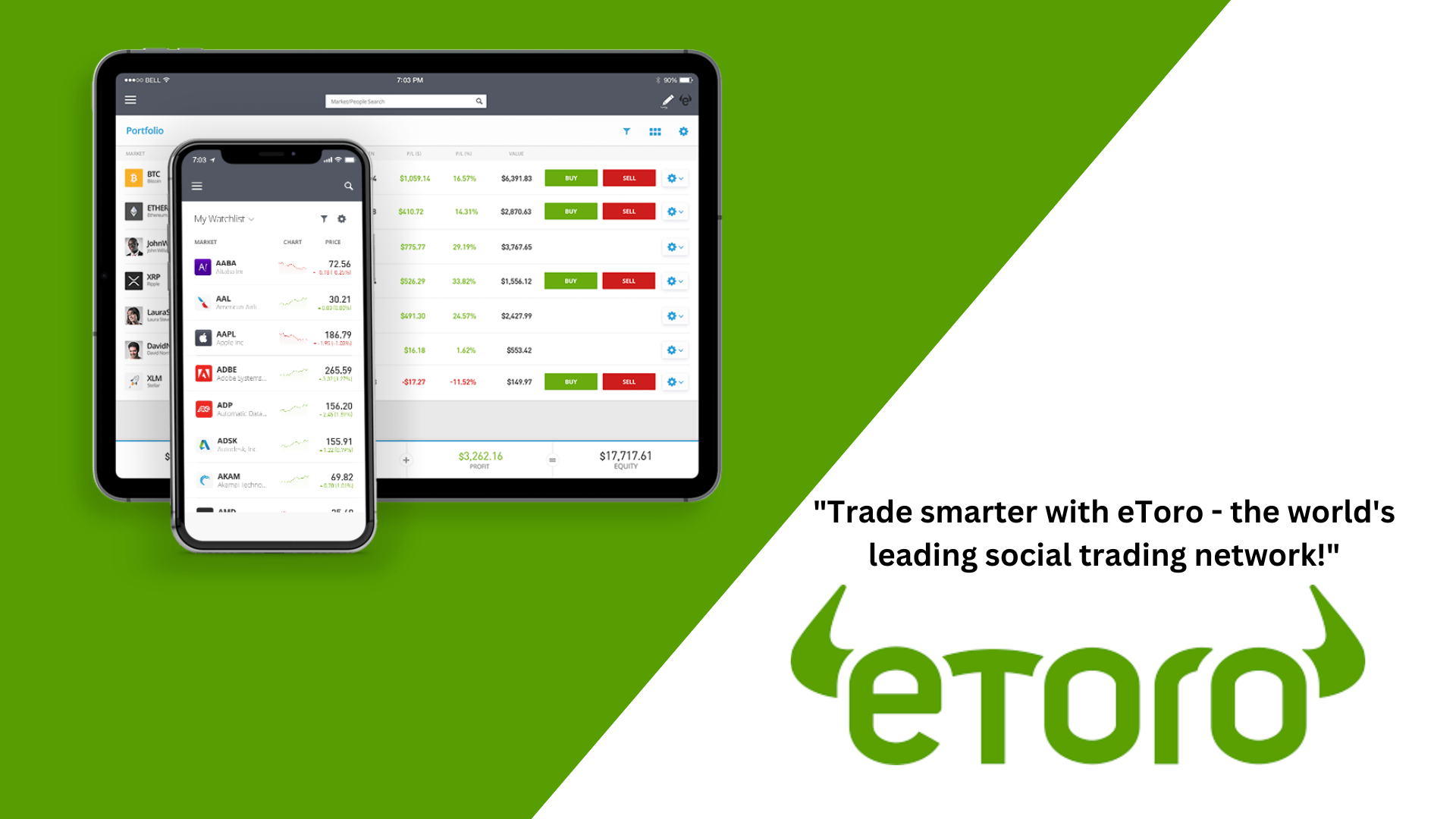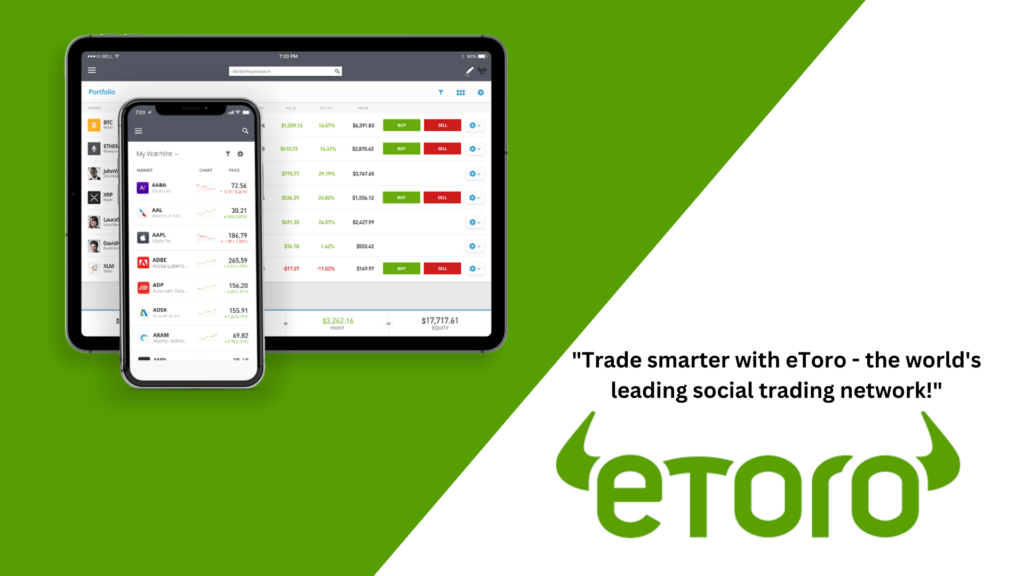 Key Points
1. Trading Platform: eToro is well known for its user-friendly interface. It also allows you to trade in multiple asset classes, including crypto & NFTs, stocks, commodities, indices, etc., from a single account.
2. Fees & Commission: eToro charges a 1% commission fee for the sale and purchase of cryptocurrencies. They ask for zero commissions when stocks are traded on the platform; however, you must pay the bid/ask market spread, FX conversion, withdrawal, and inactivity fees, depending on your trade.
3. Leverage: The company offers different leverage limits depending on the location from where you are trading.
For eToro Seychelles (LTD):
Upto x400 for currency exchange.
X100 for Gold and other commodities.
x50 for non-major currency pairs.
x10 for non-major indices, CFD stocks, and ETFs.
x5 for CFD crypto assets.
For eToro UK, Europe, and AUS LTD:
Upto x30 for currency trades.
x10 for commodities other than Gold and non-major equity indices.
x5 for CFD stocks and ETFs and x2 for digital assets.
4. Platforms & Tools: eToro brings traders a wide range of advanced options that can help create quality trading strategies. Some of its unique functionalities include the Copytrading function, Insurance, a Free 100k trading account, and Ready-made investment strategies.
5. Account opening & deposit/withdrawal experience: You simply need to sign up, add all of your information, deposit the trading amount, and get started. The brokerage offers a variety of withdrawal methods depending on the country you are in. However, eToro charges conversion fees if you deposit/withdraw in any currency other than USD.
6. Customer service & support: If you are an existing user on eToro, you get priority support. Some support options include live agents, telephone numbers, and customer support email.
7. Education & learning resources: eToro offers a dedicated learning space for traders. The eToro academy comprises video content, articles, whitepapers, etc., for both beginners and advanced-level traders.
8. Research & analysis: eToro contains real-time market data for all asset classes and has advanced tools to help create investment strategies based on the analysis.
9. Regulatory compliance & security: The platform follows and is in-compliant with SEC and FINRA in the US. Likewise, it follows the regulations of entities of specific countries where the company operates.
10. Mobile trading: eToro's mobile application offers all the features you can find on a personal computer. The UI is user-friendly, allowing the trader to remain aware of what's happening with their portfolio.
Overview of Popular Online Brokers
Investing and trading through online brokers can bring several benefits. One major benefit is the ease of trading and the convenience of managing your portfolio from your mobile device. With online brokers, you can easily manage and access your investment portfolios with an internet connection. You also can trade in different options funds with your single account. Opening an account with online brokers is a simple process, and you can start trading with real-time data in just a few steps. Let's take a look at some of the popular online brokers with their key features.
An In-Depth Review of eToro
eToro was founded in 2007 by brothers Yoni Assia and Ronen Assia, along with David Ring. eToro started as a simple forex trading platform but quickly expanded to include other financial instruments such as stocks, commodities, and indices. In 2011, eToro received a $27 million investment from Spark Capital and launched its mobile trading app for iOS and Android. Let's discuss the online broker eToro in detail.
Account Types
eToro offers different account types to its clients. Some are based on your choice, while others depend on certain factors that make you eligible or ineligible for that account.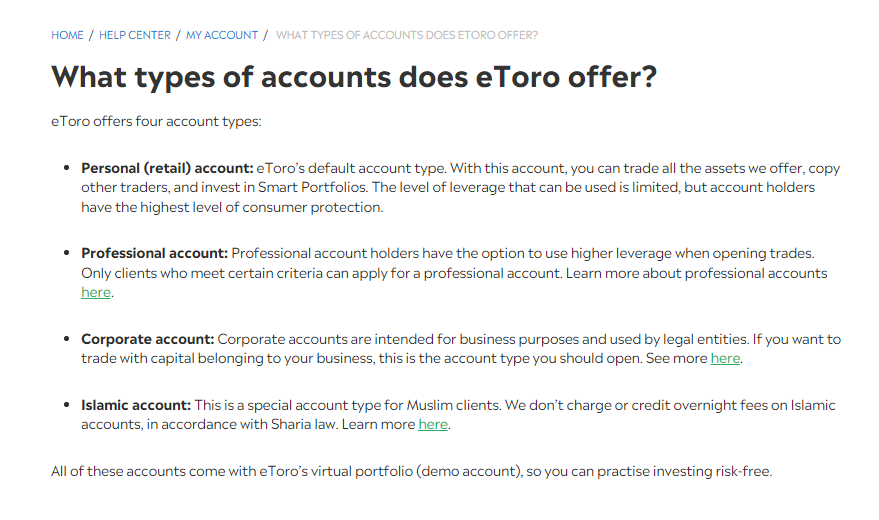 i. Personal Account
This is the retail account offered to the clients by default as they join the platform. The account is perfect for people who have trading experience but are new to the platform.
ii. Professional Account
eToro offers this account type to people who have been trading on the platform for some time, have larger account balances, and trade frequently. This account is only offered to users who are eligible for it and meet specific criteria. The professional account brings several benefits, including higher leverage than normal accounts.
iii. Islamic Account
This is a special account type offered to Muslim clients. With this account type, eToro's services remain in compliant with Shariah laws.
iv. Corporate Account
Corporate Accounts are for people who trade for their businesses.
v. Demo Account
eToro offers a demo account for people willing to learn the platform and do paper trading with the amount offered. This account type offers a dummy amount of $100,000 for people to trade.
Investment Options
The best thing about eToro is the diverse range of investment opportunities for retail and institutional investors.
Stocks: eToro allows users to buy and sell stocks from a variety of exchanges around the world, including the NYSE, NASDAQ, and LSE.
Digital Assets: eToro allows users to invest in crypto and NFTs. Users can also invest in cryptocurrency through eToro's CryptoPortfolio, which allows them to diversify their investments across multiple cryptocurrencies.
Commodities: eToro offers trading in various commodities, including gold, silver, oil, and natural gas.
Indices: You can also invest and trade in different indices, including the S&P 500, Nasdaq, and FTSE 100.
ETFs: eToro offers a variety of exchange-traded funds, which allow users to invest in a basket of assets, such as stocks or bonds, with a single trade.
Currencies: eToro allows trading in currency pairs, including major pairs like EUR/USD, GBP/USD, and AUD/USD, as well as minor and exotic pairs.
CopyPortfolio: eToro's copy portfolio is one of the company's unique features, which allows users to invest in a diverse portfolio of assets, such as stocks, commodities or ETFs, that is managed by eToro's investment committee.
Tools Offered
eToro offers a variety of tools that can help increase the accuracy of your trade.
Social Trading: eToro's social trading feature allows users to view and copy the trades of other successful traders on the platform. This can be a useful tool for novice traders who want to learn from more experienced traders.
Market News Feed: eToro's market news feed provides real-time market updates and news, which can help users stay informed about important market developments.
Charting Tools: eToro offers a variety of charting tools, including technical indicators and drawing tools, to help users analyze market trends and identify trading opportunities. These tools are beneficial for technical analysis and DCAs as per the trading strategies.
Trading Alerts: With eToro, you can always remain aware of the latest market trends by enabling the alerts on your mobile phone.
Virtual Trading: eToro's virtual trading feature allows users to test different trading strategies and get a feel for the platform without risking real money.
Cryptocurrency Wallet: eToro has its own cryptocurrency wallet, allowing users to securely store and manage their cryptocurrencies.
Research Resources
eToro invests a lot in its research resources to ensure clients get a good value on the platform and make informed trading decisions. Here is what eToro research resources consist of.
1. Market News and Analysis: eToro provides its users with real-time market news and analysis, as well as daily, weekly, and monthly market reports. These resources can help users stay informed about important market developments and identify potential trading opportunities.
2. Economic Calendar: eToro provides an economic calendar that lists upcoming economic events, such as interest rate decisions, GDP releases, and earnings reports. This can help users anticipate market movements and plan their trades accordingly.
4. Research Reports: eToro provides research reports on different financial instruments, including stocks, commodities, and currencies, which can help users understand the fundamentals of the markets they are trading in.
5. Educational Materials: eToro provides a variety of educational materials such as e-books, videos, and tutorials to help users learn about different trading strategies and market analysis.
Fees
eToro charges a variety of fees for its services, including trading fees, withdrawal fees, and inactivity fees. The fees charged by eToro can vary depending on the type of account, the asset being traded, and the user's country of residence.
Mobile App Availability
eToro's mobile app is a feature-rich platform that allows users to trade and manage their accounts. The company has invested a lot in its mobile application to ensure it is feature rich similar to the web application of the company.
With eToro's mobile app, users can remain informed about their investment portfolio and current market situation. The user interface of eToro's mobile application is simple and user-friendly, allowing the clients to even take trades from the touch of their smartphones. Some of the other features like market alerts, trading signals, and charting tools even give eToro's mobile app a slight edge over the actual web application.
Customer Service
eToro is known for providing high customer service to its clients. The company has a dedicated customer service team that is available to assist users with any questions or concerns they may have.
Conclusion
eToro is an online brokerage firm that provides individuals with tools, resources and education to help them make informed decisions for trading or investing. Its copy trade feature is a unique tool that allows beginner traders to copy trade templates of experienced traders and remain profitable.
Online brokers are beneficial for both professional and beginner traders. The process of getting started with your trading platform is pretty straightforward. You can choose from a diversified range of asset classes. That said, choosing an online broker can be tricky as multiple brokers are operating, and only a few of them remain in compliance with the relevant regulatory bodies. eToro is an online broker that charges a relatively high fee compared to other online brokers. This may be relevant to consider when looking for an online broker.
Risk Disclaimer
StockHax strives to provide unbiased and reliable information on cryptocurrency, finance, trading, and stocks. However, we cannot provide financial advice and urge users to do their own research and due diligence.
Read More