This website and its content are not intended to provide professional or financial advice. The views expressed here are based solely on the writer's opinion, research, and personal experience, and should not be taken as factual information. The author is not a financial advisor and lacks relevant certifications in that regard. We highly recommend consulting a qualified financial advisor before making any investment decisions, as the information presented on this site is general in nature and may not be tailored to individual needs or circumstances.
Low Commissions and Low Account Minimums
One of the services provided by the USAA is its insurance coverage, but since the 1980s they have also offered brokerage services to its customers. In particular, USAA mutual funds seem to be relatively popular and well-regarded, given the company's affordable commissions and decent research tools.
We take a look at USAA mutual funds to see how they fare.

Military-centric trading solution for members and families
No commission-free ETFs
Low account minimums
Pros
Highly ranked customer service
Broker-assisted market orders
Affordable, but not industry-low, commission trades
Low account minimums
Cons
No commission-free ETFs
Can find lower rates elsewhere
USAA Mutual Funds Highlights

| | |
| --- | --- |
| 💰 Account Minimum | $0 |
| 💸 Commission Fees | $0 for USAA Mutual Funds, other fees may apply for other investment products |
| 💼 Investment Options | USAA Mutual Funds, stocks, bonds, options, ETFs, CDs |
| 🤖 Robo-Advisor | USAA does not offer a robo-advisor service |
| 📊 Research and Analysis | USAA provides comprehensive research and analysis tools including market news, data, and analysis from Morningstar, S&P Global, and CFRA |
| 📱 Mobile App | USAA provides a highly rated mobile app that allows customers to manage their accounts, deposit checks, and trade securities |
| 🏦 Retirement Accounts | USAA offers Traditional, Roth, and SEP IRAs, as well as 401(k) and pension plans |
| 🎓 IRA Accounts | USAA offers Traditional, Roth, and SEP IRAs |
| 📈 Trading Platform | USAA's trading platform is intuitive and user-friendly, providing customers with real-time quotes, customizable charts, and advanced trading tools |
| 📞 Customer Service | USAA's customer service is highly rated and available 24/7 via phone, email, and chat |
| 📚 Educational Resources | USAA provides a range of educational resources including articles, videos, and webinars to help customers make informed investment decisions |
| 🌕 Fractional Shares | USAA does not offer fractional shares |
| 🌱 Socially Responsible | USAA does not offer any ESG or SRI funds. |
| 🌎 International Investing | USAA does not offer any global or international funds. |
| 💳 Cash Management | USAA does not offer any cash sweep or money market account options. |
| 🔍 Margin Trading | USAA does not support this feature. |
| ⚙️ Options Trading | USAA offers options trading for qualified customers |
| ₿ Cryptocurrency Trading | USAA does not offer cryptocurrency trading |
| 🛡️ Account Security | USAA has strong account security measures including two-factor authentication, biometric login, and fraud protection |
| 💹 Leverage | USAA offers leverage for qualified customers |
| ⚖ Regulation | USAA is regulated by the US Securities and Exchange Commission (SEC), the Financial Industry Regulatory Authority (FINRA), and other regulatory bodies. It is a member of the Securities Investor Protection Corporation (SIPC) and the National Futures Association (NFA). Additionally, it is licensed and regulated by state securities agencies and insurance regulators in all 50 states. |
What are USAA Mutual Funds' Main Features?
USAA (United Services Automobile Association) is a Fortune 500 company, started in 1922, that typically deals with providing financial services to military members and their families. Normally, these services include USAA banking and USAA insurance, but they also have investment options.
Any of USAA's 11.2 million members can invest in most common types of asset classes through the service, whether they be stocks, bonds, futures, options and even forex trading. To that end, they provide a full-service investment solution for a variety of citizens who have served in the military.
However, mutual funds are a particular strength for USAA membership — their award-winning mutual funds are easily customized by their members, who are allowed to choose among a number of different fund options within their platform. And there are dozens of funds rated four or five stars by Morningstar. USAA also offers an online tool to give customers recommendations for which funds to invest in, or customers can select their own mix of mutual funds.
Most trading is done through USAA's website, which is decently functional for its measured scope. There, you can find third-party research from Standard & Poor's to inform your decisions, interactive charts, and screeners, but this isn't anything you can't find with most other firms. Some design issues with the website may also make it a bit difficult to trade on occasion.
That said, USAA still provides tremendous features for anyone already using USAA, including mobile access to trades, free automated phone trades, and 24/7 customer service. What's more, as part of the USAA membership customers have the ability to visit the branches and receive the required support from the customer service representative
For most USAA members, it simply makes the most sense to trade with the same company that insures them and handles their banking, meaning that the main reason for investing with them is due to convenience. While this may not be enough for most non-members, the streamlining of your banking/investment solutions makes going with USAA worthwhile.
In fact, as with any other financial service provider there are certain fees applicable with USAA when it comes to ETF investing
IRA Accounts
An IRA account is an individual retirement account that helps you save for retirement with tax advantages. There are two main types of IRA accounts: traditional and Roth.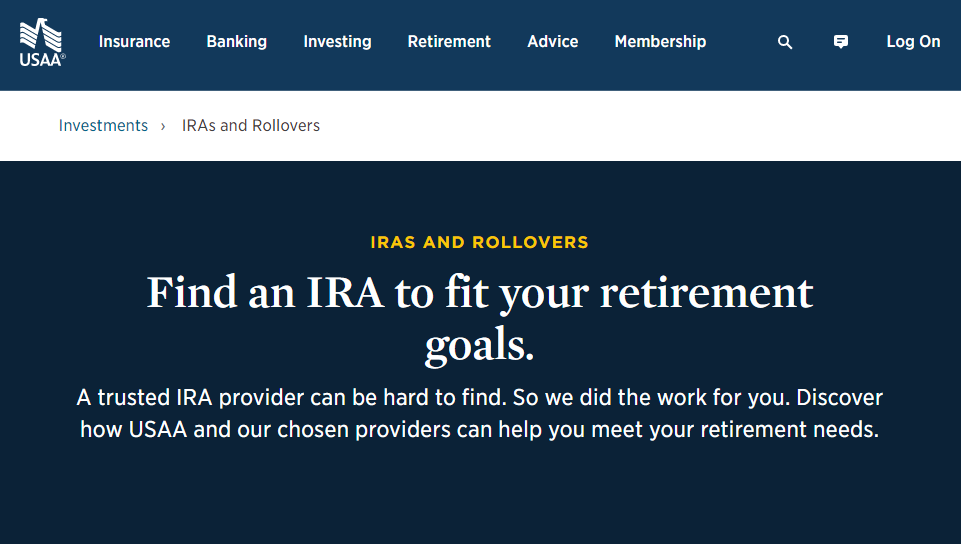 A traditional IRA allows you to make pre-tax contributions, which means that you can deduct your contributions from your taxable income in the year you make them. This lowers your current tax bill and lets your money grow tax-deferred until you withdraw it in retirement. However, when you withdraw money from a traditional IRA, you have to pay income taxes on your distributions.
A Roth IRA allows you to make after-tax contributions, which means that you pay taxes on your income before you contribute to your account. This means that you don't get a tax deduction in the year you make them, but your money grows tax-free and you can withdraw it tax-free in retirement. However, to contribute to a Roth IRA, your income has to be below certain limits.
USAA offers both traditional and Roth IRA accounts through its partners Schwab and Victory Capital. You can choose from a variety of investments such as mutual funds, stocks, bonds, ETFs or annuities. USAA also offers other types of retirement accounts such as SEP and SIMPLE IRAs for small businesses and self-employed individuals.
With USAA's IRA accounts, you can enjoy low or no fees , flexible contribution limits , easy rollovers from other retirement plans , and access to online tools and resources . You can also get guidance from financial advisors if you need help with planning your retirement goals.
Retirement Accounts
Retirement accounts are accounts that help you save and invest for your retirement. They usually have tax benefits and special rules that make them different from regular savings or investment accounts.
USAA offers various types of retirement accounts through its partners Schwab and Victory Capital. Some of the most common retirement accounts are:
• IRA accounts: These are individual retirement accounts that allow you to make contributions with tax advantages. You can choose between traditional or Roth IRAs depending on your income and tax situation. You can also rollovers money from other retirement plans such as 401(k)s or 403(b)s into an IRA account.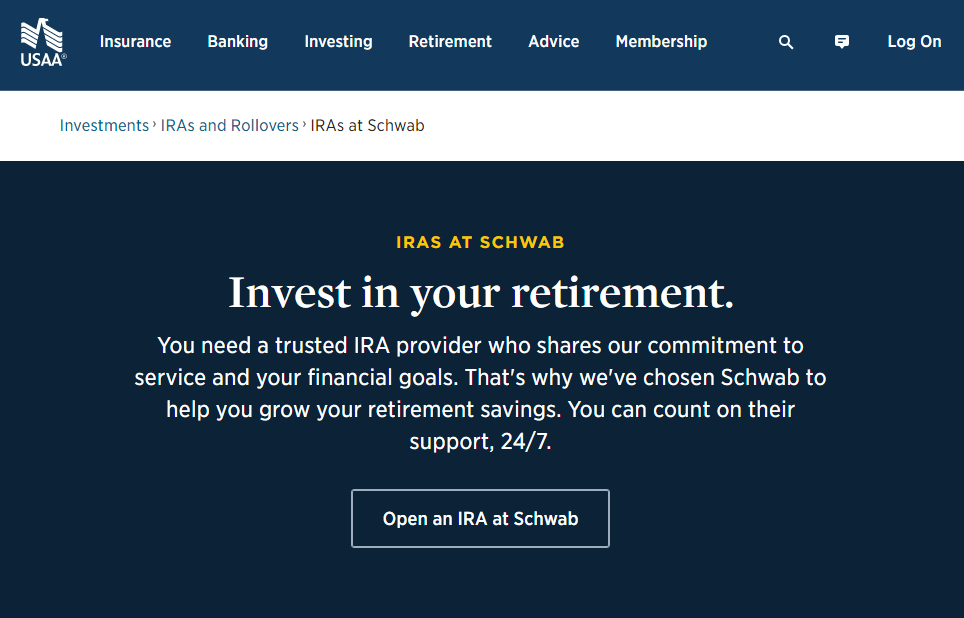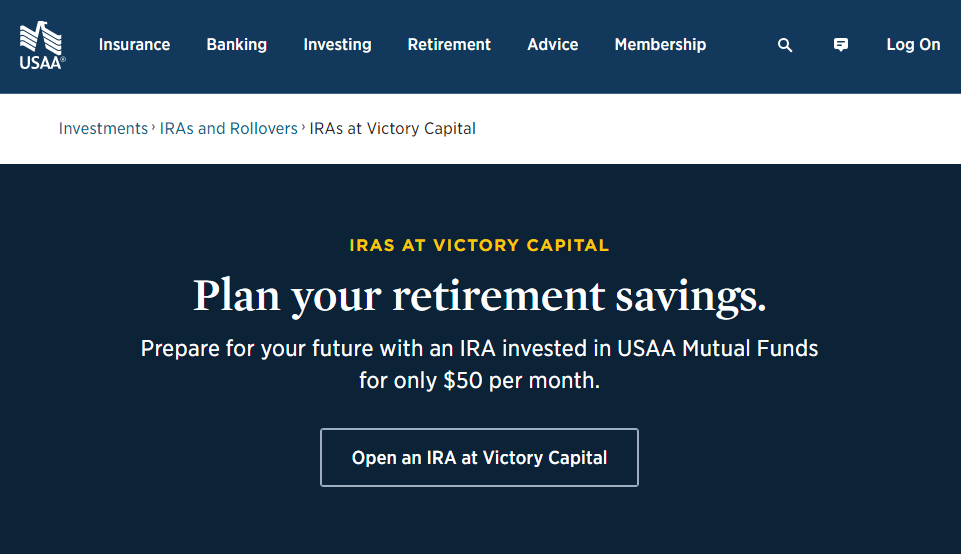 • 401(k) plans: These are employer-sponsored retirement plans that allow you to make pre-tax contributions from your paycheck. Your employer may also match some of your contributions or offer other benefits. You can choose from a variety of investments within the plan and enjoy tax-deferred growth until you withdraw money in retirement.
• Solo 401(k) plans: These are similar to regular 401(k) plans but designed for self-employed individuals or small business owners who have no employees other than themselves or their spouses. They allow you to make both employee and employer contributions with higher limits than regular IRAs.
• SEP IRAs: These are simplified employee pension plans that allow self-employed individuals or small business owners to make contributions for themselves and their employees with tax advantages. They have higher contribution limits than regular IRAs but lower administrative costs than 401(k) plans.
• SIMPLE IRAs: These are savings incentive match plans for employees that allow small businesses with fewer than 100 employees to offer retirement benefits to their workers. They require employers to either match employee contributions up to a certain percentage or make non-elective contributions for all eligible employees.
USAA also offers other types of retirement products such as annuities , which are contracts that provide guaranteed income streams in exchange for a lump sum payment or periodic payments . You can purchase an annuity through USAA Life Insurance Company.
With USAA's retirement accounts, you can enjoy low or no fees , flexible contribution limits , easy rollovers from other retirement plans , and access to online tools and resources . You can also get guidance from financial advisors if you need help with planning your retirement goals .
How Do You Open a USAA Mutual Funds Account and What are the Requirements?
USAA members can easily qualify for investment and brokerage accounts, but you or a family member has to have a history of military service in the United States Armed Forces. If you do, you can easily fill out the online form available on their website.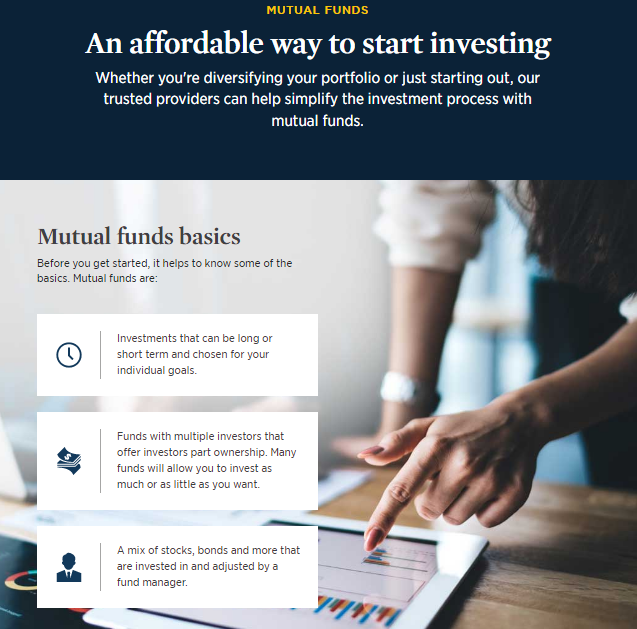 For the most part, this just involves basic information like your name, email address, employment information, your service information and history, income, and investment goals. Once those are complete, your account is set up, and you can start trading.
As previously mentioned, there is no account minimum required for an initial investment, so members can start as low as they'd like and work from there.
It must be said, however, that USAA has reportedly been pushy on occasion with customers to get them on managed accounts. While that might sound nice, managed accounts require a 1% management fee to keep operating, which can be a bit too pricey for many of their customers.
What Are the Rules for Trading on USAA Mutual Funds?
Customers are able to take advantage of USAA's research tools when making trades. On the whole, these features are helpful but somewhat lacking in comparison to most of their competitors. USAA offers real-time data analysis software, and free research reports on stocks, which is often enough for its members; however, more experienced traders may want to look elsewhere for a more robust set of features.
When trading with USAA mutual funds, the fee structure is actually fairly reasonable. Each trade comes with a low $5.95 trade commission (with $0.75 per contract for options trading), with no annual account or inactivity fees. There is no minimum initial deposit, which can lift the burden from military members who don't have much with which to start investing.
Other advantages for USAA mutual fund trading are the relative lack of fees compared to other brokerage firms out there. When it comes to service fees, USAA doesn't charge for after-hours trading, penny stocks, account transfers or account maintenance.
The expense ratios for USAA's top three mutual funds, in order, are:
Capital Growth Fund: 1.23%
Science and Technology Fund: 1.18%
Virginia Bond Fund: 0.60%
These are fairly reasonable ratios, and USAA members only pay 0.89% in fees to invest.
USAA provides additional features for the USAA Gold Plan subscribers that are available for additional fees. USAA provides a wide range of services for its clients such as trading, banking, and insurance which clients can leverage if those meet one's requirements. While this is somewhat made up for by smaller additional fees, this can really hurt your overall expenditures depending on how often you trade.
If you are a really active trader, USAA's Platinum Plan can get you discounted commissions if you meet certain minimums for trading.
What Kind of Traders are USAA Mutual Funds Best For?
As previously stated, these services are typically open to USAA members, which are mostly members of the military and their families. However, this makes it difficult for those outside of the military circle to trade with them, so most other kinds of traders should find other solutions for their investment portfolios.
USAA provides a wide range of services for its clients such as trading, banking, and insurance which clients can leverage if those meet one's requirements. It cannot be overstated how much easier it is to combine all three of your major financial concerns under the same roof in terms of time and money spent; if you already bank with USAA, it'll pay off to keep that up with your investments.
Beginner traders, in particular, may find USAA's mutual funds easy to use. Because of USAA's starter funds, beginning investments can start saving for their future or retirement goals for as little as $50, provided they add automatic $50 investments each month. The simplicity of USAA's trading tools and features would also not appeal much to experienced traders.
Not only are beginner traders drawn to USAA's low-effort setup, but this more relaxed approach to investing appeals to relatively inactive investors who want to be more hands-off with their trading. If you're the kind of trader who wants to just find an investment plan that works with you and leave it alone for a while, USAA is one of the platforms available for investors to choose from based on their needs.
Customers who trade with them benefit from high quality mutual fund offerings, but the fees can often be a bit too high compared to other firms. To that end, customers who are singularly focused on finding the lowest commissions have plenty of other options to choose from.
Other Good Products
If you want a more robust trading experience with even lower trades than those for USAA funds, TradeKing might be a good alternative. They offer $4.95 trades on stocks and options, and happily beat USAA's features with a highly featured online trading platform and quality research tools.
If you're not a member but are interested in brokerages with flat fee structures, consider Vanguard. Vanguard charges $7 per trade (though options trading is a very high $20 per order).
Those who want to do simple, hands-off trading without the hassle of a full-fledged trading platform can also take advantage of modern technology like apps. Acorns, for instance, is an app-based investment solution that simply connects to your debit/credit cards and a bank account, rounding up purchases and putting that change in an investment account.
A Few Final Thoughts
When it comes to mutual funds, USAA's selection and performance has been highly acclaimed, with more than 35 Lipper Awards across three of their mutual funds. They have a combined total of $66 billion in assets spread across 50 different mutual funds, offering a wide range of options for investors of all types.
USAA's reputation as a credible, long-running bank that serves America's military members and their families lends a great deal of security to their accounts, making it a pretty safe bet for just about anyone who might want to invest with them.
As they've been in business for almost 100 years, USAA has earned consistently high marks for their high quality mutual funds, and quite a few of them have five-star Morningstar ratings, some of them for a decade running. These include the Science & Technology Fund (USSCX), World Growth Fund (USAWX), and the S&P 500 Index Fund (USPPX). If you invest with USAA, it might pay off to give these funds a look.
Since non-military members can trade with USAA, you can rest assured that you can have access to some of the lowest commission fees in the business, even though their features set isn't exactly the most bountiful. Even so, USAA offers mutual funds as well as other financial products that clients might use if found suitable and in line with their requirements.
Risk Disclaimer
StockHax strives to provide unbiased and reliable information on cryptocurrency, finance, trading, and stocks. However, we cannot provide financial advice and urge users to do their own research and due diligence.
Read More