This website and its content are not intended to provide professional or financial advice. The views expressed here are based solely on the writer's opinion, research, and personal experience, and should not be taken as factual information. The author is not a financial advisor and lacks relevant certifications in that regard. We highly recommend consulting a qualified financial advisor before making any investment decisions, as the information presented on this site is general in nature and may not be tailored to individual needs or circumstances.
Rumble is an online video platform, web hosting, and cloud services company best known for its conservative-leaning content. The platform allows creators to host, livestream, and distribute content as well as monetize it.
The company was founded in Canada in 2013 by Chris Pavlovski, a Canadian tech entrepreneur, and is headquartered in Toronto, Ontario, Canada, with U.S. headquarters in Longboat Key, Florida.
Some of the most followed accounts on Rumble include Donald Trump, Donald Trump Jr, Andrew Tate, Ben Shapiro, and Sean Hannity. The company went public in September of 2022 and is listed on NASDAQ under the ticker symbol RUM.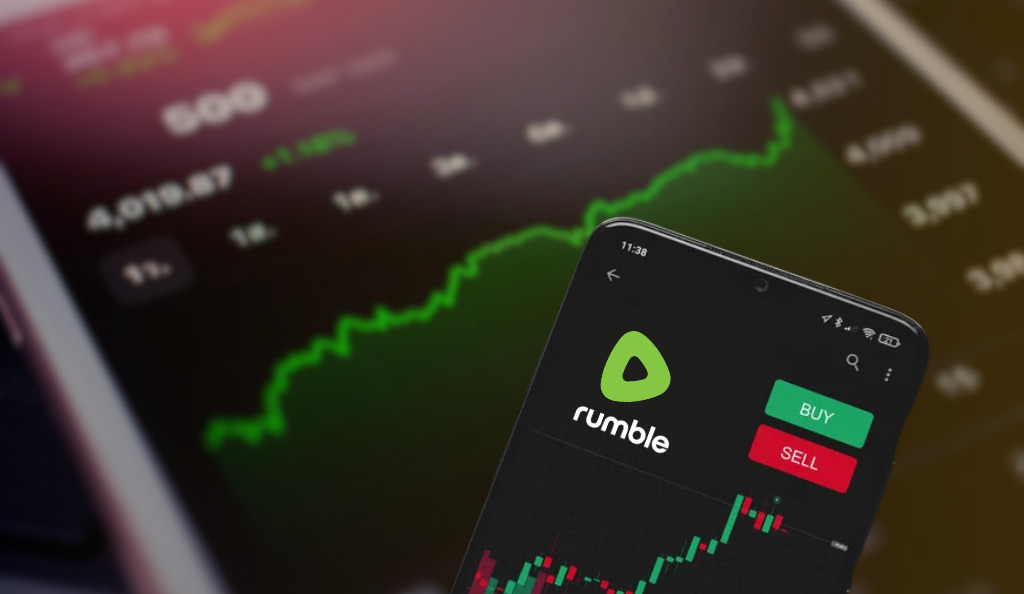 Rumble Stock Key Features
Rumble's first day of trading saw the stock skyrocket by 40%.
51.53% of Rumble's stock is publicly owned, 29.98% is owned by "insiders" (typically defined as a CEO, other corporate executives, or director), and 19.49% is owned by institutional investors. Given that such a large percentage of the company is owned by insiders, it's prudent for potential investors to analyze if these insiders have been buying or selling stock in recent months.
At the time of writing, there were 385.92 million shares of Rumble outstanding.
The market cap of RUM is $2.73 billion.
Many experts believe Rumble's stock to be undervalued based on its 10-year free cash flow (FCF) forecast, making it potentially a good buy for investors looking for a bargain.
Rumble Stock Over the Years – Review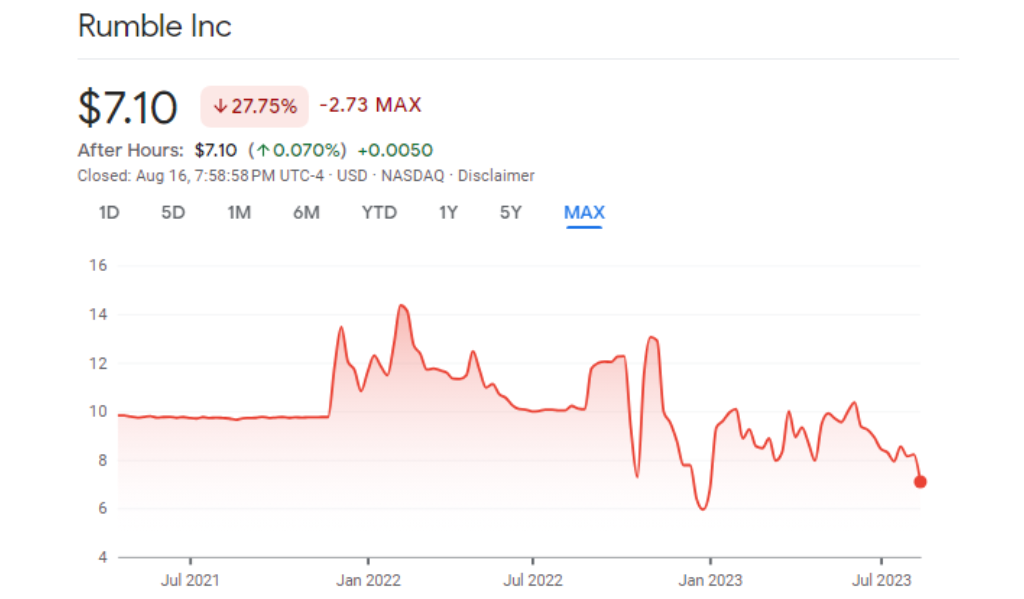 Rumble saw a large influx of new creators and viewers during the COVID-19 pandemic. Other platforms, including YouTube and Facebook, were flagging and removing accounts for misinformation, and the viewers and creators impacted migrated to Rumble.
In 2020, monthly visitors grew by 1.6 million, and in 2021, the number lept to 31.9 million. In the first three quarters of 2021, Rumble generated over $6.5 million in revenue, most of it coming from ads, but the company was not profitable. Rumble went public in 2022 after merging with a special-purpose acquisition company. A special-purpose acquisition company, sometimes called a blank check company, is a shell corporation listed on a stock exchange (NASDAQ in this case) with the purpose of acquiring or being acquired by a private company. This allows a company to go public without having to go through the usual initial public offering (IPO) process.
Rumble Stock in 2023
In the second quarter of 2023, Rumble reported a loss of $0.15 per share, which was higher than an estimate of a loss of $0.08 per share. The company reported 44 million worldwide monthly active users, which was down from 48 million in the first quarter. Watch time per month was up 46% year-over-year in the second quarter at 11.8 billion minutes.
Rumble ended the second quarter with $296.7 million in cash and cash equivalents. There was $25 million in revenue generated in the second quarter, a record for the company and expected to increase as Rumble continues to find ways to monetize the platform. That was a huge increase, 468% from the $4.4 million generated in the second quarter of 2022.
Rumble Stock in 2022
Rumble had its debut on the NASDAQ on September 19, 2022, with an opening price of $12.95 per share, and closed its first trading day at $13.25 per share. For the year, Rumble stock lost $0.047 per share.
Average global monthly active users increased by 142% to 80 million, a record for the company, compared to 33 million in the fourth quarter of 2021. Watch time was up 31% in the fourth quarter to 11.1 billion minutes, a company record, compared to 8.5 billion minutes in the fourth quarter of 2021. Revenue for 2022 increased 316% to $39.4 million compared to $9.5 million in 2021. On the last day of 2022, Rumble's balance of cash, cash equivalents, and marketable securities was $338.3 million.
The Outlook for Rumble
Over the past year, Rumble's share price has declined by 20%. It's a disappointment when you consider the market returned 4%, but Rumble is a baby in terms of the stock market, not yet having reached its one-year anniversary. Still, the share price is down 15% in the last three months.
Rumble did not make a profit over the last 12 months, but its revenue growth has been strong, growing by 374% in the last year. Current and potential investors were cheered by the news that Rumble will have exclusive live-streaming rights to the Republican National Committee's first two presidential primary debates on August 23 and September 27th, which will bring a lot of attention, new viewers, and advertisers to the platform.
There are several ways for investors to buy stock in Rumble:
Stock Market: Investors can buy shares of Rumble directly through a brokerage account like Fidelity, TD Ameritrade, or Interactive Brokers.
Exchange Traded Funds (ETFs): Invest in an ETF that tracks indices that contain shares of Rumble. This offers exposure to multiple stocks to help mitigate risk.
Mutual Funds: Invest in a mutual fund managed by a professional that includes Rumble in its holdings. Mutual funds pool investments from many investors.
Index Funds: Index funds aim to replicate a specific market index's performance and include Rumble shares if it's part of the targeted index.
Robo-Advisors: Robo-advisors are platforms that create diversified portfolios, which can include Rumble based on your risk tolerance and investing goals.
Individual Retirement Accounts (IRAs): You can invest in Rumble shares within a tax-advantaged IRA, Roth, or Traditional.
Options Trading: Options trading allows investors to employ strategies like covered calls or protective puts using Shopify options contracts. Options trading is generally not recommended for inexperienced investors.
Another option is to buy Rumble shares through eToro. eToro is a user-friendly online trading platform. Investors can trade a variety of assets, including stocks, cryptocurrencies, and commodities.
Summary
Rumble has been around for a decade but came to prominence thanks to an influx of conservative creators banned from other platforms and the audience they brought with them. The company has only been listed on the stock market for a short time, and overall, the stock has lost value.
But the company's other metrics are good, and experts believe that it's undervalued, making it a tempting buy for those who want to invest in the tech/entertainment sector and are looking for a bargain. With exclusive rights to live stream the upcoming Republican presidential debates, Rumble stocks may see a boost from the attention.
FAQ
Is Rumble a publicly traded company?
Yes, Rumble was first listed on the NASDAQ on September 22, 2022.
What is Rumble best known for?
Rumble is best known as a home to conservative content creators who have been banned from more mainstream platforms like Twitter, YouTube, and Facebook.
Who created Rumble?
Rumble was founded by Canadian tech entrepreneur Chis Pavlovski in 2013. The company has headquarters in Toronto and Florida.
Where can you buy stock in Rumble?
Rumble stock can be purchased through a broker, including an online broker like eToro, ETF, a mutual fund, an index fund, and a robo-advisor.
Risk Disclaimer
StockHax strives to provide unbiased and reliable information on cryptocurrency, finance, trading, and stocks. However, we cannot provide financial advice and urge users to do their own research and due diligence.
Read More