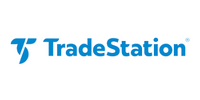 High levels of customisation
Focus on education
Wide range of trading products
Pros
TradeStation created a high-level proprietary language, EasyLanguage, traders can use to create their personal trading software
The broker offers several type of accounts – including the IRA account
High number of trading platforms that can fit any user's needs
Cons
Crypto trading available, but fixed fees for low volume traders might result in non-competitive fees
TradeStation Highlights

| | |
| --- | --- |
| 💰 Account Minimum | $0 for TS GO account, $2,000 for TS SELECT account |
| 💸 Commission Fees | $0 for stocks and ETFs, $0.50 per contract for options, $0.85 per contract per side for futures |
| 💼 Investment Options | Stocks, ETFs, Options, Futures, Futures Options, Crypto |
| 🤖 Robo-Advisor | TradeStation does not offer a robo-advisor service |
| 📊 Research and Analysis | Market news, economic calendar, trading signals, sentiment analysis |
| 📱 Mobile App | TradeStation offers a mobile app for iOS and Android devices |
| 🏦 Retirement Accounts | TradeStation offers traditional IRA, Roth IRA, SEP IRA and SIMPLE IRA Accounts |
| 🎓 IRA Accounts | Yes, TradeStation offers IRA accounts and Rollover IRA |
| 📈 Trading Platform | TradeStation 10 desktop platform, TradeStation Web Trading browser-based platform, TradeStation Mobile app |
| 📞 Customer Service | 24/6 phone and chat support |
| 📚 Educational Resources | Trading Academy, webinars, podcasts, blog |
| 🌕 Fractional Shares | Yes |
| 🌱 Socially Responsible | No |
| 🌎 International Investing | TradeStation offers international investing in over 125 markets |
| 💳 Cash Management | No |
| 🔍 Margin Trading | Yes, up to 4:1 leverage for stocks and ETFs |
| ⚙️ Options Trading | Yes |
| ₿ Cryptocurrency Trading | Yes |
| 🛡️ Account Securtity | SSL encryption and segregated bank accounts |
| 💹 Leverage | Up to 4:1 for stocks and ETFs, up to 6.67:1 for futures and futures options |
| ⚖ Regulation | Licensed and regulated by FINRA and NFA |
Introduction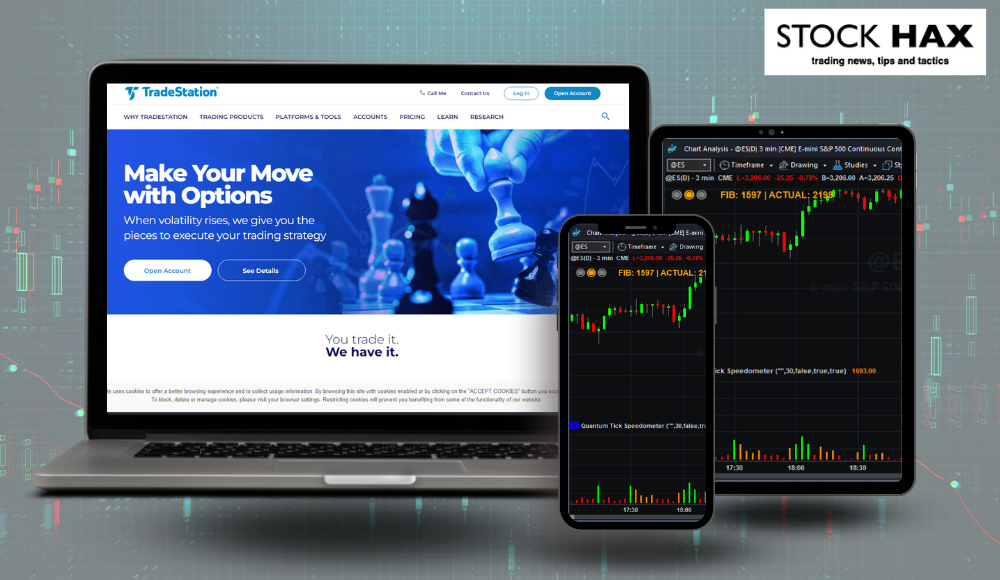 TradeStation is a popular online broker.
A strong focus on education and the creation of several platforms – and even of a proprietary programming language – are all characteristics that advance the broker's goal to focus on users who want to trade on their own terms.
Despite its tech sophistication, it is still able to offer a seamless user experience, and to provide a design that allows easy navigation and transparency.
In this TradeStation review, we will cover all the features, fees, commissions, trading products of the broker, along with the background of the company, to provide you with information that can help you make informed decisions.
TradeStation Background and Company Information
TradeStation was founded in 1982 as Omega Research by two brothers, William and Rafael Cruz, who started their own company after studying trading for several years. They saw a need for a tool that could help them to carry out their trading activity in a customized way.
So, the very beginning of TradeStation didn't consist of a fully functional broker, but as trading software.
As time passed and the software became more complex, the founders decided to launch their own company, and TradeStation was launched as a part of this company – as its trading software product – in 1991.
TradeStation became a full broker in 2001: TradeStation Group replaced Omega Research, and the stock listed on Nasdaq changed its ticker from OMGA to TRAD.
Another milestone for the company was its acquisition in 2011: the Japan-based Monex Group acquired the company. TradeStation remained the brokerage service parent to other tech and financial companies.
Other trading-focused platforms, use two of the trading platforms offered by the broker – TradeStation Securities and TradeStation Crypto.
Based in Florida, TradeStation is also appreciated for taking into consideration ESG and sustainability.
User Interface and User Experience
TradeStation offers different trading platforms, but they have some points in common – and are in line with the initial idea that led to the development of the company.
Omega Research was born to allow traders not familiar with programming language and software development to have easy-to-use but comprehensive platforms that could be customizable.
The trading platforms now offered by TradeStation are highly technological, but the final user doesn't perceive the complexity of the software thanks to an intuitive design that leads to flawless user experience.
The tech involved is used to guarantee high levels of security and provide constantly updated and reliable data.
The focus is to allow a deep analysis of data, especially because one of the initial goals, which still seems to hold, is favoring traders who trade autonomously, and so need as much information as possible to make informed decisions irrespective of their level of expertise.
These principles were included in the creation of the different platforms:
Desktop trading platform,
Web trading platform,
Mobile trading platform,
FuturesPlus platform,
TradeStation Crypto platform,
Simulated Trading platform,
Order Execution Quality,
APIs – Application Programming Interfaces.
The desktop trading platform encloses the tech capabilities and proprietary technology of the broker.
The RadarScreen can constantly analyze up to 1,000 different tickers by using almost 200 technical indicators – combined with alerts that users can use to know when the time to trade has arrived. EasyLanguage is the proprietary programming language of TradeStation. It was designed to allow even non-developers to create their own indicators through an easy language that allows them to create statements similar to those in English.
Traders can back-test their strategies before opening a position, use the OptionStation Pro to visualize all the opportunities offered by the markets, and they can use the Simulated Trading mode to get familiar with all the functionalities of the platform without risking real money.
The Web trading platform is like the desktop platform, but traders can use it everywhere since they just need an internet connection. In any case, all the data and accounts are synchronized across the different platforms offered by the broker.
The mobile trading platform is paired with users' online accounts to allow them to check their positions. At the same time, they can open new positions by benefiting from the features of the web trading platform – the mobile platform is designed to fit smaller screens and provide an even more intuitive user experience.
The FuturesPlus platform, as the name suggests, is focused on futures, but it maintains the features of the other trading platforms designed by the broker. The same applies to the TSCrypto platform – but in this case, the focus is on cryptocurrencies.
Despite TradeStation wanting to favour non-developers, it ensures the freedom to choose: those traders and investors who are familiar with programming and development can create their own application by benefiting from TradeStation data thanks to the APIs (Application Programming Interfaces) provided by the broker.
Trading and Investment Options
TradeStation offers these types of financial products:
Stocks,
ETFs,
Options,
Futures,
Futures Options,
Crypto,
Mutual Funds.
TS provides stocks with platforms that can benefit from high levels of technology and commission-free trading.
The broker provides a large quantity of data to perform accurate historical analysis and educational tools that can help users to navigate different markets.
Also ETFs – Exchange Traded Funds – are commission-free. TradeStation provides over 2,000 ETFs, which allow users to further diversify their portfolios.
Options can be traded for 60 cents per contract, but users can also enjoy unlimited testing thanks to the virtual currency provided by the broker.
TradeStation provides a dedicated platform to trade options – OptionsStation Pro, created as a proprietary tool by the broker.
The platform is available in desktop, web, and mobile versions. Users can seamlessly create option chains and choose to customize their monitors to better fit their needs and trading experience.
A plus of this platform is that it allows to create "what-if graphs": users can create graphs and analyze them by using tools that permit them to draw points, evaluate risks and understand possible gains and losses. Once the analysis is ready, users can place the trade easily thanks to the order entry feature.
There are over 600 Futures and Futures Options available.
Indexes include Bitcoin futures, Interest Rates, Agriculture, Metals, Energies, and more.
The broker offers a high amount of data, testing tools, comprehensive educational resources, and charting software. Moreover, traders and investors can choose to switch across different financial instruments thanks to the integrated platform provided by TS.
Options can be traded with leverage, and this includes Futures Options – if this allows traders and investors to increase possible gains, it also means that leveraged options can increase losses, so it is important to be careful, especially for beginners.
TradeStation also provides extended trading hours for Futures Options.
Another characteristic of TradeStation is that it allows people to invest in mutual funds – something not very common among competitors who target a large user base.
There are more than 2,000 mutual funds available, and users can choose to benefit from the experience of professional traders.
As mentioned, TradeStation also provides crypto trading.
Crypto Trading
Users can directly trade cryptocurrencies with TradeStation. The broker offers 11 different digital assets: Bitcoin Cash (BCH), Bitcoin (BTC), Ether (ETH), Litecoin (LTC), Aave (AAVE), Compound (COMP), Chainlink (LINK), Polygon (MATIC), Maker (MKR), Shiba Inu (SHIB), USD Coin (USDC).
Unlike other brokers who joined the crypto space, TradeStation gives the same importance to cryptocurrency as it does to other – more traditional – assets.
The first point to analyze is the fact that TradeStation offers a dedicated section to digital assets, along with a platform that can be used both on PC and mobile devices.
The platform is made up of sophisticated software that still makes it possible for traders and investors to enjoy a seamless user experience.
It uses highly technological and advanced algorithms that allow users to gather the best prices to finalize trades. This is extremely important for assets like cryptocurrencies: they are more volatile than other traditional and liquid assets, so prices may vary among platforms. TS makes sure to offer its users the best price available.
Users can choose between the one-click entry and the form provided by the platform – the latter allows for higher levels of customization of orders, as well as more complex orders that can help the user to partially automate their trading activity with digital assets.
The design is intuitive and the information available allows traders and investors to check market depth. Moreover, since TS Crypto uses more than one provider for liquidity, it guarantees higher stability for what concerns the price of each crypto.
Safety and Security
TradeStation, besides being a regulated broker, also takes measures to protect data and the funds of its users.
The broker is registered with the SEC (the US Securities and Exchange Commission), the CFTC (Commodity Futures Trading Commission). It is a member of the FINRA (the Financial Industry Regulatory Authority), the NFA (National Futures Association). Moreover, it is a member of SIPC – the Securities Investor Protection Corporation.
The last membership we mentioned guarantees that the funds of TradeStation's customers are insured: this insurance involves cash and securities – cash up to $250,000 per account, securities up to $500,000 per account.
TradeStation subscribed an additional insurance with Lloyd's of London to protect each account up to $24.5 million – $900,000 for cash.
TradeStation dedicated an entire page to the explanation of how it protects users' data – and to give them suggestions on how they should behave to keep their accounts safe.
TradeStation respects the EU General Data Protection Regulation (GDPR), in order not only to keep data secure, but to guarantee its users that they can be in control of the data they share.
The broker employs tech tools to guarantee that the website and all the applications it provides are constantly monitored to identify bugs, and to send real-time alerts to its customers in case any issue is detected. Users can also decide to modify alerts settings, to be constantly informed according to their needs.
All the communication between the user and the broker is encrypted, and TradeStation uses sophisticated firewalls to avoid access to the broker's infrastructure by unauthorized third parties.
All these measures are taken also to avoid online fraud and identity theft, something that is unfortunately quite common. To strengthen these measures, the broker also gives suggestions to its users, who can be an important part in the fight against illegal behaviors.
TradeStation suggests its users to take these additional measures to protect their accounts:
The use of antivirus software on all the electronic devices they own;
Avoid sharing data and encrypt the content of devices;
Keep devices updated;
Always check the source of emails and filter spam;
Be responsible when using social media – sensitive data should never be shared with the public.
Customer Support and Education
TradeStation offers high quality support to its users. Customers and potential customers can decide to browse the website autonomously to find answers or to contact the support team via all the channels provided.
The official website of the broker provides a FAQ page where users can quickly find answers to the most common questions. They can also decide to join one of the support forums.
Users can autonomously perform actions like updating their personal information and their contract with the broker, their payment methods, and they can view all the documents related to taxes and control the data they provide.
If users need additional support, they can use one of the following channels:
The live chat, constantly available thanks to the virtual assistant;
Via email, constantly available, using the different email addresses provided for US users, international users, or institutional users;
Via phone call, available from Monday to Friday – phone numbers also differ according to the type of user.
Along with all this information, users can get more familiar with the platform and its features and functioning thanks to the trading simulator provided by TradeStation, which won't require the use of real funds.
If this is an important educational tool, since it allows users to learn and practice for free, TradeStation stands out precisely for the importance it gives to education.
The broker offers different types of guides and information, also respecting the goals and levels of experience of users. People can find guides for beginners who want to understand trading and markets, complete guides on how to use EasyLanguage, the proprietary programming language of TraseStation, and guides on how to use all the features provided by the broker.
Moreover, TradeStation offers even more complex and detailed knowledge through its webinars: people can sign up and achieve high level and complex knowledge about indicators, strategies and, in general, technical analysis.
Another interesting point is that each trading product offered by the broker comes with a specific and comprehensive PDF guide – for instance, if you browse stocks, you'll find a complete guide on stocks and stock trading.
Fees
TradeStation allows its customers to use different types of accounts and plans, and fees and commissions can change accordingly.
Customers can use:
TradeStation Securities,
TradeStation Crypto,
TradeStation IRA.
Different plans apply to futures options, international customers, mutual funds and bonds, and high-volume traders.
TradeStation is committed to offer financial products for no commissions and low fees, even if certain products might seem more costly than those offered by competitors, like in the case of cryptocurrencies.
Nevertheless, we want to signal that the platforms provided are always free, as well as the data.
Fees Breakdown
TradeStation has an extremely transparent fees and commissions plan, and we want to break it down to offer readers a comprehensive guide to what the broker charges.
For what concerns TradeStation Securities, people can use this type of account to trade equities, equity options and futures.
The broker's fees and commissions linked to this account work as follows:
$0 for trading stocks and ETFs;
$0 commission to trade stock options, but $0.6 fee is applied to each contract;
$0 commission on futures, but $1.5 fee is applied to contracts;
$0 commission on micro futures, but $0.5 fee charged per contract;
$0 commission on futures options, but $1.5 fee applied to each contract;
All the available platforms to trade these financial products – the Web Trading platform, TradeStation Desktop and mobile apps – are completely free, as well as real time data provided;
There isn't any minimum deposit requirement.
For TradeStation Crypto – used to trade cryptocurrencies, as the name suggests – fees work differently, since they depend on two elements:
How much the user trades on a monthly basis;
The condition of the trader – fees are different for market makers and takers.
The fee structure works as follows:
From $0 to $1000 in crypto trading per month: a market maker is charged $2, plus 0.35% of the traded amount for each trade; a taker pays the fixed fee, but is charged another 0.6% per trade.
From $1,001 to $10,000. There are no fixed fees: a maker is charged 0.35% of the amount per trade, a taker 0.45%.
From $10,001 to $50,000. 0.2% for makers, 0.3% for takers.
From $50,001 to $100,000. Makers are charged 0.12% of the amount involved in each transaction, takers 0.25%.
From $100,001 to $1,000,000. 0.1% for makers, 0.18% for takers.
From $1,000,001 to $5,000,000. 0.08% for makers, 0.15% for takers.
From $5,000,001 to $10,000,000. 0.05% for makers, 0.12% for takers.
From $10,000,001 to $50,000,000. 0.025% for makers, 0.11% for takers.
Above $50,000,000, users need to contact the broker to have detailed information about pricing.
Also in this case, the trading platform and data are free, and there is no minimum deposit requirement. Moreover, if users want to convert their US dollars in the USD pegged stablecoin USDC, they won't be charged any fee for the transaction.
Let's now analyze the fees and commissions associated with the TradeStation IRA account:
For what concerns equities and futures, the broker applies the same fees and commissions applied to the TradeStation Securities account;
For what concerns cryptocurrencies, users are charged a fixed fee of $1, plus 0.5% of the amount involved in each transaction. Also in this case, conversions from USD to USDC are free.
Conclusion
TradeStation is an online broker able to meet the needs of beginners and experienced traders and investors, but its strength is that it addresses a specific target: traders who want a fully customizable and autonomous trading experience.
Everything, from the focus on education to the creation of EasyLanguage, tells us that the broker takes its goal seriously.
TradeStation offers different types of accounts, to allow users to trade specific assets according to dedicated platforms and fees.
Despite these positive characteristics, traders and investors interested in digital assets could find the fees and commissions associated with these trading products quite high.
In general, TradeStation is a broker able to stand out and offer interesting features, while paying attention to communicating the risks involved in trading.
The broker positively mixes knowledge and responsibility, but users should always do their own research before choosing any online broker or trading product.
FAQ
Is TradeStation a regulated broker?
Yes. TradeStation is regulated and authorized by the SEC and the CFTC. Moreover, it is a member of FINRA, the NFA and SIPC – the Securities Investor Protection Corporation, which guarantees that customers' funds are insured.
What is TradeStation EasyLanguage?
TradeStation EasyLanguage is the proprietary high-level programming language created by the company to allow even traders and investors without coding skills to test strategies and create indicators thanks to customized software.
How many types of accounts does TradeStation offer?
TradeStation offers TradeStation Securities account – to trade equities, options and futures, TradeStation Crypto account – to trade cryptocurrencies, and TradeStation IRA account – to invest in securities and cryptocurrencies with IRA funds.
Does TradeStation offer customer support?
Yes. It provides a live chat – with the virtual assistant or a member of the support team, email addresses and phone numbers according to different types of users – institutional, US or international users.
Who founded TradeStation and when?
TradeStation was founded in 1982 as Omega Research by two brothers, William and Rafael Cruz.
Risk Disclaimer
StockHax strives to provide unbiased and reliable information on cryptocurrency, finance, trading, and stocks. However, we cannot provide financial advice and urge users to do their own research and due diligence.
Read More