This website and its content are not intended to provide professional or financial advice. The views expressed here are based solely on the writer's opinion, research, and personal experience, and should not be taken as factual information. The author is not a financial advisor and lacks relevant certifications in that regard. We highly recommend consulting a qualified financial advisor before making any investment decisions, as the information presented on this site is general in nature and may not be tailored to individual needs or circumstances.

Awesome TWS
Frequent traders save big
High fees/balance
Pros
TWS platform is regarded by markets as a professional trading solution
Active traders rewarded with deep discount brokerage
Best published margin interest rates of any competitor
Access to 100 markets around the globe
Large selection of products to be traded
Durability and efficiency in its trading models
Cons
Poor customer service
Most accounts require a $10,000 account minimum balance
High learning curve and barrier to entry for new traders
Poor research resources and trader education
Pricey pay-per-share commissions for traders who make more than 1,600 trades
$10 monthly fee if $10 minimum commission requirement is not met each month
Interactive Brokers Highlights

| | |
| --- | --- |
| 💰 Account Minimum | $0 for IBKR Lite, $100 for IBKR Pro ($10 monthly minimum commission requirement to avoid $10 monthly fee) |
| 💸 Commission Fees | $0 for stocks and ETFs (IBKR Lite plan), $0.005 per share (IBKR Pro plan), $0.65 per options contract; other fees may apply |
| 💼 Investment Options | Stocks, Options, Futures, Forex, Bonds, ETFs, Mutual Funds, CFDs, Metals |
| 🤖 Robo-Advisor | Interactive Brokers does not offer a robo-advisor |
| 📊 Research and Analysis | Interactive Brokers offers a range of research and analysis tools, including stock and fund screeners, market insights, third-party research reports and more |
| 📱 Mobile App | Interactive Brokers mobile app is available for iOS and Android devices, offering trading, research and account management features as well as access to various platforms such as IBKR GlobalTrader, Impact and Traders' Academy |
| 🏦 Retirement Accounts | Traditional IRA, Roth IRA, rollover IRA, SEP IRA and individual 401(k) with no minimum investment and no annual account fees |
| 🎓 IRA Accounts | Interactive Brokers offers traditional, Roth, SEP, and SIMPLE IRAs |
| 📈 Trading Platform | Interactive Brokers offers a web-based platform (Client Portal) as well as a desktop platform (Trader Workstation) and a browser-based platform (WebTrader) for trading and account management. |
| 📞 Customer Service | 24/7 customer service via phone, email, and live chat |
| 📚 Educational Resources | Interactive Brokers offers a variety of educational resources, including webinars, videos, courses, and articles. Topics include trading strategies, investing concepts, and platform tutorials. |
| 🌕 Fractional Shares | Fractional shares are available for US stocks and ETFs, with a minimum order size of $1 |
| 🌱 Socially Responsible | Interactive Brokers offers a range of socially responsible investment options, including mutual funds and ETFs that are aligned with environmental, social and governance (ESG) criteria. |
| 🌎 International Investing | Interactive Brokers offers trading on over 135 markets in 33 countries |
| 💳 Cash Management | Interactive Brokers offers a cash management service that allows you to earn interest on your idle cash balances (up to 4.58% for USD), pay bills, transfer funds, and access your money with a debit card or checks. |
| 🔍 Margin Trading | Margin trading is available for certain account types, with a minimum balance of $2,000 |
| ⚙️ Options Trading | Interactive Brokers offers options trading with low commission fees ($0.65 per contract) and a wide range of products. |
| ₿ Cryptocurrency Trading | Interactive Brokers offers cryptocurrency trading through futures contracts and exchange-traded products (ETPs). |
| 🛡️ Account Security | Interactive Brokers uses industry-standard security measures, such as encryption, firewalls, and secure sockets layer (SSL) technology. |
| 💹 Leverage | Leverage varies depending on the asset class and account type. For example, IBKR Pro offers up to 4:1 leverage on day trades in the US stock market. |
| ⚖ Regulation | Regulated by the Securities and Exchange Commission (SEC), the Financial Industry Regulatory Authority (FINRA), and other regulatory bodies in the US. |
A Great Online Platform for Active Investors
When navigating the many choices you have for selecting an online trading platform, it's important to know what you want. Do you want good customer service? Would you like the interface to work for you? In the case of Interactive Brokers, folks who prefer the latter will be very pleased.
What are Interactive Brokers' Main Features?
Interactive Brokers established in 1977, is accepted as one of the leaders in the online brokerage platforms. As such, they've made a reputation for themselves as having access to a wide array of diverse and effective products.
It is this level of technological prowess that attracts most people to Interactive Brokers — they're always innovating and coming up with new and fascinating ways to track the market in unconventional and efficient ways.
As a platform, Interactive Brokers offers a bevy of choices to investors of any stripe. Their most advanced platform is the Trader Workstation (TWS), which allows advanced users to access real-time charting, to customize datasets to explore ideas, and to trade on virtually anything. This approach is not for the novice, but it is something to keep in mind.
For those who can speak the lingo and favor function over form, TWS offers a utilitarian, yet very customizable program that lets you place trades, view charts and do all the research necessary for regular traders.
For those who are newer to the world of investing, Interactive Brokers still has a few options for them. The HTML-based browsers IB WebTrader and Mosaic work within the TWS platform to offer a simpler, more streamlined process for traders who don't need advanced settings.
Interactive Brokers offer a wide variety of investments from around the world, with the TWS platform giving you access to just about any kind of investment. Whether you want to work with equities, forex, futures, mutual funds, options, or any other kind of investing, TWS has you covered.
Also, Interactive Brokers' selection of ETFs is going to be pretty appealing to beginning investors or traders with some risk intolerance. There are hundreds of ETFs across several exchanges that you can explore.
One of the issues highlighted by most investors is related to mutual funds investments. Other firms offer you more if you specifically want to work with mutual funds, but the sheer breadth of options overall makes Interactive Brokers extremely competitive.
How Do You Open an Interactive Brokers Account, and What are the Requirements?
Some users highlight the straightforward account opening process. Users mention that before starting full-time investment with the platform you may first check the platform functionalities.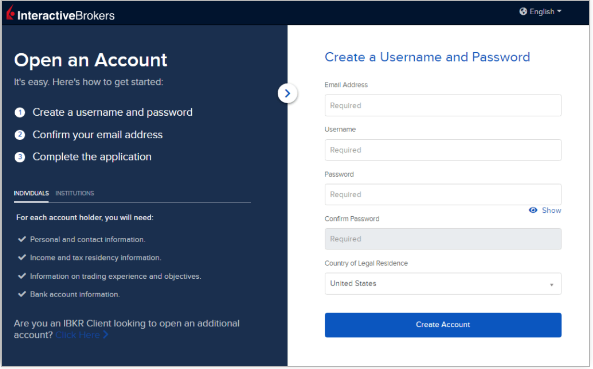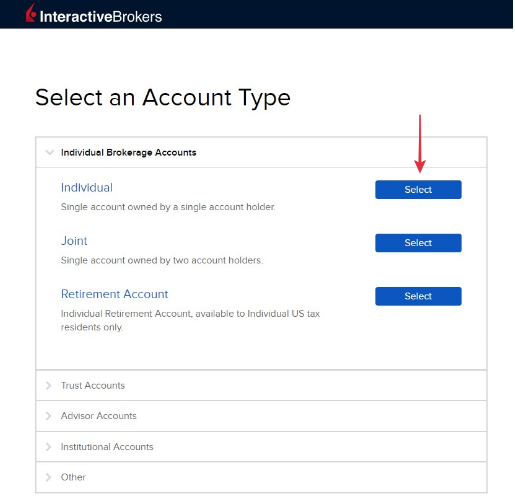 After selecting the type of account you want, put in your normal information — name, address, date of birth, employer information, social security number — and Interactive Brokers takes care of the rest. Be sure to have multiple types of ID available to help get through these requirements.
Note that Interactive Brokers requires a $10,000 minimum account balance to get you started with an account. With that in mind, be sure you are a sufficiently experienced trader and are committed to the practice before investing with them.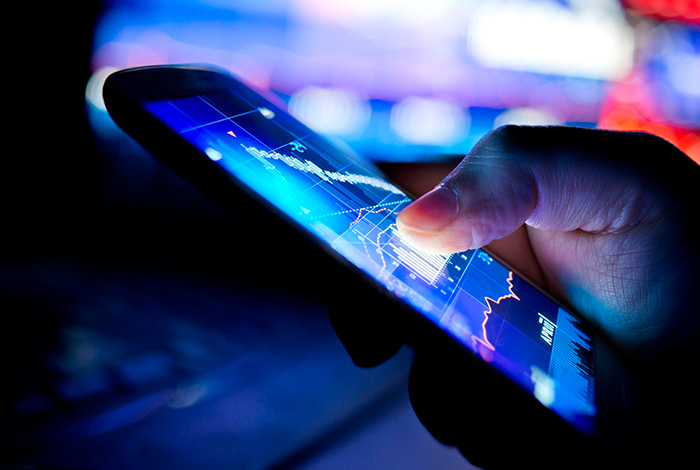 What Are the Rules for Trading on Interactive Brokers?
The tiered fee structure of Interactive Brokers is pretty affordable, with a 0.5-cent (that's right – half a cent) stock trade fee per share. That's one of the lowest we've seen. What's more, there are no options base fees, and a 70-cent fee on options per contract.
Granted, this is made up for by the more long-lasting costs that exist for traders regardless of their level of activity. The monthly cost for someone who trades occasionally is about $20, which isn't bad. However, despite the transparency of its tiered fee structure, more frequent traders can spend up to $847 a month in fees at Interactive Brokers.
That said, if you are already planning on investing a great deal of time and money in the investment world, Interactive Brokers' commission rates are fairly competitive to encourage that kind of active trading — they want you to trade a lot, attracting the kind of people who will consistently check their accounts and make adjustments. This can yield great dividends for the committed, but inexperienced traders might want to shy away.
What Kind of Trader is Interactive Brokers Best For?
Some reviews show that Interactive Broker might require some prior market knowledge from the new users. Day traders, for instance, or even penny stock traders, might find a lot to love about Interactive Brokers' unique system.
Being an active, everyday trader is perhaps the most essential element to getting the most out of an Interactive Brokers account, as they fine users for inactivity. If you do not pay at least $10 worth of commissions over the course of a month, you will be charged a $10 inactivity fee.
Traders who seldom need customer service will also find little wrong with Interactive Brokers. Customer service, as previously mentioned, is one of the company's weak spots, but those who feel a little more hands-off shouldn't let access to support or to a live broker discourage them.
However, if you do care about customer service, you might want to seek out other options. Interactive Brokers has consistently received reports of customer service staff being rude to relatively inexperienced customers or traders.
Granted, Interactive Brokers claims to have 24/7 customer support.
Other Good Products
Emerging technologies such as mobile apps and other streamlined methods for trading are gaining in popularity and Stash Invest is a nice mobile-first platform. It's all done on one app, where you can buy and sell in a variety of pre-packaged portfolios that reflect your values and levels of diversification and risk.
One of the brokerages worth looking into is TradeStation. TradeStation's features are a little thinner, but its fee structure spreads more evenly. Whereas Interactive Brokers requires a minimum balance of $10,000 and charges $30 for broker-assisted trading, TradeStation requires $5,000 and charges $20. But InteractiveBrokers also has no flat fee for a stock trade, whereas TradeStation charges $5.
If you want similar features but want to spend a little less upfront, consider E*Trade, which has a minimum balance requirement of only $500. E*Trade does charge a little more for most of its trades, but it also doesn't charge fees for IRAs or for inactivity, which Interactive Brokers does.
If you want the kind of solid technological framework Interactive Brokers sports, but want a better focus on customer service, TD Ameritrade might well be your ideal choice among brokerages. Their trade pricing is a bit more expensive, but their customer service is second to none.
What's more, even if you love TWS, there are those who might argue that TD Ameritrade's Thinkorswim platform is a better combination of readability and functionality. With that in mind, you have to know what you are looking for in an online platform before deciding between the two.
A Few Final Thoughts
One interesting thing to note is that Interactive Brokers was one of the few stock trading firms to come out relatively OK after Brexit thanks to effective and clever preparation. As such, you can probably rely on them to steer you through harsh financial weather.
Apart from that, Interactive Brokers is an ideal stock trading firm for those traders who are a little more adventurous, and don't mind a little bit of experimentation. Their fee structure is easy, their technologies and research tools are innovative, and they have a lot of experience in the market.
Their greatest blind spot is their customer service, so don't expect to get a lot of help if you run into trouble. What's more, Interactive Brokers provides investors with very little research and only very rudimentary onboarding on how to trade — another reason novices need not apply.
Interactive Brokers' approach seems tailor-made for the person who wants to dedicate their time to investing in the most efficient way possible, with little to no help from outside. For these confident investors, Interactive Brokers has a lot to offer.

images by:
©dennizn/123RF Stock Photo, ©solarseven/123RF Stock Photo
Risk Disclaimer
StockHax strives to provide unbiased and reliable information on cryptocurrency, finance, trading, and stocks. However, we cannot provide financial advice and urge users to do their own research and due diligence.
Read More