This website and its content are not intended to provide professional or financial advice. The views expressed here are based solely on the writer's opinion, research, and personal experience, and should not be taken as factual information. The author is not a financial advisor and lacks relevant certifications in that regard. We highly recommend consulting a qualified financial advisor before making any investment decisions, as the information presented on this site is general in nature and may not be tailored to individual needs or circumstances.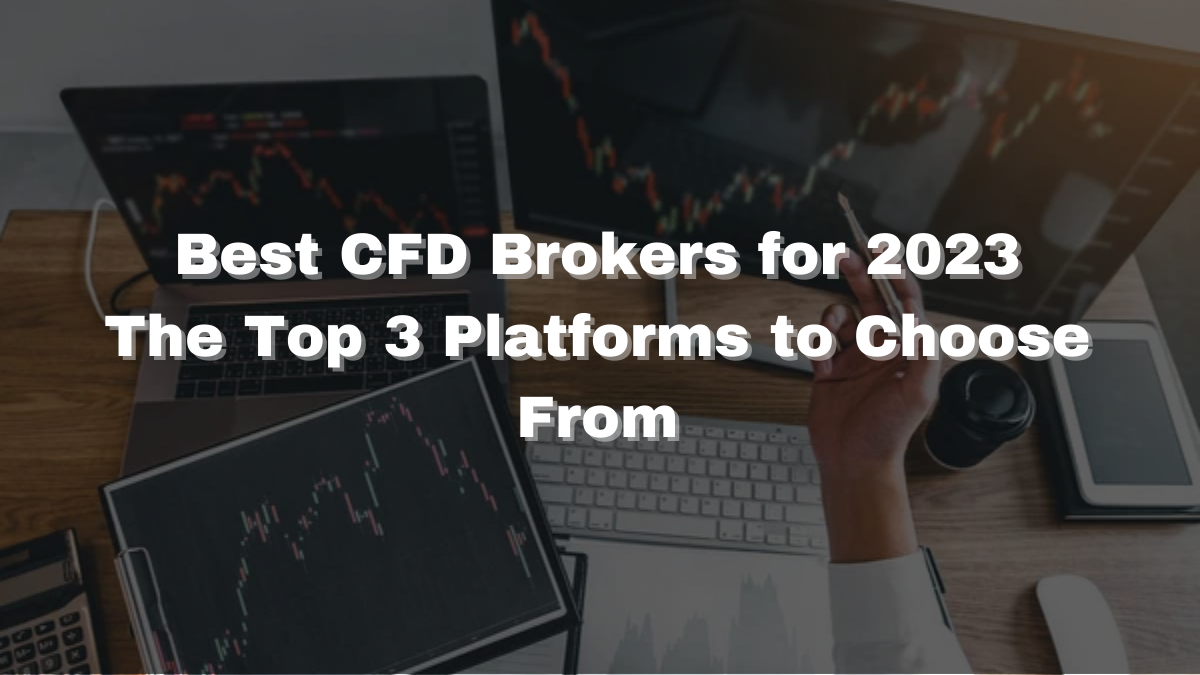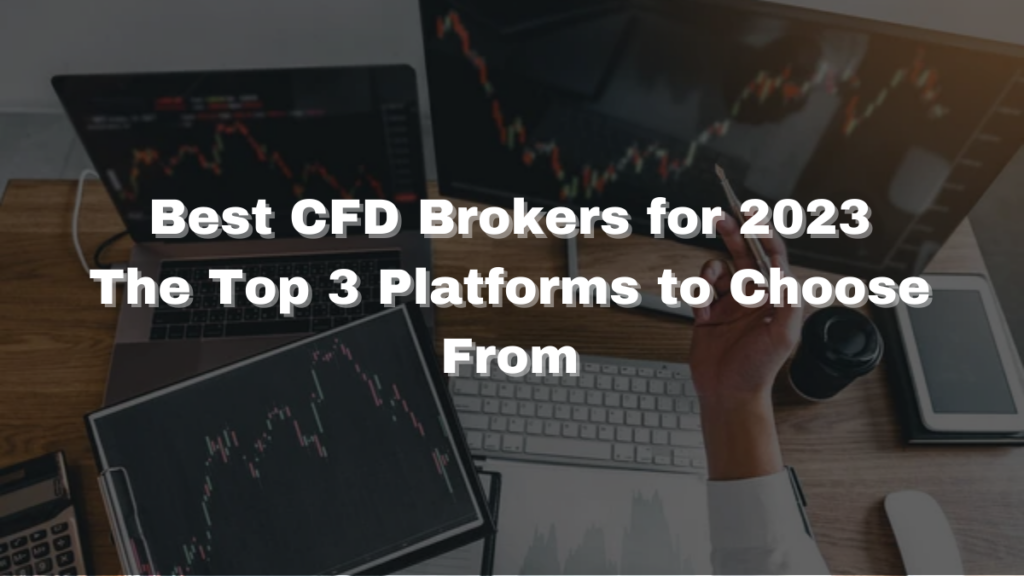 Modern traders have become picky with the asset type they choose they invest in or trade, considering factors like level of risk, flexibility, and leverage. This approach is entirely understandable, considering that in their latest announcement, the Federal Reserve stated that the recession has slowed down but is not near its end.
CFDs, short for contracts for difference, are financial instruments that may be a great asset to choose from in the current market economy, considering their speculative nature. This article will review the best CFD brokers in 2023, taking a closer look at their fees, services, and key features. That way, you can choose the most suitable CFD trading platform for your trading style and needs and make the most out of your investments.
Introduction to CFDs
CFD trading allows traders to speculate on the prices of a wide variety of tradable assets without owning them. Opening a position when trading CFDs places an open price; when you close that position, you get a closing price. The difference in the settlement is how profits are calculated. Trading CFDs is a highly-risky approach, which experienced traders prefer, as it is a high-leverage option, with opportunities for short selling.
Advantages of Using a Regulated CFD Broker
Investors can now trade these popular financial derivatives all in one place on the trading platforms offered by the largest CFD brokers in the world. By choosing a reputable online broker, which suits your goals and needs, you will get numerous benefits, including risk-free trading and access to valuable tools and platforms. Traders will also be able to execute trades with high levels of leverage on a wide range of markets, an opportunity that can't be missed!
Top 3 Best Online CFD Brokers Reviewed & Rated
Picking the right CFD broker is crucial to get the best possible deals and features when trading this profitable but risky instrument. This CFD broker list comprises options with competitive prices, low fees, and user-friendly platforms, offering investors a broad range of choices.
AvaTrade – Best Overall CFD Broker

The first company in our CFD broker list is AvaTrade, a trading platform created in Dublin, Ireland, which offers the highest quality of trading services and unique trading tools and features. AvaTrade provides users a world-class trading experience in the CFD niche, with supported assets on FX, Stocks, Commodities, Crypto, Indices, and Options. With its four account types and one bonus demo account, AvaTrade covers the needs of both beginner and experienced traders.
This online trading broker aims to empower traders to invest confidently with the help of its most advanced platforms and tools. You will find the most popular trading platforms, including WebTrader, Avatrade MT4, and MT4, and unique in-house tools like AvaTradeGo, AvaOptions, and AvaSocial. These tools are beginner friendly but also have advanced options and access to numerous indicators, technical analysis, charts, and signals. With all these features in place, the AvaTrade CFD platform is designed to facilitate efficient trade execution, and for the more creative ones, most of the features offered are entirely customizable.
Regarding support, the online CFD broker AvaTrade has created an excellent library full of learning materials, courses, and a dedicated FAQ section. The channels of communication on which you can contact AvaTrade are via email, live chat, phone, and even WhatsApp. The customer service team is friendly and always ready to help; however, you may need to wait a little more to get a response due to the high trade volumes.
With its numerous competitive advantages and innovative platforms, AvaTrade has achieved an overall rating of 4.8/5. The percentage of retail accounts that lose money when trading with the provider is 76%, which is below the average, and the lowest on our CFD broker list.
Pros
Wide Range of Tradable Assets
User-Friendly Platform
Competitive Spreads and Fees
Multiple Trading Platforms
Regulated Broker
Cons
Limited Educational Resources
No U.S. Clients
Overall, AvaTrade is a reliable and reputable CFD broker that offers a diverse range of trading options and competitive fees. However, the limited educational resources and the inability to accept U.S. clients may be drawbacks for some traders. Traders should compare brokers to make informed decisions.
---

The first company in our CFD broker list is AvaTrade, a trading platform created in Dublin, Ireland, which offers the highest quality of trading services and unique trading tools and features. AvaTrade provides users a world-class trading experience in the CFD niche, with supported assets on FX, Stocks, Commodities, Crypto, Indices, and Options. With its four account types and one bonus demo account, AvaTrade covers the needs of both beginner and experienced traders.
eToro is a reliable and trusted online broker that, since 2007, has become one of the most popular trading platforms in the world. With over 25 million users globally, eToro is known for its easy-to-use platform, coverage of multiple instruments, and enhanced CFD trading features. Trade the top CFD assets on eToro, including indices, currencies, commodities, and stocks, with tools that will get your trading to the next level. eToro also offers a variety of account types to suit the needs of different traders, with surprising perks the better you become at trading.
One of the standout features of eToro is its trading platform, which was developed in-house and does not rely on third-party platforms. One of the most popular features on eToro is its copy trading feature, which allows traders to copy the trades of more experienced traders to learn and make more informed trades. Additionally, eToro's smart portfolio feature will enable traders to automate their investments and diversify their portfolios with just a few clicks.
Regarding safety, eToro is fully regulated by multiple financial authorities, including the FCA and CySEC. The platform also uses advanced security measures to protect its users' personal and financial data. The online CFD broker's customer service team is available 24/5 to assist traders with any issues or queries. The agents are dedicated to providing a high level of support to ensure that traders have a positive experience on the platform.
It is fair to say that eToro is one of the biggest online trading brokers in the world, and it is safe to say that the platform is secure for beginners and more advanced traders. On their website, it is stated that 81% of retail investor accounts lose money when trading CFDs with this provider, which is an average result compared to other platforms.
Pros
Social Trading
User-Friendly Platform
Wide Range of Tradable Assets
Low Minimum Deposit
Regulated Broker
Cons
Higher Spreads and Fees
Limited Research and Analysis Tools
Overall, eToro's social trading feature and user-friendly platform can be valuable for beginner traders, but the higher spreads and limited research tools may be a drawback for more experienced traders. Traders should compare brokers to make informed decisions.
---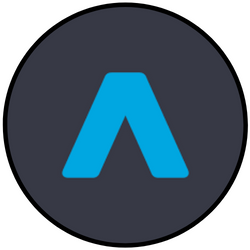 When they evaluated CFD brokers, they had to add Trading 212 to our list, as it is one of the best online trading brokers for beginners, with a large community of over 1.5 million investors. Trading 212 allows you to open two different types of accounts. The first one is Trading 212 Invest, enabling you to trade stocks and ETFs on zero commissions. The second one, which you may find even more exciting, is Trading 212 CFD, which allows you to trade on all major markets, including stocks, indices, commodities, and forex, with competitive leverage.
Like eToro, this online broker does not use the popular MT4 and MT5, which are still highly convenient and helpful, but instead takes a different approach and has created its own platform. Trading212's platform has both a desktop version and a mobile app that runs smoothly on both devices. The key component of the CFD broker is its platform's interface, which is user-friendly, and finding everything you need is a simplified task.
Trading 212 has more than 20 000 positive client reviews. By implementing the industry's best practices, the trading platform ensures the safety of clients' data. Furthermore, Trading 212 offers transparent trading terms and is authorized and regulated by the CySEC, which means the platform has received safety evaluations from independent sources. If a problem occurs, the broker's customer service team is available 24/7 and is known for its professionalism.
In terms of our overall rating, they will give Trading 212 a solid 4.6/5 because of its transparent and safe services and great features to trade CFDs. The percentage of retail investors who lose money using this provider is 83%, which is definitely on the high end.
Pros
Zero Commissions
User-Friendly Platform
Low Minimum Deposit
Regulated Broker
Advanced Trading Tools
Cons
Limited Tradable Assets
Inactivity Fees
Overall, Trading 212's zero commission trading, user-friendly platform, and advanced trading tools can be valuable for both beginner and experienced traders. However, the limited range of tradable assets and inactivity fees may be drawbacks for some traders. Traders should compare brokers to make informed decisions.
---
Key Features to Consider When Picking the Best CFD broker:
The CFD brokerage space is highly competitive, and many online trading platforms and banks want to add this popular instrument to their offerings. For you to avoid dealing with the not-so-great options from the oversaturated market, there are several key features they take into consideration when creating our CFD broker list.
Account Types
The option to pick from various account types means you will get a personalized account based on your trading goals and needs. Furthermore, when you become more and more experienced, you can switch to an account that will grant you more benefits.
Supported Assets and Investment Options
Access to various supported assets means more opportunities for profitable trades. Different investment options are characterized by varying levels of leverage, price fluctuation, and risk levels, which can all be great options for many investors.
Tools Offered
Trading tools such as technical analysis, charts, copy trading, etc., allow for more advanced trading options. Once you learn to use these tools, you can make more informed and calculated decisions.
Trading Interface
A user-friendly interface that suits both beginner and experienced traders is a feature that can make or break a deal for many. A quick and straightforward trading process is valued by numerous traders to enhance their profit optimization.
Fees & Charges
CFD brokers guarantee that customers will get the best possible deals by offering competitive fees and spreads. Picking the right platform will give you a competitive advantage over other investors.
Mobile Trading
Being able to trade on the go and monitor the success of your trades is a convenient tool. Picking a CFD broker that supports mobile trading means you will have all the necessary trading features on your mobile device.
Customer Support
When finances and a high volume of trades are involved, it is vital to get assistance on time if a problem appears. Online CFD brokers with an excellent customer service team that is friendly and available 24/7 get much higher customer satisfaction.
Comparison Between the Best CFD Trading Platforms for 2023:
This section of our review will help you get a clear understanding of the strengths and weaknesses of the top 3 picks in our CFD brokers list. They will compare essential aspects, including ease of use, trading process, fees, services, features, and more. With this information in mind, you can determine which platform is best for your trading needs.
| | | |
| --- | --- | --- |
| | Pros | Cons |
| AvaTrade | Variety of Supported InstrumentsUseful Trading Tools and MaterialsPersonal AccountsCompetitive Fees and Charges | High Inactivity FeeCustomer Support May Take Time to Respond |
| eToro | Popular and Trusted Online BrokerHighest Standards for SecurityLow Minimum DepositOffers Copy Trading | Relatively High FeesCustomer Support Experience is Not Great |
| Trading 212 | $0 Commission FeesNo Deposit and Withdrawal FeesUser-Friendly Desktop and Mobile AppGreat Customer Service Team | Not Many Tools and Trading Platforms High Currency Conversion Fee |
How to Register for a Regulated CFD Platform – A Step-by-step Guide for Beginners:
The best CFD brokers have simplified the trading process, which is also the case with account registration. Most CFD trading platforms have almost identical and easy-to-follow account registration steps, which they have outlined below, so that the operation can be even more convenient:
Step 1: Register for an Account
When you opt for a CFD broker account, you must fill in several forms, which require you to enter personal information, login credentials, and in some cases, information about your income. Once you accept the terms & conditions and verify your email address, you can go to the next step.
Step 2: Fund your Account
Once you have created an account, you must deposit funds to activate it and access the client portal. Most online brokers offer popular and convenient payment methods that will suit the needs of every user. Keep in mind that most CFD brokers have a set minimum deposit amount.
Step 3: Start Trading
You are now ready to trade on the exciting CFD market that hides many advantages but also high risks. Choose the asset you are willing to invest in, and remember always to trade concisely and calculatedly, considering the risks involved.
Best CFD Broker for 2023 – Our Conclusion
The CFD online brokers have created a convenient environment for traders to take on high-leverage assets. With numerous tools and quality services, the trading platforms in our CFD broker list will be an excellent fit for your trading needs. However, CFDs are complex financial instruments, and according to the European Securities and Markets Authority (ESMA), retail traders lose, on average, around 80% of their investments. When opening a CFD broker account, traders should consider the risks before starting to trade on the market.
Additional CFD Broker Guides On StockHAX
FAQs

Which broker is best for CFD? 
Determining the best CFD broker is challenging as it depends on a trader's personal needs and preferences. Our CFD brokers list reviews some of the best trading platforms in the industry, with competitive fees and quality services, which may be an excellent fit for many traders.

How do you know if a CFD broker is legit?
When picking a CFD platform for your trading, safety should be your primary consideration, and it can be determined based on the safety measures and protocols in place. Additionally, financial authorities such as the Securities and Exchange Commission (SEC) need to regulate the broker.

Can you get rich by trading CFDs?
While contracts for difference may be a complex and risky financial instrument to trade, investors can earn a lot if they make the right decision. With that in mind, if you are a beginner trader, make sure to trade consciously and consider all the risks involved.  
Risk Disclaimer
StockHax strives to provide unbiased and reliable information on cryptocurrency, finance, trading, and stocks. However, we cannot provide financial advice and urge users to do their own research and due diligence.
Read More