This website and its content are not intended to provide professional or financial advice. The views expressed here are based solely on the writer's opinion, research, and personal experience, and should not be taken as factual information. The author is not a financial advisor and lacks relevant certifications in that regard. We highly recommend consulting a qualified financial advisor before making any investment decisions, as the information presented on this site is general in nature and may not be tailored to individual needs or circumstances.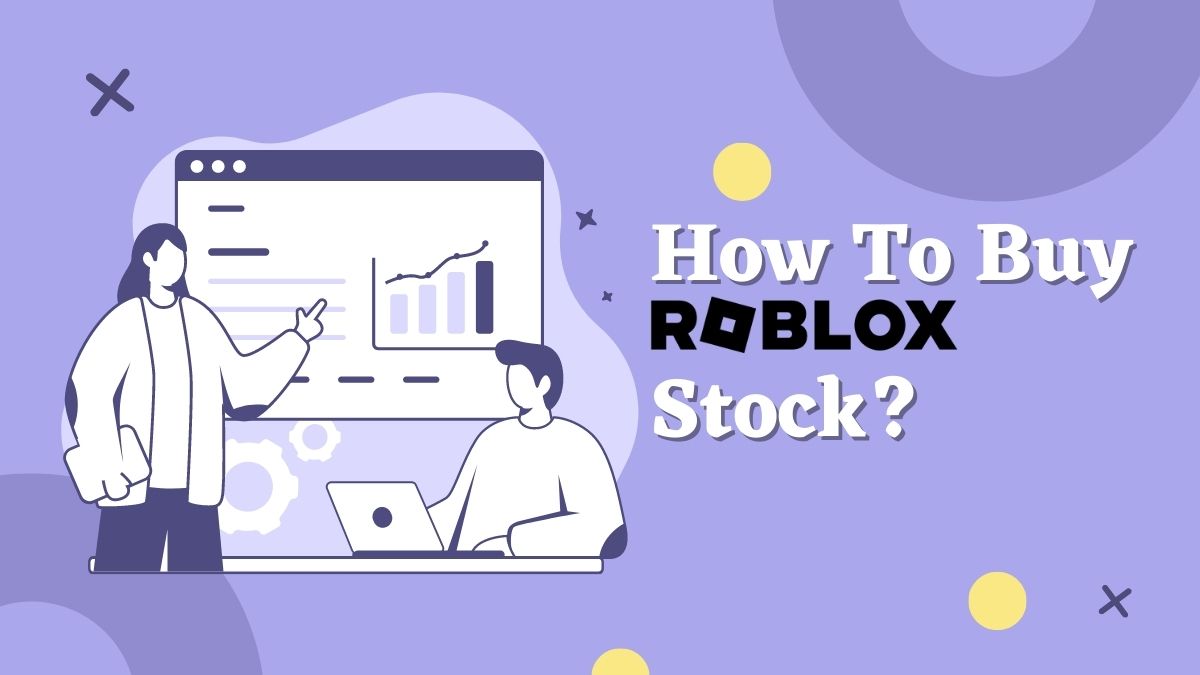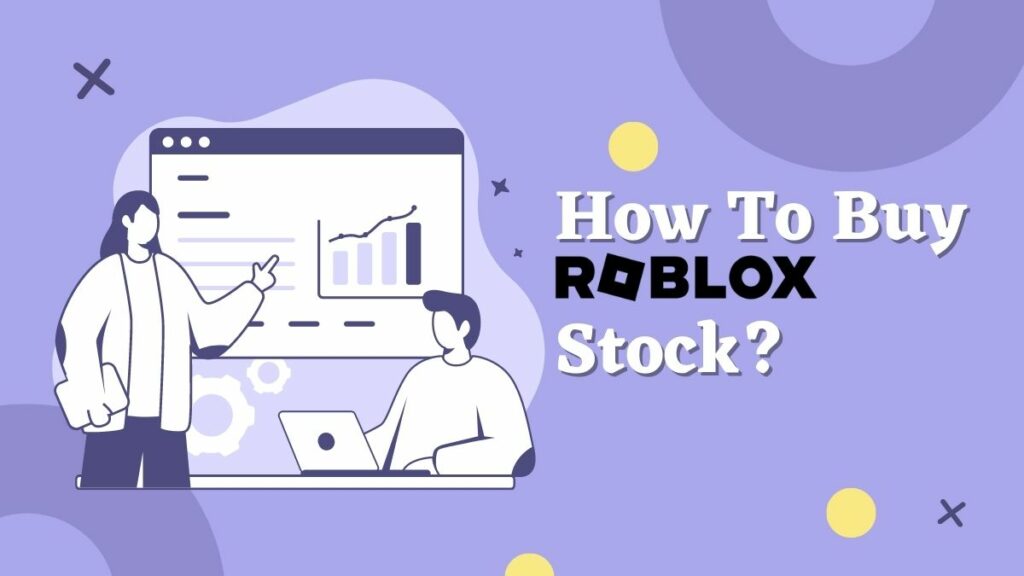 The increasing popularity of gaming as a form of entertainment, the growth of online gaming, and the rise of mobile gaming are driving the growth of the industry. Additionally, the development of new technologies such as virtual reality and the expansion of esports is providing new opportunities for the industry to grow. Roblox operates in the gaming business utilizing new-world technologies like AR and VR games. This blog post will discuss the background of the company and the exact steps for trading Roblox stock.
What is Roblox Stock?
Roblox Corporation (RBLX) is a publicly-traded company that operates the popular online gaming platform Roblox. The platform allows users to create, play, and share games with other users and has become particularly popular among children and teenagers.
It was founded in 2004 and has grown to become one of the largest gaming communities in the world, with millions of monthly active users. Roblox allows users to create their games using its proprietary game development tools and offers a large library of games created by other users. The platform is free, but players can purchase virtual currency and other in-game items to enhance their experience.
When Did The Roblox Go Public?
Roblox Corporation, the popular online gaming platform, went public on 10th March 2021 through a direct listing on the New York Stock Exchange (NYSE). Unlike a traditional initial public offering (IPO), a direct listing allowed Roblox to become a publicly traded company without issuing new shares or raising capital. Instead, existing shareholders could sell their shares directly to the public, bypassing the need for underwriters or a lock-up period for early investors.
Why Should I Trade Roblox?
Let's take a look at some of the reasons why you may consider investing in Roblox.
Strong Growth Potential
The company's strong financial performance, large and growing user base, and innovative business model have made it a popular investment opportunity for some investors.
Dominant Position In Online Gaming
As of 2021, Roblox had a large and growing user base, with over 58.8 million monthly active users. The platform has a diverse user demographic, with a significant portion of its user base being young children and teenagers. Roblox's user base has grown rapidly in recent years, driven by the platform's ability to provide a safe and engaging environment for its users to create, play, and socialize in.
Diversified Revenue Streams
Roblox generates revenue from various sources, including in-game purchases, advertising, and subscriptions, which helps reduce the company's dependence on any single revenue stream.
Our Favorite Platforms to Trade Roblox Stock
Several online brokers have Roblox listed on their stock exchange. However, you should still consider several factors before finalizing the online broker you want to proceed with. Let's look at some of the best online brokers that let you purchase Roblox stock.
1. eToro
eToro is one of the best online brokers for investing in Roblox stock. The brokerage offers a wide range of trading tools and research resources to help you make informed trading decisions. The process of investing in Roblox through eToro is also uncomplicated. You simply need to sign up on the brokerage, transfer the funds to your accounts and purchase the stock according to your goals.
2. Robinhood
Robinhood is another option to consider if you are planning to invest in Roblox. Robinhood does not charge any extra commissions for trading stocks on the platform. The brokerage also offers advanced trading tools to help you make better trading decisions.
3. Interactive Brokers
Interactive Brokers offer investors an advanced trading platform that can be used for investing in the right way. The process for getting started on Interactive Brokers can be completed in less than 30 minutes. You need to sign up on the platform, transfer your funds, and start trading.
How to Trade Roblox Stock – Step by Step
If you are ready to be a part of a growing company like Roblox, the next few steps can surely help you get started.
How to Invest in Roblox Stocks
If you're looking to invest in Roblox stocks, eToro is one of the best online brokers to consider. With a strong reputation and a wide range of options for both beginner and professional traders, eToro is a good platform to consider. In this mini guide, we'll walk you through the process of opening an account on eToro, step by step.
Step 1: Open an Account
To get started, you'll need to open an account with eToro. Visit the eToro homepage and click on the "Sign Up" or "Join Now" button to begin the registration process. Fill out the required personal information, such as your name, email address, and password, and agree to the terms and conditions. Once you've completed the form, you'll receive a confirmation email with a link to verify your account. Click on the link to complete the account setup.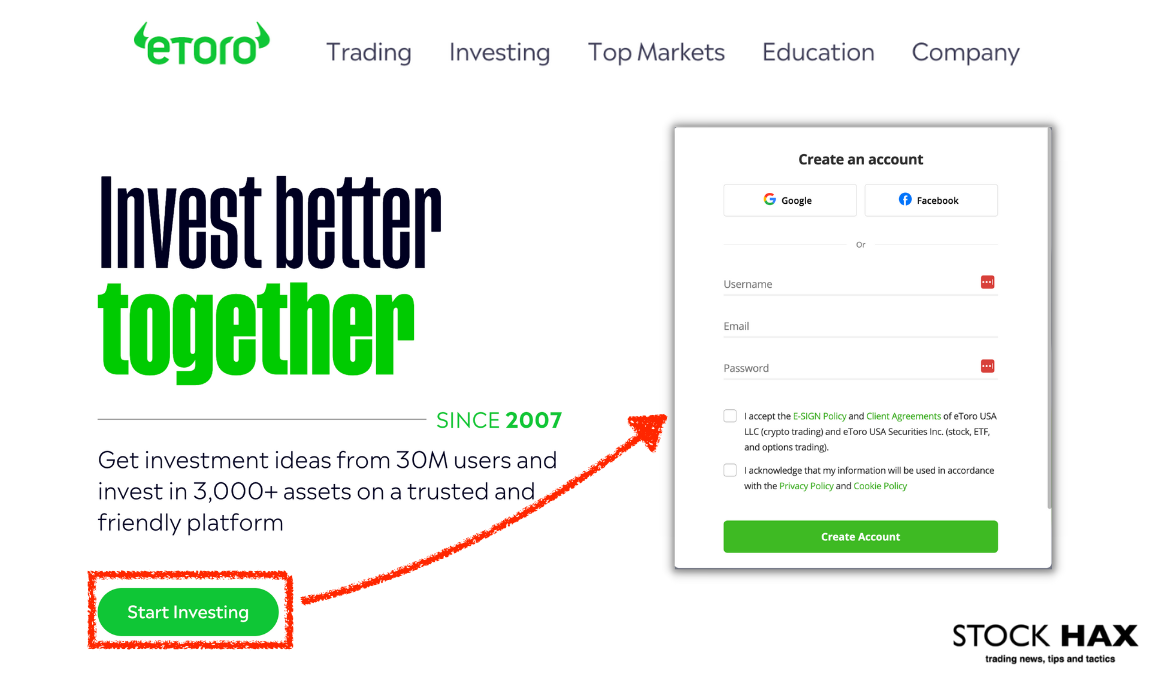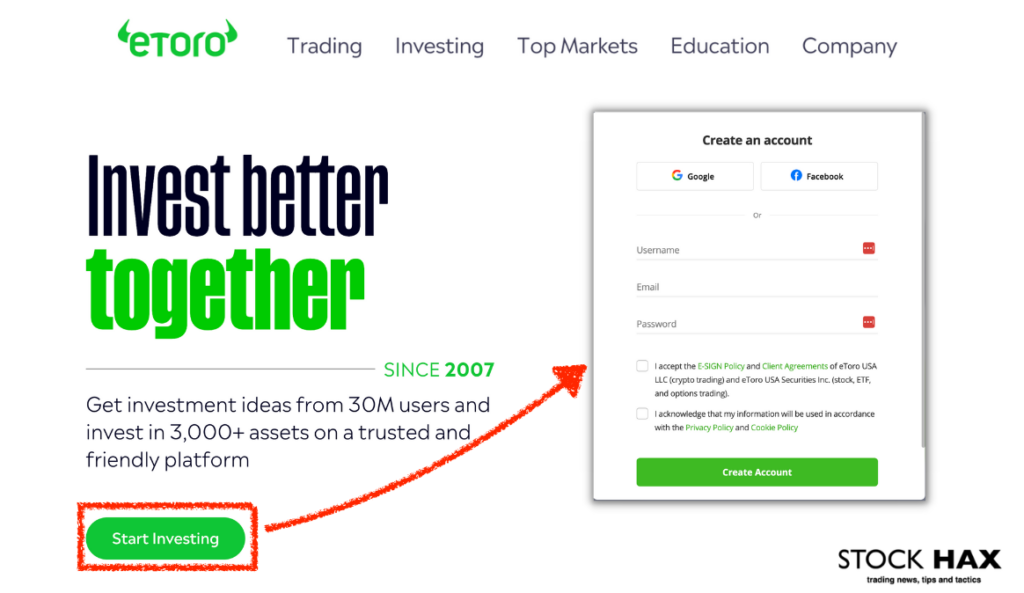 Step 2: Upload ID
Next, eToro will require you to verify your identity by uploading proof of ID. You can use your passport, driver's license, or other government-issued identification. To do this, go to the "Verification" section in your account settings and follow the instructions provided. Make sure the images you upload are clear and legible, as this will expedite the verification process. Once your ID is approved, you'll be able to proceed to the next step.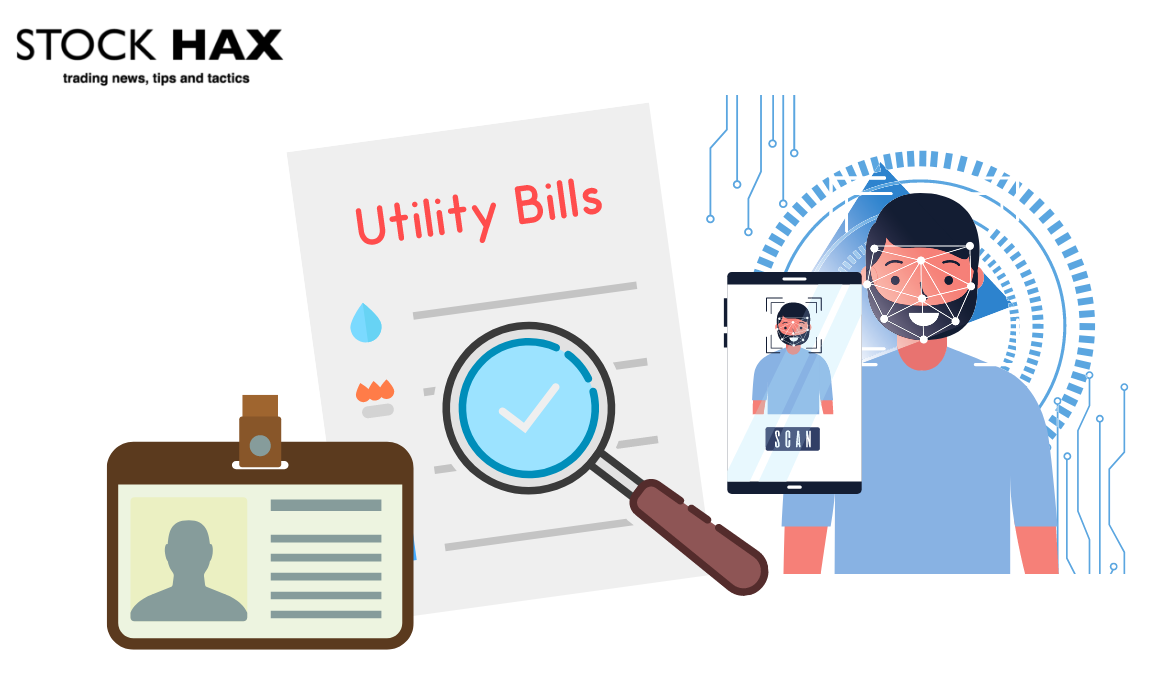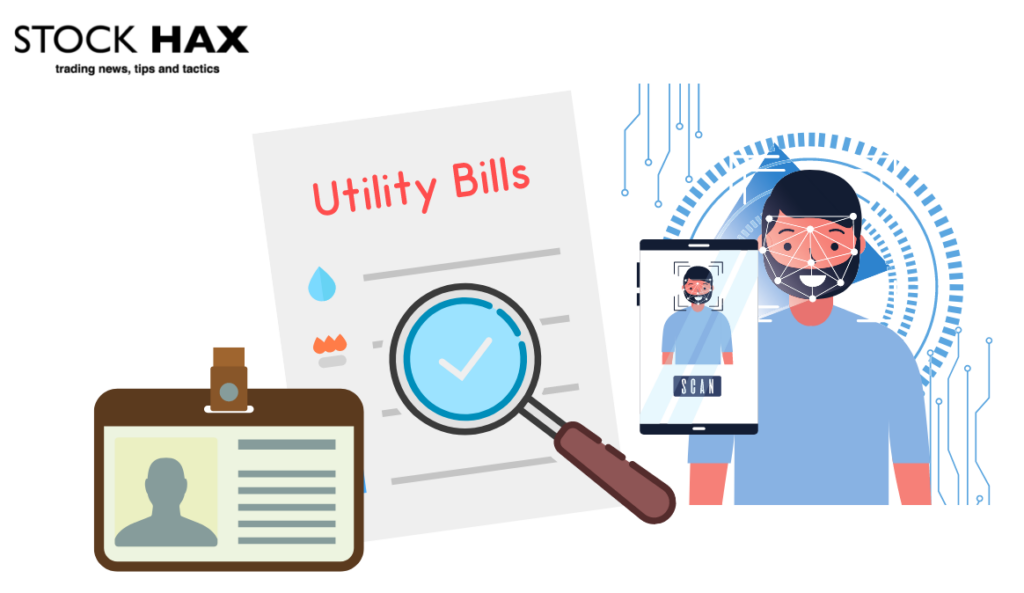 Step 3: Make a Deposit
Before you can start trading, you'll need to fund your account. To do this, log in to your eToro account and click on the "Deposit Funds" button. You'll be presented with various deposit methods, such as credit/debit card, PayPal, and bank transfer. Choose the method that works best for you and follow the instructions to complete the transaction. Keep in mind that eToro has a minimum deposit requirement, which may vary depending on your location and selected payment method.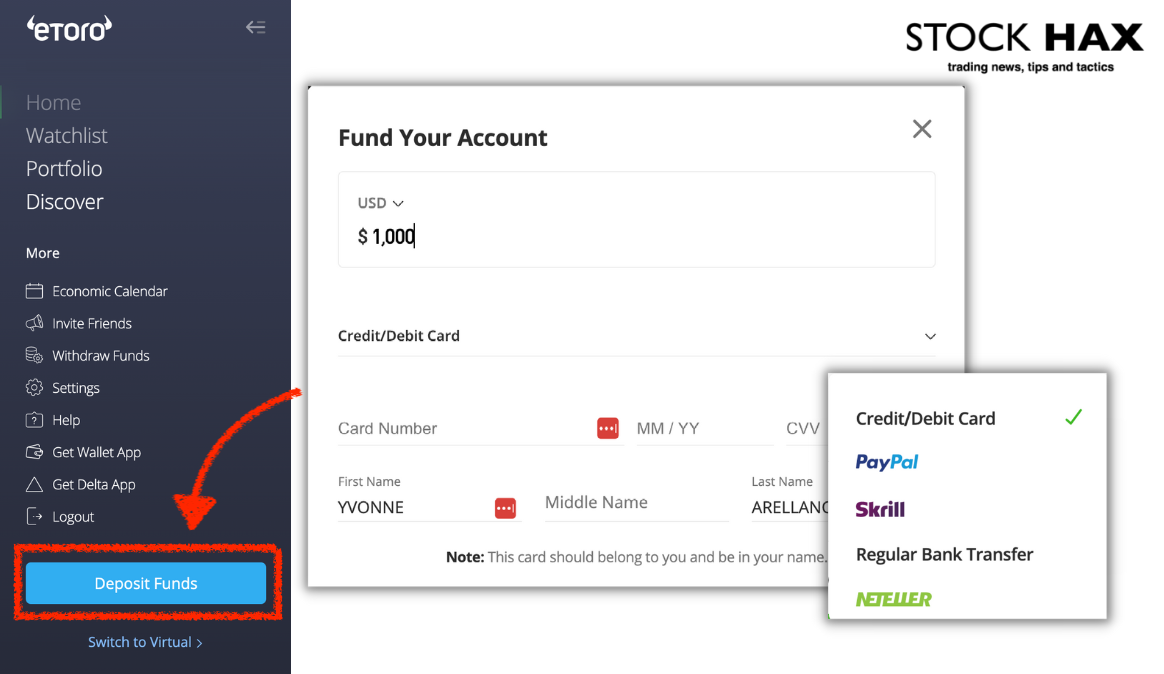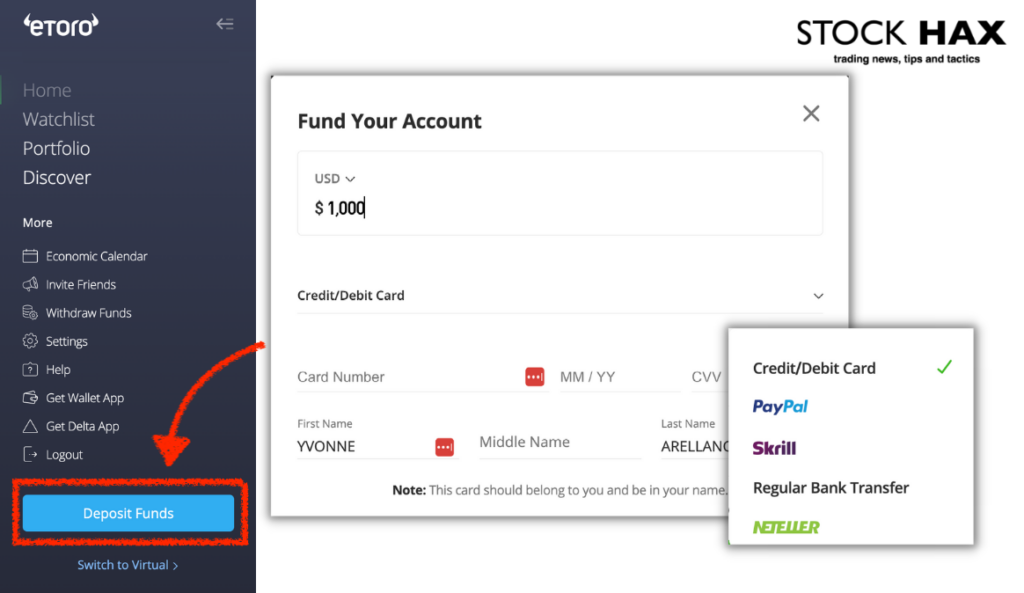 Step 4: Search for RBLX
Once your account is funded, you can begin searching for Roblox stocks. To do this, go to the eToro platform's main page and use the search bar at the top of the screen. Type in "Roblox" or the stock's ticker symbol, "RBLX," and press enter. The search results will display the Roblox stock, along with its current price and other relevant information.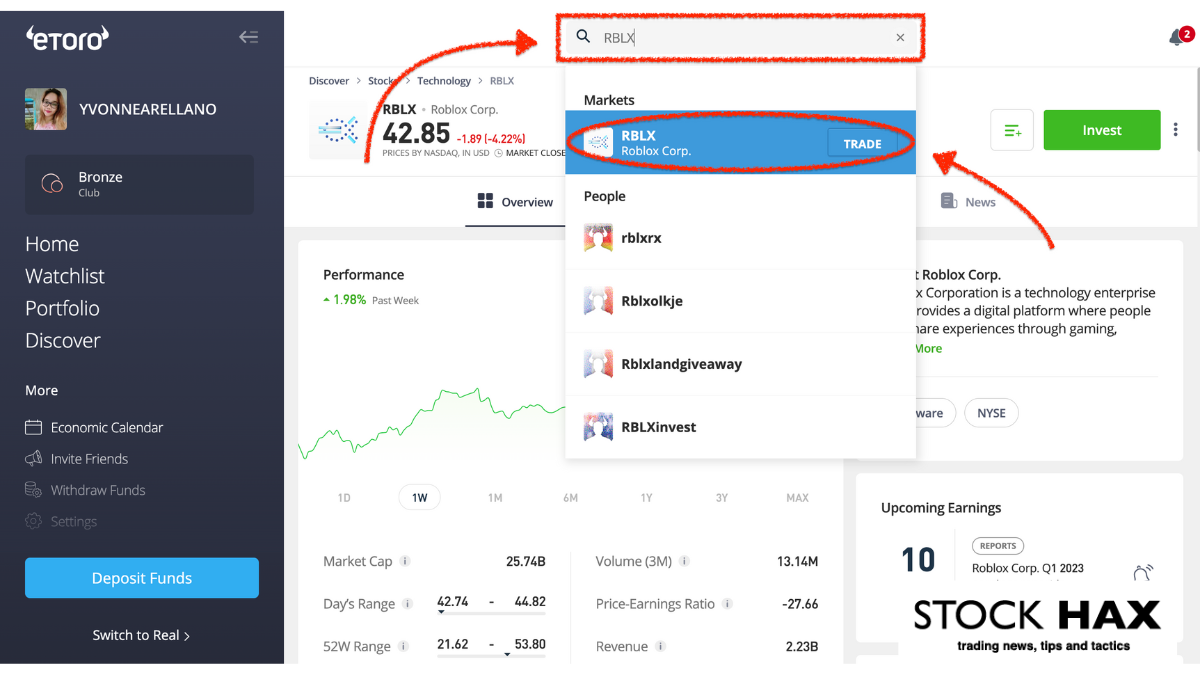 Step 5: Trade RBLX
Now that you've found Roblox on the eToro platform, you're ready to make your investment. Click on the Roblox stock in the search results to access its trading page. Here, you'll see the "Invest" button – click on it to open a new order window. In this window, you can enter the amount you wish to invest, set stop loss and take profit levels, and choose your preferred leverage (if applicable). Once you're satisfied with your order details, click on "Open Trade" to execute the transaction. Congratulations, you have now invested in Roblox stocks through eToro!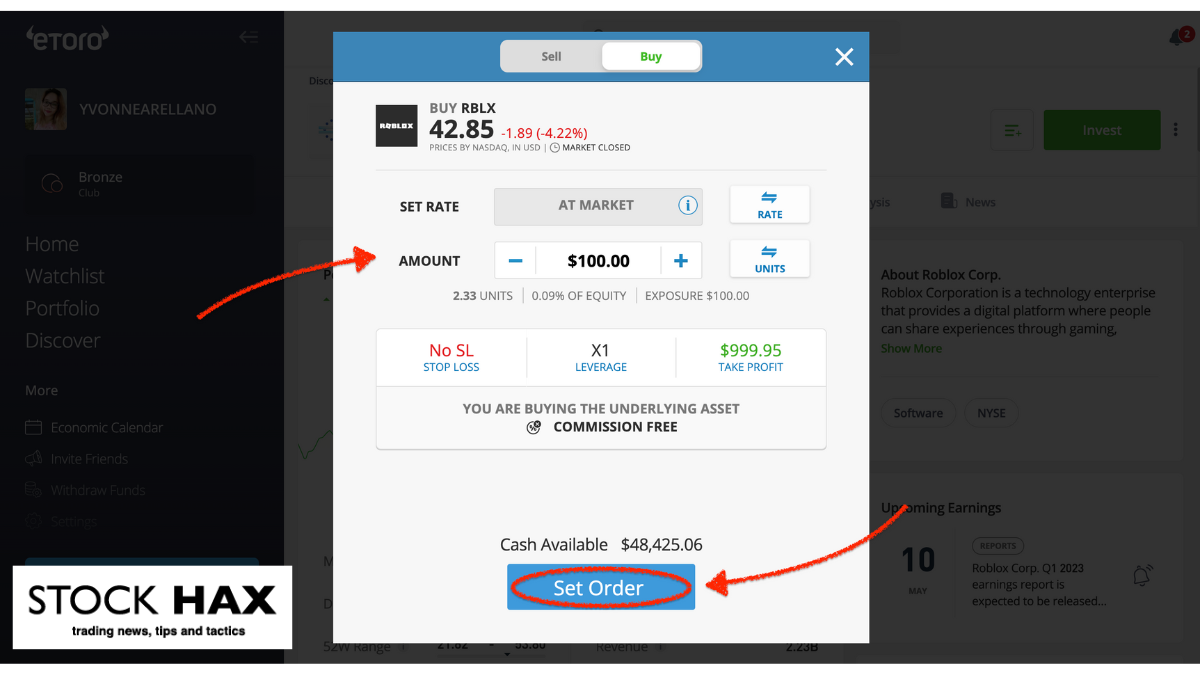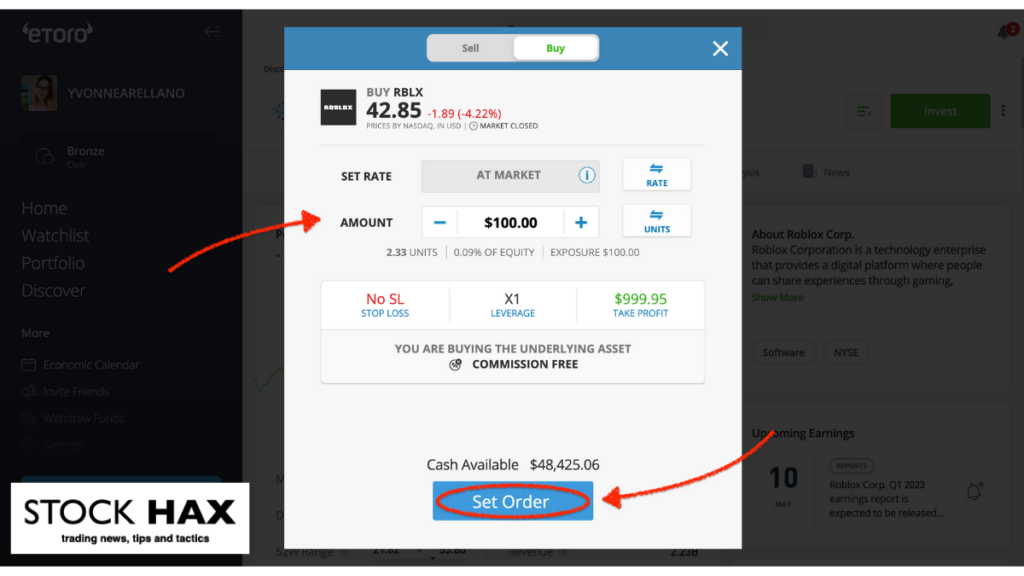 1. Choose A Broker And Plan Your Entry
The first step is to utilize various available online resources to know about the current status of the company and the financial forecast of stocks. It is important to plan the entry and enter the market at the right time to ensure you remain profitable. Once your goals are clear, you need to finalize the online broker. Your decision should be based on the commissions charged, current performance, and the tools offered by the broker.
2. Open An Account
After finalizing the broker, complete the online application to open an investment account with the selected broker. You will need to provide personal information, such as your name, address, and social security number. Once the brokerage approves your registration, transfer money into your new investment account to have funds available for trading.
3. Place An Order
After preparing the funds for trading, choose the number of shares you want to purchase and specify the price you're willing to pay. Carefully review the details of your order, including the price and number of shares, before confirming the trade. It is also essential to choose the right order type. You can choose either a market order or the limit order. The market order will purchase you the estimated number of shares at the market price, while the limit order will purchase you the shares at the price you want the brokerage to purchase the order.
4. Monitor Your Investment
Once you have invested, regularly check your investment account to monitor the performance of your Roblox stock and make any necessary adjustments per your investment goals.
Pros & Cons of Roblox
Pros
Roblox is rapidly introducing new-world gaming technologies, which has increased its user base significantly.
Adding Roblox stock to your investment portfolio can help diversify your investments and potentially reduce risk.
Cons
Roblox is a relatively new company and faces risks associated with scaling its business and maintaining its user base.
Roblox does not currently pay a dividend, so investors do not receive regular income from their investments.
It's essential to thoroughly research and understand the risks involved with investing in individual stocks, including Roblox.
The Bottom Point
Roblox has a large growing user base. The company is projecting to invest in more ventures in the future. While there are many pros of investing in Roblox, you won't be able to earn dividends from your investment which is one downside of investing in this stock.
Risk Disclaimer
StockHax strives to provide unbiased and reliable information on cryptocurrency, finance, trading, and stocks. However, we cannot provide financial advice and urge users to do their own research and due diligence.
Read More