This website and its content are not intended to provide professional or financial advice. The views expressed here are based solely on the writer's opinion, research, and personal experience, and should not be taken as factual information. The author is not a financial advisor and lacks relevant certifications in that regard. We highly recommend consulting a qualified financial advisor before making any investment decisions, as the information presented on this site is general in nature and may not be tailored to individual needs or circumstances.
Intel (INTC) is an American technology company that serves as a market leader in the semiconductor manufacturing industry. Intel's processors are some of the most popular in the world, powering many of the computers made by firms like Dell, Lenovo, and HP. In addition to processors, Dell has supplemental revenue streams manufacturing hardware components for data storage and network devices.
With revolutionary changes like artificial intelligence and quantum computing gathering pace, many investors are excited about Intel's potential to expand over the next decade. In this post, we'll explore a brief history of how Intel has fared as an investment so far, along with the easiest ways for new investors to purchase the stock.
Intel Stock Key Features
You can invest in a company that makes hardware that could be in your computer right now, like an Intel stock cooler or CPU.
As a semiconductor manufacturing company, Intel is poised to be a part of processor advancements like quantum computing or optical computing.
Intel is a very established company with a storied past in Silicon Valley, meaning the stock is part of technology history.
Intel has a beta less than 1, so it tends to be less volatile than the market as a whole, meaning it could be a less risky technology investment.
Government plans for reshoring and expanding computer manufacturing could be a boon for Intel, which has already announced plans for a $100 billion factory in Ohio.
Intel Stock Over the Years – Review
Over the last five years, Intel has declined significantly, mainly due to increased competition from rivals like AMD and the technology sell-off sparked by rising interest rates. Since 2018, Intel stock has fallen by about 43%. While the firm's poor operating margins and slow expansion relative to competitors have disappointed investors, some macroeconomic factors have contributed to the decline as well.
Over the past several years in particular, the Federal Reserve's interest rate hikes have done the firm no favors. Technology companies like Intel are often considered growth companies, meaning the firm's value can be very sensitive to changes in interest rates. With that being said, there is room for optimism in the future, and investors should not be blinded by the firm's past performance.
Intel Stock in 2023
Intel stock has managed to rebound slightly so far in 2023. The stock has risen over 18% from the beginning of the year, in line with the general tech-led market rally that took place over the same time period. Investors should note, however, factors that are due to the firm's performance in particular, versus factors that are due to general market conditions.
Intel's revenue declined on a quarterly basis when considering its earnings release for the first quarter of this year, so the rebound is likely just due to optimism about the Federal Reserve potentially pausing interest rate hikes. As we discussed, technology companies are sensitive to rate changes, so such an event would be a boon for Intel.
Intel Stock in 2022
Intel stock had a disastrous 2022, falling by nearly 50% over the course of the year. While the aforementioned interest rate increases did not help the company's valuation, neither did the firm's 20% decline in revenue when compared with the previous year.
2022 saw a cyclical slowdown in demand for computers and related technology products. As the pandemic computer boom wore off and inventory shortages turned into industry surpluses, Intel saw a serious decline in demand for its chips. This dynamic, known in economics as the bullwhip effect, is particularly pronounced in the computer chip industry due to long lead times for manufacturing.
Intel Stock in 2021
Intel stock stayed relatively stable during 2021, rising by around 4%. Still, this means it missed out on the broader market rally that occurred over the same time period. The firm's relatively low beta, however, can explain some of this lag, and could also contribute to the firm declining less than the overall market during bad years.
During 2021, both Intel's operating income and revenue grew a bit throughout the year, so it makes sense that the firm's valuation mirrored this behavior. Looking back now, we can see 2021 as the year that the pandemic computing boom started to wear off, although the year did end with Intel reporting its largest ever revenue figures, at over $79 billion.
Intel Stock in 2020
Intel had a very volatile 2020. The stock started the year at a price around $60, quickly shot up by more than 13%, then fell by about 35% to a trough around $44, before rallying a bit to begin the next year around $50. Overall, the stock declined about 17% over the course of 2021, in a path that reflected the volatile market as a whole.
While the pandemic-induced computing boom helped Intel's revenue climb significantly during 2020, the firm had a difficult time translating that demand into higher profits. The supply constraints in chipmaking over the course of this period are well-documented, meaning that Intel had to compete fiercely for the resources necessary to manufacture its chips.
Intel Stock in 2019
2019 was a good year for Intel stock, with the value climbing by about 27% over the course of the whole year. Just like in 2020, 2019 was volatile for the stock, with a peak-to-trough differential of 36%. The firm's revenues grew slightly over 2019, in line with the general economic expansion of the year, and several interest rate cuts from the Federal Reserve also served as a tailwind.
Still, investors should be wary of extrapolating historical performance from the pre-pandemic years. The computing market has shifted greatly since 2019, in no small part due to supply chain readjustments meant to reduce the fragility of existing networks. Geopolitical uncertainty has also increased government support for sensitive industries like chip manufacturing, factors that have compounded greatly since 2019.
Investing in Intel shares can be done in a number of different ways, depending on your risk tolerance and investment goals. Purchasing Intel stock directly is likely to be the best way to invest in the firm, since it gives you direct exposure to the performance of the stock. Currently, Intel stock is not particularly expensive, meaning investors should be able to purchase at least a whole share. If the price is too steep, many brokers offer fractional stock shares, meaning you can often invest for a dollar or less.
If you'd prefer to reduce your risk through diversification, but still want to invest in Intel stock, you can also purchase technology-oriented ETFs or mutual funds. ETFs and mutual funds are similar vehicles, although they have several important differences. ETFs are more liquid, can be slightly more tax efficient, and are available for purchase through an online broker just like a stock. Mutual funds, on the other hand, often require a purchase process through a broker that could be slightly unfamiliar to most investors.
The virtue of purchasing Intel through a fund structure is that it spreads your investment among Intel and other companies, potentially reducing the idiosyncratic risk associated with investing in any one company. While technology ETFs or mutual funds are likely to hold a higher portion of Intel as a percentage of fund capital, the firm's size also means Intel is included in broad indices like the S&P 500 and the Dow Jones Industrial Average. For people who'd rather take on more risk, it's possible to trade Intel options, which are derivative contracts that depend on the price of the underlying stock. This falls into the realm of speculation, rather than investment, however.
If you're interested in investing in Intel, we'll walk through how to purchase stock on one platform through which you can do so, the online broker eToro.
You can invest in Intel stock through a wide variety of online brokerage platforms. To choose the right one for you, it is imperative that you consider possible fees and commissions, in addition to your investment goals and the ease of use of any particular investment tool. With that being said, eToro is a very popular online broker, so we'll use the platform in our example.
Step 1: Open an Account
To start the process of investing in Intel through eToro, you first need to create an account. You can go to eToro's website or download the company's mobile app in order to get set up. After clicking the sign-up button and being presented with the registration page, you'll need to enter your name, email, and a password. It's also possible to sign up through an existing Google or Facebook account, making the process very easy.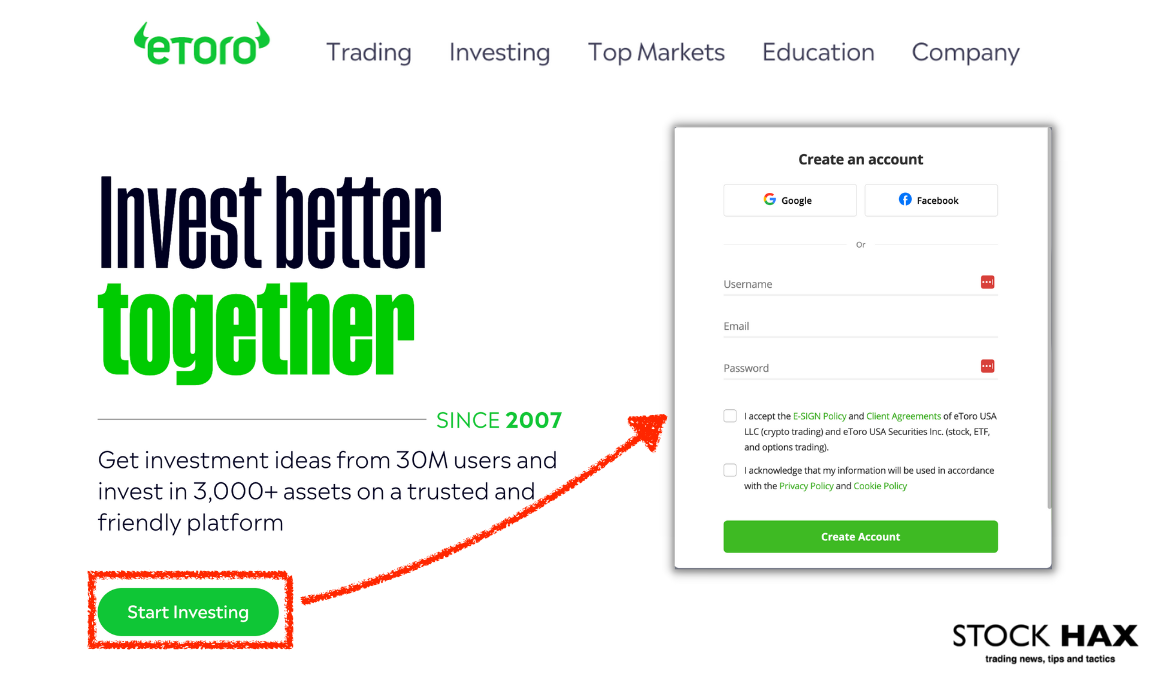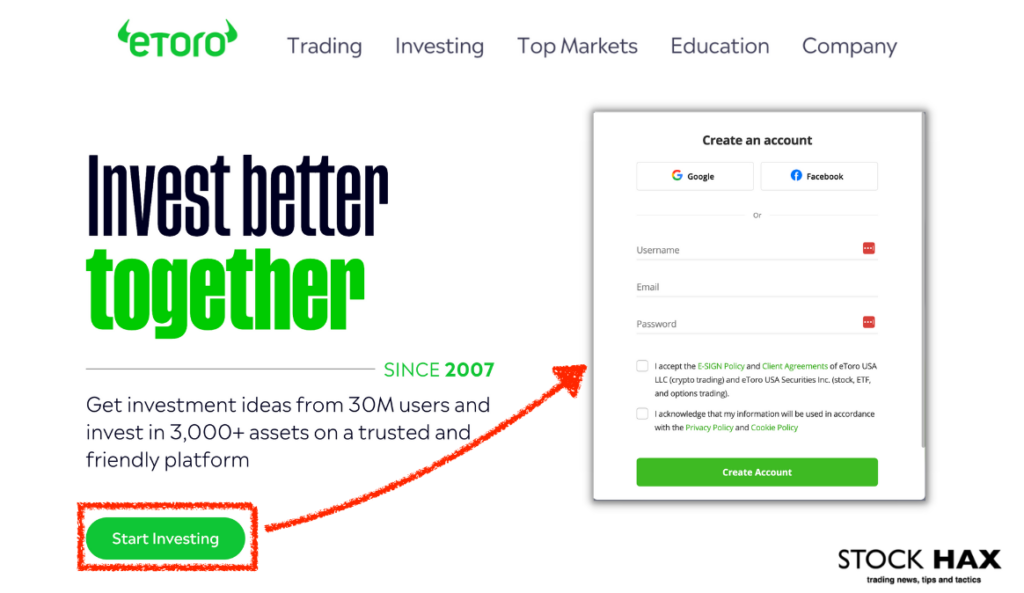 Step 2: Upload ID
Next, you'll need to upload both a proof of address and a proof of identity. Common acceptable forms of identity verification include a national ID, a passport, or a driver's license. The proof of address, meanwhile, must have your full name, address, and be dated within the past three months. While some users can be frustrated at this identity verification process, don't blame eToro. They are required to collect this information to comply with regulatory policies designed to prevent crime and money laundering.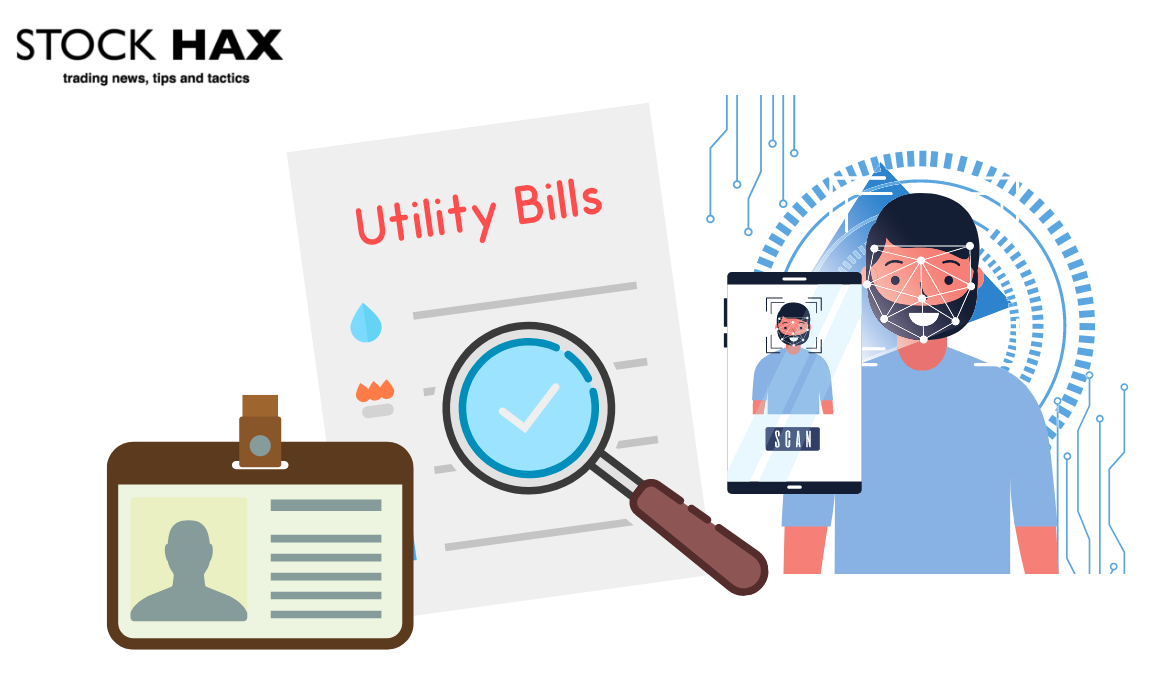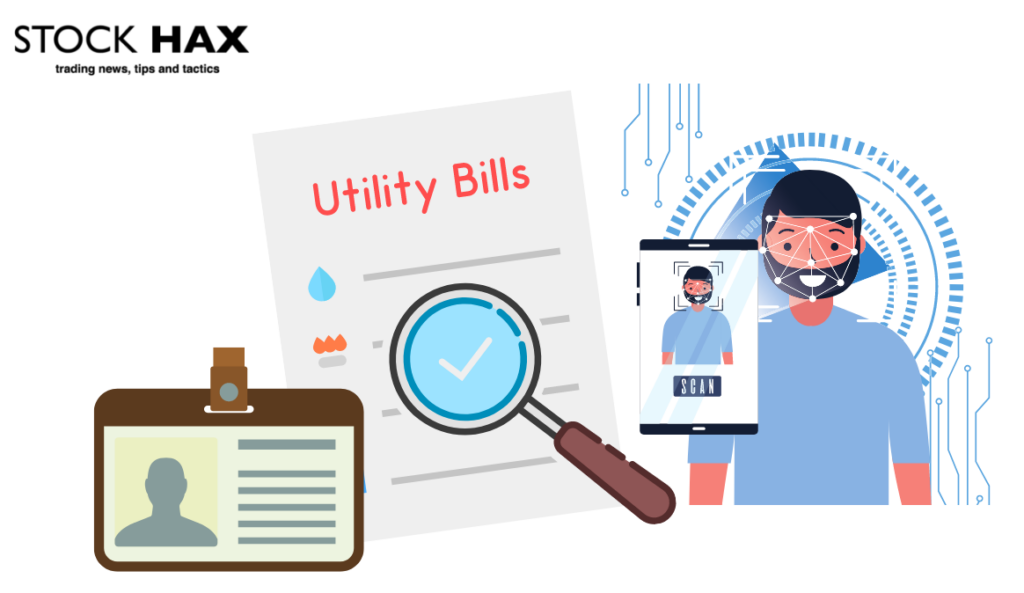 Step 3: Make a Deposit
After your account verification is completed, you're almost ready to invest in Intel. One of the final steps is funding your account, which can be done through a number of different channels. On the eToro menu, click Deposit Funds, which will then present you with options for depositing your initial investment. While most people will want to link a bank account for future transfers, it's also possible to deposit funds via credit/debit card, PayPal, or certain mobile wallets.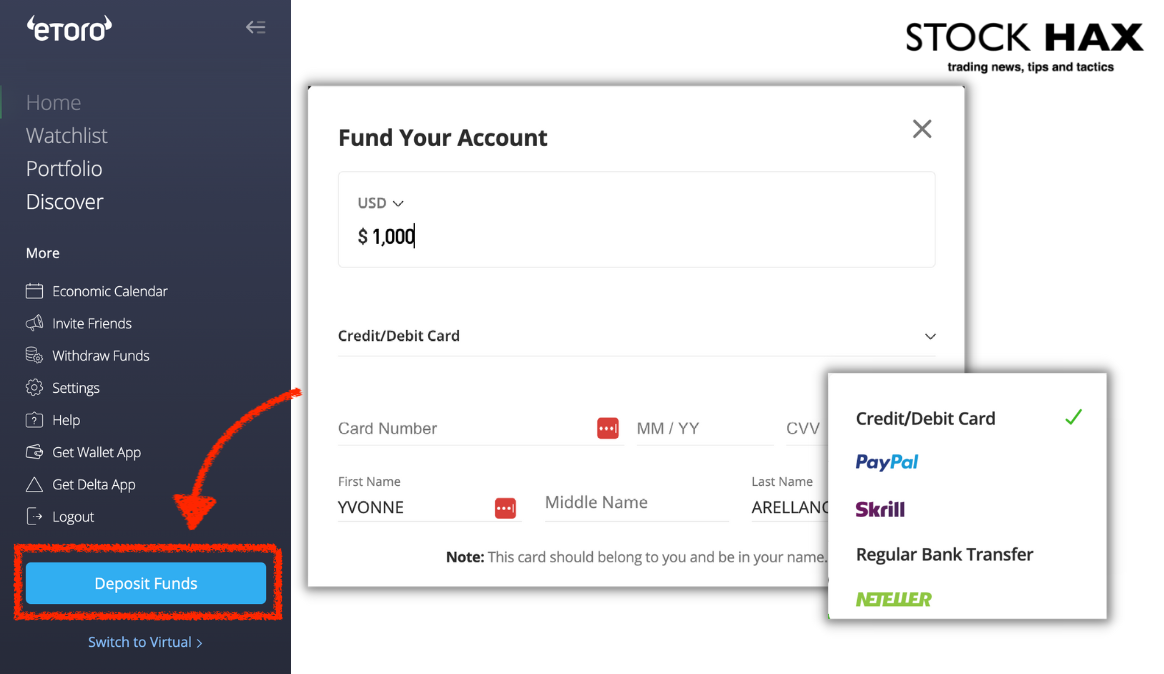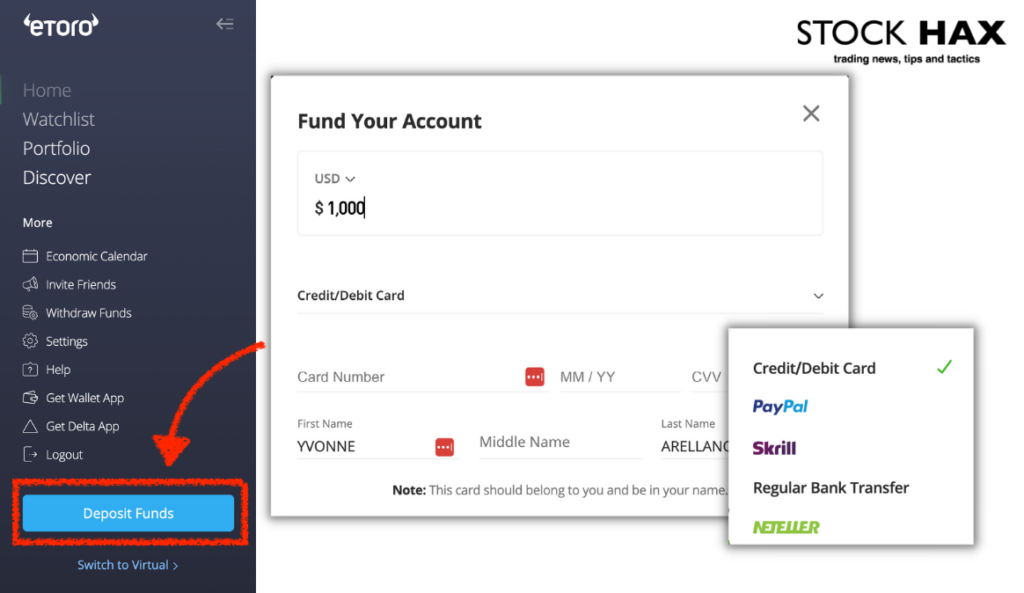 Step 4: Search for Intel
Once your account is funded, you can search for Intel shares on eToro. Remember that Intel's ticker is INTC, so you can enter those four letters to easily find the stock on eToro or other platforms. If you ever forget this ticker, don't worry – eToro has an intuitive search interface that will display the most popular results for a specific phrase, including the company's name.
Step 5: Invest in Intel
After searching for and selecting Intel (INTC), you can easily invest in the company. Press the Invest button to choose the amount of money you'd like to allocate to Intel, or, similarly, the number of shares you'd like to purchase. Once you execute the purchase, you'll see your new investment in your portfolio!
Summary
While Intel may have struggled over the last five years, new advancements in the computing industry could lead to a revival in the firm's prospects. Ultimately, it's up to you to decide whether or not an investment in Intel is appropriate, given your investment goals and your own research.
New competitors are always disrupting established firms, particularly in the technology industry, so no investment is a sure thing. Additionally, investors should be mindful of how macroeconomic factors could impact growth-aligned companies like Intel. If you do decide to invest in Intel, we've outlined one of the easiest ways to do so, which is purchasing Intel stock directly through the online broker eToro.
FAQ
Is Intel a good stock to buy?
Whether or not Intel is a good stock to buy depends on your own investment goals and risk tolerance. The firm has had a volatile past few years, marked by increased competition from smaller rivals and difficulty translating excess demand for computers into real profit. With that being said, Intel does have a beta less than 1, meaning it tends to be less volatile than the market as a whole, so it could be a good option for those who want to explore lower-risk investments in the exciting processor manufacturing space.
Why is Intel stock so cheap?
Intel stock has declined mainly due to two factors. The first is increased competition from firms like Nvidia and AMD, which have taken larger shares of the computer processing market as trends like AI and cryptocurrency play out. The second is interest rate hikes from the Federal Reserve, which have particularly impacted the valuation of tech companies. Past performance does not guarantee future results, though, so both situations could see a reversal.
Does Intel stock pay a large dividend?
Intel stock has a dividend yield of about 1.5% currently, which is not particularly high. Compared with technology companies, which tend to pay a paltry dividend, this could be considered high, but not compared with traditional dividend stocks. Investors should be aware of the corporate preference for buybacks over dividends in recent years, which somewhat reduces the importance of yield figures.
Is Intel or AMD a better investment?
AMD has certainly been favored by the market in previous years, which may make the firm seem like a better investment play. Investors should be aware, however, of the impact that government subsidies will have on chip manufacturing firms. Recently, it appears that Intel has been the favored company by many governments, possibly due to the firm's established history. Which stock is the better investment will depend on each investor's goals, risk tolerance, and individual research.
Is Intel investing in AI?
In line with market excitement about AI, Intel has made announcements about shifting its strategy to align more with AI. While Intel's stock has not benefited from the market AI hype to the extent that competitors like Nvidia have, investors should consider how Intel could benefit from the AI boom. For instance, AI models tend to rely on large data processing centers, which utilize thousands of servers often powered by Intel chips. This could increase demand for Intel's products in the near future.
Risk Disclaimer
StockHax strives to provide unbiased and reliable information on cryptocurrency, finance, trading, and stocks. However, we cannot provide financial advice and urge users to do their own research and due diligence.
Read More