This website and its content are not intended to provide professional or financial advice. The views expressed here are based solely on the writer's opinion, research, and personal experience, and should not be taken as factual information. The author is not a financial advisor and lacks relevant certifications in that regard. We highly recommend consulting a qualified financial advisor before making any investment decisions, as the information presented on this site is general in nature and may not be tailored to individual needs or circumstances.

$0 initial deposit
No trade limits
Reputable customer support and online education tools
Pros
No minimum deposit
Real-time access to quotes for free
Consultations from former floor traders for consumers
Online education tools
Stellar 24/7 customer support
No limits on trades
Cons
Higher prices per trades
Fewer brick-and-mortar branch locations than other firms
Not as many commission-free ETFs
TD Ameritrade Highlights

| | |
| --- | --- |
| 💰 Account Minimum | $0 |
| 💸 Commission Fees | $0 for online equity, ETF, and options trades. Additional fees for broker-assisted trades, mutual funds, and other investments may apply. |
| 💼 Investment Options | Stocks, Bonds, ETFs, Mutual funds, Options, Futures, and Forex. |
| 🤖 Robo-Advisor | TD Ameritrade offers a robo-advisor service called Essential Portfolios, which uses computer algorithms to manage portfolios based on investors' goals and risk tolerance. |
| 📊 Research and Analysis | Free access to third-party research reports, screeners, news, charts, and analytical tools |
| 📱 Mobile App | Two mobile apps for different levels of trading experience; full access to trading, research, and education features; thinkorswim app for advanced traders |
| 🏦 Retirement Accounts | TD Ameritrade offers various retirement accounts, including traditional and Roth IRAs, SEP IRAs, SIMPLE IRAs, and 401(k) rollovers. |
| 🎓 IRA Accounts | TD Ameritrade offers traditional and Roth IRAs, as well as IRA CDs and education savings accounts. |
| 📈 Trading Platform | TD Ameritrade offers the thinkorswim platform for active traders, which provides advanced charting, analysis tools, and real-time data. They also offer the web-based Trade Architect platform for casual investors. |
| 📞 Customer Service | 24/7 phone, email, and chat support; branch offices throughout the U.S.; trading specialists |
| 📚 Educational Resources | Comprehensive learning resources, including articles, videos, webinars, courses, podcasts, and events |
| 🌕 Fractional Shares | TD Ameritrade offers fractional shares trading for select ETFs and stocks. |
| 🌱 Socially Responsible | TD Ameritrade offers a range of socially responsible investment options, including mutual funds and ETFs focused on environmental, social, and governance (ESG) factors. |
| 🌎 International Investing | TD Ameritrade offers trading on international exchanges and access to foreign securities, including ADRs, GDRs, and foreign ordinary shares. |
| 💳 Cash Management | TD Ameritrade offers a cash management account with free ATM withdrawals, bill pay, and mobile check deposit. |
| 🔍 Margin Trading | TD Ameritrade offers margin trading, allowing investors to borrow funds to purchase securities. |
| ⚙️ Options Trading | $0 commissions on online options trades plus $0.65 per contract |
| ₿ Cryptocurrency Trading | TD Ameritrade does not offer direct cryptocurrency trading, but investors can trade bitcoin futures on the CME. |
| 🛡️ Account Security | TD Ameritrade uses advanced security measures, such as two-factor authentication and data encryption, to protect investors' accounts and information. |
| 💹 Leverage | TD Ameritrade offers leverage on margin accounts, allowing investors to increase their buying power. |
| ⚖ Regulation | TD Ameritrade is regulated by various regulatory bodies, including the US Securities and Exchange Commission (SEC), the Financial Industry Regulatory Authority (FINRA), and the Commodity Futures Trading Commission (CFTC). They are also a member of the Securities Investor Protection Corporation |
A High-Cost, High-Gain Stock Trading Solution
Some users may need to validate whether the higher costs vs the features offered are reasonable for their investment goals.
What are TD Ameritrade's Main Features?
The most important thing to take away from TD Ameritrade's stock trading platform is its comprehensive nature. By all accounts, the interface is easy to use and offers a plethora of options for investors of all skill levels to use in their quest to wisely trade and invest.
Most of the work done through TDAmeritrade happens on their desktop and mobile apps, which offer real-time stock quotes, quick access to stockbrokers and advisors, and trades and deposits you can make at the push of a button.
In addition to that, TD Ameritrade claims to have some research tools which may support investors in their investment journey. Market reports from Jaywalk Consensus, S&P Research and others are on hand to help investors track the ebb and flow of the markets.
There is also the Trade Architect platform, which gives you some pretty advanced charting capabilities.
Central to TD Ameritrade's appeal is its customer service. The company has been rated very highly in terms of its ability to address customer concerns, and users have unprecedented access to a variety of customer service solutions for whatever questions they have.
One small caveat to TD Ameritrade is its trade pricing, which is a bit higher than the fees of many of its competitors. While some firms go as low as $5 a trade, TD Ameritrade asks for $9.99 per trade, with a 75-cent fee for options contracts.
However, when the features and customer service they provide you are this good, it might be worth it to consider paying a little extra.
Overall, TDAmeritrade provides a pretty comprehensive and well-rounded trading experience for those willing to put up the money to deal with a more expensive investment platform. More frugal traders need not apply, though.
How Do You Open a TD Ameritrade Account and What are the Requirements?
Opening an account with TD Ameritrade is simple and straightforward. All you have to do is fill out their online application, including your name, address, date of birth, and contract information. You also need to give information about your employer and provide your Social Security Number in order to verify your identity and solidify your status as an investor.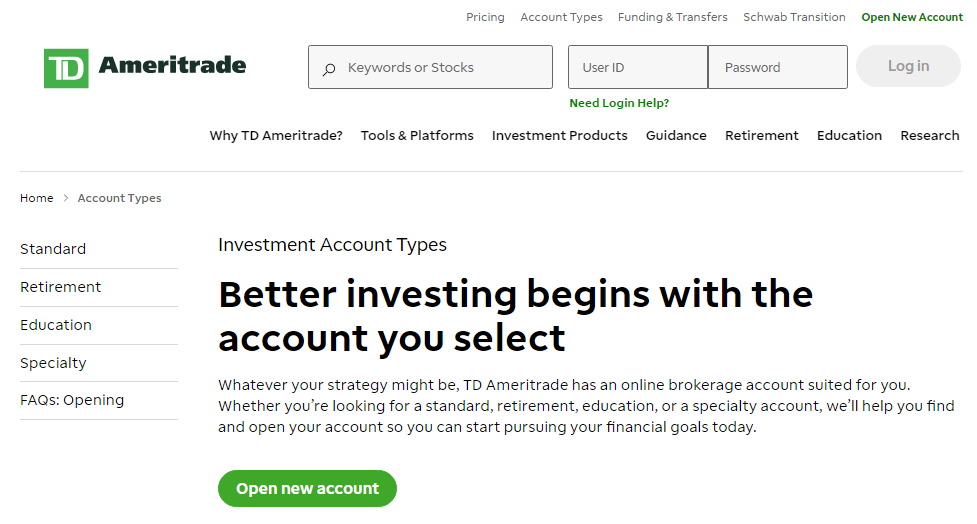 All Account Type
Standard Account Types

Individual
Joint Tenants with Rights of Survivorship (JTWROS)
Tenants in Common
Community Property
Tenants by the Entireties
Guardianship or Conservatorship

Retirement Account Types

Traditional IRA
Roth IRA
Rollover IRA
SEP IRA
Solo 401k (for small businesses)
SIMPLE IRA (Savings Incentive Match Plan for Employees)
Pension or Profit Plan

Education Account Types

529 Plans
Coverdell Education Savings Account
Custodial Uniform Gift to Minors Act (UGMA)/Uniform Transfer to Minors Act (UTMA)

Specialty Account Types

Trust
Limited Partnership
Partnership
Investment Club
Limited Liability
Sole Proprietorship
Corporate (profit or non-profit)
Non-Incorporated
Small Business Plans
NOW AVAILABLE – Charitable
Another thing TD Ameritrade will ask of you is the kind of account you will be using. This is an important step, so think about what you want to do. Are you going to be an occasional trader or be more active when using their software? These questions will inform whatever type of account you pick, as will your investment goals.
After that is completed, you just have to agree to the terms and conditions (remember, always read the terms and conditions) and create your log-in and password. If you want to avoid putting this information online, you can request a paper application you can print and send in.
If you need any help during the process, TD Ameritrade helpfully allows you to chat live with a customer service agent on the website as you go, or dial an 800 number so someone can talk you through the process. While TD Ameritrade's application process is already easy, these added customer service options are nice touches.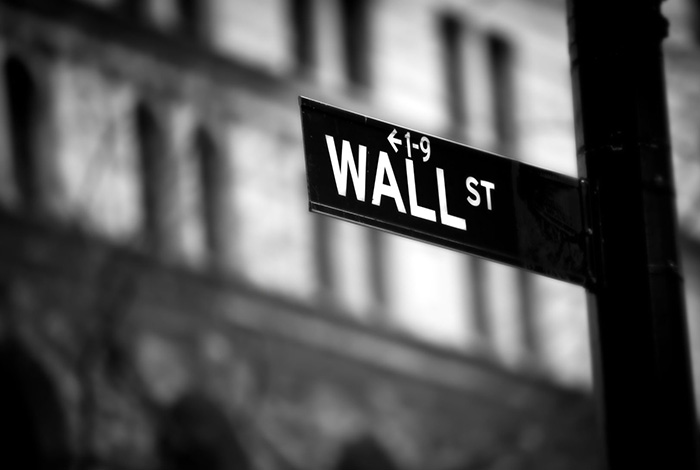 What Are the Rules for Trading on TD Ameritrade?
When trading on TD Ameritrade, you can choose from any kind of investment option you might like. Whether it is preferred or common stocks, mutual funds, exchange traded funds, money market accounts or any other, you can find it on the service.
If there is an asset class for it, you can probably find it on TD Ameritrade, as they have more than 1,200 fund offerings to choose from. You can put them in your standard account, or start an IRA or 529 plan with them, which is a much needed bit of flexibility TD Ameritrade provides.
TD Ameritrade also highlights on its website that there are no minimum account deposit requirements. That means for new traders just getting into the market, you can put in as little as you like and see whether it fits you.
Trading is typically done through TD Ameritrade's Thinkorswim Trading Platform, which is highly rated (and for good reason). The whole Thinkorswim interface is user-friendly and easy to follow, tracking stock performance in real time, offering risk monitoring and trade analysis, and much more.
Not only does Thinkorswim arm investors with a lot of info, but there are additional features that help users make smart trades. Chief among them are the Pattern Matcher, Strategy Desk, Market Motion Detector, QuoteScope, and Command Center 2.0, all of which can help you trade more intelligently.
Real-time risk monitoring and tracking stock performance are a central part of online stock trading, and TD Ameritrade offers live streaming video of CNBC Plus, live market charts and active trading interfaces to better equip you with the tools you need for good investing.
If you would like to consult with someone in person for your trades and questions about your account, TD Ameritrade has a number of branch offices you can consult. There are about 100 in the nation, so if you don't live in a major city you might have trouble reaching them, but it remains a viable option.
What Kind of Trader is TD Ameritrade Best For?
Some users argue that TD Ameritrade has relatively higher fees compared to peers.
TD Ameritrade's approach might also work well for traders who rely on help from customer service. These are the hands-on traders who want to make sure everything is proceeding according to plan, and are able to immediately contact their platform and make changes if needed.
Traders who are just starting out might get a lot of use out of TD Ameritrade's online courses, which educate new users on the best kinds and types of stocks to buy, when to buy them, and how best to handle your investments and the Ameritrade interface.
Investors agree that most platforms provide video tutorials on how to navigate online trading platforms. However, TD Ameritrade goes a step further and takes the time to offer true investment education.
Other Good Products
If you like TD Ameritrade's customer service, but balk at their fees, E*Trade is one of the other many alternatives that investors can consider., but their trade pricing is slightly cheaper, at about $8 per trade. Meanwhile, they offer a similarly high level of service.
If TD Ameritrade's fees feel a little high, but you want to keep the same relative level of service, look into Scottrade. Scottrade has significantly lower fees for mutual fund trades and broker assisted trades. Scottrade does, however, require a $2,500 minimum deposit.
OptionsHouse has a similar fee structure, but requires no minimum deposit.
Another even cheaper option is TradeKing. TradeKing charges $40 less per mutual fund trade than TD Ameritrade does.
For traders who want something a bit cheaper but still want to use a lot of sophisticated mobile apps, Stash Invest might work well. All it takes is a $5 minimum balance, and you can trade as little or as much as you like from your phone from a curated list of diversified stocks.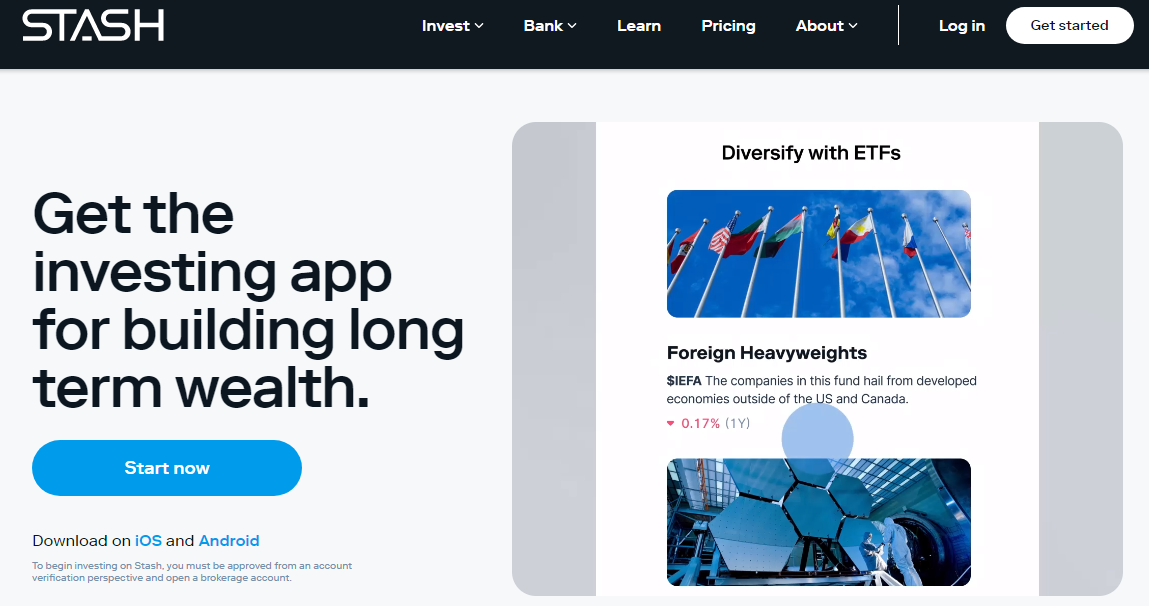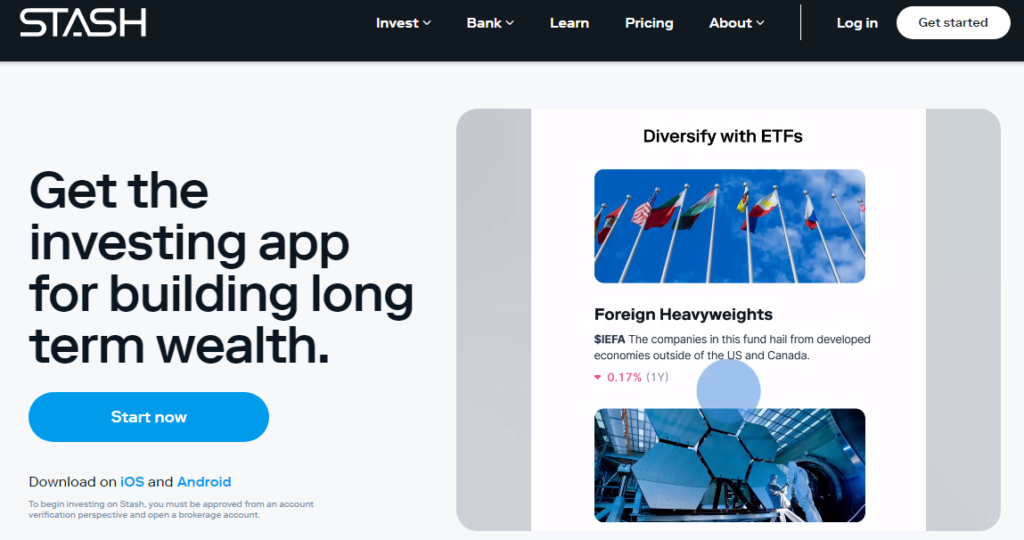 And if you need a little more diversity or more ability to customize your portfolio, look into TD Ameritrade's own Amerivest Managed Portfolios platform. It has 15 different asset allocation models based on ETFs and mutual funds that Morningstar selects.
A Few Final Thoughts
Of all the major online stock trading platforms out there, TD Ameritrade is far from the cheapest of the bunch. Based on user feedback the higher fees might drain the return potential of investors.
However, if you are willing to pay just that little bit extra, what you get in exchange is helpful. The platform claims to have 24/7 customer support and a flexible trading platform.
Risk Disclaimer
StockHax strives to provide unbiased and reliable information on cryptocurrency, finance, trading, and stocks. However, we cannot provide financial advice and urge users to do their own research and due diligence.
Read More