This website and its content are not intended to provide professional or financial advice. The views expressed here are based solely on the writer's opinion, research, and personal experience, and should not be taken as factual information. The author is not a financial advisor and lacks relevant certifications in that regard. We highly recommend consulting a qualified financial advisor before making any investment decisions, as the information presented on this site is general in nature and may not be tailored to individual needs or circumstances.
It is accepted by the market that Apple has one of the largest market capitalizations as a public company and while it saw some shrinkage in 2022, 2023 is looking great so far.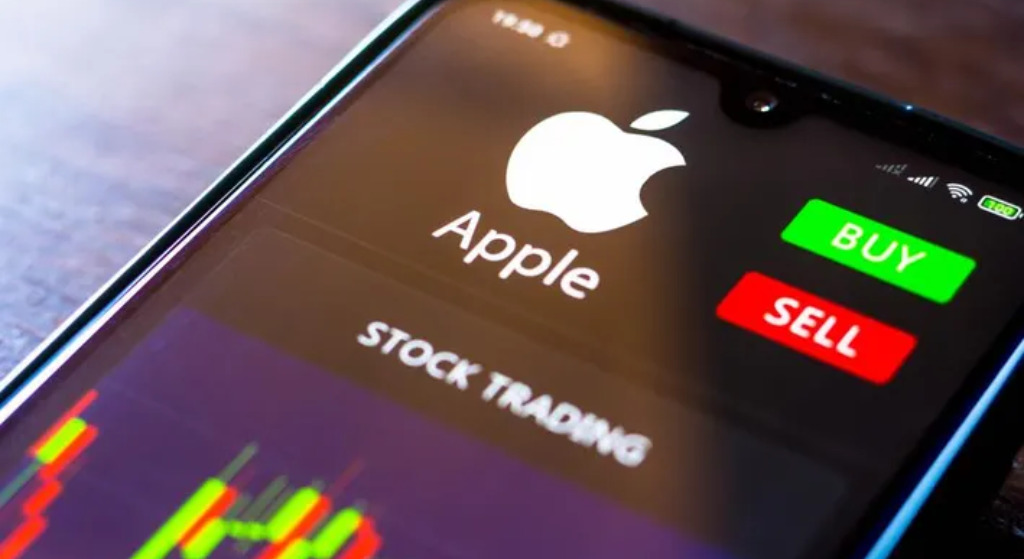 However, with inflation and other factors potentially affecting their operation costs, there's always a chance for things to change. So, where is Apple going in June 2023? Read on to learn about Apple's market performance and stock value going into June 2023.
Apple Going into June 2023
A broader market sell-off impacted Apple stock last year, but 2023 promises some exciting developments. Apple's stock price (AAPL +1.41%) fell 12.4% in December, sending the company's stock price tumbling after a particularly challenging year. Now, the stock is traded for $175.43 apiece, with 40.27% year-to-date growth, climbing to its old all-time high.
In their Q2 2023 earnings report on May 4th, Apple declared impressive financial results, exceeding revenue expectations with $94.8 billion. This was despite a 3% YoY decrease due to macroeconomic challenges.
In terms of shareholder returns, Apple distributed over $23 billion to its shareholders, primarily through dividends and open market repurchases. The company plans to raise its dividend by 4% to $0.24 per share, demonstrating its commitment to returning value to investors and maintaining steady growth. Moreover, with a surprisingly reported EPS of 1.52, the tech innovator beat estimates by 6.32% this quarter.
The iPhone segment achieved record-breaking revenue of $51.3 billion. However, Mac sales fell short of expectations, attributed to macroeconomic challenges and foreign exchange headwinds. iPad revenue also underperformed projections.
On the other hand, the wearables, home, and accessories segment generated $8.8 billion in revenue, although experiencing a slight 1% year-over-year decline. Meanwhile, the services segment continued its upward trajectory, recording a remarkable revenue of $20.9 billion, representing a substantial 7.5% increase compared to the previous year.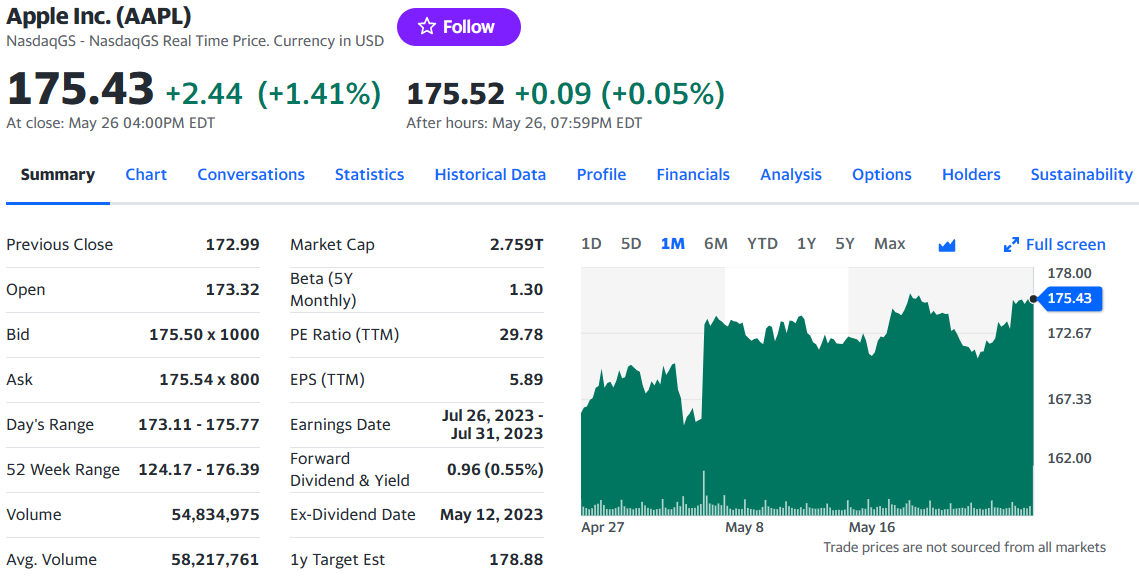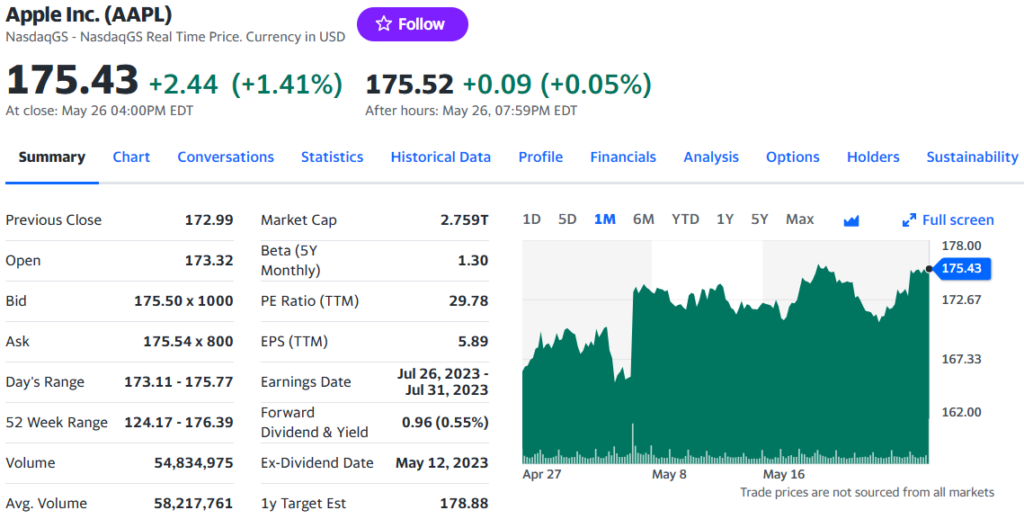 Projections for Apple's Stock
Several companies reported dismal quarterly results in 2022 as inflation and interest rates rose. Despite this, Apple performed better than many of its tech competitors. For example, over the past year, Amazon's stock dropped by 0.08%, and Tesla experienced a loss of 23.57% for their shares. On the other hand, Apple's stock surged by 17.86% for the same period, accentuating the stable actions taken by the company.
Following Apple's successful campaigns compared to other industry leaders, the tech giant received an 88 out of 99 Relative Strength Rating by IBD. The evaluation by the financial company is formed on the last 52-week average basis and compares the performance of APPL to all other stock contenders on the market. The growth stock has also received a 91 out of 99 Composite Rating, ranking it amongst the best companies based on fundamental technical indicators of their share price movement. The financial research organization also gives AAPL and IBD Accumulation score of B, meaning the stock is a good buy.
Analysts from CNN also give a bullish outlook on Apple's stock price forecast for the following 12 months. According to the experts, in the long run, the median target for the stock is $183.43, which is a 4.59% increase compared to the last forecast. Moreover, out of 40 analysts, 24 unanimously agree that AAPL's trajectory indicates a buy signal, a rating that has remained unchanged since the beginning of May.
Apple's Role in Artificial Intelligence
With rising demand for cloud computing and machine learning services and the introduction of ChatGPT, AI is generating significant buzz in current discussions. As a leading tech company, Apple also looks to take its fair share of the AI pie. However, with no official news regarding drastic AI expansion, the iPhone maker uses a different approach than its competitors. Unlike Microsoft and Amazon's race into cloud base AI services, Apple focuses on three main sectors: in-device AI, more innovative apps, and natural language processing.
Apple's Siri has pioneered as one of the earliest and most popular AI-enabled virtual assistants. Building upon its success, Apple is now channeling its efforts into advancing Siri's capabilities. Recent research conducted by Apple has focused on fine-tuning Siri's accuracy, specifically for local area searches.
However, Apple's AI aspirations extend beyond Siri alone. The tech powerhouse strives to create robust handheld devices that can independently execute machine learning algorithms using data acquired through their built-in sensors. Furthermore, Apple actively encourages developers to integrate AI into their third-party applications, augmenting user experiences across various domains.
Apple seems highly cautious regarding its AI presence on the market, but the race is fierce. Cupertino's finest may need to develop an innovative solution to meet the market's demand. That is why rumors for the publication of mixed-reality headsets soon may be the move the company is willing to take.
Apple as an Innovator in AR
In the past few years, Apple has acquired various companies and filed patents to enter the virtual/augmented reality (AR/VR) market. Several outlets recently reported that the company would announce an AR/VR headset as early as spring 2023.
According to Grand View Research, the $25.33 billion AR market is expected to grow at a compound annual growth rate (CAGR) of 40.9% through 2030. In the meantime, the VR market is projected to grow at a CAGR of 15% from 2021 to 2023.
With its ability to enter new markets and quickly grow its market share, the tech star has demonstrated particular success in the past. The mainstream adoption of technology such as smartphones, tablets, smartwatches, and Bluetooth headphones would have been significantly slower without Apple.
Although companies like Meta Platforms and Sony already offer VR headsets, purchasing Apple stock could be an investment in the future leader of the industry based on its past success in entering new markets.
Apple's American Chip-Manufacturing Campaign
Intel is no longer Apple's leading supplier. This year, Apple will replace Intel processors in its Mac lineup with its own custom-made Apple Silicon chips. A bolt of lightning for the company's desktops and laptops, the new systems on a chip (SoC) provide significantly more power and better battery life than Intel computers.
The latest news in this regard is the announcement from the Cupertino tech giant and their partnership with Broadcom to produce U.S.-made chips. As a result, components for Apple's 5G devices will be built in Colorado and various other locations across the United States. This initiative is part of Apple's plan to invest $430 billion into American manufacturing and the overall economy and further detach the string of reliance from China's chip production market. The global tech leader has also opened their first brick-and-mortar store in India, with plans to expand their operations in the country in the future.
"More than half" of Apple's Mac and iPad sales in the second quarter of 2021 went to customers who had never owned one before due to the more powerful Macs attracting consumer interest. The company's Mac revenue increased 116% from $5.3 billion in Q2 2020 to $11.5 billion in Q4 2022 before Apple Silicon was announced.
Apple has gradually moved its computers to Apple Silicon chips over the past few years, with devices such as the MacBook Pro, MacBook Air, Mac Mini, and 24-inch iMac already following suit. A beefier Mac Mini, a larger iMac, and a Mac Pro are still anticipated from Apple Silicon. According to rumors, a 15-inch MacBook Air could also be announced this year.
Apple Silicon has already generated significant revenue boosts for the company, and the release of these final products in 2023 will complete the transition.
FAQs
Does Apple Pay a Dividend? And if so, How Often?
AAPL pays a dividend of $0.23 per share. AAPL's annual dividend yield is 0.6%

The next Apple Inc dividend is expected to go ex in 3 months and to be paid in 3 months.
The previous Apple Inc dividend was 23c, and the company plans to increase it by 4% to 24c this year.

There are typically four annual dividends (excluding specials), and the dividend cover is approximately 3.5.

Its dividend yield is low because of the rapid rise in Apple's stock price, thus, providing little income per dollar invested.

Why is Apple Stock Falling?
As a result of the reduced capacity at its Zhengzhou factory in China, Apple's iPhone 14 Pro and iPhone Pro Max shipments were delayed in early November 2022.

A concern is the weakness of presales of the lower-priced "non-Pro" models. The company's sales for the fourth quarter of 2022 declined by 5%, marking its first decline since 2019 and its most significant sales decline in six years. However, we have seen a recovery and a drastic uptrend movement lately, as the stock is up 40.27% year to date.

The FAANG favorites-now known as MAMAA for Meta Platforms (META), Amazon (AMZN), Microsoft, Apple, and Alphabet (GOOGL)-have fallen out of favor in 2022 due to record inflation and rising costs.
What Do Analysts Say About Apple Stock?
According to 36 analysts, Apple Inc's 12-month price target is 183.43, with a high estimate of 209.00 and a low estimate of 127.00. Compared to the last price of 175.38, the median estimate represents an increase of 4.59%.

According to 40 investment analysts, Apple Inc. stocks are a good trade. Ratings had remained unchanged since February when the company was rated trade.

Risk Disclaimer
StockHax strives to provide unbiased and reliable information on cryptocurrency, finance, trading, and stocks. However, we cannot provide financial advice and urge users to do their own research and due diligence.
Read More