This website and its content are not intended to provide professional or financial advice. The views expressed here are based solely on the writer's opinion, research, and personal experience, and should not be taken as factual information. The author is not a financial advisor and lacks relevant certifications in that regard. We highly recommend consulting a qualified financial advisor before making any investment decisions, as the information presented on this site is general in nature and may not be tailored to individual needs or circumstances.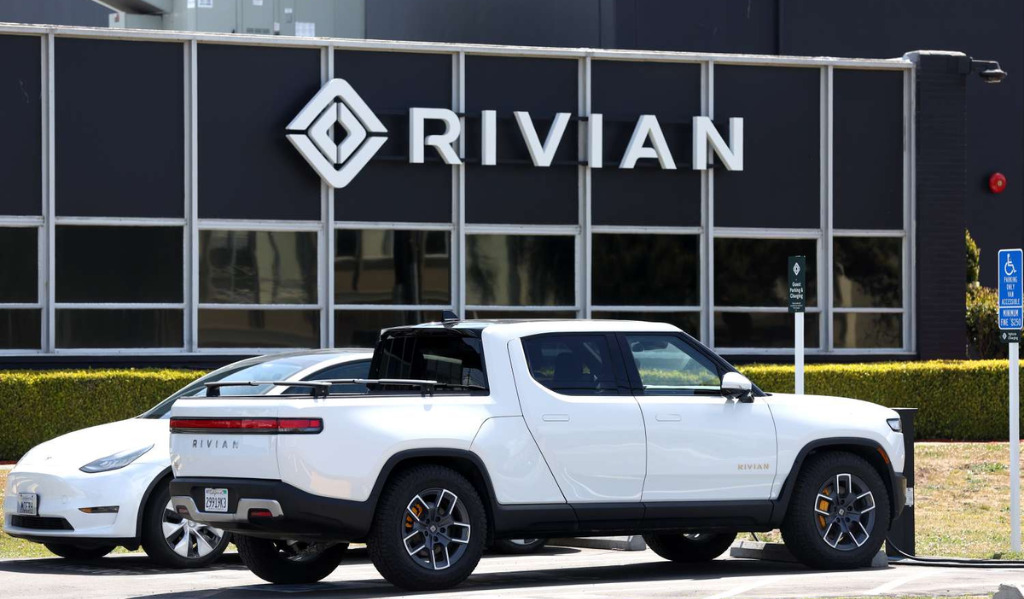 Rivian Automotive, established in 2009, is a pioneer in the electric vehicle (EV) sector. Focused on transforming transportation, Rivian designs and manufactures innovative electric trucks and SUVs. Their lineup includes the R1S electric SUV and R1T electric pickup truck, built on a versatile skateboard platform.
Combining sustainability with technology, Rivian emphasizes performance and off-road capabilities. Significant investments from companies like Ford and Amazon validate its potential. Beyond vehicles, Rivian ventures into sustainable energy solutions and charging infrastructure, positioning itself as a key player in the electric mobility revolution.
Rivian Automotive Stock Key Features
High valuation: Rivian Automotive stock is currently trading at a P/S ratio of around 7. This is a very high valuation compared to traditional automakers such as Ford or General Motors which trade at P/S ratios of around 0.3. This shows that investors are betting that Rivian will be a major player in the electric vehicle market in the years to come.
Limited production (for now): Rivian Automotive is still in the early stages of production, but it is ramping up production rapidly. It expects to make just 52,000 vehicles this year but aims to produce a million vehicles per year by 2030. This is a significant number of vehicles, and it will help Rivian to generate revenue and profits. Rivian has already started production of its R1T pickup truck and R1S SUV. The company is also building a factory in Georgia that will be able to produce 400,000 vehicles per year. This factory is expected to be completed in 2026.
Competition: Rivian Automotive is facing competition from established automakers like Tesla and Ford, as well as from newer entrants like Lucid Motors. However, the company has a number of unique features that some of its competitors do not have, such as its all-electric lineup and its focus on adventure vehicles.
Advanced Technology and Performance: Rivian vehicles are engineered with advanced technology, boasting impressive performance attributes such as powerful electric drivetrains, extended battery ranges, and robust off-road capabilities. These features position Rivian as a contender in both the electric and traditional vehicle markets, appealing to a wide range of potential buyers.
Management: Rivian Automotive is a relatively new company, but its management team is experienced and talented. RJ Scaringe, the company's CEO, is a visionary leader with a proven track record of success. The company's other executives also have a wealth of experience in the automotive industry. RJ Scaringe, the company's founder & CEO has helped to guide the company through its early stages of development. Scaringe has a degree in mechanical engineering from MIT.
Rivian Automotive Stock Over the Years – Review
Rivian Automotive stock price has plunged over the last 2 years due to production delays, the overal market decline and competitive pressures. Rising costs for raw materials and components have also contributed to the drop. The stock price peaked at over $179 per share in November 2021, but it has since fallen to around $21 per share. The main cause for the price collapse was the expensive valaution as Rivian's market cap at peak was over $100 billion. However, the company had almost no production at the time of the IPO, making its valuation too expensive for investors.
Rivian Automotive Stock in 2023
Rivian stock has shown significant volatility throughout the year, with a YTD high of approximately $28 and and a low of $11.68. Rivian news about its production and delivery numbers, as well as broader trends in the EV market and investor sentiment towards the industry's growth potential have influenced the stock performance this year. A couple of weeks ago, Rivian stock spiked by more than 17% in a single session after the EV manufacturer beat second-quarter delivery estimates. It produced 13,992 vehicles in Q2, beating the estimates of 11,000 vehicles and also reiterated its full-year guidance of producing 50,000 vehicles.
Rivian Automotive Stock in 2022
In 2022, Rivian Automotive's stock faced significant downward pressure. It closed the year at around $18 per share, falling over 82%. Rivian stock forecasts were also revised downward by analysts due to the overal market weakness, putting further pressure on the battered stock price. The compnay faced numerous challenges thouout the year, including supply chain disruptions and rising production costs. The company also faced negative publicity in 2022 after it announced priced increases in its vehicles before it even started to produce a meaningful number of them. However, it rolled back its proce increases after cusomer backlash.
Rivian Automotive Stock in 2021
In 2021, Rivian Automotive's stock made its debut on the public market with an initial public offering (IPO) on November 10. The stock opened at $78 per share and closed at $100.02 on its first day of trading, reflecting strong investor interest in the electric vehicle (EV) manufacturer. Throughout the year, the stock demonstrated significant volatility, with its price fluctuating between approximately $70 and $180 per share. Rivian's IPO marked a significant milestone as it aimed to capitalize on the growing demand for sustainable transportation solutions and positioned itself as a prominent player in the EV market.
Stock: The most straightforward way to invest in Rivian is by purchasing its stock through a brokerage account. This allows investors to directly own shares of the company, giving them potential for capital appreciation if the stock price rises.
Exchange-Traded Funds (ETFs): Some ETFs focus on electric vehicles, clean energy, or the broader automotive industry. These ETFs include a diversified basket of stocks, including Rivian if the company is part of the index being tracked. Investing in ETFs provides exposure to Rivian along with other companies in the same sector.
Mutual Funds: Similar to ETFs, mutual funds offer a diversified approach to investing. Some mutual funds such as the T Rowe Price Growth Stock Fund ($PRGFX) hold shares of Rivian, especially those with a focus on technology, innovation, or automotive industries.
Robo-Advisors: These automated investment platforms create diversified portfolios based on an individual's risk tolerance and goals. If Rivian is part of the recommended portfolio, the robo-advisor will invest accordingly.
Direct Stock Purchase Plans (DSPPs): Some companies offer DSPPs that allow investors to buy shares directly from the company, bypassing traditional brokerage accounts. Rivian does have an Employee Stock Purchase Plan that allows employees to buy shares in the comapny at a disount of at least 15%.
Options Trading: Experienced investors might trade options contracts based on Rivian's stock price movements. Options offer strategies for generating income or hedging risks.
Fractional Shares: Some brokerage platforms allow investors to purchase fractional shares of companies. This is useful for those who can't afford a full share of stocks.
Investors can also buy Rivian shares through eToro, which offers a user-friendly way to access this innovative automotive company's future growth.
Acquiring Rivian stock is possible via different exchange platforms or online brokers, though it's crucial to factor in fees, taxes, and investment tools. Let's take eToro as an illustrative instance.
Step 1: Open an Account
To get started, navigate to eToro's homepage and select the Sign-up option. Within moments, the registration page will appear. Provide your name, email, and password to create your profile. Alternatively, you can also use your Facebook or Google accounts to set up your profile.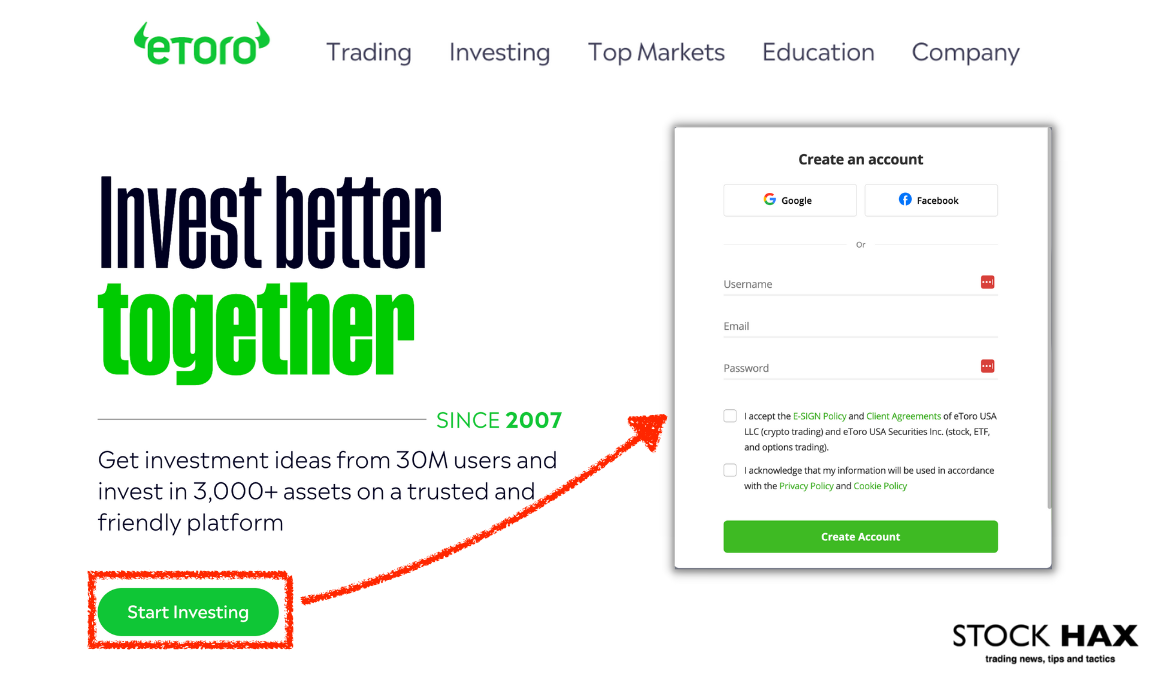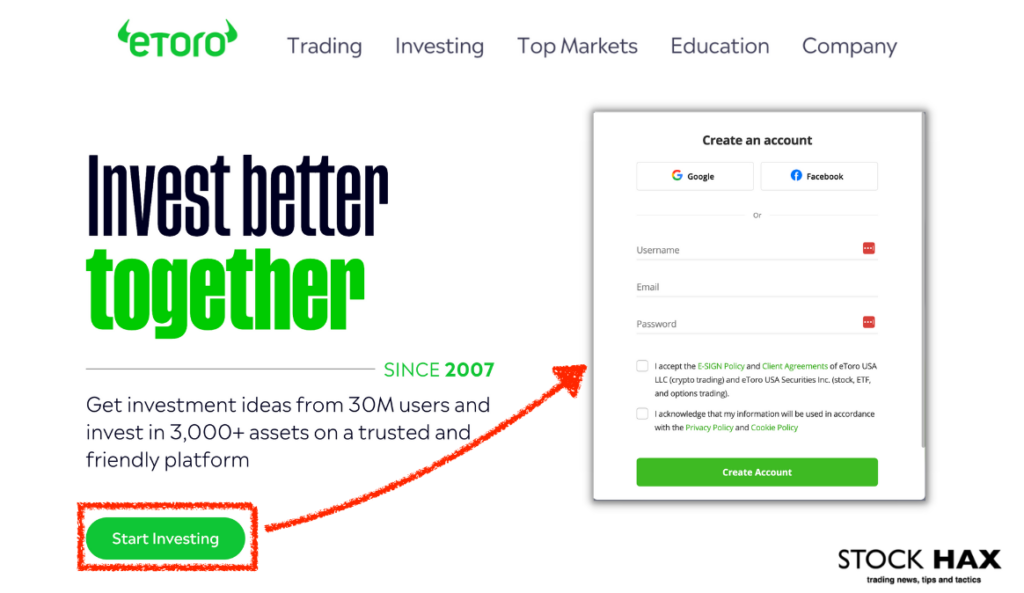 Step 2: Upload ID
To proceed, you'll need to confirm your identity. Users are required to upload proof of identity (POI) and address (POA). Acceptable POI documents include IDs, passports, or driver's licenses. The POA should contain the user's complete name, address, and a recent date, issued within the last three months.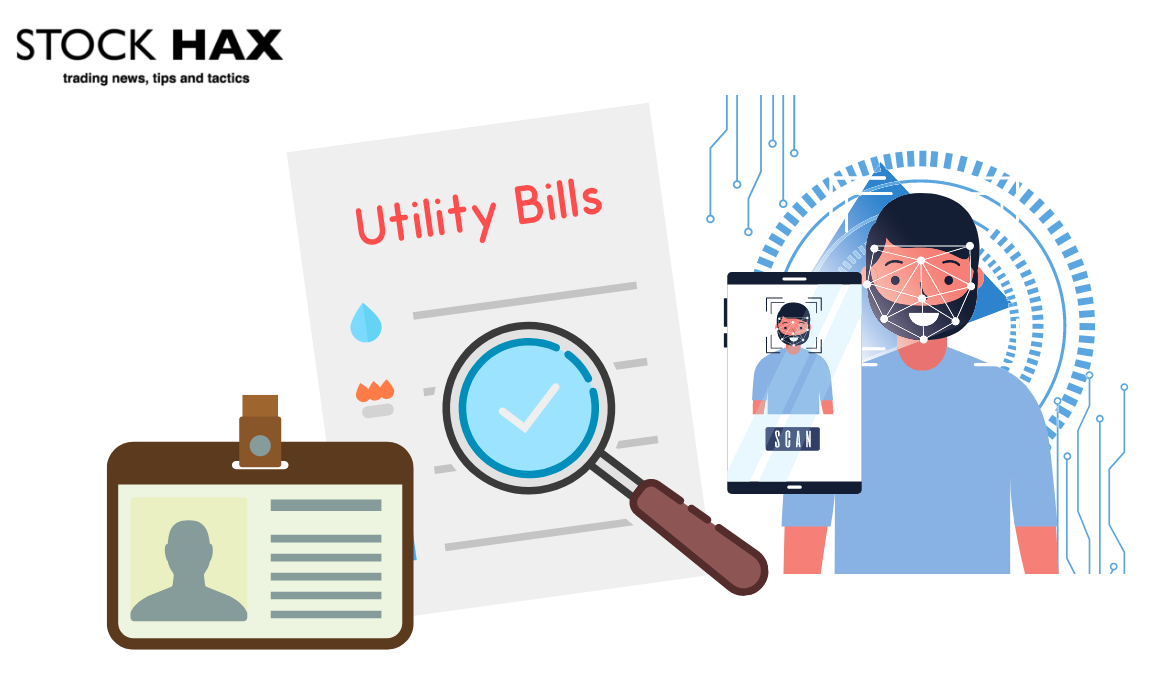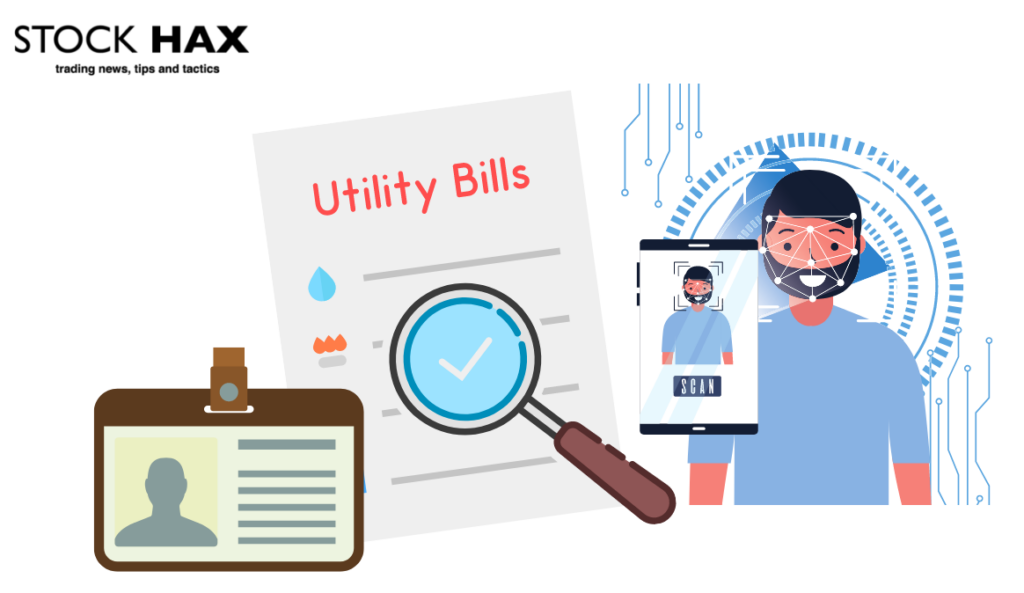 Step 3: Make a Deposit
Once your account verification is finalized, proceed to fund your profile. Navigate to eToro's menu and click on the "Deposit Funds" option. From there, you can choose the desired investment amount for Rivian shares, select your preferred currency, and pick a suitable payment method.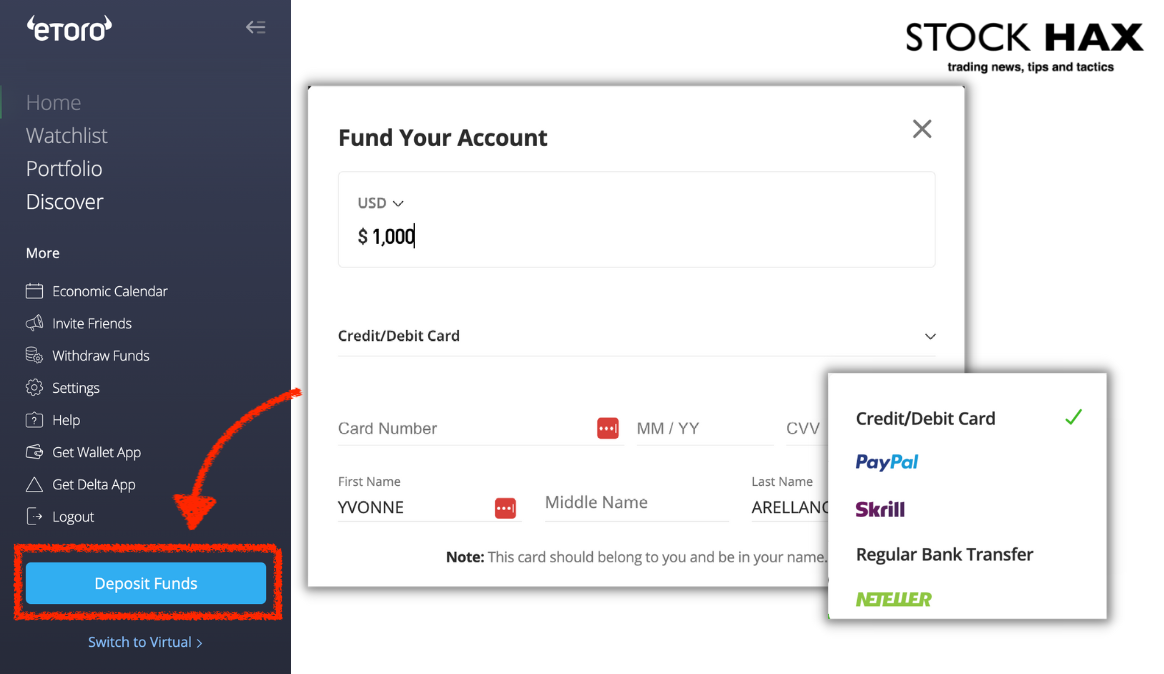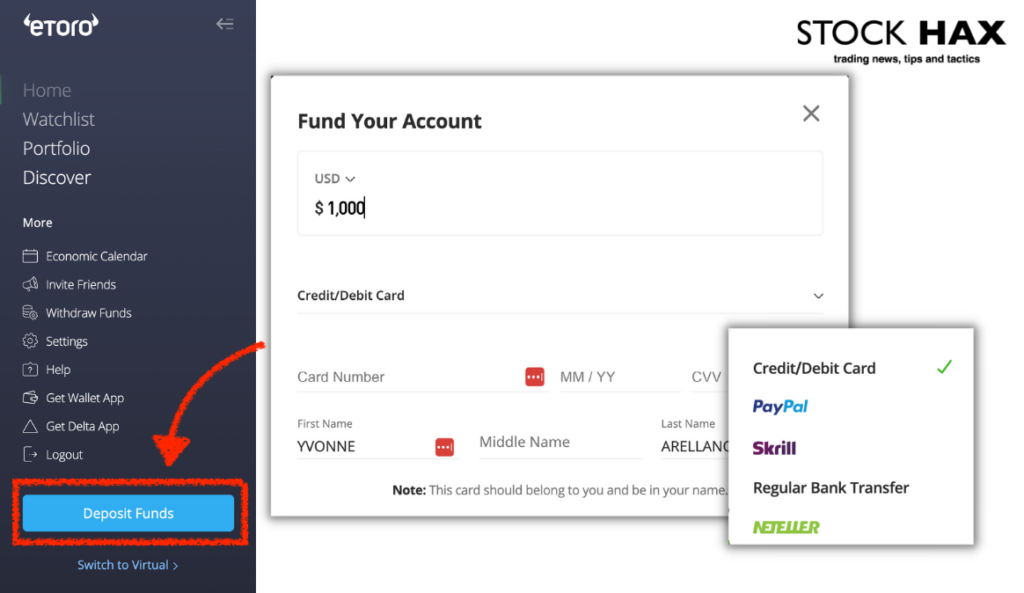 Step 4: Search for Rivian Automotive
To find Rivian Automotive Shares, simply enter "Rivian Automotive" in the search bar. If you're unsure of the stock's Ticker symbol, just type the initial letters. eToro's user-friendly platform will promptly show you the top results.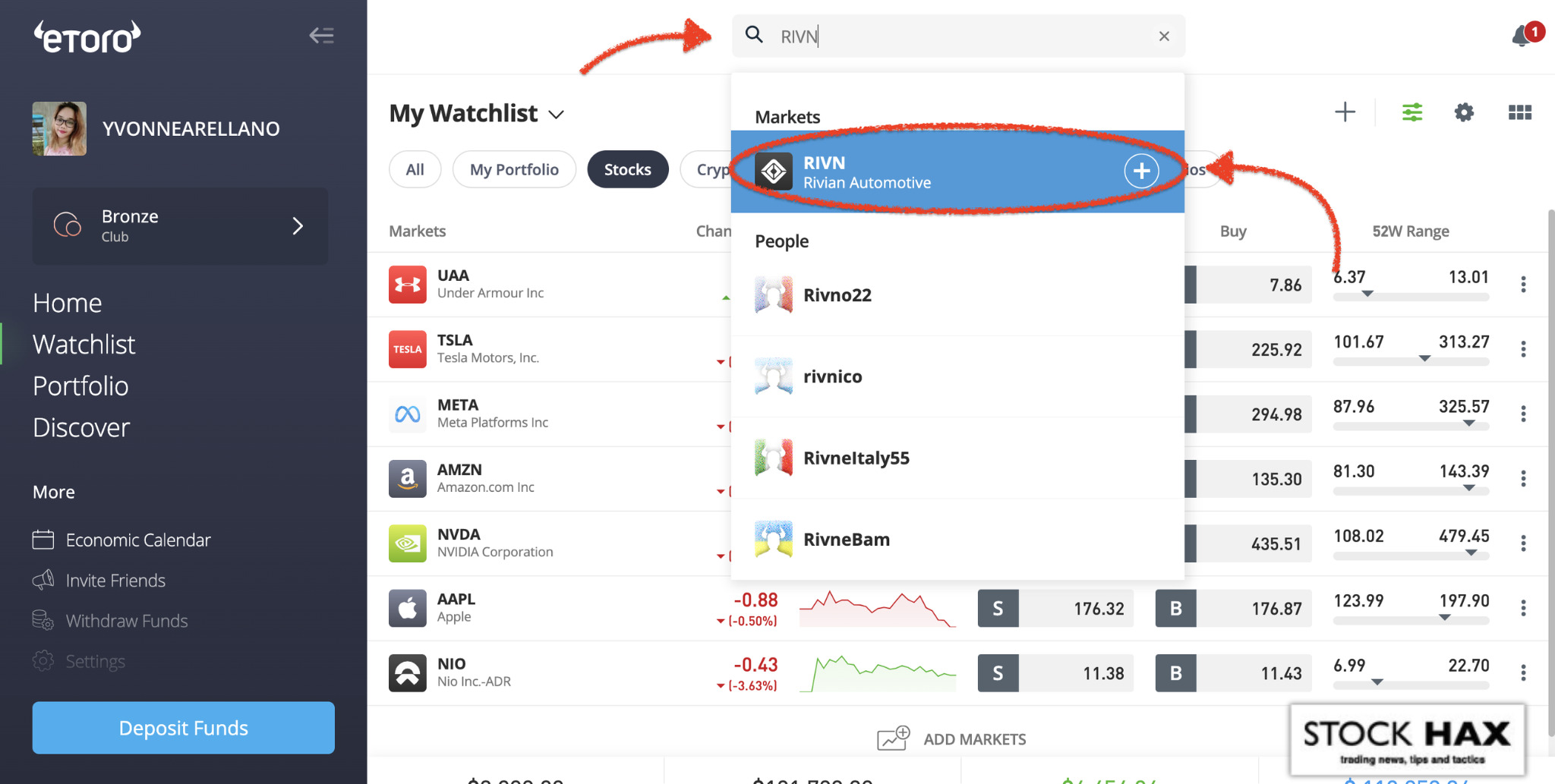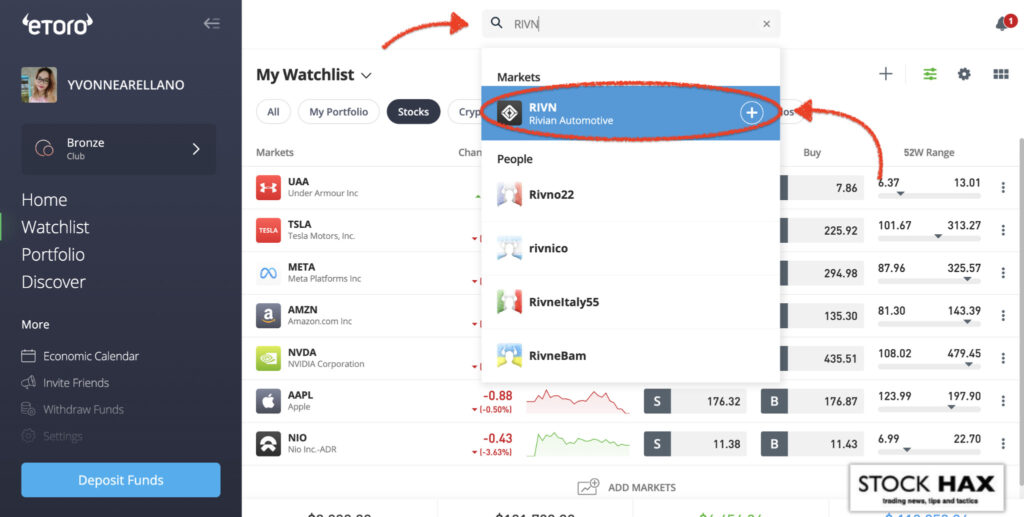 Step 5: Invest in Rivian Automtotive
Once you've chosen Rivian Automotive, investing through eToro is straightforward. Click the "Invest" button, decide on the funding amount or shares to purchase, and your newly acquired assets will appear in your portfolio.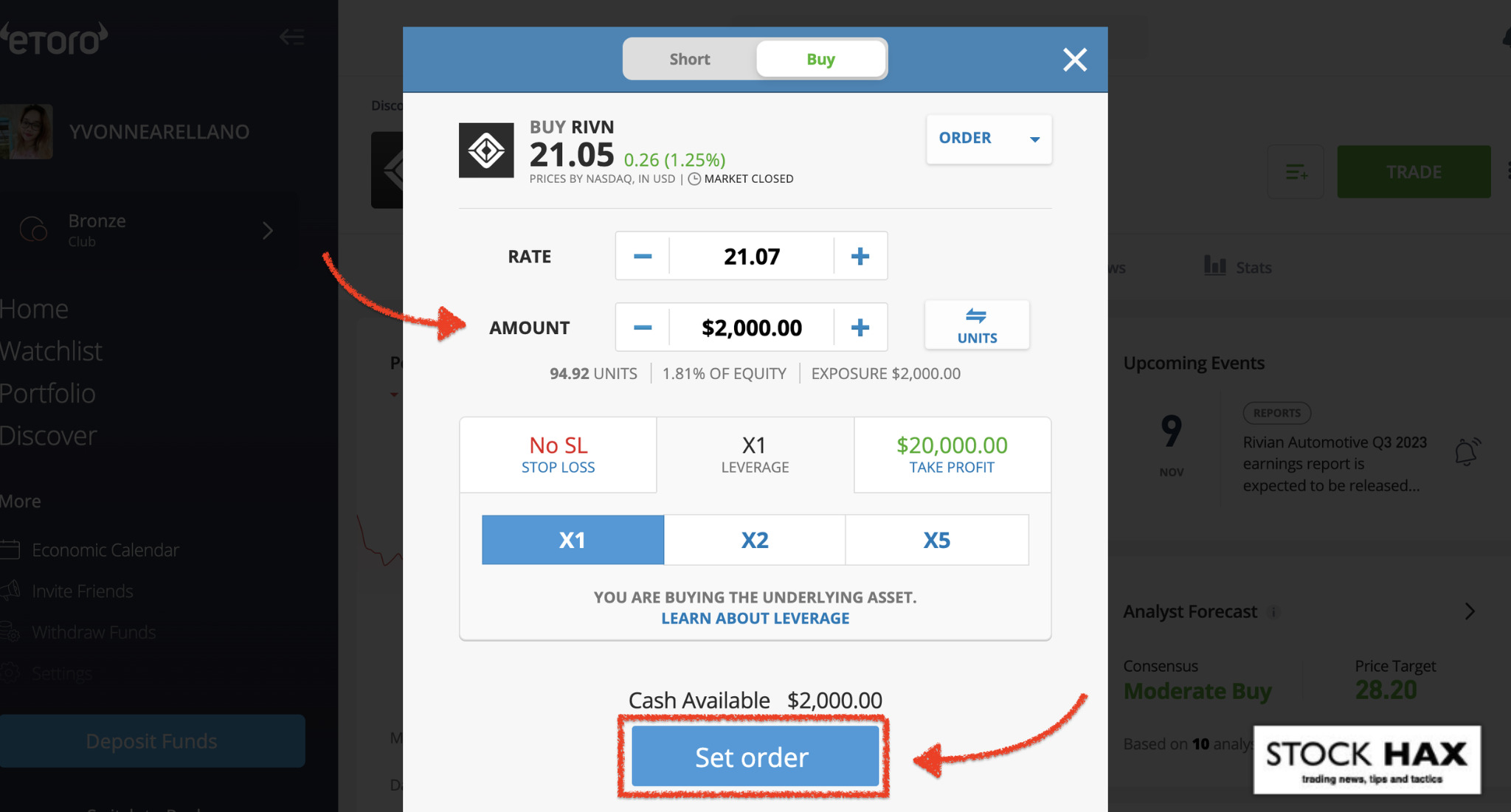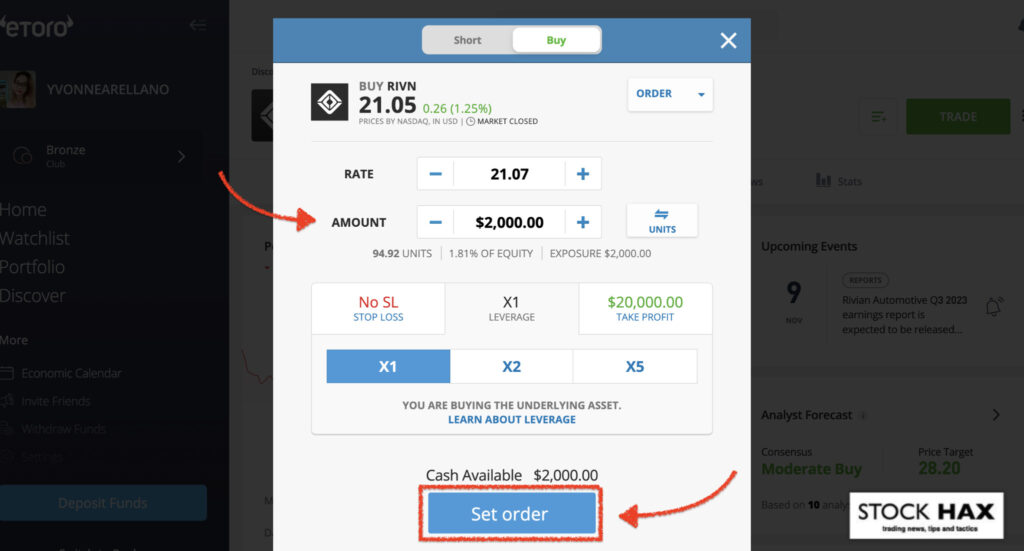 Summary
Rivian Automotive, founded in 2009, is a pioneering force in the electric vehicle (EV) sector. The company specializes in designing and producing innovative electric trucks and SUVs, such as the R1T electric pickup truck and R1S electric SUV. With a commitment to sustainability and technology, Rivian combines performance and off-road capabilities in its offerings. Notable investments from industry giants like Amazon and Ford further solidify its potential in the electric mobility realm. Beyond vehicles, Rivian extends its influence to sustainable energy solutions and charging infrastructure, positioning itself as a pivotal player in the EV revolution.
FAQ
Can Rivian become a major player in the EV market?
Rivian Automotive has the potential to become a major player in the electric vehicle (EV) market. The company has a number of advantages, such as its focus on adventure vehicles and its strong management team. However, it also faces a number of challenges, such as production delays and rising costs due to inflation.
The company's R1T pickup truck and R1S SUV are designed for adventure and outdoor activities, which is a growing market. Rivian also has a strong order backlog of over 114,000 vehicles.
The EV maker has a strong management team that is led by RJ Scaringe. Scaringe is a visionary leader with a proven track record of success. He has a passion for electric vehicles and is committed to making Rivian a leader in the industry.
Is Rivian stock fairly valued at current prices?
At current prices of around $21, Rivian trades at a PS ratio of 7x, which is considered an expensive multiple for a vehicle manufacturer. However, this does not necessarily mean that Rivian stock is overpriced. Whether the stock is fairly valued or not depends on its expected financial performance, future prospects, and the overall market conditions. Rivian is a relatively new company and is still unprofitable. However, it has a number of advantages, such as its focus on adventure vehicles and its strong management team. Moreover, the electric vehicle market is growing rapidly, and Rivian is well-positioned to capitalize on this growth. Whether Rivian stock is a good investment depends on its financial performance in the upcoming quarters and whether it meets its production goals.
What is Rivian's vision for the future?
Rivian aims to lead the transition to electric transportation by not only producing innovative EVs but also venturing into sustainable energy solutions and charging infrastructure, with a broader goal of reducing the carbon footprint of transportation.
What are Rivian's plans for the future?
Rivian plans to expand its lineup of electric vehicles in the future. The company has announced plans to develop a battery-electric delivery van and a battery-electric sports car. Rivian also plans to open additional manufacturing plants in the United States.
Risk Disclaimer
StockHax strives to provide unbiased and reliable information on cryptocurrency, finance, trading, and stocks. However, we cannot provide financial advice and urge users to do their own research and due diligence.
Read More