This website and its content are not intended to provide professional or financial advice. The views expressed here are based solely on the writer's opinion, research, and personal experience, and should not be taken as factual information. The author is not a financial advisor and lacks relevant certifications in that regard. We highly recommend consulting a qualified financial advisor before making any investment decisions, as the information presented on this site is general in nature and may not be tailored to individual needs or circumstances.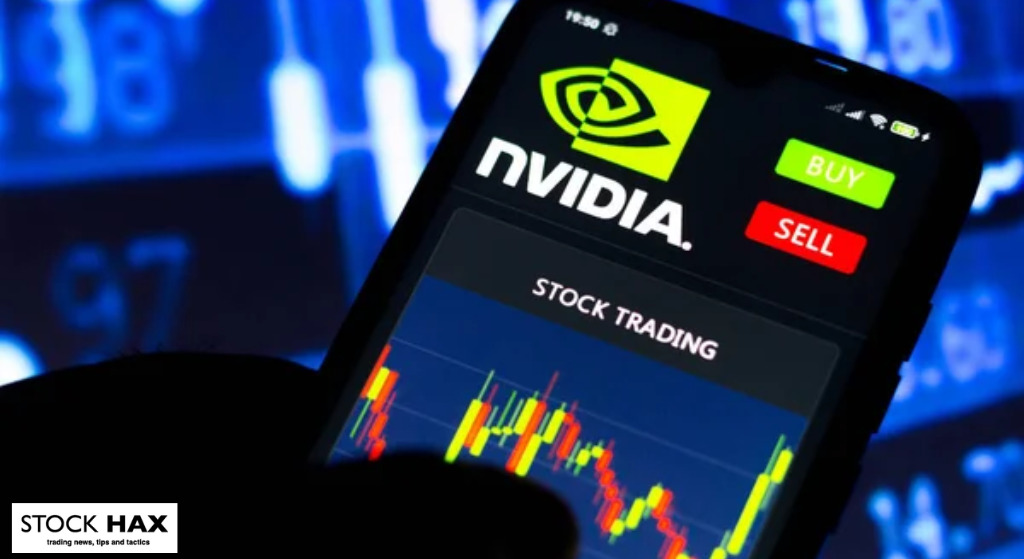 NVIDIA has had a strong start in 2023, and while inflation and the chip shortage have hit the company significantly in recent times, things are looking bright in 2023. But will that continue to be the case for the rest of the year? Let's find out.
Read on to learn about NVIDIA's market performance and stock value going into June 2023.
NVIDIA Going into June 2023
NVIDIA (NVDA) has dominated data centers and games, with AI chips providing a growing opportunity. After earnings gapped up, should NVIDIA stock be bought now?
Chipmakers face several challenges, ranging from high inflation, weak global growth, and the Russia-Ukraine war to increasingly tense relations between the U.S. and China.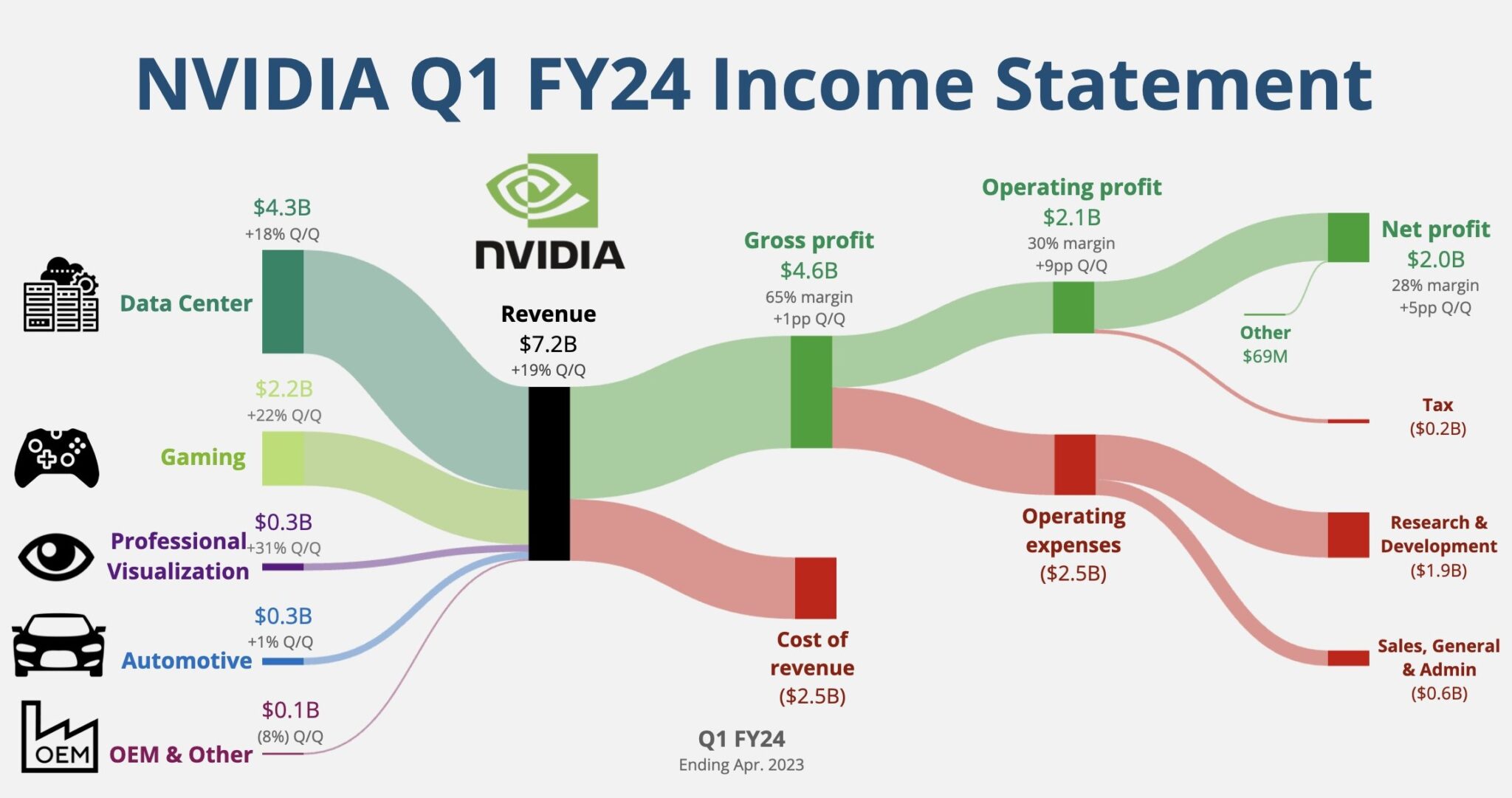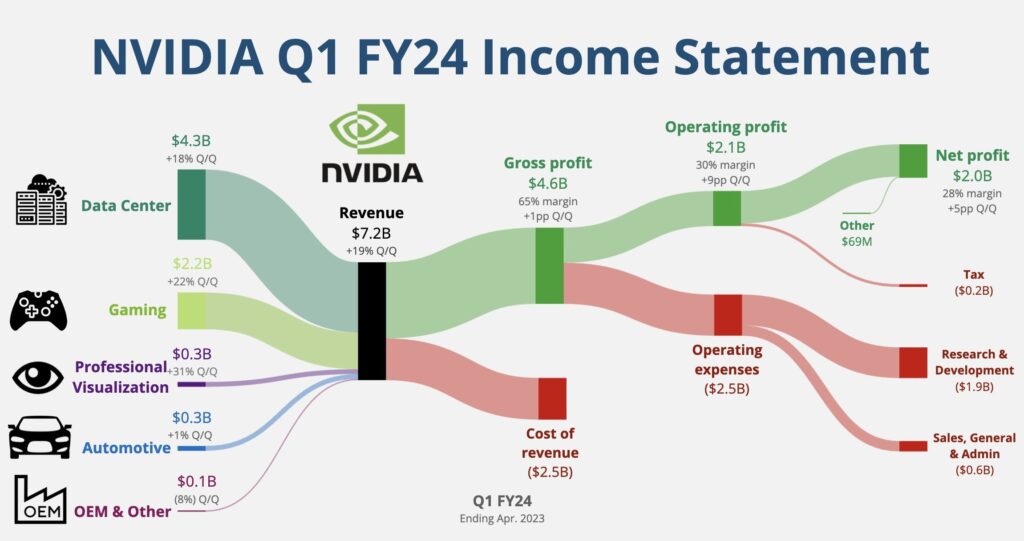 In 2022, the chip stock crashed but is now up more than 172% for the year. According to World Semiconductor Trade Statistics, chip sales are expected to decline by 4.1% in 2023. There was a 26.2% increase in chip sales in 2021 and a 4.4% increase in 2022.
In 2022, the chip stock crashed but is now up more than 172% for the year. According to World Semiconductor Trade Statistics, chip sales are expected to decline by 4.1% in 2023. There was a 26.2% increase in chip sales in 2021 and a 4.4% increase in 2022.
Going into June 2023, the company announced its latest earnings report on May 24, and the results have become one of the hottest topics in the investment world lately. As expected, NVIDIA's earnings for the fourth quarter exceeded expectations.
The beat-and-raise report led to an approximately 26% share jump on May 25, the day after the announcement.
The tech giant is also dominating the AI industry, as their graphics processors that have the capability to be utilized for machine learning hold a dominant share of approximately 95% in the market, according to statistics from New Street Research.
Following their recent successful performance and efforts in the AI industry, the leading chip supplier powerhouse is one step closer to reaching the 1 trillion dollars market cap, currently standing at 961.966 billion.
We will first analyze the stock and its performance and give an estimated forecast. We will then go through the company's earnings report and operations in the booming AI sector. With that in mind, traders can make a more informed investment decision on the NVDA stock.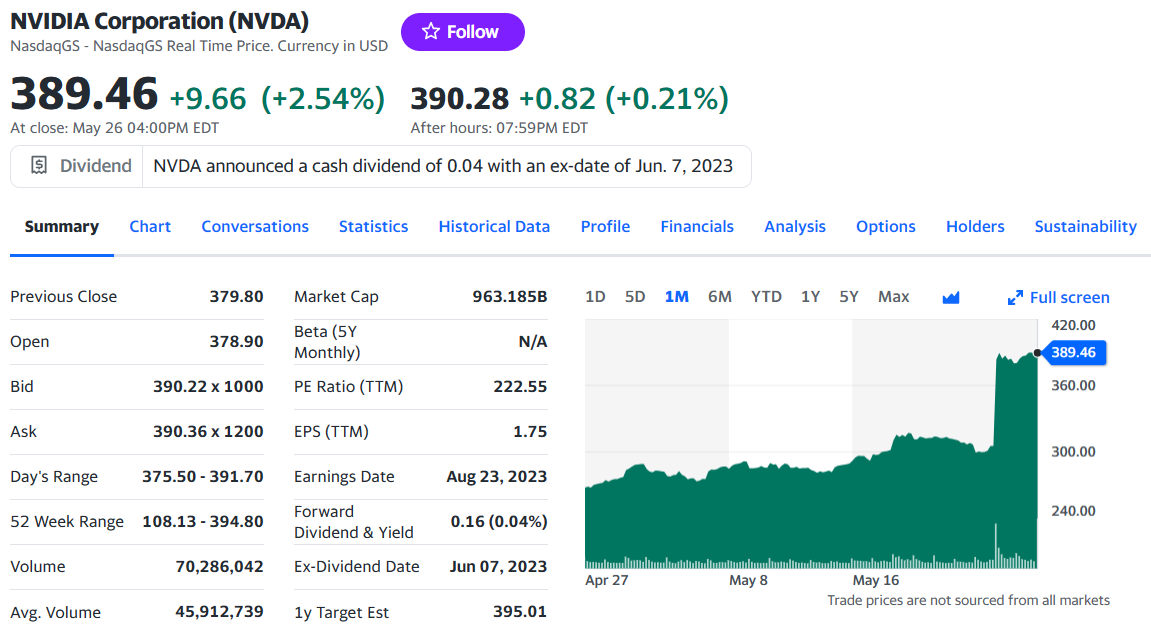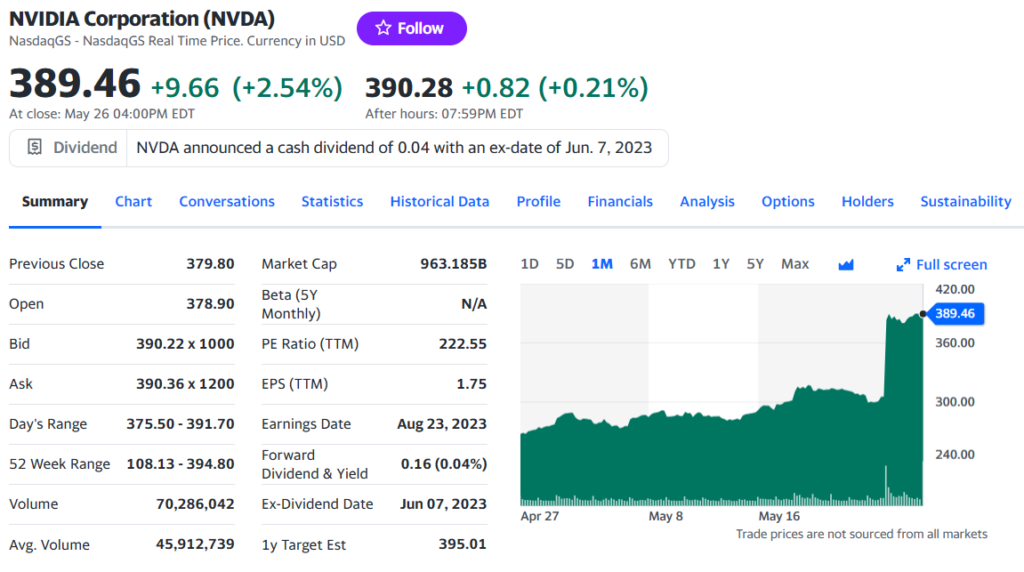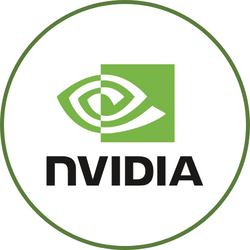 How to Buy NVIDIA Stocks
Dive into the world of NVIDIA stock investing with our comprehensive guide. Explore the company's financial performance, market trends, and strategies for successful investing. No financial advice or opinions, just factual information.
IBD Composite Rating: 98 out of 99 for NVDA. Based on the combination of technical and fundamental metrics, NVIDIA stock has outperformed 99% of the stocks in IBD's database.
Investors should generally look for stocks with Comp Ratings of 90 or even 95 and above. There is a tendency for NVIDIA stock to appear on the IBD 50, Big Cap 20 and Sector Leaders lists.
IBD MarketSmith charts show that the RS line indicator rallied strongly between mid-2019 and late 2021. RS lines that are rising indicate that a stock is outperforming the S&P 500 index.
According to IBD's Stock Checkup tool, NVIDIA stock has outperformed 99% of all stocks in IBD's database over the last year, with a Relative Strength Rating of 99.
IBD is not the only company that gives NVIDIA a strong price prediction for its stock performance. In April 2023, leading financial services company HSBC doubled its NVDA stock's forecast, upgrading its per-share price target to $355 from $175.
The double increase was prompted by the competitive pricing system of NVIDIA on their chips. Fast-forward 1 month after the prediction, the company's shares are priced at $389.46 at the time of writing the article.
The boom of Generative AI and NVIDIA's involvement has caused their stock to grow over 170% since the beginning of the year. This is a gain of over 180 billion dollars in a single day for the company.
In early 2022, NVIDIA launched the H100 chip, a defining moment for the company and its growth. CEO Jensen Huang described the chipset as "the world's first computer designed for generative AI."
Generative AI is a branch of artificial intelligence that focuses on creating advanced language models, such as the one used in the leading chatbot ChatGPT. NVIDIA plays a significant role in developing the language model, as OpenAI uses exactly the H100 chip to power the technology behind the project.
NVIDIA has become an undisputed market leader and a leading supplier of AI chipsets being used by companies like Amazon, Google, Meta, and Microsoft. However, as demand for AI services increases, the technological powerhouses are looking to create their own in-house chips that could create direct competition with NVIDIA.
Regarding EPS and SMR, IBD's EPS rating does not change from the last reported earnings beat, standing at 68 out of 99. On the other hand, the SMR rating is now a B, getting close to the desired A point.
On sales of $7.19 billion, the Santa Clara, Calif.-based company earned 1.09 cents a share. A 20% drop in earnings over the past year was offset by a 13% drop in sales for NVIDIA.
Experts expected the company's revenue to stand at around 6.52 billion for Q1 2023; however, NVIDIA surpassed expectations by 10.26%. Moreover, EPS was predicted to be approximately 0.92, but the AI chipmaker once again surprised investors by more than 18% over analysts' expectations.
Revenue from data centers increased by 14% to a record $4.28 billion, primarily due to demand for artificial intelligence chips. A 38% decline in gaming chip sales resulted in $2.24 billion in sales, which is still a better performance compared to last quarter's results.
NVDA stock is rated a buy by 34 analysts out of 47 who cover it. According to Barron's, eight shares have a hold rating, four believe the stock is overweight, and what is surprising from the last results, nobody gave a sell rating for the NVIDIA stock.
The early 2020 Coronavirus pandemic impacted data centers, video games, and computers. As a result, chip shortages lasted for much of the last two years. Furthermore, some industry experts believe the chip shortage could become an oversupply problem by 2023.
Furthermore, the chipmaker is expanding into artificial intelligence, automated electric vehicles, and cloud gaming alongside data centers. Even more, opportunities await NVIDIA, as with the growing interest in metaverses and cryptocurrencies, the innovative chips may make the company a leading supplier of the technology needed for the mass adoption of the Web 3.0 inventions.
It is still possible for a global recession to occur, but macroeconomic uncertainties persist. There will be a decline in semiconductor sales this year due to headwinds.
There has been a strong recovery in NVDA stock in 2023. The chip stock reached a follow-on buy point of 281.20, offering investors a chance to buy more shares. The stock is currently traded at a relatively higher price than the estimated buy range. Everything points to NVIDIAs still being a leader in the chip market with potential exposure to high-end markets like data centers and gaming.
Exploring diverse perspectives is always beneficial. There's a fascinating YouTube video about NVIDIA that I recommend. Please take a moment to check it out if you can. It's well worth the watch.
FAQs
Is NVIDIA a Good Stock in 2023?
The stock of NVDA has recovered strongly in 2023. On May 24, the chip stock rose 26% on earnings, clearing 281.20 follow-on buy point in the beginning of May, giving investors an opportunity to buy more. However, now the stocks seems to be standing way beyond it's buy range. The stock looks like a strong buy according to technical analysis of various moving averages on TradingView, but investors should proceed with caution.
What is the weakness of NVIDIA?
The high cost of NVIDIA's operations is one of its weaknesses. Its expenses have increased each year over the years. Moreover, the company has offices in more than 50 countries around the world, which adds to its operational costs.

Furthermore, prices of products have reached an all-time high after COVID-19. It is, therefore, dangerous for the company to have high operational costs as they might push it into losses.
Which is a better investment, AMD or NVIDIA?
They grew up in the same field, so choosing between them is like choosing between two thoroughbreds. On the basis of trading performance alone, NVIDIA would probably outperform AMD in a straight shootout, but investors will feel they're getting a bargain.
Risk Disclaimer
StockHax strives to provide unbiased and reliable information on cryptocurrency, finance, trading, and stocks. However, we cannot provide financial advice and urge users to do their own research and due diligence.
Read More