This website and its content are not intended to provide professional or financial advice. The views expressed here are based solely on the writer's opinion, research, and personal experience, and should not be taken as factual information. The author is not a financial advisor and lacks relevant certifications in that regard. We highly recommend consulting a qualified financial advisor before making any investment decisions, as the information presented on this site is general in nature and may not be tailored to individual needs or circumstances.
Meta Platforms Inc, formerly known as Facebook Inc, is a globally recognized social networking company. The company's primary mission is to give people the power to build community and bring the world closer together. It accomplishes this through its suite of products that empower over 3 billion people worldwide to share ideas, offer support, and make a difference. Meta Platforms operates several popular applications, including Facebook, Instagram, Messenger, WhatsApp, and Threads. The company continues to innovate, with a focus on building technology that helps people connect, find communities, and grow businesses.
Facebook (Meta) Stock Key Features
Stable Growth: Meta Platforms Inc has consistently shown strong revenue growth, driven by increasing user engagement and advertising revenues. This stability makes it an attractive stock for investors seeking steady growth.
Global User Base: With over 3 billion users across its various platforms, Meta has one of the largest user bases in the world. This extensive reach provides a vast market for its advertising business.
Diverse Product Portfolio: Meta's diverse portfolio, which includes Facebook, Instagram, WhatsApp, and Messenger, offers multiple sources of revenue. This diversification can help buffer against potential downturns in any single product.
Innovation and Future Potential: Meta is at the forefront of technological innovation, investing heavily in areas like virtual and augmented reality. These forward-looking investments could yield significant returns in the future.
Strong Financial Performance: Meta has a history of robust financial performance with high margins and solid cash flow. This financial strength provides the company with the flexibility to invest in growth opportunities and weather economic downturns.
Facebook (Meta) Stock Over the Years – Review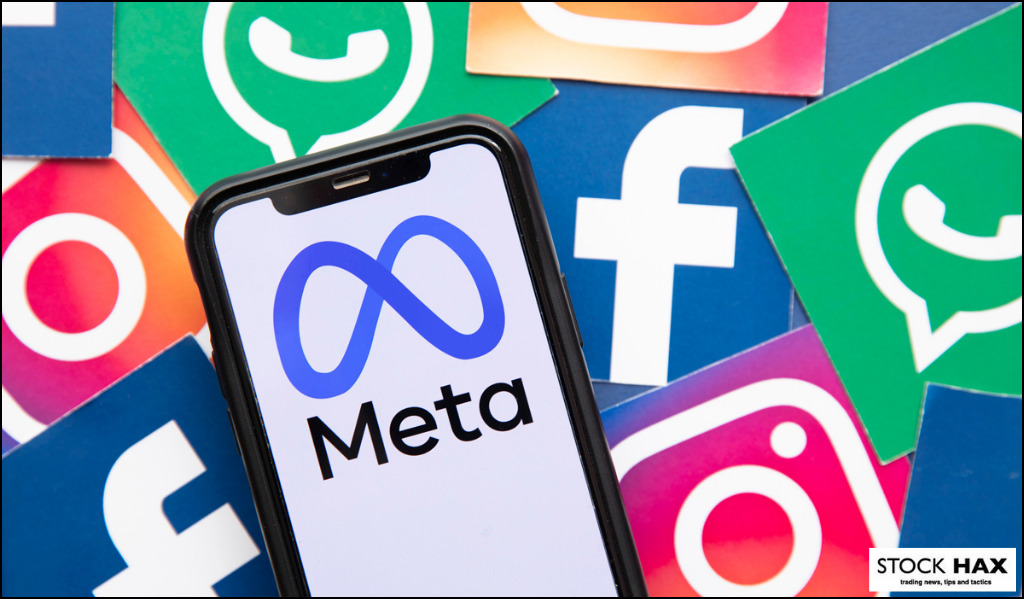 Facebook (Meta) stock has experienced a roller-coaster ride over the last five years. The major driver of the price increase was the company's consistent revenue growth and expanding user base.
However, concerns over disappointing earnings and privacy issues led to significant price drops, notably in 2022, when the stock dipped below $100. Despite these setbacks, Meta has shown resilience, bouncing back from lows with its diverse product portfolio and continued investment in innovative technologies. As of now, the stock is on an upward trajectory, reflecting investor confidence in the company's long-term prospects.
Facebook (Meta) Stock in 2023
In 2023, Meta Platforms Inc. has shown remarkable resilience and growth. The stock price has nearly doubled since the start of the year, with Meta reporting a successful second quarter and wrapping up eight straight months of gains.
Shares have rebounded by 145.32% from their lows, following a pledge from CEO Mark Zuckerberg to make 2023 a 'year of efficiency.' The company's focus on cost control also contributed to a 76% rally in the first quarter. At the time of writing, the Meta stock price sits slightly above $300, marking an impressive recovery from the previous year's setbacks.
Facebook (Meta) Stock in 2022
The financial year 2022 was a tumultuous one for Meta Platforms Inc. Disappointing earnings reports led to a significant drop in stock price, which briefly fell below $100 in October. This represented a substantial decline of 65% over the course of the year.
Despite the setback, Meta demonstrated resilience, embarking on a steady recovery that saw its stock price rise to around $120 by the end of the year. The company's revenue for the year stood at $116.61 billion, representing a slight decrease of 1.12% compared to the previous year's $117.93 billion.
Facebook (Meta) Stock in 2021
In 2021, Meta Platforms Inc. experienced a significant surge, hitting an all-time high of over $375. This robust performance reflected impressive revenue growth and expanding user base. However, towards the end of the year, investor concerns over potential disappointing earnings in 2022 led to a slight decline in stock price.
By the close of the year, the stock had retreated to below $340. Despite this dip, the stock closed the year with a commendable gain of 67.22%, demonstrating the company's resilience and strong market position.
Facebook (Meta) Stock in 2020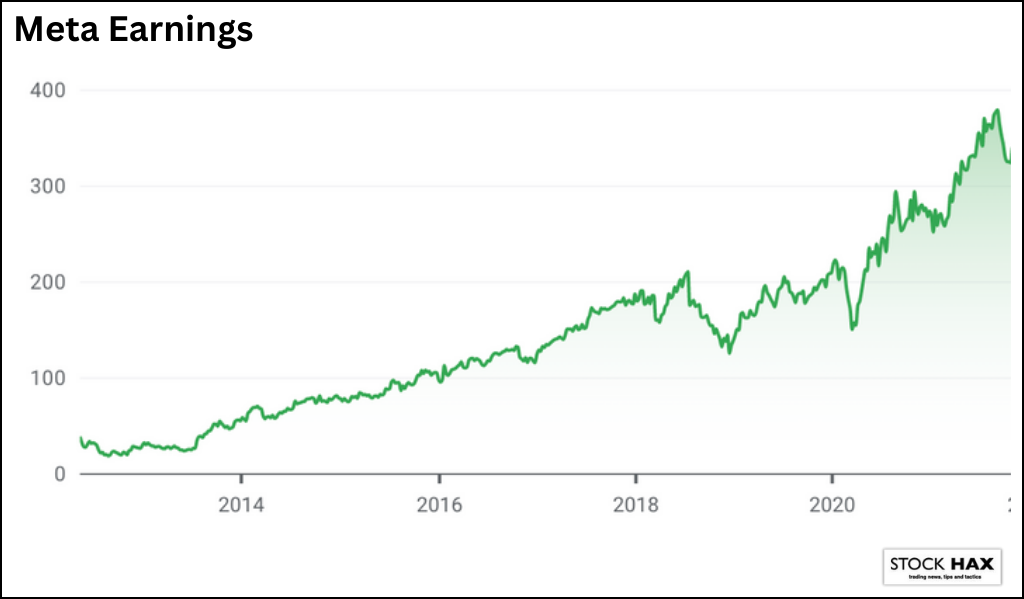 The year 2020 started tumultuously for Meta Platforms Inc., with stock prices plunging due to panic selling triggered by the COVID-19 outbreak. However, mirroring the larger trend in the tech sector, Meta's stock quickly rebounded. The company's robust digital advertising business and increased demand for social media during lockdowns contributed to this recovery.
Despite the early setback, Meta's stock price climbed consistently throughout the remainder of the year, closing above $270. Overall, Meta's stock appreciated by approximately 33% over the course of the year, demonstrating the company's resilience and strong market position.
Facebook (Meta) Stock in 2019
The year 2019 was a period of recovery for Meta Platforms Inc. The company's stock, which had declined to slightly below $140 at the start of the year from $200 due to various challenges in 2018, saw a steady recovery throughout 2019. This was largely due to the company's strong user growth and robust advertising revenues.
By the end of the year, Meta's stock price had almost hit $210, representing a substantial gain of approximately 50% for the year. This impressive performance demonstrated the company's resilience and ability to navigate through challenging market conditions.
Investing in Meta Platforms Inc., formerly known as Facebook, has become increasingly popular due to the company's strong market position and consistent growth. Here are some ways you can invest in this tech giant:
Individual Stocks: Buying individual shares of Meta is the most direct way to invest. You can purchase these through an online brokerage account. This method gives you direct ownership and voting rights in the company.
Mutual Funds: Mutual funds pool money from multiple investors to buy a diversified portfolio of stocks, bonds, or other securities. Some mutual funds may include Meta shares in their portfolios. Investing in mutual funds can provide diversification and professional management.
Exchange-Traded Funds (ETFs): ETFs are similar to mutual funds but trade on stock exchanges like individual stocks. Several tech-focused ETFs include Meta shares, offering a way to invest in Meta along with other tech companies.
Crowdfunding: While less common for large, public companies like Meta, crowdfunding platforms allow individuals to invest small amounts of money in return for a stake in the business.
Options and Futures: For more advanced investors, options, and futures contracts offer ways to speculate on the future price movement of Meta's stock without owning the actual shares.
Dividend Reinvestment Plans (DRIPs): While Meta does not currently pay dividends if they were to start, investors could automatically reinvest those dividends to buy more shares.
eToro is a social trading platform that allows users to invest in a variety of assets, including stocks like Meta. Its user-friendly interface and copy-trading feature make it a popular choice for both novice and experienced investors.
Shares of Meta Platforms Inc., formerly known as Facebook, can be acquired via several trading platforms or online brokerages. Nevertheless, it's crucial to take into account associated costs, tax implications, and available investment tools. For illustrative purposes, we'll reference eToro in our discussion.
Step 1: Open an Account
Kick-starting your investment journey involves visiting eToro's main webpage and selecting the 'Sign-up' option. This action will swiftly redirect you to the registration page. Here, you'll need to provide personal details such as your name, email, and a secure password. Alternatively, you can streamline the process by using your existing Facebook or Google accounts to set up your eToro profile.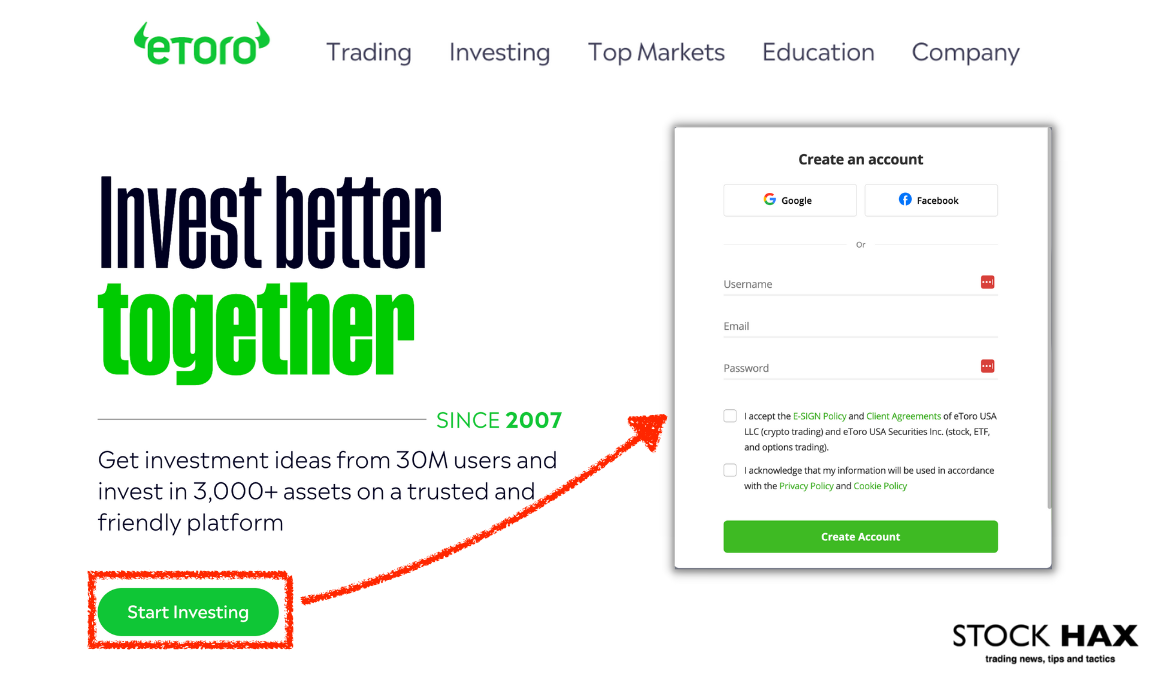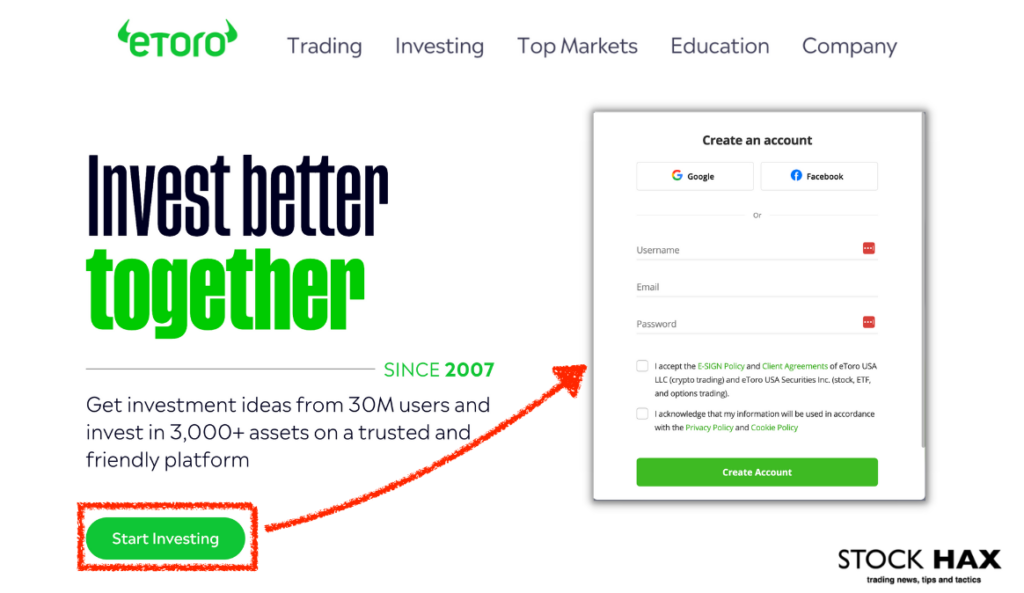 Step 2: Upload ID
Next, you'll need to authenticate your identity. This involves uploading a Proof of Identity (POI) and Proof of Address (POA). Your POI can be any government-issued identification like an ID card, passport, or driver's license. Your POA should clearly display your full name, residential address, and date. Please ensure that the document is no older than three months from the current date.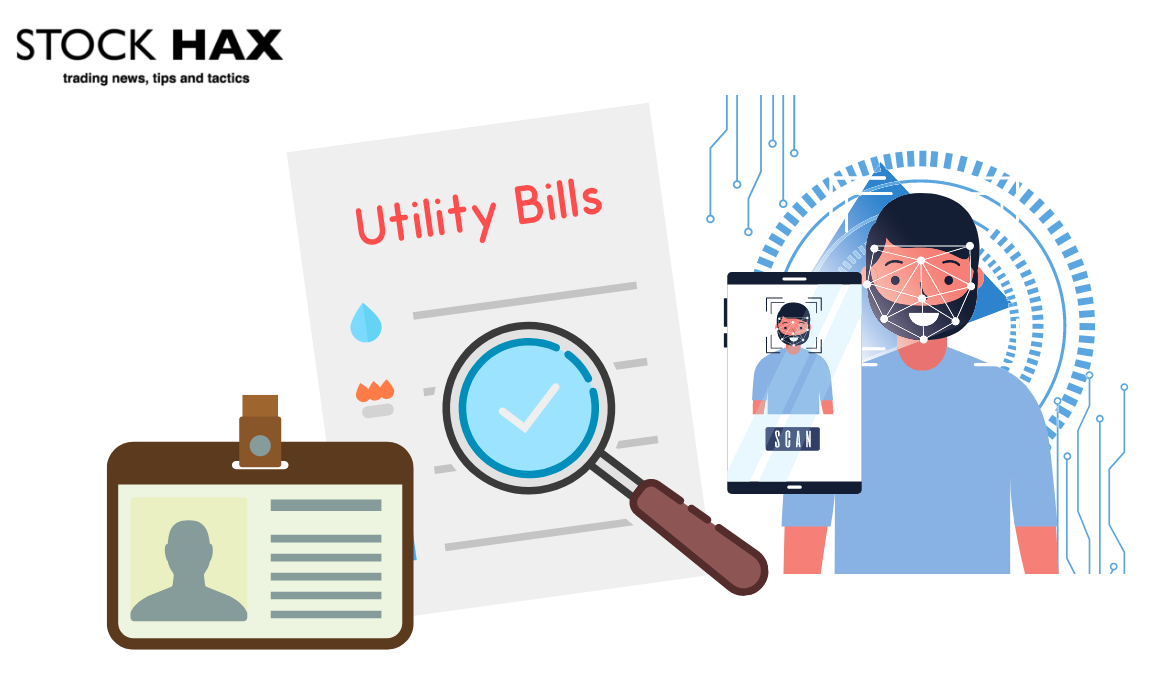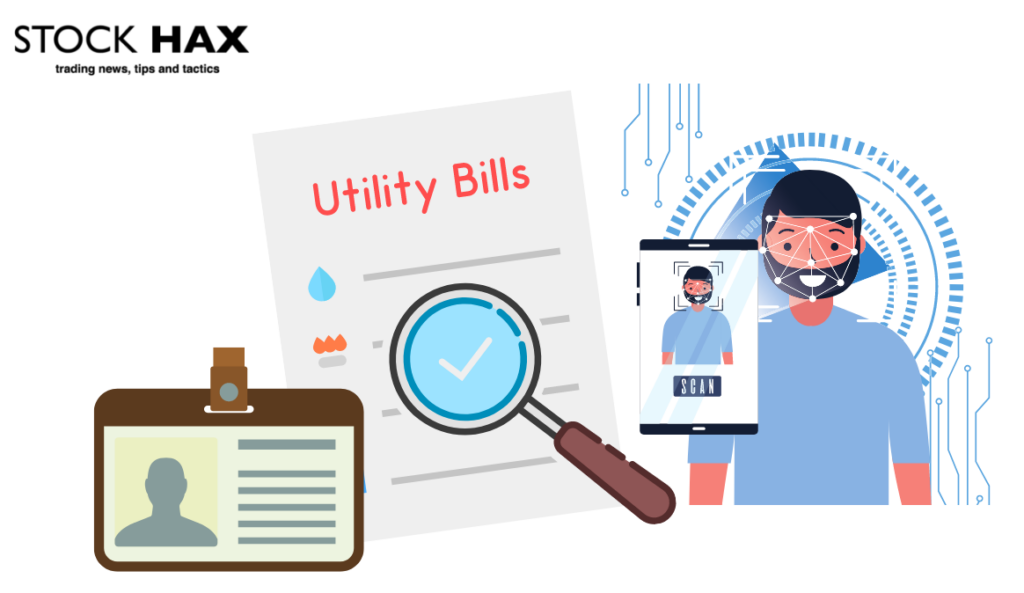 Step 3: Make a Deposit
Once your account is successfully verified, the next step involves depositing funds into your profile. This can be achieved by navigating to eToro's menu and selecting the 'Deposit Funds' option. You'll then have the opportunity to specify the amount you wish to invest in Meta Platforms Inc. (formerly Facebook) stocks, choose your preferred currency, and select an appropriate payment method.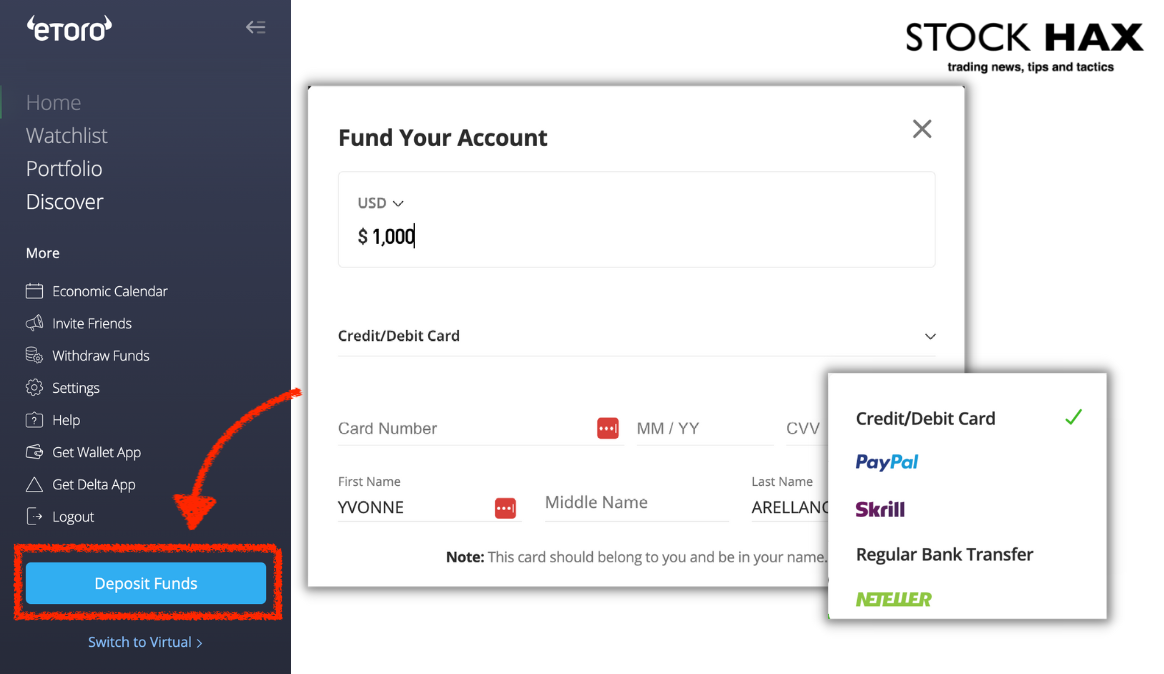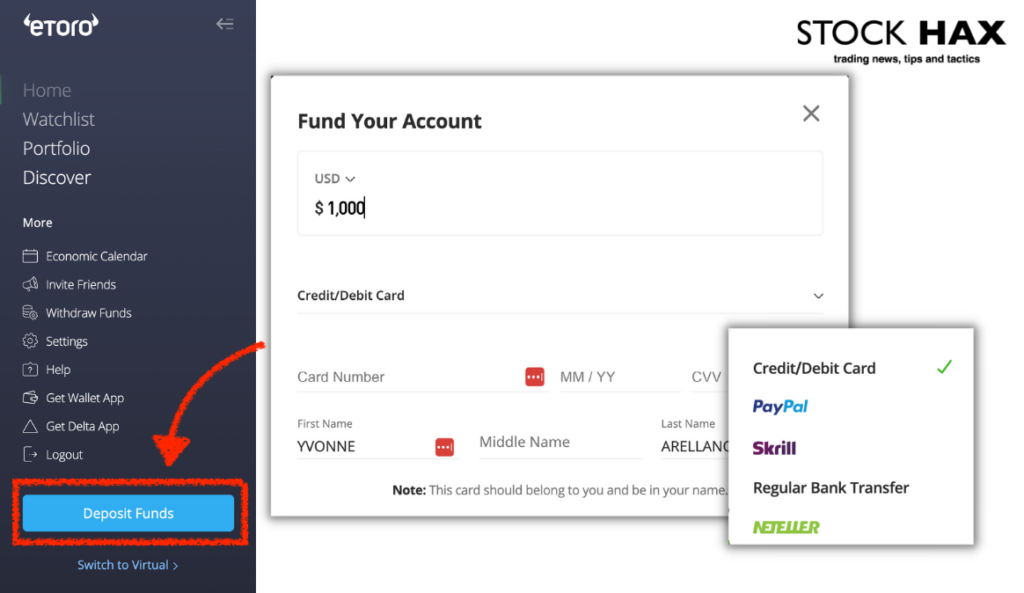 Step 4: Search for Facebook (Meta)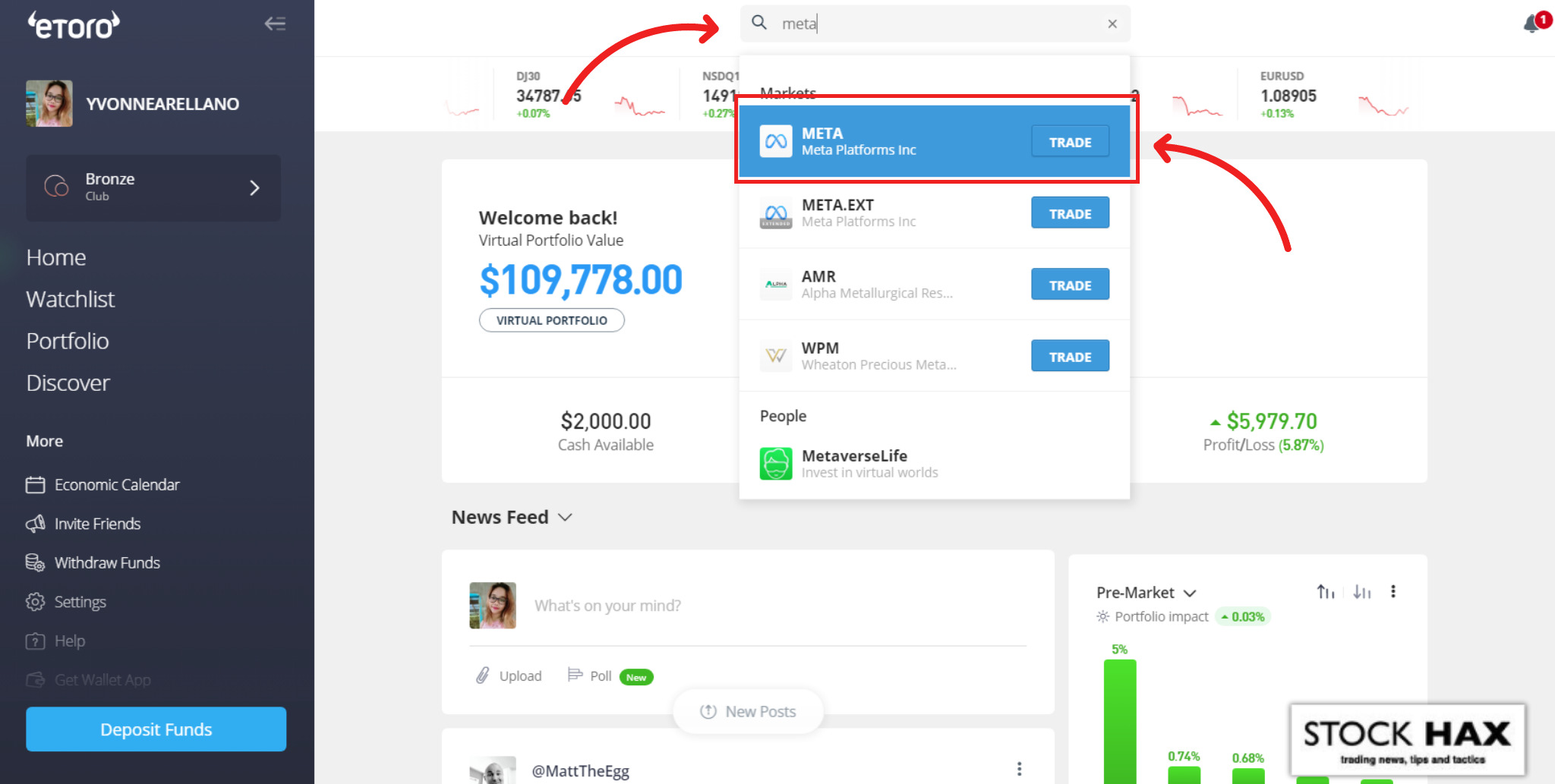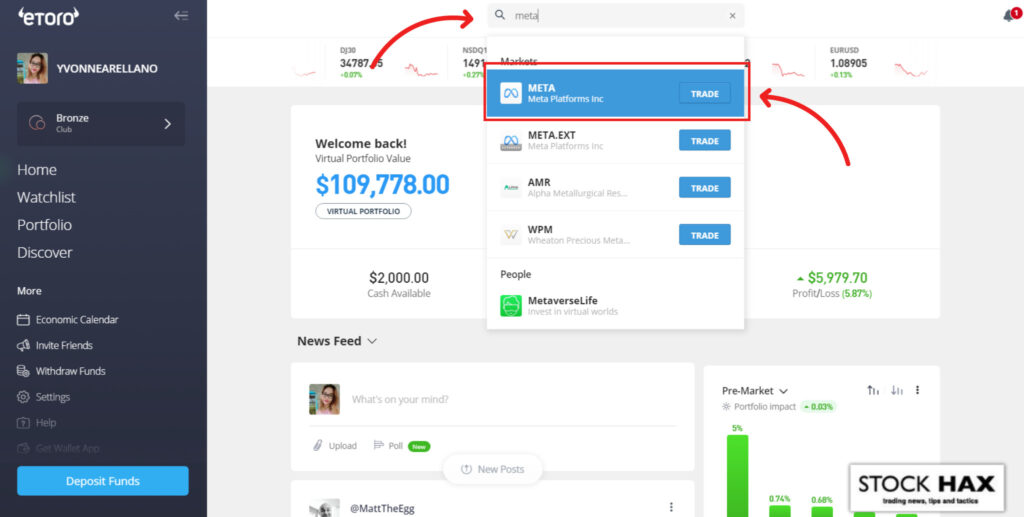 To locate Meta Platforms Inc. (formerly Facebook) shares, simply enter 'Meta' into the search bar. If you're unsure of the exact stock's Ticker symbol, typing in the initial letters will suffice. The user-friendly eToro platform will promptly provide a list of the most relevant results.
Step 5: Invest in Facebook (Meta)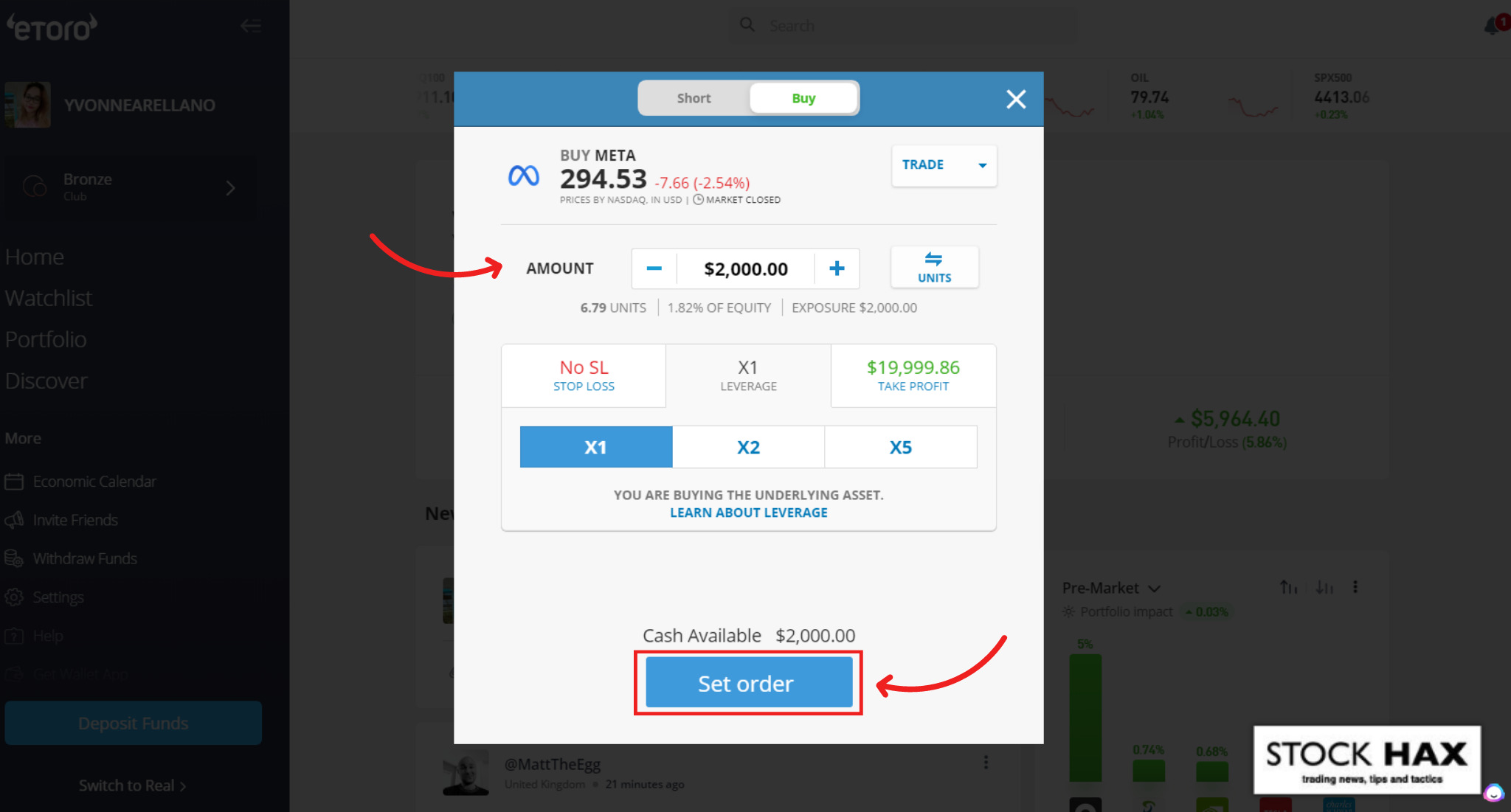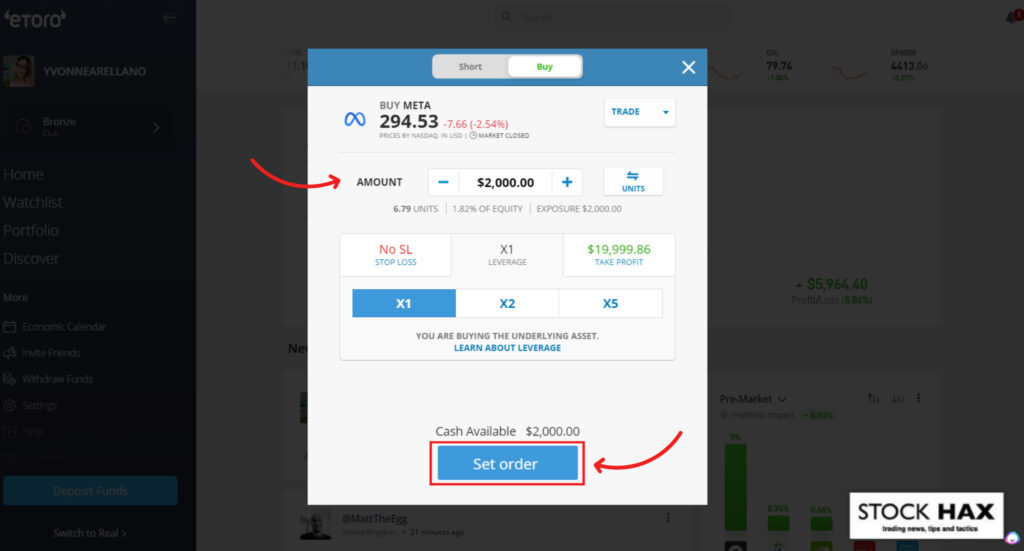 Once you've selected Meta Platforms Inc., investing via eToro is a breeze. By clicking on the 'Invest' button, you'll have the option to specify the amount of money you wish to invest or the number of Meta shares you want to buy. Upon completion of this process, your newly purchased assets will be visible in your portfolio.
Summary
In conclusion, Meta Platforms Inc., formerly known as Facebook, has demonstrated impressive resilience and growth over the years. Despite initial setbacks, the company's focus on innovation and cost control has led to significant stock price recovery. Investors can capitalize on this upward trend by investing in Meta through various avenues, such as individual stocks, mutual funds, and ETFs. Remember, it's always wise to understand the risks associated with investing and consider diversification to protect your portfolio.
FAQ
Can I buy Meta shares directly from the company?
No, you cannot buy Meta shares directly from the company. You must go through a brokerage or trading platform like eToro to purchase the shares. This ensures that you are investing in a safe and secure manner.
Does Meta Platforms Inc. pay dividends to its shareholders?
Currently, Meta does not pay dividends, choosing instead to reinvest profits back into the company. However, should this policy change in the future, investors can utilize Dividend Reinvestment Plans (DRIPs) to automatically reinvest their dividends in more shares.
Is investing in Meta a good option for beginner investors?
Investing in companies like Meta can be an excellent starting point for beginners due to its market stability and growth. However, it's crucial for novice investors to understand the risks involved in stock market trading and consider diversifying their portfolios to mitigate potential losses.
How can I diversify my investments when buying Meta shares?
Diversification can be achieved by investing in various financial instruments and sectors. You can invest in Meta shares directly through tech-focused ETFs or mutual funds that include Meta in their portfolio. Each method has its benefits and risks, and they can be mixed to achieve a balanced portfolio.
Why do I need to verify my identity on eToro before investing?
eToro, like all regulated financial institutions, needs to comply with Know Your Customer (KYC) regulations. These rules require the platform to verify the identity of its users to prevent identity theft, financial fraud, and money laundering. This step is taken to ensure the security of all transactions on the platform.
Risk Disclaimer
StockHax strives to provide unbiased and reliable information on cryptocurrency, finance, trading, and stocks. However, we cannot provide financial advice and urge users to do their own research and due diligence.
Read More