This website and its content are not intended to provide professional or financial advice. The views expressed here are based solely on the writer's opinion, research, and personal experience, and should not be taken as factual information. The author is not a financial advisor and lacks relevant certifications in that regard. We highly recommend consulting a qualified financial advisor before making any investment decisions, as the information presented on this site is general in nature and may not be tailored to individual needs or circumstances.
The automaker has seen some shrinkage to its stock price, thanks in part due to changes in the public sentiment regarding combustion cars and the necessary transition by the transportation industry.
But how has Ford adapted to these changes, and does the company have a good projection for 2023? Let's find out.
Read on to learn about Ford's market performance and stock value going into March 2023.
Ford Going into March 2023
Following rival General Motors' (GM) beat-and-raise last month, Ford Motor (F) missed earnings estimates for the fourth quarter late Thursday and gave a downbeat outlook. The stock of F also plunged during this time period.
Ford announced earlier last month that EV and overall sales rose in January compared with a year ago. However, both total and electric vehicle sales declined month-over-month.
There is a costly shift being made by legacy automakers towards electric vehicles, eventually phasing out combustion engines. A transition that will likely take years, if not decades, is putting pressure on margins.
Despite a 96% increase in adjusted earnings to 51 cents per share, Ord's adjusted earnings fell short of expectations. Over the forecast period, revenue increased by almost 17% to $44 billion.
Ford blamed the results, also below its own expectations, on "execution issues" caused by supply chain and production challenges, which led to rising costs and lower deliveries.
A Ford earnings release stated that CEO Jim Farley expected the company to have done much better last year. By improving execution and performance, we will make up for the $2 billion in profits we left on the table.
The midpoint of Ford's fiscal 2023 adjusted earnings before interest and taxes (EBIT) is below the $10.4 billion adjusted EBIT of fiscal 2022.
Ford's earnings are estimated to decline 13% from 2022 levels to $1.65 per share in 2023. It is now estimated that revenue will grow by 0.8% for the full year.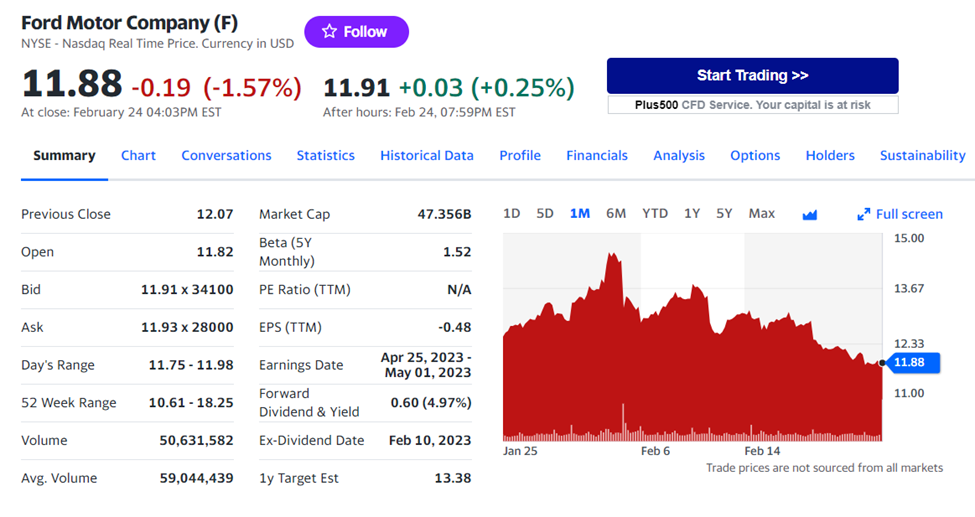 Ford Motor shares plunged nearly 10%during February, and continue to trend down, testing the 50-day moving average. In the wake of Ford's earnings, the stock recovered key averages. There is a 14.77 buy point on F stock, which is forming a double bottom base.
The stock of General Motors increased 5.6% to 41.50 on Thursday and was relatively unchanged on Friday. A 41.68 buy point is forming a cup base for the shares.
In its Q4 earnings report on Tuesday, General Motors blew past analyst expectations. Additionally, GM is investing heavily in Lithium Americas (LAC), a company that produces lithium-based batteries for electric vehicles.
Thursday, Tesla shares rose 3.8% to 188.27, and Friday, they added nearly 3%. TSLA stock has rallied after cutting prices by as much as 20% for several models after reaching two-year lows in January. It is now back above the 50-day moving average after gaining more than 90% from its Jan. 6 low.
Before its earnings report on Thursday, Ford announced that U.S. new vehicle sales grew 2% year over year in January. F-Series trucks, Bronco SUVs, and electric vehicles led the gains.
Although they remain a small part of Ford's total sales, Ford EV sales more than doubled last month.
Month-over-month, Ford sales fell 18.4% in January. In December 2022, Ford sold nearly a third fewer EVs, including the Mach-E and F-150 Lightning.
A few weeks ago, Ford announced price cuts for its Mustang Mach-E electric SUV, a rival to Tesla's Model Y.
In order to remain competitive in a rapidly changing market, Ford plans to reduce Mustang Mach-E prices by up to $5,900 per vehicle while raising production.
Ford's EV sales in 2022 more than doubled to 61,575, despite tight inventories. Those numbers made Ford the No. 2 EV maker in the U.S. behind Tesla.
For traditional automakers, electric vehicles represent a small portion of their overall sales. Ford, GM, and others see the segment as a growth driver in the long run.
All-electric vehicles, also known as battery electric vehicles, or BEVs, are expected to account for half of all U.S. sales by 2030.
FAQs
Is Ford stock a good buy now?
Ford's stock is attractive because of its reasonable valuation, strong brand, focus on electric vehicles, and potential benefits from the Inflation Reduction Act. Ford is certainly one of the best stocks to add to your portfolio if you're looking for an auto stock.
What are Ford's Struggles at the moment?
Due to high costs and supply chain problems, Ford Motor lost $2.2 billion in 2022 as the company wrote down the value of two big investments.

Last year, the company wrote down its investments in Rivian, a young electric truck manufacturer, by $7.4 billion and Argo AI, a company developing autonomous vehicles, by $2.8 billion. Ford announced on Thursday that it had almost completely sold its Rivian stake. Ford announced its intention to wind down Argo in October.

As a result of higher car prices, the automaker's revenue increased about 16 percent to $158 billion. Globally, the company sold 4.2 million vehicles, up from 3.9 million in 2021.

In the past, Ford has struggled to reduce the number of defects and recalls associated with its vehicles. The company's executive said on Thursday that they are working to improve their vehicles' reliability to reduce the number of recalls. Recalls can be costly and time-consuming.
Does Ford pay a dividend?
The company paid a dividend within the last 12 months. What is Ford Motor's dividend? Each share of F pays a dividend of $0.8. The dividend yield of F is 3.71%.
Risk Disclaimer
StockHax strives to provide unbiased and reliable information on cryptocurrency, finance, trading, and stocks. However, we cannot provide financial advice and urge users to do their own research and due diligence.
Read More