This website and its content are not intended to provide professional or financial advice. The views expressed here are based solely on the writer's opinion, research, and personal experience, and should not be taken as factual information. The author is not a financial advisor and lacks relevant certifications in that regard. We highly recommend consulting a qualified financial advisor before making any investment decisions, as the information presented on this site is general in nature and may not be tailored to individual needs or circumstances.
Uber is one of the biggest players in the rideshare industry, and in 2023 things have been looking even better for the company. However, it's not a secret that despite their great performance, Uber hasn't managed to translate their stock value into tangible profits.
And yet, their stock continues to grow, but will that continue to be the case for 2023? Read on to learn about Uber's market performance and stock value going into March 2023.
Uber Going into March 2023
Uber began as a ride-sharing company, but its economic model has changed significantly since then. Currently, the Uber business portfolio is divided into three parts: Mobility, Delivery, and Freight.
Recently, Uber reported fourth-quarter earnings that exceeded analysts' expectations. Two specific examples include:
Analysts expected a loss of 18 cents per share, but the company earned 29 cents per share.
Analysts expected $8.49 billion in revenue, but Refinitiv found $8.6 billion.
According to StreetAccount, Mobility (gross bookings) was $14.9 billion versus 14.8 billion expected by analysts.
StreetAccount estimates $14.3 billion in delivery (gross bookings) versus $14.3 billion expected by analysts.
The company's revenue for the quarter increased by 49% year over year. As of the end of the quarter, Uber had a net income of $595 million, of which $756 million was a net benefit resulting from unrealized gains on equity investments.
Uber reported adjusted EBITDA of $665 million, higher than analysts' expectations of $620 million. Over the past year, gross bookings have increased 19% to $30.7 billion.
Uber expects gross bookings to grow 20% to 24% year over year in the first quarter of 2023 on a constant currency basis, and adjusted EBITDA to reach $660 million to $700 million.
One of the reasons for Ubers recent growth in the last few years was the Covid pandemic. During the pandemic, Uber's Eats delivery business grew rapidly, but its mobility segment exceeded Eats revenue in the first, second, and third quarters of 2022 as riders began taking more trips. The company's mobility segment reported $4.1 billion in revenue during the fourth quarter, while its delivery segment reported $2.9 billion.
For the quarter, Uber's freight business generated sales of $1.5 billion.
The number of monthly active platform consumers increased 11% year over year to 131 million in the fourth quarter. Over the period, 2.1 billion trips were completed on the platform, an increase of 19%. There are no signs of a decline in consumer spending at Uber. Following the pandemic, the company may benefit from a shift from retail to services spending.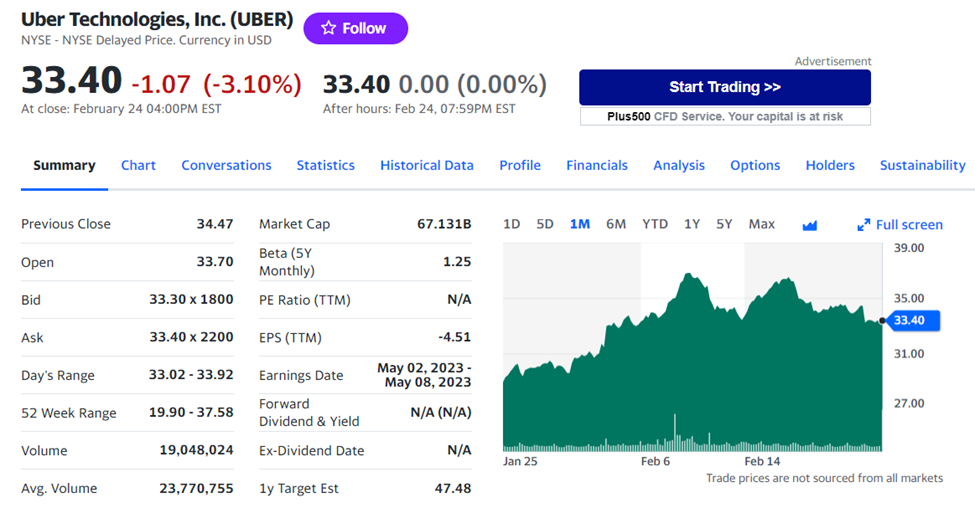 As car ownership costs rise, more people are opting for cab rides, which is benefiting the rideshare market. Additionally, more drivers are signing up as they seek new sources of income.
In addition, Uber has just partnered with California-based aerospace company Joby Aviation to launch an urban air taxi service. By 2023, Joby plans to launch its flying taxi service ahead of Uber's aggressive schedule."
The electric air taxis will be provided by Joby, and Uber will provide air traffic control, landing pad construction, and connections to ground transportation. ‍This flying taxi will be electric-powered, quiet, and capable of vertical takeoffs and landings.
FAQs
What is the future of Uber stocks?
Uber's share price is expected to reach $48.24 by Feb 9, 2024, according to Wall Street analysts. UBER's share price is currently $34.20, so the average stock price prediction shows an upside potential of 41.06%.
Will Uber Be Profitable?
In spite of its popularity, Uber has not been able to make a profit. Uber generated positive earnings before interest, taxes, depreciation, and amortization in 2022 on an adjusted EBITDA basis. The company still lost a large amount of money, however.

Despite Uber's tremendous growth over the past decade, the company has yet to turn a profit. This does not mean, however, that Uber is not earning money.

In 2020, the company reported over $11 billion in revenue, and in 2021 it reached over $17 billion. Although Uber has yet to break even, its enormous revenue indicates that profitability is well within reach.
Why Is Uber Loss Making?
A major factor behind Uber's losses was the falling value of its investments in financially troubled companies, such as Singapore's VTC Grab, Aurora, a US start-up that is developing self-driving vehicles, and Zomato, an Indian food delivery service.

A 31 percent increase in drivers and couriers since last year is also reported by the ride-hailing giant.

The firm reported that 70 percent of drivers using the platform said inflation played a part in their decision.
Risk Disclaimer
StockHax strives to provide unbiased and reliable information on cryptocurrency, finance, trading, and stocks. However, we cannot provide financial advice and urge users to do their own research and due diligence.
Read More