This website and its content are not intended to provide professional or financial advice. The views expressed here are based solely on the writer's opinion, research, and personal experience, and should not be taken as factual information. The author is not a financial advisor and lacks relevant certifications in that regard. We highly recommend consulting a qualified financial advisor before making any investment decisions, as the information presented on this site is general in nature and may not be tailored to individual needs or circumstances.
The stock price of Amazon is $93.5 as of this writing. During the past 24 hours, its overall price has declined by 2.42%. Today, the stock traded between $92.32 and $94.14. For the month, the stock's price decreased by 1.36, a 1.4% decline. Since the stock price has trended chiefly downward this year, it doesn't appear that it will end anytime soon.
Here's a look at Amazon's past performance and current value to see what the future holds.
Amazon Going into March 2023
According to the company's earnings report released in April 2022, the company's first-quarter growth has slowed, costs have risen, and revenue is expected to decline. It reported a net loss of $3.8 billion, attributed to its $7.6 loss from its investment in Rivian Automotive Inc.
Stocks of the company spiked sharply in the second quarter as a result of the company's revenue exceeding Wall Street expectations. The company reported its progress in managing excess costs during the COVID-19 pandemic. Although analysts still consider the performance reasonable because it is far from the stellar numbers it usually produces.
A large part of Amazon's misfortunes can be attributed to macroeconomic conditions and the macroenvironment. Depending on investor type and investment strategy the market participants divide into two categories such as growth investors who look for companies with rapid growth potential and value investors who are looking for stable profit margins, consistent cash flow, and relatively high dividends.
For stock traders, it is crucial to find entry points that have low risk and offer solid potential rewards. Amazon stock has a 25 out of 99 IBD composite rating, according to the IBD Stock Checkup tool. It is recommended that ratings be 90 or higher, according to technical analysts.
Currently, Amazon's Relative Strength Rating stands at 19 out of 99. Ideally, the rating should be 80 or higher, according to experts.
AWS (Amazon Web Service), which earned $19.74 billion in revenue last year, is Amazon's ray of hope to protect its overall performance. Additionally, its advertising unit brought in $8.76 billion last year, an 18% increase. As a result, Amazon.com Inc. shares rose almost 14% in after-hours trading.
As Amazon invests in its Prime membership and offers more benefits to members, its revenue increases. It has also recently announced a deal with meal delivery service Grubhub to give free access for a year.
Compared to last year, subscription services have grown by 10%. According to some analysts, the company generated roughly USD 4.6 billion in revenue during Prime Day. Sales have also been affected by foreign exchange rate fluctuations, according to Amazon. The company reported a net loss of $2.7 billion in 2022, and shares declined about 47% amid a digital advertising showdown, high inflation, and rising interest rates. Economic uncertainty caused the stock to drop, even though the company had grown rapidly in the early days of the pandemic.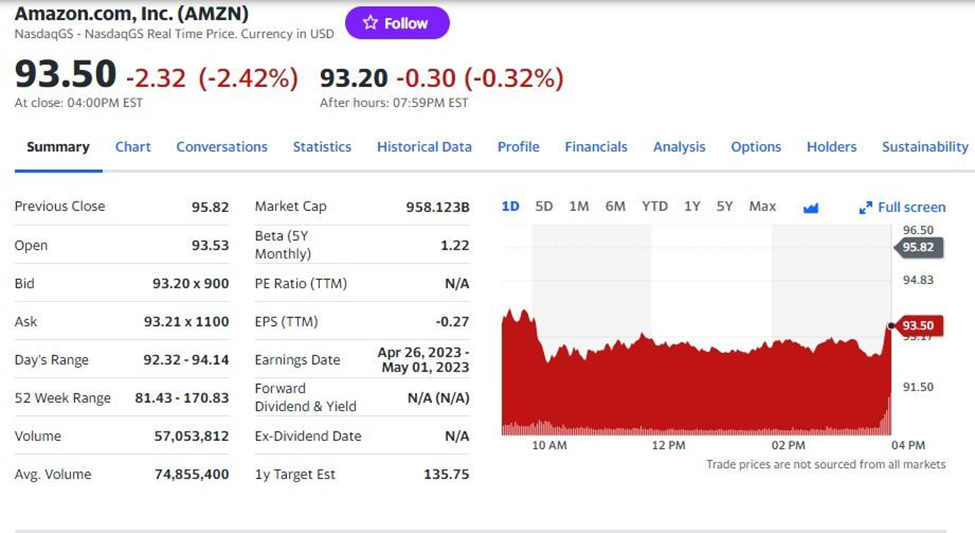 The company announced in January that it would be laying off 18,000 employees, one of the largest layoffs in the history of the industry.
Amazon continues to look for additional investments, including package delivery by drones. As part of its Prime Air service, it started delivering orders by drone in California and Texas in December. The company claims to have worked on drone delivery for almost a decade.
An acquisition of One Medical by Amazon valued at $3.9 billion has just been completed. The company made several forays into the healthcare market, which were successful. In 2018, Amazon acquired PillPack, making it possible to ship prescriptions nationwide, which threatens pharmacy businesses. Consumers' access to healthcare has been simplified by the company.
According to Amazon CEO Andy Jassy, the long-term opportunities for the company look bright. Despite the uncertain economy's repercussions, he is confident that they will only last for a short time. Amazon's investments and innovations in customer experiences, such as streaming entertainment, customer-first healthcare, and broadband satellite connectivity, point to a bright future.
Amazon Analysis Conclusion
In the short and medium term, Amazon's stock price has declined due to increasing expenses, rapid expansion, and declining consumer spending. It appears that the trend will continue, but there are some silver linings, given the company's impeccable reputation. Its continuous investments and innovations may help the company survive for now and blossom in the long run.
FAQs
Is Amazon paying dividends?
The company does not pay cash dividends to its shareholders. Amazon's business model has always been driven by innovation and branching out, as evidenced by its entry into the grocery and pharmacy sectors, which shows that its money should be used to grow rather than to pay dividends.
When did Amazon's stock split?
The company announced a 20-for-1 split of its common stock on March 19, 2022, which will come into effect on June 3, 2022, to be paid to shareholders of record on May 27, 2022.
For stockholders of record on August 12, 1999, Amazon announced a 2-for-1 split of its common shares, effective September 1, 1999.

The company announced on November 19, 1998 that it would be splitting its common shares three-for-one, with the split taking place on January 5, 1999, for stockholders of record on December 18, 1998.

The company announced on April 27, 1998 that it would split its common shares into two for one, effective on June 2, 1998. This was for shareholders as of May 20, 1998.
Where is Amazon traded?
Amazon is traded on the National Association of Securities Dealers Automated Quotations (NASDAQ), a global electronic marketplace, under the ticker symbol AMZN.
Risk Disclaimer
StockHax strives to provide unbiased and reliable information on cryptocurrency, finance, trading, and stocks. However, we cannot provide financial advice and urge users to do their own research and due diligence.
Read More