This website and its content are not intended to provide professional or financial advice. The views expressed here are based solely on the writer's opinion, research, and personal experience, and should not be taken as factual information. The author is not a financial advisor and lacks relevant certifications in that regard. We highly recommend consulting a qualified financial advisor before making any investment decisions, as the information presented on this site is general in nature and may not be tailored to individual needs or circumstances.
Lyft has always positioned itself as a strong competitor to Uber, but the pandemic hit the rideshare company for worse than it did its main competitor. Unfortunately, many factors have seen the company continue to struggle.
Which begs the question, will 2023 present a change for the better for Lyft, or will their woes continue?
Read on to learn about Lyft's market performance and stock value going into March 2023.
Lyft Going into March 2023
Since its founding in 2009, Lyft (LYFT) has grown to become one of the largest global ride-hailing platforms. In the post-Covid world, however, the ride-hailing company struggles to find its footing. As a result, Uber (UBER) is gaining ground on its larger, more diversified rival.
A partnership with Ford (F) to introduce autonomous vehicles by the end of 2021 briefly boosted Lyft shares. Despite changing trends in consumer behavior, Lyft faces a bleak future.
What is the best time to buy Lyft stock? Prior to analyzing the technical picture, it's crucial to analyze the fundamentals.
And yet on the heels of Lyft's Q4 earnings, its stock plunges
The stock price of Lyft plummeted after its Q4 earnings. According to the company, it lost 74 cents per share on revenues of $1.2 billion. A FactSet survey of analysts predicted Lyft would report adjusted earnings of 13 cents on revenue of $1.15 billion.
In addition, the company had a low number of active riders. Lyft reported that 20.4 million riders were active during the quarter. Compared to 23 million expected, that's a much lower number. The company's revenue, however, grew 21% over last year.
As a result of the earnings report, Lyft's stock plummeted 36.4%. Today, Lyft's stock is hovering near a record low.
Lyft's Q4 earnings call was one of the three worst he has experienced in 22 years on Wall Street, according to Wedbush analyst Dan Ives.
Ives wrote in a Feb. 10 letter to investors that management is playing blindfolded with expense structure. "After some ebbs and flows, it now seems clear that Lyft's business model will have to climb an Everest-like mountain to be profitable and grow. This contrasts sharply with big brother Uber that has moved in the opposite direction."
The key to determining whether Lyft stock is a buy now is to analyze both the fundamentals and technicals.
Lyft stock has a 20 Composite Rating out of a maximum 99 in the IBD Stock Checkup tool. Fundamentals and technical factors combine to determine the rating.
A Composite Rating of 83 has been assigned to Uber stock.
A 5 out of 99 EPS rating is also a low number for Lyft. EPS Ratings compare earnings-per-share growth across all stocks in the IBD database.
Currently, Lyft's stock is at an all-time low. An earnings report for the fourth quarter disappointed investors, sending shares plunging 36%. Consequently, Lyft's 10-week and 40-week moving averages fell well below their previous levels.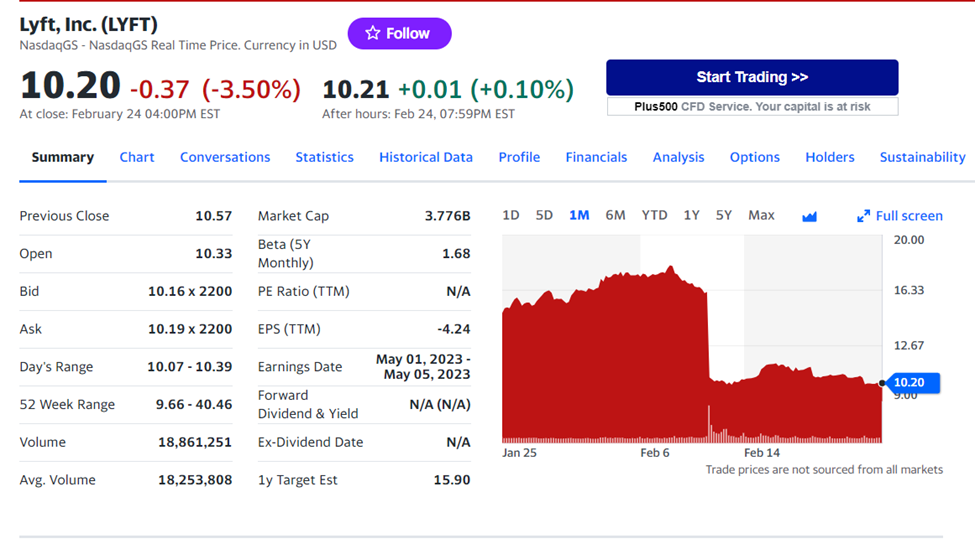 You should also take into consideration the line of relative strength. In this line, stocks' price action is compared with that of the S&P 500. Record lows have been reached since March 2021 on the RS line.
What's the deal with Lyft right now?
Despite the fact that Lyft remains in a downtrend, it remains well below its IPO price of 72.
It's not a good time to buy Lyft stock right now. Shares dropped to all-time lows and below key moving averages after a disastrous Q4 earnings report. Until Lyft stock regains its footing and forms a new foundation, investors should wait.
A return to normal and an increase in car ownership costs are driving many people to take cab rides. Meanwhile, the number of drivers signing up is rising as they seek new income sources.
FAQs
Why is Lyft stock so low?
Some companies have struggled to beat analyst estimates, which is the main reason for the drop in share price. Lyft generated $1.05 billion in revenue, but this was slightly below estimates.
Who has a bigger market share Uber or Lyft?
It is estimated that Uber will have 71% of U.S. rideshare sales in 2022, compared with Lyft's 29%. The sales of both companies have increased significantly since 2021, however. The year-over-year sales of Uber and Lyft have increased by 84% and 62%, respectively, as of January 2022.
What are analysts saying about Lyft stock?
According to 33 analysts offering 12-month price forecasts for Lyft Inc, the median target price is 13.00, with a high estimate of 30.00 and a low estimate of 8.50. Based on the last price of 10.20, the median estimate represents an increase of +27.45%.

Lyft Inc. shares are currently held by 44 of 44 polled investment analysts. Ratings have remained unchanged since February, when they were unchanged from a hold.
Risk Disclaimer
StockHax strives to provide unbiased and reliable information on cryptocurrency, finance, trading, and stocks. However, we cannot provide financial advice and urge users to do their own research and due diligence.
Read More