This website and its content are not intended to provide professional or financial advice. The views expressed here are based solely on the writer's opinion, research, and personal experience, and should not be taken as factual information. The author is not a financial advisor and lacks relevant certifications in that regard. We highly recommend consulting a qualified financial advisor before making any investment decisions, as the information presented on this site is general in nature and may not be tailored to individual needs or circumstances.
Important Notice: TradeKing is now Ally Invest, meaning that all TradeKing accounts have been migrated to Ally Invest. This change was made to offer TradeKing customers the same great services and products with low fees that they have come to expect, but under the Ally Invest brand. Customers can log in to their new Ally Invest account to complete the migration process. It's important to note that while Ally Invest offers an array of financial products and services, options and leveraged products carry risk and may not be suitable for all investors. Furthermore, all products offered by Ally Invest, including securities, advisory services, and forex products, are not FDIC insured, not bank guaranteed, and may lose value.

No minimum balance
$4.95 trade commissions
TradeKing LIVE trading platform
Pros
Zero account minimums
Industry-low $4.95 fee per trade commissions
Innovative and robust TradeKing LIVE trading platform
Useful research tools, including reputable charting and various investment calculators
Cons
Lack of no-transaction-fee mutual funds
No commission-free ETFs
Inactivity fees
Less than perfect customer service
Fee structure inefficient for penny stocks
TradeKing Highlights

| | |
| --- | --- |
| 💰 Account Minimum | $0 |
| 💸 Commission Fees | $0 per trade for stocks and ETFs; $0.50 per contract for options |
| 💼 Investment Options | Stocks, ETFs, options, bonds, mutual funds, forex |
| 🤖 Robo-Advisor | Ally Invest Managed Portfolios |
| 📊 Research and Analysis | Free third-party research and analysis, including Morningstar reports, company snapshots, news, streaming charts, profit/loss calculator |
| 📱 Mobile App | Ally Mobile app available for iOS and Android |
| 🏦 Retirement Accounts | Traditional, Roth, Rollover, SEP, and SIMPLE IRAs |
| 🎓 IRA Accounts | Traditional, Roth, Rollover, SEP, and SIMPLE IRAs |
| 📈 Trading Platform | Ally Invest LIVE (web-based), Ally Forex (desktop), Ally Mobile (iOS and Android) |
| 📞 Customer Service | Phone support available 24/7, email support. |
| 📚 Educational Resources | Free educational resources, including webinars, articles, videos, and a trading community |
| 🌕 Fractional Shares | Available through Ally Invest Direct® |
| 🌱 Socially Responsible | Ally Invest offers a list of socially responsible ETFs |
| 🌎 International Investing | Ally Invest does not offer international trading |
| 💳 Cash Management | Cash management services available through Ally Bank |
| 🔍 Margin Trading | Available with a margin account; margin interest rates vary by balance |
| ⚙️ Options Trading | Advanced options trading available; options trades are $0.50 per contract plus commission fees |
| ₿ Cryptocurrency Trading | Ally Invest does not offer cryptocurrency trading |
| 🛡️ Account Security | Member of SIPC with protection of up to $500,000, additional insurance for up to $37.5 million through Lloyd's of London, two-factor authentication |
| 💹 Leverage | Maximum leverage of 4:1 for intraday trading; margin interest rates vary by balance |
| ⚖ Regulation | Ally Invest is a member of FINRA and SIPC in the United States and regulated by the SECIt is not regulated by the FCA or ASIC. |
$4.95 Trades and Robust Options Trading
When searching for a solid, reputable online broker, affordability can often be confused for cheapness, offering little for the money you pay. This is definitely not the case with TradeKing — despite having an industry-low trade fee discount, it offers the robust research, tools and features you might come to expect with more high-priced firms.
What are TradeKing's Main Features?
Ever since its founding in 2006, TradeKing's goal has been, like many of its competitors, able to offer low-cost commissions for traders of all stripes in an easy-to-use, online setting. For the last 10 years, it has done that, acquiring and merging with companies like Zecco in 2012 and MB Trading in 2015.
Central to TradeKing's appeal is its rock-bottom fee structure. At $4.95 per trade (with $0.65 per contract), TradeKing has some of the very lowest rates in the country, bar none. While most other services will charge between $7 and $10 per trade, TradeKing keeps the fees low to make sure their traders don't spend too much money on the very act of trading, freeing traders to focus on the important things like maximizing their investments.
Although at the first glance, penny stocks might seem to be cheap for trading purposes, in reality, investors might end up paying more in terms of fees which could drain the return potential of the investment.
TradeKing also offers 24/7 live chat and email support for its customers while the phone calls although available based on the information provided on the website, some client reviews show that investors could expect long queues when it comes to contacting customer support via phone.
Existing alongside its low rates is a user-friendliness that maximizes TradeKing's role as a good solution for newer, active traders. The main focus of that intuitiveness is their major trading platform, TradeKing LIVE. Ever since it was released in 2014, it has heavily streamlined TradeKing users' experiences, with easy-to-track streaming quotes, trade tickets and more.
While it is not exactly an industry leader, TradeKing LIVE is still an immensely satisfying online platform to use, with its smooth, customizable charting; 10 drawing tools; and dozens of technical indicators. It even looks cleaner than a lot of online platforms, making trader interaction with their accounts simple and efficient.
In addition to the automated services available on TradeKing LIVE, the software also sports an online trader network that allows users to talk to others in community forums in order to share strategies.
Other research options for TradeKing customers include free stock reports from S&P Capital IQ, webinars, educational screeners, and a number of other tools to educate traders who still need to learn the tools of the trade.
For a discount broker to have a platform as detailed as TradeKing LIVE is worth noting; rather than the bare-bones charting and trade placement you might expect, TradeKing offers its traders so much for what little they are paying to make trades.
From real-time streaming to customizable data (free for extremely active investors), TradeKing LIVE is the icing on the cake of a very generous online broker — to say nothing of their equally generous mobile app.
These are the three major selling points of TradeKing: low commission rates, good customer service, robust trading platform. Given the sheer quality of at least two of these elements, TradeKing is showing some progress as covered by the market participants but the overall market is competitive hence there is still a long road to cover.
How Do You Open a TradeKing Account and What are the Requirements?
As with any other trading platform, TradeKing provides a similar process when it comes to opening an account. Just go to the website and apply online. There are no specific criteria for approval that falls outside the normal purview of what you might expect from an online broker: They want your name, address, email, employment information, etc., and the same for any joint account owners who might be involved.
In addition, TradeKing asks applicants about their risk level, net worth, any affiliations with publicly traded companies, investment goals, and more. To verify this info and your basic identity, they do ask to show a driver's license or some other form of ID.
If you don't want to fill that information out online, TradeKing also offers a paper application you can print or have sent to you, which you can then mail in.
To qualify for a TradeKing account, you do have to currently live in the US, with the exception of active duty military officers. If you're a minor, you can open an account with the help of a parent or legal guardian.
What Are the Rules for Trading on TradeKing?
Once your information is appropriately set up, TradeKing offers a fairly open-ended set of guidelines for your account. Most importantly, they require no account minimum, which is ideal for traders who want to start investing without dedicating more money than they're prepared to risk.
TradeKing provides an investment platform with certain tools that investors can leverage to apply different strategies based on their trading experience and investment goals.
As for the investment options that are available on TradeKing, traders can enjoy a large array of financial instruments to trade that include stocks, bonds, ETFs, options, mutual funds, and even foreign currencies.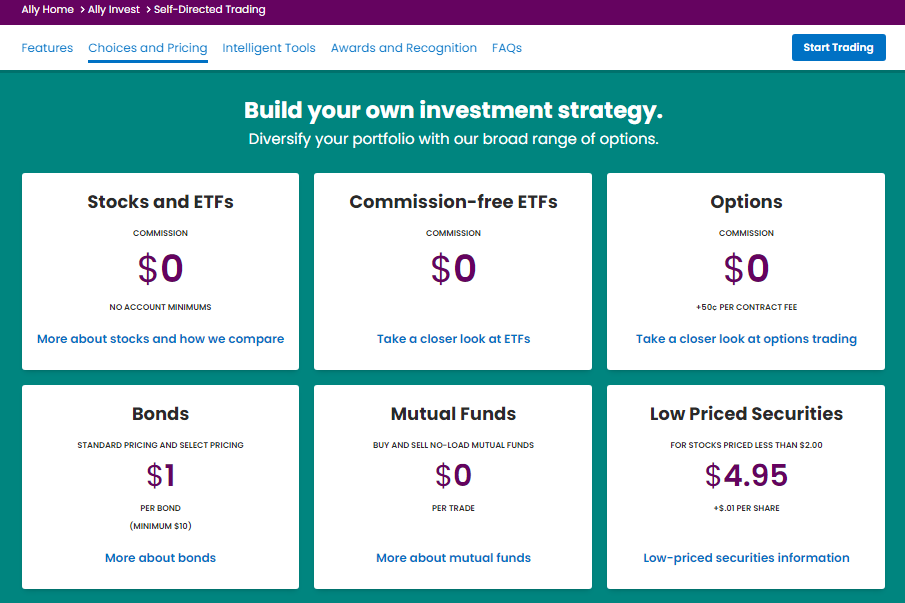 However, one thing to keep in mind is that there are zero no-fee mutual funds available, nor are there commission-free ETFs. While the low fees may offset the costs you would have dealing with these particular trades, traders looking for the most value could probably look elsewhere.
What's more, while there is no account minimum, there are a few sneaky fees for other account actions on TradeKing. If you don't place at least one trade a year, or keep your balance below $2,500, you'll get slapped with a $50 inactivity fee each year. Also, if you make outgoing transfers or close your IRA, you'll also pay $50 for those privileges.
What Kind of Trader is TradeKing Best For?
Given TradeKing's low rates and zero account minimums, there are a few criteria their ideal trader must fit. First, one of the features available with TradeKing is the fee discount that the platform claims to provide for active investors who trade with high frequency. This is not applicable to all investors and it should be analyzed case by case basis considering one's circumstances and investment goals.
Active traders will also find a lot of utility in TradeKing LIVE and its corresponding research tools. TradeKing personal account section provides information about the personal and account details which some clients highlighted to be suitable to have all the details in one place.
Furthermore, if you're a beginner trader looking to start your investment career with a minimum of fuss, TradeKing's zero-balance minimum and the aforementioned low fees mean investors can get started without risking more than they are prepared to.
Other Good Products
If you like not having to pay much for your online investment trading, you might want to give OptionsHouse a try. OptionsHouse prices their trades the same as TradeKing's, but they have no maintenance fees on accounts less than $10,000. Their per-contract fee for options trading is even slightly lower at $0.50, which makes a difference to those looking to maximize savings.
Betterment, meanwhile, offers similarly flat fees (though slightly higher than those other two options), and a zero account balance minimum requirement. Their main appeal is their higher-than-normal set of assets and tiered management fees, which reward you for having more in your account.
If you'd like to avoid the inactivity fee that TradeKing charges, consider Scottrade. Not that you might lose more on the back end because of the higher fees that brokerage charges.
OptionsXpress is another brokerage that doesn't charge for inactivity, but again optionsXpress has higher fees (and fewer trading options than many brokers do, including TradeKing).
If you prefer mobile trading, look into TD Ameritrade. The mobile trading features on TD Ameritrade's platform are a dream for many stockbrokers, and TradeKing doesn't yet have a platform for iPads or other tablets.
ETrade might also be a good option for anyone looking for mobile trading. Etrade's phone and tablet apps let you trade mutual funds and trade after hours.
A Few Final Thoughts
With few exceptions, some of the client reviews highlight the fact that TradeKind might be suitable for a wide range of investors with varying investment experience. Not only do they have an industry low trade fee of $4.95 per trade, and no account minimums, their TradeKing LIVE options trading platform easily gives you bang for your buck.
TradeKing offers a variety of financial instruments but it lacks ETFs and mutual funds hence investors need to consider whether this is an acceptable limitation for them — in those contexts, you want to find a broker that will offer you no-fee funds and no-commission ETFs, neither of which can be found here. However, if your sole focus is on stocks and options (or perhaps forex), TradeKing is an exciting option to consider.
It's easy to get suspicious of record-low trade fees provided by companies like TradeKing, and the impulse is often to upgrade simply to get the impression of better service. However, TradeKing's low fee structure comes with very few strings, as they have just enough selection (and a sufficiently solid trading platform) to keep up with their competitors.
Risk Disclaimer
StockHax strives to provide unbiased and reliable information on cryptocurrency, finance, trading, and stocks. However, we cannot provide financial advice and urge users to do their own research and due diligence.
Read More