This website and its content are not intended to provide professional or financial advice. The views expressed here are based solely on the writer's opinion, research, and personal experience, and should not be taken as factual information. The author is not a financial advisor and lacks relevant certifications in that regard. We highly recommend consulting a qualified financial advisor before making any investment decisions, as the information presented on this site is general in nature and may not be tailored to individual needs or circumstances
With powerful new deals and new releases on the horizon, the battery maker Expion360 is looking stronger than ever this year. But will the increased performance of their stock continue to reflect for March, and the rest of 2023?
Read on to learn about Expion360's market performance and stock value going into March 2023.
Expion360 Going into March 2023
VPR 4EVER batteries are designed, fabricated, assembled, and sold by Expion360 Inc. for recreational vehicles, marine, golf, industrial, residential, and off-the-grid applications. Besides industrial tiedowns, it also provides battery monitors, terminal blocks, and bus bars. In addition, the company develops e360 Home Energy Storage systems. In the United States and abroad, it serves dealers, wholesalers, and original equipment manufacturers.
The stock price of Expion360 (NASDAQ:XPON) is advancing 40% in early trading after the company announced that it had been selected to supply lithium-ion batteries and "power system components" to Cube Series, a manufacturer and marketer of campers and trailers.
Expion360 has confirmed that it will be the sole supplier of batteries and other components for Cube Series' new "foldable camper." With their compact design, these campers can be transported in a light-duty truck bed.
A new portable accessory that can be used with Expion360's batteries boosted its share price by 69% on Thursday.
AURA POWERCAP 600 and AURA POWERCAP 800 were launched by the company after the bell on Wednesday.
According to Expion, their new accessories will allow the batteries to be transformed into portable power packs rated at 600 watts or 800 watts. Pre-orders will begin shipping in the second quarter of 2023, which could improve the performance of their stock
Some of the strengths that the company currently has include:
AURA's unique design and functionality have also been patented by the company.
Annual revenue growth is forecast to be 24.72%
An increase of 94.3% in revenue was recorded in the last year
And yet, they also have their share of weaknesses, which include:
Insufficient cash runway for more than a year
Over the past three months, the share price has been highly volatile
The company is currently unprofitable and is not expected to become profitable within three years
Market cap of $26 million is not meaningful
Recently, Expion360 Inc. (NASDAQ: XPON) shares rose 42.39% to $3.93 from $2.76. The stock changed hands with 1.63 million shares, less than its average volume of 3.23 million. It reached a high price of $4.2498 during the session, while it dropped to a low price of $2.5100. Electrical Equipment & Parts falls under the Industrials sector. Over a 52-week period, XPON's high point was $11.29, and its low point was $0.90. As of today, the stock is valued at $3.77 per share.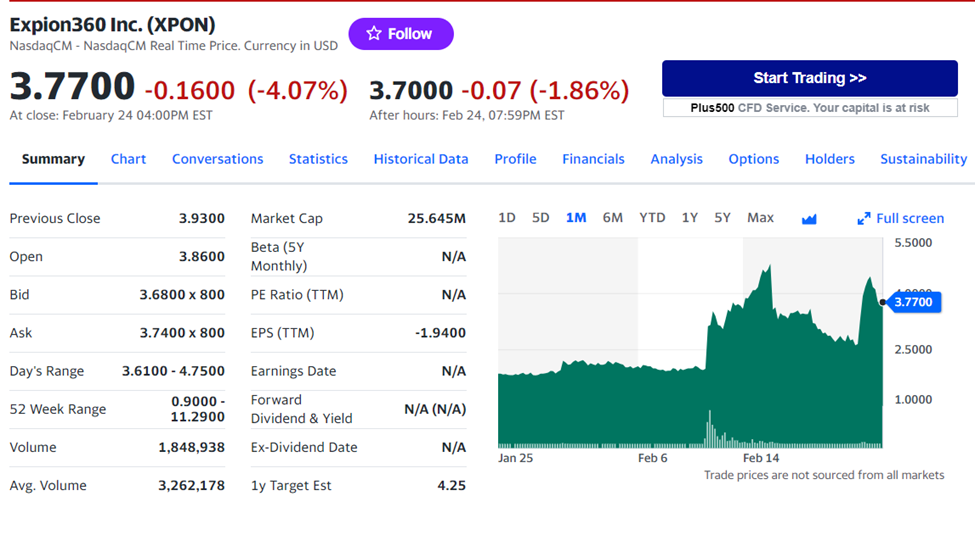 One date and event to look out for in terms of the Expion360 stock is the 35th Annual ROTH Conference, which will be held at The Ritz Carlton, Laguna Niguel in Dana Point, California on March 12-14, 2023, and to which Expion360 has been invited to present.
Besides on-demand presentations by companies across a variety of industry sectors, the conference will feature one-on-one and small group meetings, as well as thematic industry panels and fireside chats.
Over 5,000 people have attended past conferences, including institutional investors, family offices, high-net-worth investors, and equity analysts.
In addition to one-on-one meetings with analysts and investors, Expion360 CEO Brian Schaffner will participate in a panel discussion. David Hendrickson, chairman of the board, and president and COO Paul Shoun will join him.
The company's leadership in Li-ion batteries for RVs and marine applications will be discussed. In addition to offering greater capacity and space savings compared to lead-acid batteries, the Expion360 e360TM Li-ion batteries are designed, constructed, and assembled more effectively than alternative Li-ion batteries.
Recently, the company announced that it had been selected as the exclusive supplier of lithium-ion batteries to a number of RV manufacturers, including one that will be branded and sold by a top U.S. sports utility vehicle manufacturer, with over 5,000 SUV dealerships offering it nationwide.
FAQs
Should I buy or sell Expion360 stock right now?
1 Wall Street equities research analysts have issued "buy," "hold," and "sell" ratings for Expion360 in the last year. There are currently 1 buy rating for the stock. The consensus among Wall Street equities research analysts is that investors should "buy" XPON shares.
How have XPON shares performed in 2023?
Expion360's stock was trading at $2.30 at the beginning of 2023. Since then, XPON shares have increased by 63.9% and is now trading at $3.77.
When is Expion360's next earnings date?
The company is scheduled to release its next quarterly earnings announcement on Thursday, March 2nd 2023.
When did Expion360 IPO?
(XPON) raised $17 million in an IPO on Friday, April 1st 2022. The company issued 2,145,000 shares at $7.00-$9.00 per share.
Risk Disclaimer
StockHax strives to provide unbiased and reliable information on cryptocurrency, finance, trading, and stocks. However, we cannot provide financial advice and urge users to do their own research and due diligence.
Read More