This website and its content are not intended to provide professional or financial advice. The views expressed here are based solely on the writer's opinion, research, and personal experience, and should not be taken as factual information. The author is not a financial advisor and lacks relevant certifications in that regard. We highly recommend consulting a qualified financial advisor before making any investment decisions, as the information presented on this site is general in nature and may not be tailored to individual needs or circumstances.
It's 2023 and the need for online brokerage platforms has increased more than ever. Now, there are a lot of Gen Z's and millennials interested in investing in their favorite company like Netflix (NFLX), Tesla (TSLA), Facebook (FB), Apple (AAPL), and more.
Thanks to these online brokerage platforms, setting up an account and jumping into the investment fray has never been easier. With online brokers, they can execute trades and use the platform's tools to make informed investment decisions.
By doing this, they can save much needed funds in asset management fees unlike when they have to hire an investment. In that regard, we've compiled the best stock brokers with their unique features available to prospective investors in the US.
Before we proceed, let's discuss the job of a stockbroker.
What does a stock broker do?
As a matter of fact, there are two kinds of stockbrokers. Traditional stockbrokers and online stockbrokers. While traditional stockbrokers work for corporations after getting certified to work at brokerage firms, online stockbrokers, on the other hand, allow investors trade stocks digitally.
Online stockbrokers come in handy for individuals that want to navigate the market on their own. Most importantly, there are several things to look out for when choosing an online stockbroking platform.
Without further ado, let's see some of the 5 best stock brokers in the United States of America.
Charles Schwab (Schwb) – Best For Long-Term Investing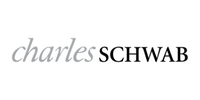 The name Schwab needs little to no introduction in the online brokerage world thanks to its solid array of tools for beginners traders and investors. However, it is also renowned for its financial planning strength.
The platform offers clients some useful calculators that go a long way in helping them make smart and long-term investing decisions. The platform offers a podcast hosted by Katy Milkman, a professor of Choiceology Wharton, which may be of interest to investors.
In order to increase its reach in the industry, the company acquired TD Ameritrade (another top trading platform) in 2020. As it stands, they're still separate entities but they're in the process of merging both platforms.
For those that don't know, Charles Schwab is among the latest players in the free trades industry. And as luck would have it, they're among the most suitable options for expert and prospective investors that want to build a long-term portfolio.
The company provides free online ETF, stock trading, and no-transaction-fee, no-load mutual funds. In addition, trading options are offered for $0.65 per contract. This platform is known for offering user-friendly technology, lending options, and customer service.
| | |
| --- | --- |
| Account Types | Educational and custodial, brokerage and trading, retirement, lending, charitable giving, checking and savings, and small business retirement. |
| Supported Assets | Stocks, crypto, options, bonds, mutual funds, ETFs, and other financial products |
| Tools | Trading software, Web trading app and mobile trading. |
| Fees & Charges | ETF trades and online listed stocks: commission-free.Online options trades: 65 cents per contract.Automated phone trades: $5Broker-assisted trades: $25 for ETFs, stocks, and Options. |
| Mobile Trading | Supported |
| Overall Rating | 4.8★ |
Fidelity – Recognized as the best overall and for its commissions and fees.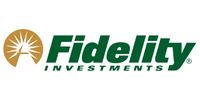 Fidelity is a proven brand in online stock trading. The platform is one of the top online brokerage companies that has adopted commission-free trades.
The free trades of Fidelity apply to online United States equity trades, options and ETFs. The options trade fee for retail accounts is pegged at 65 cents for each contract.
In 2019, Fidelity started providing 500 plus ETFs that are commission-free. This broker offers several index funds with no expense fees, which may be beneficial for investors who are cost-conscious. The funds include the Fidelity Zero Large Cap Index Fund (FNILX), the Fidelity Zero Total Market Index Fund (FZROX), and Fidelity Zero International Index Fund (FZILX).
This platform is considered well-rounded and suitable for active traders, beginners, and long-term investors.
Fidelity offers top of the line trade execution while at the same time keeping costs to a bare minimum. An estimated 85 percent of orders on the platform are completed at a better cost than NBBO – which is the National Best Bid and Offer. In addition their average order execution speed is pegged at 0.07 seconds which is quite impressive.
| | |
| --- | --- |
| Account Types | Individual Current Account, Vintage Account, Bridge Account, Premium Current Account, and Small Business Account (Individual) |
| Supported Assets | Stocks, Option, ETFs, mutual funds, crypto, bonds etc, Direct Indexing, Sustainable Investing, spending & Saving, and health savings accounts. |
| Tools | Web App and Active Trader Pro |
| Fees & Charges | – Zero commissions for ETF, online equity, OTCBB and options trades.- per-contract options fee: $0.65- No fees for inactivity, software, account transfer or closure, exercise/assignment, checks, domestic wires, or trade confirmations and paper statements. |
| Mobile Trading | Supported |
| Overall Rating | 4.7★ |
E-Trade (ETFC) – Acknowledged as the best investor app and web trading platform.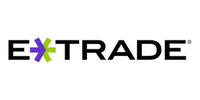 Generally, E-Trade offers an above standard range of investment for its brokers, reduced fees and a highly navigable trading platform.
In addition, E-Trade is seen by lots of investors as a pioneer in the online brokerage industry. What makes it stand out is the platform's ability to reinvent itself with tech advancements especially with its two mobile app offerings.
The E-Trade mobile app allows users to move funds via the mobile check deposit. Also, it comes with other useful features like trading ETFs, stocks and data to track the market. The platform also has another mobile app called Power E-Trade which allows investors to enter orders which includes complex options trades on one ticket. It also provides the latest news, and quotes together with several customizable options.
E-Trade offers free trades for U.S. options, stocks, and ETFs just like the other online brokerage platforms we've reviewed previously. However, they charge a contract fee of $0.65 cents for options trades for the 29 trades in each quarter.
The moment an investor crosses 30 trades within a quarter, the fee for the options contract drops to a meagre 50 cents. On the other hand, Futures contracts are charged at $1.50, and it increases to $2.50 per contract for crypto products.
| | |
| --- | --- |
| Account Types | Core Portfolios, Brokerage account, Roth IRA, Premium Savings Account, Traditional IRA, and Rollover IRA. |
| Supported Assets | bonds, stocks, ETFs, mutual funds, options and futures. |
| Tools | E-Trade mobile app and Power E-Trade |
| Fees & Charges | – Zero commission on online US-listed stock, mutual fund, ETF, and options- Forced margin liquidation: $25.00- Reg T Call Extension: $0- Restricted securities custody: $150- Check returned for insufficient funds: $25 |
| Mobile Trading | Supported |
| Overall Rating | 4.5★ |
TD Ameritrade – Known for providing the best trading tools and platforms, particularly for beginners.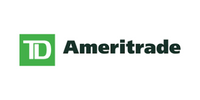 TD Ameritrade is well known for being the best platform for beginners due to the available information the platform provides as a guide for investing. The educational materials include 200 plus instructional videos, audio, tutorials etc.
Also, TD Ameritrade makes it easy for new investors to ask investment-related questions, regardless of their complexity. That's not all, they have an active presence on several social media platforms like Facebook Messenger, Twitter and even Amazon Alexa devices.
With their two mobile trading apps, thinkorswim Mobile and TD Ameritrade Mobile, brokers can trade on the go regardless of their location worldwide. The platform was acquired by Charles Schwab, as mentioned earlier. However, the platform's accounts are yet to be merged. From the look of things, this may happen this year and may be finalized by September.
The platform offers zero commissions when users trade U.S. listed ETFs, stocks, and options on the web. Investors are required to pay a contract fee of $0.65 for options just like other online brokerages. Also, TD Ameritrade offers access to several zero transaction fee mutual funds which also helps it offer lower trading costs to its users.
| | |
| --- | --- |
| Account Types | Standard account, retirement account, Education account, specialty account, and margin trading |
| Supported Assets | options, stocks, ETFs, mutual funds, forex, futures, and bonds and CDs |
| Tools | thinkorswim Mobile and TD Ameritrade Mobile |
| Fees & Charges | $0 commission for U.S. listed options, stocks, and ETFs.Contract feel $0.65 per contract for options trades,Broker-assisted: Stocks $25.00Online: Stocks$0.00 |
| Mobile Trading | Supported |
| Overall Rating | 4.4★ |
Merrill Edge – Provides an overall excellent client experience and caters to high net worth investors.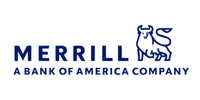 Merrill Edge from Bank of America is a great option for investors that are just starting their investment journey.This platform does not have a minimum investment requirement and is recommended for Bank of America bank customers.
One of the perks enjoyed as an existing customer of the bank is instant access to cash transfers directly deposited into the customer's brokerage account. In addition, they'll have access an advisor from the platform to help ease the process.
Also, the integrated mobile experience of Merrill Edge lets investors make credit card payments, place trades and more with ease. That's not all, Merrill Edge offers in-depth research and up to date industry data to help their customers make trading decisions. For those that may be overwhelmed with the process, they also have a vast array of educational and instructional materials to help investors – both newbies and professionals – get up to speed on the latest trends in the industry.
Customers get to enjoy unlimited free trades for online stocks, options and ETF trades, and as usual, the industry standard 65 cent contract fee is mandatory.
| | |
| --- | --- |
| Account Types | Traditional IRAs, Individual, Roth IRAs, Joint and Custodial (UTMA/UGMA) brokerage accounts, and SEP and SIMPLE IRAs. |
| Supported Assets | Equities, Stocks, Mutual Funds, Exchange Traded Funds (ETFs), Fixed Income Securities, Listed Options, and Unit Investment Trusts. |
| Tools | Merrill Edge MarketPro |
| Fees & Charges | – no commission on trades.- $0 option trades incur $0.65 per-contract fee- No inactivity, annual, transfer or closing fees for brokerage accounts- $49.95 transfer fee for retirement accounts |
| Mobile Trading | Supported |
| Overall Rating | 4.4★ |
Key Features to consider when choosing the best Stock Broker in America
Investing profitably requires using a brokerage that aligns with every investing goal set by the broker. Users have to consider their educational needs and learning style as this is quite important for new investors.
Choosing the best online stock broker in America that can make a huge impact in the investment journey of a user. However, investors can set themselves up for success by going through a checklist of needs to ensure the broker they choose perfectly suits their needs.
Account Types: By knowing the account type a brokerage offers, an investor can easily weed out what they don't need.
Supported Assets and Investment Options: this is one of the most important criteria to look out for as the supported investment options a brokerage offers and their asset will go a long way in helping an investor build the right portfolio.
Tools Offered: After choosing the right assets to invest in, the platform must have the right tools, web apps, mobile apps etc to help achieve the investment goal.
Trading Interface: A brokerage platform should provide easy-to-use tools that do not require external help or professional assistance.
Fees & Charges: the platform must offer low fees and commissions with no hidden charges. Low fees, minimum deposits and other incentives may attract investors to the platform..
Mobile Trading and Customer Support: Mobile trading allows for easy trading via a smartphone or tablet. Additionally, having responsive and friendly customer support is essential for a seamless trading experience.
Comparison Between the Best Stock Brokers
Choosing the best online broker is a critical decision for every investor, especially if you're interested in trading stocks. This analysis will focus on the pros and cons of each broker, providing an insight into their operations and how they align with the requirements of an investor primarily interested in stock trading.
Broker
Pros
Cons
Charles Schwab
Wide range of investment options

No commission for online U.S. equity trades.

Excellent customer service and extensive research resources.
Some advanced trading platforms.

High fees for broker-assisted trades.
Fidelity
Robust research and educational resources for investors.

Zero commission on online U.S. stocks and ETF trades.

High-quality trade execution that may save investors money.

Non-U.S. citizens cannot open an account.

Limited customization on the web trading platform.
E-Trade
Offers three platforms for different levels of trading expertise.

Provides free real-time quotes and extensive research resources.

Zero commission on online U.S. equity trades.
High fees for broker-assisted trades.

Some premium features require maintaining a high account balance.
TD Ameritrade
Wide range of investment products.

Powerful trading platforms, including the advanced Thinkorswim.

Exceptional educational resources for new investors.

The advanced trading platform may be overwhelming for beginners.

High fees for broker-assisted trades.


Merrill Edge
Seamless integration with Bank of America

Access to extensive research from BofA Global Research.

No commission for online U.S. equity trades.
Limited features on basic web platform.

Limited access to international markets.
Conclusion
Fidelity – Recognized as the best overall and for its commissions and fees.
After careful review, Fidelity comes out tops as the platform was custom built to satisfy the needs of investors, especially in the area of commission and fees.
Also, their platform is quite good for beginners, especially through its beginner-focused mobile apps, Spire and Bloom. Lastly,Fidelity provides market commentary, news, and extensive research on investment options that users can benefit from. These features may make the platform a popular choice for investors.
Additional Articles About The Best Brokers For Stocks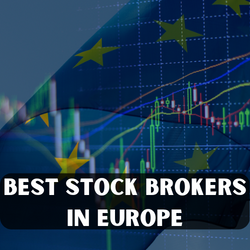 Best Stock Brokers in Europe
Looking for a reliable comparison of the top
stock brokers in Europe
for 2023? Our review provides the latest and most accurate data based on factual information without any personal opinions, financial advice, or unrealistic promises.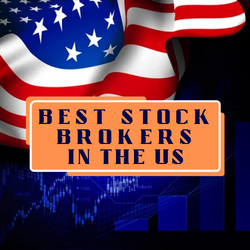 Best Stock Brokers in the US
Finding the right stock broker in the US is crucial for your trading success. Our comprehensive guide offers you a list of top brokers and essential details to help you choose the best one for your needs.
Risk Disclaimer
StockHax strives to provide unbiased and reliable information on cryptocurrency, finance, trading, and stocks. However, we cannot provide financial advice and urge users to do their own research and due diligence.
Read More