This website and its content are not intended to provide professional or financial advice. The views expressed here are based solely on the writer's opinion, research, and personal experience, and should not be taken as factual information. The author is not a financial advisor and lacks relevant certifications in that regard. We highly recommend consulting a qualified financial advisor before making any investment decisions, as the information presented on this site is general in nature and may not be tailored to individual needs or circumstances.
It is accepted by the market that Apple has one of the largest market capitalizations as a public company. And while it saw some shrinkage in 2022, 2023 is looking great so far.
However, with inflation and other factors potentially affecting their operation costs, there's always a chance for things to change. So, where is Apple going in 2023?
Read on to learn about Apple's market performance and stock value going into March 2023.
Apple Going into March 2023
A broader market sell-off impacted Apple stock last year, but 2023 promises some exciting developments.
The stock price of Apple (AAPL -1.80%) fell 12.4% in December, sending the company's stock price tumbling after a particularly challenging year for the company. Investors grew uneasy over the company's dependence on China for manufacturing in December, despite year-over-year declines mainly driven by macroeconomic headwinds. In fiscal 2022, Apple's revenue from iPhones accounted for 52% of its total revenue as a result of an increase in COVID-19 cases in that country.
The company has long-term plans to move all manufacturing out of China, and its stock recovered in January after production returned to 90% capacity.
The stock of Apple remains reliable and resilient despite recent roadblocks. It is a great time to invest in the company with the shares down 24% over the last year.
Apple stock is a great investment in 2023 for these three reasons.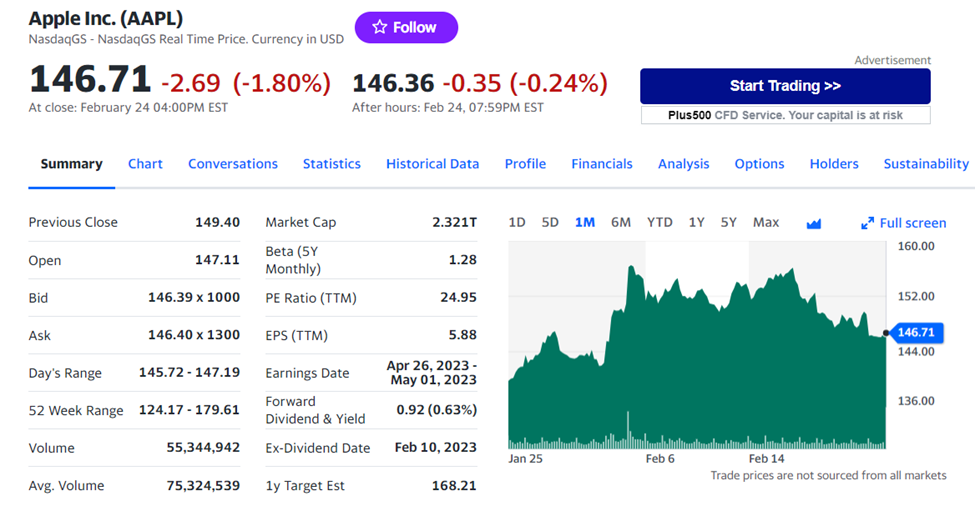 Despite a challenging year, Apple is showing strength.
Several companies reported dismal quarterly results in 2022 as inflation and interest rates rose. Despite this, Apple performed better than many of its competitors.
Although Apple shares have fallen 24% since January 2022, the figure is significantly lower than Alphabet's stock decline of 35%, Amazon's 43%, and Netflix's 40%. As of Sept. 30, Apple had $111.4 billion in free cash flows compared to Alphabet's $62.5 billion, Amazon's negative $26.3 billion, and Netflix's $717 million.
Additionally, rival PC shipments fell 15% in the third quarter of 2022 due to Apple's almost unwavering demand. In the quarter, Apple was the only competitor to grow by more than 40%. Apple's Mac segment grew 25% year over year to $11.5 billion during the same period, while Microsoft's PC-focused segment saw a slight decline.
In the past few years, Apple has acquired various companies and filed patents to move into the virtual/augmented reality (AR/VR) market. Recently, several outlets reported that the company would likely announce an AR/VR headset as early as spring 2023.
According to Grand View Research, the $25.33 billion AR market is expected to grow at a compound annual growth rate (CAGR) of 40.9% through 2030. In the meantime, the VR market is projected to grow at a CAGR of 15% from 2021 to 2023.
With its ability to enter new markets and quickly grow their market share, the tech star has demonstrated particular success in the past. The mainstream adoption of technology such as smartphones, tablets, smartwatches, and Bluetooth headphones would have been significantly slower without Apple.
Although companies like Meta Platforms and Sony already offer VR headsets, purchasing Apple stock could be an investment in the future leader of the industry based on its past success in entering new markets.
The third point. Intel is no longer Apple's main supplier
During this year, Apple will replace Intel processors in its Mac lineup with its own custom-made Apple Silicon chips. A bolt of lightning for the company's desktops and laptops, the new systems on a chip (SoC) provide significantly more power and better battery life than Intel computers.
"More than half" of Apple's Mac and iPad sales in the second quarter of 2021 went to customers who had never owned one before due to the more powerful Macs attracting consumer interest. The company's Mac revenue increased 116% from $5.3 billion in Q2 2020 to $11.5 billion in Q4 2022, before Apple Silicon was announced.
Apple has gradually been moving its computers to Apple Silicon chips over the past few years, with devices such as the MacBook Pro, MacBook Air, Mac Mini, and 24-inch iMac already following suit. A beefier Mac Mini, a larger iMac, and a Mac Pro are still anticipated from Apple Silicon. A 15-inch MacBook Air could also be announced this year, according to rumors.
Apple Silicon has already generated significant revenue boosts for the company, and the release of these final products in 2023 will complete the transition.
FAQs
Does Apple Pay a Dividend? And if so, How Often?
AAPL pays a dividend of $0.23 per share. AAPL's annual dividend yield is 0.6%

The next Apple Inc dividend is expected to go ex in 3 months and to be paid in 3 months.
The previous Apple Inc dividend was 23c and it went ex 15 days ago and it was paid 9 days ago.

There are typically 4 dividends per year (excluding specials), and the dividend cover is approximately 3.5.

Its dividend yield is low because of the rapid rise in Apple's stock price. Thus, not providing much income per dollar invested.
Why is Apple Stock Falling?
As a result of the reduced capacity at its Zhengzhou factory in China, Apple's iPhone 14 Pro and iPhone Pro Max shipments were delayed in early November 2022.

A concern is the weakness of presales of the lower-priced "non-Pro" models. The company's sales for the fourth quarter of 2022 declined by 5%, marking the company's first sales decline since 2019 and its largest sales decline in six years.

The FAANG favorites-now known as MAMAA for Meta Platforms (META), Amazon (AMZN), Microsoft, Apple and Alphabet (GOOGL)-have fallen out of favor in 2022 due to record inflation and rising costs.
What Do Analysts Say About Apple Stock?
According to 38 analysts, Apple Inc's 12-month price target is 173.00, with a high estimate of 195.00 and a low estimate of 116.00. Compared to the last price of 148.45, the median estimate represents an increase of 16.54%.

According to 40 investment analysts surveyed, Apple Inc. stocks are a good buy at the moment. Ratings have remained unchanged since February, when the company was rated buy.
Risk Disclaimer
StockHax strives to provide unbiased and reliable information on cryptocurrency, finance, trading, and stocks. However, we cannot provide financial advice and urge users to do their own research and due diligence.
Read More