This website and its content are not intended to provide professional or financial advice. The views expressed here are based solely on the writer's opinion, research, and personal experience, and should not be taken as factual information. The author is not a financial advisor and lacks relevant certifications in that regard. We highly recommend consulting a qualified financial advisor before making any investment decisions, as the information presented on this site is general in nature and may not be tailored to individual needs or circumstances.
AMD has seen a lot of growth in 2023, but the rise at the beginning of the year has begun to shrink somewhat. Still, the market is looking strong so that's not necessarily a problem. And yet, what does the rest of 2023 hold for AMD?
Read on to learn about AMD's market performance and stock value going into March 2023.
AMD Going into March 2023
Due to the growing market share it holds in a lucrative market, this company is a screaming buy.
AMD shares (AMD -2.08%) fell 55% last year as PC sales declined steeply. Despite AMD's leadership in computer components, AMD's gaming and client segments were negatively affected by a 42% drop in graphics processing unit shipments.
A successful chip launch and better-than-expected quarterly results have helped AMD's stock rise 34% in 2023. Data centers have proven to be a strong segment for the tech giant in recent quarters, giving the company an optimistic outlook.
Even though AMD's stock has fallen 25% over the past year, it remains strong going into 2023.
One of the reasons is that iIts data center business generated the most revenue and growth over the last year, while AMD's PC-focused segments fell behind. Revenue from data centers increased 63% to $6 billion in fiscal 2022. During the same period, operating income increased by 86% to $1.8 billion. In 2023, it appears the business will continue to grow.
As part of its Genoa series of data center chips, AMD introduced a new generation of chips in November. Intel's Sapphire Rapids server chip, which was delayed for two years, has done well against the company's chips. The Genoa chips outperform Intel's offerings according to recent benchmarks, which AMD beat Intel to release. Consequently, AMD appears to be poised to steal market share from Intel.
In addition, AMD's growing presence in data centers allows it to capitalize on the rapidly growing cloud computing market. Through 2030, Grand View Research estimates the cloud industry, which will reach $370 billion by 2021, will grow at a compound annual rate of 15.7%. AMD's Genoa chips already have cloud leaders, including Microsoft Azure, Alphabet's Google, and Oracle, as clients, which speaks about the wide application of the company's products in big tech.
The success of AMD's data center chips has only bolstered anticipation for the upcoming launch of Genoa-X chips.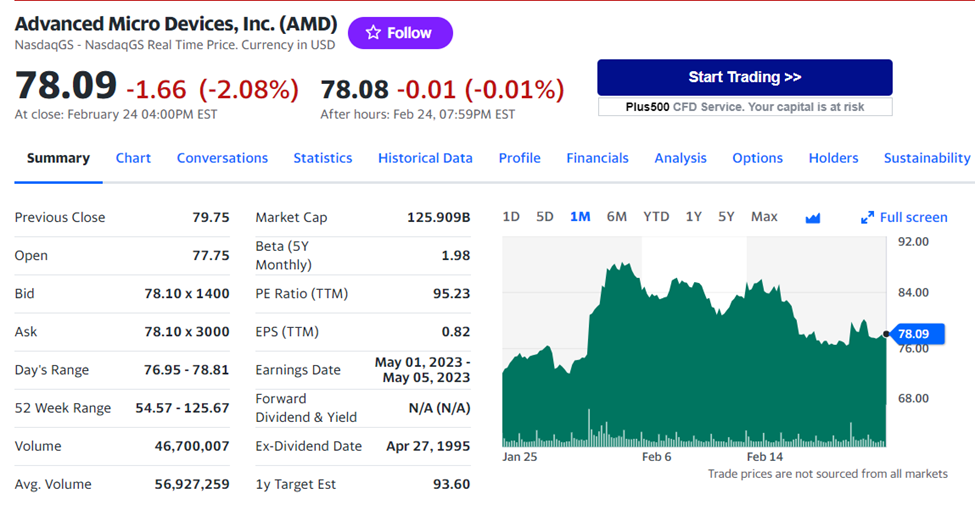 Over the past decade, AMD's stock has surged over 3,000% while enduring a challenging 2022. In comparison to some other tech giants, AMD's stock has skyrocketed since 2018.
Over the last five years, AMD's revenue has grown 264% to $23.6 billion, while its operating income has increased 435% to $1.2 billion. The company's impressive growth can be attributed mainly to its Ryzen processors, which were launched in 2017 and are proving to be a true force in the PC market.
Since 2017, AMD has wisely diversified its desktop CPU business, despite declines in chip sales. As part of its 2020 acquisition of Xilinx, the semiconductor company also acquired data centers. Processors from Xilinx are used for specialized tasks such as video compression or encryption, sending AMD's embedded segment soaring. Xilinx contributed $1.4 billion in revenue to the segment in its latest quarter.
AMD has managed to offset losses in its PC market despite steep declines in its client segment over the last year. Furthermore, AMD's long-term growth is partly due to CEO Lisa Su's leadership, who has taken AMD from the brink of bankruptcy to stealing market share from Intel for multiple consecutive quarters.
There is a possibility that AMD suffered considerably in 2022. Since its stock is down 25% over the past year, I think its stock is even more appealing, now that it is focusing more on more profitable aspects of its business amid economic burdens.
FAQs
Is AMD stock expected to rise?
The 34 analysts offering 12-month price forecasts for Advanced Micro Devices Inc have a median target of 90.00, with a high estimate of 200.00 and a low estimate of 67.00. The median estimate represents a +15.10% increase from the last price of 78.19.

The current consensus among 40 polled investment analysts is to buy stock in Advanced Micro Devices Inc. This rating has held steady since February, when it was unchanged from a buy rating.
Why AMD does not pay dividends?
The primary reason behind the absence of a dividend is the high growth of AMD, which makes it much more profitable to invest cash flow back in the business instead of distributing it to the shareholders.

As AMD seems to have many years of double-digit earnings growth ahead, it is not likely to initiate a dividend anytime soon. Instead, it is likely to remain focused on its growth initiatives. Shareholders of AMD presumably are completely satisfied as long as the company keeps growing at a fast pace, without initiating a dividend.
Can you purchase stock directly from AMD?
No, AMD doesn't have a direct stock purchase program. Shares of AMD can only be purchased through a brokerage account.
Risk Disclaimer
StockHax strives to provide unbiased and reliable information on cryptocurrency, finance, trading, and stocks. However, we cannot provide financial advice and urge users to do their own research and due diligence.
Read More