This website and its content are not intended to provide professional or financial advice. The views expressed here are based solely on the writer's opinion, research, and personal experience, and should not be taken as factual information. The author is not a financial advisor and lacks relevant certifications in that regard. We highly recommend consulting a qualified financial advisor before making any investment decisions, as the information presented on this site is general in nature and may not be tailored to individual needs or circumstances
At the time of writing this analysis, Amazon.com, Inc. (AMZN) shares were valued at $95.57, 1.07% less than the price it reached when the market opened on Thursday.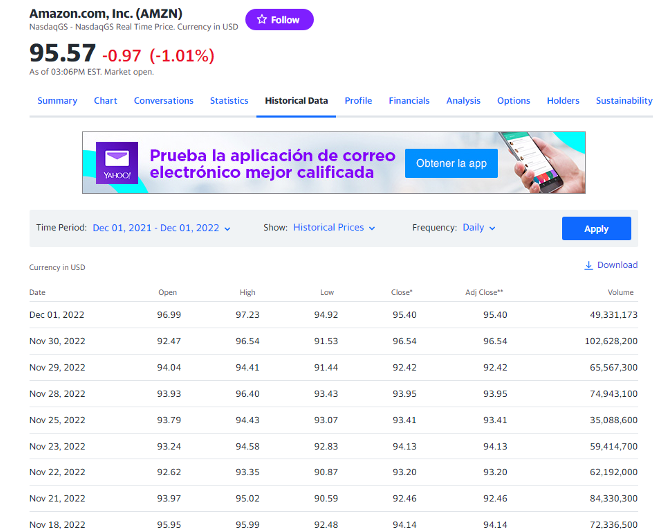 The world's largest online retailer's stock had fallen more than 42% in 2022 alone, approaching the price it reached during its worst-performing year (2008), when it plummeted 45%.
Technical Analysis
The whole Big Tech group – including Amazon – has struggled this year due to rising inflation, aggressive interest rate hikes, and a slumping economy.
Moreover, the retailer predicted earlier this month that its revenue would grow just 2-8% over the festive period, well below analyst estimates. Amazon Web Services, the company's cloud division, also reported weaker-than-expected earnings during the same quarter.
Amazon has also been forced to scale back after seeing massive expansion during the pandemic, as consumers began returning to stores as soon as lockdowns were lifted.
Consequently, the retailer's shares have plunged more than 40%. While Amazon's stock price stayed above $100 all year, even after the second half of October, it started to fall this month.
After dipping slightly to $102.44 on October 21, Amazon's shares plunged. From that date until November 4, the price fell more than 12%.
The slide continued the following week, with Amazon's shares reaching $89.98 on November 8 and $86.14 on November 9 after another major loss.
Although the price recovered slightly between November 10 and 11, reaching $96.63 and $100.79, respectively, the companies' shares began to plunge again.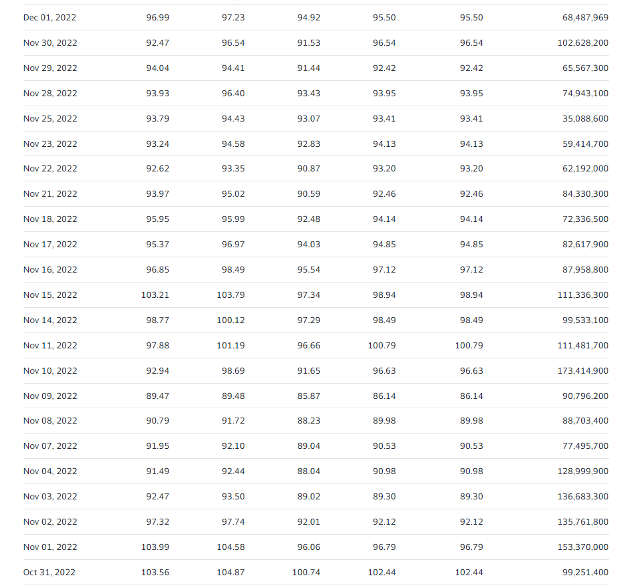 Source: Yahoo! Finance
Since then, the retailer's share value has moved slightly between $92 and $95, opening higher on December 1 but closing below $96.54 in November's last session.
Amazon shares hit an all-time high on July 8, 2021, climbing to $186.57 amid the pandemic. The rise was attributed to consumer behavior, as many turned to the e-commerce giant for their purchases amid the lockdown.
However, the company has been hit particularly hard by the effects of inflation on consumers' spending.
Late last month, Amazon released its earnings reports for this year's third quarter. Revenues increased 14.7% to reach $127.1 billion. However, analysts expected the figure to reach $370 million.
The company's operating income also slumped, declining 48% year-over-year to fall from $4.8 billion in the third quarter of 2021 to $2.5 billion in this year's third quarter.
Reports showed that the declines came mostly from its e-commerce business, as its international segment was valued at $27.7 billion after falling 5%.
Amazon's revenue in the US segment reached $78.8 billion, accounting for a 20% increase. However, the retailer's operating income fell to $412 million, sending the stock down nearly 20% in just one trading session as investors lost confidence in its future prospects and sold off.
All consumer-dependent stocks have been affected by rising inflation, regardless of industry. However, Amazon has fared worse than other Big Techs.
In September, the company reported negative $4.97 billion in free cash flows. Other businesses, including Netflix, Walt Disney, and Microsoft, produced millions during the same period, showing that the retailer was indeed losing money this year.
At least 83.8% of Amazon's revenue depends on its e-commerce business. Therefore, in the current scenario, the company is expected to face more declines.
Conclusion
The company's problems with its e-commerce business might be less of an issue if its other divisions, including cloud computing service Amazon Web Services, weren't facing a slowdown.
However, Amazon seems to be struggling on all fronts. Its cloud computing segment had 27% year-over-year growth to $20.5 billion in this year's third quarter, down from 39% growth in the same period in 2021.
Therefore, the retailer is expected to continue facing significant declines in its share price.
Nonetheless, Amazon is a household name, and it is unlikely that the company will be on a losing streak permanently. While investing in its stock is risky now, it could recover its value in the future.
FAQs
Could Amazon Shares Reach $100 Again?
Yes, the current share price is still close to $100 and could rise slightly above it in the near future.
Are Amazon Stocks a Good Investment?
It depends on each investment strategy. Currently, Amazon stocks remain risky.
Could Amazon Shares Reach $500 This Year?
According to our prediction system, Amazon's shares could not reach that price in 2022.
Risk Disclaimer
StockHax strives to provide unbiased and reliable information on cryptocurrency, finance, trading, and stocks. However, we cannot provide financial advice and urge users to do their own research and due diligence.
Read More