Planet Labs is a publicly traded Earth imaging company founded in 2010. As it stands now, it operates the largest fleet of Earth observation satellites that capture high-resolution images of the Earth.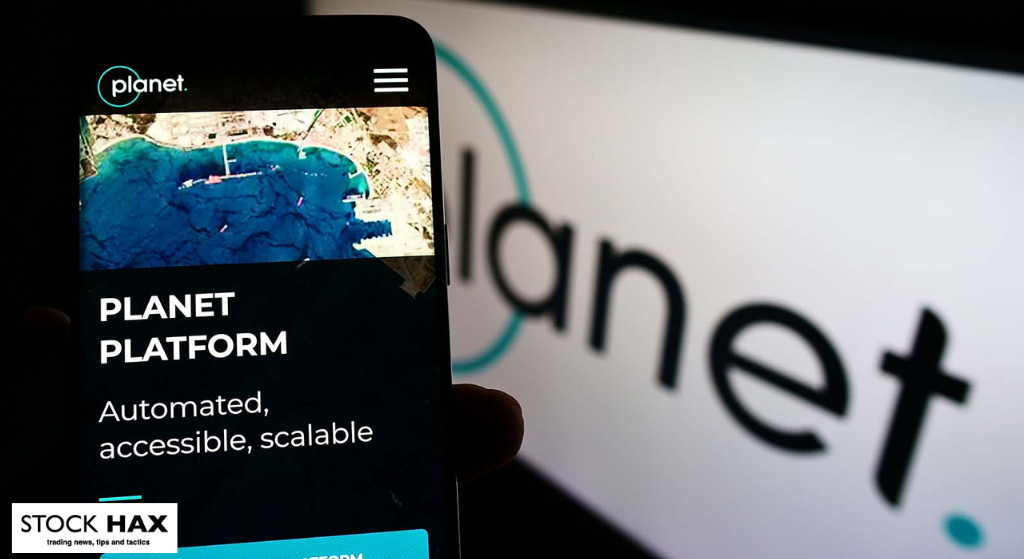 With hundreds of such satellites deployed, the company offers frequent revisits to any location on Earth, which translates into almost real-time monitoring. Users of such data will be found in the space of disaster response, forestry, and agriculture, among others. What is particularly interesting about this company is its open-data efforts as it offers access to a large portion of their data for free.
Though the company was founded in 2010, it didn't go public until recently. Planet Labs' SPAC deal provided more than $590 million in gross proceeds when its stock started trading on NYSE in 2021 with the ticker symbol "PL". Since then, it may have naturally become more interesting among retail investors. But should it? Does the stock present any positive potential?
In this post, we are going to help you answer that by outlining the current forecasts for this stock, among some key points related to the business. Stock forecasts are very important for traders as they can offer insights into the future performance of a stock. Through analyzing various factors like company financials, industry outlook, and market trends, professional analysts are able to bridge the gap between investors and all the available information regarding a stock.
key points

Planet Labs owns the largest fleet of satellites designed to observe the Earth, and via their operation, it is able to offer high-resolution images for various industries.

Beside the fact that there are regulatory risks and challenges related to developing its customer base, there are indicators for the company to grow in the future.

An increase in deploying cash towards developing efficiency in sales, marketing, and the company's software could add value that may result in growth for the stock.
PL Stock Forecast for 2023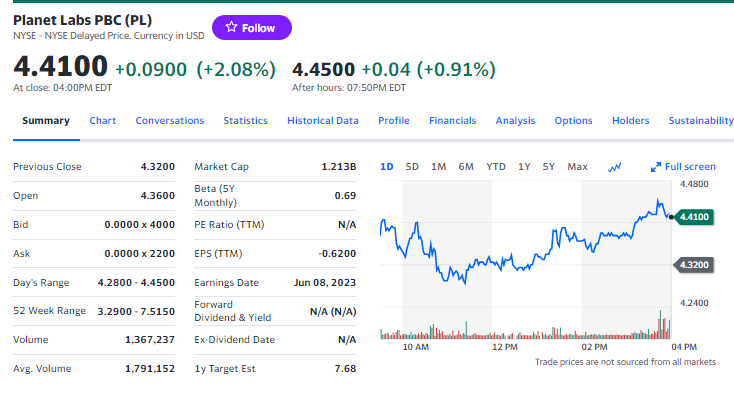 First, let's see what Wall Street estimates for the stock price. Based on the 11 analysts currently covering PL and their 12-month median price target of $8, there is an 85.40% upside. The highest price target right now is at $12 and the lowest is at $5.50.
Now, regarding the future EPS, the median target is at -$0.09 for the next quarter, with a range of -$0.10 to -$0.08. In the previous quarter, PL's EPS figure stood at -$0.08, so the median target suggests a slight decrease in its loss for the future. During the last 12 months, PL surpassed its EPS estimate 100% of the time, outperforming its industry's average of 63.23% beat rate.
When it comes to revenue, PL's sales estimates for the next quarter is projected to be $52.92 million, with a range of $51.92 million to $53.97 million. In the previous quarter, the company recorded sales at $52.98 million. Over the last 12 months, it beat its sales estimates 100% of the time, outperforming the industry's average of 63.43%.
There's no doubt that there is a certain trend toward sales growth and decreasing net loss here. This should suffice for some as a justification for the very high upside suggested by Wall Street's median price target. But we may gain more insight if we look at some metrics regarding Planet Labs' financials.
The company currently demonstrates a gross profit margin (TTM) of 49.15%, outperforming the sector median of 29.85%. However, its net income margin (TTM) of -84.69% is substantially lower than the sector median of 6.42%; this was to be expected as the company is not yet profitable. And yet, it experienced a revenue growth (YoY) of 45.76%, surpassing the sector median of 12.42%.
Profitability metrics may be giving the impression of mixed results, but the company is conservatively financed with a debt-to-equity ratio of 0.3 times. Based on the last report, the company also seems adequately liquid, with a current ratio of 3.8 times.
Now, when it comes to its valuation, the company is still unprofitable for us to be looking at metrics based on earnings. But if we look at the price/sales (TTM) ratio of 6.03 times, Planet Labs seems to be overvalued compared to the sector median of 1.29 times. On the other hand, its price/book (TTM) ratio stands at 2.04 times, reflecting a lower valuation in contrast to the sector median of 2.49 times.
Financials are only one side of the coin. We must also address the elephant in the room, which is that Planet Labs is a leading player in the Earth Observation market with its extensive fleet of approximately 200 satellites. The company's mission is to simplify geospatial data access and, therefore, expand in current and untapped markets. By democratizing satellite imagery, Planet Labs is revolutionizing industries such as urban planning, environmental monitoring, forestry, and agriculture.
Right now, the company focuses on investing in developing its software, as well as its sales and market efficiency. By capitalizing on the rising demand for timely and accurate Earth observation data, it seems well-positioned for future profitability.
Nevertheless, the industry faces some risks and challenges. One of the challenges is the strict regulation related to satellite technology. Developments in laws and regulations could negatively impact Planet Labs' operations. Further, as the market matures, preserving its customer base and new acquisitions could prove more challenging. Investors should keep such risks in mind as they do their due diligence.
Conclusion
Planet Labs is a leading Earth imaging company that operates the largest fleet of Earth observation satellites, providing high-resolution images for various industries. On top of this, the company's Open Data efforts have fostered a global user community that; efforts which have the potential to attract more investor attention because of the transparency.
Despite regulatory risks and challenges in customer acquisition, Planet Labs is well-positioned for growth. Besides its current position in the market, its investments in sales, marketing, and software development are promising.
In conclusion, Planet Labs' industry leadership, commitment to open data, and strong financial backing position it well for becoming a profitable enterprise.
However, we encourage investors to do their due diligence in order to make an informed investment decision regarding this stock.
FAQ
How much debt does Planet Labs have?
Planet Labs has total liabilities amounting to 176.6 million, while its debt to equity ratio stands at 0.3 times.
Is Planet Labs profitable?
Not yet. Planet Labs' most recent net income figure comes at -162.0 million, indicating a loss.
How does Planet Labs make money?
Planet Labs offers subscription services for its imagery products. These products include global, daily 3-5 meter per pixel resolution imagery, which provides comprehensive coverage of the Earth's surface.
Risk Disclaimer
StockHax strives to provide unbiased and reliable information on cryptocurrency, finance, trading, and stocks. However, we cannot provide financial advice and urge users to do their own research and due diligence.
Read More