This website and its content are not intended to provide professional or financial advice. The views expressed here are based solely on the writer's opinion, research, and personal experience, and should not be taken as factual information. The author is not a financial advisor and lacks relevant certifications in that regard. We highly recommend consulting a qualified financial advisor before making any investment decisions, as the information presented on this site is general in nature and may not be tailored to individual needs or circumstances
PLTR has done well so far in 2023, with the company continuing to secure deals when it comes to its services. And with recent news that the company posted a profit, it sounds like the best time to dive in.
However, are things as good as they look for Palantir going into March? Let's find out.
Read on to learn about PLTR's market performance and stock value going into March 2023.
PLTR Going into March 2023
As a result of Palantir releasing fourth-quarter earnings that beat analysts' expectations on top and bottom lines, its shares soared 19% in extended trading on Monday.
Some specific areas were the company beat expectations include:
A revised earnings per share of 4 cents was better than the analysts' expectations of 3 cents, according to Refinitiv
The company's revenue came in at $509 million, compared to $502 million expected by analysts.
The company's U.S. commercial revenue increased 12% and revenue for the quarter increased 18% over the same period last year. Its US commercial client count has grown from 80 to 143 over the past year, according to the software company, which is known for working with the government.
Also, the company reported $31 million in positive GAAP net income for the first time ever.
The stock of Palantir Technologies surged in recent weeks, but started to slow down again. In truth, investors' interest in the data-analytics software company was probably sparked by comments from its CEO about M&As rather than a quarterly update.
It is true that Palantir (ticker: PLTR) posted its first-ever profitable quarter, but CEO Alex Karp also suggested the company is attracting potential acquirers.
Karp told analysts on a call after Palantir reported its earnings on Monday that there would be a lot of interest in their software. The news channel reported after the market closed on Monday that Karp expressed "growing interest" in Palantir.
While the share price of Palantir rose 10% to $8.37 on Tuesday, a 40% decline has been recorded in the stock over the past year.
Although Palantir expects to be profitable on a GAAP basis for 2023, its first-quarter revenue guidance fell short of Wall Street expectations. Consolidating a Japanese joint venture resulted in a one-time net income of $31 million for the fourth quarter.
RBC Capital Markets analysts led by Rishi Jaluria said Palantir reported weak top line guidance for the fourth quarter and calendar year 2023, "though not de-risked (assuming accelerating growth), but partly offset by better than expected profits." RBC rated Palantir Underperform.
As a result of its focus on large enterprises and government clients, Palantir's revenue remains volatile, according to analysts at Mizuho Securities. Based on the typical sales multiples for other Software-as-a-Service companies, they raised their target price to $8.00 from $7.00.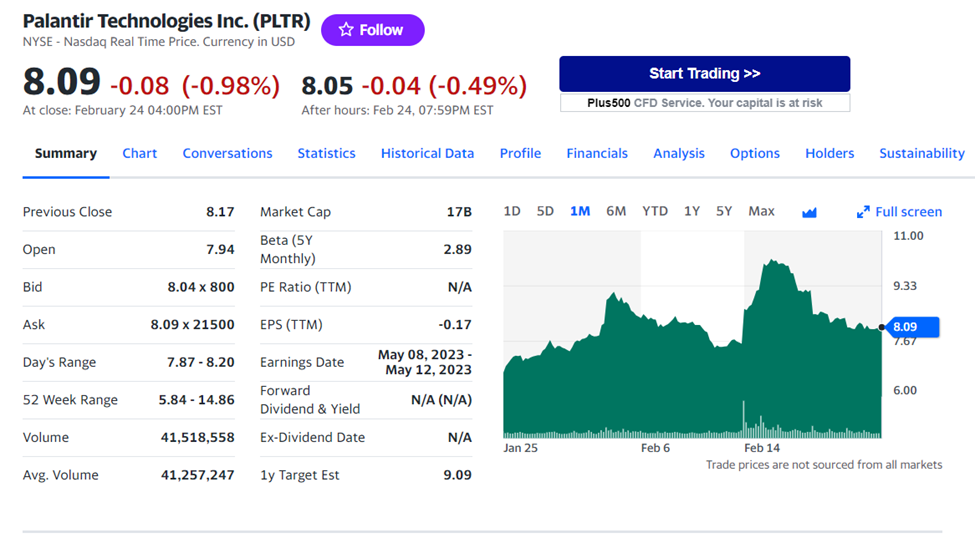 Although Palantir's profitability improved significantly, the company's revenue growth fell well short of its medium-term revenue growth goal of about 30% per year. A clear slowdown was evident in Palantir's revenue in 2022, which increased by 24% YoY after increasing by 41% YoY in 2021.
Palantir was able to increase its customer count to 367 at the end of 2022, an increase of 55% YoY, despite not growing its revenue at its annual target. This bodes well for future revenue growth as higher customer engagement can lead to higher revenue in the future.
A total of $1.2 billion in revenue was generated in the U.S., a 32% increase over the previous year. This represents about 63% of the company's total revenue. Among the bright spots was the $335 million increase in U.S. commercial revenue, up 67% YoY. In contrast, international markets were softer, which explains the slowdown in growth. This result indicates that Palantir is able to increase average revenue per existing customer on a recurring basis, which is a positive sign regarding the sustainability of its business model, as its net dollar retention is also slightly lower than in previous years.
In the coming years, analysts expect revenue growth to be slower than it has been in recent years due to higher engagement with its existing customers and recurring customer gains.
The company's current valuation seems undemanding, as its fundamentals have improved during a tough economic period, and it is closer to GAAP profitability than it was a couple months ago. Long-term investors should continue to buy Palantir at its current levels since it remains a good play in the big data investment theme.
Despite Palantir's growth slowing down in recent quarters, it continues to report strong customer gains and is improving its profitability. As a result of good cost control, GAAP profits should exceed expectations, showing that the company is improving its fundamentals and moving from a growth phase into a profitable phase.
FAQs
What are analysts saying about Pltr?
Palantir Technologies Inc has been forecasted by 12 analysts for a 12-month price target of 8.00, with a high estimate of 15.00 and a low estimate of 5.00. Compared with the last price of 8.03, the median estimate represents a decrease of 0.31%.
Palantir Technologies Inc. stock is currently being recommended as a hold by 17 polled investment analysts. Despite being unchanged from a hold rating in January, this rating has remained steady so far this year.
Who Are Palantir's Biggest Competitors?
Palatine's top competitors include the following:
 
●     1. Alteryx
●     2. Cognizant
●     3. Splunk
●     4. Tableau
●     5. Trifacta
●     6. IBM Watson Studio
●     7. Altair Monarch
●     8. Tyler Technologies
●     9. Verint
●     10. Toad Data Point
What Kind of Stock is PLTR?
PLTR is a Class A Common Stock. A common share is a fractional interest in a company, with each shareholder receiving a proportionate share of the company's assets in the event that it dissolves. If a common stock investment fails, shareholders risk losing everything. However, common stock investments offer shareholders theoretically unlimited upside potential.
Dividends are not paid on Palantir stock.
Risk Disclaimer
StockHax strives to provide unbiased and reliable information on cryptocurrency, finance, trading, and stocks. However, we cannot provide financial advice and urge users to do their own research and due diligence.
Read More