Thanks to smartphones, we have the ability to make a lot of financial transactions right from the screens in our purses and pockets day or night. We can do everything from buying stock to sending money to a family member or friend.
Consumers love the convenience, but for the banks or other financial-related institutions on the other end of all those transactions, there is a problem. According to Plaid:
"There are more than 18,000 financial institutions in the U.S., but they structure and manage their data in many different ways. For an app that wants to enable users to connect their financial accounts, building a digital connection to a single financial institution can take a lot of engineering time and expertise. Now imagine doing that thousands of times. For many companies, it's not feasible."
Basically, it's expensive. That's where Plaid comes in. Plaid provides the technology that connects a customer's financial accounts and shares the data with a service, company, or app. The data shared can include account numbers, account transactions, and contract information.
Some of the companies that use Plaid include:
Venmo
Chime
M1 Finance
You Need a Budget (YNAB)
Petal
SoFi
Plaid is handling very sensitive personal and financial data, so it's understandable that users might be nervous about data security. The company uses various best-in-class encryption protocols and has created and built its own multi-factor authentication (MFA).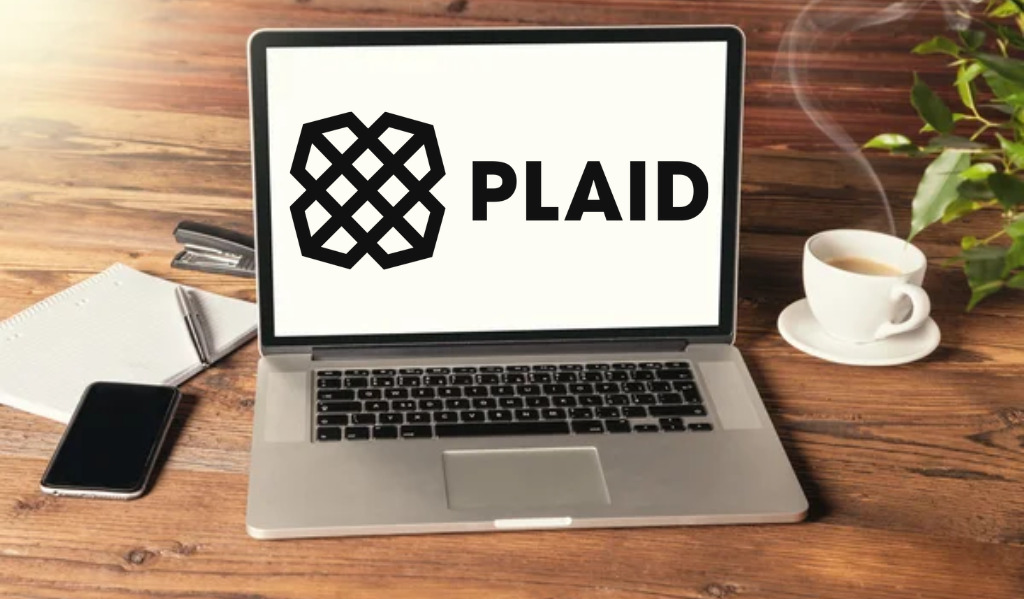 Because Plaid is largely in the background between the customer and financial institution, many investors aren't familiar with it. But one in four American adults who use various financial services like the ones listed above are using Plaid. The company has raised more than $734 million in funding, has 11,000 banks as clients, and a $13 billion+ valuation making it a company potential fin-tech investors should keep an eye on.
At the time of writing, Plaid is a private company, so shares are not available on the stock market.
Can You Buy Plaid Stock? Is Plaid Publicly Traded?
Because Plaid is currently a privately owned company, would-be investors won't find it listed on any stock exchange. As a private company, it's difficult to find certain information that potential investors might like to evaluate. Unlike public companies, private companies are not required to disclose financial or other operational details to either the public or the SEC.
Other relevant information like revenue, year-over-year growth, and the number of employees a private company has is hard or impossible to find. Additionally, tax filing for private companies is not a matter of public record, and those involved with a company, employees, investors, customers, and partners may be required to sign non-disclosure or confidentiality agreements that forbid them from speaking about those details.
Who Owns Plaid?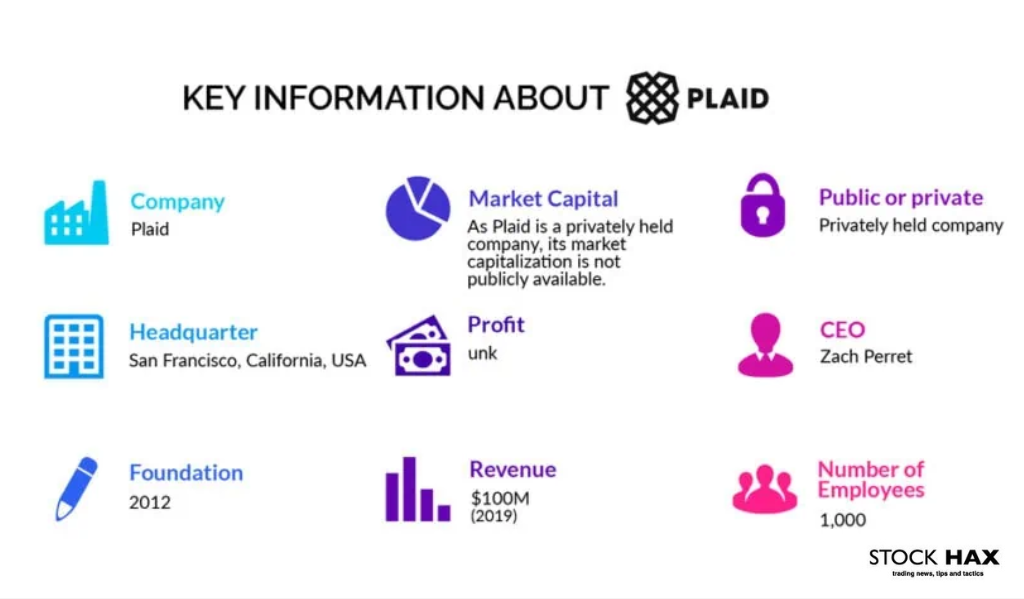 Plaid was founded in 2013 by Zach Perret and William Hockey, the two serve as the company's co-CEOs and are the largest individual shareholders, owning an estimated 13% and 12%, respectively.
The remaining ownership is split between hedge funds, venture capital companies, and private equity companies that have taken part in the company's five funding rounds.
These companies include:
Altimeter Capital
Goldman Sachs Investment Partners (NYSE: GS)
Index Ventures
Kleiner Perkins
New Enterprise Associates
Spark Capital
Visa came close to buying Plaid. In January 2020, a deal was struck for Visa to buy Plaid for $5.3 billion. In November of that year, the Department of Justice stepped in, filing a lawsuit to block the sale on the grounds that it violated antitrust laws (antitrust laws are federal statutes meant to promote competition and prevent unjustified monopolies). Early in 2021, Visa announced that it was withdrawing the offer and canceling the deal.
In 2022, Plaid acquired Cognito for around $250 million, a blend of cash and stock. Cognito provides ID verification and handles tricky issues like know-your-customer (KYC) rules and anti-money laundering requirements.
Those kinds of issues are a headache for any financial institution, so by acquiring a company that handles them, Plaid has made itself more valuable for current professional customers and attractive to potential professional customers.
Is the Parent Company Publicly Traded?
Of the major shareholders in Plaid, only Goldman Sachs is publicly traded. But there are a few public companies that have private equity subsidiaries that have invested in Plaid, which retail investors can buy shares in, including:
American Express (NYSE: AXP)
Google (NASDAQ: GOOGL
JP Morgan Chase & Co (NYSE: JPM)
It's unknown how much of a stake each of these companies has in Plaid, but investing in them could be a very round-about way of investing in Plaid before any potential IPO.
How to Invest in Plaid Stock
While investors cannot currently buy shares in Plaid or even gain a meaningful indirect investment through a parent company which is sometimes possible with a private company, there are some competitors that are public.
Square, Inc. (NYSE: SQ): Formerly called Block, Inc, is a financial services platform founded by Jack Dorsey (Twitter founder) and Jim McKelvey in 2009. The company is aimed at small and medium-sized businesses, allowing them to accept credit card payments using smartphones or tablets as point-of-sale terminals. The company has been on the NYSE since 2015.
Mastercard (NYSE: MA): In 2020, Plaid competitor Finicity and Mastercard succeeded where Plaid and Visa failed. Mastercard acquired Finicity without interference from the DoJ, who did not have the same concerns shown during the Plaid/Visa deal. Finicity allows users and businesses to give permission for their financial data to be used by other companies to provide services. This acquisition makes Mastercard a competitor of Plaid.
Another possible option is to keep an eye on Stripe. Stripe is a payment processing platform that allows businesses to securely accept online and credit card payments. The company boasts some big-name customers, including Amazon, Shopify, Lyft, and Instacart.
In 2012, some major investors, including Elon Musk (Twitter, Tesla, SpaceX) and Peter Thiel (PayPal, Palantir Technologies, Founders Fund), invested in Stripe. A year later, it was worth $100 million, and by 2023, it was valued at $74 billion. Many experts are keeping an eye on Stripe for two reasons; it's expected to be a blockbuster IPO and expected to IPO before Plaid.
How to Buy the Plaid IPO
There have been rumors of Plaid's impending IPO floating around since 2021, which is true of several highly anticipated IPOs. But thanks to various factors, including inflation, high-interest rates, and in some cases, the war in Ukraine, many expected IPOs never happened.
That's true for Plaid as well. The company's co-CEO, Zach Perett, has stated that he doesn't believe the market is favorable for an IPO right now. And really, they don't need the influx of cash an IPO can bring. The company is very successful in its funding rounds and has more than four years of runway, so it seems like there is no rush to go public.
But things can change, and the company may decide the time is right. If that happens and you want to get in on Plaid's IPO, you can follow these steps:
Create or log into your brokerage account
Search for Plaid or the Plaid stock ticker symbol (there isn't one currently)
Choose the amount you want to invest or the number of shares you want to buy
Place your order
Monitor your trade to make sure it continues to fit into your overall investment strategy
Plaid Stock Price Chart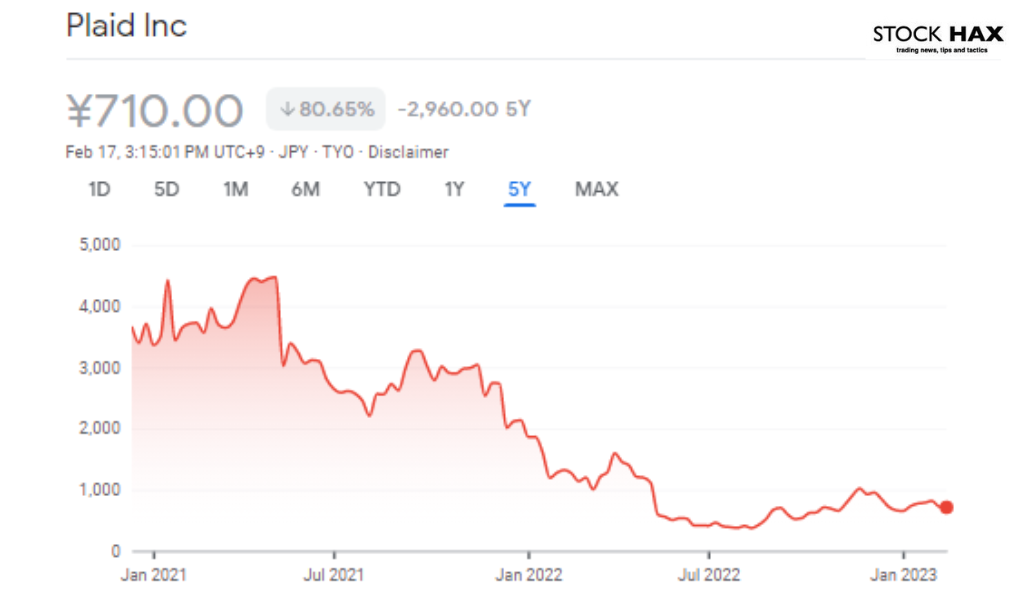 Stock price charts can provide potential investors with a lot of valuable information when researching a company as it gives an overview of a stock's price history. A stock price chart will show the stock's current price, historical highs and lows, and trading volume. As Plaid is a privately owned company, there is no stock price chart available. This is some information that is available:
Founded: 2013
Headquarters: San Francisco, CA
Founders: Zach Perret and William Hockey
Sector: Tech
Number of Employees: 1,200
Yearly Estimated Revenue: $217.1 million
Valuation Estimate: $13+ billion
Conclusion
Plaid is a fin-tech company that acts as a middleman for sensitive financial data between customers and financial services providers. The company works with some large, well-known companies, including Venmo, Chime, and Acorns.
Plaid has some deep-pocketed investors from the worlds of hedge funds, venture capital, and private equity. The two founders, Zach Perret and William Hockey act as co-CEOs and own a combined 25% of the company.
While there has been talk of an IPO for the last three years, the company is so well funded that it can afford to wait until conditions are more favorable. Investors champing at the bit to invest in this corner of the fin-tech world might be interested in Stripe, which seems more eager to go public.
FAQs
How can I buy Plaid stock?
Currently, Plaid is a private company, so its stock is not publicly traded. Would-be investors can instead buy shares in companies that have an interest in Plaid, including Goldman Sacs, American Express, Google, and JP Morgan Chase.
What is the Plaid valuation?
Plaid is estimated to have a valuation of $13+ billion.
Will Plaid IPO?
It was thought Plaid would IPO in 2021, but market and economic conditions were not favorable. Thanks to being so well funded with a four-year runway, the company doesn't seem in much hurry to go public. Currently, there is no Plaid IPO date.
Who is on the Plaid Board of Directors?
Plaid's Board of Directors is comprised of three people, Baker Shogry (Advisor), Mark Hawkins (Director), and William Hockey (Co-found and Director).
How much is Plaid stock?
Because Plaid is still a private company, the stock isn't listed on any of the exchanges. There is no way to determine its current worth.
What is the Plaid stock symbol?
Since Plaid is not yet listed on any stock exchange, there is no stock symbol.
When was Plaid founded?
Plaid was founded in 2013 by current co-CEOs Zach Perret and William Hockey. The company is headquartered in San Francisco, CA.
Risk Disclaimer
StockHax strives to provide unbiased and reliable information on cryptocurrency, finance, trading, and stocks. However, we cannot provide financial advice and urge users to do their own research and due diligence.
Read More