This website and its content are not intended to provide professional or financial advice. The views expressed here are based solely on the writer's opinion, research, and personal experience, and should not be taken as factual information. The author is not a financial advisor and lacks relevant certifications in that regard. We highly recommend consulting a qualified financial advisor before making any investment decisions, as the information presented on this site is general in nature and may not be tailored to individual needs or circumstances.
The internet has made the entry barrier to starting a small business lower than perhaps it's ever been. Millions of people have turned hobbies or business ideas into lucrative businesses or profitable side hustles thanks to the rise of e-commerce. There are some companies that have played a big part in this movement, and Shopify is one of them.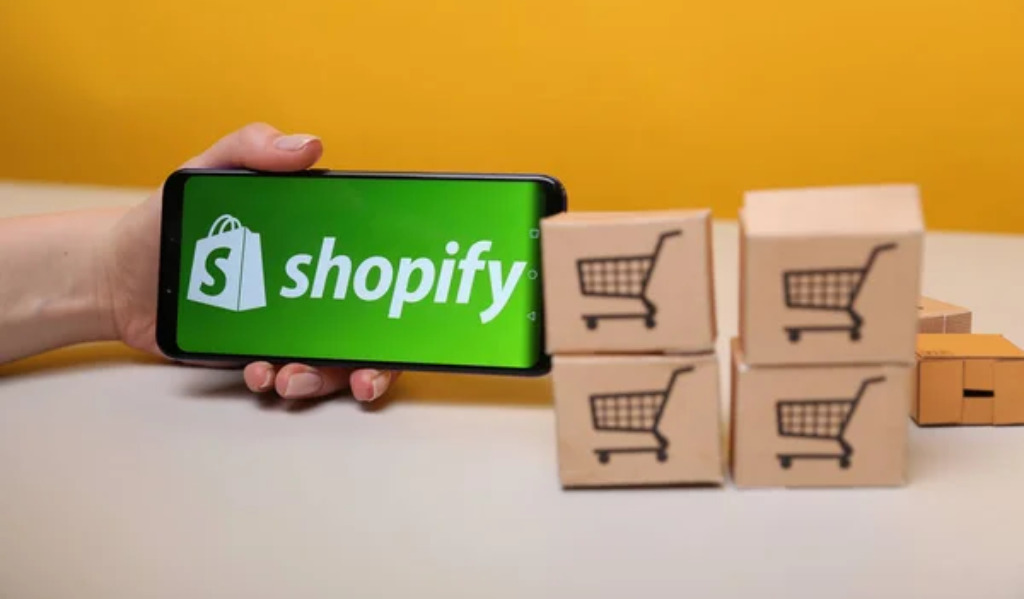 Shopify is an e-commerce site that is something of a one-stop shop for small businesses. With Shopify, businesses can; create an online store using pre-made themes and templates and accept credit cards using Shopify Payments (a separate service). Add buy buttons to other websites, set up a point-of-sale system in the case of brick-and-mortar businesses, create shipping labels, track orders, manage inventory, communicate with customers, and even borrow money from the merchant financing program.
Necessity is the mother of invention, and that's how Shopify was founded in 2006. Tobias Lütke and Scott Lake founded the company after trying to launch Snowdevil, an online store for snowboarding equipment. Unhappy with the existing e-commerce options available, Lütke, a computer programmer, built his own, Shopify. The company is headquartered in Ottawa, Ontario, Canada.
Shopify Stock Key Features
In the first quarter of 2023, Shopify saw an 18% increase in sales volume. And in spite of recent price increases, demand remains strong for the company's subscription services.
Shopify management is expecting positive cash flow for every quarter of the new fiscal year, and operating expenses have stabilized.
Shopify has roughly a 10% market share in the U.S., covering both e-commerce and physical retail locations.
The large market share is poised to grow for many years to come. Shopify is targeting several growth avenues, including a larger offering of merchant services.
Shopify reduced its expenses when it sold its logistics wing to Flexport, a move that will make the company more efficient. The move doesn't impact customers; they can still access the shipping components they were already using in Shopify; they're just being handled by Flexport now.
Shopify Stock Over the Years – Review
Shopify's initial public offering (IPO) took place on May 21, 2015, on the New York and Toronto stock exchanges. The company offered 10 million shares at a price of $17 per share, raising $131 million in total.
Shopify stock (NYSE: SHOP) has outperformed the market over the last five years by 21.92% on an annualized basis and has produced an annual return of 31.34%. The company's current market capitalization is $72.35 billion.
If an investor had purchased $1,000 of Shopify stock five years ago, it would be worth $3,949.93 at the time of writing.
Shopify Stock in 2023
2023 had been good for Shopify so far. The stock has risen by 90% so far thanks to cost-cutting measures that have tempted investors. Another temptation was the launch of a new service. Markets Pro will launch first in the U.S. and later in the U.K. The service will help customers sell internationally by dealing with tricky issues like tax remittances, duties, and import taxes, a barrier for many merchants who would otherwise sell abroad.
Shopify is also jumping on the artificial intelligence (AI) bandwagon. It will offer users an AI assistant to help them shop and locate items with Shop.ai. The service will help shoppers browse more efficiently and provide personalized recommendations, which may result in increased sales.
Shopify Stock in 2022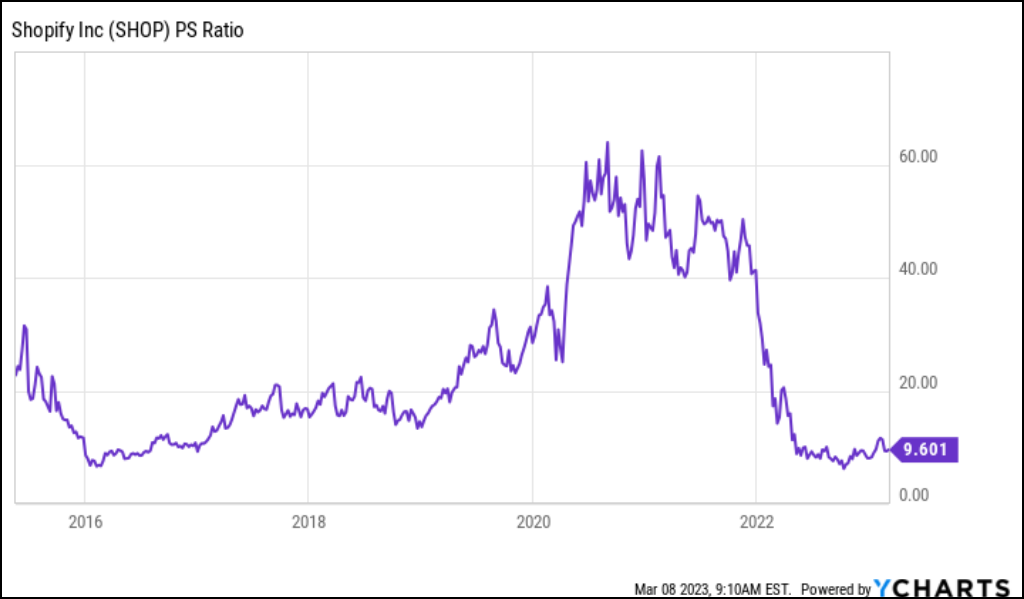 Shopify stock had a positive end after what was a negative year. Shares gained 11% in the last six months of 2022, beating the 1.4% increase in the S&P 500 during that time. But the company trailed the market for the full year, dropping by 75%.
Shopify had an up-and-down 2022 overall. After seeing a lot of success as a result of changes to shopping habits necessitated by the pandemic, the company lost an approximate $118 billion in market value in 2022.
The company launched new software products to help customers adjust to changes in the e-commerce landscape, appointed a new CFO and COO, and completed a 10-for-1 stock split.
In December, Shopify announced it was increasing its sustainability efforts and investing $11 million in carbon removal projects. This move may make it more friendly for investors who have ESG (Environmental, Social, Governance) concerns, a movement Shopify has ruffled feathers over in the past.
Shopify Stock in 2021
2021 was Shopify's biggest year ever, but it had some bumps in the road. The share price hit an all-time high in November but saw a steep drop as the year came towards its end.
For the first time, the company saw more than $1 billion in Merchant Solutions revenue in a single quarter (Q4). Six months prior, it hit $1 billion in a quarter for total revenue. The company's total revenue for 2021 was $4.6 billion, a 57% increase year-over-year, and merchants on the platform sold $175.4 billion in goods, an increase of 47% from the year before.
These successes were driven by the pandemic. More people were shopping online, and in the wake of layoffs, people began starting small businesses using Shopify's services.
Shopify Stock in 2020
Between 2016 and 2019, Spotify stock surged more than 1,400% and rallied another 166% in 2020. Spotify had a good year in 2020. Total revenue for the year was $2,929.5 million, an increase of 86% over the prior year. Within this, Subscription Solutions revenue grew 41% to $908.8 million, and Merchant Solutions revenue grew 116% to $2,020.7 million.
Shopify Stock in 2019
Shopify had a great 2019. Shopify shares rose an amazing 187.2% compared to a return of 28.9% for the S&P 500 index. Revenue for the company was $1.578 billion, up 47% from the previous year. Gross profits were $856.6 million, an increase of 45% from the prior year. Operating losses were $141.1 million, 9% of revenue, unchanged from 2018.
In 2019, Shopify had more than one million merchants on its platform. Subscription solutions revenue was up 37% year-over-year in the third quarter, and there was a 50% increase in merchant solutions which includes revenue from Shopify Capital, Shopify Shipping, and payment processing fees.
There are several ways for investors to buy stock in Shopify:
Stock Market: Investors can buy shares directly through a brokerage account like Fidelity, TD Ameritrade, or Interactive Brokers.
Exchange Traded Funds (ETFs): Invest in an ETF that tracks indices that contain shares of Shopify. This offers exposure to multiple stocks to help mitigate risk.
Mutual Funds: Invest in a mutual fund managed by a professional that includes Shopify in its holdings. Mutual funds pool investments from many investors.
Index Funds: Index funds aim to replicate a specific market index's performance and include Shopify shares if it's part of the targeted index.
Robo-Advisors: Robo-advisors are platforms that create diversified portfolios, which can include Shopify based on your risk tolerance and investing goals.
Individual Retirement Accounts (IRAs): You can invest in Shopify shares within a tax-advantaged IRA, Roth or Traditional.
Options Trading: Options trading allows investors to employ strategies like covered calls or protective puts using Shopify options contracts. Options trading is generally not recommended for inexperienced investors.
Another option is to buy Shopify shares through eToro. eToro is a user-friendly online trading platform. Investors can trade a variety of assets, including stocks, cryptocurrencies, and commodities.
Shopify stock can be purchased via a variety of platforms, but some are more complex to navigate than others. eToro is well-known among investors for its simplicity of use for new and experienced investors alike.
Step 1: Open an Account
On eToro's homepage, you'll see the Sign-up button. Click it, and you will be prompted to enter some basic information like your name, email, and password. If you have a Facebook or Google account, you can use those to create your eToro account.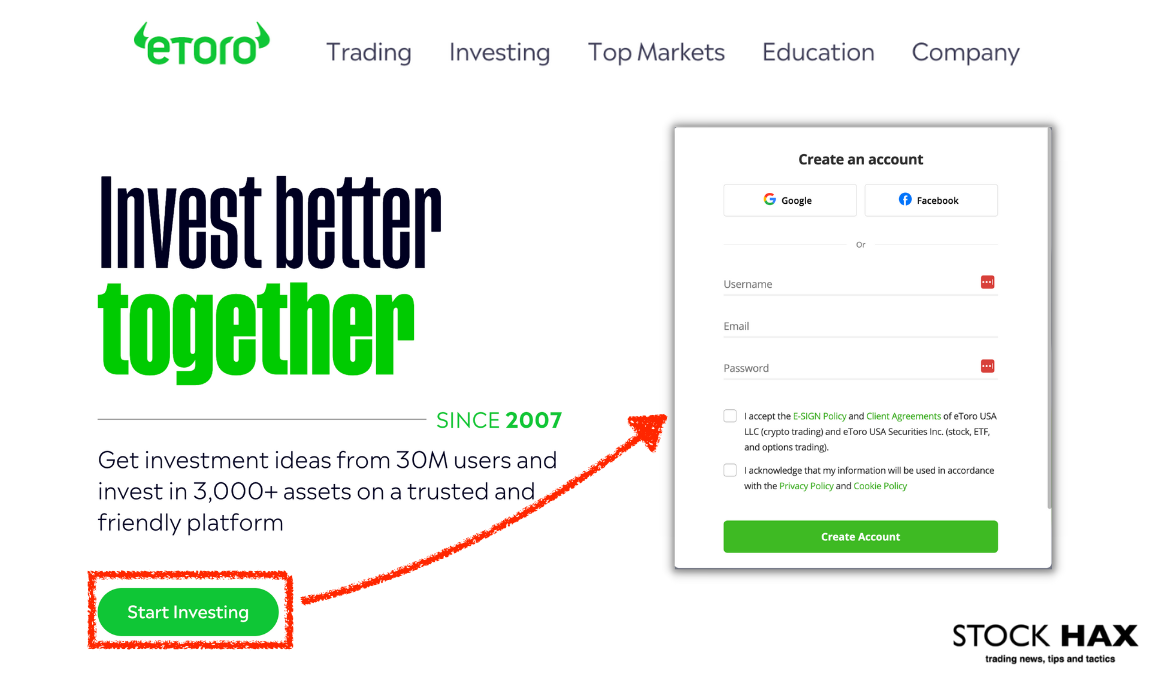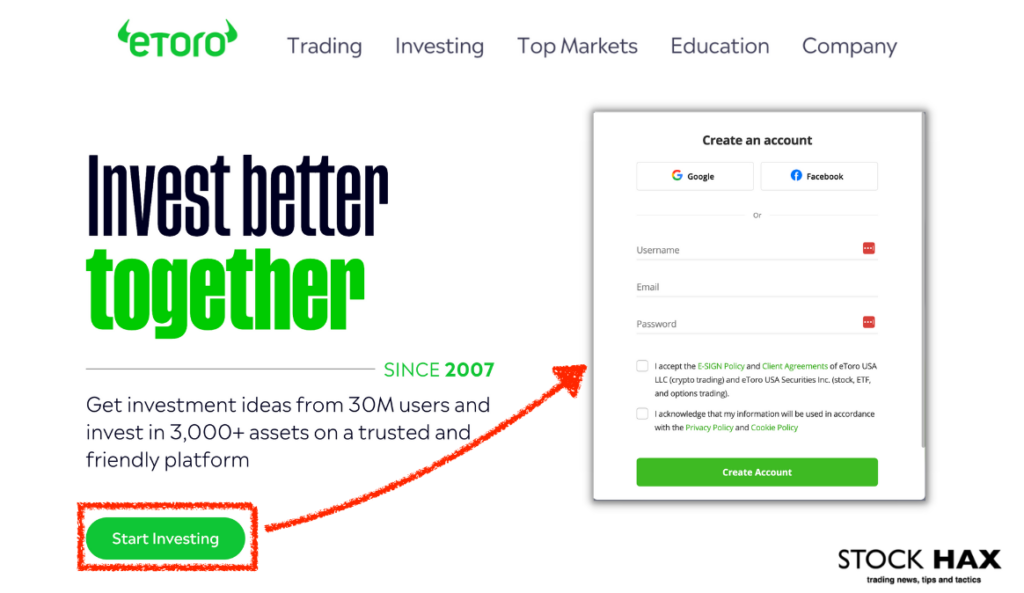 Step 2: Upload ID
Users are required to verify their identity. You can do this by uploading an image of a passport, driver's license, or state ID and proof of current address. An address can be proven by uploading a document that shows the account holder's full name, address, and date. The date must be at least three months old.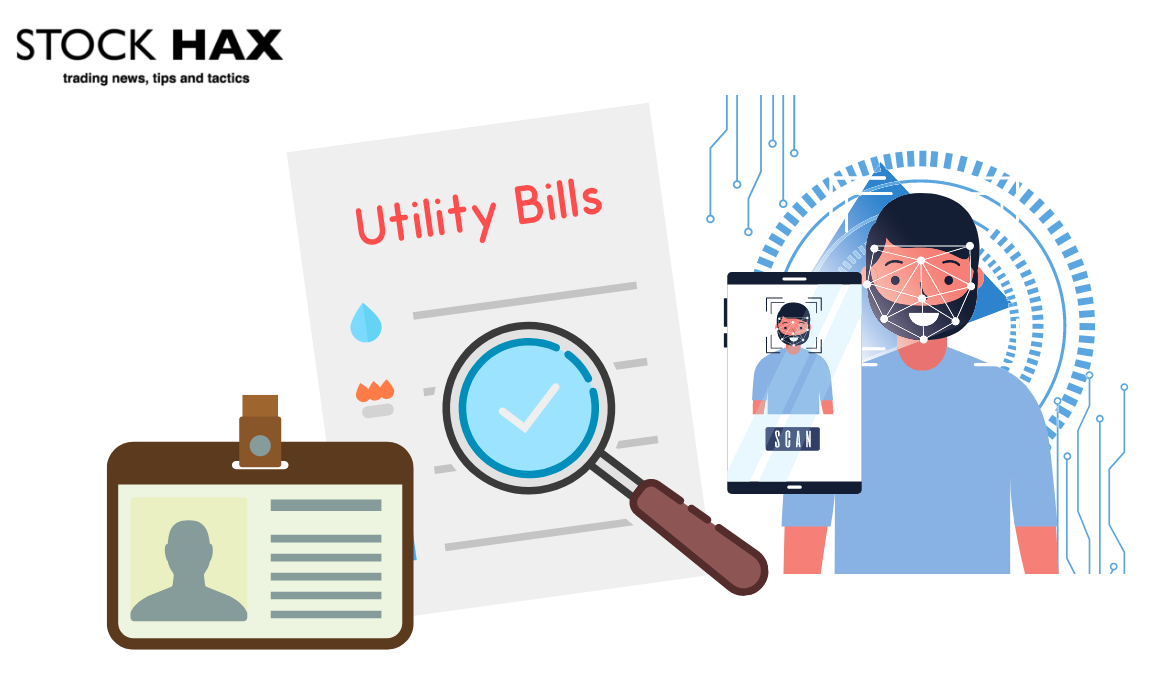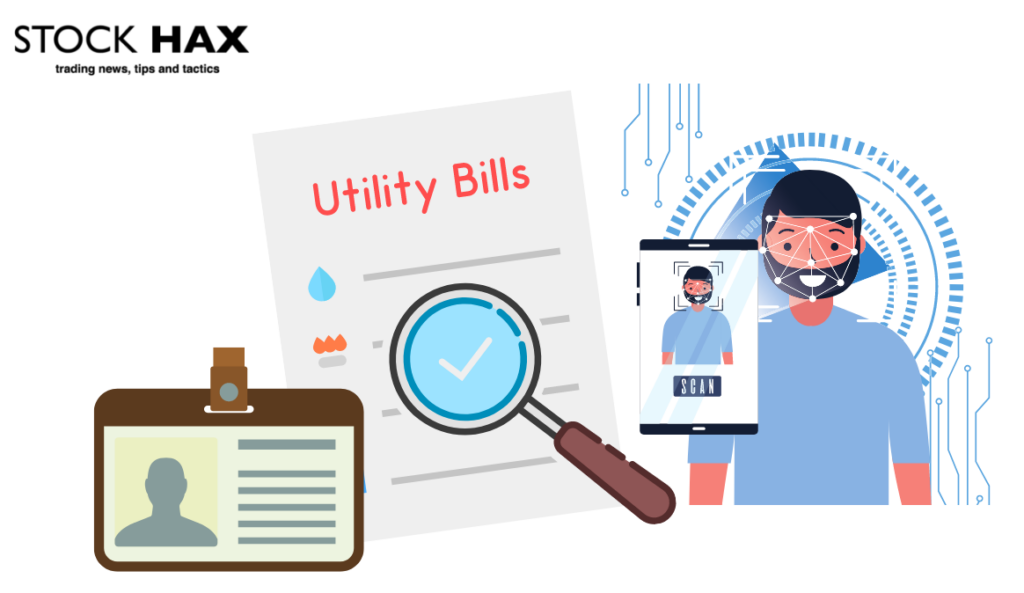 Step 3: Make a Deposit
Once your profile has been verified, you can fund your account. To do so, open eToro's menu and click the Deposit Funds button. You can select the amount you want to invest, your currency, and your method of payment.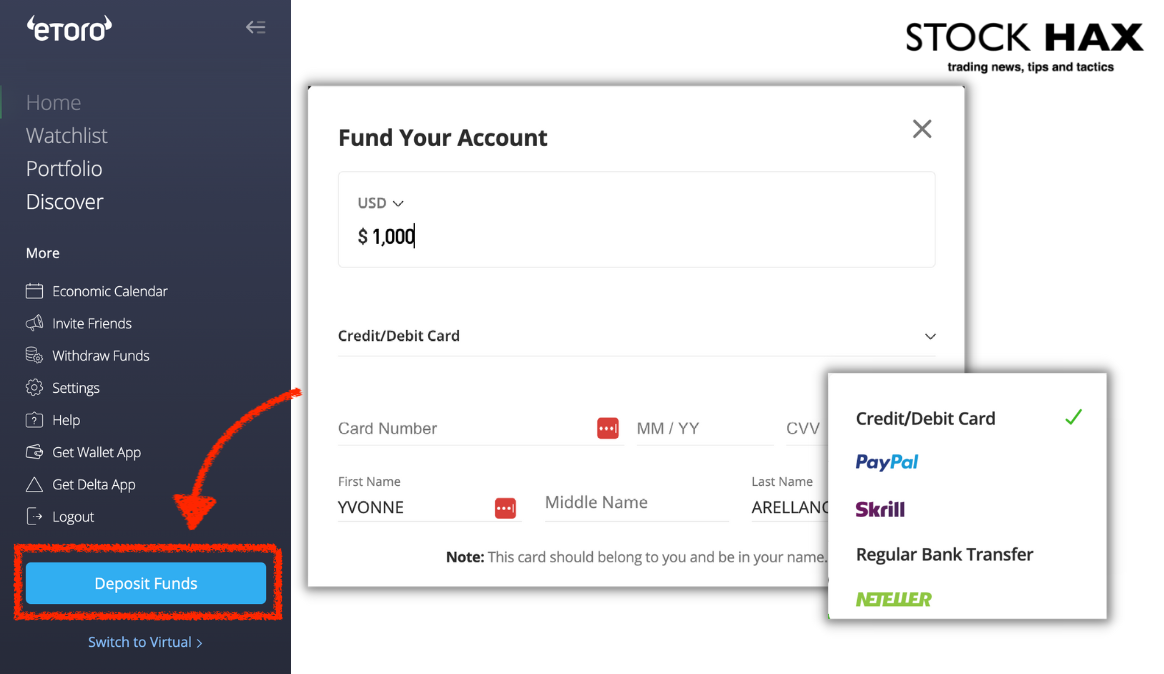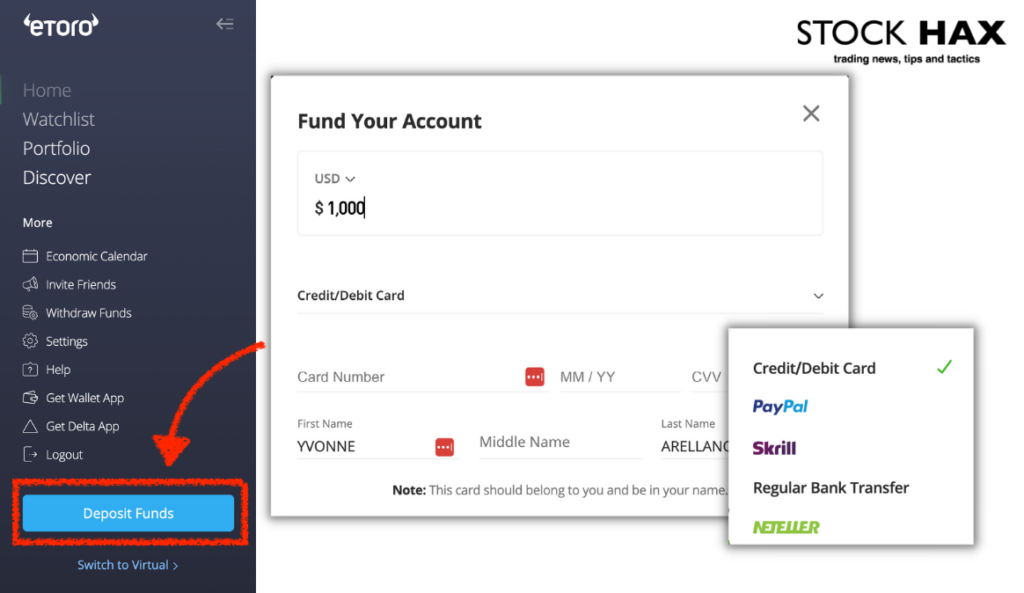 Step 4: Search for Shopify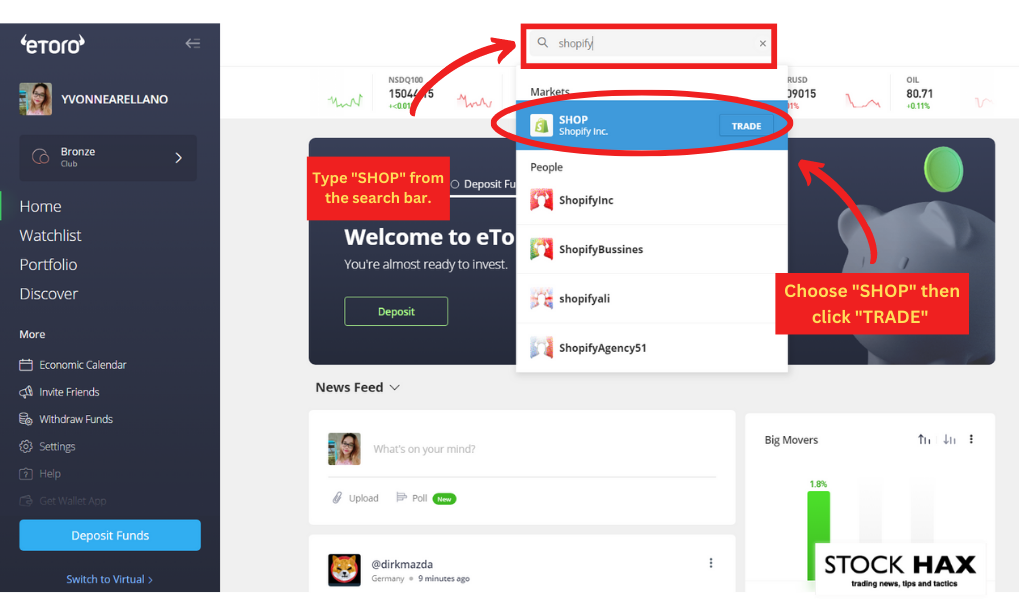 Use the eToro search bar to find Shopify. If you know the Shopify Ticker symbol (NYSE: SHOP), type the first letter. The dropdown will display the top results, and you can choose SHOP.
Step 5: Invest in Shopify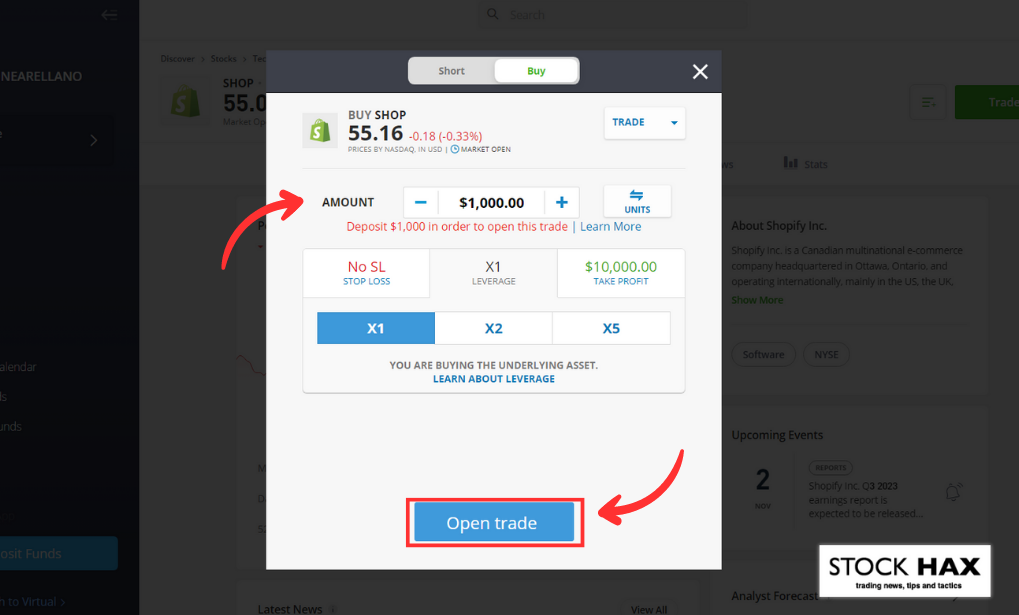 Once you've found Shopify on the eToro platform, you can start investing. Press the Invest button and choose how much money you want to invest or the number of shares you want to buy. Once you've completed the process, you can see the assets you've purchased in your portfolio. As with any investment, investors should perform due diligence before making any decisions.
Summary
Shopify has had some ups and downs since it was founded in 2006, but the ups have been spectacular at times and have outnumbered the downs. The internet has changed the way people shop, and the pandemic really drove that home. The pandemic also saw a rise in small businesses. Shopify was able to really harness these two things, providing a reliable, user-friendly experience both to shoppers and the businesses they were patronizing.
The company has continued to innovate, which has helped keep customers loyal and happy. Shopify has made its long-term investors happy with more than a 2,000% return since its IPO in May 2015.
FAQ
Is Shopify a publicly traded company?
Yes, Shopify has been a publicly traded company since its IPO in 2015 and is listed on the New York Stock Exchange and Toronto Stock Exchange.
Does Shopify pay dividends?
No, the company does not pay out dividends and, when asked, said there are no plans to start doing so. This is not unusual for tech companies who, instead of paying dividends, often reinvest the money into innovation.
What was Shopify's all-time stock price high?
The all-time high Shopify stock closing price was 169.06 on November 19, 2021.
Where can you buy stock in Shopify?
Shopify stock can be purchased through a broker, including an online broker like eToro, ETF, a mutual fund, an index fund, and a robo-advisor.
Risk Disclaimer
StockHax strives to provide unbiased and reliable information on cryptocurrency, finance, trading, and stocks. However, we cannot provide financial advice and urge users to do their own research and due diligence.
Read More