This website and its content are not intended to provide professional or financial advice. The views expressed here are based solely on the writer's opinion, research, and personal experience, and should not be taken as factual information. The author is not a financial advisor and lacks relevant certifications in that regard. We highly recommend consulting a qualified financial advisor before making any investment decisions, as the information presented on this site is general in nature and may not be tailored to individual needs or circumstances.

Mobile-only app
Automatically deposits change into a brokerage account
Low fees
Pros
High functionality for a mobile-only app
Automatic round-up for investment from every purchase
User-friendly and provides incentives to newer/beginner traders Extremely low fees
Pre-packaged portfolios take guesswork out of trading
Cons
Little to no research data available
Lacks the finesse of most other desktop and website-based trading platforms
Relatively new company, which means a lack of security and reliability
Acorns App Highlights

| | |
| --- | --- |
| 💰 Account Minimum | $0 |
| 💸 Commission Fees | None |
| 💼 Investment Options | ETFs on Stocks and Bonds |
| 🤖 Robo-Advisor | Yes |
| 📊 Research and Analysis | Market news, economic calendar, trading signals, sentiment analysis |
| 📱 Mobile App | Yes |
| 🏦 Retirement Accounts | Acorns Later |
| 🎓 IRA Accounts | Acorns Later |
| 📈 Trading Platform | Acorns Invest app |
| 📞 Customer Service | Phone and email support |
| 📚 Educational Resources | Acorns Grow blog and newsletter |
| 🌕 Fractional Shares | Yes |
| 🌱 Socially Responsible | Yes, Acorns Sustainable Portfolios |
| 🌎 International Investing | No |
| 💳 Cash Management | Yes, Acorns Spend debit card and checking account |
| 🔍 Margin Trading | No |
| ⚙️ Options Trading | No |
| ₿ Cryptocurrency Trading | No |
| 🛡️ Account Security | SIPC-insured up to $500,000, SSL encryption and bank-level security |
| 💹 Leverage | No |
| ⚖ Regulation | Licensed and regulated by SEC and FINRA |
Automated Investments Straight From Your Phone
While the big, wide world of online investing is usually confined to big, bulky desktop platforms and feature-heavy websites, many modern investors want a more compact, mobile option. The Acorns app — co-created by father and son team Walter Cruttenden and Jeff Cruttenden — is one such mobile investment app, and it packs a surprising punch for its size.
What are the Acorns App's Main Features?
The primary appeal of the Acorns app is its mobile-centric functionality. Rather than base its operations in a desktop platform or website interface, users control their investments through the mobile-only Acorn app, allowing users to set up investment accounts from their smartphone and have control of their retirement or brokerage accounts in their pocket.
Other clients mention the usefulness of auto trading which may automate some of your trading activities. The concept behind it is that every time you swipe your card Acorns rounds the transaction up to the nearest dollar, and deposits that change in your investment account.
It's a fantastically novel way to get people to invest without even consciously thinking about it. In essence, Acorns takes the concept of putting loose change away for a rainy day and applies it to the wide world of investing. After enough time and spending, especially if you practice dividend reinvestment, you'll have a sizeable portfolio that will continue to grow, offering younger investors a passive way to save up.
This automated approach to investing is a real boon for college students and young adults who are maybe unused to or disinterested in the often convoluted process of becoming active investors. This approach to their target audience is made plain in their management fees, which are waived for four years if you can verify that you're a college student.
Because of its nature as a mobile app, Acorns relies chiefly on its user-friendliness to appeal to its users. By that same token, though, that means serious investors might not find a lot to cling to with Acorns, and so it shouldn't be used as a total replacement for a serious investor or trader.
How Do You Open an Acorn App Account and What are the Requirements?
As with any other app on your smartphone, all you have to do is install the Acorns app from your preferred app store (iOS or Android) and open it up. (You can also sign up on your computer if you like.) The app prompts you to create a PIN code so only you can open the app, and will become your primary login.
Once that is done, you just set up your Acorns account information, connect the bank account(s) you want to use for your round-up purchases, allowing you to select from most major banks. It'll also ask you for your first and last name, your date of birth, your phone number, and a security question.
After that, it's just a few more questions — whether you have been affiliated with brokers in the past, whether the IRS is subjecting you to backup withholding, or whether you have major shares in a publicly traded company — and you're done. Just add in your employment information, income, SSN and investment goals, and you're all set.
What Are the Rules for Trading on the Acorns App?
Once your information is entered and your account is set up, Acorns claim that users can provide certain information and the app can suggest portfolios to choose from.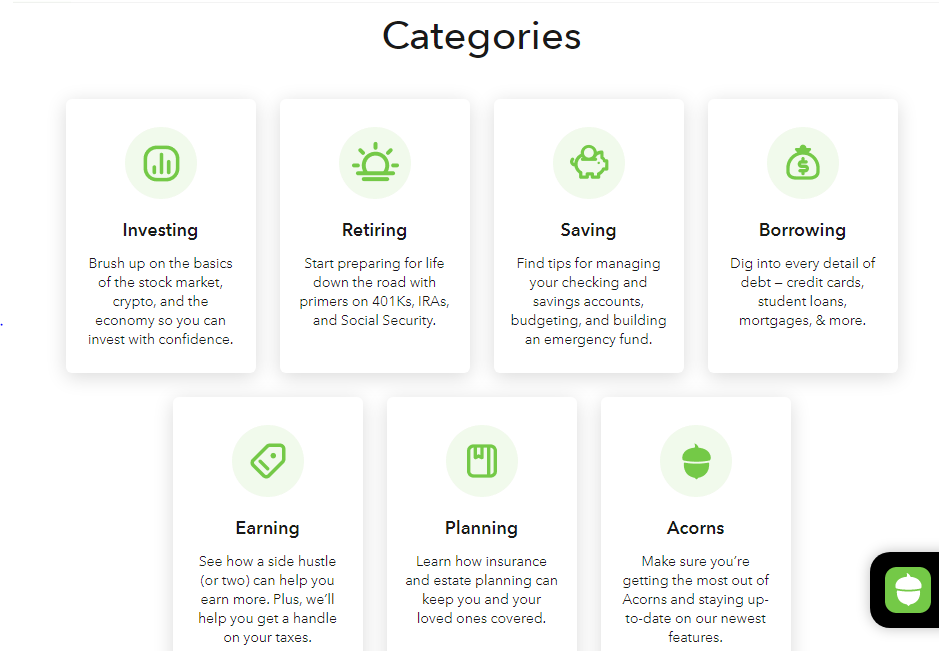 All Products
Investing
Retiring
Saving
Borrowing
Earning
Planning
Acorns
For Acorns, it's important that you have a round-up account set up for it, in addition to whatever credit/debit cards you assign to it. The round-up funds always have to come from a checking account; for instance, if you pay $19.25 on your credit card, Acorns will deposit 75 cents from that separate checking account into your Acorns account.
There is no account minimum balance required by Acorns App to maintain an account, which is good for newer investors and those just dipping their toes in the water. When you start your investing, all you have to do is link your account(s) to the app so money can be deposited into your Acorns account. From there, just deposit as much money as you like and start investing.
When it comes to fees, Acorns App seems fairly reasonable for the user-friendly features it comes with. Every account under $5,000 charges a $1 monthly fee; once you reach that threshold, Acorns starts charging 0.25% of your total balance every year.
Acorns portfolios typically consist of a group of six ETFs, which feature expense ratios from as low as 0.05% to as high as 0.20%. Apart from those, though, there are no additional fees, which makes Acorns a surprisingly cost-effective investment platform.
The company also claims that its portfolios are mostly based on products offered by Vanguard and Blackrock ETFs, and were constructed based on Modern Portfolio Theory (MPT), making sure they're appropriately diversified between government and corporate bonds, as well as large and small cap market stocks.
There are some tradeoffs for such simplicity, however. For instance, you can't really create specific retirement accounts like Roth IRAs; all of these Acorns accounts qualify as personal investment accounts. This means younger investors exclusively using Acorns won't be able to take advantage of those tax-advantaged accounts.
What's more, Acorns accounts are taxable, and some users highlighted that the app has no capabilities for tax-loss-harvesting.
What Kind of Trader is the Acorns App Best For?
Obviously, there's a lot to love about the Acorns app for younger traders who may be stymied or put off by the complicated nature of traditional trading. Nowadays, everything is just a bit faster and more mobile, with most of us controlling our entire lives and assets via smartphone. With the Acorns app, traders have a dedicated way to do just that, which is a major part of its appeal.
College students and first-time traders are absolutely the target audience for the Acorns app. Those young people who have not yet learned the finer points of saving and investing can use Acorns to get a leg up on their investment careers while they have other things to worry about, like grades and easing into adulthood.
This is not to say that Acorns is useless for those who also have their own investment portfolios. The automated nature of Acorns means anyone can just add it to their phone, tie it to their account, and save just that much more in round-up expenses. In practice, some reviews show that Acorns provides some options for savings.
Other Good Products
Another fantastic mobile-only solution is Stash Invest, yet another mobile-friendly investment trading platform that focuses on easy-to-use trading features based around pre-packaged diversified portfolios. Stash might be preferable for those looking to mix up their risk profiles, as each mix of stocks is categorized according to risk.
If you've tried Acorns and thought it was just an OK fit, it might also worth looking into the Robinhood app, which is free to use, charges no transaction fees and has an intuitive interface. At the time of writing, however, Robinhood is only available to traders with US bank accounts.
Wealthfront might be another good option for beginners because trades are free up to $15,000, and Wealthfront has $3.5 billion under management — more than 100x what Acorns has.
If you want to find something a little more direct and active for your investment solutions, Betterment might be a decent alternative. The fee structure is fairly similar, and you'll end up paying about the same while also maintaining the same $0 account minimum. What's more, you'll get the functionality and services of a full-fledged investment platform.
A Few Final Thoughts
Investor feedback shows that the app is suitable for both beginner and experienced investors.
The concept of auto-investing has always been a good idea — it's the reason why 401(k)s have worked out so well for many people, and auto-enrollment helps people get ready for retirement. With Acorns, that concept is just taken one step further by making sure loose change goes to the right place as soon as possible. They're small transactions, but they do add up.
To be honest, if younger people want to really get involved with trading and investing for their future, Acorns should not be the be-all, end-all of their trading experience, but a stepping stone toward a more robust trading portfolio. Firms such Betterment and Wealthfront offer similar management fees but allow for research and trading that gives users more autonomy and choice to make smart investment decisions.
Given the way the smartphone has become so crucial to our everyday lives, apps such as Acorns may well be the future of investing. While we're hesitant to call it the only investment solution younger traders will need, it offers a fantastic way to get people investing who might not do so otherwise.
Risk Disclaimer
StockHax strives to provide unbiased and reliable information on cryptocurrency, finance, trading, and stocks. However, we cannot provide financial advice and urge users to do their own research and due diligence.
Read More