This website and its content are not intended to provide professional or financial advice. The views expressed here are based solely on the writer's opinion, research, and personal experience, and should not be taken as factual information. The author is not a financial advisor and lacks relevant certifications in that regard. We highly recommend consulting a qualified financial advisor before making any investment decisions, as the information presented on this site is general in nature and may not be tailored to individual needs or circumstances.
Google is for sure one of the most popular tech companies around the world. Since its foundation in 1998, the company expanded and exceeded its initial scopes: from a search engine, Google became a company able to offer services like navigation, email services, gaming, cloud computing, video and music streaming, mobile and smart devices, artificial intelligence-based services and much more.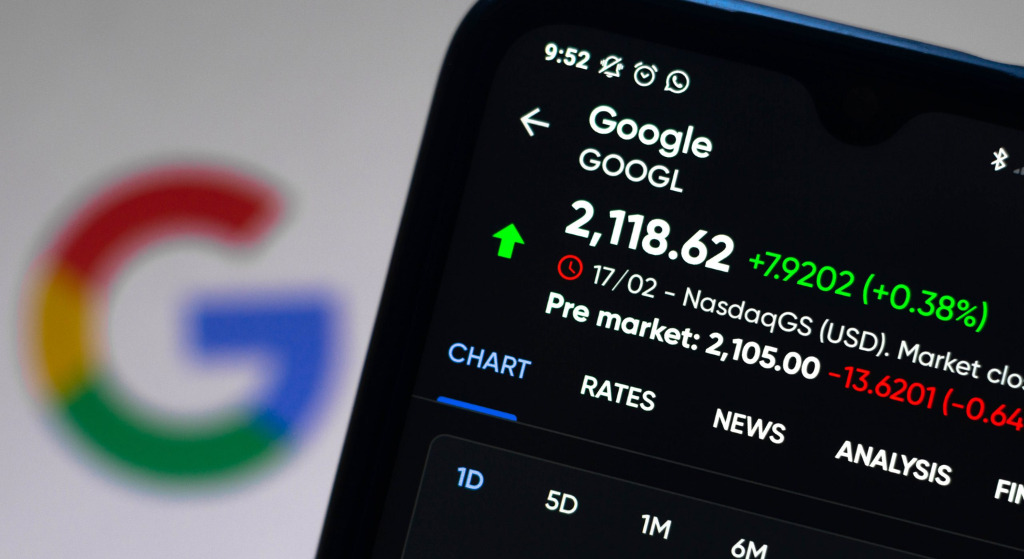 When it comes to Google stock, one of the most common questions among investors is which stock to buy between GOOG and GOOGL: the answer lies in one of the splits and reorganizations of the company. We will see some splits and strategeis in detail through this article, but for now you should know that while GOOG is the ticker associated with the shares issued by the company that do not give investors voting rights, the shares under the ticker GOOGL are different types of shares that do give voting rights to shareholders.
In this article, we will analyze the key features of GOOGL stock, the events that most affected Google's stocks and some useful methods to buy GOOGL.
GOOGL Stock Key Features
GOOGL stocks don't pay any dividends
Alphabet, the parent company of Google, issued three different classes of stocks
GOOGL stocks are the class A stocks issued by the company
GOOGL stocks give voting rights to holders
As of May 2023, there are 12,781,000,000 GOOGL shares outstanding
GOOGL Stock Over the Years – Review
During the past five years the price of GOOGL went through market cycles that led the price of the stock from nearly $50 to over $120. The expansion of the company across many sectors, its resiliency and capability to cope with competition, along with its services that manage to benefit people while using the latest technology might be the reasons behind this surge in price.
Some splits and events led the price of the stock to nearly $150, and even during market drops the company managed to contain dramatic falls.
Let's see what happened to GOOGL stock during the past 5 years.
GOOGL Stock in 2023
It seems that GOOGL won't split in 2023. Despite the uncertain economic and financial conditions, GOOGL is performing positively, and registered a surge in price – from around $89 to over $125.
GOOGL Stock in 2022
The split. Google went through its second stock split in July 2022, allowing shareholders to receive 20 shares for each share they owned.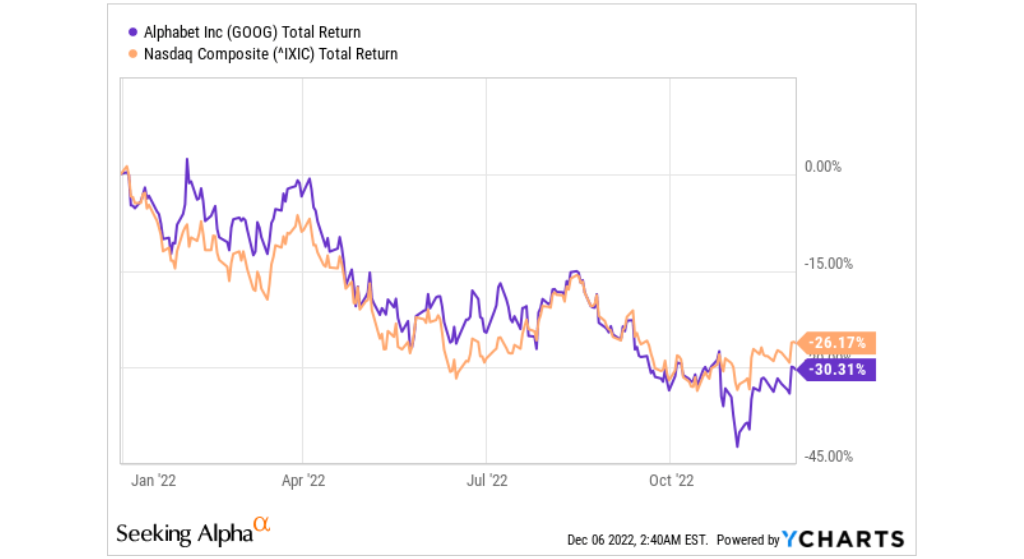 Shareholders with voting rights approved the decision, which came after the downtrend that began in February 2022 – in fact, splits usually make expensive stocks more attractive to a larger audience.
GOOGL Stock in 2021
2020 started the positive financial wave for tech companies, and 2021 fully confirmed the positive trend born after the pandemic.
If we look at the reports shared by Google over 2021, we can notice that there were amazing surprises:
February 2022: the Earnings & Revenue report shared by Google showed an impressive positive surprise amounting to +7.99% – over 4 billion dollars.
April 2022: the E&R report of April confirmed the trend. The company closed with a positive surprise of +7.39% – almost 4 billion dollars.
July 2022: the report of June further exceeded expectations. Data show a positive surprise of +10.13% – almost 6 billion dollars.
October 2022: October shows a mitigated surprise – +2.5%, slightly over 1.5 billion dollars. It was just a preview of 2022.
GOOGL Stock in 2020
Services outage. In 2020 Google suffered three outages that disrupted its service – in August, November and December 2020.
Moreover, Covid-19 was starting the initial – and brief – negative financial wave that hit tech companies. In 2020, the company also had to face several lawsuits for allegedly going against antitrust laws.
Despite the overall positive earnings and revenue report shared by the company in February and the following positive peak, a series of negative events led the price of GOOGL to its lowest level for that year – at around $52.
But, as we mentioned, the pandemic just briefly affected tech companies. All those businesses that allow people to work, buy and study without leaving their homes found successful results — and GOOGL made no exception: the stock closed the year at over $87.
GOOGL Stock in 2019
New CEO and several embarrassments: these events led GOOGL to witness ups and downs that kept the price stable, overall.
Pichai was named CEO of Alphabet and not only of Google, allowing the company to explore different markets with a different perspective. At the same time, Google faced issues with employees for alleged data leaks and layouts.
The company shared two positive and two negative earnings and revenue reports over the year, and the price of GOOGL stock went from $51 to $66 by the end of 2019.
Alphabet, the parent company of Google, is a US publicly traded company.
As mentioned, GOOGL is one of the stocks issued by the tech company listed on the Nasdaq.
To get exposure to GOOGL stock, one of the options available is signing up to a broker that can allow investors and traders to buy and trade GOOGL.
But this is not the only option available.
In fact, investors can get exposure to GOOGL stocks also thanks to derivative financial investment products like options and CFDs – the latter usually allows for fractional investments, since they base their prices on GOOGL stock but provides investors with the opportunity to invest even relatively low amounts.
Moreover, GOOGL is included in the most popular financial indexes – Nasdaq100, which is heavily focused on tech companies, and S&P500. Both include the largest cap companies publicly traded.
Of course, different traders and investors have different needs and goals, and it's always up to them to choose the investment product that best fits their needs. It is also important to choose the tools and brokers that can meet those needs.
One of the options available in the market is the online broker eToro.
As mentioned, eToro is one of the online brokers available in the market. We will use it as an example, since it allows users to buy GOOGL shares.
Step 1: Open an Account if you're a new user
Users can sign up thanks to the button they will find on the homepage of the official website of the broker, which will lead them to the sign up form. They should enter the required data, or use social accounts like Google or Facebook to register.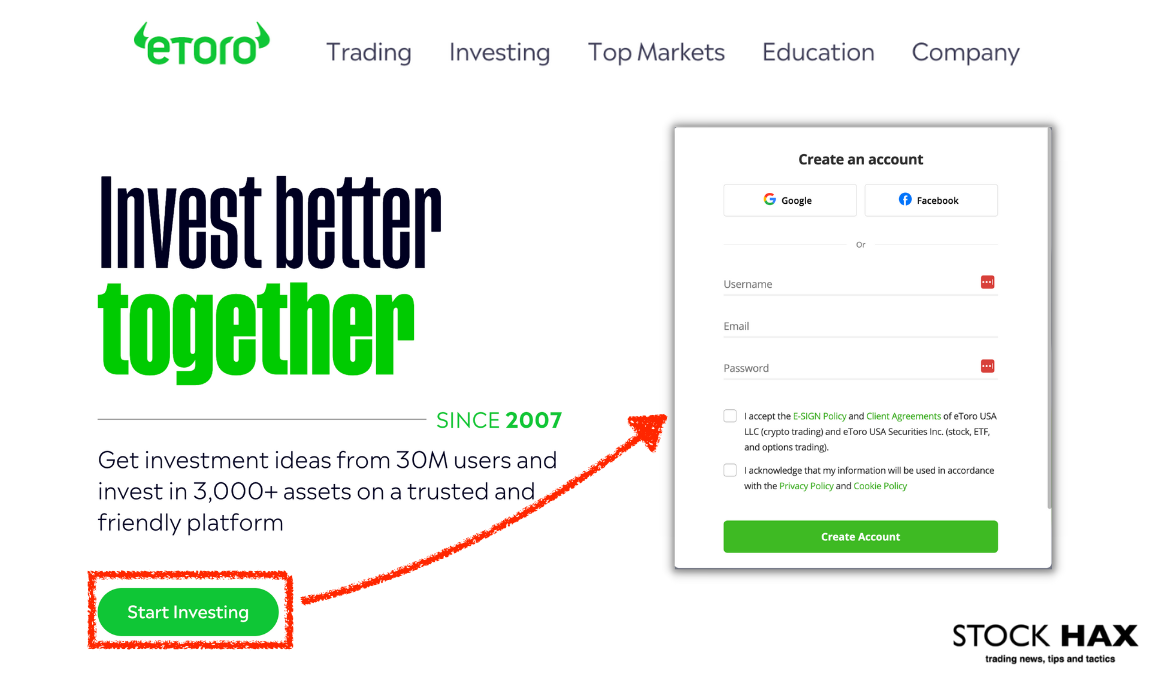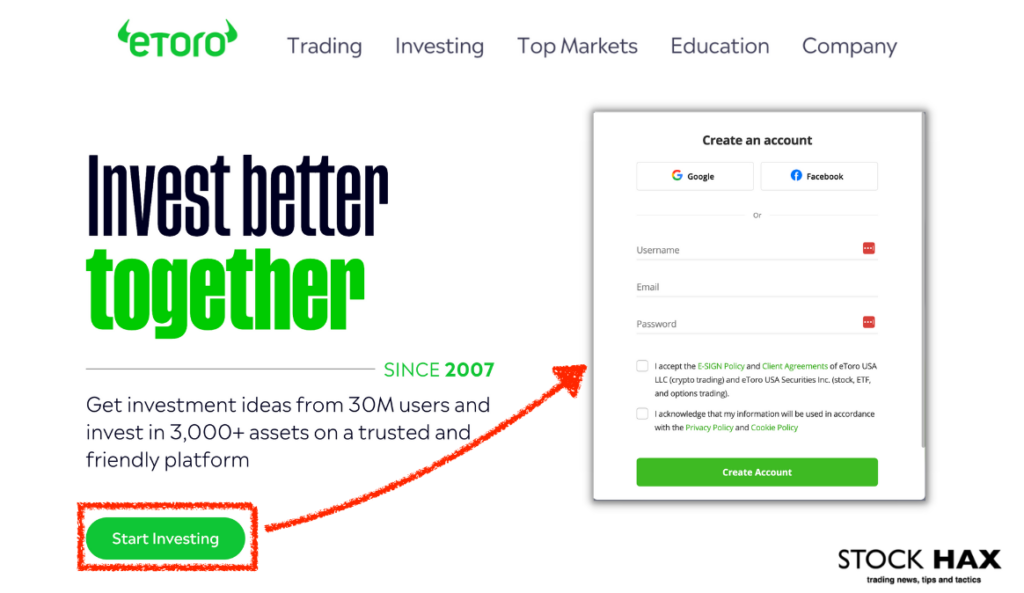 Step 2: Upload required ID documents
Users can now upload the required ID documents, a proof of identity and address. This allows the broker to be compliant, and users to invest and trade in a safe environment.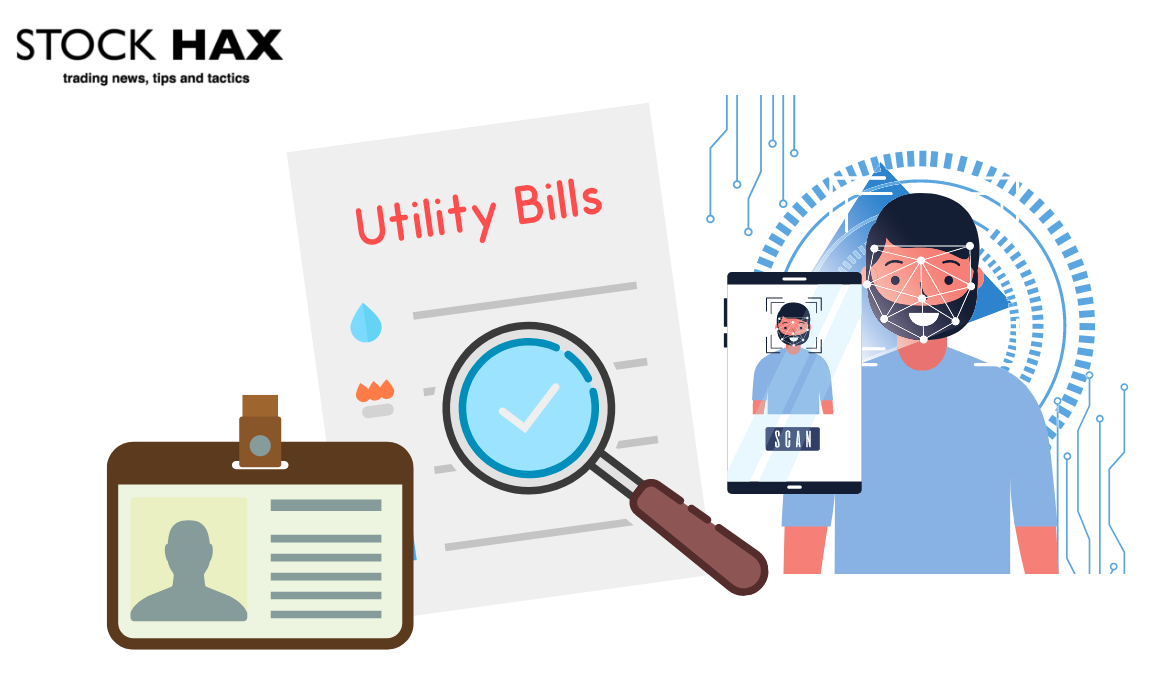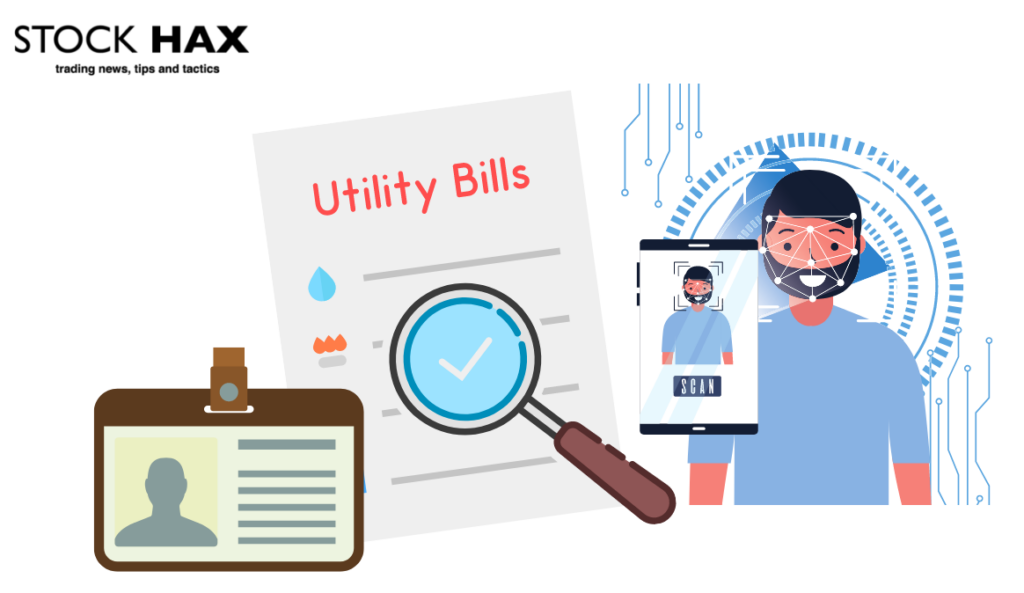 Step 3: Make your first Deposit
To trade and invest in real assets users will need to fund their accounts. eToro provides several deposit methods, and users can select the amount they want to deposit.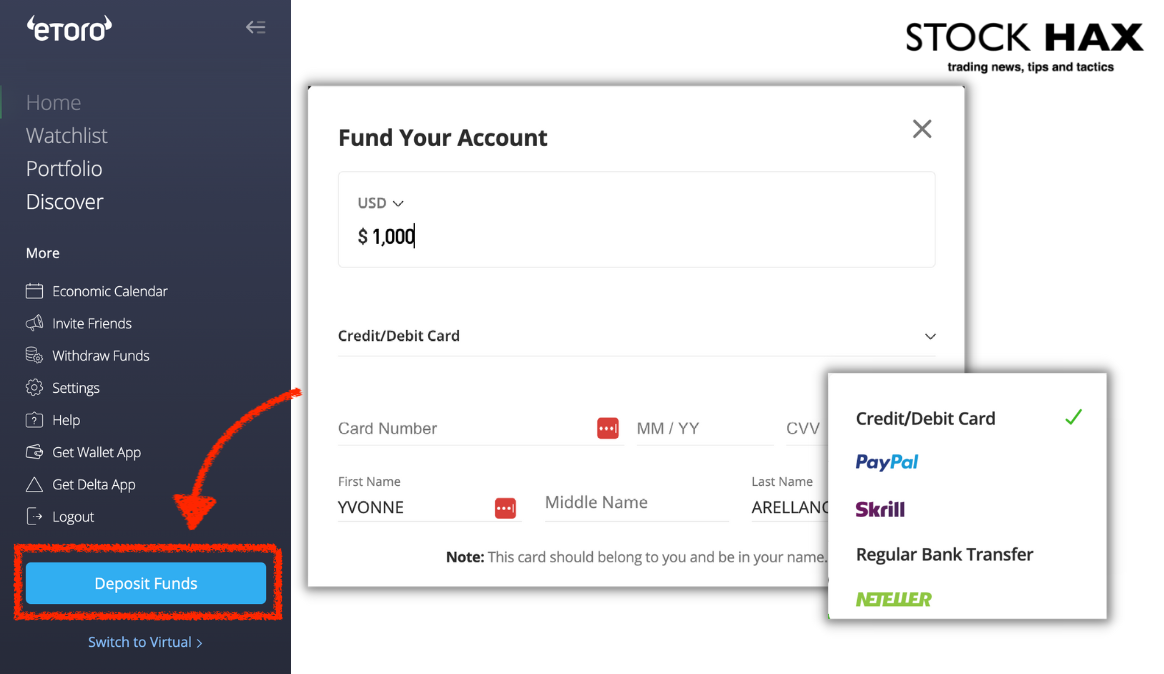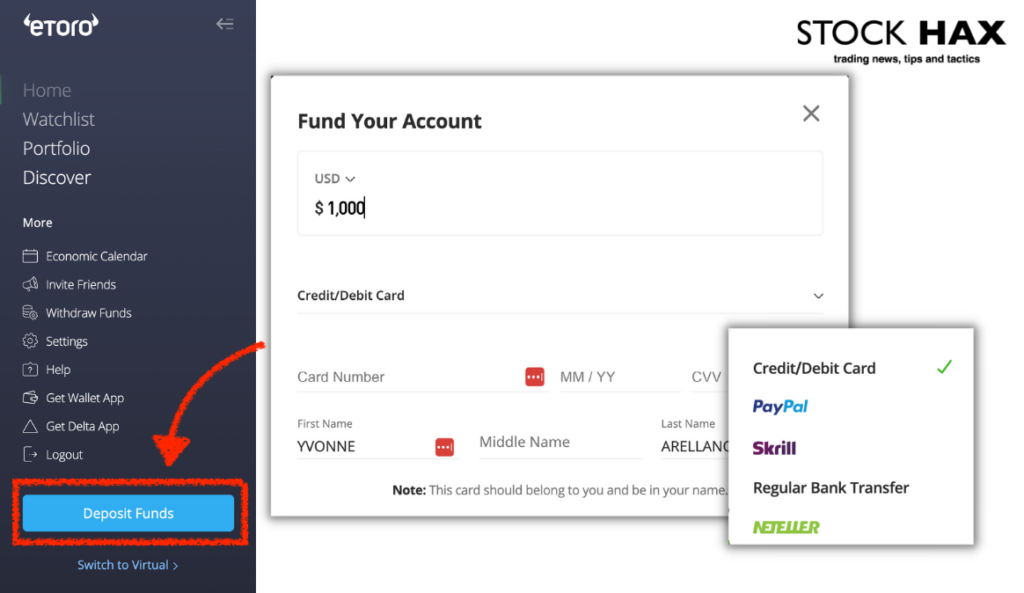 Step 4: Search for GOOGL
Users can write the ticker of the stock or the name of the company to find the GOOGL stock, thanks to the search bar provided by eToro.
Step 5: Invest in GOOGL
After users complete the aforementioned steps, they can finally invest in GOOGL. They just need to click the "Invest" button, select the amount they want to invest or the number of shares they want to buy.
Summary
GOOGL is a stock issued by one of the most popular and large cap tech companies around the world. Among the stocks issued by the publicly traded parent company Alphabet, GOOGL represents the Class A stock that grants voting rights.
Despite the two stock splits – one occurred in 2022 – and reorganizations of the company, Google managed to show its resilience over time.
Of course, it went through natural market cycles and was hit by the ups and downs caused by the pandemic, but it is safe to assess that the stocks haven't suffered dramatic falls or peaks, since its company keeps a global vision and is able to cope with competitors.
Despite this, investors should always do their own research and choose compliant brokers – in this article, we used eToro as an example of an online broker.
FAQ
Is Google a good stock to buy?
GOOGL is issued by a large cap tech company, but it's up to investors to evaluate if GOOGL is the right stock to buy according to their goals and after a fundamental and technical analysis.
Which Google stock to buy?
GOOGL is among the three stocks issued by Alphabet. It might be the right choice for investors who want a Class A stock that grants voting rights.
Why is Google stock down?
GOOGL, as any other investment products, can drop because of internal or external factors, or because of natural corrections. Currently, GOOGL might experience drops because of the general economic uncertainty.
Risk Disclaimer
StockHax strives to provide unbiased and reliable information on cryptocurrency, finance, trading, and stocks. However, we cannot provide financial advice and urge users to do their own research and due diligence.
Read More