This website and its content are not intended to provide professional or financial advice. The views expressed here are based solely on the writer's opinion, research, and personal experience, and should not be taken as factual information. The author is not a financial advisor and lacks relevant certifications in that regard. We highly recommend consulting a qualified financial advisor before making any investment decisions, as the information presented on this site is general in nature and may not be tailored to individual needs or circumstances.
Berkshire Hathaway is for sure one of those companies that constantly make headlines, especially because of the reputation of its executives. In fact, Berkshire Hathaway is led by Warren Buffett – also known as the "Oracle of Omaha" – and Charlie Munger, two of the most successful investors of all time.
Thanks to the management of Buffett, who took control of the company in 1965, Berkshire Hathaway went through a deep revolution over time: from a textile company, it became a holding company that often outperformed the global stock market.
Publicly traded on the New York Stock Exchange (NYSE) under the ticker BRK, the Berkshire Hathaway stock has some interesting characteristics and its price, despite the natural market cycles, increased its value over time.
In this article, we will provide you with detailed information about the stock and how to buy Berkshire Hathaway.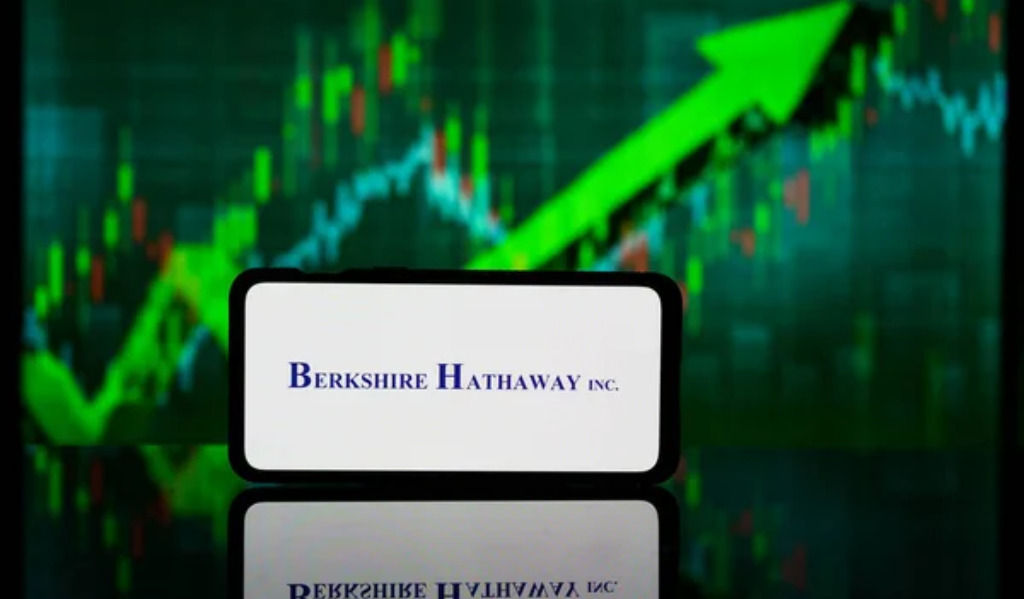 Berkshire Hathaway Stock Key Features
Berkshire Hathaway has two classes of stocks: BRK.A and BRK.B.
BRK stocks give voting rights to shareholders – but BRK.B have 1/10,000th the voting rights of BRK.A.
The top BRK holder is Warren Buffett.
BRK.B went through one stock split in 2010.
The stock doesn't pay any dividends – the management of the company has always preferred to reinvest profits.
Berkshire Hathaway Stock Over the Years – Review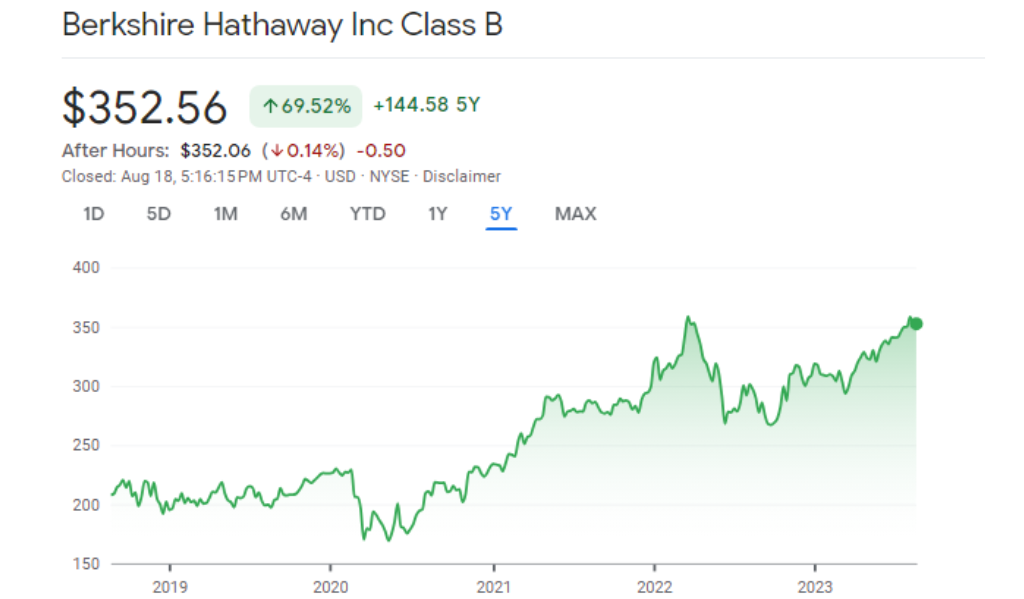 Berkshire Hathaway stock, as well as any other stock, experiences price fluctuations that can depend on many reasons – natural market cycles, global market conditions, geopolitical changes, internal decisions.
In our analysis, we will consider the performance of the stock during the last five years.
Berkshire Hathaway Stock in 2023
Compared to 2022, 2023 has been less volatile so far, with the price of the stock moving within a range between $442K and $555K.
Compared to the previous year, the company wasn't able to confirm the positive surprises of 2022: in March, Berkshire Hathaway reported negative surprises concerning both revenue and earnings. On the contrary, the reports of August far exceeded the expectations of experts. Moreover, the stock entered a positive trend.
Berkshire Hathaway Stock in 2022
2022 was a volatile year for the Berkshire Hathaway (BRK) stock.
The price of the stock moved in a range between around $393K and $544K. Our analysis is focusing on the Class A stock issued by the company.
The positive peak was reached in March, but it was soon followed by a deep downtrend, further confirmed by relatively higher volumes.
For what concerns financial reports, the company shared positive results for what concerns both earnings and revenue in March. The same occurred in July and August, with positive surprises that exceeded the expectations of experts. In November, the company reported a negative surprise concerning revenue.
Berkshire Hathaway Stock in 2021
Quite a stable market.
The BRK stock experienced an initial increase in price in 2021, before entering in a sideways movement.
The company reported negative earnings in March and November, while positive reports were shared in May and August.
At the beginning of the year, the company bought back around $5 billion worth of shares, and continued during the year to reach a value of around $12 billion stock repurchases.
The unusually aggressive strategy was far-sighted, since a general recovery of global markets led the stock to an initial increase, and then a positive stability: the price of BRK went from around $343,000 to around $450,000 by the end of the year.
Berkshire Hathaway Stock in 2020
General drop.
In 2020, markets experienced significant losses. Since Berkshire Hathaway is a holding company, with investments spanning across several markets, it is quite normal to see drops in the price of its stock when the underlying investments of the company perform negatively.
The company shared positive reports only in August.
Berkshire Hathaway Stock in 2019
One of the worst performances.
As we mentioned, BRK has often outperformed the stock market over time, but this didn't occur in 2019: despite the increase in price by the end of the year, the stock showed poor performance in respect with the global stock market – while the S&P 500 showed an increase of around 28%, BRK increased by less than 12%.
The company reported negative earnings in May and August, and the stock reached two dips around the same period.
The executives exploited the situation to increase the buyback of the shares of the company, and the stock closed the year with a solid uptrend.
Berkshire Hathaway (BRK) is a well-known company, run by renown investors. If you're thinking of investing in it, there are several ways to do so, which are not only limited to shares. Let's see what are the most common instruments available:
Stocks: This means buying a part of BRK directly. When you own stocks, you own a small piece of the company. If the company pays dividends, you are entitled to receive them. But, of course, stockholders will experience both success and losses, according to the performance of the company.
Mutual Funds: These are groups of financial assets. Funds collect investments from several investors, and then build diversified portfolios. Investors who invest in mutual funds own a share of the fund. Among the mutual funds that include BRK stock we can find the Fidelity Balanced Fund (FBALX), the Blue Chip Investor Fund (BCIFX), and the Vanguard Mega Cap Value Index Fund Institutional Shares (VMVLX).
ETFs (Exchange-Traded Funds): ETFs are very similar to mutual funds. But, you can buy and sell them like stocks on stock markets. Among the ETFs that include BRK we find the Vanguard Total World Stock Index Fund ETF Shares (VT) and the FMC Excelsior Focus Equity ETF (FMCX).
Indices: indices, as well as mutual funds and ETFs, give instant diversification, since they track different financial assets. BRK is included in popular indices, like the NYSE Composite and the US 50.
CFDs (Contract for Difference): With CFDs, you enter a contract whose price depends on the underlying asset – BRK stock in this case. Since CFDs usually allow fractional investing and leverage, they might be an option to explore – especially in case of expensive stocks like BRK Class A.
Options: These financial instruments let you buy or sell BRK stock later at a price you set now. They can be used in different ways when investing – hedging for instance.
You can choose among different financial instruments to get exposure to BRK, as well as different brokers. We looked at eToro as one platform to trade and invest in BRK stock.
BRK is accessible on various online trading platforms, particularly because it's associated with one of today's leading corporations.
Before settling on a particular platform, potential investors must consider transaction charges, other associated fees, methods of fund transfer, and the user-friendliness of the interface. We decided to explore the features of eToro.
Step 1: Sign up if you're a first-time user
Creating an account on eToro is straightforward. Newcomers who hit the "Sign Up" option are directed to a form, where they're required to input details like their first and last name, email address, and create a password.
As an alternative, they have the option to register using any of the supported social media accounts.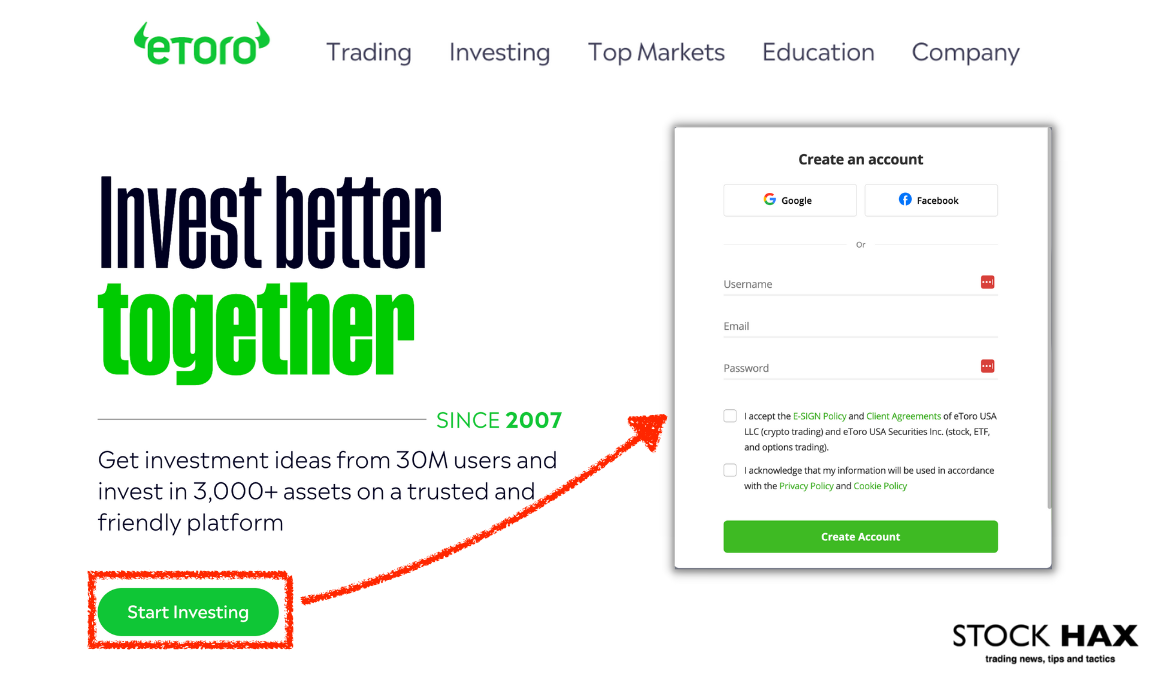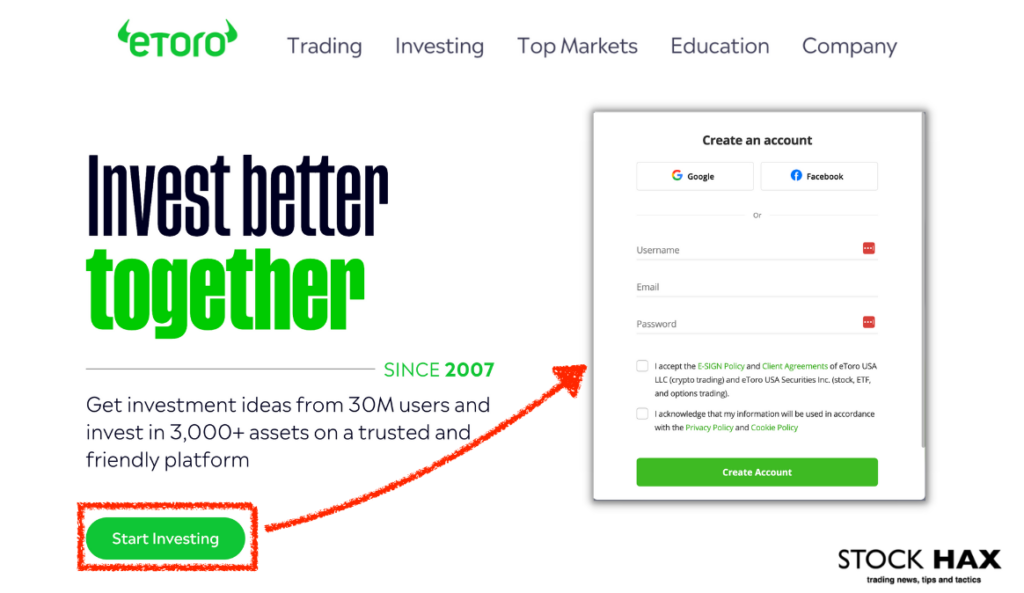 Step 2: Provide necessary documents
For the following phase of validation, users are required to submit documents serving as proof of their identity and residential address. This step helps eToro to prove the authenticity of its users and ensure they're eligible to utilize the platform.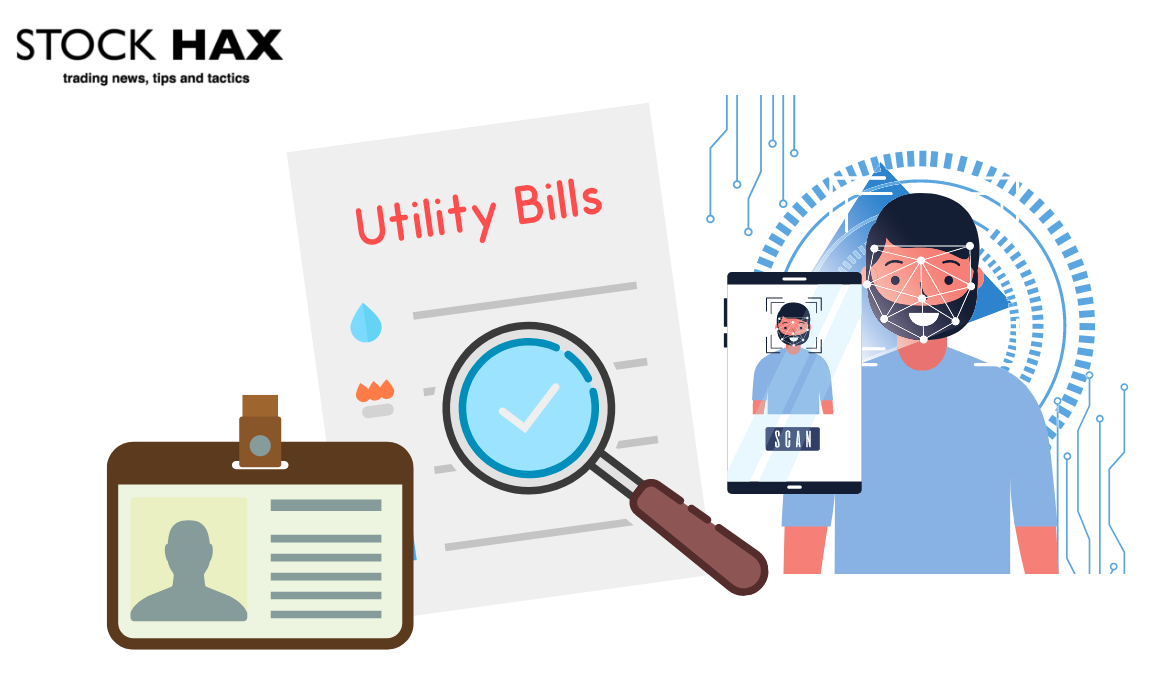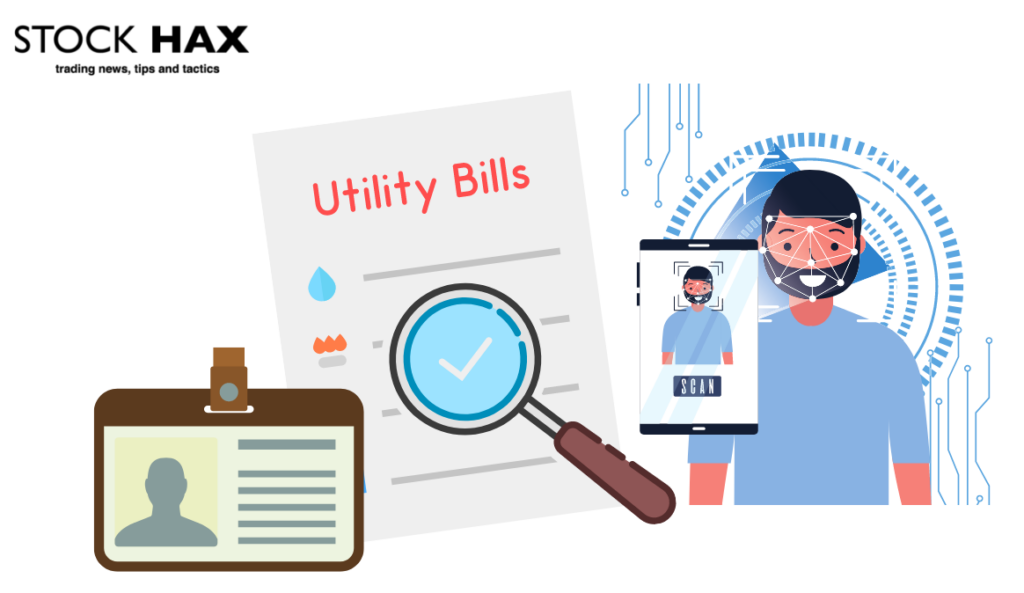 Step 3: Make a deposit through a preferred payment channel
Upon successful verification and approval, individuals can start their investment journey.
To use eToro's real portfolio, investors need to fund their accounts. This can be achieved by clicking the "Deposit Funds" button, followed by choosing their desired mode of payment and specifying the amount they wish to transfer.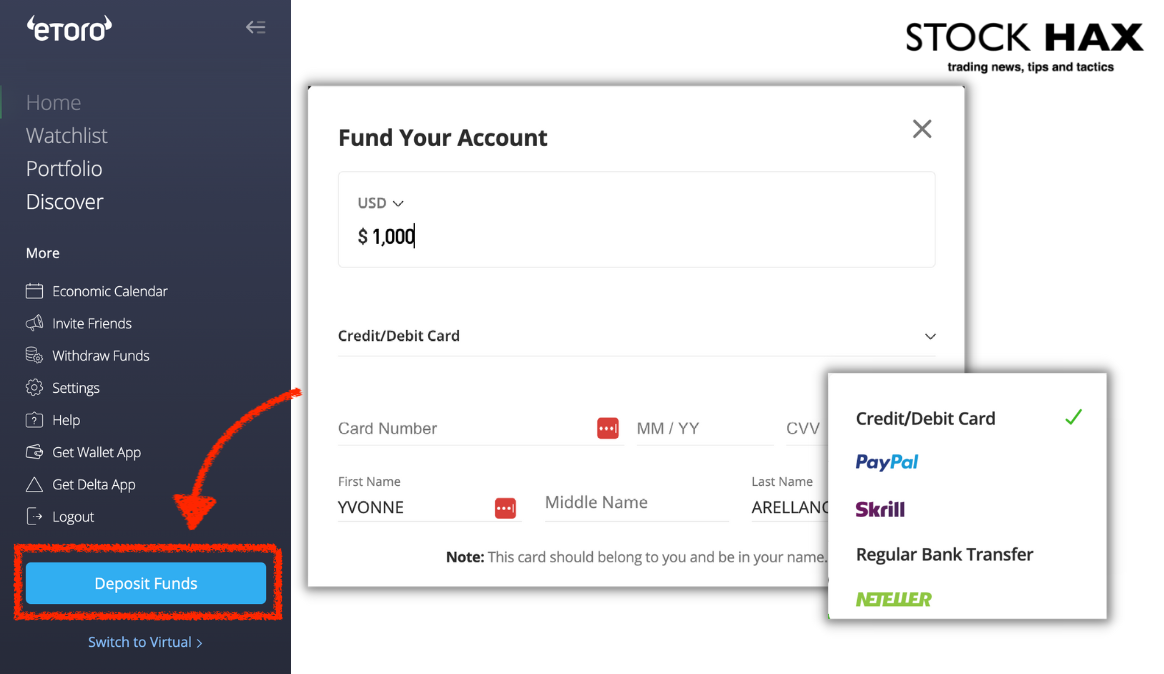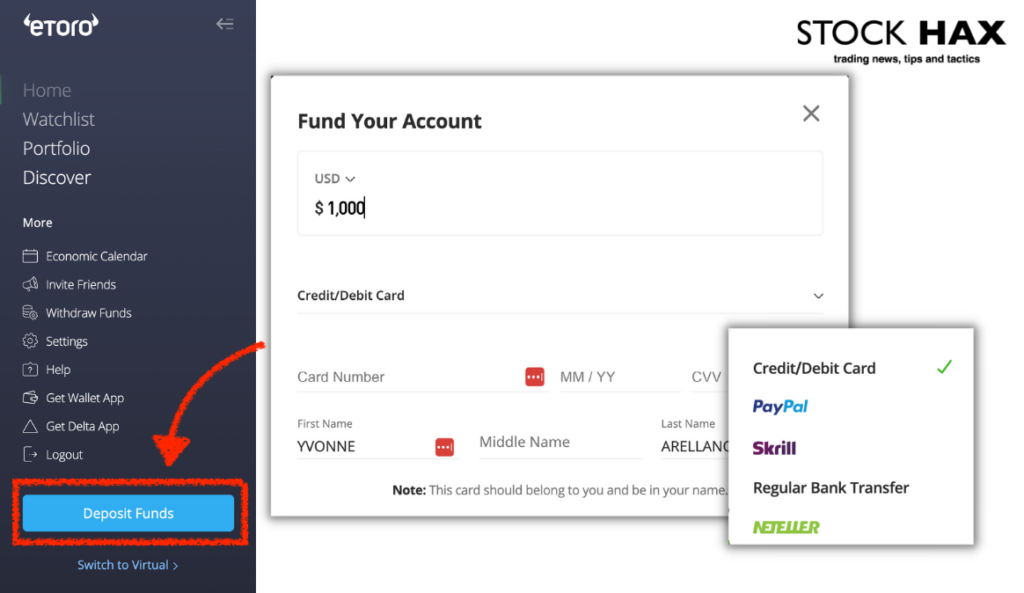 Step 4: Search for Berkshire Hathaway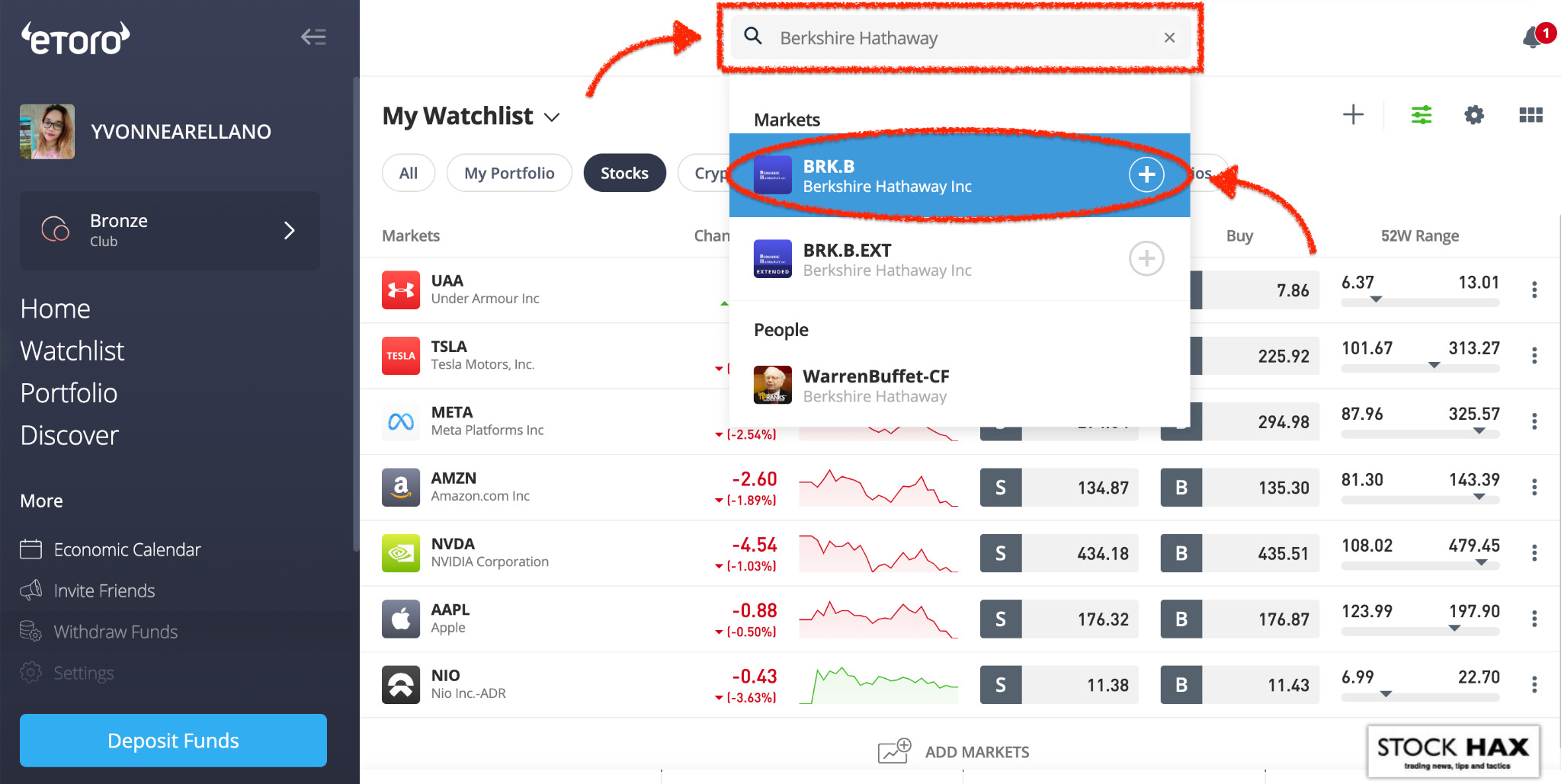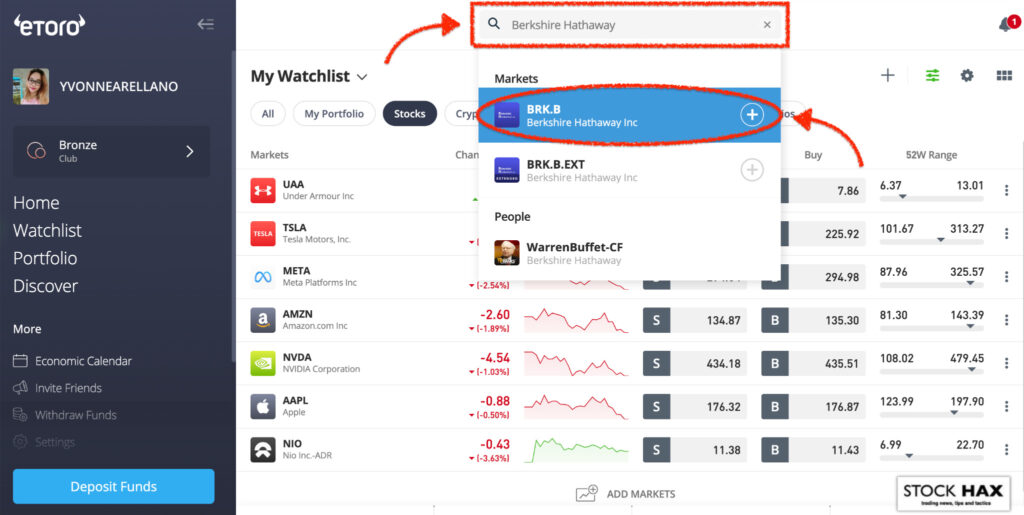 If you have a particular asset in mind, you have the flexibility to either browse through the financial products – divided into different categories – on eToro, or utilize the search bar. This tool helps users to easily find the desired asset – they only need to type the name of the company or the ticker.
Step 5: Invest in Berkshire Hathaway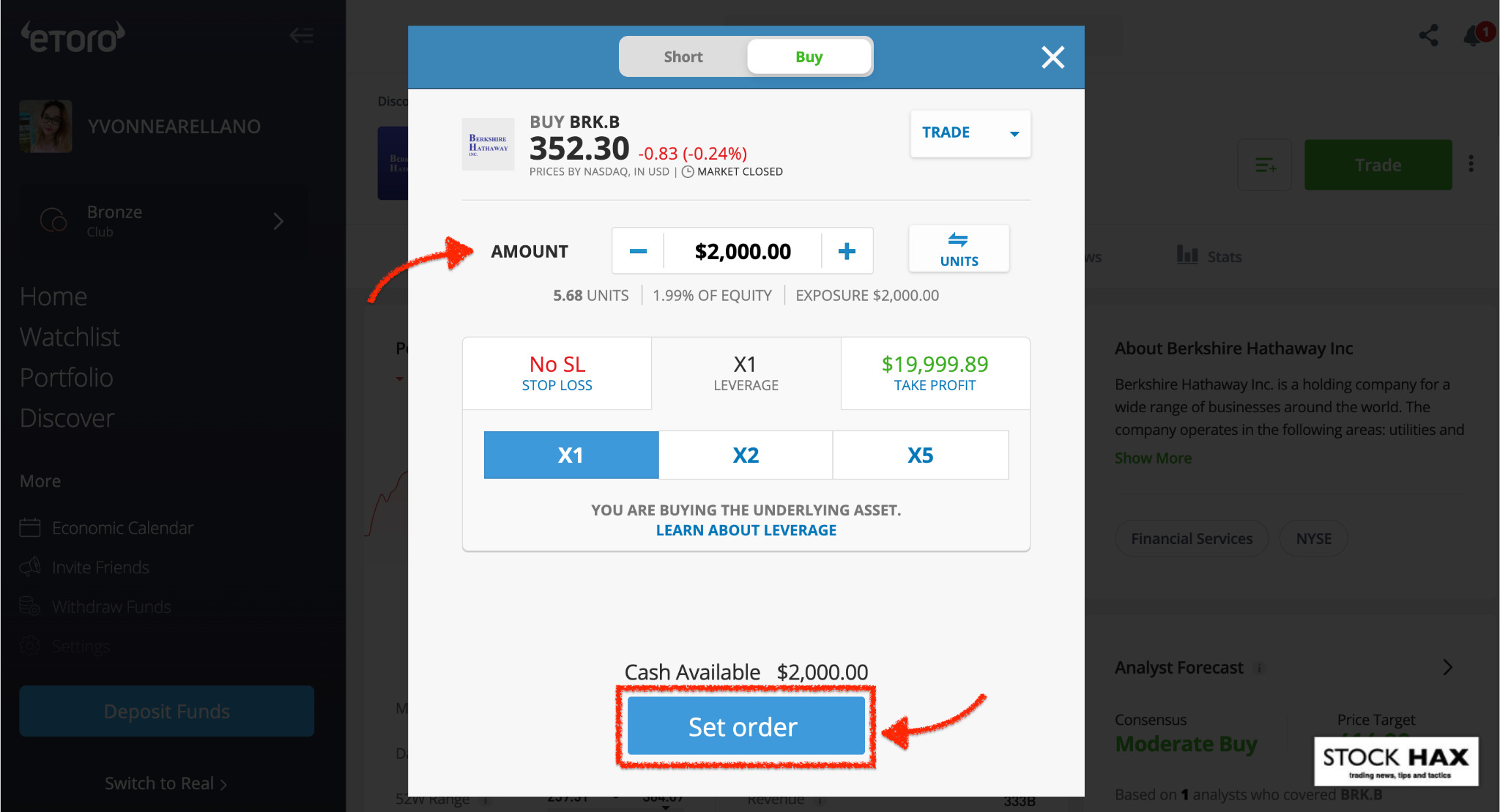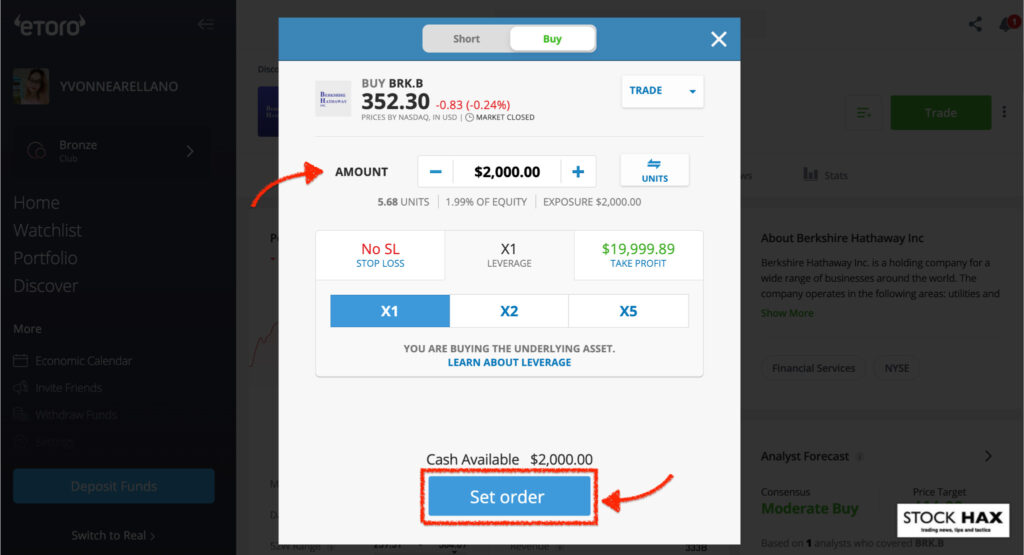 Once users find their desired stock, they can click on the "Invest" option. Users will then be redirected to a dedicated page for the asset. Here, they can detail their purchase order, specifying the investment sum or the quantity of stocks they want to acquire. Additionally, advanced order configurations are available. Users can also decide whether they'd like to use leverage.
Summary
Berkshire Hathaway, under the management of Warren Buffett and Charlie Munger, has established itself as one of the most popular and at the same time best performers over time. The company went through a transformative journey – from its beginnings as a textile company to a global holding conglomerate, BRK has consistently showcased its resilience and adaptability.
The company issues two types of stocks – class A and B. Our analysis focused on the Class A stock – BRK.A.
Holding stocks is not the only way to get financial exposure to the company: investors and traders can choose among other several financial instruments, like ETFs, CFDs, options and indices.
In this article, we covered all the features, history and past performance of Berkshire Hathaway and its stock, along with some details on how to buy BRK stock.
Despite this, investors and traders should always do thorough research before investing.
FAQ
What is the difference between BRK.A and BRK.B stocks?
BRK.A and BRK.B are two different classes of Berkshire Hathaway stocks. BRK.A stocks carry more voting rights than BRK.B. Specifically, a BRK.B stock has 1/10,000th of the voting rights of a BRK.A stock.
Does Berkshire Hathaway stock pay dividends?
No, Berkshire Hathaway does not distribute dividends. The management has historically chosen to reinvest the profits back into the company to fuel its growth.
How has Berkshire Hathaway's stock performed over the past five years?
Berkshire Hathaway's stock has seen various trends over the past five years. There was a general price drop in 2020 due to market losses, stability in 2021 with an aggressive stock buyback strategy, volatility in 2022 with highs and lows, and less volatility in 2023 with prices ranging between $442K and $555K.
What platforms can I use to invest in Berkshire Hathaway?
You can use various online trading platforms to invest in Berkshire Hathaway. One such platform is eToro, which offers a user-friendly interface and a straightforward process to invest.
Are there other financial instruments to invest in Berkshire Hathaway besides stocks?
Yes, besides directly buying BRK stocks, investors can get exposure to Berkshire Hathaway through Mutual Funds, ETFs (Exchange-Traded Funds), Indices, CFDs (Contract for Difference), and Options. Each of these instruments has its own characteristics and risk profiles, so it's crucial to understand them before investing.
Risk Disclaimer
StockHax strives to provide unbiased and reliable information on cryptocurrency, finance, trading, and stocks. However, we cannot provide financial advice and urge users to do their own research and due diligence.
Read More