This website and its content are not intended to provide professional or financial advice. The views expressed here are based solely on the writer's opinion, research, and personal experience, and should not be taken as factual information. The author is not a financial advisor and lacks relevant certifications in that regard. We highly recommend consulting a qualified financial advisor before making any investment decisions, as the information presented on this site is general in nature and may not be tailored to individual needs or circumstances.
Etsy is a global online marketplace that connects buyers and sellers of unique, handmade, vintage, and custom items. Founded in 2005, Etsy has become a thriving community where artisans and craftspeople can showcase their creativity and sell their products to a worldwide audience.
With millions of listings across various categories, Etsy offers a wide range of products, from jewelry and clothing to home decor and art. The platform encourages individuality, supporting independent designers and entrepreneurs. By providing a space for artists to showcase their one-of-a-kind creations, Etsy has become a go-to destination for those seeking distinctive and personalized gifts or items for themselves.
Etsy Stock Key Features
Strong Revenue Growth: Etsy has demonstrated consistent revenue growth over the past few years, driven by an increase in active buyers and sellers on its platform. This growth is attributed to its expanding user base and effective marketing strategies.
Marketplace Dominance: Etsy is a leading player in the global online marketplace space, specializing in handmade, vintage, and custom products. Its strong brand recognition and loyal customer base give it a competitive advantage over other similar platforms.
Diversified Product Range: With millions of listings across various categories, Etsy offers a diverse range of products to its customers. This diversity helps attract a wide customer base and ensures a constant stream of new and unique items on the platform.
Commitment to Sustainability: Etsy has a strong commitment to sustainability and ethical practices. They have implemented initiatives such as carbon neutrality and support for fair trade, which resonates with socially conscious consumers and enhances the company's reputation.
Tech Innovations: Etsy continuously invests in technology and platform improvements to enhance the user experience. From personalized recommendations to improved search algorithms, these innovations help drive engagement and retention on the platform, contributing to its overall success.
Etsy Stock Over the Years – Review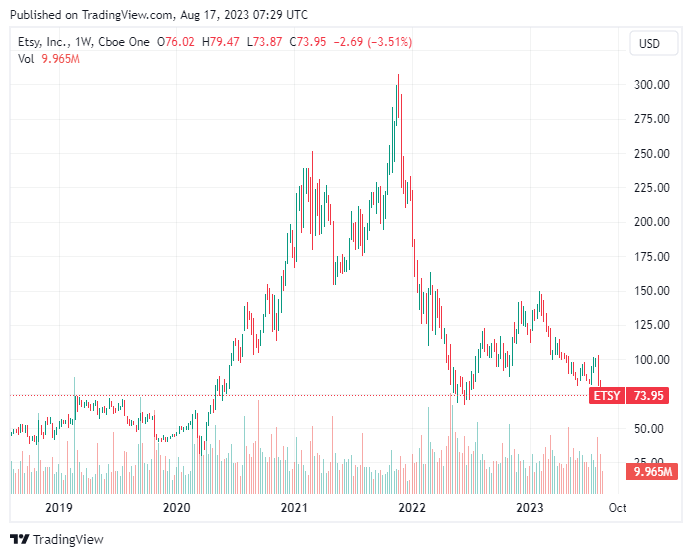 Over the past five years, Etsy's stock has experienced various price fluctuations. In 2019, the stock started the year below $50 and saw a brief increase to over $70 in July before closing the year around $45.
In 2020, like many online-oriented companies, Etsy shares surged during the COVID-19 pandemic, reaching a peak of $190 before ending the year below $180. In 2021, the stock initially rose above $230 due to continued pandemic-related demand but experienced a decline to close the year below $220.
In 2022, the stock declined further, bottoming around $70 and closing the year around $120. As of 2023, the stock has continued its downtrend, currently trading around $80.
Etsy Stock in 2023
As of August 2023, Etsy's stock is experiencing a downward trend, with it currently trading around the $80 mark. This follows a year of volatility, reflecting the broader market conditions and specific challenges within the e-commerce industry. The company's market capitalization stands at approximately $10 billion, illustrating its position as a major player within the sector.
Etsy's earnings per share (EPS) for the last quarter was reported to be positive, indicating the company's ability to generate profits. However, future performance will largely depend on various factors, including market trends, consumer behavior, and business strategies.
Etsy Stock in 2022
In 2022, Etsy Inc.'s stock performance showcased a volatile pattern. The year started with a decrease in value, eventually hitting a low around the $70 mark. This decline was attributed to a 4.0% decrease in the Consolidated Gross Merchandise Sales (GMS) in Q4 2022.
However, the stock saw a resurgence later in the year, with a notable 10% surge in November. Despite the earlier downturn, the stock managed to recover some of its losses and ended the year at approximately $120. Nonetheless, over the course of the year, Etsy's stock experienced a significant overall decrease of 29.4%.
Etsy Stock in 2021
In 2021, Etsy's stock showed a strong performance with the continuation of its COVID-19 rise until February, peaking briefly above $230. Following a temporary market correction, the stock resumed its upward trajectory, nearing an all-time high of $300 in November.
Afterward, a sudden price decline saw the year close below $220. These statistics highlight the volatility and growth potential of Etsy's stock throughout the year. It's important to note that while the stock demonstrated robust growth, it also experienced significant fluctuations, reflecting the dynamic nature of the stock market.
Etsy Stock in 2020
In 2020, Etsy Inc. (ETSY) stock exhibited a remarkable performance. Opening the year at approximately $45, the company experienced significant growth throughout the year, particularly as the COVID-19 pandemic shifted consumer behavior towards online platforms.
This surge in online shopping led to Etsy's stock reaching an all-time high of around $190. Despite slight fluctuations towards the end of the year, the stock maintained its upward trend, closing the year just shy of $180. This represents an impressive nearly 300% increase over the course of the year.
Etsy Stock in 2019
In 2019, Etsy's stock performance saw some significant fluctuations. The year started with the stock price slightly below $50. As the year progressed, it experienced a notable surge, peaking beyond $70 in July. However, this momentum wasn't sustained throughout the year.
By the end of 2019, the stock had retreated to around $45, demonstrating the volatility of the market and the challenges faced by the company. Despite these changes, Etsy remained a key player in the e-commerce sector, continuing to provide a unique platform for handcrafted goods and vintage items.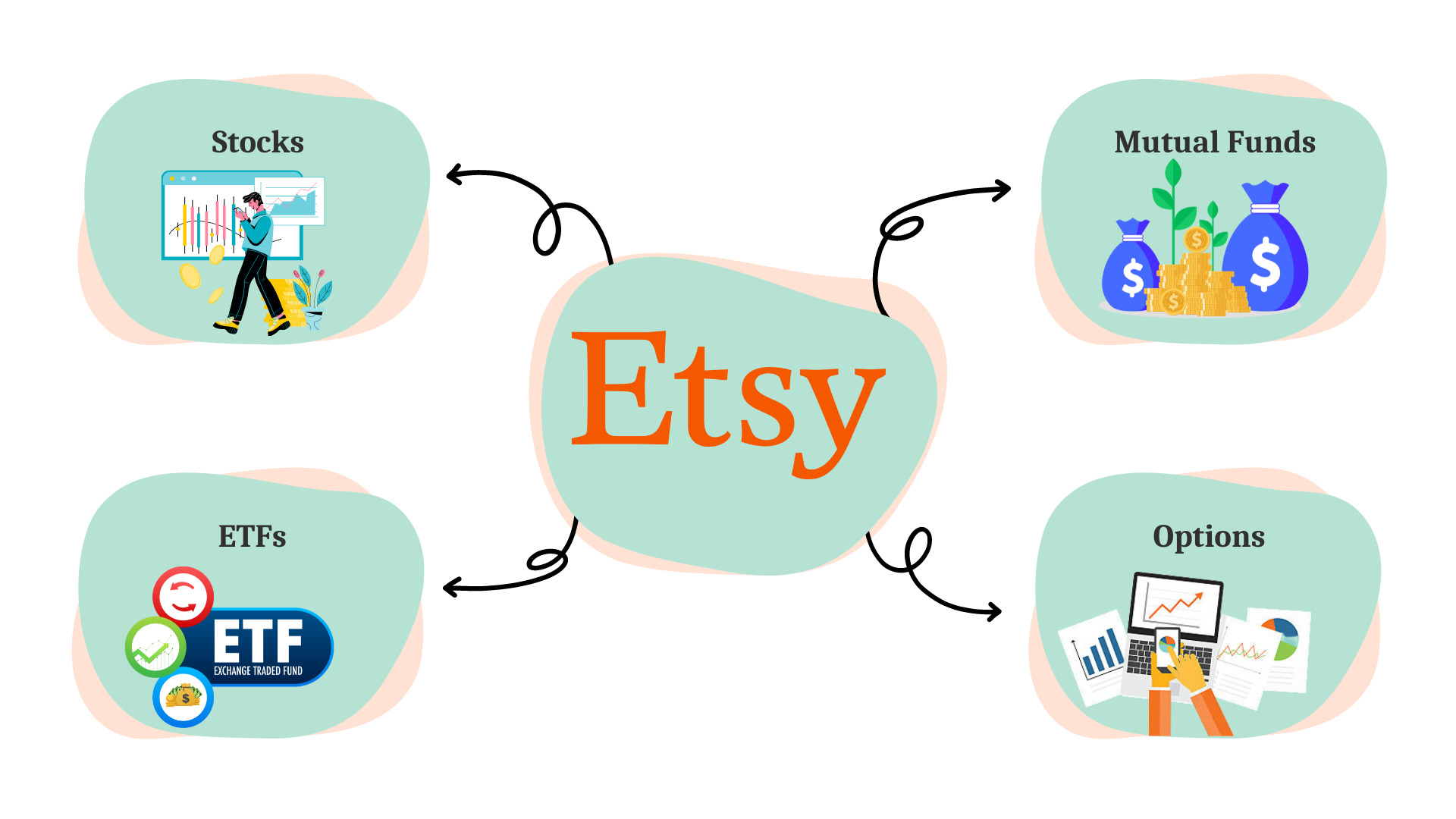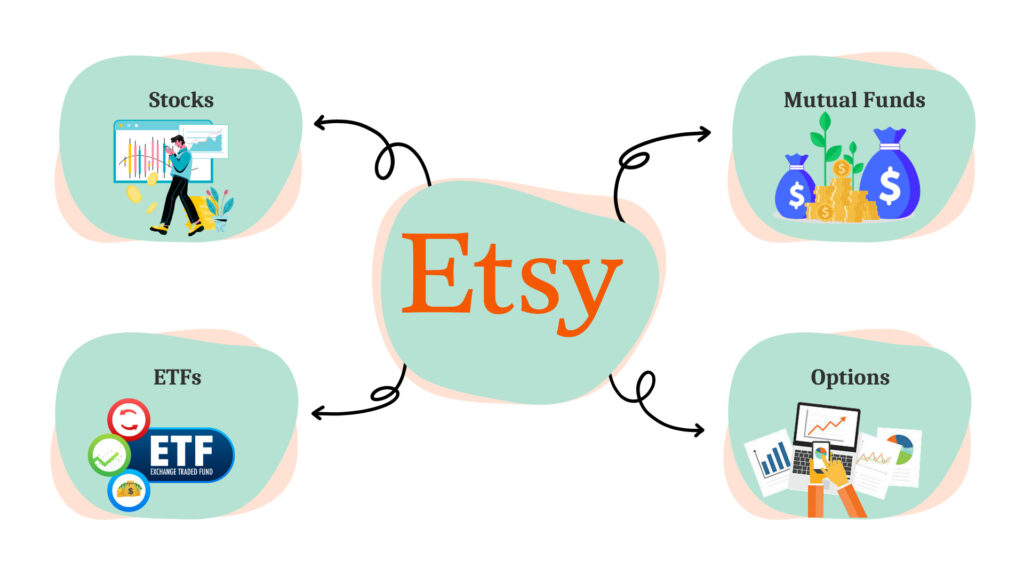 Investing in Etsy shares can be accomplished through several methods, each with its own set of advantages and considerations. This guide will impartially explore some of these methods, including Stocks, Mutual Funds, ETFs, and more.
Stocks: Investing in Etsy directly by purchasing its stocks is one of the most straightforward methods. This can be done through a brokerage account, where you deposit funds and then buy Etsy shares as desired.
Mutual Funds: Mutual funds are another way to invest in Etsy. These are investment vehicles that pool money from many investors to purchase a diversified portfolio of stocks, which could include Etsy. However, it's important to research any mutual fund to understand its holdings and strategy.
ETFs: Exchange-Traded Funds (ETFs) that include Etsy in their portfolio offer another route for investment. ETFs are similar to mutual funds but are traded on exchanges like individual stocks. By investing in an ETF, you get diversification as well as the flexibility of stock-like trading.
Options: Another advanced method of investing in Etsy is through options. For example, a cash-secured put is an options strategy that could allow you to take ownership of Etsy stocks for less than the current price.
Now, let's shift our attention to eToro, a popular platform used by millions globally for investing in various shares, including Etsy. This social trading platform provides a unique blend of traditional investing and social features to enhance your trading experience.
One can acquire Etsy shares via numerous trading platforms or digital brokerage services. Nevertheless, it's crucial to take into account aspects like charges, taxes, and investment instruments. For illustrative purposes, we'll use eToro as a case in point.
Step 1: Open an Account
Start by navigating to the homepage of eToro and selecting the Sign-up option. Shortly, you'll be directed to a registration page. Here, you are required to provide your name and email address and set a password. Alternatively, you can expedite this process by using your existing Facebook or Google accounts to create a profile.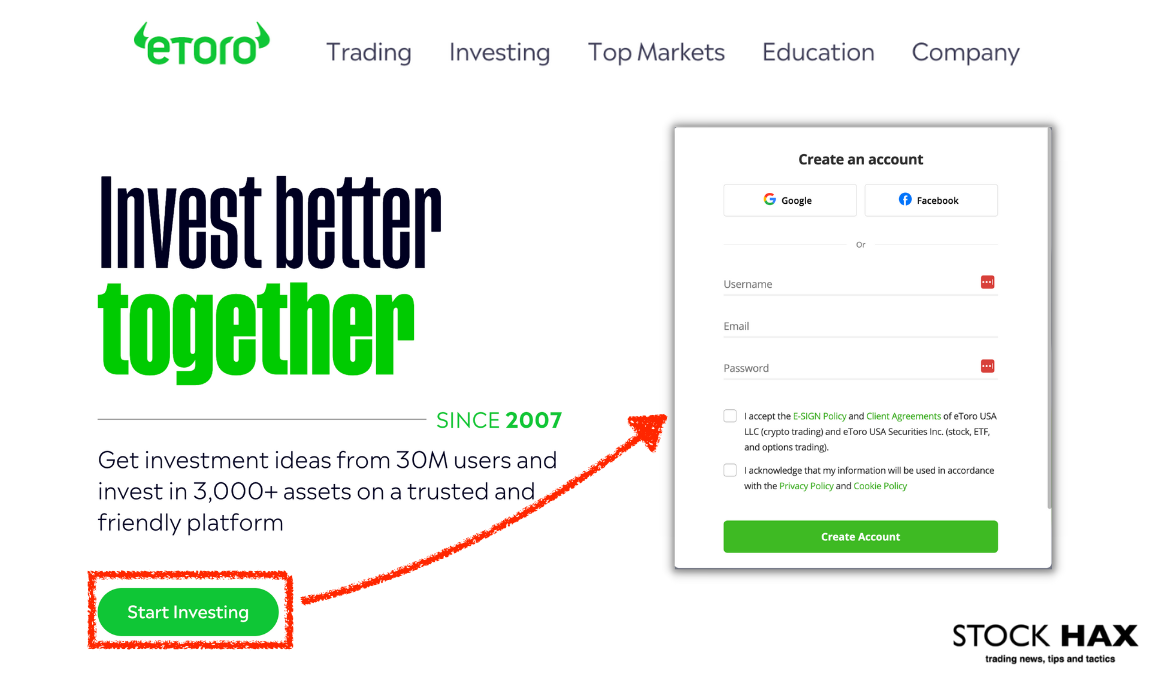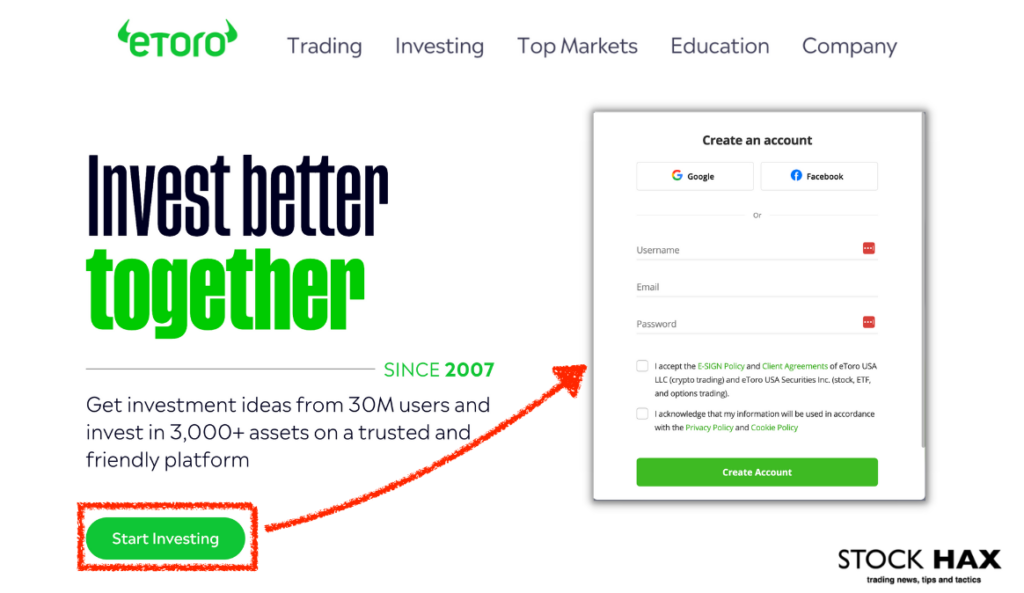 Step 2: Upload ID
This step will require you to verify your identity. Users must upload proof of identity (POI) and address (POA). The POI can be an ID, passport, or driver's license. The POA must include the user's full name, address, and date. Moreover, the document should be issued at most three months prior.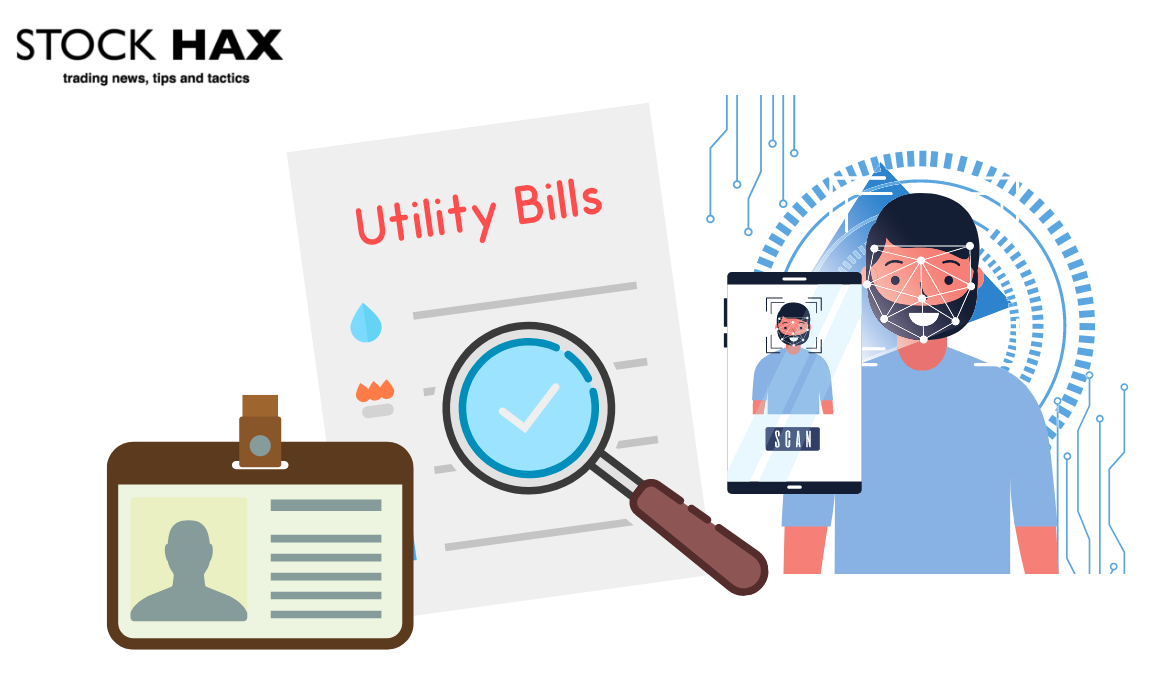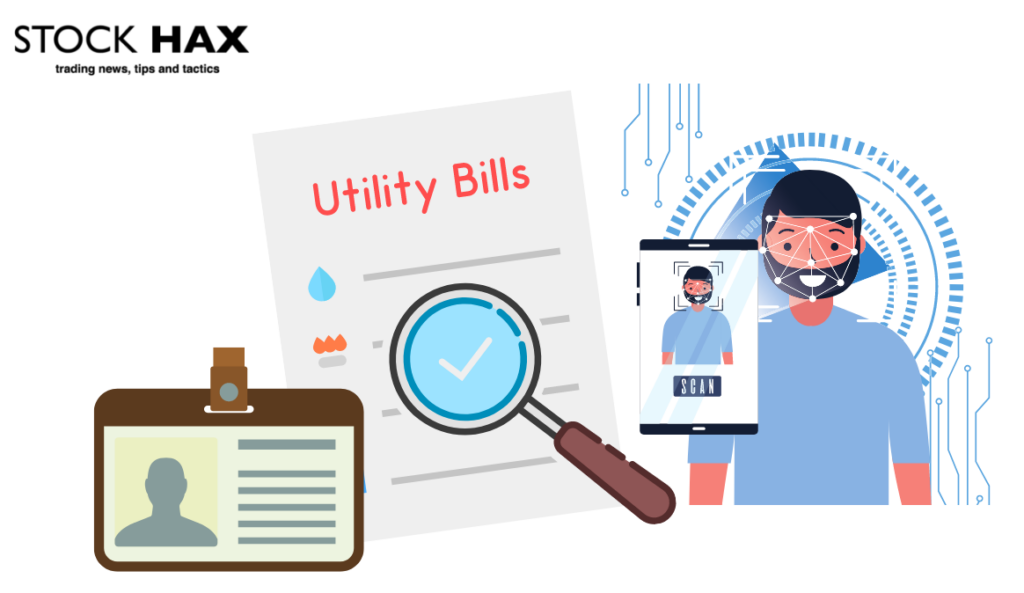 Step 3: Make a Deposit
Once your account has been verified successfully, the next step is to finance your portfolio. Conveniently, this can be done by navigating to the menu on eToro and selecting the 'Deposit Funds' option. From here, you have the ability to stipulate the specific amount you wish to allocate towards purchasing stocks in Etsy, as well as your preferred method of payment.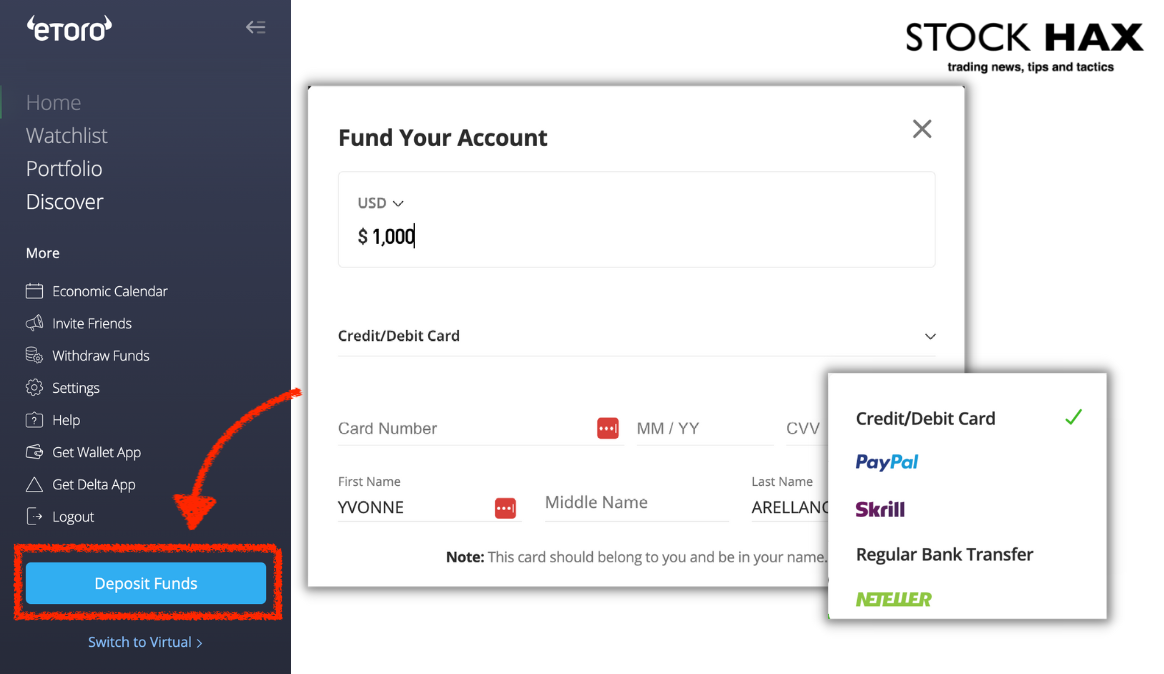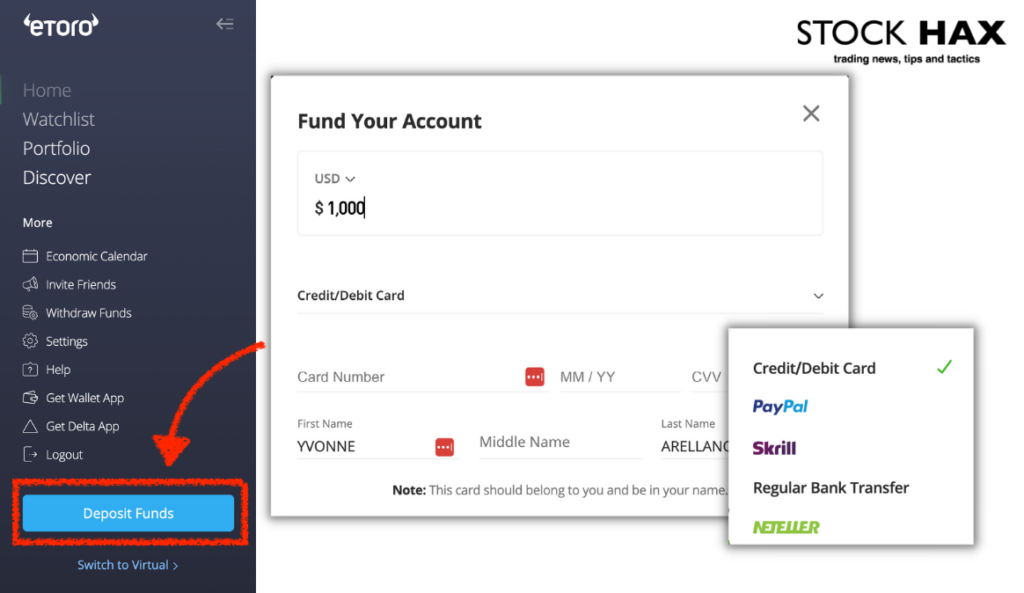 Step 4: Search for Etsy
In order to locate Etsy shares, input 'ETSY' into the search tab. If you're uncertain about the exact ticker symbol of the stock, just start typing the initial letters. The platform is designed for user-friendly navigation and will quickly showcase the most relevant results.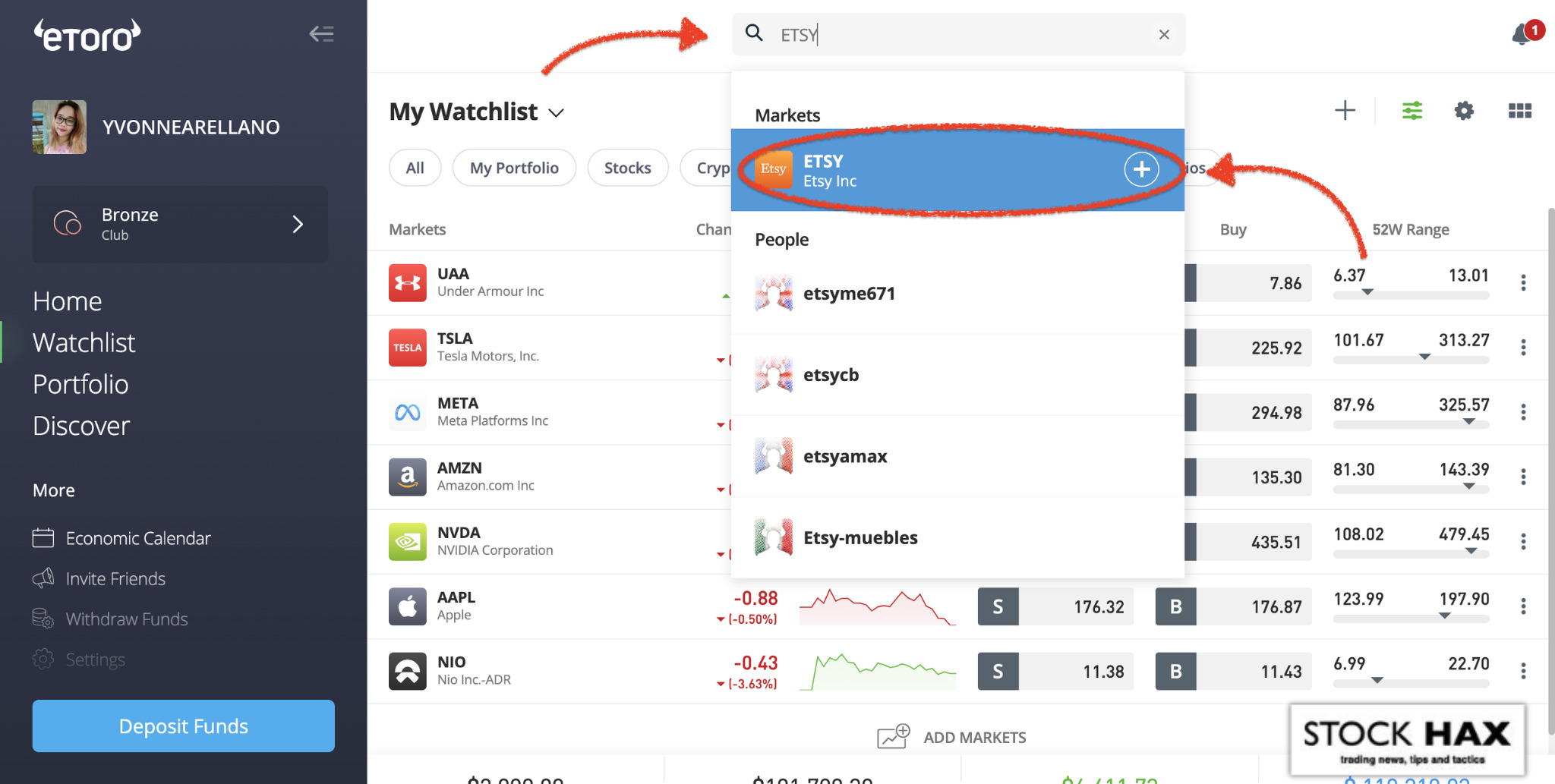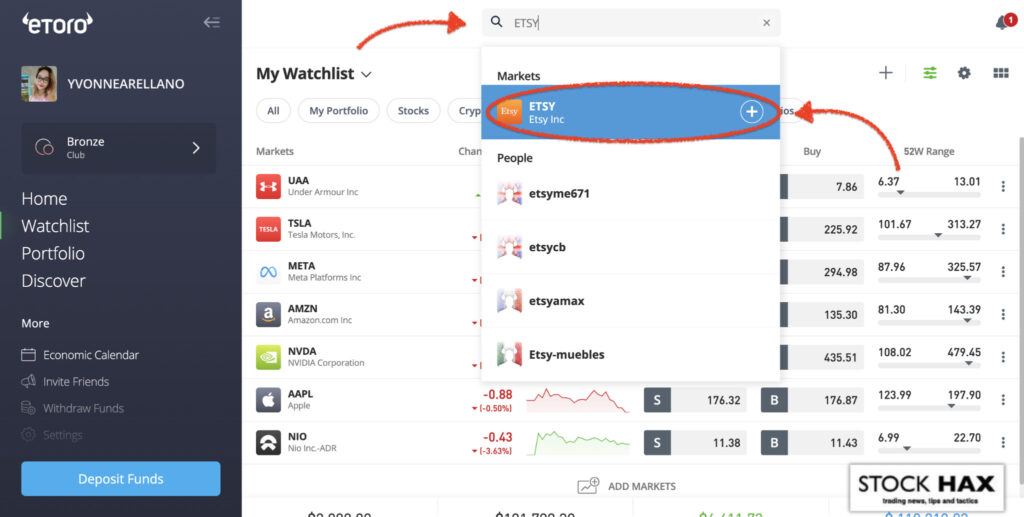 Step 5: Invest in Etsy
Once you've chosen 'ETSY,' investing through eToro becomes a breeze. By clicking on the 'Invest' button, you'll be able to decide the amount of money to invest or the number of ETSY shares you wish to buy. Upon finalizing the transaction, your newly purchased assets will be visible in your portfolio.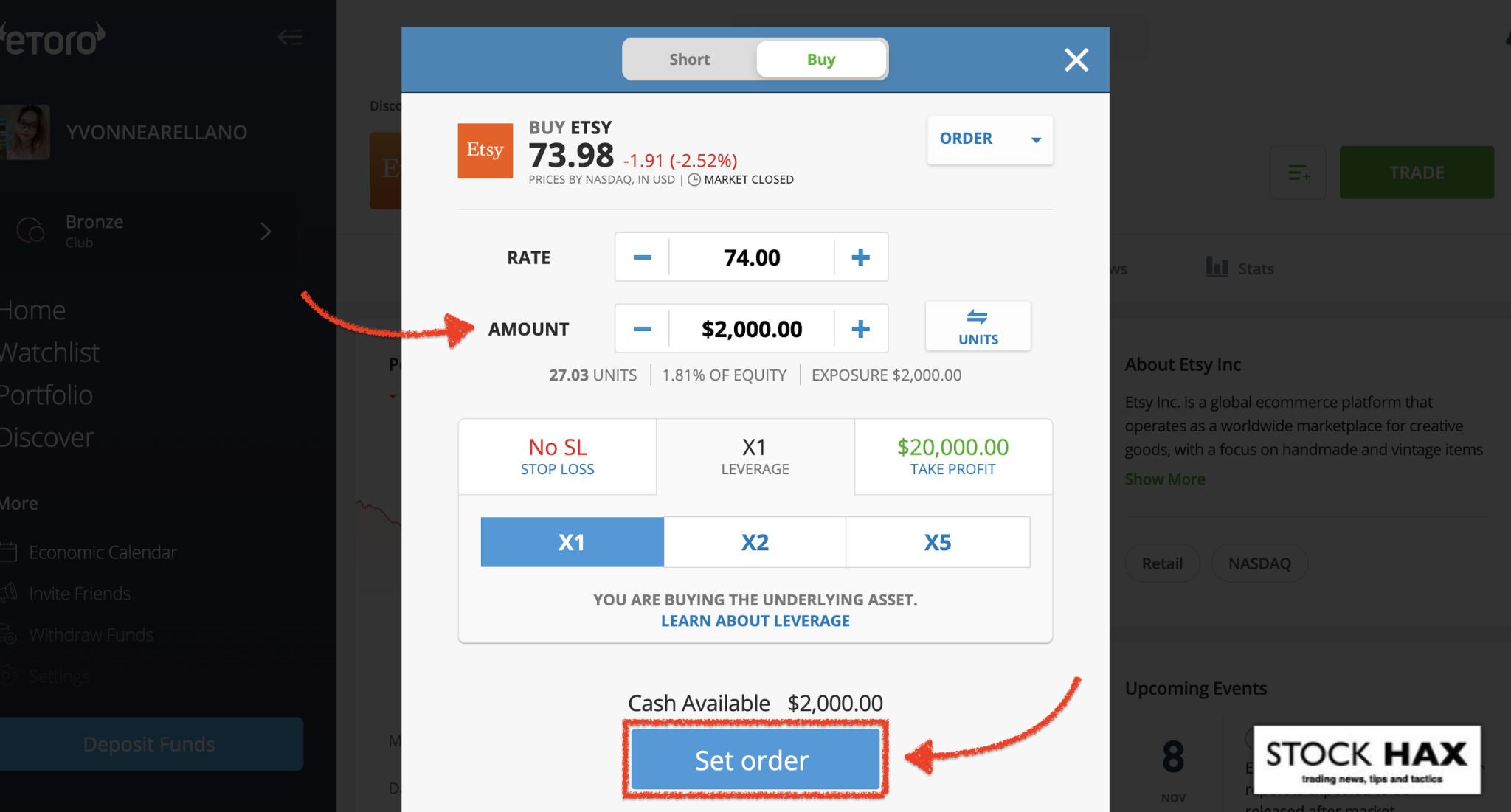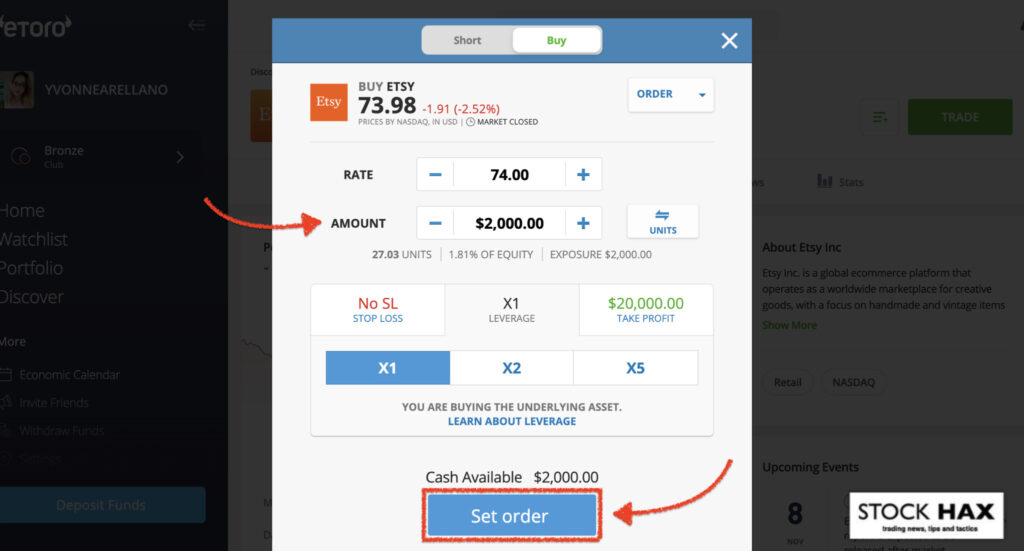 Summary
Etsy has seen significant growth over the years, displaying impressive performances in 2020 and fluctuating trends in 2019. Investment in Etsy can be achieved through various methods, including direct stock purchases, mutual funds, ETFs, and options. eToro is a widely-used platform for trading Etsy shares, and the guide above outlines a five-step process to invest in Etsy shares via eToro. It is important to remember that investing involves risks, and decisions should be made on careful evaluation.
FAQ
The first step is to open an account on a trading platform or brokerage service, for instance, eToro. You'll need to provide your personal details and set a password. Remember the golden rule of investing: always research before investing.
What documents are needed for identity verification to invest in Etsy on eToro?
To verify your identity, you need to provide your proof of identity (POI) and proof of address (POA). POI can be an ID card, passport, or driver's license. POA should confirm your full name, address, and issue date. The reason for submitting these documents is to ensure that you are a legitimate investor.
You can find Etsy shares by typewriting 'ETSY' into the search tab. The platform will present the most relevant results. Consider that you don't need to type the full ticker symbol. The initial letters are enough for the search engine to identify it.
After selecting 'ETSY,' click on the 'Invest' button. Determine the amount you wish to invest or the number of shares, finalize the transaction, and the shares will appear in your portfolio. Also, keep in mind that investing involves risks. It's important to assess the risk and make an informed decision.
Yes, like all investments, investing in Etsy shares involves risks. Decisions should be made based on careful evaluation. In all cases, it is necessary to think carefully about the amount of money you are willing to risk. You should never invest more than you can afford to lose, and consider that prices can fall as well as rise. And finally, always seek professional advice if in doubt.
Risk Disclaimer
StockHax strives to provide unbiased and reliable information on cryptocurrency, finance, trading, and stocks. However, we cannot provide financial advice and urge users to do their own research and due diligence.
Read More