This website and its content are not intended to provide professional or financial advice. The views expressed here are based solely on the writer's opinion, research, and personal experience, and should not be taken as factual information. The author is not a financial advisor and lacks relevant certifications in that regard. We highly recommend consulting a qualified financial advisor before making any investment decisions, as the information presented on this site is general in nature and may not be tailored to individual needs or circumstances.
Chipotle Mexican Grill is a prominent fast-casual restaurant chain company that has garnered a lot of popularity for its unique and innovative approach to serving Mexican-inspired cuisine.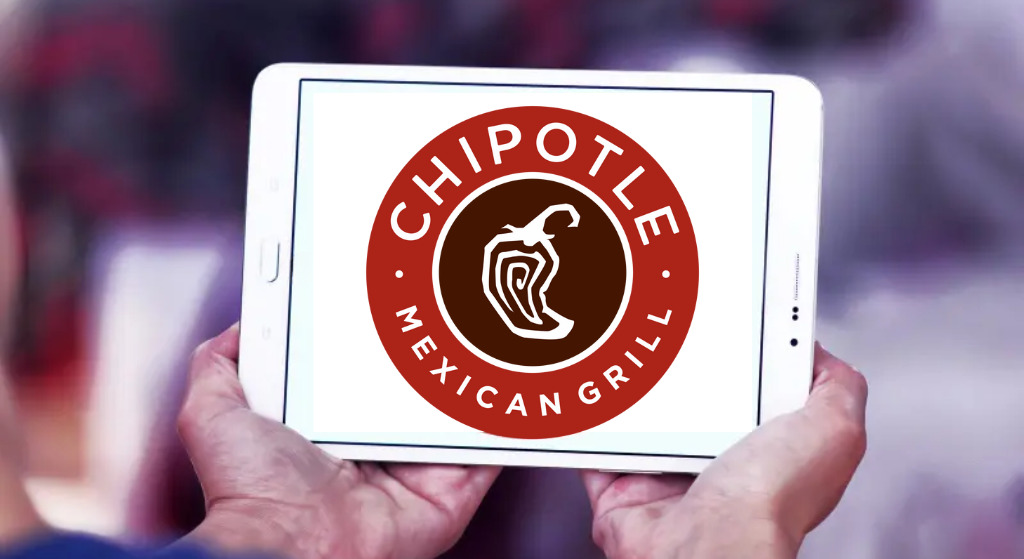 Chipotle's stock, traded on the New York Stock Exchange under the ticker symbol "CMG", has attracted a lot of attention due to the company's fast growth and solid financial performance. Whatever it is that attracts investors, making a wise investment decision requires some due diligence first.
In this post, we will show you how to buy the stock but also give you a stock price overview, which may help you understand what the stock may be sensitive to going forward. Let's get started…
CMG Stock Key Features
Before we move onto the historical stock price overview, let us take a moment to examine some of the key features that could define CMG right now:
The company's track record showcases consistent revenue growth and strong profitability, which indicates efficient cost management and an ability to attract new customers. Additionally, its success can also be attributed to its innovative menu options and strategic investments in digital ordering and delivery.

Positioned within the fast-casual dining segment, CMG capitalizes on its advantageous market position which has experienced decent growth and appears to be resilient.

Chipotle also appeals to consumers who value sustainable and responsible sourcing practices through its "Food With Integrity" philosophy. By partnering with local suppliers and advocating for ethical farming, the company is likely to sufficiently meet the rising demand for environmentally conscious dining options.

The company has embraced technology to provide a better customer experience and drive revenue growth. Through strategic investments in digital platforms, mobile ordering, and delivery services, Chipotle has successfully positioned itself at the forefront of the ever-changing dining landscape.

Chipotle has solidified its brand presence, renowned for its unwavering dedication to quality ingredients and distinctive flavor profiles. It has fostered a loyal customer base that values its unique take on Mexican cuisine, resulting in repeat patronage and the potential for sustained long-term growth.
CMG Stock Over the Years – Review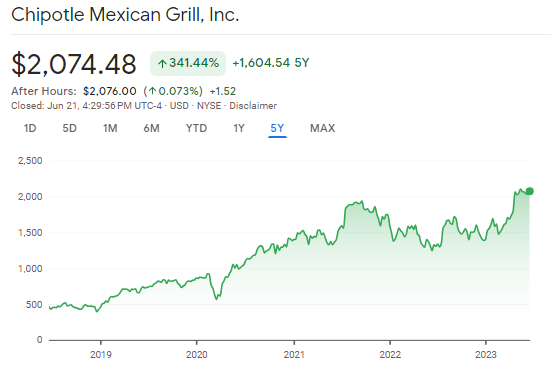 Here is where we go into a bit of depth to uncover the events that seem to be correlated with the sharpest price swings for CMG. Of course, we cannot interpret the data for you. Before you trade any stock, it's important to arrive at your own conclusions through careful examination of the historical information you will find here.
Now, CMG has had quite a run in the last couple of years. The stock price increased by about 347% in the last 5 years and is more than 50% up year-to-date. Though the growth seems to be steady over such a long time frame, there are always some days that are extraordinary. This is the case for CMG as well, so let's get into it…
CMG Stock in 2023
Such fast growth often comes with events that are closely related to the underlying business. As we said, the YTD change was approximately +50%. But in the case of CMG, that wasn't the case. It seems that it was more or less a steady growth, except for two instances:
Apr. 25: CMG experienced an after-hours price increase of about 4%, following its Q1 earnings report which indicated that it surpassed market expectations. It reported a 10.9% increase in comparable sales for the quarter, surpassing the consensus estimate of +8.5%. This figure represents a significant improvement from the +5.6% rate observed in Q4 and stands as the highest growth rate in over a year.

Feb. 07: The stock price also declined in after-hours trading by about 4% after the company released its Q4 earnings report, which fell short of expectations. Chipotle reported a 5.6% increase in comparable sales for the quarter, missing both the guidance for a mid-to-high single-digit growth and the consensus estimate of +7%. This figure indicates a decelerating trend in comparable sales, as the company had previously reported a +10.1% comp for Q2 and +7.6% in Q3.
It's not unreasonable to assume that the gains this year could be the result of good fundamentals for CMG, overall. But you be the judge.
CMG Stock in 2022
For the year 2022, we got more of the same when it comes to the nature of the events preceding price action.
Overall, the stock price went down by approximately 20% in 2022. However, it did experience a couple of breaks…
Oct. 25: CMG climbed by 4.3% in after-hours trading after it exceeded expectations with its Q3 earnings report. Comparable sales rose 7.6%, surpassing the consensus estimate of +7.4%. In-restaurant revenue grew by 22.1%, while digital sales accounted for 37.2% of total food and beverage revenue. Operating income grew by 40.3% compared to the previous year, reflecting effective cost management.

Jul. 26: The stock price of Chipotle witnessed a 7.37% surge after hours, following its performance results in the second quarter. The company delivered non-GAAP EPS of $9.30, surpassing Wall Street's expectations by $0.26. Additionally, the company reported a 16.9% increase in revenue to $2.21B, narrowly missing the consensus estimate.

Feb. 09: The stock saw a jump of 6.57% after exceeding expectations in comparable sales and providing an optimistic unit growth guidance.
CMG Stock in 2021
The stock was up about 26% in 2021, but that seems to have been a steady increase. There were only some minor moments of irregularly high same-day trading activity…
Jul. 20: Chipotle's stock was up 3.77% after the company reported a 31.2% increase in comparable sales for Q2, surpassing the consensus estimate of +29.8%, as well as the +17.2% reported in Q1. The company attributes this growth to new menu initiatives that successfully fueled sales during the quarter. Furthermore, digital sales experienced a notable 10.5% increase, accounting for 48.5% of all sales.

May 20: The stock price increased by 3.3% after it reported its strong sales growth.
Investing in Chipotle's shares is a relatively simple process. To begin, you'll need either a brokerage account or a bank account that supports stock trading and provides access to CMG. If you don't have either, you can sign up for a brokerage account online. Some well-established brokers include Charles Schwab, Interactive Brokers, Fidelity, and eToro.
If you don't already have a broker, we recommend considering eToro as it offers a user-friendly platform that can be suitable for new traders. In addition to stocks, this broker provides a diverse range of investment options, including CFDs, forex, commodities, cryptocurrencies, and ETFs.
Now, let's walk you through the process of opening an account on eToro and purchasing CMG shares.
The process of buying stocks is similar across brokerage platforms. Even if you choose not to sign up with eToro, the following steps will give you a general idea of what needs to be done to go from registering an account to having the shares you want in your portfolio.
Step 1: Open an Account
Visit the eToro website and locate the "Sign-up" button. Clicking on it will take you to the registration page, where you'll be asked to provide personal information such as your name, email address, and a password. Alternatively, you can create a profile by linking your existing Facebook or Google accounts.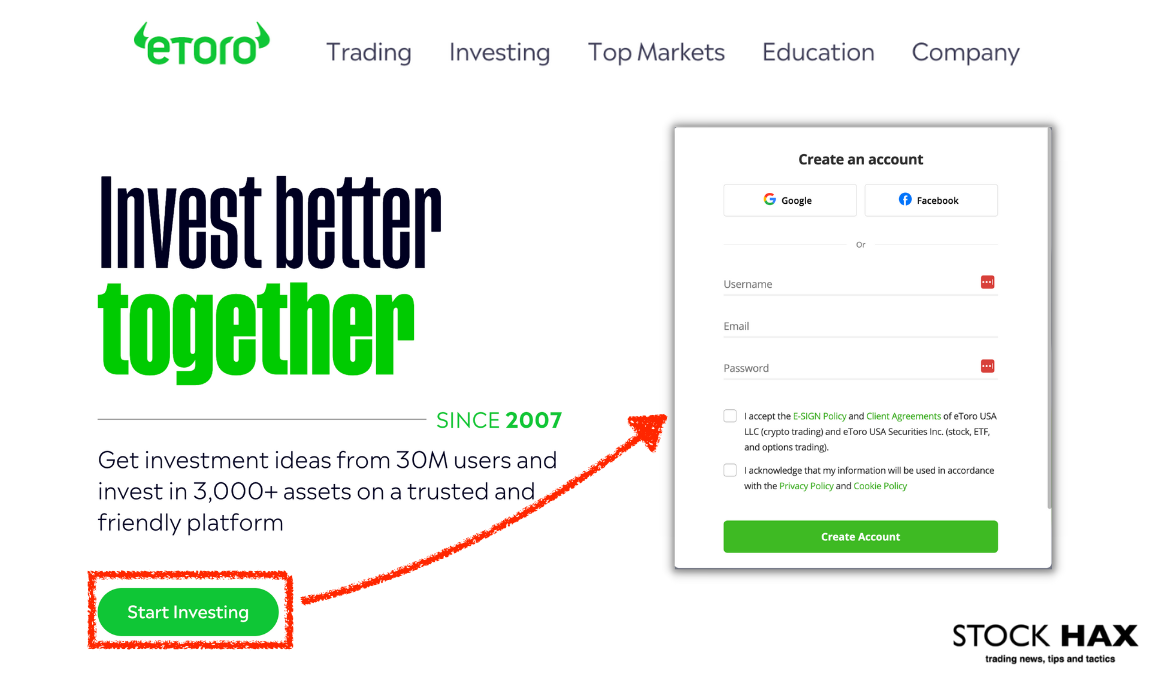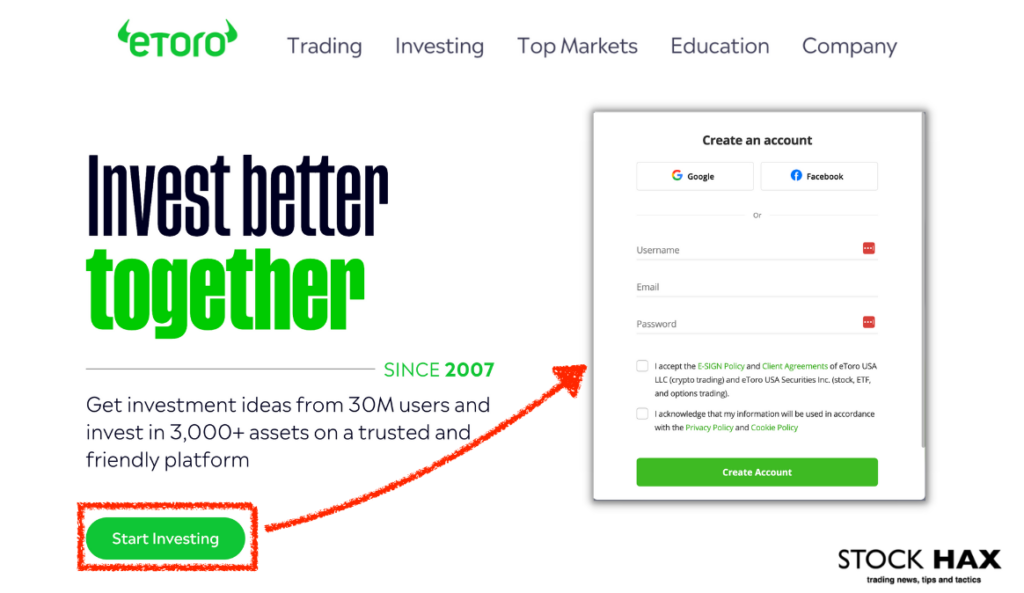 Step 2: Upload ID
Next, you'll need to undergo an identity verification process. This involves submitting proof of identity (POI) and proof of address (POA) documents. Acceptable forms of POI include passports, ID cards, and driver's licenses. The POA document should clearly display your full name, address, and a recent issuance date, preferably within the last three months.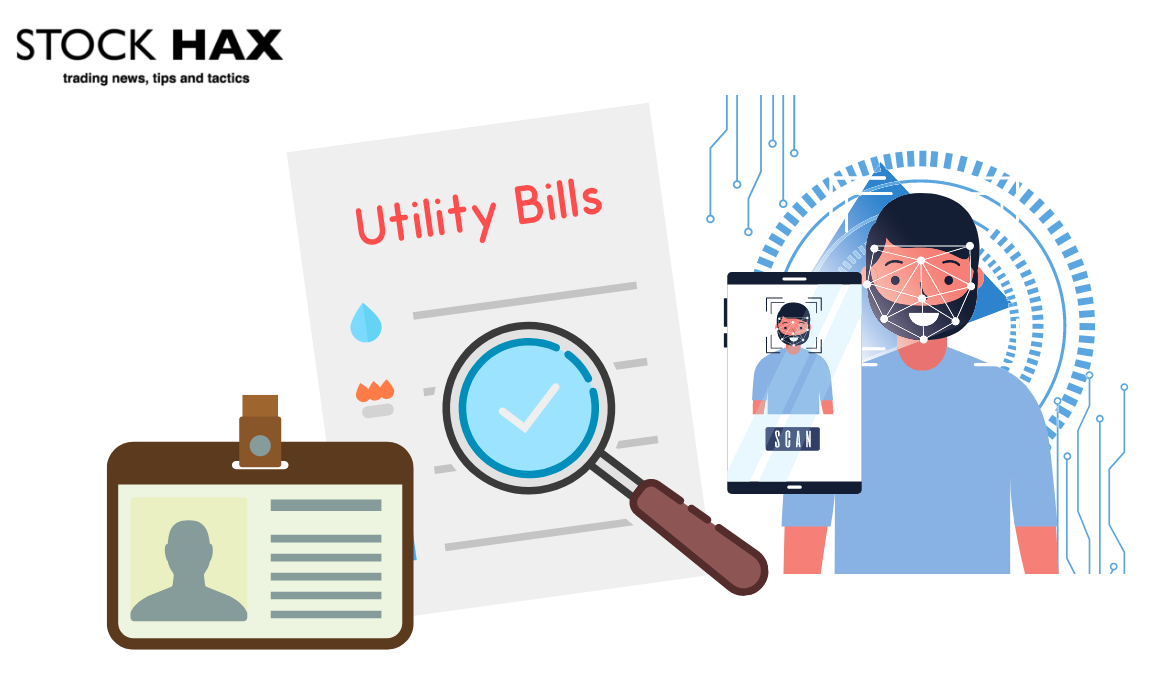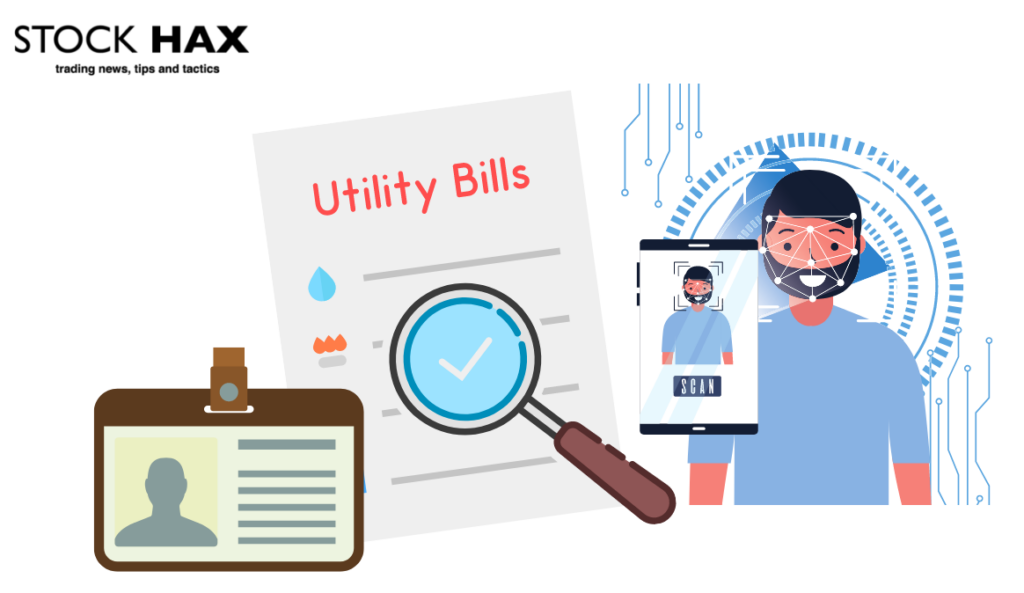 Step 3: Make a Deposit
Once your account verification process is successfully completed, you'll need to fund your eToro account. Navigate to the menu on eToro's platform and find the "Deposit Funds" button. Click on it to select the desired investment amount for CMG, choose the currency, and select your preferred payment method.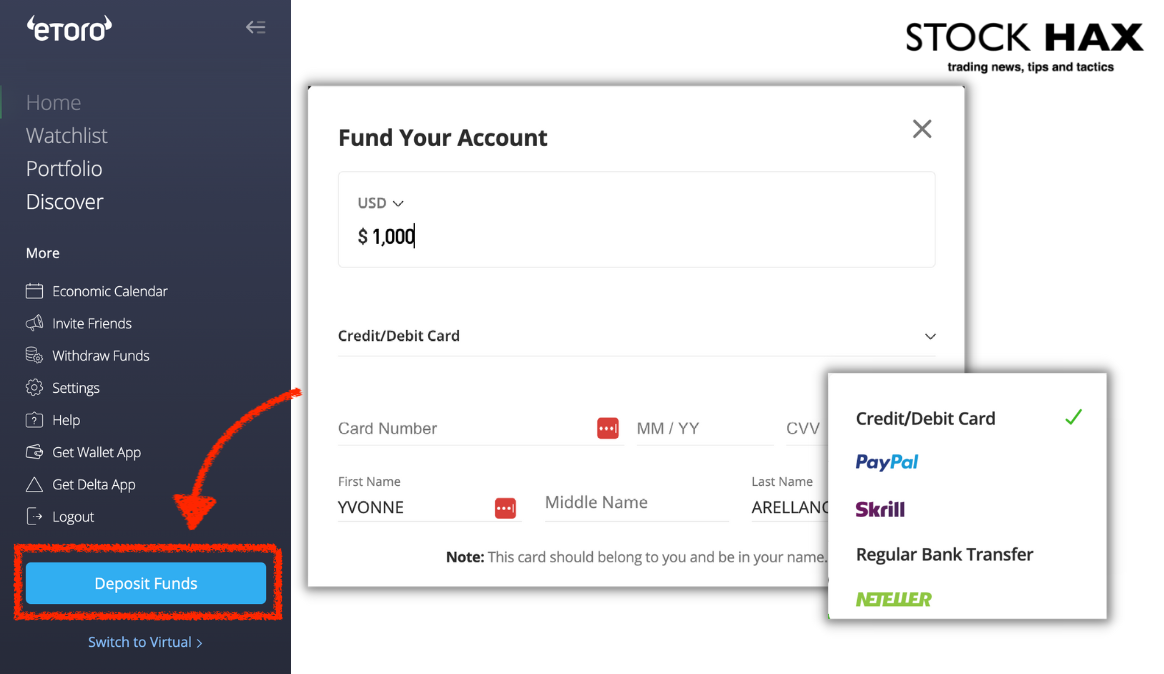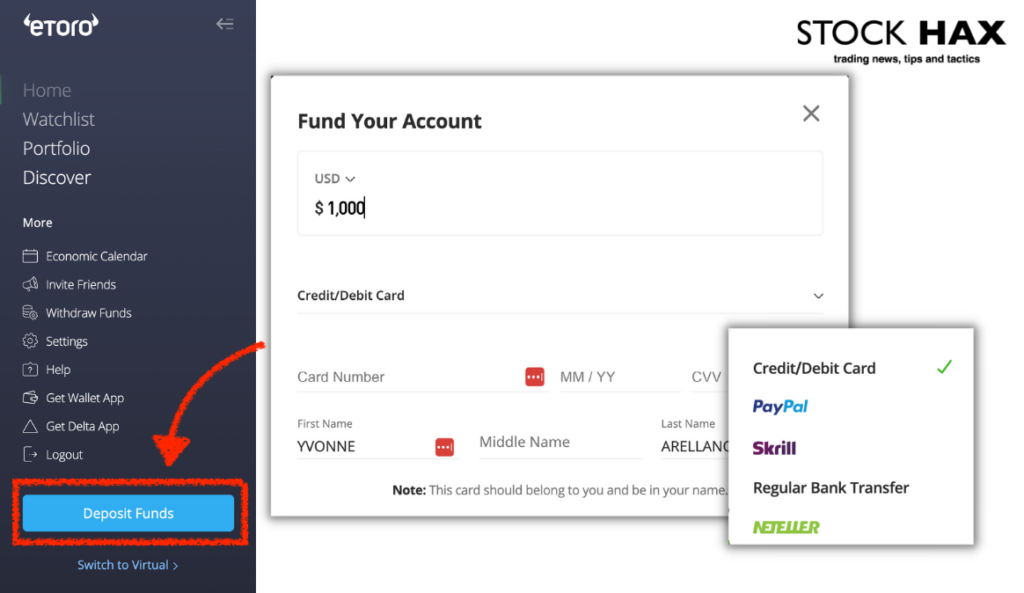 Step 4: Search for CMG
To locate Chipotle's stock on the eToro platform, simply enter "CMG" in the search tab. If you're unsure of the ticker symbol for other stocks you might be interested in, you can enter the initial letters of the company's name, and the platform will present the most relevant results. This feature makes it convenient to navigate and explore different stocks and ETFs quickly.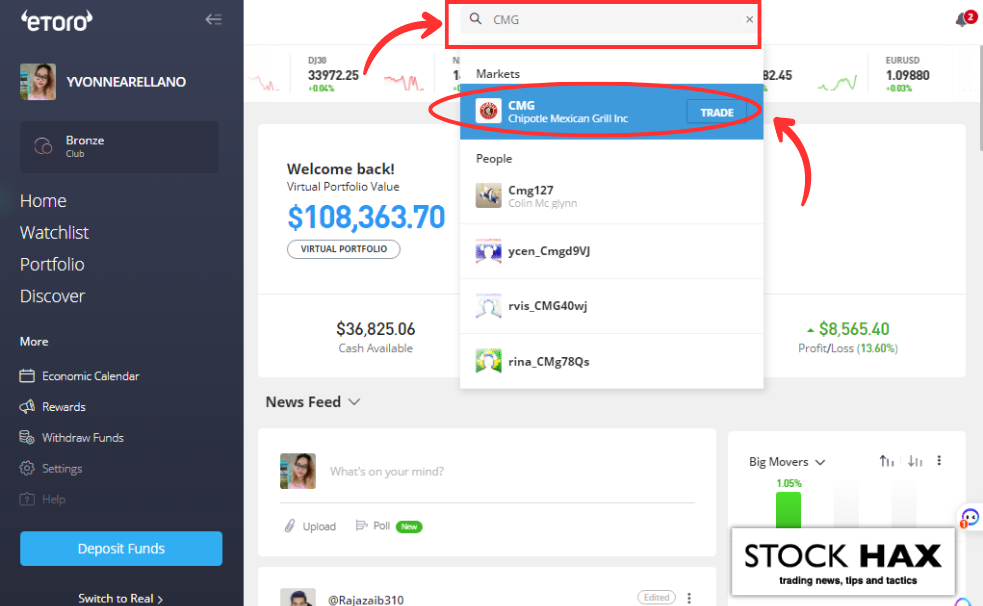 Step 5: Invest in CMG
After selecting CMG on the eToro platform, click on the "Invest" button located in the upper right corner. From there, you can specify the desired amount you want to invest or the number of shares you wish to purchase. Once completed, you'll be able to view your newly acquired CMG shares in your portfolio.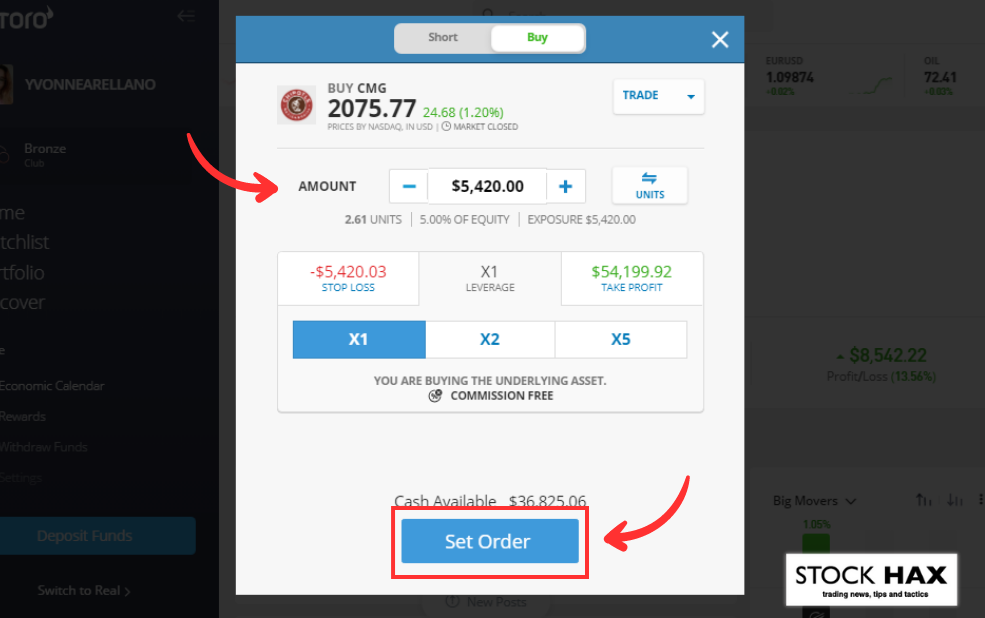 Summary
Now you know how you can invest in Chipotle. And hopefully, you also know how to trade any stock after reading this post.
We also hope that you equipped yourself with a bit more insight into what events seem correlated with sharp price movements for CMG. That way, you may have a better chance at navigating the ups and downs that come with trading CMG.
But certainly don't stop here. Do more research into the fundamentals of Chipotle's business if you are looking to hold the stock for the long term or use technical analysis if you are interested in trading it in the short term.
Remember that this post wasn't meant to provide any financial advice or serve as a reason to either invest or not invest in CMG. It was supposed to mainly show you how you can buy the stock and what its price seems to have reacted to in the past.
FAQ
What is the current market capitalization of Chipotle?
As of 6/17/2023, the market capitalization of Chipotle was approximately $56.6 billion.
Is Chipotle stock overvalued?
It seems so as the TTM P/E for the stock currently is 54.57, while the sector median ratio is at 12.77. More so, the TTM P/S ratio for CMG is 6.34 and the sector median's much lower at 0.87. Last, the TTM P/B ratio for the stock is 22.82, while the sector scores one of 2.25.
Why is Chipotle's stock price so high?
A possible reason Chipotle's stock price is high is due to the company's consistent track record of robust financial performance, marked by substantial revenue growth and relatively high profitability.
Has Chipotle ever undergone a stock split?
No, Chipotle doesn't seem to have ever split its stock.
What are the key risks that come with investing in Chipotle?
One key risk that you should be aware of when investing in Chipotle is food safety, since the company has experienced past outbreaks of foodborne illnesses, which can negatively impact sales and consumer trust, and therefore affect the stock price. Additionally, Chipotle faces competition in the fast-casual dining industry. Last, you should know that broader economic downturns and fluctuations in commodity prices can affect Chipotle's profitability because the company relies on sourcing high-quality ingredients.
Risk Disclaimer
StockHax strives to provide unbiased and reliable information on cryptocurrency, finance, trading, and stocks. However, we cannot provide financial advice and urge users to do their own research and due diligence.
Read More