This website and its content are not intended to provide professional or financial advice. The views expressed here are based solely on the writer's opinion, research, and personal experience, and should not be taken as factual information. The author is not a financial advisor and lacks relevant certifications in that regard. We highly recommend consulting a qualified financial advisor before making any investment decisions, as the information presented on this site is general in nature and may not be tailored to individual needs or circumstances.
Taiwan Semiconductor Manufacturing Company Limited (NYSE ticker: TSM) is a world-renowned producer and the largest dedicated independent semiconductor foundry globally. Established back in 1987, the company is known for its advanced manufacturing processes and cutting-edge chip technologies, serving a wide range of industries, including automotive, consumer electronics, telecommunications, and more. It collaborates with numerous global semiconductor companies to design and produce high-performance chips for various applications.
With its commitment to innovation and quality, Taiwan Semiconductor has established itself as a key player in its industry, with a significant contribution to technological advancements and as a driver of growth in many sectors. This article provides an overview of how to trade TSM, offering step-by-step guidance to potentially interested investors.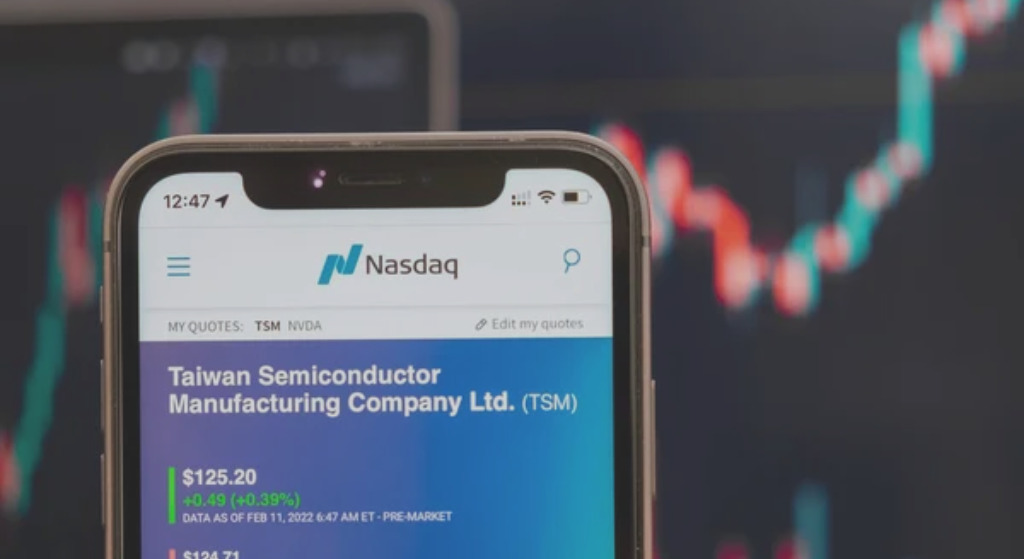 TSM Stock Key Features
Strong Earnings Performance: Taiwan Semiconductor Manufacturing Co has a track record of delivering strong earnings results. As the largest dedicated independent semiconductor foundry, TSM has consistently reported robust financial performance since 2015, driven by its advanced manufacturing processes, technological leadership, and partnerships with major global semiconductor companies. Investors can benefit from TSM's solid earnings track record, indicating its ability to generate profits and potentially provide attractive returns.
Technological Leadership: TSM is known for its technological leadership in the semiconductor industry. The company invests heavily in research and development, continually pushing the boundaries of chip manufacturing processes and enhancing its technological capabilities. TSM's focus on innovation allows it to produce high-performance chips that are in demand across various sectors, making it a sought-after partner for leading semiconductor companies worldwide.
Global Market Presence: With a global market presence, TSM serves customers from diverse industries across the world. The company's chips are used in a wide range of applications, including smartphones, automotive electronics, artificial intelligence, cloud computing, and more. TSM's broad customer base and geographic reach provide it with a stable revenue stream and exposure to multiple growth sectors, reducing its dependence on any single market or customer.
Strategic Partnerships: TSM collaborates with major semiconductor companies, partnering with them to develop and manufacture cutting-edge chips. These partnerships not only enhance TSM's technological capabilities but also create long-term relationships and secure a steady stream of orders. The company's strong network of strategic partnerships positions it as a key player in the semiconductor ecosystem, allowing it to capture market opportunities and drive growth.
Industry Growth and Demand: The semiconductor industry is experiencing strong growth and is poised for further expansion in the coming years. Technological advancements, such as the proliferation of 5G, artificial intelligence, the Internet of Things (IoT), and autonomous vehicles, are driving increased demand for high-performance semiconductors. As a leading player in the industry, TSM is well-positioned to capitalize on this growth and benefit from the rising demand for its advanced chip manufacturing capabilities.
TSM Stock Over the Years – Review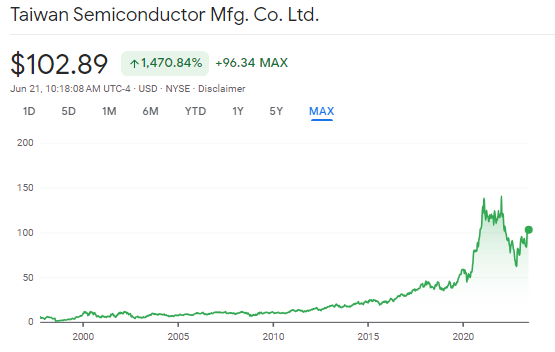 In the course of the past five years, the company's stock has experienced significant growth, primarily driven by the boosting demand for semiconductors and TSM's technological leadership. The main cause for the price increase was the surge in demand for chips, fueled by emerging technologies such as 5G, artificial intelligence, and the Internet of Things. Taiwan Semiconductors Co.'s strong earnings performance, strategic partnerships, and global market presence have positioned it as one of the dominant players in the industry, leading to positive market sentiment and fueling the stock's upward trajectory. Meanwhile, there were also drawbacks, which we will highlight in this piece.
TSM Stock in 2023
In 2023, TSM exhibited strong performance, with not much volatility in total revenue, net income, and earnings per share (EPS). The company's robust financial results reflect its ability to capitalize on the growing demand for semiconductors. There was a significantly positive surprise in the company's EPS, with the reported earnings per share being 7.39% above the estimate. This led to a rebound in the stock price after the big crash in 2022.
Looking ahead, TSM is well-positioned to continue benefiting from the increasing semiconductor demand, which is expected to drive its financial performance in the remainder of the year.
TSM Stock in 2022
Throughout 2022, TSM experienced robust growth in total revenue, reporting a substantial 33.62% increase compared to the previous year. The company's ability to capitalize on the surging demand for semiconductors, driven by emerging technologies and increased digitalization across industries, contributed to this impressive revenue growth.
Moreover, TSM demonstrated exceptional operational efficiency and profitability during the year, as reflected in its net income figures. The company reported a substantial 59.65% increase in net income compared to the previous year, underscoring its ability to generate strong profits and effectively manage costs.
One noteworthy aspect of TSM's performance in 2022 was the series of positive EPS surprises in each quarter. These positive surprises indicate that TSM consistently outperformed market expectations and delivered better-than-anticipated financial results. Such consistent positive surprises demonstrate the company's operational strength, effective management, and ability to drive value for its shareholders.

Despite TSM's strong financial performance in 2022, the stock price experienced a decrease. Various factors, including market sentiment and industry dynamics, can influence stock prices beyond a company's financials. It is important to consider broader market conditions when analyzing stock price movements.
TSM Stock in 2021
In 2021, TSM delivered a positive performance, with an overall increase in the stock price. The company's financial results for the year reflected solid growth and positive market sentiment. TSM experienced significant progress in key financial metrics, including total revenue and net income, contributing to investor confidence and driving the stock price upward. Despite the challenges faced by the semiconductor industry, TSM's resilience, strategic positioning, and strong market demand propelled its success in 2021. The stock price increase reflects investors' recognition of TSM's performance and its potential for sustained growth.
TSM Stock in 2020
In 2020, TSM achieved remarkable success, characterized by significant increases in financial metrics, positive surprises in earnings per share, and an astonishing surge in the stock price by 87.68%. The company's strong financial performance was driven by multiple factors, including robust demand for semiconductors, TSM's technological leadership, and effective operational management. TSM's ability to capitalize on emerging technologies and its strategic partnerships contributed to the impressive growth in financial metrics. The surge in the stock price reflects investor confidence in TSM's performance and its position as a key player in the semiconductor industry. Overall, 2020 was a highly successful year for TSM, demonstrating its resilience and ability to deliver exceptional results.
TSM Stock in 2019
In 2019, TSM delivered mixed results in terms of financial performance. While the company faced some challenges, the stock price experienced a significant increase of around 57.41%. Despite the mixed financial results, the stock price surge indicates investor optimism and confidence in TSM's long-term growth prospects. Factors such as market sentiment, investor expectations, and industry dynamics likely played a role in driving the stock price higher, outweighing any concerns related to the company's specific financial performance in that year. The stock price increase highlights TSM's market position and its ability to generate investor interest even in the face of mixed financial performance.
There are multiple ways of investing in Taiwan Semiconductors, both directly and indirectly. Potential investors may participate in the company's future growth in the ways described below:
Company shares: The most traditional way to invest in TSM is by purchasing the company's stocks through a broker. This allows investors to directly own shares of the company and potentially benefit from invested capital appreciation and dividend payments.
Mutual Funds (MFs): These funds pool money from multiple investors to invest in a diversified portfolio of stocks, including TSM shares. Investing in mutual funds provides access to professional management and diversification, spreading risk across multiple securities.
Exchange-Traded Funds (ETFs): These are mostly index-linked investment funds that trade on stock exchanges and aim to replicate the performance of a specific index or sector. Investors can find ETFs that include TSM, offering a cost-effective way to gain exposure to the company.
Crowdfunding: In some cases, TSM shares may be available for investment through crowdfunding platforms. These platforms allow individuals to invest in private companies alongside other investors, providing an opportunity to participate in TSM's growth.
eToro: eToro is a popular online brokerage platform that offers a user-friendly interface for trading stocks, including TSM shares. With eToro, investors can easily open an account, access real-time market data, and invest in TSM shares with ease.
TSM may be acquired through a traditional broker like your bank or on one of many online brokerage platforms. It is, nevertheless, critical to examine fees, tax implications, as well as investing and research tools offered by the broker you may opt for. As an example, we will showcase a stepwise process doing it on eToro and it's quite similar to doing it on other online platforms.
Step 1: Open an Account
To begin, visit the eToro website and select the Sign-up option. The registration page will appear in a few seconds. You will then be prompted to enter your name, email address, and password. You may also create a profile using your Facebook or Google account.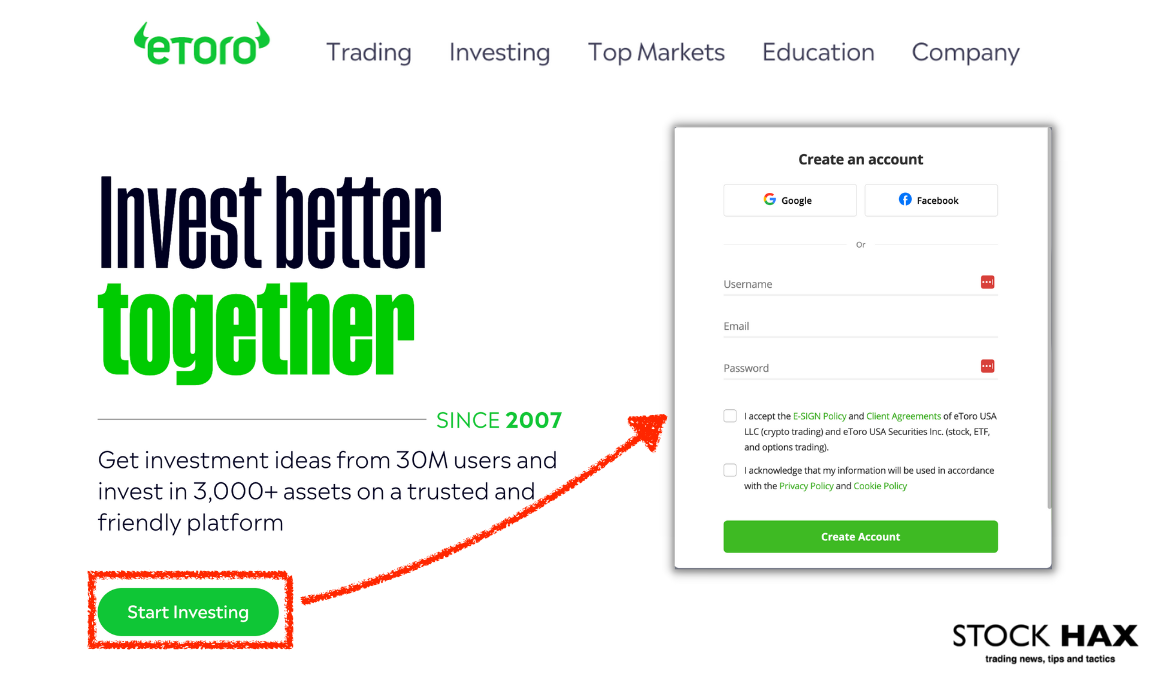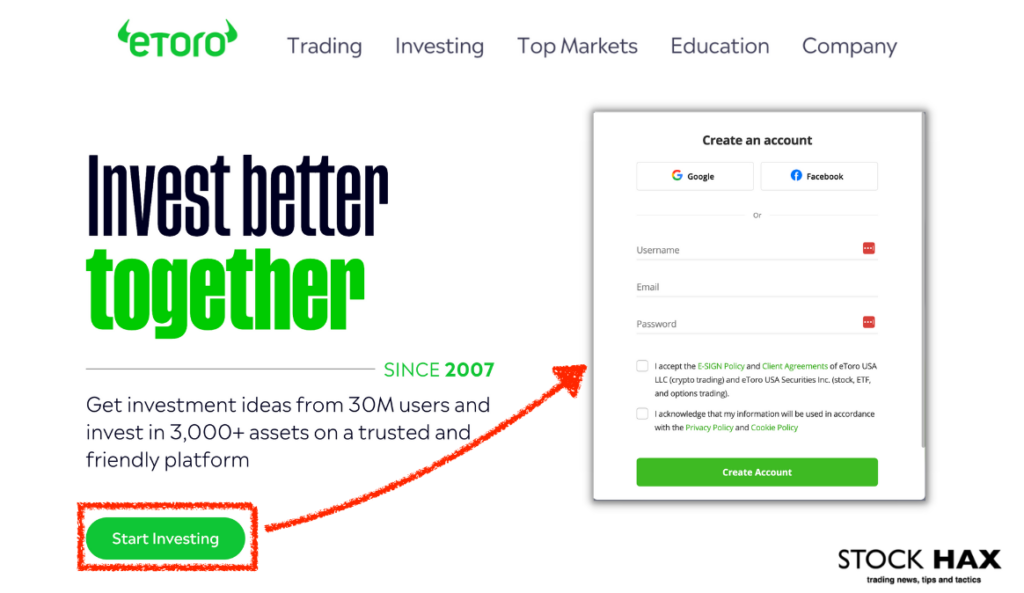 Step 2: Upload ID
This step will need you to verify your identity. Users must provide identity as well as proof of residency. Identification documents such as an ID, passport, or driver's license might be utilized. The evidence of residency must include the user's full name, address, and birth date. At least three months in advance, the content should be made available.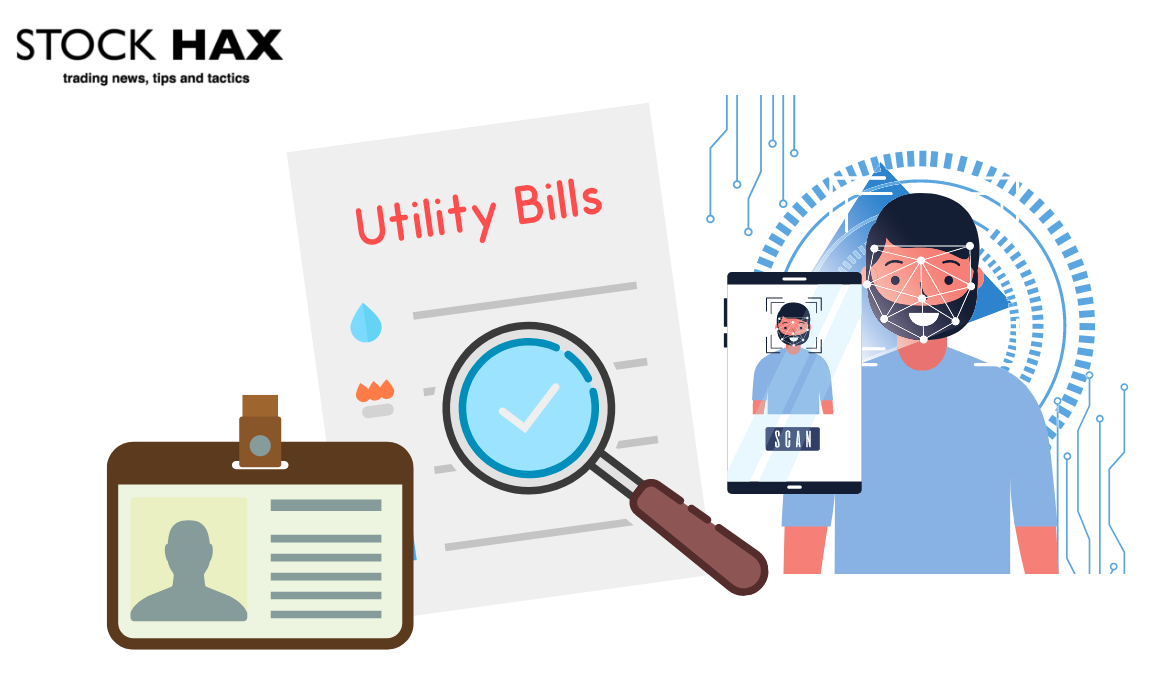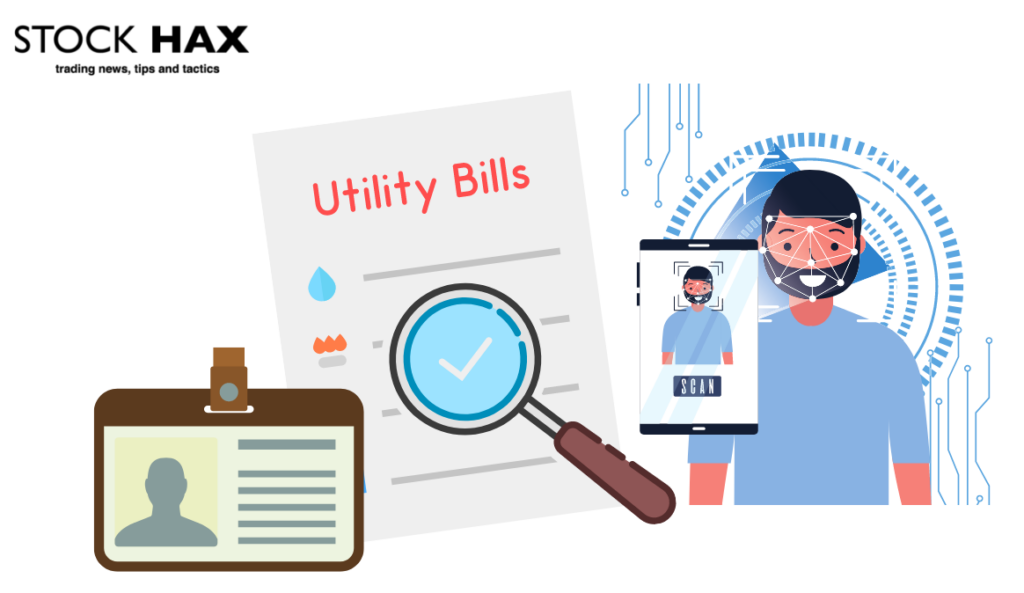 Step 3: Make a Deposit
You must fund your profile as soon as your account has been confirmed. Navigate to the eToro menu and choose the Deposit Funds option. You may also select the amount of money to invest in TSM stocks, the currency, and the payment method.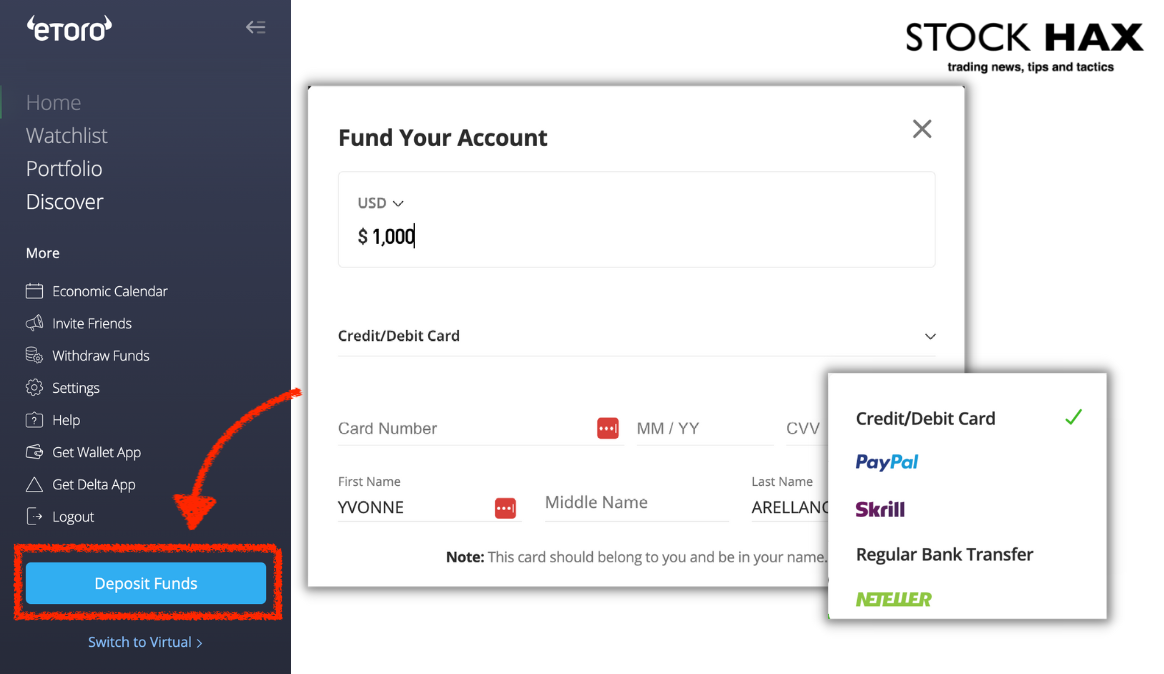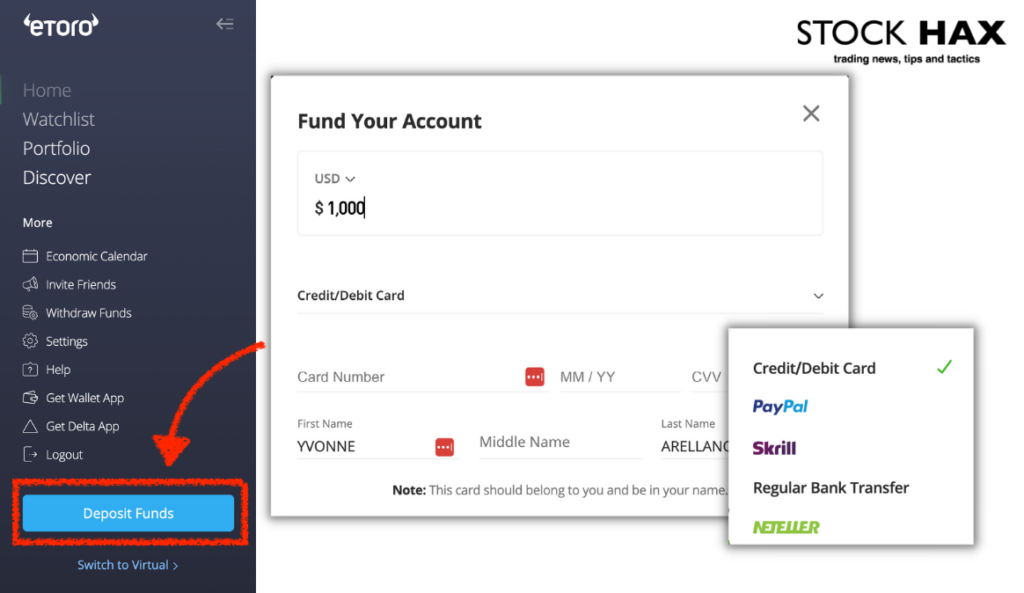 Step 4: Search for TSM
To search and find the stock of Taiwan Semiconductor Manufacturing Company Limited, simply type TSM or the full company name in the search field. The eToro website is simple to use and will quickly display the most relevant results first.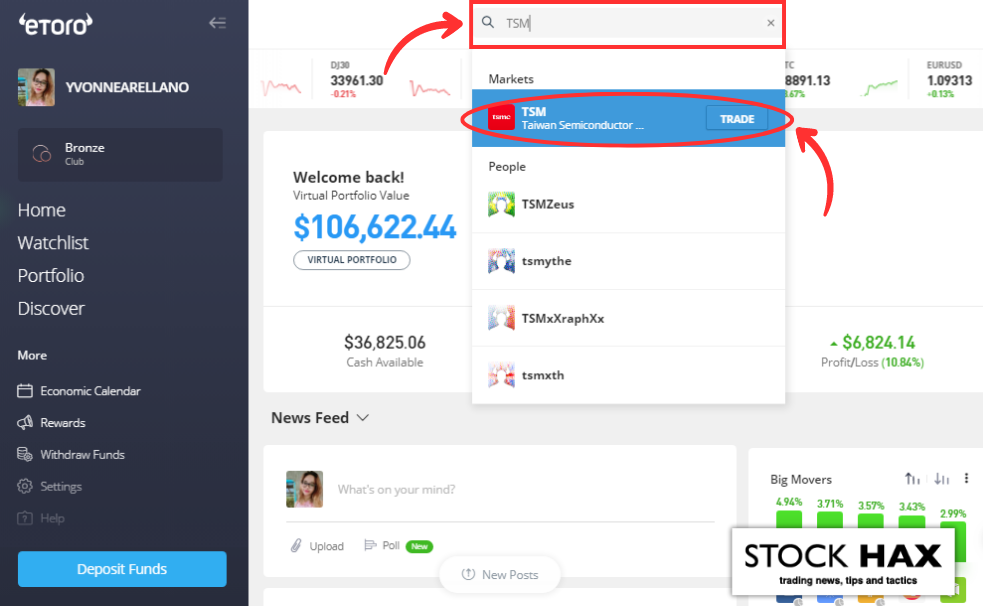 Step 5: Invest in TSM
After selecting TSM shares on eToro, you can easily invest in it next if you decide to do so. As a final step, you just need to enter either the number of shares you wish to buy or the amount you want to allocate to this stock position. Once the transaction is completed, you would be able to see your newly added position in your portfolio overview.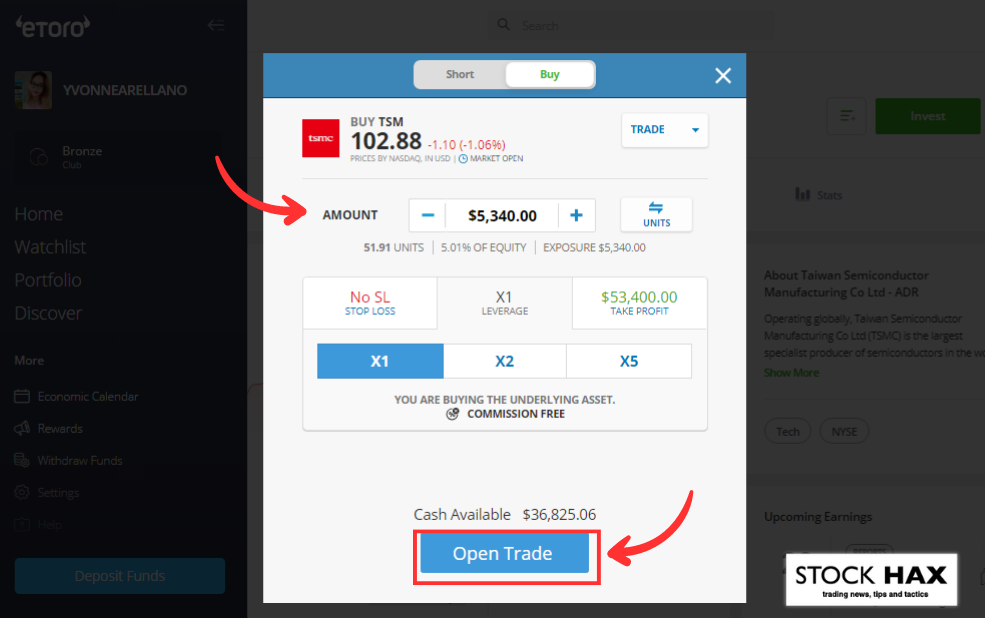 Summary
There are different ways of investing in TSM, which may offer potential investors interesting options to participate in the company's future development and growth. Whether through traditional stock purchases, MFs, ETFs, or crowdfunding, individual investors may align their investment strategies with their own preferences and risk profiles.
Additionally, online brokerage platforms like eToro provide accessible and user-friendly ways to invest in TSM shares, offering real-time market data, research tools, and a community of traders for knowledge sharing. The stock price performance of TSM over the years reflects the market's recognition of the company's technological leadership and its position within the semiconductor industry.
Regardless of the chosen investment option, conducting proper research and considering individual financial goals is crucial to making balanced investment decisions. By leveraging the available investment alternatives, investors can participate in TSM's exciting journey and potentially reap the rewards of its success in the dynamically evolving semiconductor universe.
FAQ's
What is "tsmc 주가"?
"TSMC 주가" refers to the stock price of TSMC, which stands for Taiwan Semiconductor Manufacturing Company. TSMC is a leading semiconductor manufacturer and its stock price, or "주가" in Korean, represents the value of its shares in the stock market at a given moment.
Does TSM pay regular dividends?
Yes, TSM has 17 years of history in dividend payouts to its shareholders. The next quarterly dividend payment is scheduled in just 3 days, on 16.06.2023 calculated by a yield of 2.07%, which is estimated on an annual basis.
What is TSM's role in the semiconductor industry?
TSM plays a vital role in the global semiconductor industry, as one of the world's largest dedicated semiconductor foundries and a dominant leader in the chip production ecosystem.
Risk Disclaimer
StockHax strives to provide unbiased and reliable information on cryptocurrency, finance, trading, and stocks. However, we cannot provide financial advice and urge users to do their own research and due diligence.
Read More