This website and its content are not intended to provide professional or financial advice. The views expressed here are based solely on the writer's opinion, research, and personal experience, and should not be taken as factual information. The author is not a financial advisor and lacks relevant certifications in that regard. We highly recommend consulting a qualified financial advisor before making any investment decisions, as the information presented on this site is general in nature and may not be tailored to individual needs or circumstances.
Bank of America is one of the largest banks in the United States.
Founded in 1923, the history of the bank sees many acquisitions and changes over time, but it has tended to focus on commercial and investment banking, as well as wealth management.
Bank of America went public in 1978. The stock issued by the bank is traded on the New York Stock Exchange (NYSE) under the ticker BAC.
In this article, we will cover the features of the stock, along with an analysis of its price in the last few years, and some indications on how to buy Bank of America stock.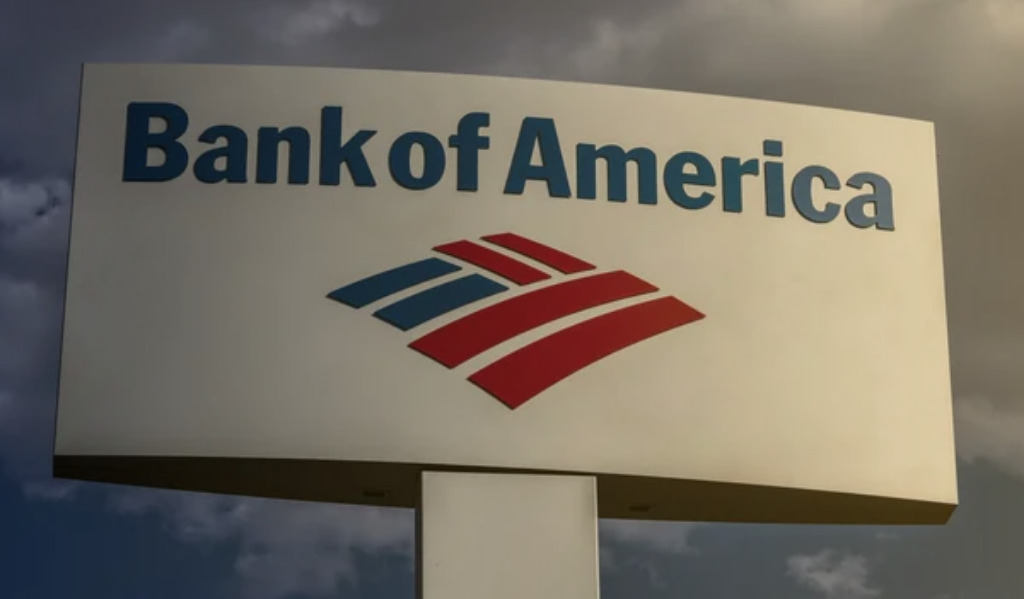 BAC Stock Key Features
Bank of America stock gives standard voting rights to its shareholders.
BoA stock can be considered slightly more volatile than the overall market – with a beta corresponding to 1.37.
The largest shareholder of BAC stock is Berkshire Hathaway, which holds around 13% of the shares.
BAC stock went through three stock splits – one in 1986 (2-for-1 stock split), one in 1997 (2-for-1 stock split), and one in 2004 (2-for-1 stock split).
BAC stock pays dividends to its shareholders.
Bank of America (BAC) Stock Over the Years – Review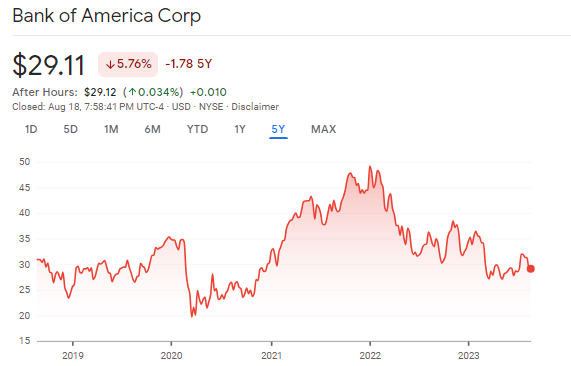 Bank of America (BAC) stock went through ups and downs over time.
This is something natural for financial assets, since they tend to follow different market cycles. There might also be different reasons that influence the price of a stock, especially in the short run.
In our analysis, we will focus on the last five years of performances of BAC.
BAC Stock in 2023
Quite stable performance so far.
2023 saw the final phase of the downtrend, followed by a quite stable performance that witnessed the price moving in a range between $26 and $32.
So far, the company has outperformed experts' expectations by sharing financial reports that recorded both earnings and revenue positive surprises.
BAC Stock in 2022
The opposite of 2021.
2022 saw price developments that were the opposite of those witnessed in 2021.
The beginning of the year was marked by the last phase of the uptrend, but the rest of the year was marked by the following downtrend.
The price went from $50 to $29. The worst financial report was shared in July, with the performance of the company benign below the expectations of experts for what concerns both earnings and revenue.
BAC Stock in 2021
Positive performance.
The recovery started at the end of 2020 was supported by enough volume to turn it into a positive and sustainable trend throughout 2021.
The price moved in a range between $28 and $48, showing relatively high volatility, but as the result of the sustainable uptrend, supported both by volume and positive financial reports.
BAC Stock in 2020
The uptrend was not supported by traders and investors.
In 2020, despite 2019 closing with the starting phase of a positive trend, traders and investors did not support the positive movement. The price of the stock fell in a dramatic way, with bears leading the price to around $17.
In general, the stock moved in a range between $17 and $35, with a recovery at the end of the year.
During 2021, the company continued to pay dividends and share positive financial reports.
BAC Stock in 2019
Positive results and the beginning of a positive trend.
Bank of America (BAC) stock went through two diverse phases in 2019.
During the first months of the year, the stock went through an accumulation phase that see the stock moving in a range between $26 and $31, with volumes relatively higher than usual.
At the beginning of the second phase, the stock managed to break the resistance level and led the price of the stock to a positive peak of around $35.
The company shared positive reports throughout the year.
Bank of America (BAC) is a prominent financial institution, and investors might have different needs and financial goals when it comes to choosing a financial instrument that can give exposure to the company.
In fact, buying stocks is not the only method available, and investors and traders can choose other instruments, also according to the level of risk they can afford.
Stocks: This is the most straightforward method. By buying BAC stocks, you are purchasing a piece of the company. This means that you have rights on the performance of the company, and if the company pays any dividend, you have the right to receive it. You can buy stocks through brokerage accounts – as we will see later.
Mutual Funds: These are collections of stocks, bonds, or other securities. Some mutual funds specifically focus on financial sector stocks and might include BAC in their portfolio. Investing in mutual funds allows you to diversify your investment, which can spread and potentially reduce risk. Some of the mutual funds that actually include BAC are the Vanguard Total Stock Market Index Fund, the Vanguard 500 Index Fund, the SPDR S&P 500 ETF Trust, and the Select Sector SPDR Fund-Financial.
ETFs (Exchange-Traded Funds): ETFs are similar to mutual funds in the sense that they are collections of financial assets. The difference is that ETFs trade on stock exchanges just like individual stocks. There are ETFs focused on the banking sector that might include BAC. Among the ETFs that include BAC we can find First Trust Nasdaq Bank ETF (FTXO) and iShares U.S. Financial Services ETF (IYG).
Indices: Indices are a way to track the performance of a group of assets. Similarly to ETFs and mutual funds, they offer instant diversification, since traders and investors who choose to invest in indices invest in different assets at once. The BAC stock is included in some of the most important indices, such as the S&P 500 and S&P 100, DJ US and NYSE Composite.
CFDs (Contract for Difference): When investing in CFDs, traders and investors enter contracts whose value is based on an underlying asset. From a practical perspective, there is no difference between investing in stocks and CFDs, but CFDs give the opportunity to use leverage and go either long or short.
Options: These are financial derivatives that give you the right, but not the obligation, to buy or sell BAC stock at a predetermined price within a specific timeframe. Options are often used to hedge markets or as speculative financial instruments.
For those interested in investing in Bank of America (BAC) stocks, choosing the right tool according to your needs is as important as thoroughly researching the asset. Among the options offered today by the market, we tested eToro.
BAC is offered by different online brokers, especially because it is linked to one of the most prominent companies currently available.
Before choosing the right platform, users should evaluate fees and other costs, deposit and withdrawal methods, and the intuitiveness of the platform. We chose to test the functionalities of eToro.
Step 1: Register if you're a new user
The registration process on eToro is quite intuitive. When new users click on the Sign up button, they are redirected to a form they need to fill in with their personal information – name, surname, email – and they need to set a password.
Alternatively, they can choose to sign up via one of the available social accounts.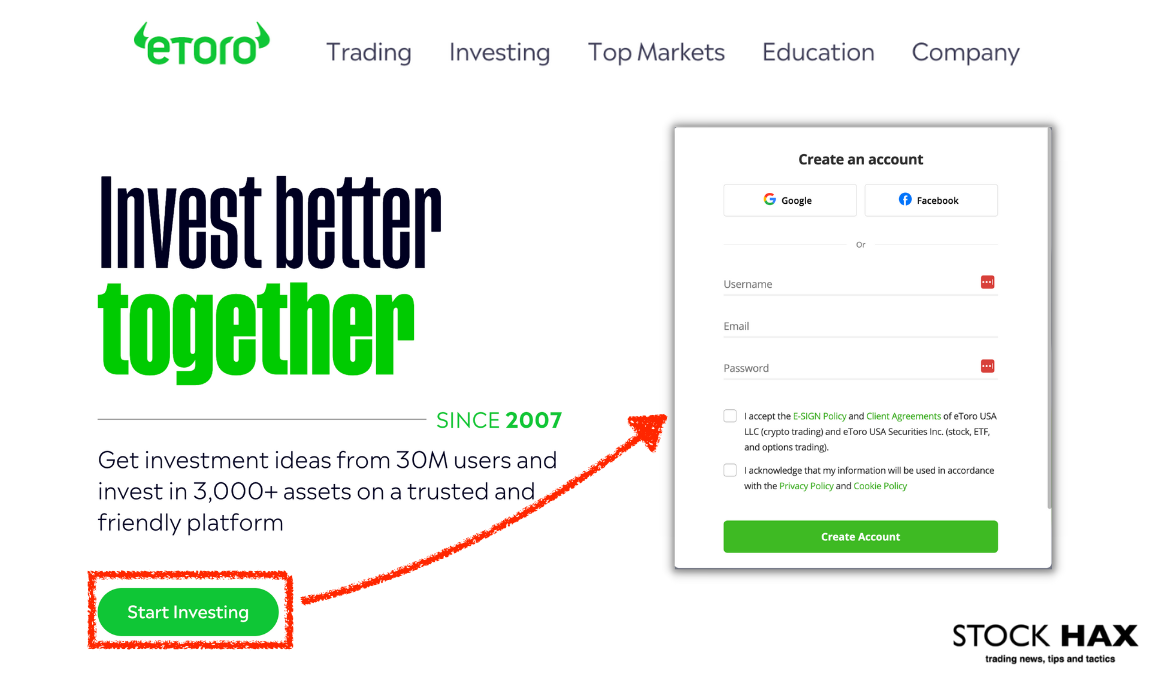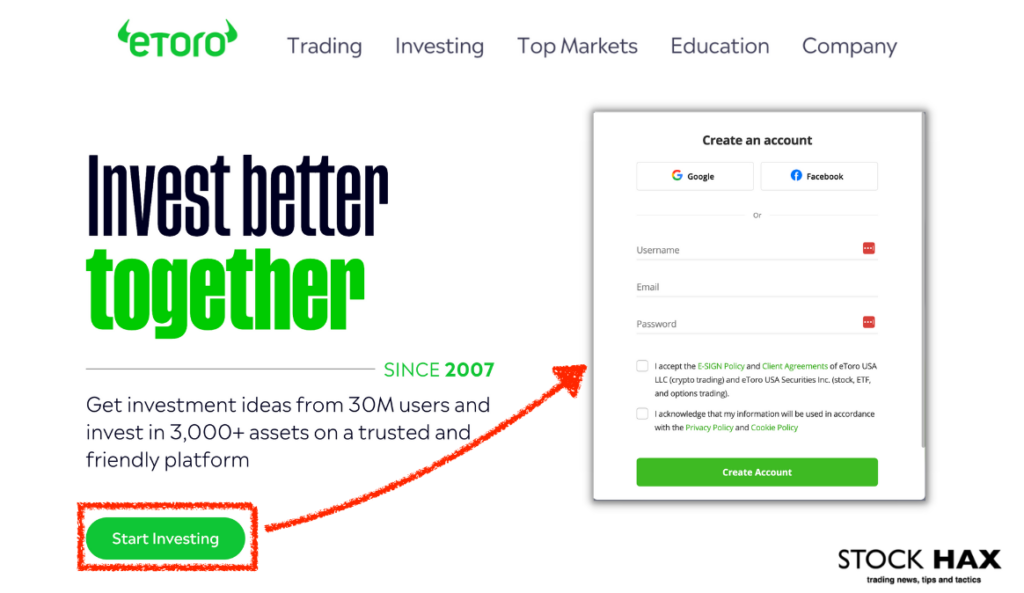 Step 2: Upload documents
The second part of the verification process consists of uploading documents that can work like proof of identity and address. eToro needs this information to verify the identity of each user, and to confirm that they can actually use the platform.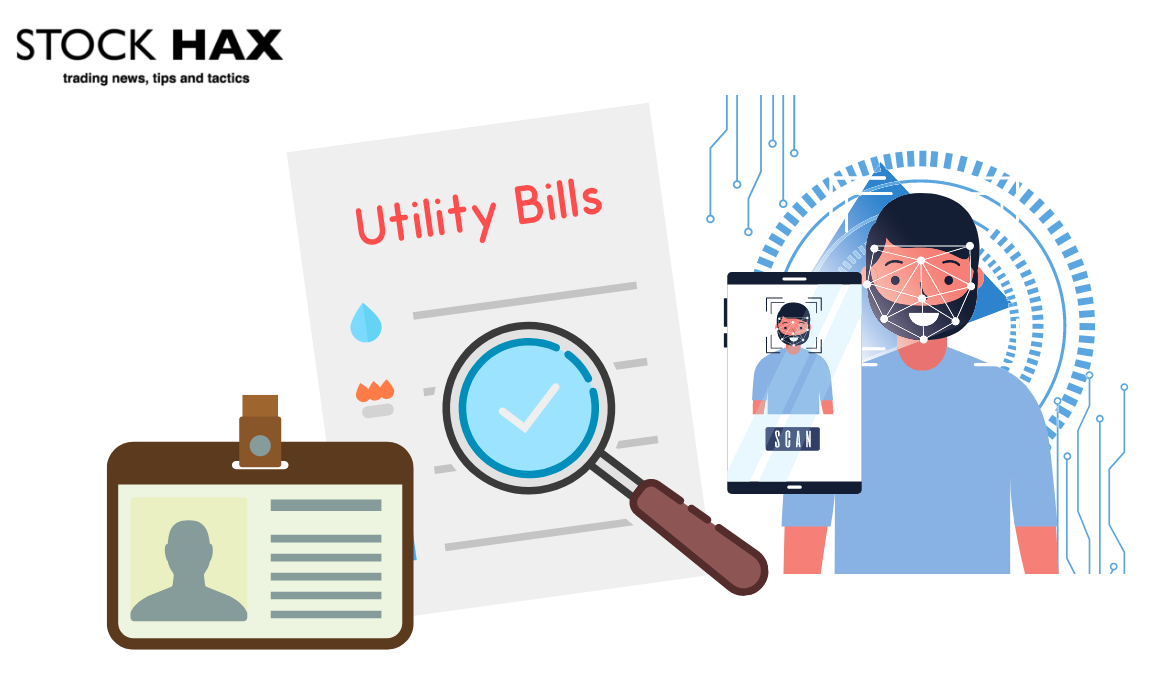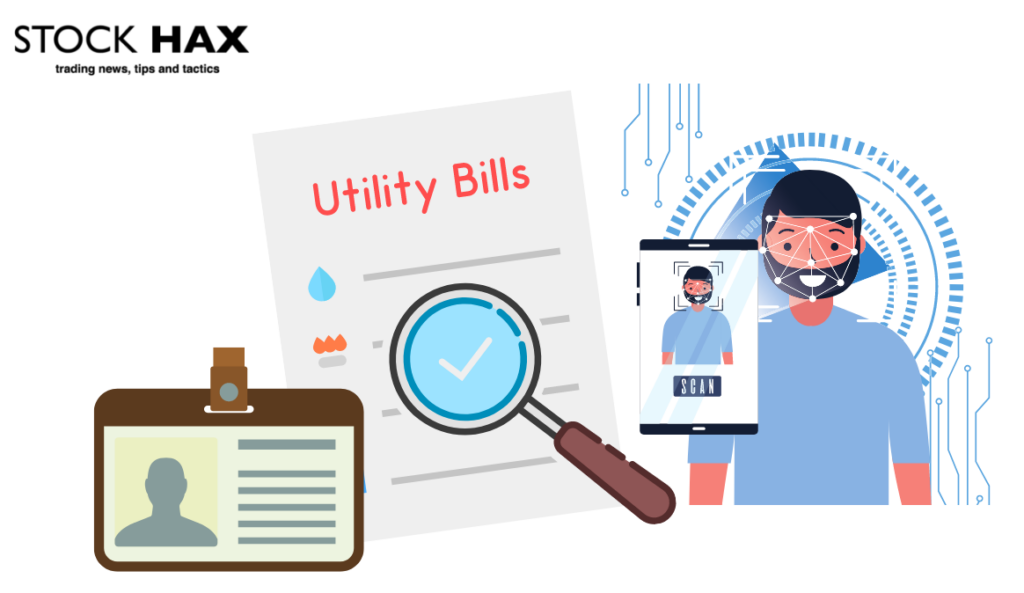 Step 3: Make a deposit via one of the available payment methods
Only when the verification is complete and confirmed, users can take the first step towards their first investments.
To use the real portfolio of eToro, users need to deposit real funds, and they can do that by selecting the Deposit Funds button, then the payment method and amount they want to deposit.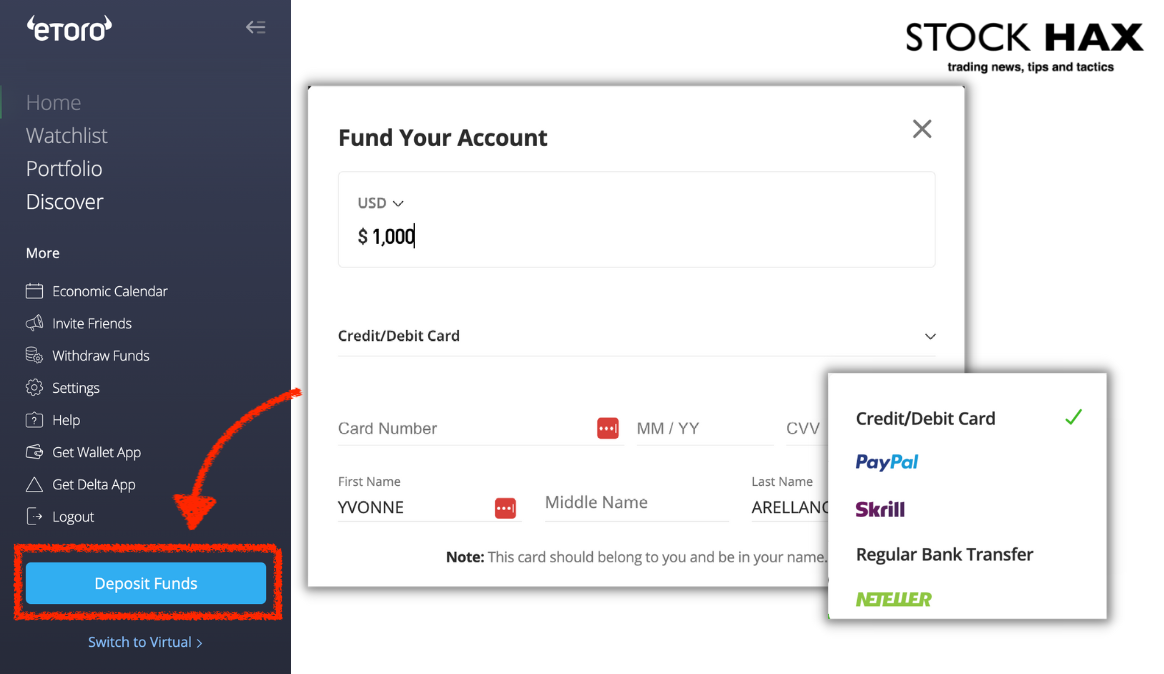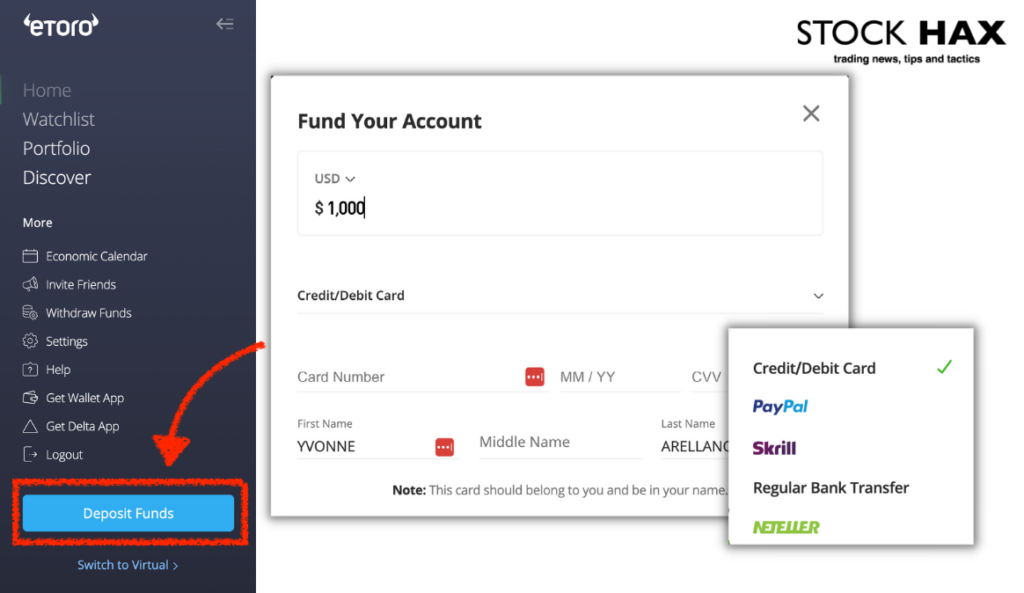 Step 4: Search for Bank of America (BAC)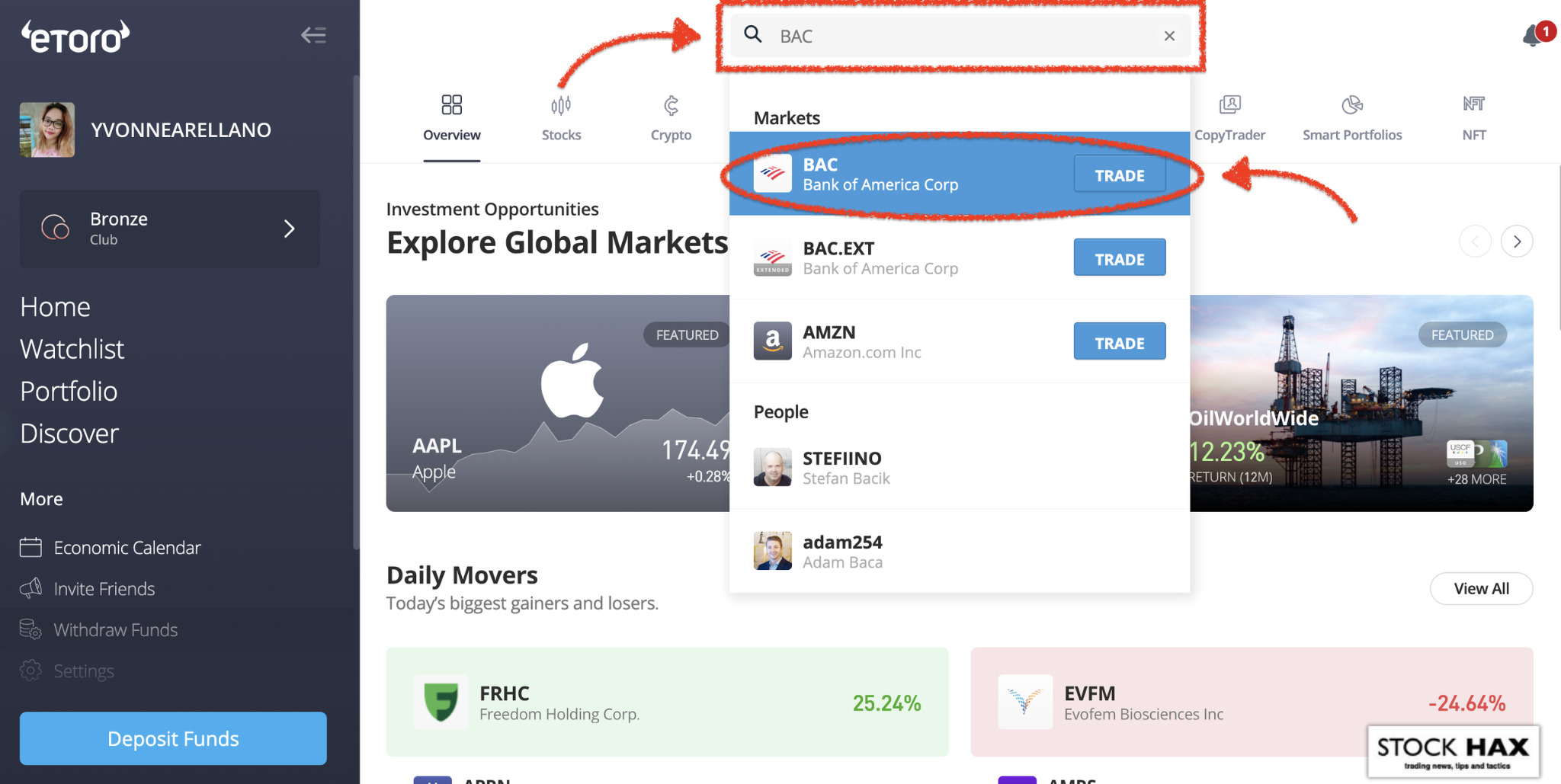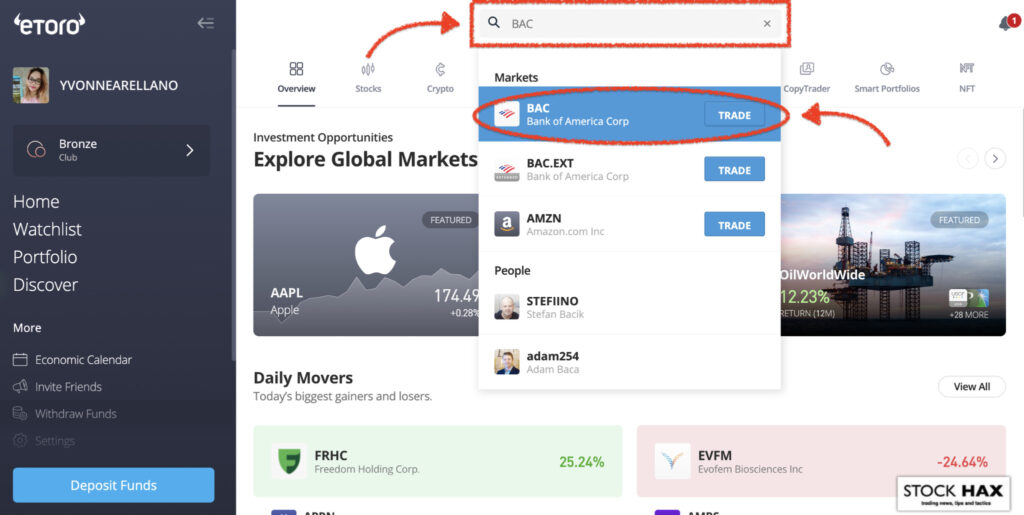 Now, if you're interested in a specific asset, you can either choose to navigate the financial products offered by eToro – divided into categories – or to search the specific asset thanks to the search bar, which allows users to more easily locate each asset.
Step 5: Invest in Bank of America (BAC)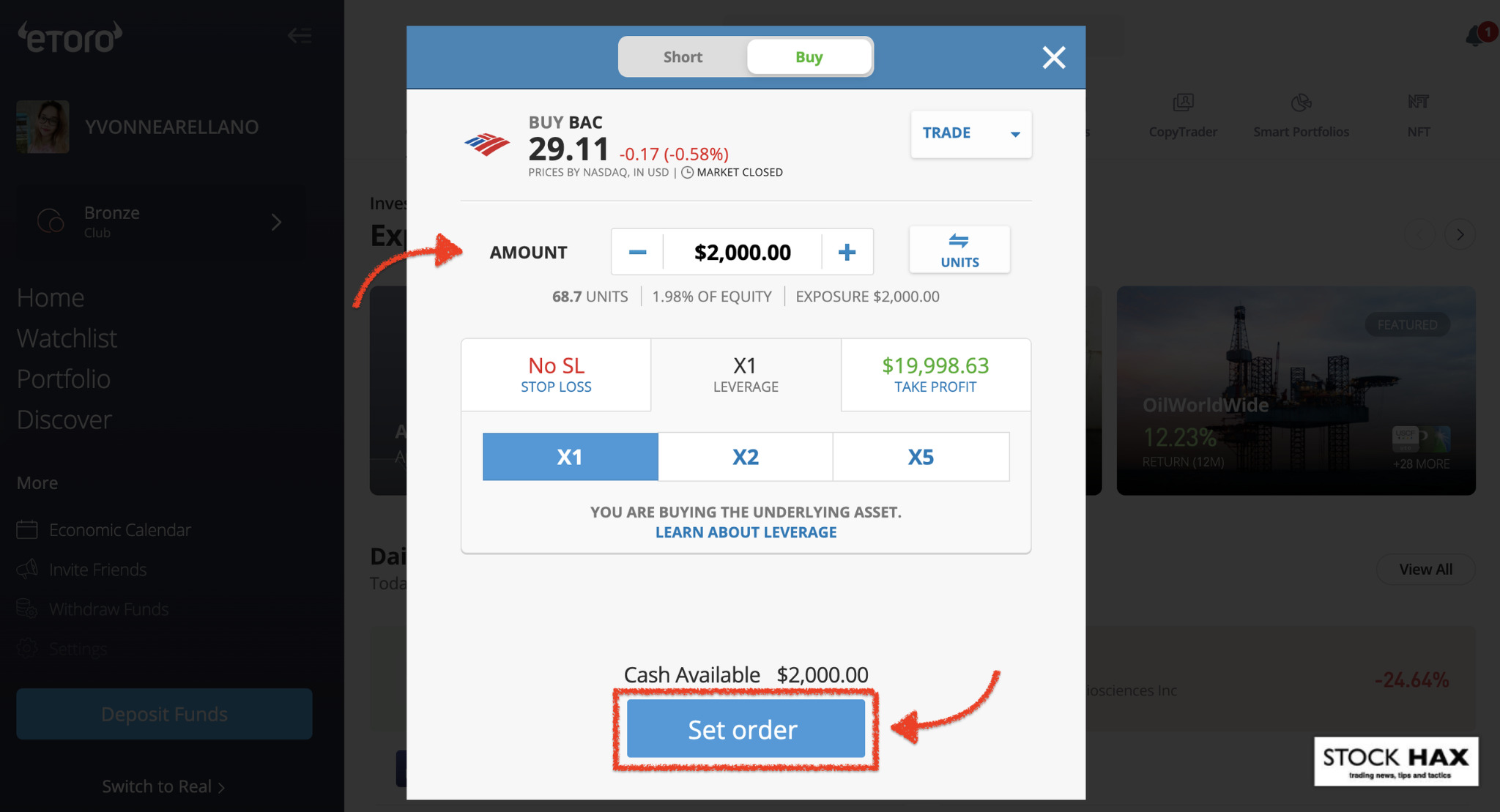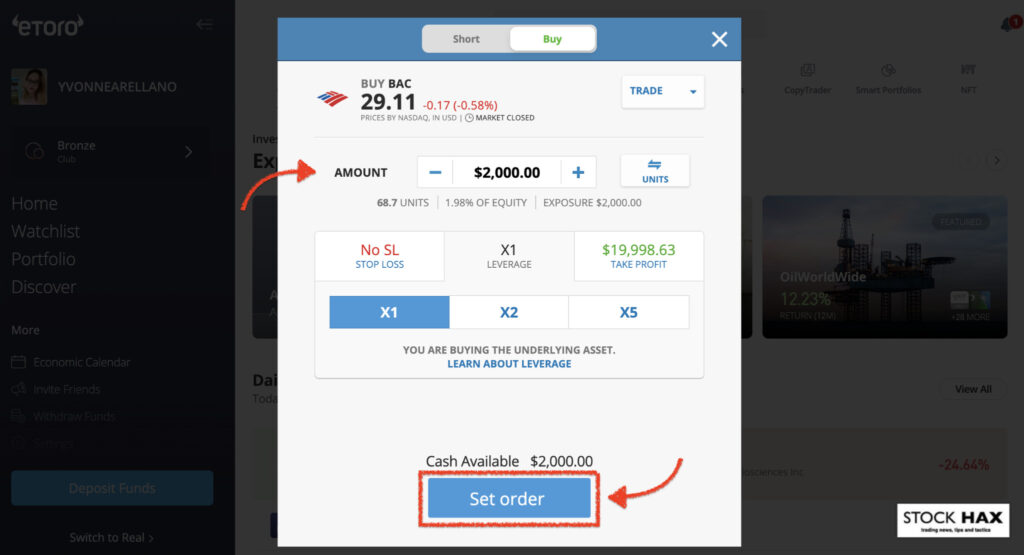 Once you find your asset, you can select the Invest button. You will be redirected to a page, totally dedicated to the asset, when you can set your new order. You can choose the amount to invest, or the number of stocks you want to buy, then you can set more complex types of orders – like stop loss and take profit – and also choose if you want to use leverage.
Summary
Bank of America (BAC) is a well-established financial institution with a long history. It has played a major role in the financial market. Over time, the performance of its stock has changed, showing the ups and downs of the financial world and the broader economy. If people want to invest in BAC, there are many ways to do so. They can buy the stock directly or invest through mutual funds and ETFs that have BAC shares in them. There are also advanced methods, like CFDs and options, for those looking for different investment strategies. Online platforms, such as eToro, have made it easier for everyone, whether a beginner or experienced, to buy BAC shares. However, like all investments, it's crucial to research and understand what you're investing in to make smart choices.
FAQ
What is the significance of the beta value of 1.37 for BAC stock?
The beta value is a measure of a stock's volatility in comparison to the overall market. A beta of 1.37 indicates that BAC stock is slightly more volatile than the market average, meaning it may experience larger price swings.
Who is the largest shareholder of BAC?
Berkshire Hathaway is the largest shareholder of BAC, holding around 13% of the shares.
How has BAC's stock performed over the last five years?
BAC's stock has seen various trends over the past five years, ranging from positive uptrends, such as in 2019 and 2021, to downtrends and volatility in years like 2020 and 2022. In 2023, it has shown a stable performance with prices ranging between $26 and $32.
What are the primary differences between investing in stocks and CFDs?
When investing in stocks, you are purchasing a portion of the company and have a claim on its assets and earnings. With CFDs, you don't own the actual stock but instead agree on a contract based on the price movement of the underlying asset. CFDs also allow for the use of leverage and the ability to go long or short on the stock.
How can investors buy BAC stocks through eToro?
Investors can register on eToro, complete the verification process, make a deposit, search for Bank of America (BAC), and proceed with their investment. eToro's platform is user-friendly, making it easy for both beginners and experienced investors to navigate and make informed decisions.
Risk Disclaimer
StockHax strives to provide unbiased and reliable information on cryptocurrency, finance, trading, and stocks. However, we cannot provide financial advice and urge users to do their own research and due diligence.
Read More