This website and its content are not intended to provide professional or financial advice. The views expressed here are based solely on the writer's opinion, research, and personal experience, and should not be taken as factual information. The author is not a financial advisor and lacks relevant certifications in that regard. We highly recommend consulting a qualified financial advisor before making any investment decisions, as the information presented on this site is general in nature and may not be tailored to individual needs or circumstances.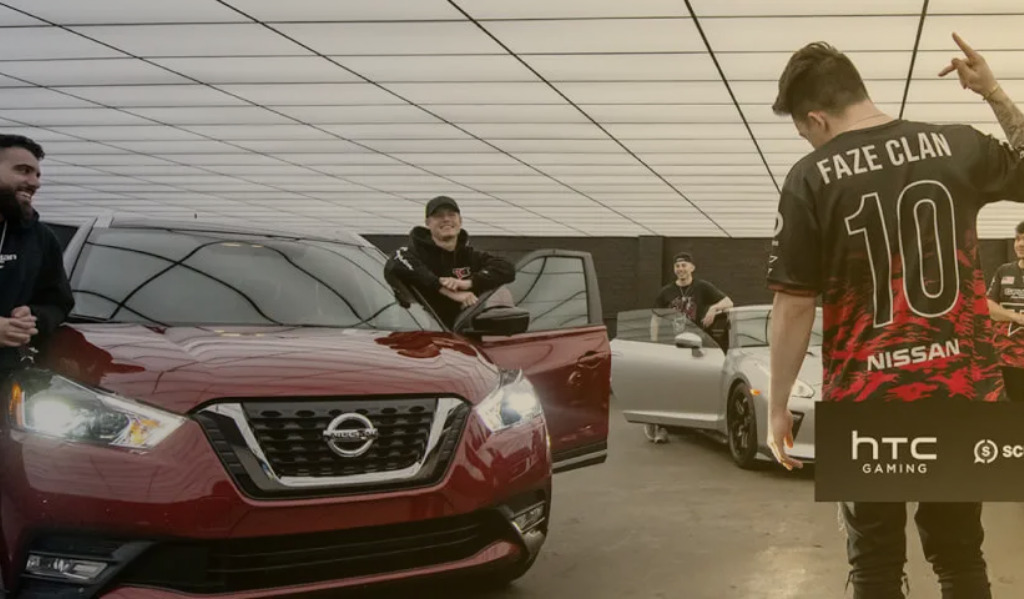 FaZe Clan, founded in 2010, initially began as a group of gamers posting videos on YouTube. Over the years, it has grown into an esports and entertainment organization with a global presence. It mixes competitive gaming with lifestyle and pop culture, diversifying into content creation, merchandise, and much more.
After the group organized in a more structured company, it went public through a SPAC.
In this article, we will cover the history of the company and all the characteristics of its stock – FAZE.
FAZE Stock Key Features
FaZe went public through a SPAC.
The stock doesn't pay a dividend.
FAZE is often referred to as a Gen-Z stock.
The participation of traders and investors is particularly influenced by the social presence of the company.
The stock is listed on the NasdaqCM, one of the three tiers of the Nasdaq – designed to cater to young companies that still need to gather funds.
History of FAZE
Founded on May 30, 2010, as FaZe Sniping, the origin of FaZe Clan was deeply rooted and involved in the gaming community. Initially, the team was a Call of Duty clan established by three passionate players: Eric "CLipZ" Rivera, Jeff "House Cat" Emann (later known as "Timid"), and Ben "Resistance" Christensen. These pioneers were recognized for revolutionizing trickshotting in the iconic game "Call of Duty: Modern Warfare 2."
Their early days were significantly marked by the arrival of Ted "Fakie" who brought with him the creation of their popular series on YouTube, ILLCAMS. Contrary to other gaming channels that were focused on tournament victories, FaZe Clan emphasized trickshotting and built a distinct personality and social media presence. This approach was successful, as by 2012, they had already around 1 million subscribers on YouTube.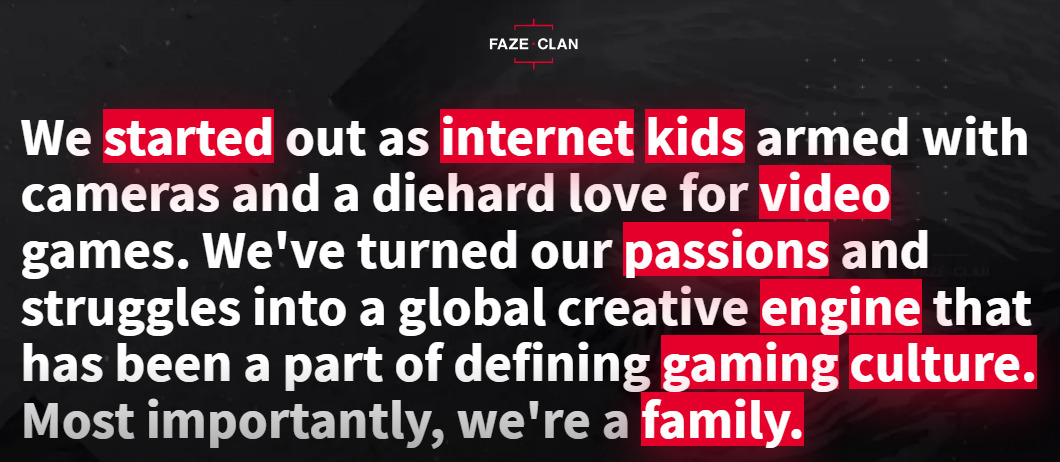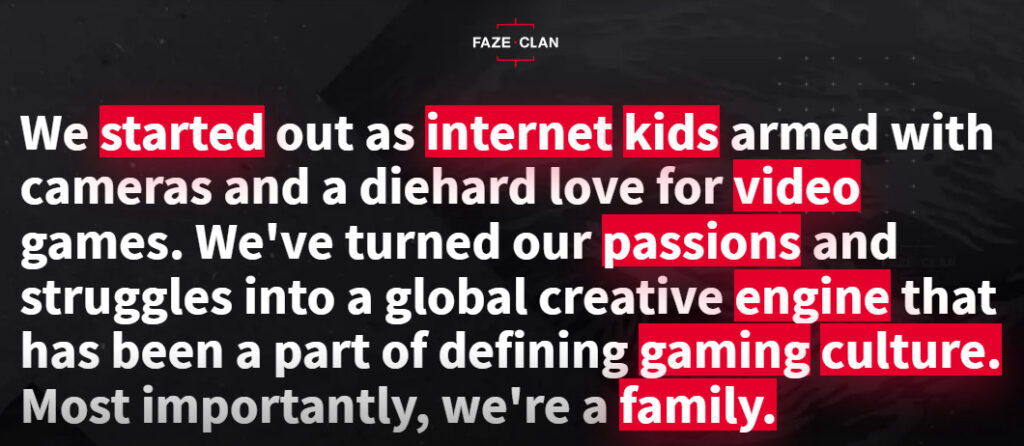 The subsequent years saw the clan diversifying its reach. They entered the sector of esports competitions, creating teams that participated in tournaments like the Call of Duty Championship and the Counter-Strike: Global Offensive Major Championships. This move divided the FaZe Clan into two segments – one dedicated to YouTube content creation and the other to competitive esports.
In the organizational hierarchy, Thomas "Temperrr" Oliveira, who joined FaZe at 16, held the position of CEO. Alongside COO Richard "Banks" Bengston, Oliveira set up the first FaZe shared home in 2014 in Plainview, New York. This was a strategic move to mix lifestyle content and their gaming content.
FaZe Clan's growth caught the attention of potential investors. In 2015, the former social media platform Hubrick, guided by Norwegian entrepreneur Sebastian Geurts, decided to invest in the organization. This marked the beginning of an era of professional management with the recruitment of former record executive Lee Trink as CEO.
By January 2016, FaZe Clan further expanded its portfolio by acquiring the European esports team G2 Esports's Counter-Strike. This team arrived second in the prestigious ELEAGUE Major: Boston 2018.
2018 was another pivotal year, with Greg Selkoe, founder of streetwear web retailer Karmaloop, becoming the president of FaZe Clan. Under his leadership, FaZe Clan embarked on its Series A funding round, drawing investments from a diverse group of celebrities, sports personalities and musicians.
The following years were marked by both triumphs and challenges. While the clan reached the popularity by becoming the first esports team to be featured on the cover of Sports Illustrated in 2021, it also faced controversies related to a pump and dump cryptocurrency scandal.
In 2021 the group announced a merger with special purpose acquisition investors B. Riley Principal. This would lead them to be publicly listed on NASDAQ. However, the journey to this public listing was challenging, as the initially projected valuation of about $1 billion had to be adjusted to $725 million.
Despite these challenges, FaZe Clan remained a strong business in the esports and entertainment world, continually innovating and expanding.
Can You Buy FAZE Stock? Is FAZE Publicly Traded?
After merging with the Special Purpose Acquisition Company (SPAC), B.Riley Principal 150 Merger Corp, FaZe Clan became publicly traded, and was listed on the NASDAQ stock exchange under the ticker "FAZE".
The stock is listed on the Nasdaq Capital Market (NasdaqCM), a segment of NASDAQ designed for early-stage companies. This listing provides FaZe Clan with an additional method to raise capital, it also requires the company to respec specific financial, liquidity, and corporate governance standards.
Once again, FaZe Clan's journey in the public market faced several challenges. In 2023, the stock price dipped below the $1 mark, and the company was at risk of delisting from the NASDAQ. According to NASDAQ regulations, if a company's stock remains under $1 for over a month, it receives a deficiency notice. The company then has 180 days to ensure the stock price remains above $1 for ten consecutive business days. FaZe Clan's valuation adjustment from an initial projection of $1 billion to $725 million, coupled with the risk of delisting, highlights all the risks involved in going public through a SPAC.
Who Owns FAZE?
From its beginnings as a collective of gaming enthusiasts, FaZe Clan has evolved into a significant entity, drawing attention and investment from a range of stakeholders. Renowned personalities, such as the musician Snoop Dogg, have not only invested in the company but also taken on pivotal roles, with Snoop Dogg serving on the company's board of directors.
As mentioned, the journey towards becoming a publicly-traded company on the NASDAQ under the ticker "FAZE" has seen a shift in FaZe Clan's ownership structure. Following the public listing, the original stakeholders of the company retained a substantial amount of shares, holding around 77% of the shares issued by FaZe Holdings.
Diving deeper into the ownership distribution, institutional shareholders hold around 23% of Faze Holdings. Insiders of Faze Holdings, which include its officers, directors, or any beneficial owners with a stake surpassing 10%, own a significant 52%. Retail investors hold around 25%.
But the largest owner of shares is Nick Lewin. He owns around 17 million shares. This amount accounts for a considerable 23% of the company. As of the time of writing, Nick Lewin's shares in Faze Holdings are worth around $5 million.
FAZE Stock Over the Years – Review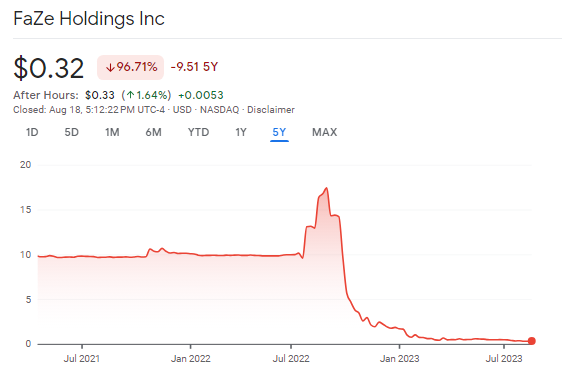 Over the years, FaZe Clan's journey in the financial world has been marked by ambitious moves, strategic mergers, and market-driven adjustments. From its beginnings as a gaming collective, its stock trajectory reflects its transformation into a major player in the esports industry.
FAZE Stock in 2023
Source: TradingView
By 2023, FaZe Clan navigated turbulent financial waters as its stock price went below the one-dollar mark. This challenged the very existence of the group as a public company, with the threat of delisting. However, FaZe Clan continued to work on new partnerships and with its mission, demonstrating resilience and an adaptive strategy.
There are still no reports shared by the company.
FAZE Stock in 2022
Source: TradingView
2022 marked a pivotal moment in FaZe Clan's timeline. The year the group went public was for sure seen under an overoptimistic perspective, something that was not confirmed by the performance of the stock. On its debut, the stock witnessed a drop of around 25%. Despite this, the company continued expanding and looking for new partnerships, without losing the support of its community.
FAZE Stock in 2021
Source: TradingView
The year 2021 was the year when FaZe announced they wanted to go public. Early in the year, they declared their intent to merge with B. Riley Principal 150 Merger Corp. – for which we have more data, a special purpose acquisition company (SPAC). Initial discussions showed that the possible value of the merger was at around $1 billion. However, by the time the merger took place in 2022, the valuation settled at $725 million. This adjustment was significant, but also reflects the nature of the market and the variables that come into play.
FAZE Stock in 2020
Source: TradingView
A look back at 2020 shows FaZe Clan standing at a valuation of $305 million. With an impressive estimated revenue of $40 million, the company was solidifying its position in the esports industry, gearing up for future moves that would shape its trajectory in the years to come.
FAZE Stock in 2019
Source: TradingView
2019 was the year when the ripples of FaZe Clan's ambitions began to take shape. During the year, FaZe gathered the attention of high-profile celebrities and investors because of the continuous growth of the group, signaling its potential.
In conclusion, the journey of FaZe in the financial world has been quite complicated, but despite this the group managed to show all its resilience. While the fluctuations in its stock prices reflect the unpredictable nature of the market, the company's growth shows its ability to adapt and thrive.
How To Invest In FAZE Shares
FaZe Clan has established a significant presence in the stock market since its public listing on NASDAQ. For those interested in investing in the company, there are several methods available. Let's see some of them to give you some practical examples:
Buying the stock is for sure the most straightforward method. By opening an account with a brokerage, you can directly buy FAZE stocks, which would make you a shareholder of the company. As a shareholder, you'll own a piece of the company and potentially benefit from its successes – but also face losses if the company doesn't succeed.
Mutual Funds: Mutual funds pool together money from many investors to purchase a diversified portfolio of stocks or other financial instruments. Some mutual funds, especially those focused on the esports or entertainment industry, might include FaZe Clan shares in their portfolios. By investing in such funds, you indirectly get exposure to FaZe Clan along with other companies in the sector – something that guarantees a certain level of diversification.
Exchange-Traded Funds (ETFs): ETFs are similar to mutual funds but are traded on stock exchanges like individual stocks. There are ETFs that specifically target the esports or entertainment sectors, and they might hold FaZe Clan shares. Investing in these ETFs allows you to diversify your investment while still getting exposure to FaZe Clan.
Contract for Differences (CFDs): CFDs are financial contracts that allow you to speculate on the price movement of assets, including stocks, without owning the actual asset. If you believe FaZe Clan's stock will rise, you can buy a CFD, and if you think it will fall, you can sell a CFD. It's important to note that CFDs come with higher risks and are not available in all countries due to regulatory restrictions. This happens because traders and investors can use leverage when it comes to CFDs.
Options: Stock options give you the right, but not the obligation, to buy or sell a stock at a certain price within a specific time frame. If you think that the price of FAZE will rise, you can buy a 'call option' which gives you the right to buy the stock at a predefined price. If you think that the price will fall, you can buy a 'put option', which gives you the right to sell the stock at a predetermined price. Options can be more complex and carry higher risks, so it's essential to understand them fully before investing.
In conclusion, while buying FaZe Clan's stock directly is the most immediate way to invest in the company, there are several other methods to gain exposure to the company.
Conclusion
FaZe Clan, once a simple group of gamers, has transformed into a massive esports and entertainment organization until it became FaZe Holdings. Now publicly traded, it offers an opportunity for investors to be part of its journey by issuing stocks traded under the ticker FAZE. However, potential investors should do thorough research before making investment decisions.
FAQs
What is the origin of FaZe Clan?
FaZe Clan was established on May 30, 2010, originally named FaZe Sniping. It started as a Call of Duty clan formed by Eric "CLipZ" Rivera, Jeff "House Cat" Emann, and Ben "Resistance" Christensen. They gained recognition for revolutionizing trickshotting in "Call of Duty: Modern Warfare 2" and quickly built a strong YouTube presence with their ILLCAMS series.
How did FaZe Clan transition to being a publicly traded company?
In 2021, FaZe Clan announced their merger with B. Riley Principal, a special purpose acquisition company. This move led them to be publicly listed on the NASDAQ stock exchange under the ticker "FAZE". Despite initial valuations estimating the deal at $1 billion, by the time of the merger in 2022, this was adjusted to $725 million.
What challenges has FaZe Clan faced in the stock market?
In 2023, FaZe Clan's stock price dropped below $1, risking delisting from the NASDAQ.
Who are the key figures in FaZe Clan's ownership and leadership?
Personalities like Snoop Dogg are involved with the company, with the musician also serving on the board of directors. In terms of ownership distribution, institutional shareholders hold around 22.79%, Faze Holdings insiders possess 52.16%, and retail investors have 25.05%. Nick Lewin is the most significant individual shareholder.
What are the different ways to invest in FaZe Clan shares?
You can directly buy FAZE shares through a brokerage. Other investment methods include mutual funds, ETFs and CFDs.
Risk Disclaimer
StockHax strives to provide unbiased and reliable information on cryptocurrency, finance, trading, and stocks. However, we cannot provide financial advice and urge users to do their own research and due diligence.
Read More