This website and its content are not intended to provide professional or financial advice. The views expressed here are based solely on the writer's opinion, research, and personal experience, and should not be taken as factual information. The author is not a financial advisor and lacks relevant certifications in that regard. We highly recommend consulting a qualified financial advisor before making any investment decisions, as the information presented on this site is general in nature and may not be tailored to individual needs or circumstances.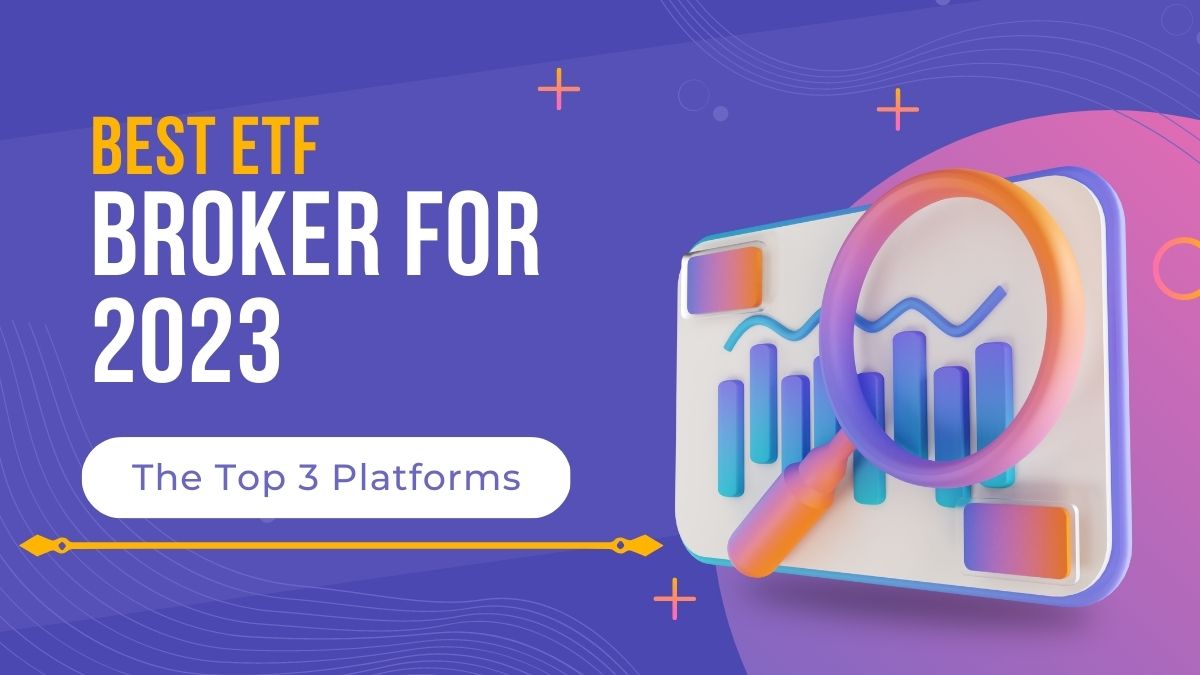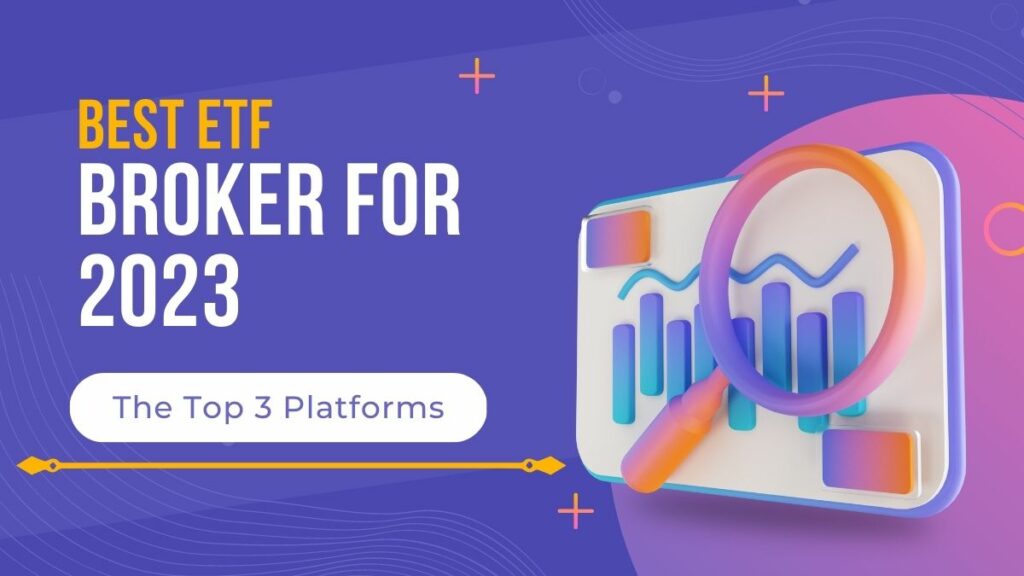 Foreign portfolio investments are again on the rise, and investors are looking to trade high-liquidity assets to boost their portfolio profits. With CFDs, cryptocurrencies, forex, stocks, and many more investment opportunities available on the market, research and analysis have become more complex, and trading is becoming rather hard to execute. However, there is an asset class that is passively managed, allows for simple diversification, and is low-cost. These assets are known as ETFs, and if they are traded with the best ETF platforms from our list, your trading experience will not only become more straightforward, but you will also start making more informed trading decisions.
Introduction to ETFs
An exchange traded fund, or ETF, is an investment fund that can be bought through an ETF broker account and traded at any time of the day. Some ETFs mimic popular index funds like the S&P 500, while others track different market sectors of stocks, bonds, and other securities. ETFs have risen in popularity and have become desirable trading tools, with investors having the opportunity to pick from more than 6000 different ETFs. When you invest in ETFs, you get shares of the stock or financial instrument of your choice, and the best part is you do not have to pay any capital gains taxes on your trades.
Advantages of Using a Regulated ETF Broker
The best brokers for ETFs provide many different perks to traders, one of them being diversification, as ETFs combine different types of securities into one trading tool. All the assets being in one place also means you will not need to buy multiple stocks separately to diversify your portfolio. There is also the potential to earn dividends on ETFs that offer dividend yields.
Overview of the Best 3 ETF Brokers – Our Top Picks for 2023
It is not too much to ask of an ETF platform to offer a combination of low fees, various supported assets, user-friendly trading tools, and responsive customer service. In our ETF brokers list, you will find top-rated industry leaders who meet the criteria mentioned above and offer learning resources, analysis, and low-commission trading to best fit your investment goals.

The Vanguard Group is an online brokerage platform that has offered investment advisory services since its establishment in 1975. Over the years, Vanguard has built its reputation and perfected its services and thus has become the leading provider of mutual funds and the second largest exchange-traded funds. The company states that its clients are the owners of Vanguard, and being an owner comes with many benefits, which all help you build a sustainable future for yourself and your loved ones.
Vanguard ETF is best known for its long-term investment approach, individual accounts and investment plans, transparency, and client-oriented services. This best Broker for ETFs offers seven different versions, all created to fit your retirement, education, and personal goals.
ETF Vanguard takes a simplified approach to their trading, as they believe people should invest with a long-term strategy and at a low cost. That may be why their trading platform, which is available on desktop and mobile, needs more advanced features like automotive trading. Still, their ETF investing calculators and tools are easy-to-use and can support traders in their financial strategies.
Vanguard's investment analysis, retirement planning, education savings, and tax tools are designed to support you in the financial decision-making process.
Being an established ETF broker with the best deals in the industry, we will give Vanguard a rating of 4.1/5, as its trading platform lacks advanced features and has just two supported investment instruments. Vanguard ETF is a major provider of ETF services globally, so if you are looking to invest in mutual and exchange-traded funds, this is an option. Vanguard ETF is, without a doubt, the leading provider of quality and trusted ETF services, so if you are looking to invest in mutual and exchange-traded funds, this is a great place to do so.
Pros
Low-Cost ETFs
Reputable and Established
Wide Range of ETFs
No Commissions for Vanguard ETFs
Automatic Investment and Reinvestment
Robust Research Tools
Focus on Long-term Investing
Cons
Trading Fees for Non-Vanguard ETFs
Limited Trading Platform
In conclusion, Vanguard stands out as a reliable choice for ETF investors in 2023, thanks to its low-cost ETFs, reputable and established presence, diverse selection of ETFs, commission-free trading for Vanguard-branded ETFs, automatic investment and reinvestment options, robust research tools, and focus on long-term investing. However, investors should be mindful of trading fees for non-Vanguard ETFs and the platform's limited advanced trading features. As the regulatory landscape varies by country, it is crucial to research and understand the requirements and restrictions in your specific location before using Vanguard or any other ETF broker. Overall, Vanguard offers a solid and cost-effective solution for long-term ETF investors in 2023.
---

Interactive Brokers is a leading online brokerage that has become well-known for its competitive forex and ETF trading services. IBKR's history dates back to 1978 when the company was founded. For the time they have been operating, they have provided premium financial services, professional trading tools, and various instruments across more than 150 markets. You can rest assured that your funds are in good hands with the ETF broker IBKR, as the brokerage is regulated by leading financial institutions, including the US SEC, CFTC, and the FCA.
There are a total of four trading platforms that you can use when trading ETFs and other assets with Interactive Brokers. Their Client Portal, Trader Workstation, IBKR Mobile, and IBKR APIs are designed for everyone but certainly back powerful advanced features. On the ETF broker's website, you will find a guide to the trading tools' experience levels, details, downloads, and even features comparison, which can be used to decide which is best for you.
Suppose you are trading for the first time. In that case, a wide variety of educational content is provided through the Traders Academy and Student Trading Lab, which are great for active traders, investors, educators, and students. More seasoned traders will find IBKR's ETF news, blogs, podcasts, and insides portal entertaining and helpful in expanding their knowledge. Additionally, traders get access to a Demo account, on which they can practice and test the ETF trading platform to get a better feel without having to risk real money.
Being in the financial and trading industry for many decades and having over 2 million client accounts opened, we will give Interactive Brokers a score of 4.4/5. The company has managed to scale its ETF trading platform and award-winning services to a whole new level, and it has succeeded in gaining the trust of many traders worldwide because of its safety standards and regulations.
Pros
Low Trading Fees
Global Access
Advanced Trading Platform
Comprehensive Research and Analysis Tools
Fractional Shares
Strong Customer Support
Extensive Educational Resources
Cons
Inactivity Fees
Complexity
In conclusion, Interactive Brokers offers a compelling choice for ETF investors in 2023, with advantages such as low trading fees, global access to multiple exchanges, an advanced trading platform, comprehensive research and analysis tools, fractional share trading, strong customer support, and extensive educational resources. However, potential drawbacks include inactivity fees for low trading activity and the platform's complexity, which may present a steep learning curve for beginners. As the regulatory landscape varies by country, it is essential to research and understand the requirements and restrictions in your specific location before using Interactive Brokers or any other ETF broker. Overall, Interactive Brokers provides a feature-rich and cost-effective solution for a wide range of ETF investors in 2023.
---

The newest brokerage company in our top ETF brokers list is the Danish platform Saxo Bank, which has been providing top-notch services for over 30 years since its opening in 1992. This online ETF broker is a licensed industry leader with numerous awards, satisfied client reviews, and a whopping 20 billion USD daily trading volume. Saxo constantly strives to improve its services and increase accessibility and transparency in the trading industry. The best part about Saxo is that you have more than enough opportunities to diversify your portfolio, with 6700+ ETFs from major environments and many other asset classes.
SaxoTraderGo and SaxoTraderPro are the two award-winning trading platforms packed with valuable tools and features suitable for any level of expertise. SaxoTraderGo's key ETF features include Enhanced trade tickets, fundamental and technical analysis tools, and extensive charting packages, all of which are available through the platform's one-screen setup available on mobile and desktop. The SaxoTraderPro platform supports algorithmic orders, one-click trading, options chains, and charting packages, available on PC and MAC, with a fully customizable interface at your disposal.
Saxo Bank inspires you to become a better ETF trader by providing you with curated insights with the help of which you can sharpen your trading strategy. Directly in your Saxo trading platform account, you get the opportunity to browse research on ETFs with live market updates, podcasts, webinars, and analysis, all created by industry experts. You also have the option to let a market expert manage your portfolio to get long-term results depending on the level of risk you prefer.
By having the widest selection of supported assets, advanced trading platforms, and a constant strive to grow, our rating for Saxo Bank ETF broker's services adds up to 4.8/5. Saxo has one of the most innovative features out of the best ETF platforms, and their transparency makes them a safe choice for your ETF trading.
Pros
Wide Range of ETFs
User-friendly Platform
Competitive Pricing
Quality Research Tools
Access to Multiple Asset Classes
Robust Customer Support
Advanced Trading Features
Cons
Minimum Deposit Requirement
Inactivity Fees
In conclusion, Saxo Bank is a strong contender for ETF investors in 2023, with a wide range of investment options, a user-friendly platform, competitive pricing, quality research tools, access to multiple asset classes, robust customer support, and advanced trading features. However, the high minimum deposit requirement and inactivity fees may not suit all investors' needs. As a regulated broker by multiple top-tier financial authorities, investors can have confidence in the security and reliability of Saxo Bank's services. Overall, Saxo Bank offers a comprehensive and flexible ETF trading experience, suitable for both beginner and experienced investors. It is essential to conduct thorough research and consider individual requirements and circumstances before choosing an ETF broker.
---
Key Features to consider when choosing the best ETF broker:
When conducting our research and analysis, we considered seven key factors that had to be present for a trading platform to make it in our top ETF brokers list. You can view these main features below and decide whether you will get all the perks you are looking for from an ETF platform of your choice.
Account Types
Having diverse account type options may give you a competitive advantage over other traders who do not have this opportunity. If you prefer a more simplified approach or want more control over the tools you use, then choose an ETF broker who offers such types of accounts.
Supported Assets and Investment Options
With many asset classes, traders have different preferences for their trading needs. And when it comes to ETFs, you can pick from stocks, bonds, and other securities, so choosing a broker that meets your preferences means you will be more satisfied with your trading.
Tools Offered
An ETF broker's tools should also provide access to different markets, not just a limited variety of funds. That way, you can get the most out of all markets.
Trading Interface
A nicely built trading interface can increase trading volume, which is a good thing, as it means that traders make traders more efficient and quick. In the long run, this can streamline your process and help you to be more efficient.
Fees & Charges
The best ETF brokers who do not charge their clients huge fees have already managed to build reputable services and do not need to profit from clients' trades. If an ETF broker already has a good reputation, its services will reflect on the achievement.
Mobile Trading
Nowadays, almost every best broker for ETFs has developed a mobile app, as it is convenient for traders who are constantly on the go. Furthermore, having your portfolio in your pocket means you will have access to your trades anytime, which is even more time-saving.
Customer Support
If you need help with an ETF platform's trading tools and features, you can rely on the customer service team, who can assist you at any moment. Additionally, if you are new to trading, agents can guide you or provide educational resources that will clarify the process.
Comparison Between the Best ETF Brokers for 2023:
To answer the question of which broker is best – Vanguard, IBKR, or Saxo Bank- we can say that the three platforms are leading providers of ETF services and will serve all your trading needs. Each broker has unique strengths and weaknesses, which you can view in the table below, and compare the platforms to make your own informed opinion.
| | | |
| --- | --- | --- |
| | Pros: | Cons: |
| Vanguard | Largest Selection of ETF and Mutual Funds focused toolsReputable Broker with over 45 Years of ExperienceTrack Record of Strong PerformanceClient-focused Services | Basic Trading Platform with Limited FeaturesOnly Supported Assets are ETFs and Mutual Funds |
| Interactive Brokers | Low Industry CostsAccess to Global Markets and InstrumentsFree Trading ToolsGreat Education Resources | Complicated Registration ProcessDeposit and Withdrawal Methods are Scarce |
| Saxo Bank | Convenient Trading ToolsLarge Selection of ETFs in Major SectorsJust $0.01 Commissions per ShareManaged Portfolios for Flexible Risk Levels | High Minimum Deposit of $2000Fee of $200 for Every Added Instrument to the Platform |
Conclusion
Choosing the best ETF broker for 2023 could be a daunting task, considering that many trading platforms want to add this easy-to-use, high-liquidity asset to their offerings. Vanguard, Interactive Brokers, and Saxo Bank are reputable brokers specializing in ETF trading and offering the best services in the industry. All three of our picks charge the lowest commission fees, have trading platforms with user-friendly interfaces, and provide a top-notch customer service experience. With the wide range of features and educational resources that these ETF platforms have to offer, you can be sure that you have made an informed choice about where to research ETFs in 2023!
FAQ
What is ETF broker?
An online ETF broker is a company that provides a trading platform in which you can buy and sell ETFs. In these platforms, investors can also find numerous valuable features, trading tools, education resources, analysis and insights, and customer service assistance, which will contribute to a better trading experience.

ETF vs mutual funds, what is the difference?
Regarding similarities, ETFs and mutual funds are both baskets of stocks picked by a professional; however, the main difference is that ETFs are traded passively, while mutual funds are actively managed. Additionally, ETFs tend to be more tax-efficient because they can be sold without triggering capital gains taxes if held for longer than a year.

Which platform is best for ETF trading? 
ETFs are relatively simple to trade, but this does not mean that every broker is similar, and while some may offer lower fees, others allow you to invest with 0% commission fees. Our research has found that Vanguard, Interactive Brokers, and Saxo Bank are the best brokers for ETFs on the market.
Risk Disclaimer
StockHax strives to provide unbiased and reliable information on cryptocurrency, finance, trading, and stocks. However, we cannot provide financial advice and urge users to do their own research and due diligence.
Read More