This website and its content are not intended to provide professional or financial advice. The views expressed here are based solely on the writer's opinion, research, and personal experience, and should not be taken as factual information. The author is not a financial advisor and lacks relevant certifications in that regard. We highly recommend consulting a qualified financial advisor before making any investment decisions, as the information presented on this site is general in nature and may not be tailored to individual needs or circumstances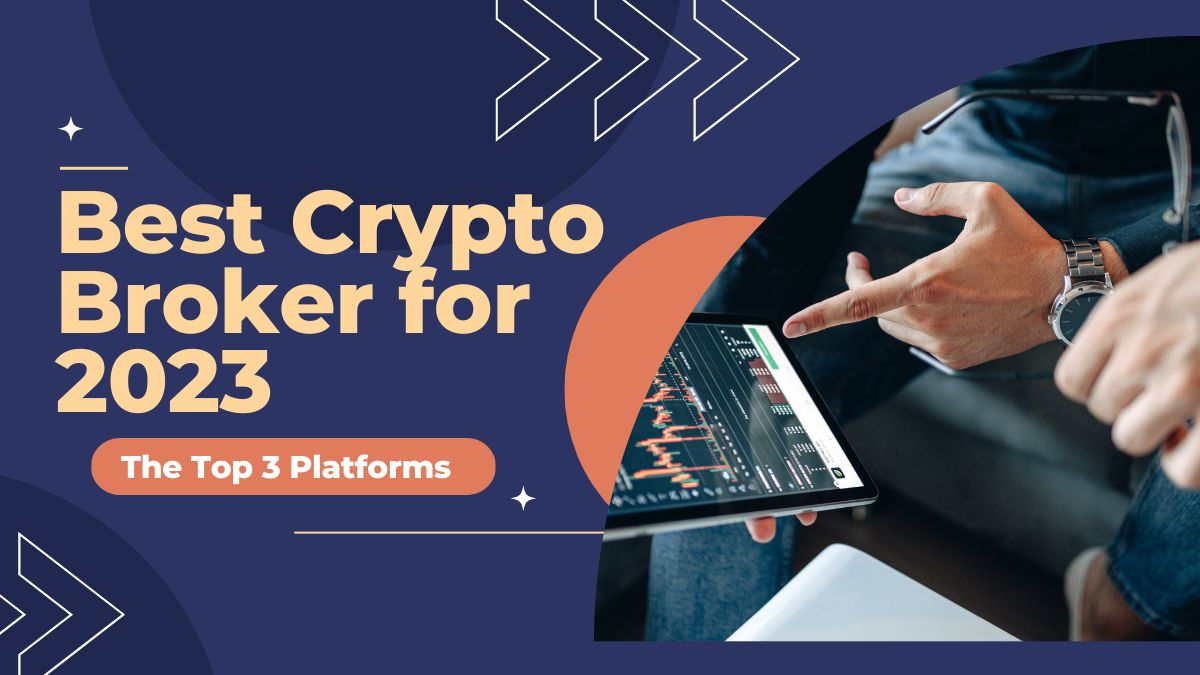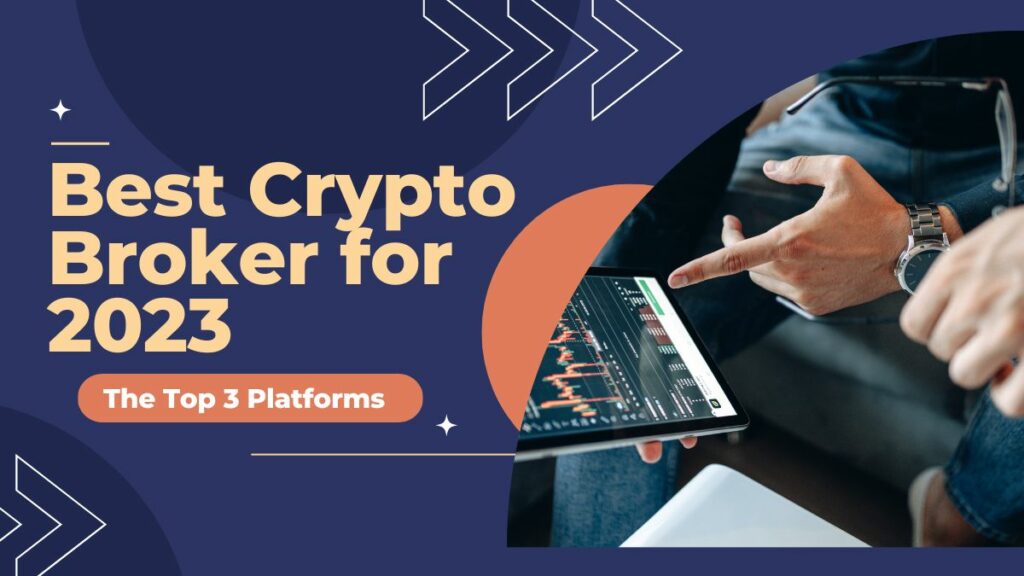 With the global cryptocurrency market cap exceeding 1 trillion dollars, traders keep an eye out for new investment opportunities in the industry. Many believe that cryptocurrencies, backed by the power of blockchain technology, could significantly improve outdated financial systems. Although this digital asset has growth potential and room to implement innovative changes, traders must still choose a reputable crypto broker. We have investigated the best trading platform for crypto and created a list the first-rate brokers that will help you make great deals and become the trader you want.
Introduction to Cryptocurrency Brokers
Online crypto brokers create a place where cryptocurrencies can be bought, sold, or traded. The best brokers for cryptocurrency usually also provide invaluable tools, trading analysis, educational materials, and signals that help traders make the most out of their investments. There is a common misconception of crypto brokers vs. exchanges that they are the same. Although they share some similarities, crypto exchanges are peer-to-peer trading platforms, while crypto brokers act as intermediaries between buyers and sellers.
Advantages of Using a Regulated Crypto Broker
A reputable crypto trading platform can offer endless and precious perks. From a time management point of view, unlike the stock market, which has set market hours, the crypto market is open 24/7, and with the best brokers, you have access to the market and support. Blockchain technology-powered cryptocurrencies create a foundation for innovative technologies like DeFi and enhanced security, all gathered in just one trading platform. One of the drawbacks of crypto trading is the high level of risk, so always proceed with your investments cautiously.
Overview of the Best 3 Crypto Brokers – Our Top Picks for 2023
Not all crypto trading platforms are created equal, and traders should choose from the best online brokers that will help them enhance their trading experience and improve their careers. To save you some time, we have created a list with the top 3 licensed bitcoin brokers that provide excellent services for both beginner and experienced traders.
Binance – Most Popular Crypto Trading Platform

Binance is undoubtedly the market leader in the crypto brokerage industry, with 120 million registered customers and 350+ currencies, including Bitcoin, Ethereum, and more. This shouldn't surprise anyone, as Binance has offered top-notch crypto-focused services, including the lowest transaction fees, advanced tools, and endless growth opportunities. The online trading platform has constantly implemented new features like Binance Earn, Binance Card, Binance NFT, and more to create the best customer experience.
What makes Binance unique is its decentralized ecosystem. Binance Coin or BNB is the native token of the crypto broker Binance and, according to CoinMarketCap, is the 4th token in market capitalization. The built-in coin of the crypto project is based on the BNB chain – the leading network for the development of DApps and mass Web 3.0 adoption.
If you are eager to learn about blockchain and crypto, then Binance has you covered with Binance Academy, the knowledge base you need. You will get free access to guides and articles on topics like blockchain, cryptography, DeFi, NFT, and many more. The fun part is that you can even earn free crypto through learning by completing unique and engaging quizzes. If you encounter a specific problem, Binance's friendly customer service team is available 24/7 through live chat. You can also browse the crypto exchange's comprehensive FAQs and blog sections.
Being the most popular crypto exchange, with competitive fees and a wide variety of crypto instruments to trade, we give Binance a solid 4.4/5 score. With a $38 billion 24h trading volume, strict security protocols, and industry-leading technical measures, it is safe to say that Binance is a crypto broker that can be trusted.
Pros
Wide Range of Cryptocurrencies: Binance offers an extensive range of cryptocurrencies, including popular coins like Bitcoin and Ethereum, as well as numerous altcoins, providing traders with diverse investment opportunities.
High Liquidity: Binance is known for its high liquidity, which can result in faster trade execution and lower slippage for traders.
Competitive Trading Fees: Binance has a tiered fee structure that rewards users for higher trading volumes and holding Binance's native token (BNB), resulting in lower fees for active traders.
Advanced Trading Platform: Binance offers a powerful trading platform with advanced charting tools, order types, and features to help traders succeed in the fast-paced crypto market.
Security Measures: Binance has implemented various security measures, such as two-factor authentication (2FA), to protect users' accounts and funds.
Staking and Earning Programs: Binance offers various staking and earning programs, allowing users to earn passive income on their crypto holdings.
Binance Academy: Binance provides a comprehensive educational platform, Binance Academy, offering articles, videos, and guides to help users learn about cryptocurrencies and trading strategies.
Cons
Regulatory Concerns: Binance has faced regulatory scrutiny in several jurisdictions, which may impact the platform's ability to operate in certain countries or serve specific customer segments.
Complexity: Binance's advanced trading platform and numerous features can be overwhelming for new or less experienced users, resulting in a steep learning curve.
In conclusion, Binance is a popular choice for crypto traders in 2023 due to its wide range of cryptocurrencies, high liquidity, competitive trading fees, advanced trading platform, security measures, staking and earning programs, and educational resources. However, potential users should be aware of the regulatory concerns surrounding the platform and the complexity of its advanced trading features, which may pose challenges for inexperienced traders. As the regulatory landscape varies by country, it is crucial to research and understand the requirements and restrictions in your specific location before using Binance or any other crypto broker. Overall, Binance offers a comprehensive and feature-rich platform for those looking to trade cryptocurrencies in 2023.
---
Crypto.com – Best Online Crypto Broker with Variety of Tools

Founded in 2016, Crypto.com quickly became the world's leading cryptocurrency platform, trusted by over 70 million customers worldwide. Crypto.com's vision is simple – cryptocurrency in every wallet, and with their outstanding marketing campaigns and excellent and secure services, the dream may soon become a reality. The online broker has many reasons to call themselves the best, as their competitive prices, variety of trading instruments, and crypto-related products are among the best in the industry.
What sets Crypto.com apart from other trading platforms are its exclusive products, which are suitable for Beginner and advanced trading. Their mobile app is straightforward and pleasant to use and gives access to crypto trading at true cost. With their Crypto Earn, Crypto Pay, Crypto Credit, and Crypto NFT, you can buy and sell digital assets, spend and earn rewards and grow as a trader. One of their most advanced features is the DeFi wallet, which is an app that offers leading DeFi services.
Crypto.com has created an image around itself as a premium trading broker, not only because of its attention to detail and outstanding services but also because of its versatile metal visa cards. The unique debit cards are divided into five tiers, and each card is obtained by staking Cronos (CRO), the native token of Crypto.com.The higher the tier, the perks you get. You will enjoy free CRO rewards, Spotify, Amazon Prime, and Netflix rebates, complimentary airport lounge access, and up to 5% cashback.
The only drawback of this crypto exchange is that the customer service team does not respond promptly. However, the advantages outweigh the minor disadvantages, so our overall rating for Crypto.com adds up to 4.5/5. Lastly, being the leader in regulatory compliance, with a SOC2 Type 1 Compliance certification and additional 2FA security features, this trading platform is a safe place for your investments.
Pros
Wide Range of Cryptocurrencies: Crypto.com offers a diverse selection of cryptocurrencies, including popular coins and numerous altcoins, giving traders a variety of investment options.
Mobile App and Exchange: Crypto.com provides an easy-to-use mobile app for trading and managing crypto assets, as well as a more advanced web-based exchange for professional traders.
Crypto.com Visa Card: The platform offers a Visa debit card that allows users to spend their cryptocurrencies at millions of merchants worldwide while earning rewards in the form of cashback and other perks.
Staking and Earning Programs: Crypto.com provides various staking and earning programs, allowing users to earn passive income on their crypto holdings.
Competitive Trading Fees: Crypto.com has a tiered fee structure that rewards users for higher trading volumes and holding the platform's native token (CRO), resulting in lower fees for active traders.
Security Measures: Crypto.com implements multiple security measures, such as two-factor authentication (2FA) and cold storage of user assets, to protect users' accounts and funds.
Educational Resources: Crypto.com offers various educational resources, including blog articles and videos, to help users learn about cryptocurrencies and trading strategies.
Cons
Limited Advanced Trading Features: Crypto.com's trading platform may not have all the advanced features that more experienced traders might be looking for, especially when compared to other specialized crypto trading platforms.
Customer Support: Some users have reported slow response times and difficulty in reaching customer support, which may be a concern for traders who require prompt assistance.
In conclusion, Crypto.com is a strong option for crypto traders in 2023, offering a wide range of cryptocurrencies, user-friendly mobile app and exchange, Crypto.com Visa card, staking and earning programs, competitive trading fees, security measures, and educational resources. However, potential users should consider the platform's limited advanced trading features and reported customer support issues. As the regulatory landscape varies by country, it is crucial to research and understand the requirements and restrictions in your specific location before using Crypto.com or any other crypto broker. Overall, Crypto.com presents a comprehensive solution for those looking to trade and manage cryptocurrencies in 2023.
---
eToro – Most Beginner-Friendly Crypto Broker

eToro is a reputable online trading platform established in 2007, and since then, its goal has been to create an engaged community of millions of investors. So far, more than 30 million users have trusted the brokerage company because of its transparency, low fees and taxes, and excellent features and services. The four words that best describe eToro are social, reliable, secure, and global, and the cool thing is that traders get access to all of these features at their fingertips in just one place.
The online broker's trading products and features are fan favorites in the industry, providing seamless trading quickly and reliably. With eToro's CpoyTrader, you get to automatically copy the portfolios of top investors in just a couple of clicks, so you don't have to do the work yourself. Smart Portfolios are another unique product that allows investors to pick from ready-made portfolios with thematic investment strategies created by experts in the industry.
One advantage that eToro has over exchanges like Binance and Crypto.com, which mainly provide cryptocurrency and blockchain-related products and services, is that this trading platform supports many asset types. In eToro, you can trade crypto assets, but also CFDs, Stocks, Commodities, Indices, Currencies, and ETFs, some with 0% commission fees. This multi-asset support is an advantage, considering you want to diversify your portfolio with different digital assets, which is a strategic risk management method.
In eToro's trading platform, you can invest in 60+ crypto assets, but you will also find more than 3000 financial instruments across various classes that will suit any risk-tolerance level. Essentially eToro is a multi-asset trading platform, not particularly a crypto exchange. Still, their first-rate cryptocurrency trading services deserve a rating of 4.1/5, according to client reviews from Trustpilot as well.
Pros
Social Trading: eToro is known for its innovative social trading platform, which allows users to follow and copy the trades of experienced traders, providing a unique opportunity for learning and sharing investment strategies.
Wide Range of Assets: eToro offers not only a variety of cryptocurrencies but also stocks, commodities, and other financial instruments, making it a versatile platform for diversified investing.
User-Friendly Interface: eToro's platform is designed to be intuitive and easy to use, making it accessible to both novice and experienced traders.
Regulated Platform: eToro is regulated by multiple financial authorities, including the Financial Conduct Authority (FCA) in the UK, the Cyprus Securities and Exchange Commission (CySEC), and the Australian Securities and Investments Commission (ASIC), providing a sense of security for users.
Educational Resources: eToro provides a wide range of educational resources, such as webinars, articles, and video tutorials, to help users learn about cryptocurrencies and trading strategies.
Demo Account: eToro offers a free demo account that allows users to practice trading with virtual funds, providing a risk-free environment to learn and experiment with different strategies.
Mobile App: eToro offers a mobile app for iOS and Android devices, allowing users to manage their investments and trade on the go.
Cons
Fees: eToro's fee structure, which includes spreads and overnight fees, may be higher than those of some other crypto brokers, making it less attractive for cost-conscious traders.
Limited Cryptocurrency Withdrawals: eToro users can only withdraw cryptocurrencies to the eToro wallet, which could be an inconvenience for those who prefer to use third-party wallets or want more control over their crypto assets.
In conclusion, eToro is a compelling choice for crypto traders in 2023, thanks to its innovative social trading platform, wide range of assets, user-friendly interface, regulatory compliance, educational resources, demo account, and mobile app. However, potential users should be aware of the platform's fees and limitations on cryptocurrency withdrawals. As the regulatory landscape varies by country, it is essential to research and understand the requirements and restrictions in your specific location before using eToro or any other crypto broker. Overall, eToro offers a unique and comprehensive solution for those looking to trade cryptocurrencies and diversify their investments in 2023.
---
Key Features to consider when choosing the best Cryptocurrency broker:
For a cryptocurrency platform to be considered a top provider like the ones in our crypto brokers' list, some key aspects need to be present in their services. The section below will present the essential features for picking the right broker for your trading goals and needs.
Account Types
Having access to more account types means that you will have the freedom to tailor crypto trading platforms' features and services based on your needs. That way, you will not need to constantly change brokers as the different accounts offered will fit your preferences perfectly, even when you progress as a trader.
Supported Assets and Investment Options
Diversification is one of the best risk-management strategies that successful traders use in the crypto niche and for other investment instruments like stocks, forex, etc. The potential of losing all your capital because of a market crash is nearly zero if your money is intelligently spread into several asset classes.
Tools Offered
High-quality trading tools and platforms are crucial for the execution of trades promptly, which is vital in crypto trading. Cryptocurrency prices constantly fluctuate, and with the help of reliable and fast tools and signals, you can be sure that you will take advantage of every opportunity.
Trading Interface
By providing a trading interface that is easy to navigate, trading platforms can attract more customers from any trading class and level. This means that any investor can utilize a trading platform's maximum capacity without spending too much time on research and tutorials.
Fees & Charges
The top cryptocurrency brokers are with their fees and charges, as this creates trust between the company and the traders. Furthermore, by knowing what you are paying for, you will make more precise calculations and informed decisions on your crypto trades.
Mobile Trading
The ability to monitor your portfolio and the price movement of the most popular cryptocurrencies, like Bitcoin and Ethereum, means that you will be more proficient in risk management. Additionally, the best brokers for cryptocurrency often send signals to their customers once a change in the market appears, which is another highly appreciated risk management feature.
Customer Support
Prompt resolution of complaints is critical to maintaining trust between crypto brokers and customers. The dynamic in the market is extremely fast-paced, so having the support of an agent from the company at any time can be of utmost importance for specific deals.
Comparison Between the Best Crypto Brokers for 2023:
In this section, we aim to provide a comprehensive analysis of the strengths and weaknesses of our picks in our crypto brokers' list. Our pros & cons table will help you meet your needs and expectations and decide which crypto trading platform suits you best.
| | | |
| --- | --- | --- |
| | Pros: | Cons: |
| Binance | Most Popular and Trusted Crypto ProviderBest crypto broker for beginnersAbundant selection of crypto instrumentsBinance Academy has Useful Educational Resources | The Account Verification Process is ComplexHas Received Negative Feedback Recently |
| Crypto.com | Highest Level of Regulatory ComplianceCompetitive Prices and FeesInnovative Crypto Products Beginner Friendly and Easy to Use Trading Interface | Customer Service Team does not Respond in a Timely MannerHave to Hold CRO Tokens to get most of the Platform's Perks |
| eToro | Popular and Trusted Online BrokerHighest Standards for SecurityLow Minimum DepositOffers Copy Trading | Relatively High FeesCustomer Support Experience is Not Great |
Best Crypto Broker for 2023 – Our Conclusion
Cryptocurrency trading platforms are packed with incredible tools and features that make the trading experience enjoyable and as resourceful as possible. Not only that, but investors always stay engaged with the constant innovations in the industry, the captivating learning resources, content, analysis, and the highest quality of services. The barrier to entry is lower than ever, so everyone who wants to dive into the exciting crypto world can do so with minimum deposit requirements set to just $10. Still, you should proceed with crypto trading cautiously, as these digital assets are highly volatile, and thus your capital may be at risk.
FAQ
Is it worth investing in crypto through online brokers right now?
The best and safest place to invest in crypto is through the services of online crypto brokers. Determining if crypto is a good investment right now may vary from one trader to another depending on factors like goals and strategies, yet, cryptocurrency prices are currently significantly discounted.
Which is the best trading platform for crypto?
Many excellent crypto brokers take great care of their customers and are worth investing in. From our analysis, we have found out that Binance, Crypto.com, and eToro are among the most popular and safest platforms on the market.
How can you know that an online crypto broker is safe?
Most importantly, the crypto trading platform needs to be regulated by central financial regulatory authorities across major jurisdictions. Furthermore, the company needs a set security standard, with features like 2FA to protect customers' accounts.
Risk Disclaimer
StockHax strives to provide unbiased and reliable information on cryptocurrency, finance, trading, and stocks. However, we cannot provide financial advice and urge users to do their own research and due diligence.
Read More