The site does not offer professional or financial advice. The opinions expressed here are based on the writer's opinion, research and personal experience, and they should not be taken as facts. The information on this site is general in nature and does not cater to specific individuals or entities.
When searching the internet for trading platforms to use, you will find that it's filled to the brim with different companies attempting to persuade you to open a brokerage account with them.
The sheer volume of brokerage firms in the UK can lead to a paralysis of choice, making it difficult for new traders to distinguish between the good and the bad. You may even be tempted to use the first company that pops up in your Google search. However, there is no assurance that this is the right course of action.
This article examines some of the top UK companies that offer brokerage accounts by analyzing the features and qualities that make at least one of them your ideal trading platform. Let's begin!
The Best UK Brokerage Account
Here is a brief review of some of the top UK companies offering brokerage accounts. This list gives you a quick overview of several platforms and provides you with further information so you can make informed decisions.
UK Companies that offer the best brokerage account at a glance
eToro
Pepperstone
Interactive Brokers
IG
Magnifi
XTB
Plus500
eToro – Best for No Commission and Copy Trading

eToro is one of the most popular trading platforms in the UK. Not just because you can join a network of investors from around the globe to trade, communicate, and learn together but also because of its fantastic trading features and commission-free status.
Stocks, CFDs, cryptocurrency, and Forex are among the accessible assets on this platform. There are also a ton of ready-made portfolios available that are easy to understand and provide a hassle-free approach to begin trading. A free demo account is also available, where new traders can practice their trades and participate in copy trading.
Pros
Low Cost
Virtual Account
Regulated by MiFID, FCA, ASIC
Great Interface
Copy trading capabilities
Cons
No MetaTrader platforms
High Forex fees
Limited Education
No SIPP or ISA is available
Pepperstone – Best for Low Cost and Excellent Customer Service

With operations across several continents, Pepperstone is one of the world's biggest FX and CFD trading platforms. Pepperstone is a good option for most traders because it offers various account options and trading platforms. Customers will also discover more than 1200 trading instruments, including Forex and CFDs.
To make copy trading available to a large community, Pepperstone has partnered with a lot of social trading platforms. MetaTrader 4 and MetaTrader 5 are both available here, along with cTrader and TradingView, which will please users of the MetaTrader platform.
Additionally, Pepperstone provides users with exceptional customer support around-the-clock. Investors who want to benefit from time differences across 14 different stock markets worldwide will find this extremely helpful.
Pros
No minimum deposit
Low fees and mostly free withdrawals
Extensively regulated
Good customer service
Cons
CFDs only
Clients outside the EU and Australia have to pay a withdrawal fee
Clients outside of the UK, EU, and EEA have no investor protection
Interactive Brokers – Best for Active Trading and Research

Retail investors and professional traders in the UK who require access to a variety of local and international markets should consider Interactive Brokers. In addition to 23 different currencies, Interactive Brokers offers 135 tradeable markets from 33 countries worldwide.
Customer support is provided by phone, email, and live chat, and the education and market research are of the finest quality. Due to the fixed pricing structure, Interactive Brokers is particularly cost-effective for more extensive portfolios that could otherwise suffer from a percentage structure. Investors no longer need to worry about Capital Gains Tax thanks to the creation of a SIPP and ISA account. Interactive Brokers is one of the best options for investors worldwide, but particularly for those in the United Kingdom.
However, portfolios with less than £50,000 in assets would likely receive a better rate elsewhere, and you may also have to consider the monthly account fees.
Pros
Low commission platform
Wide range of investment options
Large investment selection.
Strong research and tools.
Cons
The website is difficult to navigate.
IG – Best for Trading CFDs

Most US investors aren't familiar with IG. Still, UK investors use this brokerage account because of its wide range of investable securities, including CFDs on stocks, indices, commodities, and more. In addition to providing a large selection of markets on which you may trade, IG also provides research and top-notch trading platforms that are geared toward customers of all skill levels. The price is quite affordable, and clients can quickly switch between their retirement and share trading accounts.
Pros
Wide range of investment choices
User-friendly, powerful platform and apps
Competitive commission rates
Cons
Compared to some newer competitors, commissions are not as cheap.
Research still requires improvement.
Magnifi – Best for Long-term Investors

Magnifi is an investment marketplace where investors can utilize standard brokerage tools and AI to decide what's best for their portfolio. Magnifi search functions very similarly to Google's search engine, allowing you to enter an investment concept using natural language. Magnifi then searches for the best results. You can thus invest in the assets that produce the outcomes you deserve and more closely align with your strategy since you can easily access all the information you require about a specific asset.
Pros
Free investment research tool
Financial advising resources
Manage external investments
Cons
No options or margin trading
High cost for paid memberships
XTB – Best for Trading Academy and Low Forex Spreads

XTB, which was established in 2002, is well known for its exceptional customer support. Over 2100 different trading instruments, such as indices, ETFs, commodities, and more, are supported by XTB.
Depending on your account type and currency pairs, XTB may also provide you with the lowest forex spreads you've ever seen in the industry. Although you won't be able to access MetaTrader on XTB, the in-house platform, xStation5, is a juggernaut with some pretty advanced trading features and a popular mobile app.
Pros
Low spreads for Forex
Low minimum deposit
Easily create other Demo accounts
Wide range of markets
Highly regulated broker
Exceptional customer service
Cons
Demo account for 30 days
Fixed leverage
Other platforms, such as Meta Trader, do not exist
Plus500 – Best for Short-term Exposure to Markets

Plus500 is ideal for seasoned investors who want to invest exclusively in CFDs. It is intended for those who prefer short-term market exposure. CFD trading is what you do instead of buying stocks.
The introduction of Insights, Plus500's new analytical tool, is one of the features you may like about this trading platform. It offers incredibly helpful real-time analysis of millions of trades and is completely free for Plus500 users. Insights allow you to find the best-yielding trades and trader sentiment, unlike copy trading, which enables you to track the trades of one individual.
Pros
Over 2,500 important financial instruments
Regulated by the Financial Conduct Authority (FCA)
24/7 customer support
Cons
CFDs only
No API integrations
No social copy trading
Factors to Consider When Choosing the Best UK Brokerage Account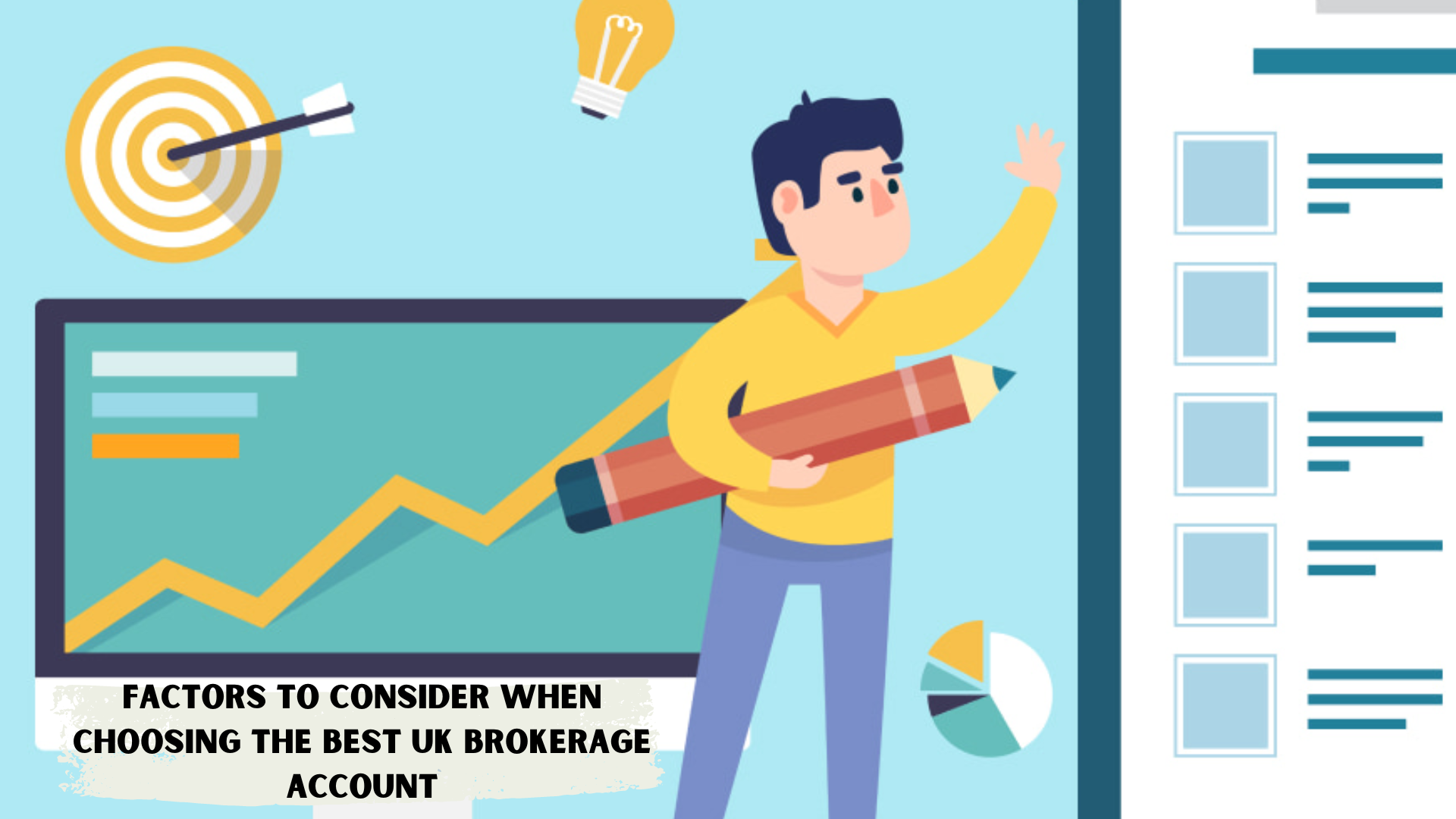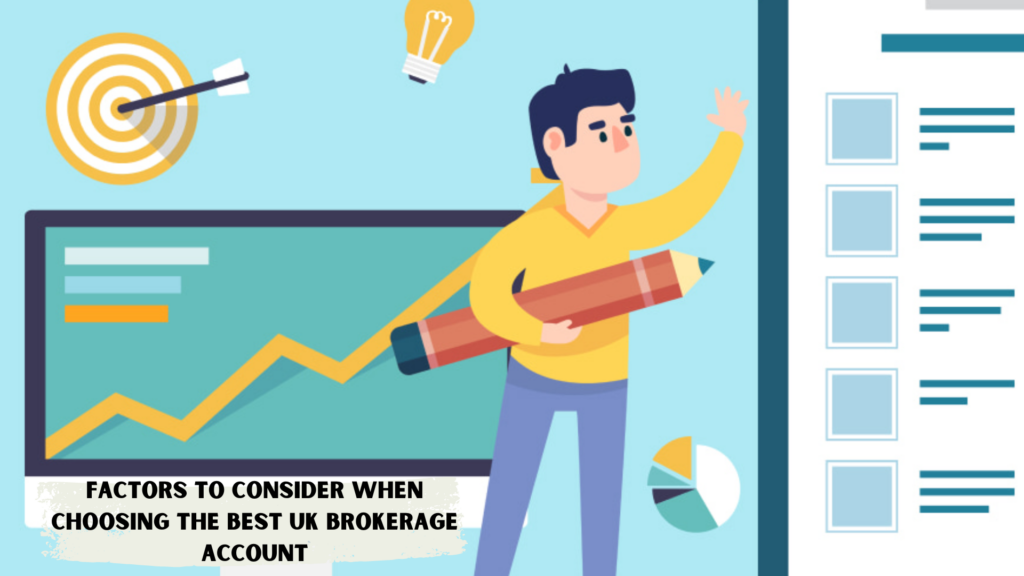 When deciding which UK company to open a brokerage account with, you must keep in mind that everyone has different financial needs and goals.
Highlighted below are some factors to consider when opening a UK brokerage account.
Your Goals
Your goals will decide things like the assets you desire, the fees you are willing to pay, or the resources you require to make investment decisions, all of which impact the platform you choose to utilize.
Consider the possibility that you only wish to make a minimal number of trades each year, leaving the majority of your portfolio untouched. You'll likely need to search elsewhere if the brokerage account charges you a considerable fee for doing this.
Speed and Efficiency
Trading is quite challenging when dealing with slow speeds, complicated platforms, and unattractive websites. Several companies provide a demo version for paper trading to give people the opportunity to try out their platform. By the end of the trial period, you should be able to grasp the basics; otherwise, it's probably not for you.
Fees and Commissions
Today, you no longer need to pay exorbitant fees for the right to trade. Choose the broker that offers the best value by comparing commissions and other costs between your favorite potential brokers. Kindly know that exorbitant fees and commissions are deducted directly from your returns.
Here are the common fees associated with a brokerage account:
Subscription fees: Some brokers in the UK may charge you a monthly subscription fee to open an account with them. This implies that rather than paying a percentage of the value of your account, you will pay the same amount monthly or annually.
Account charges: These are essentially the costs associated with maintaining investments in a brokerage account. They are often a percentage of your portfolio's worth and are billed annually. For instance, you would be required to pay a £4 fee per year if the charge was 2% and your portfolio was worth £200.
Trading commissions: These are the charges associated with using a stockbroker to make trades. When buying or selling stocks, you must pay them.
FX fees: You have to conduct a foreign exchange transaction whenever you transact in a currency other than your own.
Customer Support
Since many clients don't spend much time communicating with their broker's customer support team, it's easy to overlook how frustrating it can be when you need them, and they aren't up to par. Even the most efficient brokerage firms occasionally deal with client complaints and technical issues.
Moreover, you might need assistance with other features or the trading process. You'll have to communicate with them more frequently as a result. Multiple contact options and extended operating hours are required to provide efficient customer service.
Learning Resources and Analytics Tools
To aid in their decision-making, investors prefer to have analytics tools and data points at their disposal. What brokerage firms offer to facilitate this process varies greatly. Some provide sophisticated analytics and charting tools; others don't offer anything at all.
You might also need advice on how to invest, what to consider when choosing stocks, and how to interpret market trends. If you are absolutely convinced that you want these learning resources and tools, make sure the company with which you plan to open a brokerage account offers them.
Wrap Up
If you reside in the UK, consider using one of these options for your trading requirements. You have to consider your needs when choosing a company that provides the best UK brokerage account because the price isn't always the decisive factor. While selecting a brokerage company can be intimidating for new investors, you will likely make a good decision with all of the names listed above.
FAQs
What is the best trading platform for beginners in the UK?
The best trading platform for you as a beginner will depend on your trading preferences and objectives. While some clients prefer short-term trades, others want long-term investments. Explore some of the companies that can assist you in achieving your goals after evaluating what you hope to accomplish from investing.
What is the most efficient social trading platform in the UK?
The eToro platform is one of the world's leading social trading platforms with an array of social features, including copy trading, which allows you to copy other traders.
What do I need to open a brokerage account in the UK?
Most brokerage firms in the UK require the following:

Full name
Email address
Phone number
Valid ID
Bank account details.
National Insurance Number
Risk Disclaimer
StockHax strives to provide unbiased and reliable information on cryptocurrency, finance, trading, and stocks. However, we cannot provide financial advice and urge users to do their own research and due diligence.
Read More