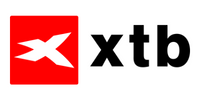 Wide variety of financial instruments
Focus on security
Internationally regulated
Pros
Wide variety of financial instruments
Extensive educational tools
0% commissions
Not minimum amount needed to fund the account
Cons
Support only available 24/5
Crypto trading only via CFDs
Fees sometimes higher than competitors
XTB Highlights

| | |
| --- | --- |
| 💰 Account Minimum | $0 |
| 💸 Commission Fees | None for standard account, $3.5 per lot for pro account |
| 💼 Investment Options | CFDs on Forex, Shares, Commodities, Indices, ETFs & Cryptocurrencies |
| 🤖 Robo-Advisor | No |
| 📊 Research and Analysis | Market news, economic calendar, trading signals, sentiment analysis |
| 📱 Mobile App | Yes |
| 🏦 Retirement Accounts | No |
| 🎓 IRA Accounts | No |
| 📈 Trading Platform | xStation 5 and MetaTrader 4 |
| 📞 Customer Service | 24/5 phone, chat and email support |
| 📚 Educational Resources | Trading Academy and webinars |
| 🌕 Fractional Shares | No |
| 🌱 Socially Responsible | Yes, ESG policy |
| 🌎 International Investing | Yes, over 50 countries |
| 💳 Cash Management | No |
| 🔍 Margin Trading | Yes, up to 1:30 leverage for retail clients and up to 1:500 for professional clients |
| ⚙️ Options Trading | No |
| ₿ Cryptocurrency Trading | Yes, CFDs on cryptocurrencies |
| 🛡️ Account Security | SSL encryption and segregated bank accounts |
| 💹 Leverage | Up to 1:30 for retail clients and up to 1:500 for professional clients |
| ⚖ Regulation | Licensed and regulated by a variety of global leading regulators |
Introduction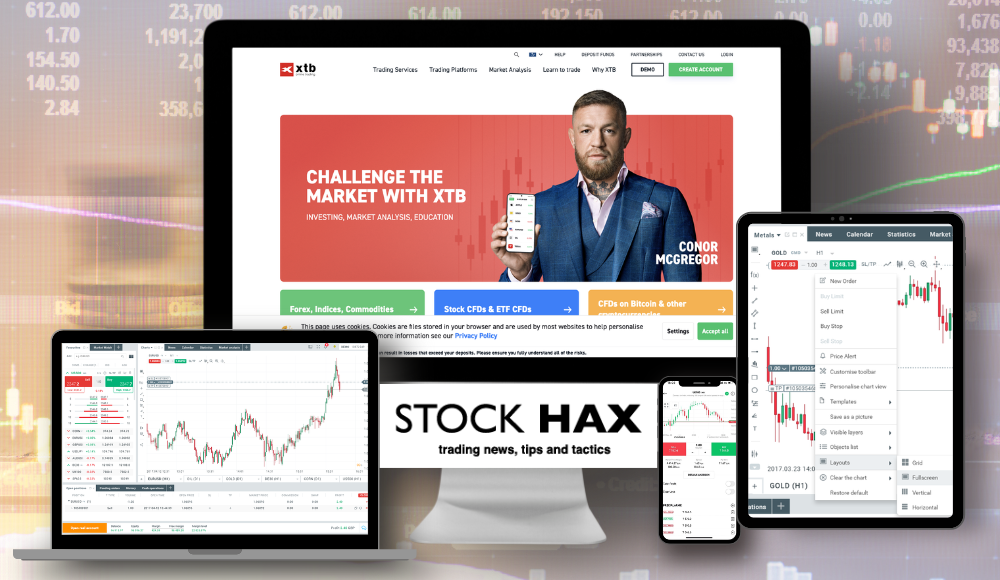 XTB is a global broker with strong roots in Europe. It was one of the first brokers to become fully functional and regulated in Central Europe and was able to create several branches in the continent and across the world in a few years.
The broker focuses on both retail and institutional traders and investors, and uses a mix of proprietary technology and intuitiveness to create constantly updated trading platforms that can meet the needs of beginners and professional traders. To better achieve this result, the broker provides users with different types of accounts and a wide range of financial instruments.
Trading with XTB is relatively low cost, but we will dive deeper into that topic throughout this article. We will also discuss all the features of this regulated and safe broker, and we will cover all the products available, how it keeps its customers' funds safe, the encryption methods used to protect data, detailed information about the company, and the trading platforms provided and the quality of its customer support.
The purpose of this article is to provide you with all the information you need to make informed decisions, thanks to a comprehensive review of one of the most popular online brokers available.
XTB Background and Company Information
XTB was founded in 2002 in Poland, and became one of the most important and popular brokers in Europe.
Born as X-Trade, it was the first forex broker in Poland that allowed margin trading. Only two years later, the company merged into XTB to become fully compliant with the regulations of the Polish market.
Only three years after its birth, the broker was fully regulated by the Polish authority, and won its first award as the best broker in Europe, chosen by Money Markets.
In 2007, the broker became a member of the Warsaw Stock Exchange and opened its first foreign branch in the Czech Republic. The following year, there were other branches in Europe – in Germany, Spain, Slovakia and Romania.
An important milestone for the company was the rebrand, which occurred in 2009, when it became XTB Online Trading.
In 2010, XTB opened another 12 branches across Europe. In 2016, XTB became a publicly traded company, and its shares were listed on the Warsaw Stock Exchange. Also in 2016, the company opened its first branches outside of Europe: between 2016 and 2018, the company expanded across South America and Africa. In 2021, the company reached the MENA region, and for the first time its clients amounted to more than 400,000 people.
Over time, the broker proved its reliability and capability to acquire and retain clients through the awards it won. In 2021 and 2022, XTB won 8 awards in different countries for the different services it provided.
User Interface and User Experience
XTB offers three different trading platforms:
The web trading platform,
The desktop trading platform,
The mobile trading platform.
The web platform – the xStation 5 – presents the same features of the desktop platform, with the difference that the desktop platform is downloadable.
The xStation 5 works on different browsers to allow a larger audience to use it seamlessly.
On this platform, users won't only find charts, but also educational tools and all the information they need to evaluate their investment and trades.
Charts can be exported to different monitors, in order to make it easier for experienced users to analyze more charts at once.
Users can also find information related to market sentiments – in order to have a closer look at what other traders and investors think about a specific financial instrument.
Even if the platform is intuitive, it still provides the complexity needed by most experienced users. Traders and investors can use several technical indicators, find over 2000 financial instruments, analyze market depth, check their positions, open and close more than one order at once, and check for any possible loss or gain.
The platform is available in several languages to make it easier for users around the world to enjoy a trading experience focused on a good user experience. It is not so common to find brokers that translate all their applications in all the countries in which they operate.
The mobile trading platform – the xStation Mobile – has all the features offered by the broker, but its design is simplified to be easily used on mobile devices. Users can download the mobile application on both Android and iOS devices – as of the first quarter of 2023, XTB counts over 1 million downloads on the Google Play store, with a rating of 4.3 out of 5 stars.
Also on the mobile platform, traders and investors have the opportunity to set different types of orders – like stop loss and take profit. These play a pivotal role in the experience of the most active traders who want to automate a part of their activity. Thanks to these types of orders, users can make their positions close automatically once the price levels they set are met.
The application is thought to allow users to constantly have control of their portfolios, trades and orders. But XTB is also able to meet the needs of investors that require more complex features.
As we mentioned, XTB focuses on both retail and institutional investors. The latter are provided with all the tools they need to secure their investments.
The X Open Hub platform is designed to provide white-label solutions, offer Brokerage-as-a-Service, and an MT4 White Label platform.
These allow this solution to fit both the needs of institutional investors and businesses that want to join the brokerage market.
Moreover, XTB provides solutions designed for banks and solutions designed to acquire more liquidity, in order to guarantee the stability of the financial instruments offered.
Liquidity is actually a huge concern of trading platforms: It is needed if brokers want to keep their business models healthy, to guarantee fair pricing, and to have the appropriate reserves to meet any possible challenge caused by external market conditions.
That's why this characteristic of XBT needs to be taken into consideration.
The broker provides support to deep institutional liquidity: institutions can choose among over 5,000 global financial instruments and markets to provide this liquidity, and the highly technological measures taken by the broker guarantee an additional layer of security.
These services, designed for institutional traders and investors, are licensed by the FCA (the UK Financial Conduct Authority), the KNF (the Polish Financial Supervision Authority), the CySEC (the Cyprus Securities and Exchange Commission), the DFSA (Dubai Financial Services Authority), and the FSCA (the Financial Sector Conduct Authority of South Africa).
Overall, XTB is able to create a safe environment for traders and investors that own extremely different types of budgets.
Trading and Investment Options
XTB provides different financial instrument to traders and investors:
Forex,
Indices,
Commodities,
Stock CFDs,
ETF CFDs,
Cryptocurrencies – in the form of crypto CFDs.
There are 48 forex pairs available on XTB. The broker doesn't require any minimum deposit and provides trading with very low spreads – 0.1 pips.
Each pair is accompanied by detailed information like the value of one lot and the spread for each specific pair.
Indices can be traded with leverage, which can be up to 500x. Indices are available on global markets – like the U.S., China and Germany.
Commodities include popular assets like gold and oil. Also in this case, traders can use margin trading – with leverage up to 500x.
Both stocks and ETFs (Exchange Traded Funds) are available in the form of CFDs (Contracts for Difference). In both cases, instruments can be traded on margin – leverage can reach as high as 1:500. 
There are over 2,000 products available for 0% commission. Also, over 50 ETF CFDs can be traded with 0% commission, and the broker provides negative balance protection.
For cryptos, users don't need a wallet, because these are available in the form of CFDs.
Crypto Trading
These cryptocurrencies are available:
Algorand,
Apecoin,
Avalanche,
Binance,
Bitcoin,
Bitcoin Cash,
Cardano,
Chainlink,
Chiliz,
Cosmos,
Cronos,
Curve DAO,
Decentraland,
Dogecoin,
DYDX,
EOS,
Ether,
Fantom,
Filecoin,
Gala,
Graph,
Intercomp,
Iota,
Kusama,
Kyber,
Litecoin,
Maker,
Metal,
Moonbeam,
Neo,
Polkadot,
Polygon,
Ripple,
Sandbox,
Solana,
Stellar,
Stepn,
Sushi,
Tezos,
Tron,
Uniswap,
Vechain,
Waves,
ZCash,
Zilliqa.
Not all crypto CFDs are available for margin trading, but when leverage is available it can go as high as 1:5.
Each crypto CFD is accompanied by specific information – the value of a single lot is always set to 1.
Unlike with some other brokers such as eToro, Webull, and Robinhood, users don't directly own cryptocurrencies, since they invest in CFDs and not directly in digital assets. This means that users can't send cryptocurrencies across different crypto portfolios, and that their accounts are not associated with any public crypto address.
Safety and Security
XTB has offices and branches around the world, and it has all the licenses it needs to be able to operate across the globe.
The regulatory bodies that license XTB and authorize it to operate in their countries are:
The FCA – Financial Conduct Authority – in the UK;
The ASIC – Australian Securities and Investments Commission;
The CySEC – Cyprus Securities and Exchange Commission;
The KNF ("Komisja Nadzoru Finansowego") – the Financial Supervision Authority in Poland, which was the first to regulate the Polish broker.
XTB's encryption methods and the security of investors' funds are equally important to security.
XTB uses encryption on all the trading platforms it offers:
The platform needs your authorization to access your account – this can happen via the use of a code, password or biometrics;
Connections between users' devices and XTB's servers are always encrypted;
Multi-factor authentication is used to confirm any important information change, and to make sure the right user is accessing the account.
XTB's official website also follows the best practices for the protection of users' data: it uses an HTTPS protocol to encrypt the personal details shared with the broker to comply with KYC (Know Your Customer) and AML (Anti Money Laundering) regulations.
Users' funds are segregated. This means that they're always kept separated from the broker's, to guarantee that users can always withdraw their money.
Moreover, under FCA rules, funds are insured under the Financial Services Compensation Scheme (FSCS) for up to £85,000 per account.
Customer Support and Education
XTB offers highly qualified customer support. Users can contact the XBT support team 24 hours a day via phone, email or the live chat available on the website, which is the fastest means of communication. A negative aspect is that the support via phone call and chat (which is indicated as the preferred channel of communication by the broker) is not available 24/7, but only 24/5 – from Monday to Friday.
An advantage is that the support is provided in different languages. Moreover, the broker provides a comprehensive help section where users can find most of the answers they need to solve any issue.
These include how to sign up and create fully functional and verified accounts, what types of trading products the broker offers, how the different platforms work, what the fees and commissions are, and how the broker's partnership program works.
XTB also provides educational tools – mainly through its help section and the articles published on the website. Educational content explains the functioning of the platform, but also provides traders with a better understanding of how the financial instruments work. Another pivotal educational tool offered is the demo account, which allows users to get familiar with the broker without risking real funds.
Fees
XTB offers two types of accounts: a standard one and a professional one – mainly for institutions.
When we talk about low fees and 0% commissions, we're usually referring to the standard account, since the professional one has different types of commissions and fees.
Most of the fees charged by XTB are included in the spread, but there are other fees not related to transactions; for example, it charges €10 for withdrawals less than €100.
There are no fees for opening and closing orders in the standard account; pros pay a fixed €3.5.
Fees don't change only according to the financial product users want to trade, but also according to the user's country of residence of the user. It's up to the user to check the fees in his country. Fees that are the same everywhere include those:
For stock CFDs and ETF CFDs, XTB includes the associated fees in the spread, with a markup that corresponds to 0.3% of the amount. This is above the industry average, which is usually 0.1% or less.
For forex transactions, the broker divides by two the sum of bid and ask rates to determine the fee.
For conversion rates, the broker uses the rates from the National Bank of Poland.
For cryptos, Pro account users pay a fixed commission of €3.5.
Fees Breakdown
The broker doesn't charge fees to open and manage accounts. XTB doesn't charge management fees and commissions.
The fees charged for financial products are usually included into the spread, which can differ according to the instrument users are trading.
XTB offers competitive fees, but in some cases they are higher than those offered by other brokers like eToro.
Fees and commissions are clearly visible on the website, so users can evaluate the broker before opening an account.
Conclusion
XTB is one of the most popular brokers around, especially thanks to its global footprint, the variety of instruments offered, its strong experience, and its focus on both retail and institutional investors.
The broker has different branches all over the world, and it holds the necessary licenses from different countries to operate safely and be compliant.
Customer support is available in different languages.
The broker also has some downsides: the crypto trading options don't allow users to directly invest in digital currencies, since they are available in the form of CFDs; fees can be higher than the competition's, and customer support is not available 24/7 – but only 24/5.
Despite this, the broker is able to meet the needs of beginners, experienced traders and investors and institutions, and it strongly focuses on security and technology, while remaining intuitive.
In spite of the many educational tools and information provided by the broker, investors and traders should always consider that trading is a risky activity. Choosing the right broker is as important as setting a strategy to protect your budget and manage risks.
FAQ
When was XTB founded?
It was founded in 2002 in Poland as one of the first forex brokers in Central Europe to allow margin trading. The company merged into XTB in 2004, and only in 2009 it became XTB Online Trading – before opening its branches worldwide.
Does XTB provide support 24/7?
No. The level of the customer support provided by the broker is high: people can contact them via phone, email and via live chat. Support is available in many languages, but is available 24/5 – from Monday to Friday, and not 24/7.
What are the financial instruments available for trading?
XTB offers a wide range of financial products. Forex trading (48 currency pairs), Indices, Commodities, Stocks, ETFs and Cryptos. Stocks, ETFs and Cryptocurrencies are available in the form of CFDs.
What types of accounts does XTB offer?
XTB mainly offers two types of accounts: the standard account and the professional account. The former is more suitable for beginners and everyday traders. It also offers an entire section to institutional investors, to meet the needs of banks, institutions that want to provide liquidity in a safe environment, and businesses that want to trade.
Is XTB a regulated broker?
Yes, and it obtained licenses worldwide. It is regulated by the FCA (in the UK), the KNF (in Poland), the CySEC (in Cyprus), the DFSA (in Dubai), the FSCA (in South Africa).
Can you trade cryptocurrencies on XTB?
Yes, but only in the form of contracts for differences. These CFDs cover 45 cryptos, more than most competitors.
What trading platforms can I find on XTB?
XTB mainly offers three types of trading platforms – the web platform, the desktop trading platform, and the mobile trading platform. All share the same features, but the mobile version – the xStation 5 Mobile – is less complex if compared to desktop and web versions.
The desktop version is downloadable and it is possible to view charts on different monitors, otherwise it is similar to the web trading platform.
XTB also offers an entire hub to institutional investors and businesses – X Open Hub.
Is margin trading available?
Yes, it is available for the CFDs offered by the broker. Nevertheless, different products have different maximum levels of leverage, and traders and investors should always check before placing an order.
Does XTB offer competitive fees and commissions?
Generally speaking, XTB focuses on offering 0% commissions and low fees, but fees differ according to the financial instruments and the country of the market, and sometimes are higher if compared to competitors. Pros and institutions that use dedicated accounts tend to spend more in commissions.
Does XTB offer funds protection?
Yes. As required by U.K. regulators that granted licenses to the broker, XTB insures funds under the FSCS (Financial Services Compensation Scheme), up to £85,000 per account.
Risk Disclaimer
StockHax strives to provide unbiased and reliable information on cryptocurrency, finance, trading, and stocks. However, we cannot provide financial advice and urge users to do their own research and due diligence.
Read More