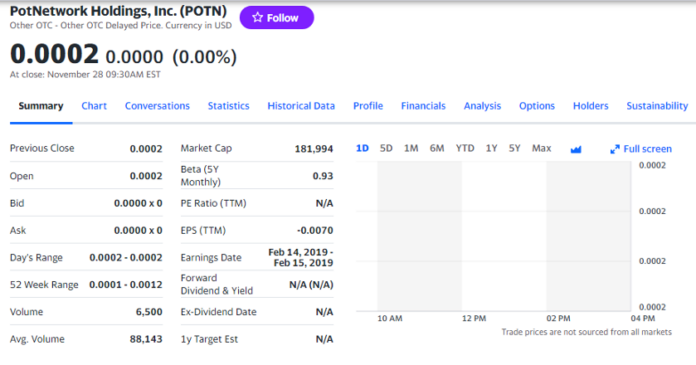 The site does not offer professional or financial advice. The opinions expressed here are based on the writer's opinion, research and personal experience, and they should not be taken as facts. The information on this site is general in nature and does not cater to specific individuals or entities.
At the time of writing this analysis, PotNetwork Holding, Inc. (POTN) shares were valued at $0.0002, meaning their prices moved 0.00% since its last close.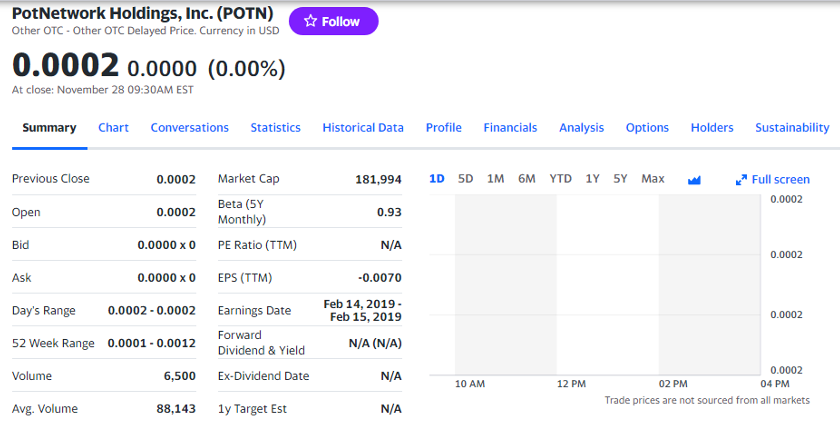 Source: Yahoo! Finance
The last trading days have brought no changes to the shares of PotNetwork Holdings, a company operating in the cannabis industry that recently changed its name to "Diamond Wellness Goldings, Inc."
Technical Analysis
PotNetwork Holdings, Inc. develops and sells cannabidiol (CBD) oil-derived products through its subsidiaries.
The company offers flavored and unflavored hemp oils, vape pens and additives, topical application creams in different concentrations, relaxation shots, hemp flowers, and more.
In addition, PotNetwork Holdings, Inc, sells its products under various brand names – such as Diamond CBD, MediPets, Chill, Meds BioTech, and Relax – and through different distributors, resellers, or its own website.
Considering that cannabis products have grown in popularity as some countries begin to decriminalize the plant's use, including Thailand, for example, the industry is expected to report profits.
However, despite having fluctuated several times, PotNetwork Holdings, Inc. shares are back at the same price they have been for several weeks: $0.0002.
On Friday, November 25, the company's shares hit a low of $0.0001 but closed the holiday-shortened trading week at $0.0002.
Two weeks ago, on Monday, November 14, PotNetwork Holdings' shares hit $0.0012 as their lowest price but closed at $0.0003 with a 343,600 volume after several days of consecutive gains.
However, since they reached that price, the shares have fallen 33.33%.
On November 8, the company's shares remained at $0.0001, a price it had held since October 26 after falling from $0.0002 the day before.
Their volume has also varied, reaching 359.00 and 310.00 on November 18 and 23, respectively, at their highest point. However, it had remained low on most days, including November 28, when it reached 6,500.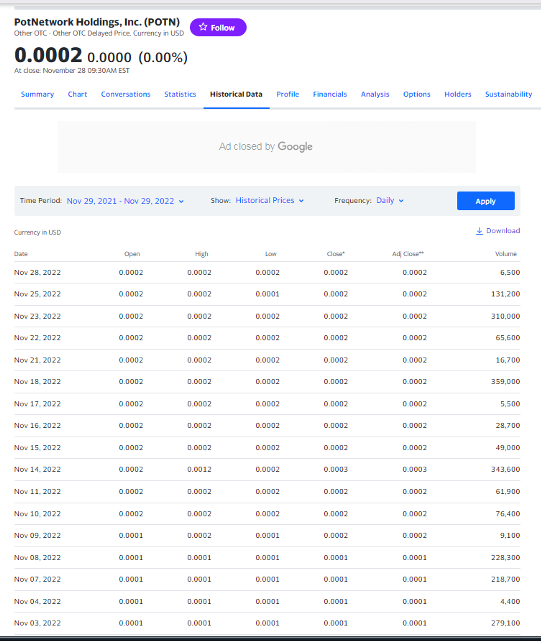 Source: Yahoo! Finance
PotNetwork Holdings, Inc. (POTN) Analysis Conclusion
The company offers a wide catalog to meet the growing demand for cannabis-based products.
However, unfortunately, actions related to cannabis or marijuana remain unpopular as no significant progress around its legalization has yet been seen.
While some countries have decriminalized cannabis for medicinal use, most governments appear to be a long way from implementing policies that allow the sale and use of the plant for medicinal purposes.
As a result, many companies in the industry have seen their shares plummet, including those that generate billions in profits each year.
However, when looking at the long-term outlook, cannabis companies appear to have the potential to perform well in the industry.
In the United States, only 18 states allowed the sale of medical marijuana a decade ago. The legal sale of recreational cannabis was only authorized in three states in that group: Washington, DC, Colorado, and California.
After 10 years, the number of states allowing the sale of medical cannabis rose to 39, while 21 states and Washington, DC, legalized recreational marijuana sales.
Additionally, research firm BDSA estimated that global cannabis sales could reach $57 billion within three years, accounting for an increase of nearly 13% over the $20 billion reported last year.
In the United States alone, sales could reach $27 billion by the end of 2022, representing a 7% increase compared to $25 million in 2021.
However, not all cannabis businesses will be equally successful. Analysts believe that only a handful of large operators will lead the industry.
PotNetwork Holdings has the potential to be one of the survivors. However, there is still a long way to go, and the current market does not suggest that this company is anywhere near the finish line.
Actually, the latest market movements indicate that its shares could fall to a lower pivot. Therefore, this company couldn't be the right investment option for those looking for stocks with good short-term performance.
PotNetwork Holdings stocks still have a high-risk year or more to go before, and the company's current investment may still depreciate.
FAQs
Could PotNetwork Holdings' Stock Go Below $1?
This company's shares could hit $1 in the future, but prices are expected to drop further at some point this year.
PotNetwork Holdings' Stocks Could Tumble?
Yes, according to our forecast system, PotNetwork Holdings' shares could plunge over 50% this year alone.
Are PotNetwork Holdings' Stocks a Good Investment?
No, they aren't. At this time, PotNetwork Holdings' shares are not a good investment option in the short or medium term.
Could PotNetwork Holdings' Shares Hit $5 This Year?
Based on our prediction system, PotNetwork Holding's shares might not reach $5 any time soon.
Risk Disclaimer
StockHax strives to provide unbiased and reliable information on cryptocurrency, finance, trading, and stocks. However, we cannot provide financial advice and urge users to do their own research and due diligence.
Read More