This website and its content are not intended to provide professional or financial advice. The views expressed here are based solely on the writer's opinion, research, and personal experience, and should not be taken as factual information. The author is not a financial advisor and lacks relevant certifications in that regard. We highly recommend consulting a qualified financial advisor before making any investment decisions, as the information presented on this site is general in nature and may not be tailored to individual needs or circumstances.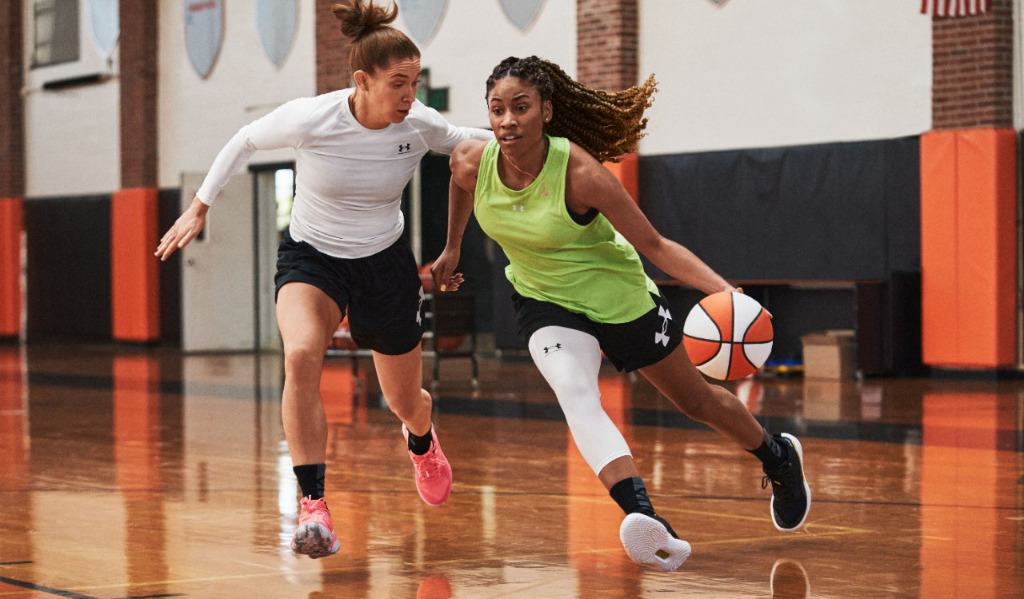 Under Armour, a prominent name in the sports and athletic apparel industry, is dedicated to empowering athletes and fitness enthusiasts with innovative performance gear and footwear. Founded in 1996 by Kevin Plank, the company has established itself as a global brand synonymous with cutting-edge sports apparel, footwear, and accessories.
Under Armour's commitment to enhancing athletes' performance, comfort, and style has propelled its growth, offering a diverse range of products designed for various sports and activities. With a focus on blending technology and design, Under Armour continues to inspire athletes to reach their peak potential while maintaining a strong presence in the competitive athletic wear market.
Under Armour Stock Key Features
Under Armour is a leading athletic apparel company: The company is known for its innovative products and its focus on performance. Under Armour's products are sold in over 170 countries and the company has over 15,000 employees.
Under Armour has two tickers, $UA and $UAA: This is because the company has two different classes of publicly traded shares with distinct voting rights. This dual-class stock structure is not uncommon among publicly traded companies and is designed to give different types of investors varying levels of influence and control over the company's decisions. UA vs. UAA: Under Armour's Class C shares (traded under the ticker symbol $UA) do not come with voting rights. The UA stock was introduced in 2016 after an Under Armour stock split in order to issue employee stock options, making them more suitable for compensation purposes without diluting the voting power of the company's founders and key decision-makers. The Class A shares (traded under the ticker symbol $UAA) come with one vote per share. These shares are typically held by the company's founders, executives, and key stakeholders who have voting rights and can influence corporate decisions.
UAA stock trades at a premium to UA stock: As of August 12, UAA stock is trading at a 10% premium to UA stock and there are two main reasons why. First, UAA stock has voting rights, while UA stock does not. This means that shareholders of UAA stock have more control over the company. Second, UAA stock is the more liquid of the two stocks. This means that it is easier to buy and sell UAA stock, which can make it more attractive to investors. However, it is important to note that the premium of UAA stock to UA stock is not always consistent.
Innovation: Under Armour is known for its innovative products, such as its MapMyRun app. This is a running app that allows users to track their runs, find routes, and share their progress with others. Under Armour is also investing in new technologies, such as artificial intelligence and machine learning. The company is using these technologies to develop new products and services that will help athletes perform better.
Competition. Under Armour faces stiff competition from Nike and Adidas, which are the dominant players in the athletic apparel market. Nike and Adidas are investing heavily in innovation and marketing, which could make it difficult for Under Armour to maintain its market share. In addition to Nike and Adidas, Under Armour also faces competition from smaller, more specialized brands, such as Lululemon and Patagonia. These brands offer high-quality products that appeal to a niche audience. Under Armour needs to continue to innovate and invest in marketing if it wants to compete with the big players in the athletic apparel market. The company also needs to focus on its core strengths, such as its strong brand and its loyal following among athletes and fitness enthusiasts. If Under Armour can do these things, it will be well-positioned to compete in the athletic apparel market in the years to come.
Under Armour Stock Over the Years – Review
Under Armour stock price has fallen by more than 60% in the last 5 years, mainly due to increased competition from Nike and Adidas, as well as product recalls and financial losses.
The stock price peaked in 2015, when it reached over $50 per share. However, it has since fallen steadily, and is now trading at around $7 per share.
The company has been struggling to compete with Nike and Adidas, which have deeper pockets and wider distribution networks. Under Armour has also had to recall a number of products in recent years, which has damaged its reputation.
In addition, the company has not been steadily profitable over the years as it reported a nearly $600 million loss in 2020, due to pandemic restrictions that year.
Under Armour Stock in 2023
As of August 12, 2023, Under Armour UA stock is trading at $7.15 per share and UAA stock at $7.84. The stock has a market capitalization of $3.35 billion — in personal finance terms, we could say that Under Armour net worth is $3.35 billion. The stock has been on a downward trend this year, and it is currently trading near 52-week lows. The poor performance has been caused by this year's difficult market environment. For example, in Q2, Under Armour's revenues declined 2% y/y due to the weakening consumer sentiment and the stiff competition from brands like Nike and Adidas.
Under Armour Stock in 2022
Under Armour stock exited 2022 at $10.75 per share falling by more than 45% for the year, and underperforming the S&P 500. The stock's movement was influenced by factors such as the overall market decline and the deterioration of consumer sentiment due to the war in Ukraine that broke out in February of that year. While the company launched a number of new products, such as the Curry Flow 9 basketball shoe and the UA HOVR Machina 3 running, macroeconomic challenges impacted the stock's performance throughout the year.
Under Armour Stock in 2021
In 2021, Under Armour stock ($UA and $UAA) displayed notable recovery, witnessing a yearly gain of around 23%. Commencing the year at approximately $17, it rose to about $21.20 by year-end. The stock's positive trajectory was driven by the company's efforts to revamp its product lineup with the launch of new products including the Curry Flow 9 basketball shoe and the UA HOVR Machina 3 running shoe. Additionally, as the global economy rebounded from pandemic-related disruptions, consumer spending on athletic apparel contributed to the stock's upward movement. Despite challenges posed by competition, Under Armour's strategic initiatives led to a favorable stock performance in 2021.
Under Armour Stock in 2020
In 2020, Under Armour stock faced challenges, resulting in a yearly decline of around 21%. Beginning the year at approximately $22, it experienced a downward trajectory and closed at about $17. The stock's performance was impacted by various factors including the COVID-19 pandemic, which led to store closures, decreased demand for athletic apparel, and competitive pressures within the athletic apparel industry. Despite these hurdles, the company undertook cost-cutting measures and digital initiatives to mitigate the impact, yet these efforts couldn't prevent the stock's decline in 2020.
Under Armour Stock in 2019
In 2019, Under Armour stock demonstrated a positive trajectory, recording a yearly gain of around 20%. Opening the year at approximately $18, it climbed to about $22 by year-end. The stock's performance benefited from the company's emphasis on product innovation. International expansion and improved brand perception also contributed to the rise in the stock price that year. Under Armour's efforts to strengthen its apparel and footwear offerings resonated with consumers, contributing to revenue growth of 3% on a constant currency basis. Additionally, strategic cost management initiatives positively impacted the stock's valuation. Overall, 2019 marked a year of recovery and growth for Under Armour's stock after facing challenges in previous periods.
Direct Stock Purchase: The most common way to invest in Under Armour is through buying its shares on stock exchanges. Individual investors can open a brokerage account and purchase Under Armour stock ($UA and $UAA) at prevailing market prices.
Mutual Funds: Many mutual funds include Under Armour shares in their portfolios, providing diversification across multiple companies and industries. Investing in a mutual fund that holds Under Armour can provide exposure to the company's stock along with other investment options.
Exchange-Traded Funds (ETFs): ETFs that track a specific index or sector may include Under Armour shares as part of their holdings. ETFs offer diversification and are traded on stock exchanges like individual stocks.
Robo-Advisors: Robo-advisors are automated investment platforms that build and manage portfolios based on an individual's risk tolerance and financial goals. They may include Under Armour shares in their investment recommendations.
Individual Retirement Accounts (IRAs): Under Armour shares can be held within IRAs, such as Traditional or Roth IRAs, offering potential tax advantages depending on the type of account chosen.
Options Trading: Experienced investors can trade options contracts based on Under Armour shares to speculate on short-term price movements. Options trading allows investors to employ various strategies to potentially generate income or hedge against risk.
Employee Stock Purchase Plans (ESPPs): If an individual is an employee of Under Armour, they may have the opportunity to purchase company shares at a discounted price through an ESPP, promoting employee ownership.
Investors can also buy Under Armour shares through eToro, a user-friendly platform, for exposure to the athletic apparel industry.
You can buy Under Armour stock via diverse exchange platforms or online brokers, but it's crucial to factor in costs, taxes, and investment resources. Let's take eToro as an illustration.
Step 1: Open an Account
To start, navigate to eToro's homepage and select the Sign-up button. The registration page will load promptly, requiring your name, email, and password. Alternatively, you can also create a profile using Facebook or Google accounts.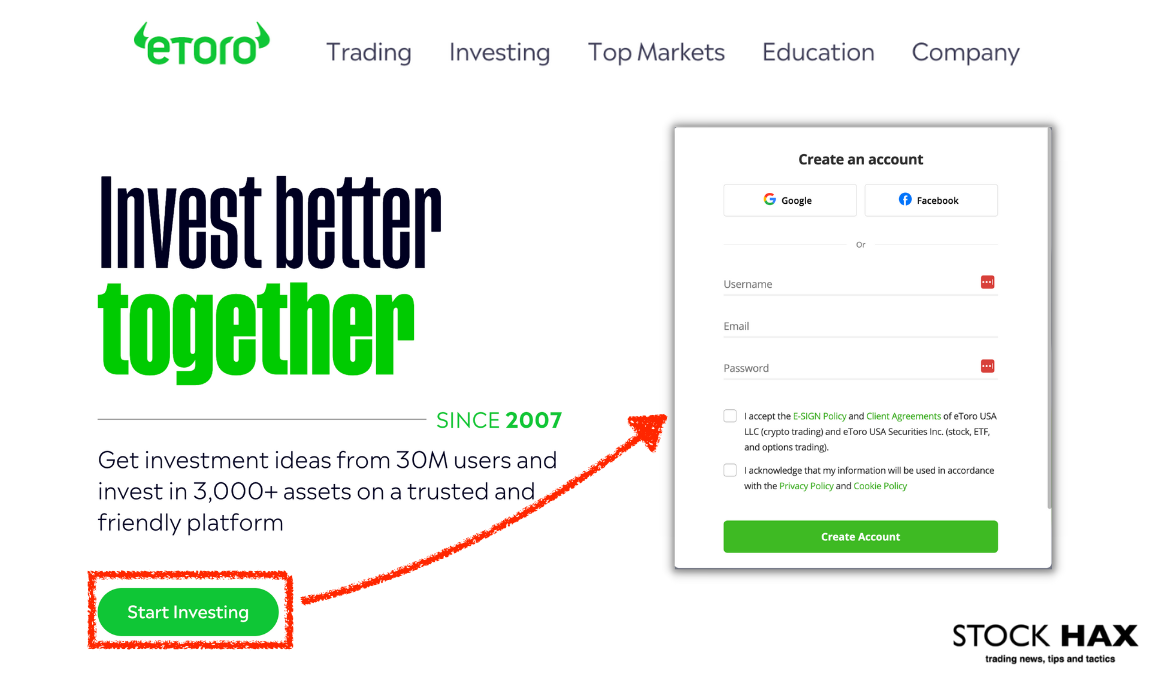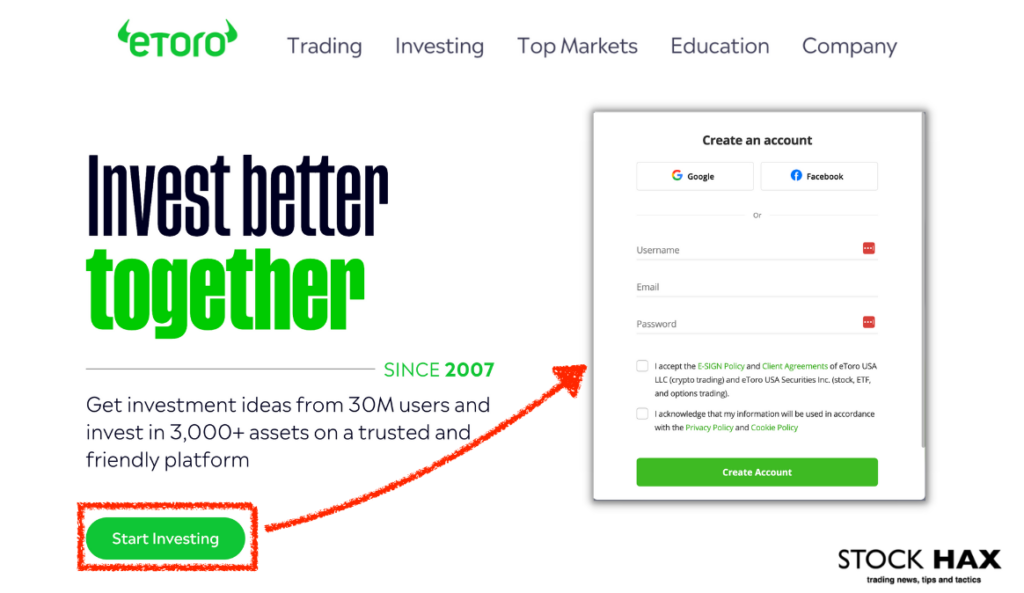 Step 2: Upload ID
To proceed, you'll need to verify your identity by uploading proof of identity (POI) and address (POA). Acceptable POI documents include IDs, passports, or driver's licenses. The POA should feature your full name, address, and date, issued within the last three months.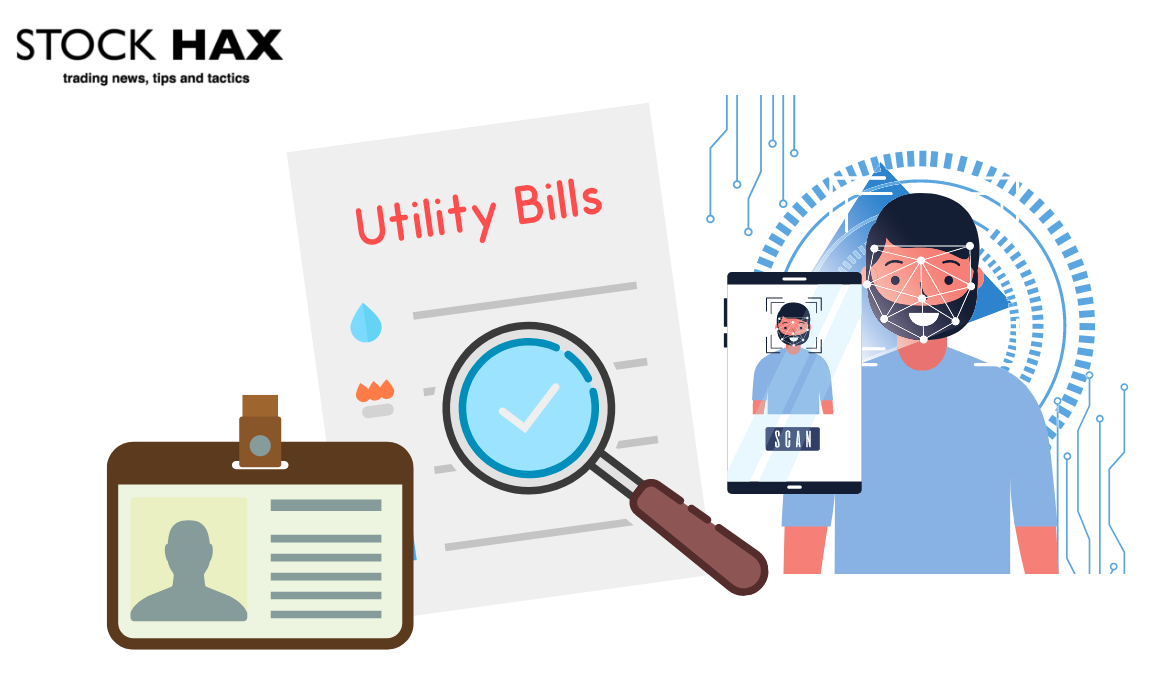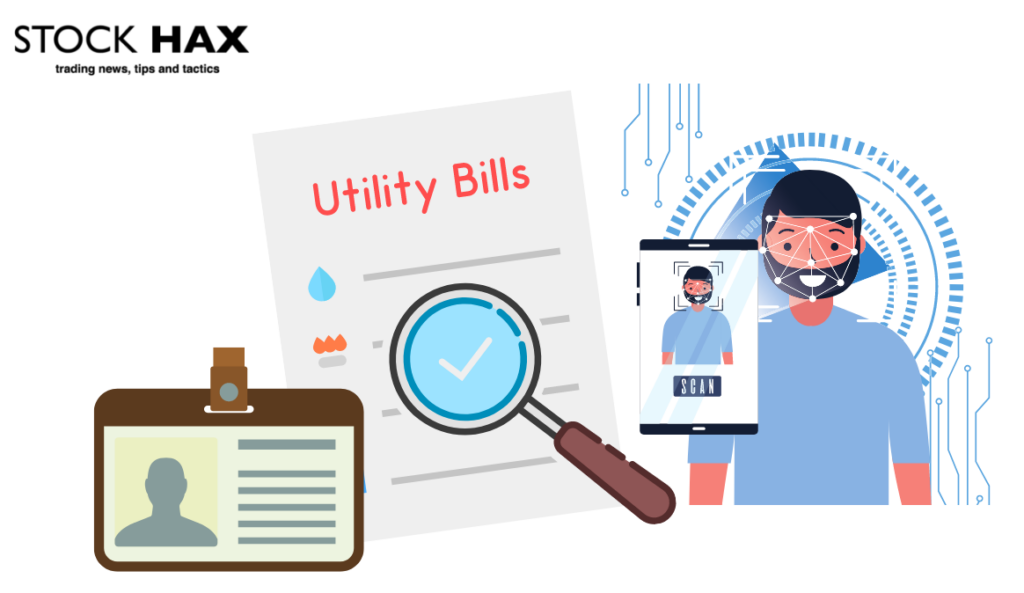 Step 3: Make a Deposit
Once your account verification is finalized, proceed to fund your profile. Access eToro's menu and click on "Deposit Funds." From there, choose the investment amount for Under Armour stock, currency, and preferred payment method.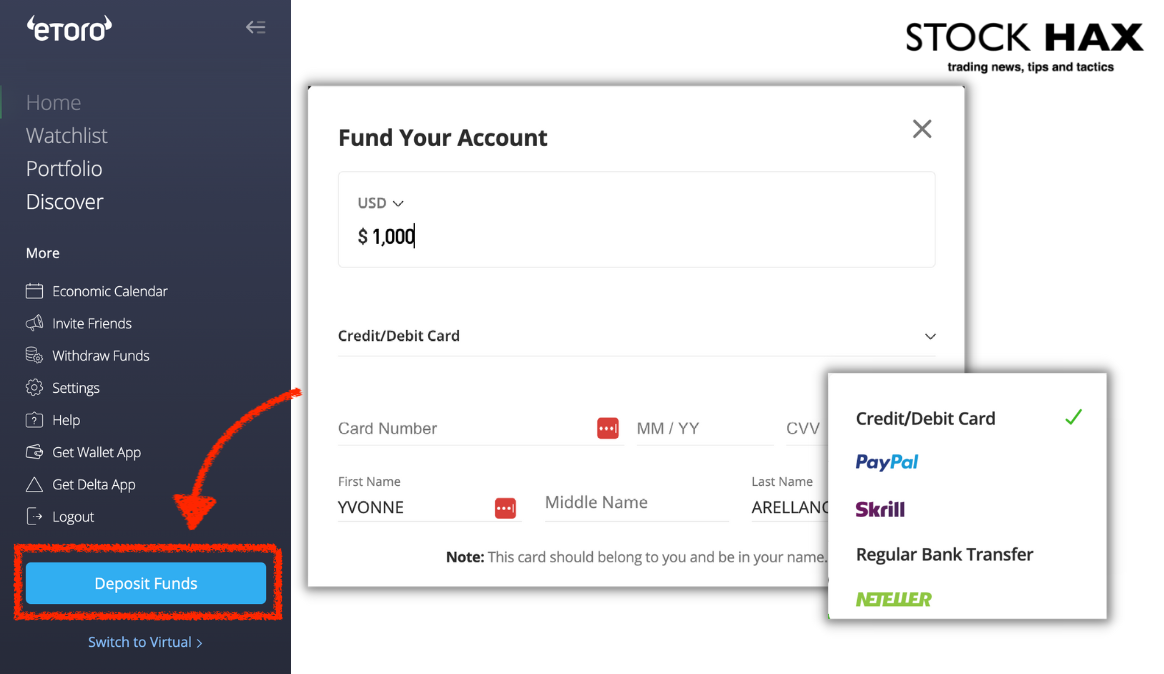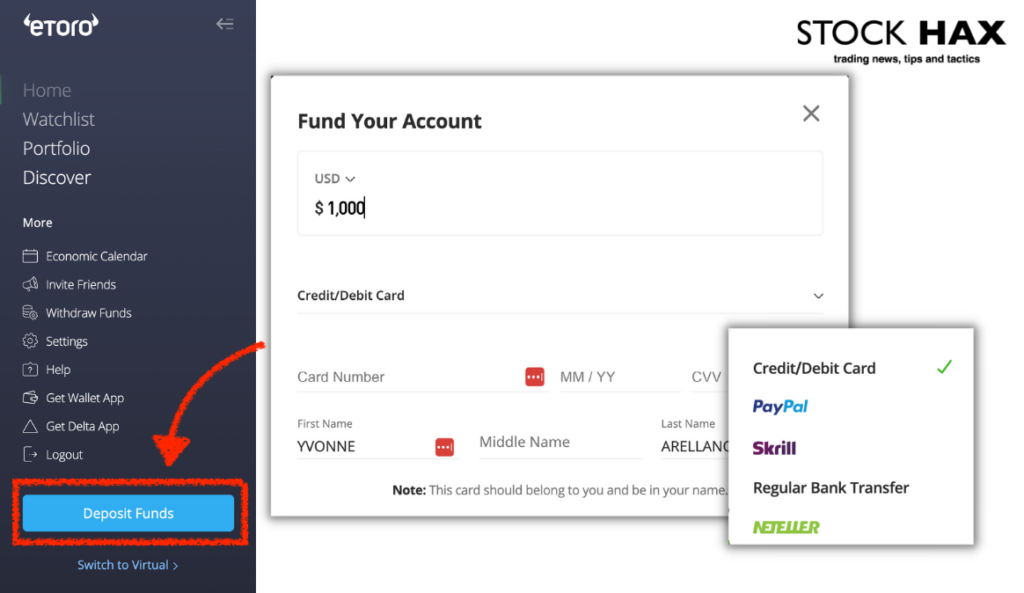 Step 4: Search for Under Armour
To find Under Armour Shares, enter "Under Armour" in the search bar. If unsure of the Ticker symbol, type the initial letters for quick results on eToro's user-friendly platform.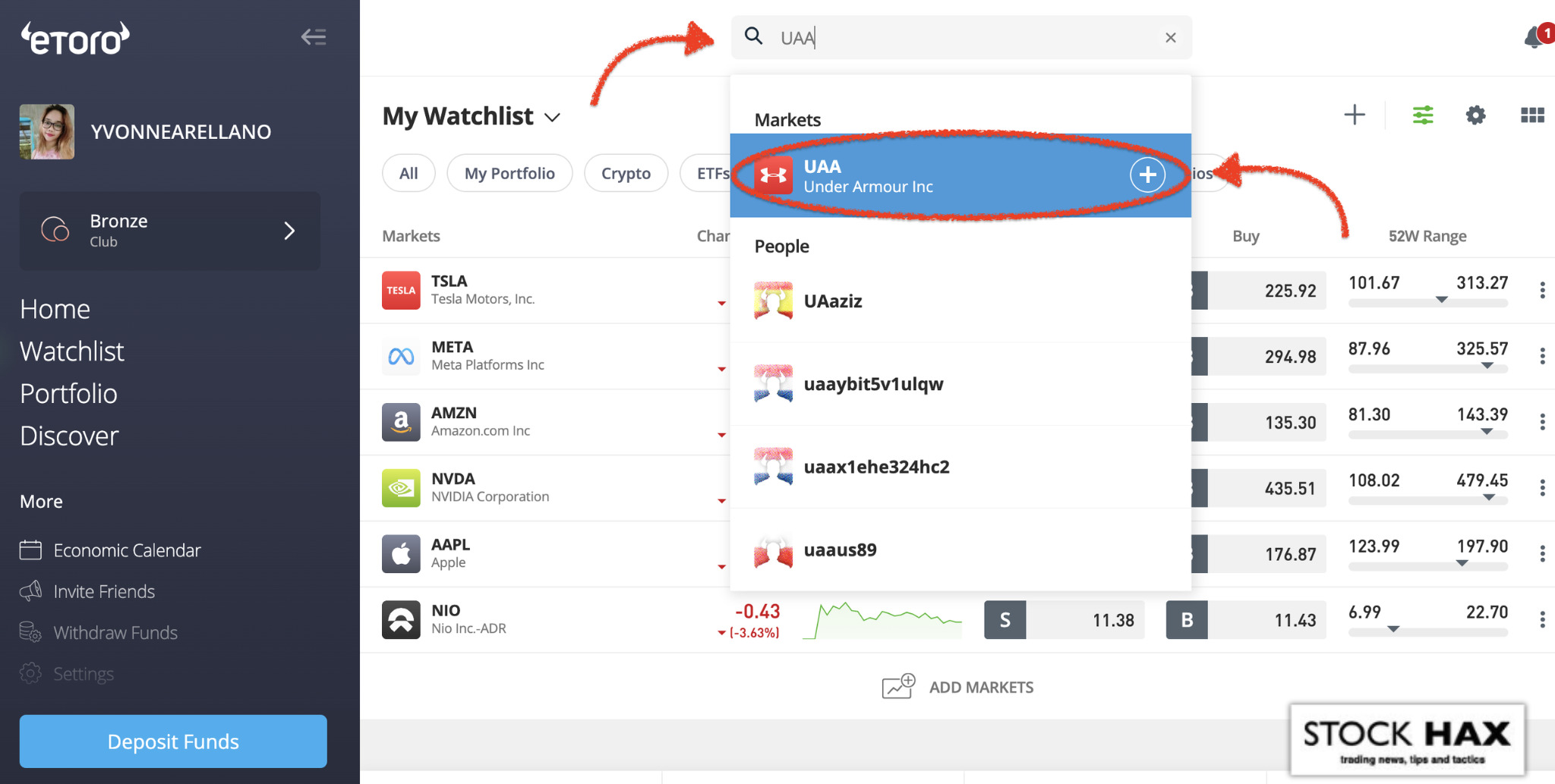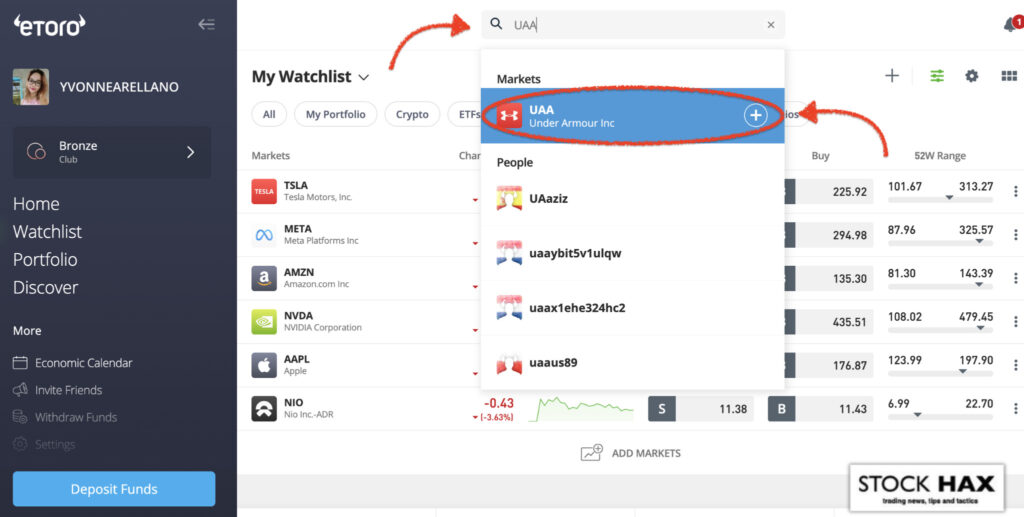 Step 5: Invest in Under Armour
Upon choosing Under Armour, investing through eToro becomes seamless. Click "Invest," then select your desired funds or shares amount. Your newly acquired assets appear in your portfolio after completion.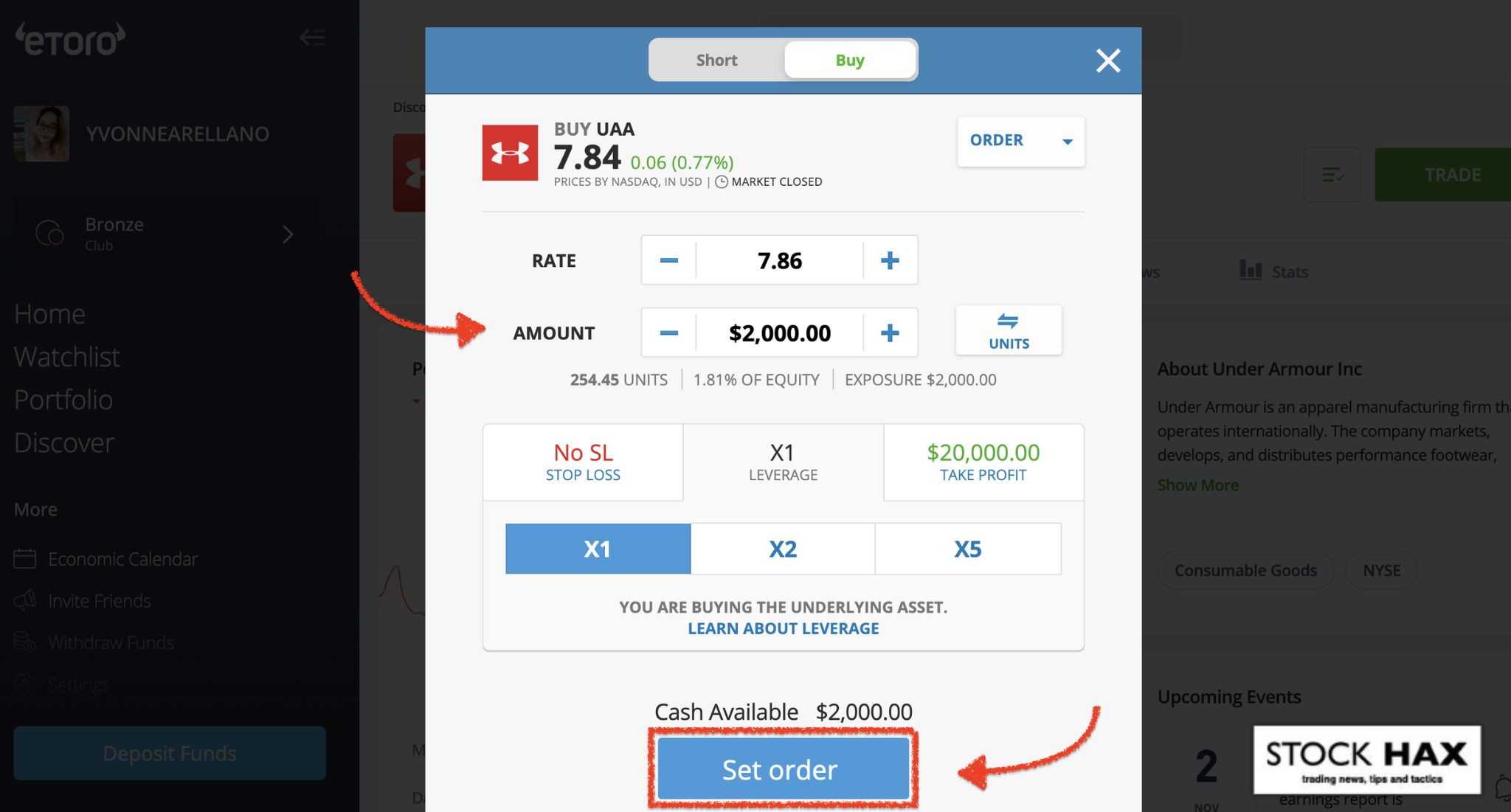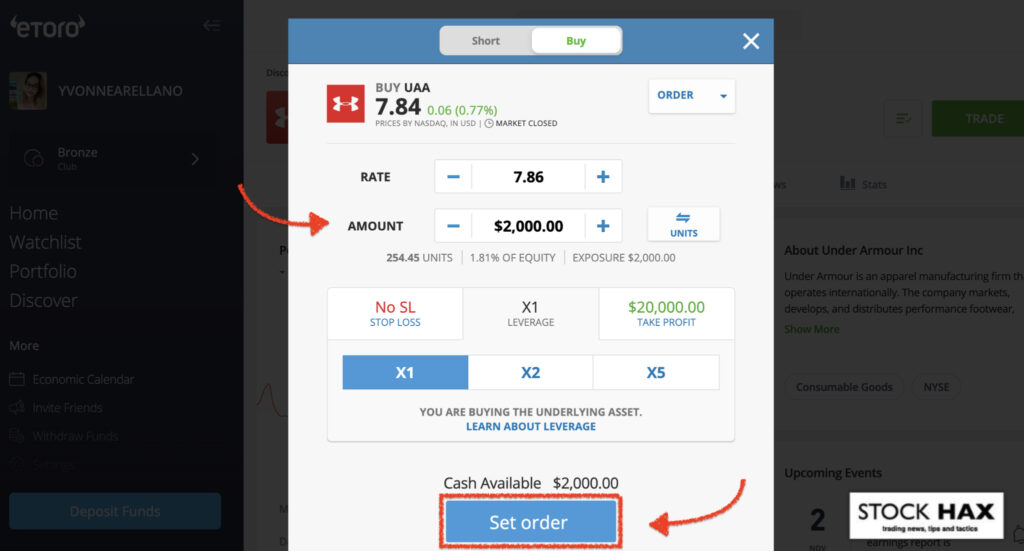 Summary
Investing in Under Armour offers access to the dynamic world of athletic apparel. Founded in 1996 by Kevin Plank, the brand is synonymous with innovative sports gear and footwear. Under Armour ($UA and $UAA) has dual tickers due to its dual-class stock structure, with UA shares lacking voting rights and UAA shares carrying one vote per share. Over the last five years, its stock price has fluctuated due to competition, recalls, and macro challenges. As of 2023, the stock trades at around $7.15 per share ($UA) and $7.84 per share ($UAA). Despite challenges, Under Armour remains a significant player in the athletic wear market, offering exposure to a legacy of innovation and performance-driven products.
FAQ
Do Nike and Adidas Pose A Serious Threat To Under Armour's Future?
Yes, Nike and Adidas do pose a threat to Under Armour's future. Both Nike and Adidas are dominant players in the athletic apparel industry with extensive resources, established global presence, and strong brand recognition. These companies have consistently invested in innovation, marketing, and athlete endorsements, allowing them to maintain and expand their market share.
Nike, for instance, is renowned for its iconic products, celebrity endorsements, and cutting-edge technology. Adidas has also made strides in the market with its diverse product offerings and collaborations with popular artists and athletes.
These factors create intense competition for Under Armour, potentially impacting its market share and revenue.
However, Under Armour has a loyal customer base, particularly among athletes and fitness enthusiasts, and continues to innovate with products like the HOVR running shoe and connected fitness apps.
Is Under Armour Still Growing Rapidly?
No, Under Armour is no longer growing rapidly. The company's revenue growth has slowed in recent years due to increased competition from Nike and Adidas.
In 2015, Under Armour's revenue grew by 28%. In 2016, revenue growth slowed to 22%. And in 2017, revenue growth slowed even further to 3%.
Is Under Armour Stock Reasonably Valued?
Under Armour stock is currently trading at a P/E ratio of 8.8. This is below the P/E ratios of Nike and Adidas, making it reasonably valued at current prices. However, this does not automatically mean that Under Armour stock is a more attractive investment opportunity than Nike or Adidas as this depends on the future financial performance of each company. It simply means that Under Armour stock is neither undervalued nor overvalued.
Risk Disclaimer
StockHax strives to provide unbiased and reliable information on cryptocurrency, finance, trading, and stocks. However, we cannot provide financial advice and urge users to do their own research and due diligence.
Read More