This website and its content are not intended to provide professional or financial advice. The views expressed here are based solely on the writer's opinion, research, and personal experience, and should not be taken as factual information. The author is not a financial advisor and lacks relevant certifications in that regard. We highly recommend consulting a qualified financial advisor before making any investment decisions, as the information presented on this site is general in nature and may not be tailored to individual needs or circumstances.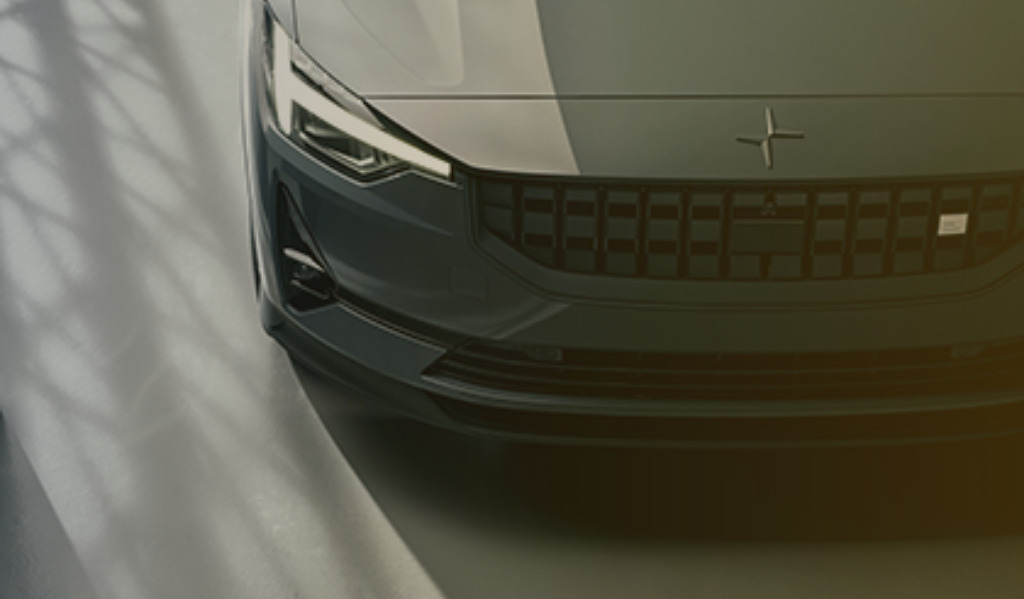 Polestar is a company that went through many changes since its inception in 1996.
The Swedish automotive brand is today an established electric car company, but its origins and the method it used to become a publicly traded company might be useful to those interested in investing in the stocks issued by Polestar.
In this article, we will cover in detail the characteristics of the stock, the history of the company, and the past performance of the asset.
Polestar Stock Key Features
Polestar Automotive Holding UK PLC is traded under the ticker PSNY.
The company went public through a SPAC – a Special Purpose Acquisition Company.
The stock doesn't pay dividends.
The company is listed on NasdaqGM.
AMF Tjanstepension AB is the largest institutional shareholder of PSNY.
History of Polestar
Polestar Automotive Holding UK PLC was founded in 1996.
At the very beginning, it wasn't a company focused on the production of electric vehicles. It was called Flash Engineering, a Swedish racing team that was able to build a solid reputation.
Over time, the team evolved until it became Polestar Racing: the team behind the project wasn't only specialized in racing, but also in modifying Volvo vehicles to improve them for competitive racing.
This mix of ambition and technical capabilities drew the attention of Volvo itself, the popular car brand.
The idea of the brand was to integrate the modifications made by Polestar with Volvo's mainstream models. From this, Volvo made a strategic decision and acquired Polestar Racing in 2015, to produce a unique segment of enhanced vehicles.
But over time, Polestar became something different, with a specific and autonomous identity in the car industry. The company has origins in Sweden, and its headquarters are located in Torslanda, but it has global ambitions.
In fact, the company manufactures its vehicles in China, benefiting from the experience of Geely, Volvo's parent company. Blending Swedish style with Chinese know-how, Polestar stands out as a special car brand. It takes the best from both places: the design skills from Sweden and the making skills from China.
Can You Buy Polestar (PSNY) Stock? Is Polestar Publicly Traded?
Polestar is now a publicly traded company, whose stocks can be bought and sold by traders and investors, but it didn't go through the traditional IPO (Initial Public Offering) process, as it is listed on a specific type of exchange.
In September 2021, a pivotal announcement was made by Polestar Performance AB and its affiliates. They revealed their intention to join Gores Guggenheim, Inc., a Special Purpose Acquisition Company (SPAC). A SPAC is basically a "blank check" firm designed to raise capital in an initial public offering (IPO) with the purpose of acquiring an existing company – without going through the complex, classical IPO. This business combination led to the public trading of Polestar shares under the ticker symbol "PSNY" on the NasdaqGM exchange from 24 June 2022. The NasdaqGM, often referred to as the Nasdaq Global Market, is one of the tiers of the Nasdaq Stock Market, which has less severe listing requirements compared to the Nasdaq Global Select Market.
This significant business combination was supported by the participants at a special meeting of Gores Guggenheim's stockholders on June 22, 2022. The listing on the NasdaqGM is aimed at fueling Polestar's growth.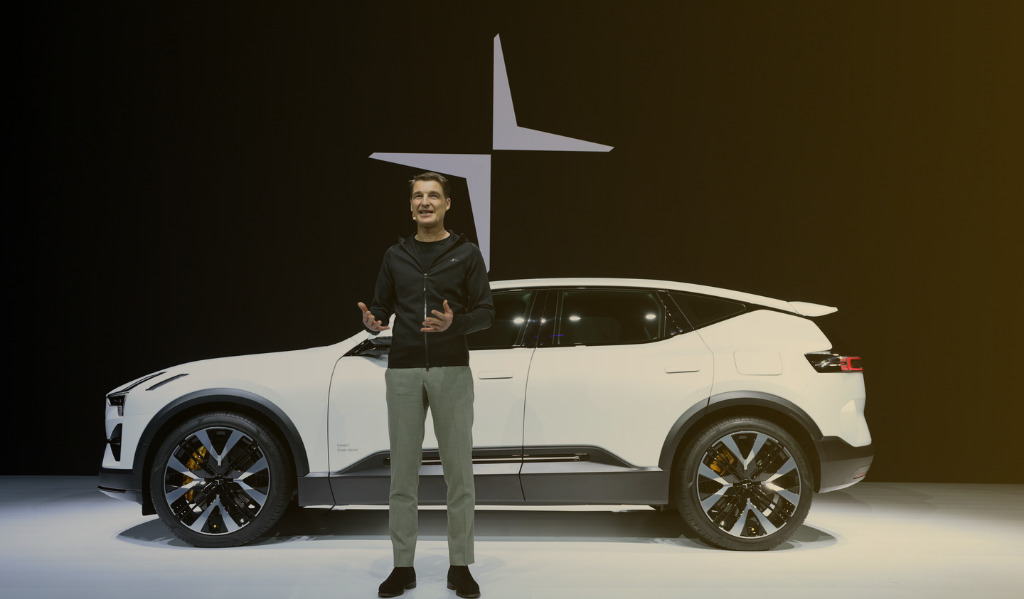 Thomas Ingenlath, Polestar's Chief Executive Officer (CEO), expressed his pride in the company's Nasdaq listing, highlighting their journey from creating a standout EV (Electric Vehicles) brand to their current growth aspirations. With ambitious plans, Polestar can set new industry standards.
Alec Gores (Gores Group), commended Polestar's approach in the EV market, emphasizing their shared goals of innovation and sustainable growth. This collaboration is seen as a significant milestone, marking Polestar's transition from a promising EV innovator to a significant player in the automotive sector.
The company's public listing was celebrated with an opening bell at Nasdaq in New York City on June 28, 2022.
Who Owns Polestar?
Even if Polestar is recognized as a distinct brand, it is a subsidiary of Volvo Cars. This relationship with Volvo ensures that Polestar benefits from decades of automotive engineering experience and a strong reputation.
However, the ownership structure is more complex. Volvo Cars itself is not an independent entity but operates under the larger umbrella of the Chinese conglomerate, Zhejiang Geely Holding Group, more commonly known as Geely. Founded in 1986, Geely has grown exponentially and is now one of the top ten automotive manufacturers globally. Its acquisition of Volvo Cars in 2010 marked one of the most significant milestones for Chinese automotive companies in the international market.
This complex ownership structure, where Polestar is a part of Volvo, and Volvo is, in turn, a part of Geely, provides several strategic advantages to Polestar. First off, it gains access to Geely's vast resources, including its extensive manufacturing capabilities, research and development centres, and its global market network. This is particularly beneficial when considering the scalability required in the rapidly growing electric vehicle sector.
Second, despite being linked to a massive Chinese conglomerate, Polestar retains its unique Swedish identity. This means it can draw upon Sweden's rich automotive heritage and design philosophy, ensuring vehicles that are not only technologically advanced but also elegant.
In conclusion, while Polestar operates under the protective wing of Volvo and, by extension, Geely, it has its own niche, mixing Swedish design with global resources to create vehicles that are both innovative and original.
Polestar (PSNY) Stock Over the Years – Review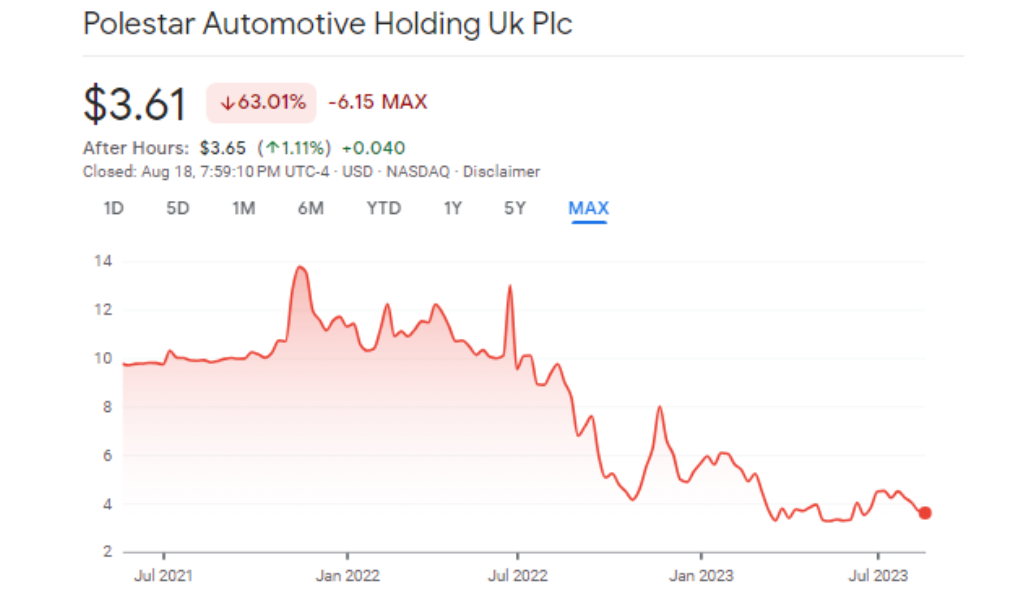 Source: Google Finance
Over the past years, PSNY – as any other stock – has seen fluctuations in the price of the asset, which can be due to a number of reasons – new launches, general market and economic conditions, different trading activity (which tends to change according to different periods of the year).
To analyze the past performance of the stock, we will start from 2021. Even if Polestar went public in 2022, Gores Guggenheim went public a year earlier, so we can collect data from 2021 and not only from 2022.
Let's see how the stock performed over the year.
PSNY Stock in 2023
Source: TradingView
The negative trend started in 2021 and further developed during the first months of 2023, leading the price of PSNY to around $3 per share – while the stock started to be traded at around $9 and reached a price above $16 during 2021.
The merger that had previously had a positive impact on the stock then started producing more sustainable outcomes – something that, as we mentioned, is not so usual. The global economic uncertainty contributed for sure to the low reached by the stock.
PSNY Stock in 2022
Source: TradingView
The downtrend started in 2021, and developed during the entire 2022. The first report shared by the company in November showed positive earnings, but a negative revenue surprise that amounted to around -35%.
The report was preceded by the lowest price reached by the stock over the year, which fell to around $4.
PSNY Stock in 2021
Source: TradingView
The first months of trading were quite stable for PSNY, with only a few, short-term positive peaks.
Volume was stable too, and the first significant move was recorded in September 2021. This led to a surge in price, which saw the stock reaching an all-time high for 2021 at around $16.
After this, a downtrend began – as it often occurs with new stocks, a cycle tends to complete in a few months, before giving more sustainable results.
During the year, PSNY moved in a range between $9 and $16.
Polestar (PSNY) offers various methods to investors and traders who want to get exposure to this stock. The simplest and most direct way to achieve this is by buying its stocks. Traders and investors who choose this way own shares of the company, and they can benefit from successes, but also be exposed to the risks deriving from the challenges faced by the company.
There are also alternative methods to get exposure to the stock, and they mainly involve financial derivatives. To mention some of the opportunities traders and investors have:
Options: Options on PSNY allow investors and traders to buy or sell the stock at a predetermined price within a specified timeframe. This instrument grants the holder the right, but not the obligation, to make a transaction. Options are not only used to get exposure to a specific underlying asset, but also as hedge instruments to limit risks involved in trading and investing.
Contracts for Difference (CFDs): CFDs based on PSNY offer an alternative way to invest in and trade the stock. These contracts are derivatives based on underlying assets – PSNY in this case: this means that they don't directly own the stock, but can trade and invest in assets whose price is based on the price of the stock. One of the advantages offered by this instrument is that traders and investors can use leverage for their strategies, and go long or short.
Exchange-Traded Funds (ETFs): some ETFs might include PSNY in their portfolio. To provide you with some examples, ETFs such as Invesco Exchange-Traded Fund Trust, AdvisorShares Trust, and iShares Trust include the PSNY.
An ETF is a collection of securities that tracks an underlying index or sector. By investing in an ETF that holds PSNY, you gain indirect exposure to the stock, often along with other related stocks – and this is something usually appreciated by traders and investors who look for diversification.
Conclusion
From its beginnings as Flash Engineering in 1996, Polestar Automotive Holding UK PLC (PSNY) went through many changes, finally becoming one of the most renown electric vehicles producers. With a double soul – European and Chinese – the company managed to benefit from technology and design to deliver its products.
Polestar is one of those companies who went public through the SPAC method, avoiding a classical IPO. The price of the stock experienced highs and lows over the years, as any other stock. Those interested in investing in the company have alternatives like options, ETFs and CFDs to get exposure to the assets issued by the company.
Despite the fact that many traders and investors find in PSNY a stable stock, it is important to always evaluate your specific needs and goals, as well as advantages and risks, before investing.
FAQs
What is the history of Polestar Automotive Holding UK PLC (PSNY)?
Founded in 1996 as Flash Engineering, Polestar transitioned from a racing team that modified Volvo vehicles to being acquired by Volvo in 2015. Today, the brand represents a blend of Swedish design and Chinese manufacturing expertise.
How did Polestar become a publicly traded company?
Instead of a traditional Initial Public Offering (IPO), Polestar opted to merge with Gores Guggenheim, Inc., a Special Purpose Acquisition Company (SPAC), in 2021. This merger led to Polestar's public listing on the NasdaqGM in 2022.
What has been the stock performance of PSNY since its listing?
Since its listing, the stock has seen fluctuations with prices ranging between $3 and $16. Factors such as global economic conditions, company announcements, and general trading activity have influenced its performance.
Who are the major stakeholders of Polestar?
While Polestar operates as a distinct brand, it is a subsidiary of Volvo Cars. In a broader context, Volvo is under the umbrella of the Chinese conglomerate, Zhejiang Geely Holding Group, making Geely an indirect stakeholder of Polestar. At the time of writing, the top institutional investor is AMF Tjanstepension AB.
How can investors get exposure to PSNY?
Directly buying PSNY stocks is the simplest way to get exposure to the company. However, traders and investors can choose different financial instruments as alternatives. These include financial instruments such as options, Contracts for Difference (CFDs), and certain Exchange-Traded Funds (ETFs) that include PSNY in their portfolio.
Risk Disclaimer
StockHax strives to provide unbiased and reliable information on cryptocurrency, finance, trading, and stocks. However, we cannot provide financial advice and urge users to do their own research and due diligence.
Read More