This website and its content are not intended to provide professional or financial advice. The views expressed here are based solely on the writer's opinion, research, and personal experience, and should not be taken as factual information. The author is not a financial advisor and lacks relevant certifications in that regard. We highly recommend consulting a qualified financial advisor before making any investment decisions, as the information presented on this site is general in nature and may not be tailored to individual needs or circumstances.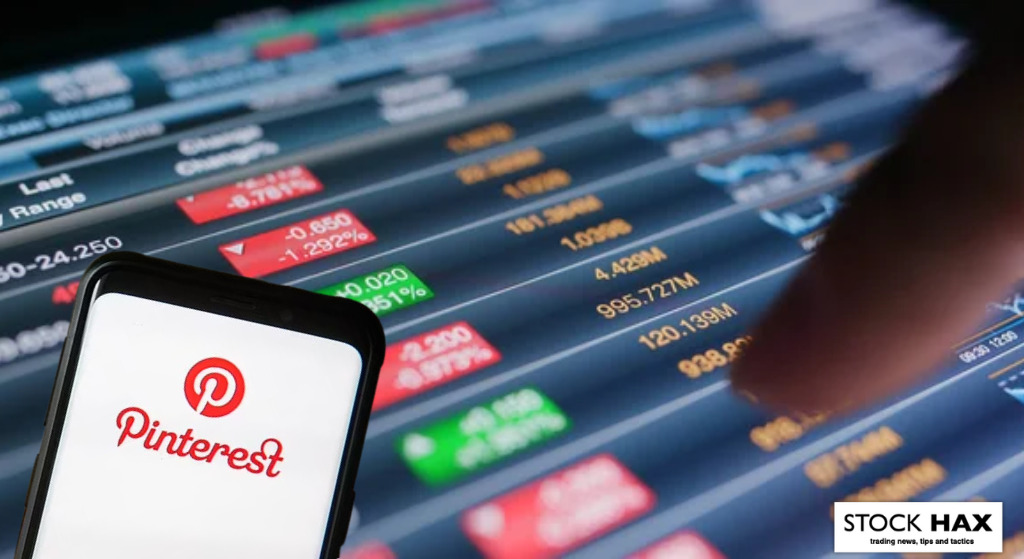 Pinterest, founded in 2010, is a popular visual discovery platform that allows users to explore and share ideas through images, GIFs, and videos. As of 2023, the platform has evolved into a comprehensive tool for individuals and businesses alike, offering inspiration in various areas such as fashion, home decor, recipes, DIY projects, and more. Users can save ("pin") their favorite content onto virtual boards, making it easy to organize and revisit. Pinterest's sophisticated algorithm curates personalized recommendations based on users' interests and interactions. Additionally, businesses benefit from Pinterest's advertising solutions and shoppable pins, which enable seamless e-commerce integration, driving brand exposure and sales.
Pinterest Stock Key Features
Diversified Revenue Streams: Pinterest generates revenue through advertising, sponsored content, and shoppable pins, providing multiple income channels that contribute to the company's growth.
Global User Base: As of 2023, Pinterest has expanded its reach to millions of users worldwide, increasing its potential for advertising and e-commerce revenue.
Innovative Technology: Pinterest continually invest in advanced technologies such as artificial intelligence (AI) and machine learning to enhance user experience, improve content personalization, and optimize ad targeting.
Strategic Partnerships: The company forms collaborations with various businesses and platforms, further strengthening its position in the market and creating opportunities for growth.
E-commerce Integration: Pinterest's seamless integration with e-commerce platforms allows users to shop directly from pins, benefiting both businesses and consumers by simplifying the online shopping process.
Pinterest Stock Over the Years – Review
Pinterest Inc (PINS) stock has seen a rollercoaster of price movements over the last 5 years, with a long bear market due to a strong increase in the competition coming from other social media platforms.
After going public in 2019, its price exploded upward in 2020 during the pandemic period, when many internet-related stocks were booming.
2021 brought a price normalization, with the excitement fading away. In 2022, the stock tested the $20 threshold, close to where it had launched in 2019 when it went public.
As of 2023, the stock has been trying to move up higher, being now close to $24 and with the intention of investing in artificial intelligence (AI).
Pinterest Stock in 2023
As of June 2023, Pinterest's stock price traded around $24, with a market capitalization above $16 billion. The stock has seen an impressive 22+% rally between May 4, 2023 and June 16, 2023 and is now trading at 5 times its book value and 5.8 times its sales value.
The company reported negative earnings per share (EPS) of -$0.44 for the trailing twelve months (TTM). It also has an average 10-day volume of 12.33 million shares and a beta of 0.99, indicating that it is as volatile as the overall market index.
Looking ahead, Pinterest plans to invest heavily in artificial intelligence (AI), which could help drive further growth in the future.
Pinterest Stock in 2022
In 2022, Pinterest (PINS) stock experienced a difficult year, with the shares of the company falling more than 33%. The price tested the $20 threshold, close to where the stock launched in 2019 when it went public, but it failed to move below this level.
Analysts expected earnings per share to finish 2022 at $0.61 before rebounding to $0.74 in 2023. Total Shareholder Return (TSR) for Pinterest was -33.2% in 2022 and 9.2% 3-yr returns (below peer average). Revenue for Pinterest's fourth quarter grew 4% to $877.2 million from $846.7 million a year earlier, while overall sales for 2022 jumped 9%.
Pinterest Stock in 2021
In 2021, Pinterest (PINS) stock experienced a period of relative stability following the strong growth it saw in 2020 during the Covid-19 pandemic. On February 16th, 2021, the stock reached its all-time high of $89.15.
The company's financial results for 2021 showed that revenue increased by 68% year-over-year, and total monthly active users grew by 48%. Despite this impressive growth, the stock price was unable to maintain its momentum and began to decline in 2021.
Analysts have attributed this decline to several factors, including increasing competition from other social media platforms such as Instagram and Twitter, as well as concerns over Pinterest's ability to monetize its user base.
Pinterest Stock in 2020
Pinterest Inc. (PINS) stock saw an incredible surge in 2020, with its price over 250% over the course of the year. This increase was driven by the company's strong performance as a social media platform, which saw its user base grow significantly during the pandemic period.
The company also reported strong financial results for the year, with total revenue increasing by 44% to $2 billion and net income increasing by more than 200% to $272 million. Additionally, Pinterest's active monthly users increased by 43% to 459 million in 2020 compared to 2019, while daily active users grew by 57%.
Pinterest Stock in 2019
Pinterest, Inc. (PINS) had a strong year in 2019. The stock opened at $19 per share on April 17th and closed the year at $36.56 per share, representing an increase of 92.4%.
The company reported fourth-quarter revenue of $400 million for 2019, representing a 46% increase from the same period in 2018. Additionally, full-year revenue increased 51% from 2018 to 2019.
In October 2019, Pinterest reported third-quarter earnings per share of 1 cent, excluding some exceptional items, which was lower than expected, causing the stock to drop 21%.
With the rise of social media, Pinterest has become one of the most popular platforms for users to discover new ideas and products. As a result, many have begun to take an interest in the Pinterest stock.
One way to acquire Pinterest shares is directly through stocks. By purchasing shares of the company, it's possible to benefit from any potential increases in stock value.
Additionally, some may choose to purchase mutual funds or ETFs that contain shares of Pinterest. These financial vehicles are typically more diversified than obtaining individual stocks and can help reduce risk.
CFDs (contracts for difference) are another option to benefit from the price movements of Pinterest shares. CFDs are leveraged investments that allow you to speculate on the future direction of an asset without taking ownership of it.
Finally, some may choose to trade options contracts as a way to hedge their positions and potentially generate additional profits. Options allow you to trade a certain asset at a predetermined price in the future.
All these methods provide the potential to benefit from price movements in Pinterest's stock.
Yet prior to taking the plunge and picking the Pinterest stock, it is crucial to conduct thorough research and comprehend the potential risks.
One way you can make it happen is through eToro, a popular platform to trade stocks, including PINS.
Pinterest shares can be acquired via different trading platforms or online brokerage services. It is crucial to take into account factors such as fees, taxes, and available investment instruments. As an illustration, we'll mention eToro.
Step 1: Open an Account
Firstly, navigate to eToro's main page and select the Sign-up option. The registration page will appear shortly after. At this point, you'll need to input your name, email, and password. Alternatively, you can create a profile using your Facebook or Google accounts.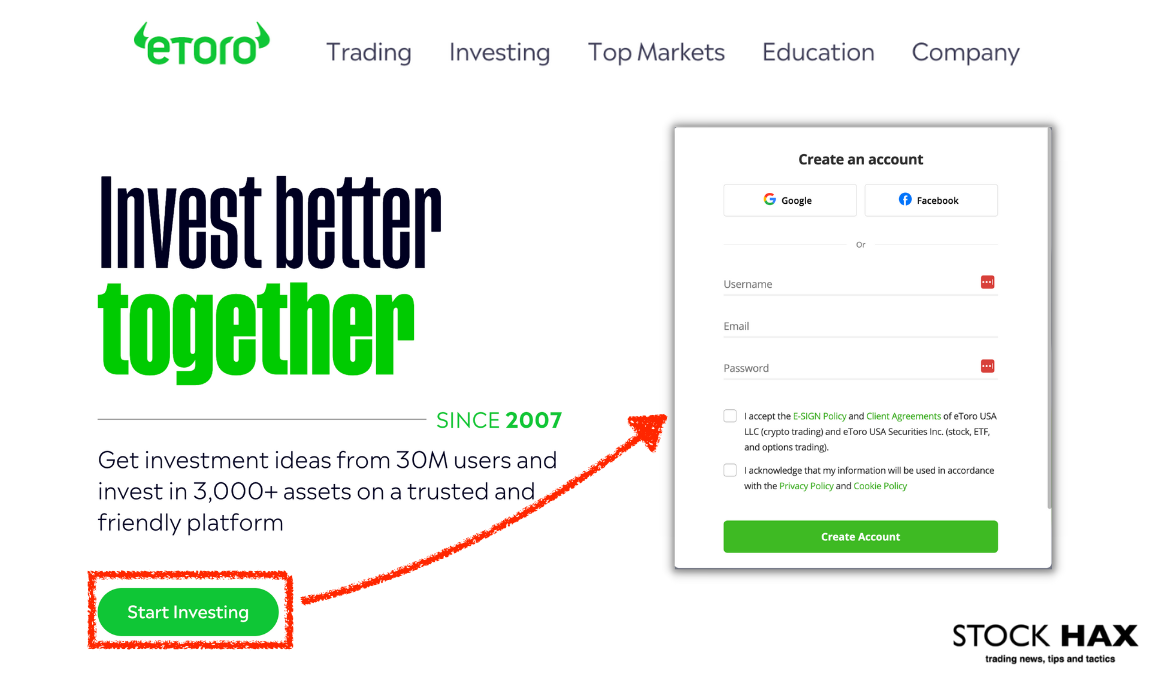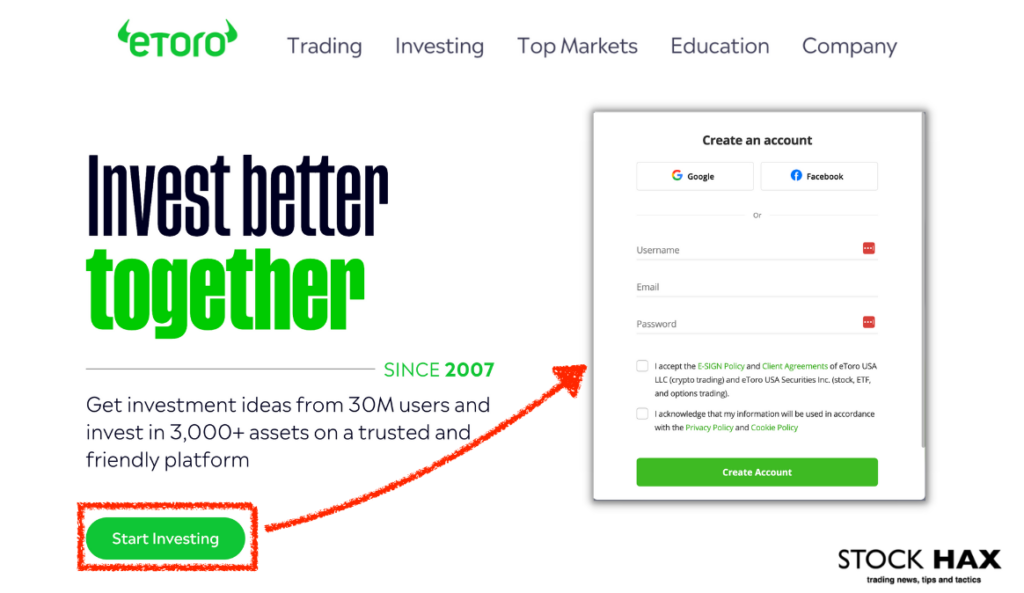 Step 2: Upload ID
In this stage, you'll need to authenticate your identity. Users are required to submit evidence of identity (POI) and address (POA). Acceptable POI documents include an ID card, passport, or driver's license. The POA document should display the user's complete name, address, and date, and it must be issued no more than three months prior to submission.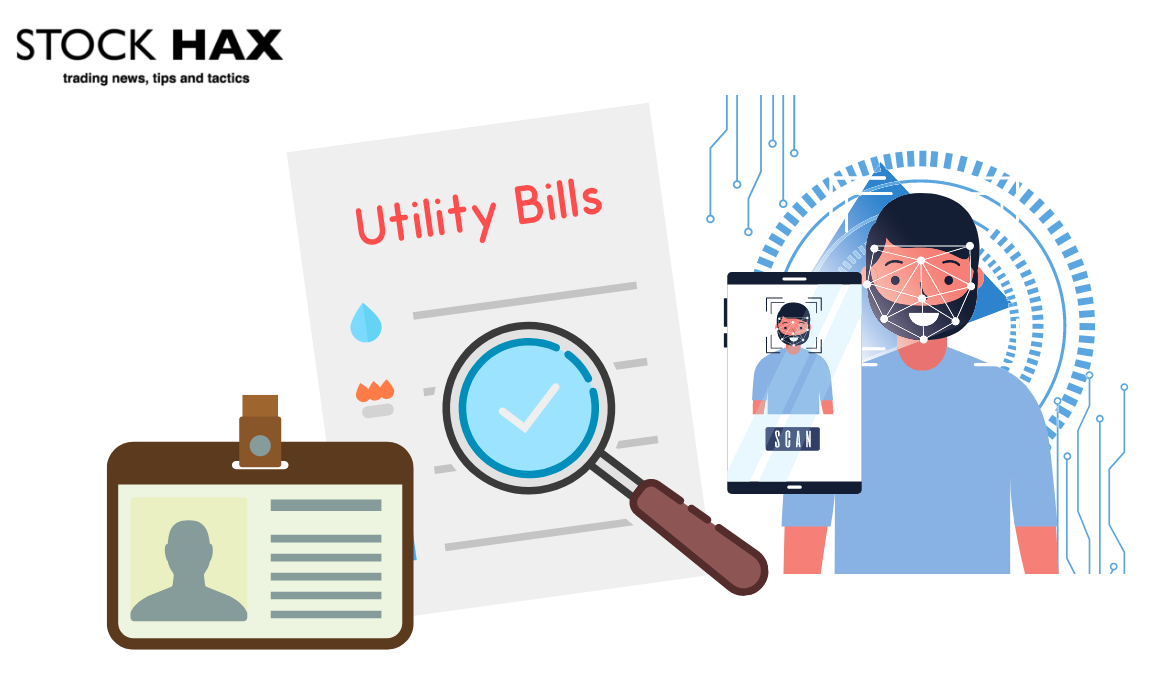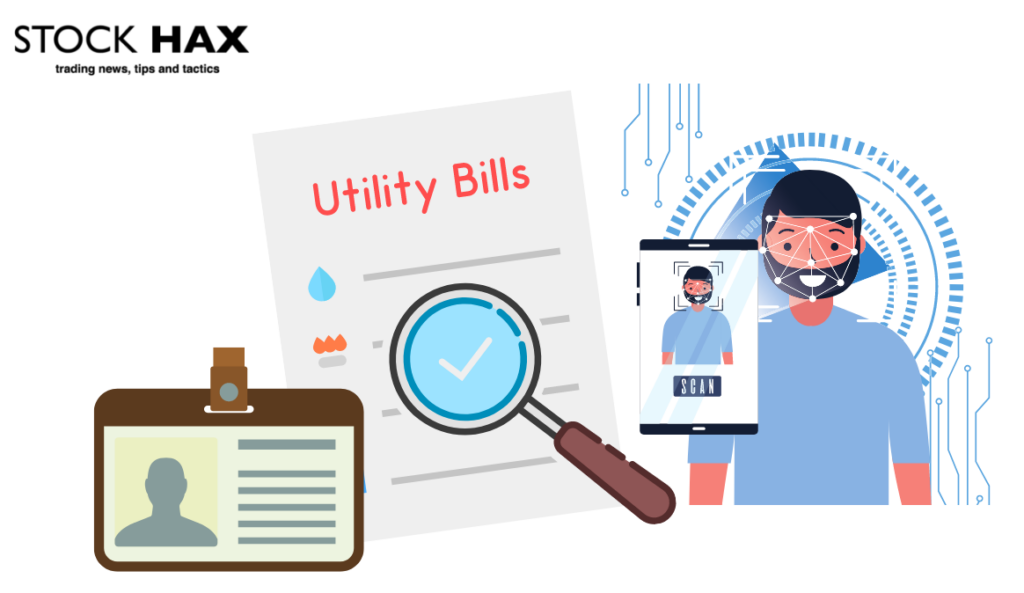 Step 3: Make a Deposit
Once your account has been verified, it's time to add funds to your profile. To do this, open eToro's menu and select the Deposit Funds option. From there, you can choose the desired amount you want to allocate for Pinterest stocks, specify the currency, and select your preferred payment method.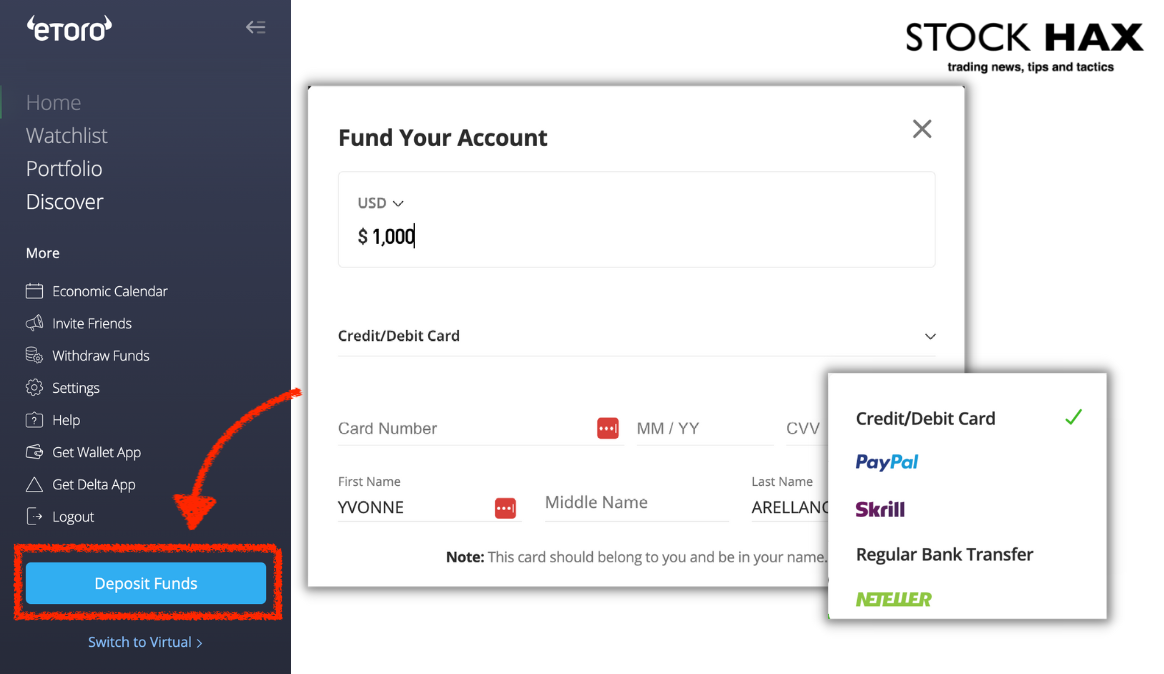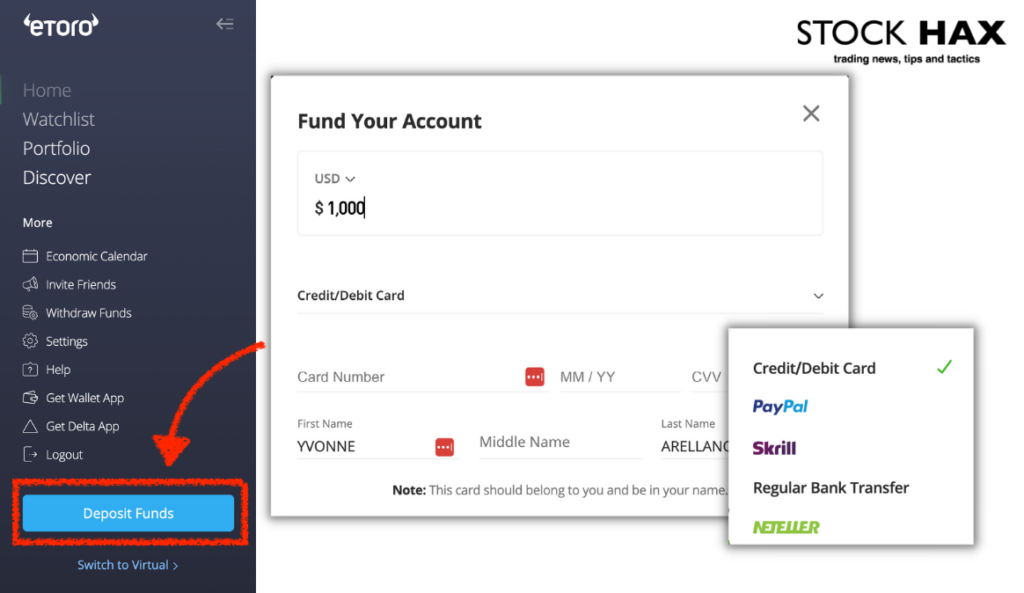 Step 4: Search for Pinterest
To locate Pinterest Shares, enter "PINS" in the search tab. If you're unsure of the stock's ticker symbol, simply type the initial letters. eToro's user-friendly platform will promptly display the most relevant results.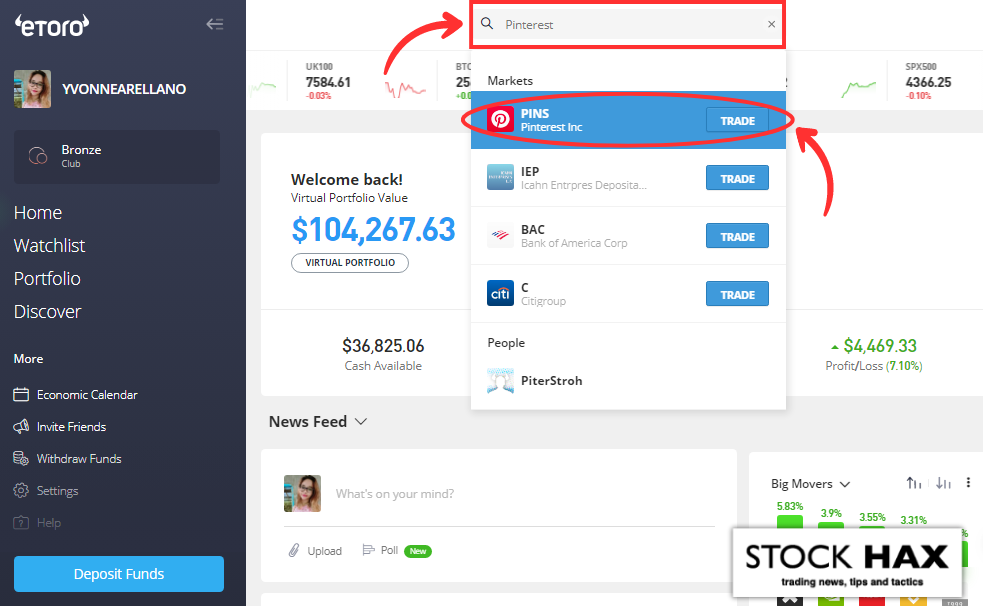 Step 5: Pick Pinterest
Upon choosing Pinterest, acquiring shares via eToro becomes straightforward. Click the Invest button and decide on the funding amount or the number of Pinterest shares you'd like to obtain. Once the process is complete, your newly added assets will be visible in your portfolio.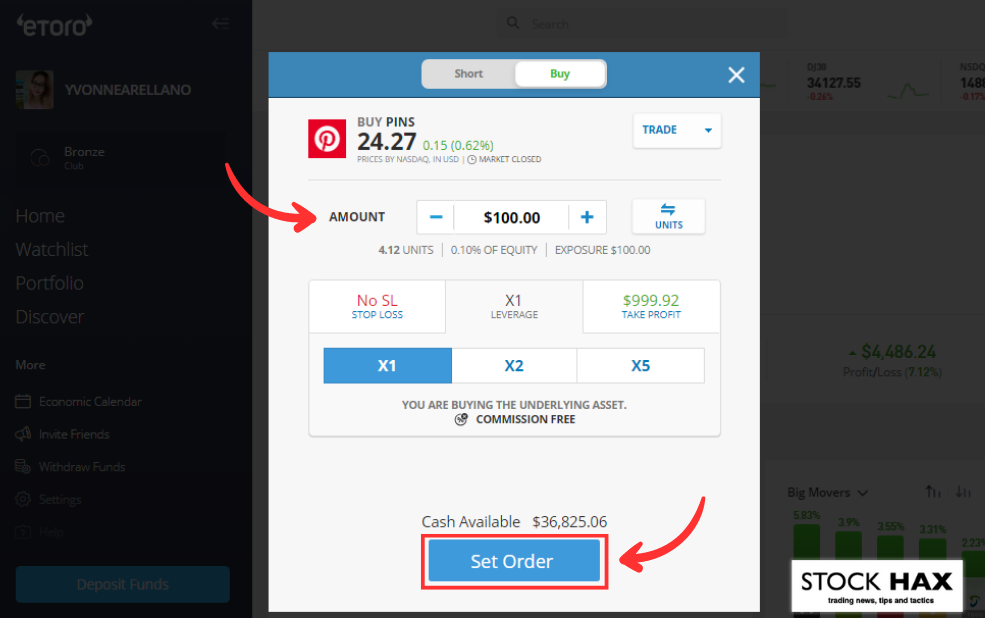 Summary
Pinterest, Inc. (PINS) has seen a rollercoaster of price movements over the last five years, beginning with its initial public offering in 2019. In 2020, the company saw an incredible surge in stock price and user base due to the pandemic period, with revenue increasing by 44% and monthly active users increasing by 43%. 2021 brought a period of relative stability, followed by a 33% price drop in 2022 and a 23.3% increase in 2023.
As of June 2023, the stock trades around $24 per share with an average 10-day volume of 12.33 million shares and a beta of 0.99. Pinterest plans to invest heavily in AI, which could help drive further growth in the future.
FAQ
Is Pinterest a good stock to buy?
Pinterest has seen a range of different price movements over the past few years, ranging from a 92.4% increase in 2019 to a 33% decrease in 2022. As of June 2023, it trades at $24 per share and has an average 10-day volume of 12.33 million shares and a beta of 0.99, indicating relatively moderate risk for investors. It's crucial to remember that past trends are not guaranteed predictors of future performance. The company's endeavors in AI might pave the way for future expansion. However, the decision to participate in Pinterest's financial journey is a personal one, greatly dependent on individual financial objectives and levels of comfort with risk.
Why is the Pinterest stock down?
Pinterest's (PINS) stock has declined since 2021 potentially due to increasing competition from social media rivals. In the last few years, Pinterest has seen an influx of competitors such as Instagram, TikTok, and Twitter. These platforms have been able to capture a larger portion of the market share, resulting in a decrease in Pinterest's user base and revenue. Additionally, the company's advertising business has also been affected by the increased competition. As a result, many have become more cautious about Pinterest stock.
How can I add exposure to Pinterest shares?
Adding exposure in your portfolio to Pinterest shares is possible through online trading platforms such as eToro. When considering adding any company to your portfolio, it is important to research the potential risks and rewards associated.
What are the risks of investing in Pinterest stock?
Any stock carries a certain amount of risk. When it comes to Pinterest (PINS), there are several factors that can affect its performance. According to the TipRanks Risk Factors tool, the top risk category for Pinterest is Finance and Corporate, which contains 21 of the total 51 risk factors. These risks include potential changes in user engagement, competition from other social media platforms, and reliance on advertising revenue.
What factors should I consider before acquiring PINS shares?
When considering Pinterest (PINS), there are several factors to monitor. First, it is important to understand the company's financials and performance. Reviewing the company's financial statements and stock price history can provide insight into how the company has performed in the past and its potential for future growth. Additionally, researching analyst opinions and reviews of the company can help you gain a better understanding of its current standing in the market.
Risk Disclaimer
StockHax strives to provide unbiased and reliable information on cryptocurrency, finance, trading, and stocks. However, we cannot provide financial advice and urge users to do their own research and due diligence.
Read More