This website and its content are not intended to provide professional or financial advice. The views expressed here are based solely on the writer's opinion, research, and personal experience, and should not be taken as factual information. The author is not a financial advisor and lacks relevant certifications in that regard. We highly recommend consulting a qualified financial advisor before making any investment decisions, as the information presented on this site is general in nature and may not be tailored to individual needs or circumstances.

Spotify, founded in 2006 and based in Stockholm, Sweden, revolutionized music streaming as we knew it. The company offers free and premium subscriptions, providing access to millions of songs, personalized playlists, and curated recommendations.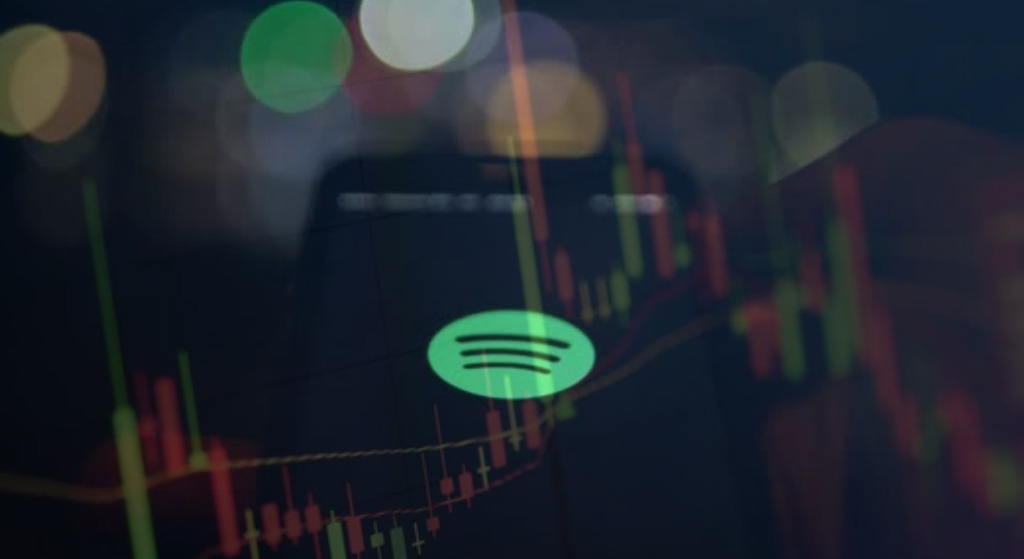 Additionally, its platform benefits both listeners and artists, with features like artist profiles and exclusive releases. No doubt, Spotify's data-driven approach has reshaped the music industry by influencing trends and understanding listening habits.
Since its public offering in 2018, retail investors can invest in the company's stock which has the ticker symbol "SPOT" on NYSE. For this reason, in this post, we want to show you how you can buy the stock, but also provide a historical overview of Spotify's stock price.
Let's get into it right away…
SPOT Stock Key Features
Before we get to the historical stock price movements, let's go over some features of the stock that could be used to define its state right now:
First, Spotify's position as the leading digital service provider is evident through its widespread presence, high user engagement, and exceptional product quality.

The stock price has experienced some significant volatility since its initial public offering in 2018, which is understandable given the uncertainty surrounding the ultimate outcome of the business.

The stock has also surged over 80% year-to-date, demonstrating relatively fast growth. During the first quarter of 2023, Spotify's monthly active users (MAUs) surged by 22% year over year to 515 million, with the addition of 26 million new users to the platform.

As the market seeks greater profitability, Spotify's transition to a more mature business aligns with such demands and could be the reason for a higher valuation in the future.
SPOT Stock Over the Years – Review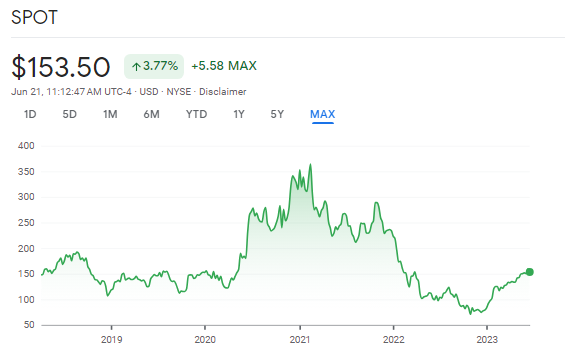 Since the company went public, the stock has been very volatile. Over its trading history, it's only up 14%, but there were many ups and downs along the way.
Though a thorough analysis involves examining the fundamentals of the business, this is not what we will do here. Our goal is to note the sharpest one-day price swings of SPOT and follow up with what precipitated them so you can gain some insight into potentially relevant catalysts for the future.
Let's take a look, starting from the most recent trading period…
SPOT Stock in 2023
Apr. 25: Shares surged over 5% following the release of the music-streaming giant's first-quarter results. The company reported decent performance, surpassing expectations in terms of new subscribers and total monthly listeners.

Feb. 10: Following reports of activist investor ValueAct Capital taking a position in Spotify, the stock experienced a 3.4% gain.
Jan. 31: Shares surged by 13% to reach their highest point since August 22nd, following the release of the company's fourth-quarter earnings. Although the earnings narrowly missed financial targets, Spotify exceeded crucial expectations for daily users and gross margin.
SPOT Stock in 2022
Jul. 27: Spotify started the market's opening with a significant surge of 16.7%. The stock's notable increase was realized after the company's second-quarter earnings report was released, which revealed growth in ad revenues and accelerated user growth.

Apr. 27: Shares plunged by 10.7%, a decline that followed the release of a first-quarter report that received a mixed reception. The report garnered some positive attention, but analysts expressed concerns regarding the company's margin guidance.
Feb. 02: After the release of the company's fourth-quarter earnings report, the stock experienced a substantial decline of 17.2% after hours. Despite outperforming revenue expectations and having a better-than-anticipated loss, the stock faced a downturn due to user guidance for the current quarter falling slightly below expectations.
SPOT Stock in 2021
Apr. 28: Shares experienced a 7% decline following the release of their first-quarter earnings. While the earnings aligned with revenue consensus estimates, they fell short of expectations in terms of monthly active users. Additionally, the company issued warnings about potential uncertainties related to the ongoing COVID-19 pandemic, which could have contributed to the drop.

Apr. 23: The stock price surged by 7.4% after receiving a Buy initiation from Jefferies.

Jan. 15: Shares experienced a 6.6% decline following a report in The Information, indicating that Apple is in discussions about launching a new subscription service that would charge customers for podcast listening.
SPOT Stock in 2020
Jun. 25: Shares of Spotify surged by 7.3% following an update from Goldman Sachs, which reiterated its Buy rating and raised the price target to $280, signaling a 7% additional upside, citing reaccelerating user growth and notable podcast deals (including Joe Rogan and Kim Kardashian) as reasons for increasing its estimates.

May 19: The price surged by 7.7% and reached 18-month highs following the news that the immensely popular podcast The Joe Rogan Experience will become exclusive to Spotify.
SPOT Stock in 2019
Jul. 31: Spotify's shares suffered a 4.5% pre-market decline following its Q2 results, which surpassed revenue estimates but fell short on earnings and missed the subscriber goal.
Apr. 29: The stock price saw a 3.9% pre-market increase based on its Q1 results, which exceeded revenue expectations, missed on EPS, and provided Q2 and FY19 revenue guidance in line with estimates.

Feb. 06: The stock price went down by 7.3% after the company released its Q4 report, which slightly missed revenue expectations at $1.702B (consensus: $1.71B), showcased subscriber growth, and included two podcast acquisitions.
Investing in SPOT is quite easy. All you need is a brokerage account (or a bank account that supports stock trading and gives you access to SPOT). If you don't have one already, then take a moment to read the following steps and you'll be set up in no time.
In this era, you are able to buy any stock using a variety of online broker platforms like Fidelity, Interactive Brokers, Charles Schwab, eToro, etc. With that being said, you should consider various factors before you open a brokerage account to trade online, such as fees, research/trading tools, as well as tax implications depending on what account you are able to open with the broker.
For this short guide, we will use eToro as an example to show you how easy it is to buy SPOT.
Step 1: Open an Account
To begin, navigate to eToro's website and locate the Sign-up button. Once you click on it, the registration page will appear shortly, requesting you to provide some necessary information like your name, email address, and a password of your choosing. Alternatively, eToro also provides the option to create a profile by linking your Facebook or Google accounts.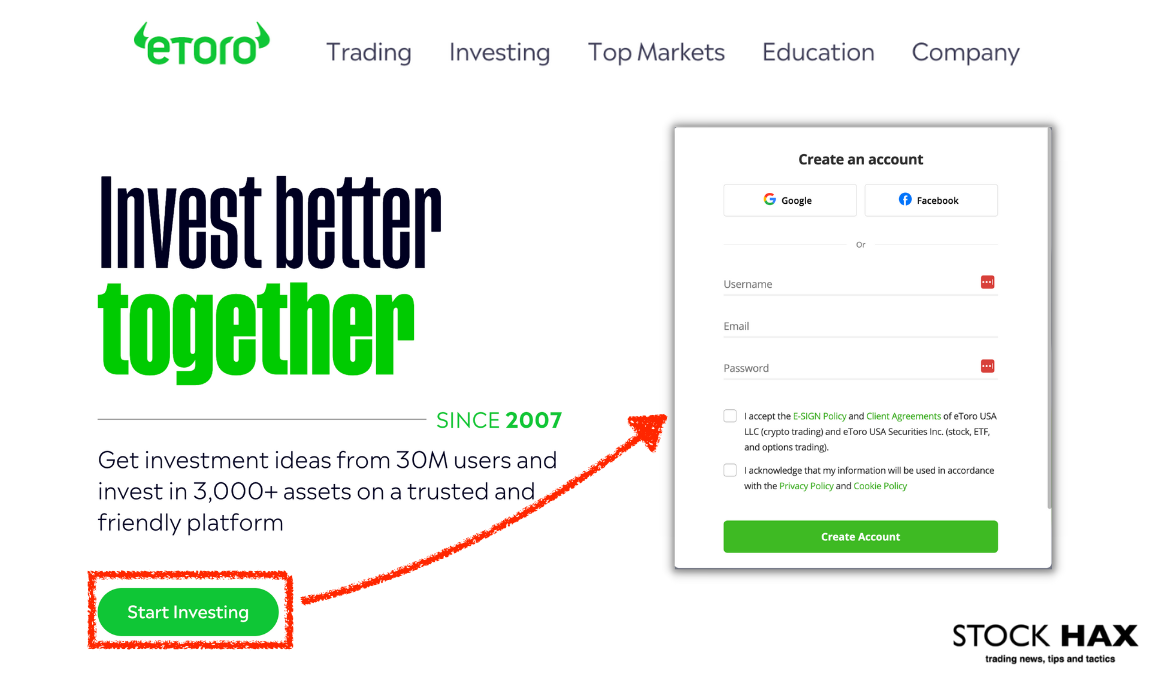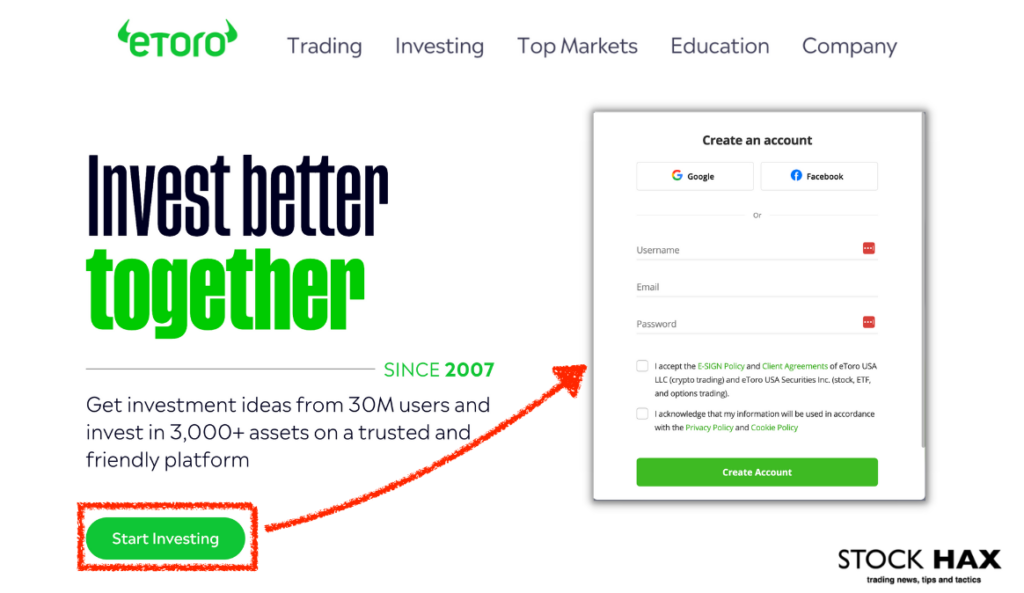 Step 2: Upload ID
Now, it is time to undergo identity verification. You will need to submit documents for proof of identity (POI) and proof of address (POA). Acceptable forms of POI include ID cards, passports, and driver's licenses. The POA document should display your complete name, address, and a recent date of issuance, preferably within the last three months.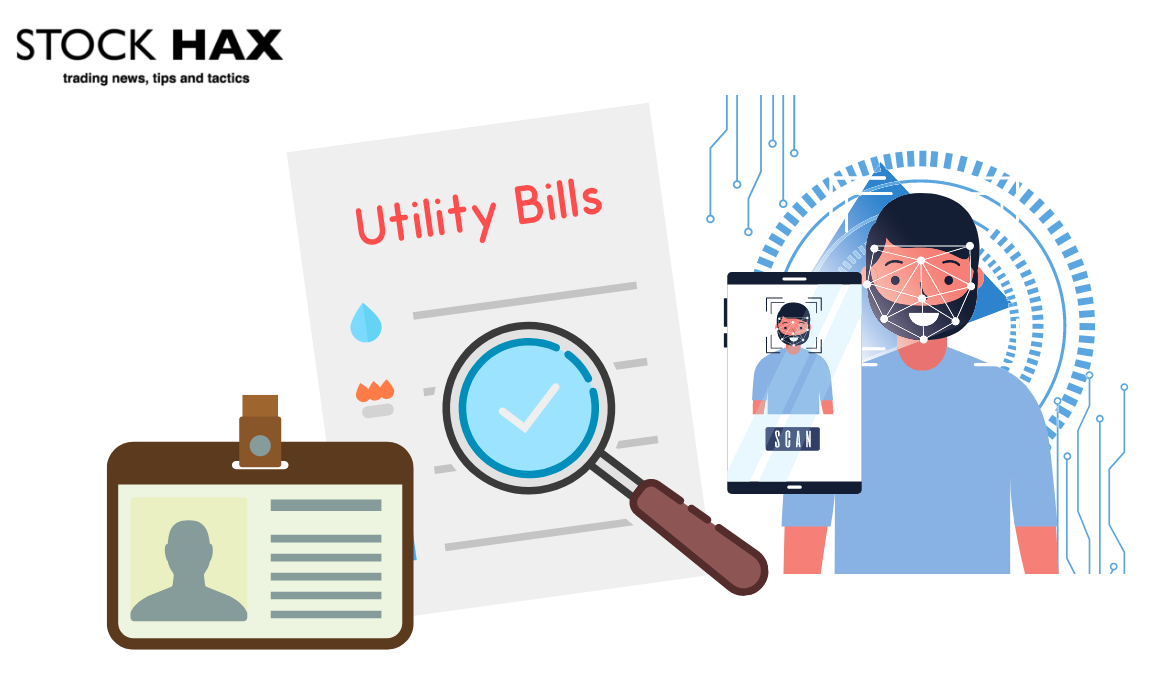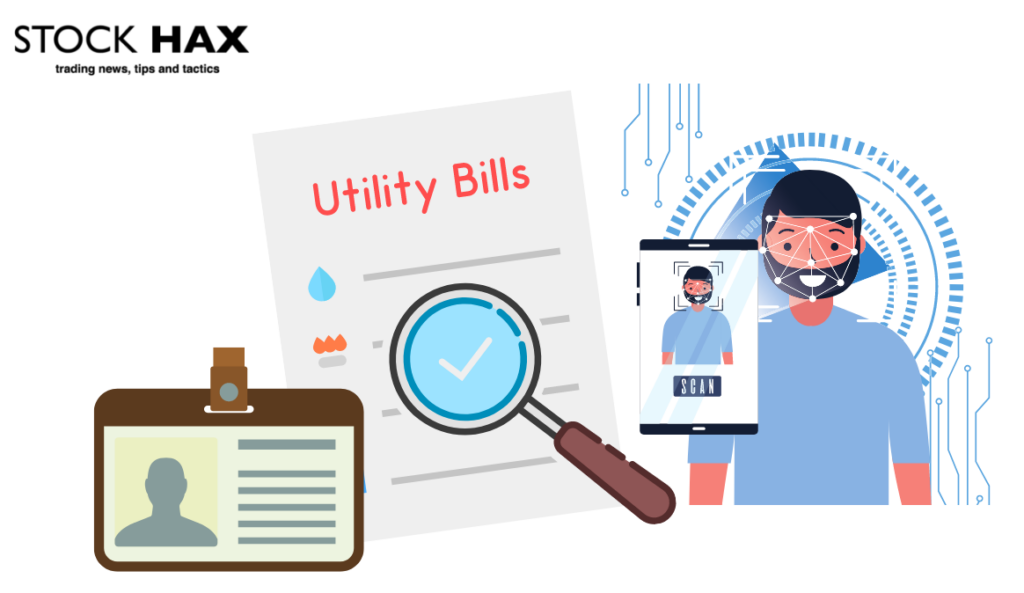 Step 3: Make a Deposit
After successfully completing the verification of your account, the next step involves funding your eToro account. Navigate to the menu on eToro's platform and locate the "Deposit Funds" button. Upon clicking it, you will be able to select the desired amount you intend to invest in SPOT, specify the currency, and choose your preferred payment method.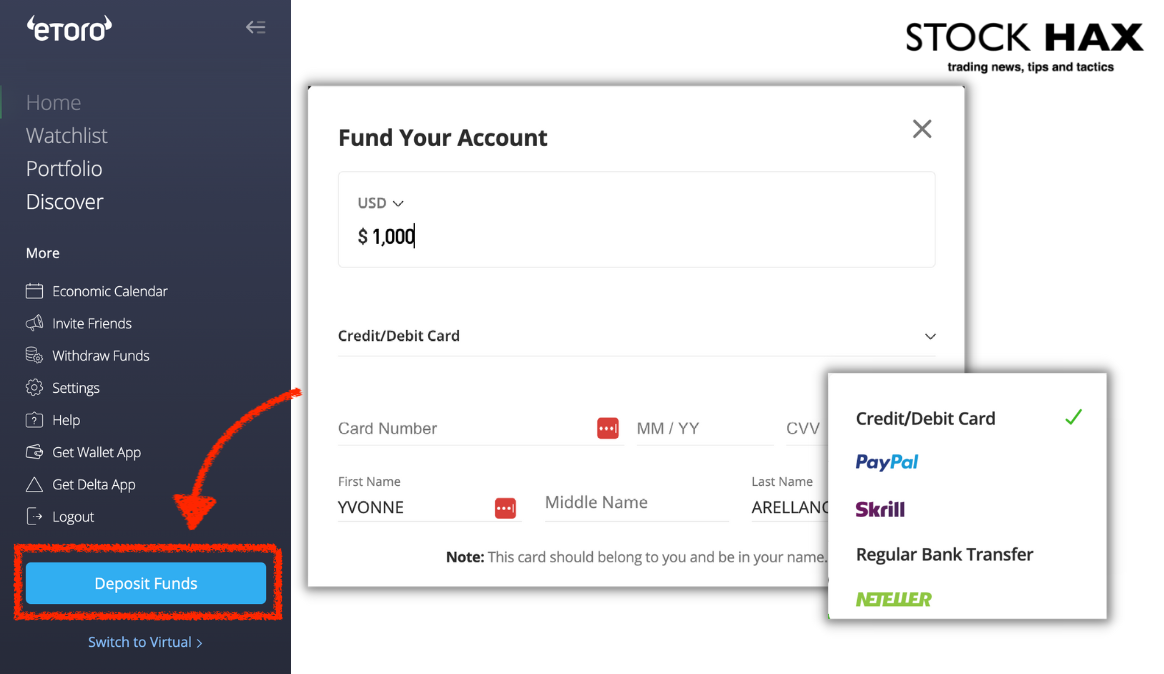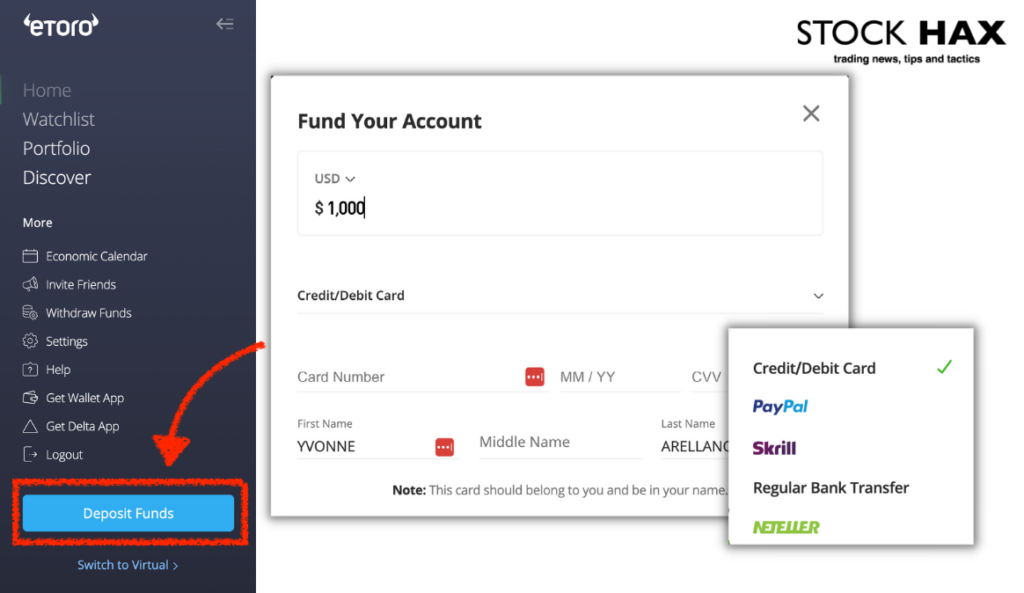 Step 4: Search for SPOT
To locate Spotify's stock, simply enter "SPOT" in the search tab. Keep in mind that for any other stocks you may want to buy in the future, if you are unsure of the ticker symbol, you can type in the initial letters of the company, and the platform will present the most relevant results.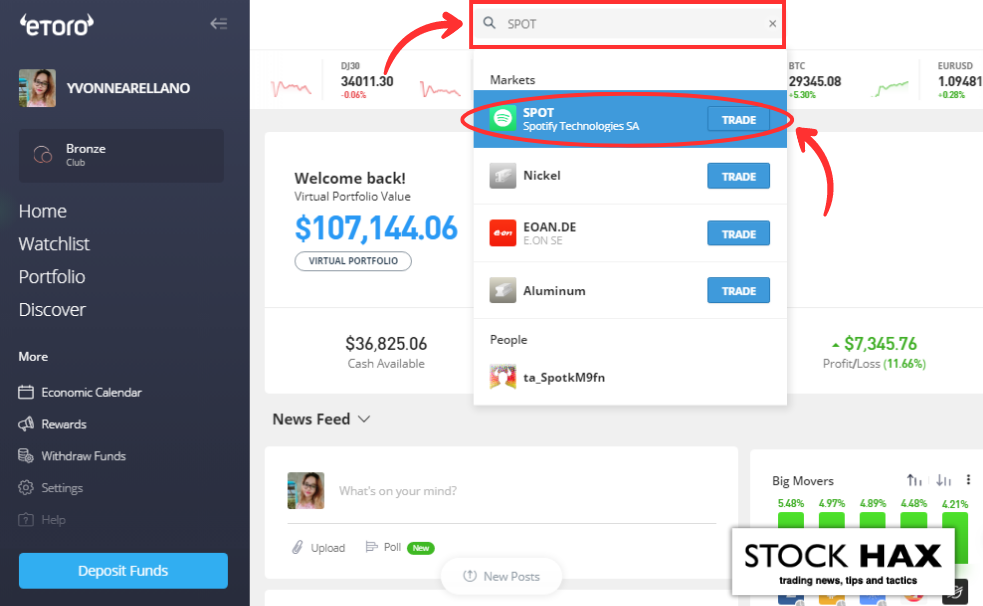 Step 5: Invest in SPOT
Investing in SPOT is a simple process now. Once you have selected SPOT, you can proceed by clicking on the "Invest" button you will find in the upper right corner. Then, you can specify the desired amount of funds or the number of shares you wish to purchase. After completing the necessary steps, you will be able to view your newly acquired SPOT shares in your portfolio.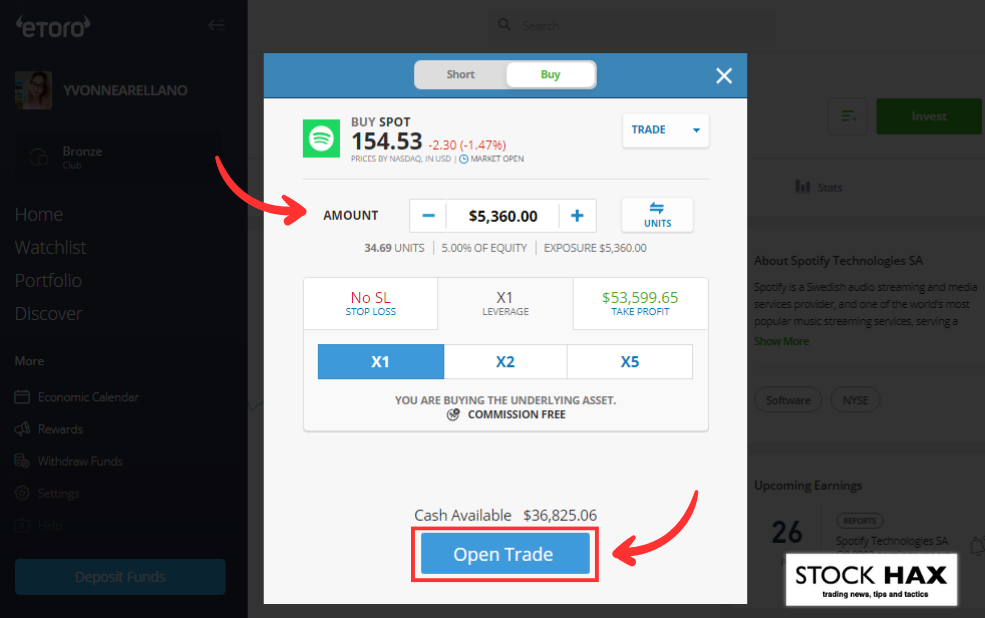 Summary
Spotify has revolutionized the music streaming industry while it continues to grow its extensive catalog of millions of songs. Offering both free and premium subscription options, Spotify is able to more easily introduce its platform to new users, while generating revenue that is crucial for further growth.
There is no doubt that there is a lot of interest coming from retail traders and investors when it comes to its stock. However, it's important that you do some due diligence before you make any investment decision. We think that a good way to start is to examine the historical stock price movements of Spotify and try to identify potential catalysts for future price movements. And that's why we wanted to show you what happened in the past before we guide you through the process of buying the stock.
Regardless, it's crucial that you also take into account fundamental data regarding the business of Spotify like revenue growth, profitability margins, valuation metrics, etc. You might also want to talk to your financial advisor before you buy the stock. This article was not meant to provide financial advice, after all, but to present you with one process of buying the stock along with stock price data and historical events related to the company.
FAQ
What is the price-to-earnings (P/E) ratio of Spotify?
Based on Spotify's latest financial reports and stock price, the company currently has a negative price-to-earnings ratio (TTM) of -73.61. That highlights the need for the company to start making money in order for having a better picture of its valuation.
Does Spotify have any loans?
Spotify currently owes approximately $1.2 billion in long-term loans and about $592 million in capital leases. Along with various other obligations, its total liabilities come at around $5.6 billion.
What is the target price for Spotify in 2023?
Among the 28 analysts providing 12-month price forecasts for Spotify, the median target stands at $159.01, with a high estimate of $184.93 and a low estimate of $90.10, indicating a projected 6.09% increase from the last recorded price of $149.89.
What is the difference between Spotify's market capitalization and its intrinsic value?
The difference lies in the market's perception of its worth, which is the market capitalization, versus its "true" underlying value, which is subjective and varies from analyst to analyst.
What factors should an investor consider before buying SPOT?
Before you buy SPOT or any stock, you should take care to review the company's past financial performance, user growth, revenue stream, and competitive landscape. Another thing you should include in your due diligence process is analyzing the company's ability to maintain its customer base, attract new ones (subscribers in this case), navigate licensing agreements, and innovate in its industry. At last, invest some time examining potential regulatory challenges, asessing the quality of the management team, and evaluating the industry's prospects as a whole. Bear in mind that this is an oversimplification of how professionals conduct due diligence before they make investment decisions and it offers a lot of flexibility assessing these factors as everyone's skills and access to tools are different.
Risk Disclaimer
StockHax strives to provide unbiased and reliable information on cryptocurrency, finance, trading, and stocks. However, we cannot provide financial advice and urge users to do their own research and due diligence.
Read More