This website and its content are not intended to provide professional or financial advice. The views expressed here are based solely on the writer's opinion, research, and personal experience, and should not be taken as factual information. The author is not a financial advisor and lacks relevant certifications in that regard. We highly recommend consulting a qualified financial advisor before making any investment decisions, as the information presented on this site is general in nature and may not be tailored to individual needs or circumstances.
Coinbase is a cryptocurrency exchange that has gained significant popularity and size globally, with over 43 million verified users as of 2021. The company has received significant investment from major venture capital firms and investment banks and has been valued at over $100 billion in recent years. Let's understand the details related to Coinbase stock before discussing the process of buying it.
What is Coinbase Stock?
Coinbase is a cryptocurrency exchange that allows users to buy and sell digital currencies such as Bitcoin, Ethereum, and Litecoin. It also offers various other services, including a cryptocurrency wallet, an over-the-counter trading desk for institutional investors, and a cryptocurrency index fund. Recently, Coinbase announced going public via a direct listing on NASDAQ with the ticker symbol COIN.
The platform offers a user-friendly interface designed for both beginner and advanced users. In addition to buying and selling cryptocurrencies, Coinbase offers various features such as a mobile wallet, recurring buys, and a debit card linked to the user's wallet. It also provides a secure storage option for users' digital assets and is known for its strict security measures.
When Did The Coinbase Go Public?
Coinbase Global, Inc. went public on 14th April 2021 through a direct listing on the NASDAQ stock exchange under the ticker symbol "COIN". It was the first major cryptocurrency exchange to go public in the United States.
Coinbase exchange was one of the largest initial public offerings (IPOs) in the history of the cryptocurrency industry and the first major cryptocurrency exchange to be listed on a stock exchange. The company's stock debuted on the NASDAQ exchange under the ticker symbol "COIN" and opened at $381 per share, with a market capitalization of over $100 billion.
Should You Buy Coinbase Stocks?
The decision to buy Coinbase stocks is highly personal, as it completely depends on individual needs, financial situations, and investment goals. The benefits of investing in Coinbase include potential returns from the growth of the cryptocurrency market.
1. Growth Potential
The cryptocurrency market is predicted to grow to $1902.5 billion by 2028 and Coinbase is the second-largest crypto exchange.
2. Revenue And User Base
Coinbase has a large user base and generates significant revenue from trading fees and other services. This provides a solid foundation for the company's financial performance.
3. Institutional Adoption
Increasing numbers of institutional investors are entering the cryptocurrency market, and Coinbase's institutional trading platform and other products may take advantage of this trend.
4. Diversification
Adding a cryptocurrency exchange like Coinbase to your portfolio can provide diversification benefits, as the performance of digital currencies and the stock market often move independently of each other.
However, as with any investment, it's essential to consider the risks and potential rewards. The cryptocurrency market is highly volatile and subject to regulatory changes, so investing in Coinbase or any other cryptocurrency-related company carries a high degree of risk.
Different online brokers offer Coinbase stocks, which you can research to find the most suitable platform for purchasing.
Potential Platforms To Buy Coinbase
Coinbase is a cryptocurrency exchange, and its stocks are typically traded on other conventional online stock brokers. There are several online brokers available to buy and trade Coinbase stocks. Let's look at the three potential online brokers to buy and trade Coinbase stocks.
1. Robinhood
Robinhood is a popular online broker that allows individuals to buy and sell stocks, including Coinbase stock. Once you have set up your account, you can search for "Coinbase Global Inc" (ticker symbol: COIN) in the Robinhood app or website and invest.
Robinhood allows you to review the current price and place an order to buy shares. Robinhood offers several types of orders, including market orders, limit orders, and stop orders. Before the order is executed, the individual can review the trade details, including the price, number of shares, and total cost.
2. TD Ameritrade
TD Ameritrade is a suitable platform for purchasing Coinbase stock as it offers a range of investment products and services, including stocks. To purchase Coinbase stock on TD Ameritrade, you would need to open an account, fund it, and then place an order to buy shares. TD Ameritrade offers several order types, including market orders, limit orders, and stop orders, which allow individuals to specify the terms of their trade. TD Ameritrade also provides real-time market data and research tools to help individuals make informed investment decisions.
3. Fidelity
Fidelity is a well-respected financial services company that provides various investment products and services, including the ability to purchase stocks like Coinbase. Using Fidelity to purchase Coinbase stock offers several benefits, such as convenience, a wide range of research tools, and a focus on investor education. The Fidelity platform is user-friendly and provides various tools and resources that allow individuals to easily manage their investments, including buying and selling stocks, researching potential investments, and monitoring their portfolio performance.
How To Invest Coinbase Stock – Step by Step
Coinbase is a cryptocurrency exchange that went public on 14th April 2021. The procedure of buying Coinbase stocks through an online broker is simple. However, you must ensure the online broker you choose has Coinbase shares listed on their market. When considering investments, it's important to think about the type of investment and the best time to make a purchase. Let's take a look at the step-by-step process to buy Coinbase stocks. 
After verifying your email, you'll need to upload proof of identity to confirm your account. This can be a government-issued ID, passport, or driver's license. Make sure that the document is clear and that all the information is visible. eToro uses this step to comply with regulations and to protect against fraud. Uploading your ID can be done through the platform by visiting the "Verify your account" section (https://www.etoro.com/customer-service/how-to-open-etoro-account/).
How to Invest in Coinbase Stocks
If you're looking to invest in Coinbase stocks, eToro is an excellent platform to consider. With a strong reputation and a wide range of options for both beginners and professional traders, eToro is a top choice for purchasing Coinbase stocks. In this mini-guide, we'll walk you through the steps to open an eToro account and invest in Coinbase stocks.
Step 1: Open an Account
To begin, navigate to the eToro homepage (https://www.etoro.com/) and click on the "Sign Up" or "Join Now" button to start the account creation process. You'll be prompted to provide your personal information, including your name, email address, phone number, and password for your account. Ensure that all the details you provide are accurate, as they will be used for verification purposes later on. After completing the registration form, you'll receive a confirmation email to verify your account.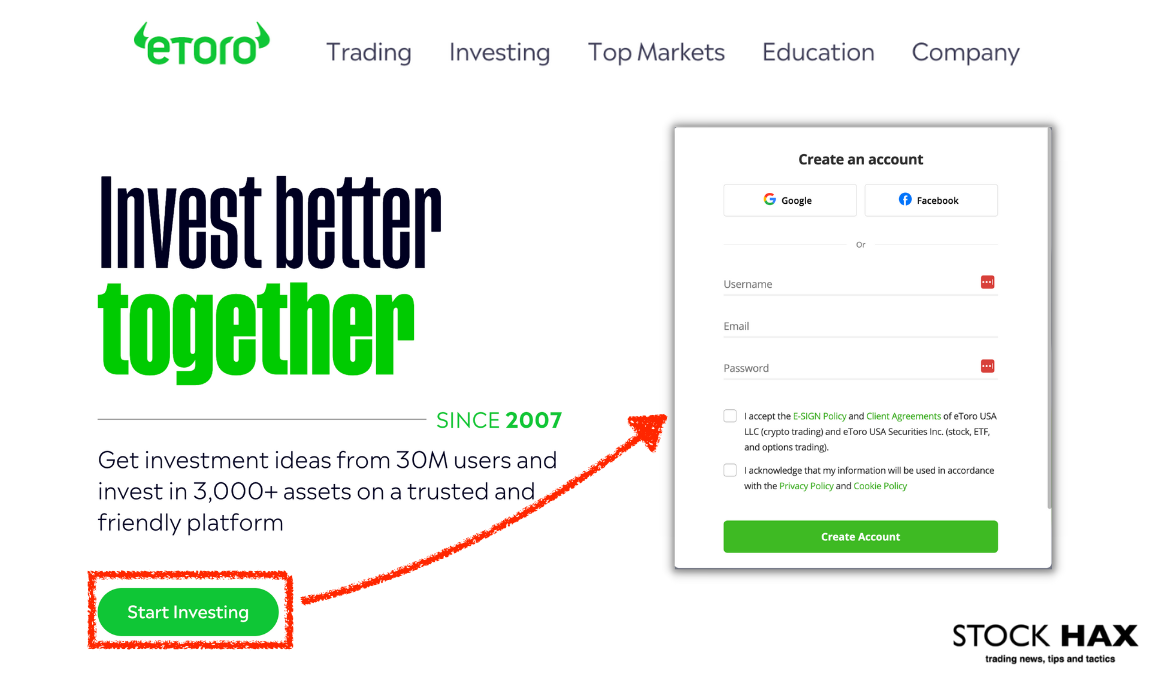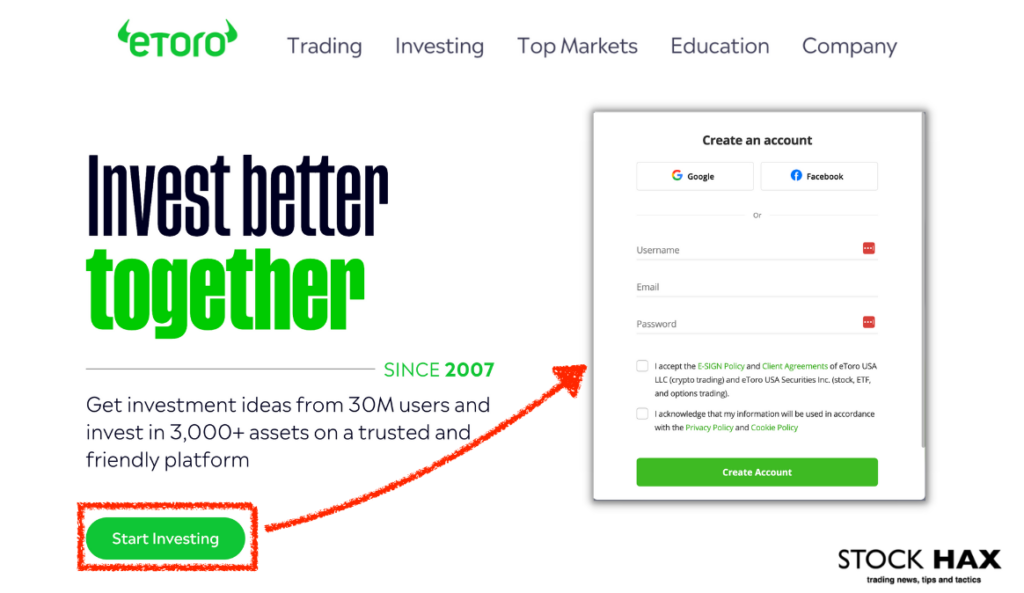 Step 2: Upload ID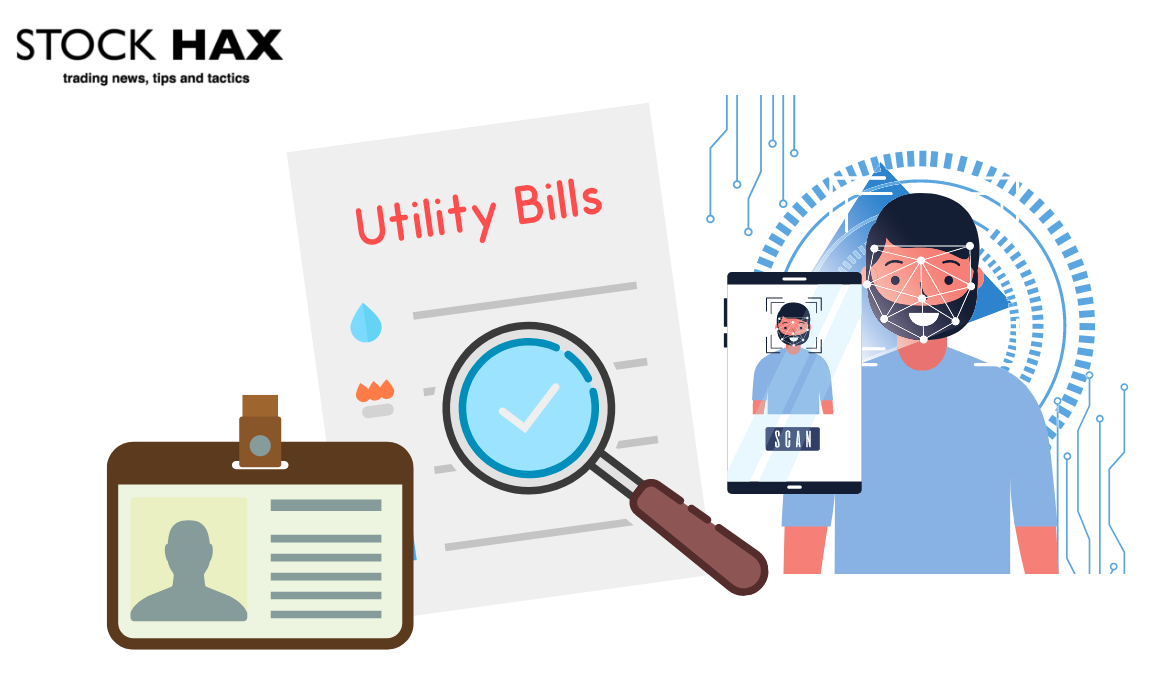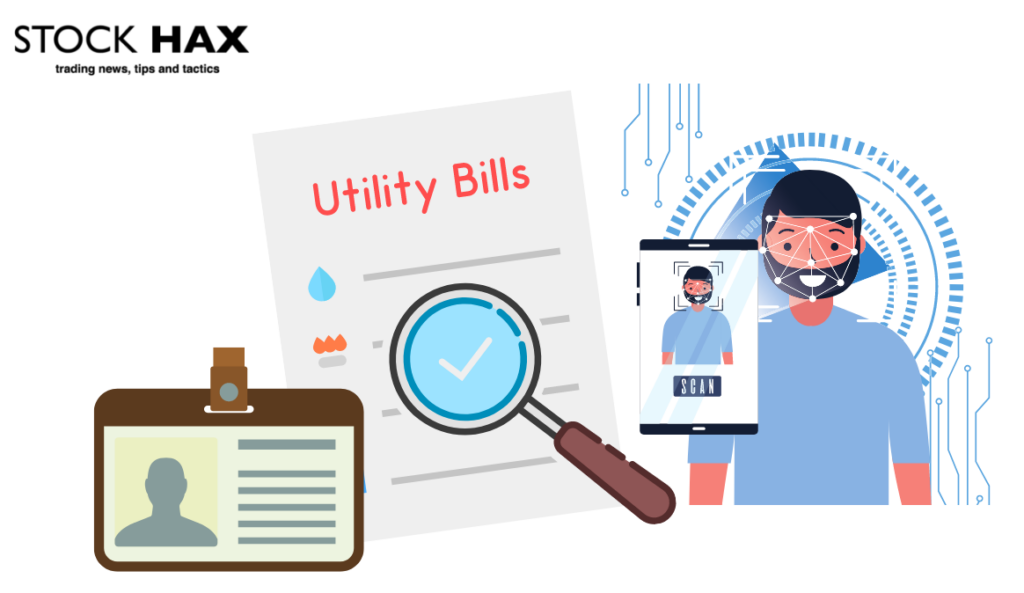 Step 3: Make a Deposit
Once your account is verified, you'll need to fund it before you can start trading. To make a deposit, click on the "Deposit Funds" button on the platform or visit (https://www.etoro.com/customer-service/deposit-faq/). eToro offers various deposit methods, including credit/debit cards, PayPal, wire transfers, and more. Choose the one that suits you best and follow the instructions to complete your deposit.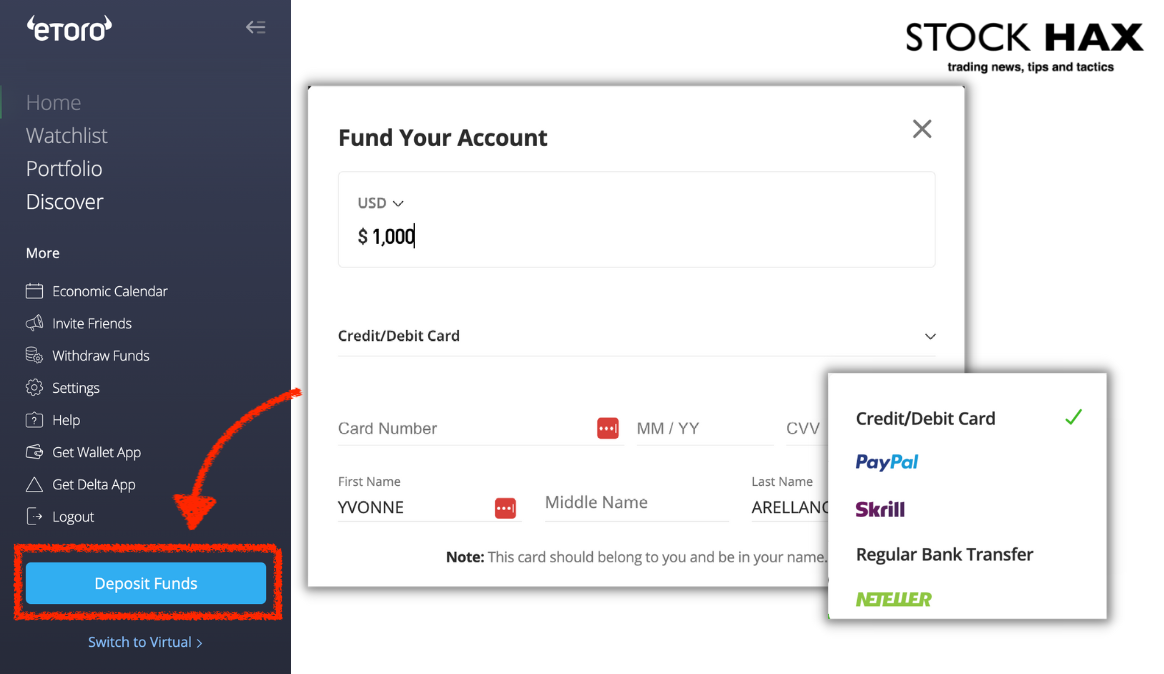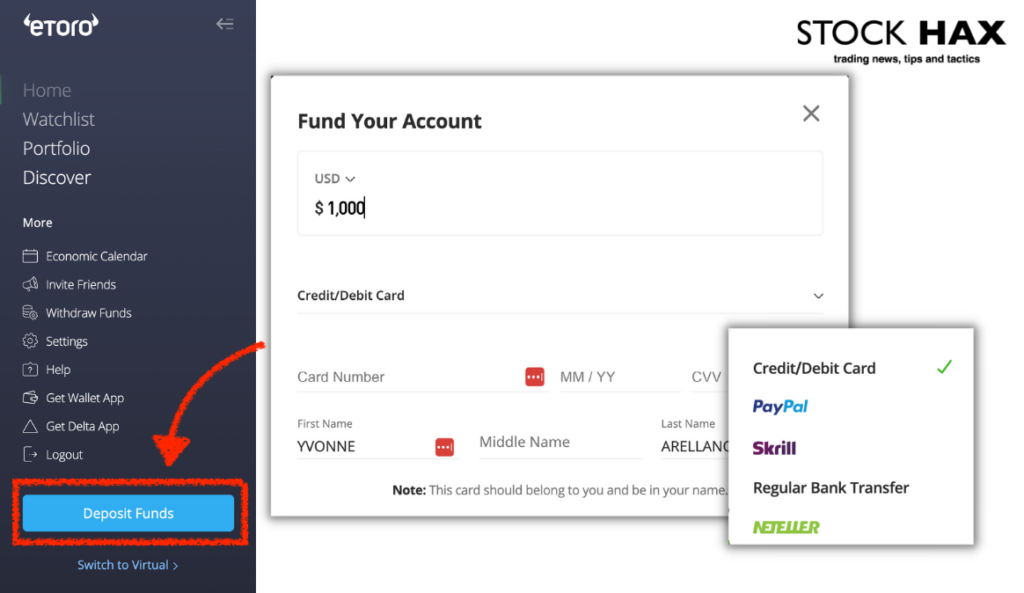 Step 4: Search for COIN
With your account funded, you're now ready to search for Coinbase stocks. On the eToro platform, locate the search bar (https://www.etoro.com/discover) and type in "Coinbase" or its ticker symbol, "COIN." The search results will display the Coinbase stock, and you can click on it to access more information about the company, including its financials, recent news, and analysis.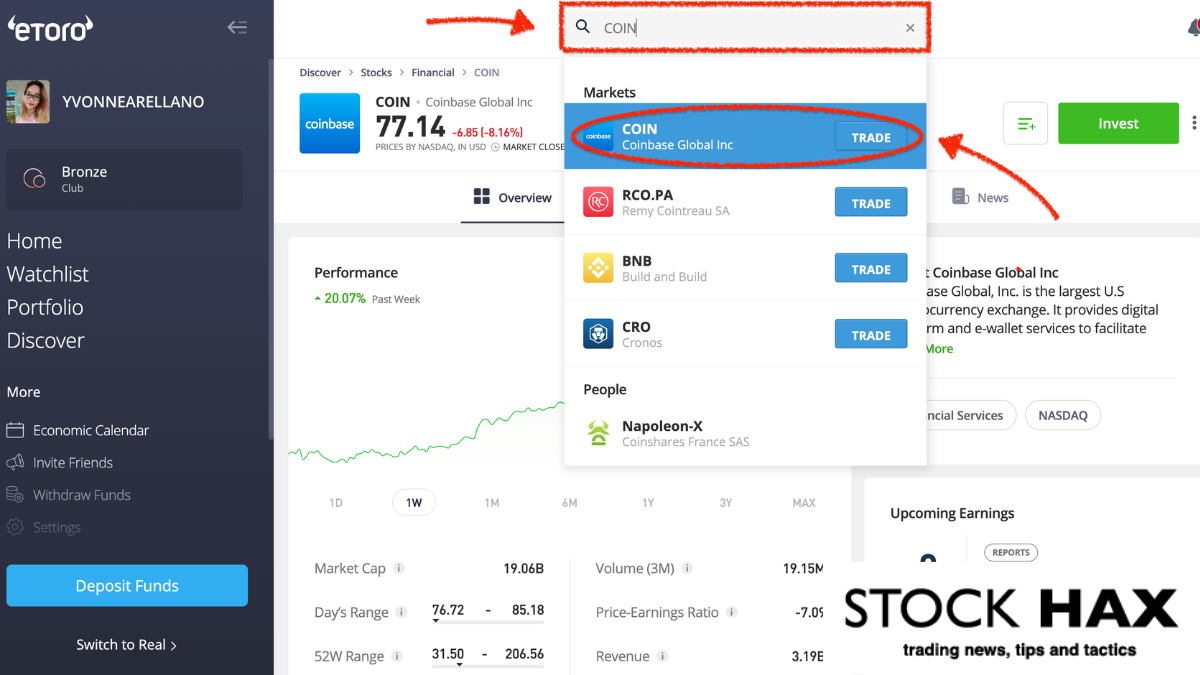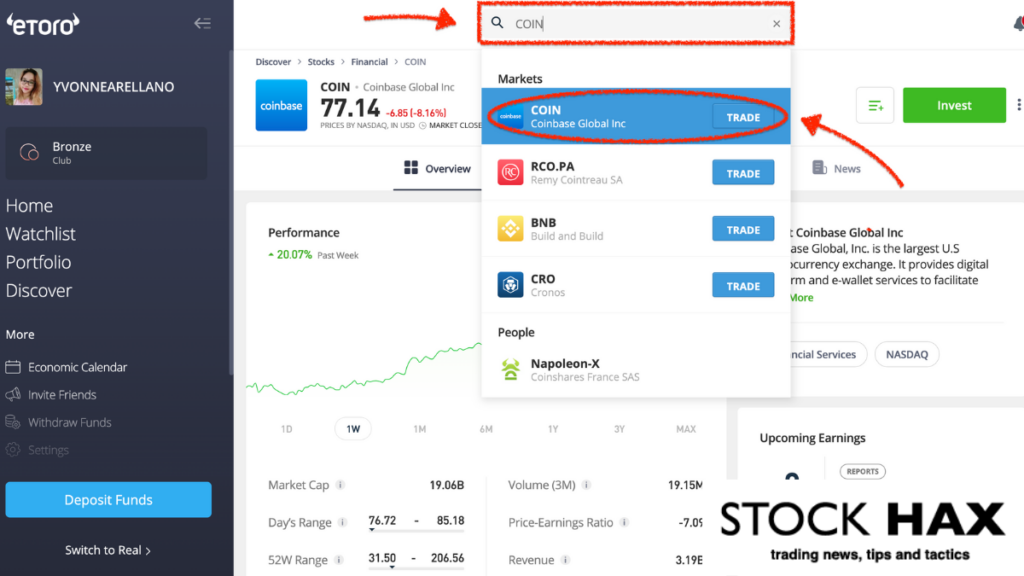 Step 5: Invest Coinbase
Finally, you're ready to invest in Coinbase stocks. On the Coinbase stock page, click the "Trade" button to open a new trade window. Here, you can choose the amount you want to invest, set a stop loss, and take profit levels if desired. After customizing your trade, click the "Open Trade" button to execute the purchase. Congratulations! You now own Coinbase stocks through eToro.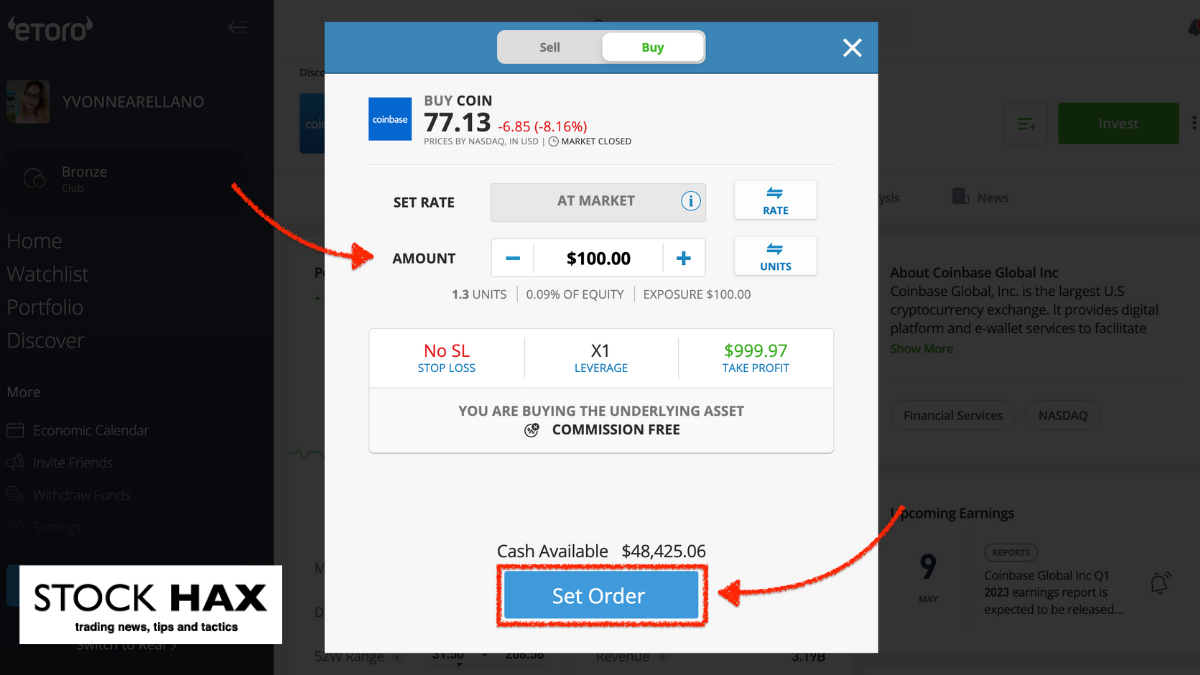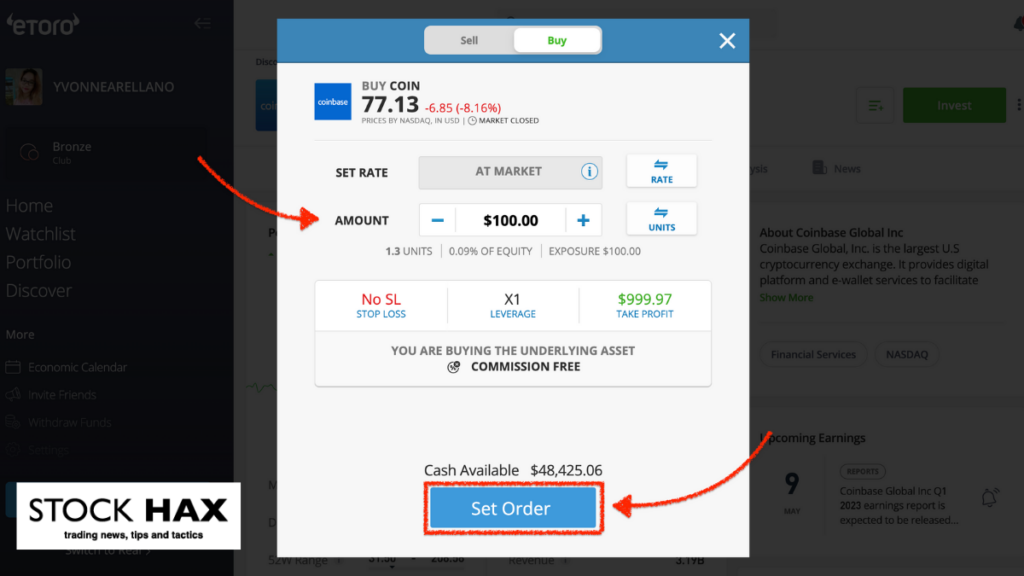 By following these steps, you'll have successfully opened an eToro account and invested in Coinbase stocks. It is important to regularly review your investment and make changes if necessary to align with your financial goals.
1. Choose An Online Broker
Research and compare online brokers to determine which best meets your investment needs and preferences. This research should include all the technical trading tools offered by the broker, their ease of use, and the commission it charges. The online broker you choose must also support your area of residence investments.
2. Open An Account
Once you have finalized your online broker, the next step is to open an account with the broker. To do this, simply complete the sign-up process and provide the required personal information and proof of identity to open an account.
3. Fund The Account
The next step is to transfer money from a linked bank account or use a debit or credit card to fund your online brokerage account. The amount of money you fund in your trading account depends on your personal investment goals.
4. Search For Coinbase Stock
Once you set up your account, you can search and purchase Coinbase stocks. To do this, use the search function on the online broker's platform to find "Coinbase Global Inc" (ticker symbol: COIN). After finding the correct Coinbase listed shares, review the current price, market data, and other relevant information about Coinbase stock on the broker's platform and decide your entry price.
5. Place An Order
After having the investment strategy in place, choose the number of shares you want to buy and select the type of order you would like to place (e.g., market order, limit order, stop order). Before the trade is executed, review and confirm the details, including the price, number of shares, and total cost. Once you have double-checked everything, you can confirm your order.
6. Monitor Your Investment
After the trade is executed, monitor your investment and consider setting up alerts or notifications to stay informed about changes in the stock price or market conditions.
It's important to remember that online brokers may charge fees for trades and other services, so it's essential to understand the charges before using the platform.
Pros & Cons Of Coinbase Stock
Now that you know how to trade Coinbase stocks, let's take a look at some of the pros and cons of buying Coinbase stocks.
Pros
Coinbase is one of the world's largest and most well-established cryptocurrency exchanges.
The exchange has reported strong revenue growth in recent years and has a healthy balance sheet.
Coinbase was one of the first cryptocurrency exchanges to be established and has a large user base.
Cons
The cryptocurrency market is known for its volatility, and Coinbase's stock price is likely to be affected by fluctuations in the value of cryptocurrencies.
Cryptocurrencies and their exchanges are still not fully regulated, which could lead to changes in laws and regulations that could negatively impact Coinbase's business.
The Bottom Point
The expansion of the cryptocurrency market may influence investors' decisions to invest in Coinbase stock.  However, like any investment, it comes with risks, and it is important to consider these before investing. It's also crucial to research and understands the company, its financial performance, and market trends and consults with a financial advisor before making investment decisions.
Risk Disclaimer
StockHax strives to provide unbiased and reliable information on cryptocurrency, finance, trading, and stocks. However, we cannot provide financial advice and urge users to do their own research and due diligence.
Read More