This website and its content are not intended to provide professional or financial advice. The views expressed here are based solely on the writer's opinion, research, and personal experience, and should not be taken as factual information. The author is not a financial advisor and lacks relevant certifications in that regard. We highly recommend consulting a qualified financial advisor before making any investment decisions, as the information presented on this site is general in nature and may not be tailored to individual needs or circumstances.
Atlassian Corporation is a leading software company that helps empower teams worldwide to work smarter and more effectively. The firm has created an intuitive suite of collaboration tools and project management software.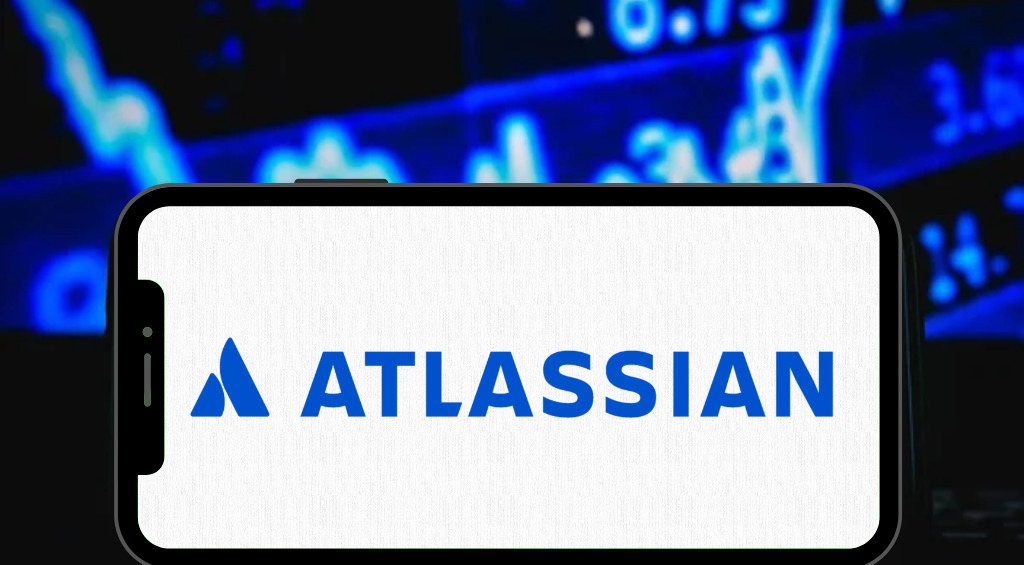 TEAM has revolutionized how teams communicate, share ideas, and deliver work. Today's world continues to become more fast-paced and interconnected, with more companies opting for remote work setups.
Atlassian seems well positioned to take advantage of an increasing need for companies to communicate and connect efficiently when their staff may be scattered throughout various continents.
The company was founded in 2002 and is based in Sydney, Australia. Atlassian went public on December 10, 2015, on the NASDAQ exchange.
TEAM Stock Key Features
Strong revenue growth: TEAM's revenue grew by 34%, from $2.09 billion in 2021 to $2.80 billion in 2022, and is expected to grow by 25.2% and 19.3% in 2023 and 2024, respectively.
High-margin subscription business: Atlassian's subscription revenue made up 72% of its total revenue stream in the third quarter of 2023, up 67% from the previous year. Subscription revenue has a higher gross margin than other revenues, such as maintenance and perpetual license.
Positive earnings surprise: TEAM has beaten earnings estimates for the last four quarters in a row, with an average surprise of 36.8%. For the last quarter, the company beat earnings by $0.21 or 63.6%. Revenue also beat estimates by 1.9%; Q3 revenue reached $915 million, up 24% over the previous year.
Innovative product portfolio: The company offers a range of software products for teams to collaborate, build software, and serve customers better. Products include Jira Work Management, Jira Service Management, Jira Align, Confluence, Trello, Bitbucket, Sourcetree, Bamboo, Opsgenie, Statuspage, Halp, and more.
Scalable solutions for all business sizes: Atlassian's software solutions are scalable to various businesses, from startups to large corporations. The company provides flexible pricing plans and customizable features. Businesses can tailor their specific needs and scale as their operations expand.
TEAM Stock Over the Years – Review
The Atlassian stock price has increased in value overall, going from around $60 in May 2018 to $158.88 at the time of writing. The price return equals 164.8% over the past 5 years. However, it's been a rollercoaster ride, with price action seeing a high of $483.13 in October 2021 and a recent low of $113.86 in November 2022.
The main factors driving these price swings have been company earnings reports, product launches, acquisitions, or the industry landscape. An example would be when Atlassian announced its partnership with Slack in 2018, the stock price went from $64.43 to a new high of $98.21 in the space of 10 weeks.
TEAM Stock in 2023
TEAM stock opened the year at $131.91 and reached a YTD high of $188.57 in February. Since then, the stock price has retraced somewhat, reaching $128.02 in May before heading north again. The stock is currently trading at $158.88 at the time of writing.
So far this year, TEAM's stock performance compared to the S&P 500 has been positive. We see that the S&P 500 is up by 7.2% since the start of 2023, while TEAM stock is up 20.5%. TEAM outperformed the S&P 500 by 13.3%.
TEAM Stock in 2022
2022 was a negative year for TEAM stock prices, as share prices entered a prolonged bear trend, with continuously lower lows and highs. The company lost $38.2 billion in market capitalization. The stock price went from $380.43 in January 2022 to close the year at $128.68, equal to a drop of 66.2%.
Revenues increased by $710 million from the previous year to $2.8 billion. However, earnings fell into negative territory for the first time since 2019, showing a loss of $77.7 million.
TEAM Stock in 2021
TEAM stock had a remarkable year in 2021, going from $234.50 at the beginning of the year to close in December at $381.29. Most of the gain was achieved in the last half of the year when it went from $270.87 in July to reach its all-time high of $483.13. The total gain for the year was 62.6%.
Revenues increased in 2021 to $2.089 billion from $1.614 billion in 2020 or 29.4%. Earnings also increased over the same period, going from $47.3 million in 2020 to $143.8 million in 2021 for an increase of 204%.
TEAM Stock in 2020
In 2020 TEAM shares had a consistent and outstanding performance. Share prices opened at $122.56 and, after a dip to a year low of $118.48, rallied throughout the year to end at $233.87. The bull run equals a return of 90.2%
Revenues and, especially, earnings were also in line with the company's share price performance. Earnings grew by an impressive $65.4 million, going from a loss of $18.1 million in 2019 to a profit of $47.3 million in 2020. Revenues grew by 33.4%, from $1.21 billion in 2019 to $1.614 billion in 2020.
TEAM Stock in 2019
TEAM shares had a positive 2019, going from $89.05 at the open to end the year at $123.04 for a 38.2% increase. TEAM stock reached its high for the year in July when it briefly touched $149.80.
Revenue increased by $329 million or 37.3% going from $881 million in 2018 to $1.21 billion in 2019. On the other hand, earnings showed a sharp decline going from $12.2 million in profits to losses of $18.1 million.
Investing in Atlassian shares provides a way to participate in the potential growth of the company and the possibility of positive returns for your investment. Here are several ways you can invest in TEAM shares.
TEAM Stocks: You can buy TEAM shares through a stock exchange; this is the most straightforward method to invest in the company's potential profits. You can open an account with a brokerage firm like eToro and buy the shares at the current market price.
Mutual Funds: Mutual funds pool money from many investors to create a diversified portfolio of stocks. You can search for a fund that also invests in TEAM shares. At the same time, you also benefit from a diverse portfolio of stocks managed by professionals.
Exchange Traded Funds (ETFs): ETFs are similar to mutual funds but trade on an exchange and are usually easier to buy and sell. You can look for an ETF that also invests in TEAM stock, allowing you to benefit from a diversified portfolio and the flexibility of buying and selling shares.
Crowdfunding: Crowdfunding isn't so common for well-established companies like Atlassian. But some platforms allow investors to come together to produce enough capital to invest in private companies or startups.
Futures & Options: These two derivatives allow investors to gain exposure to the price returns of TEAM stock without holding the underlying shares. Futures and options carry a high amount of leverage and are generally used for hedging or speculation.
Another option for buying TEAM shares is through eToro; here's how to invest in 5 easy steps.
If you want to buy TEAM stock, you have different options to choose from, such as investing platforms or online brokers. Either way, you should pay attention to the fees, taxes, and investment tools they offer. For example, let's look at eToro.
Step 1: Open an Account
Go to eToro's homepage and click on the Sign-up button. The registration page will appear in a few seconds. Fill in your name, email, and password. You can also create a profile using your Google or Facebook accounts.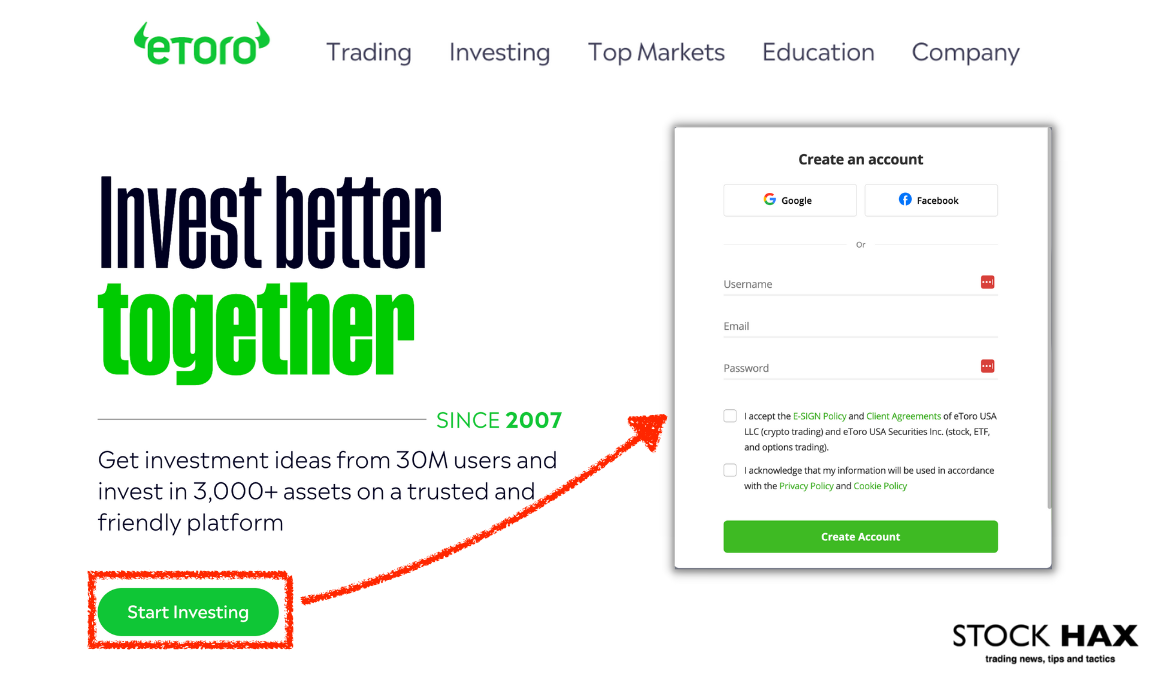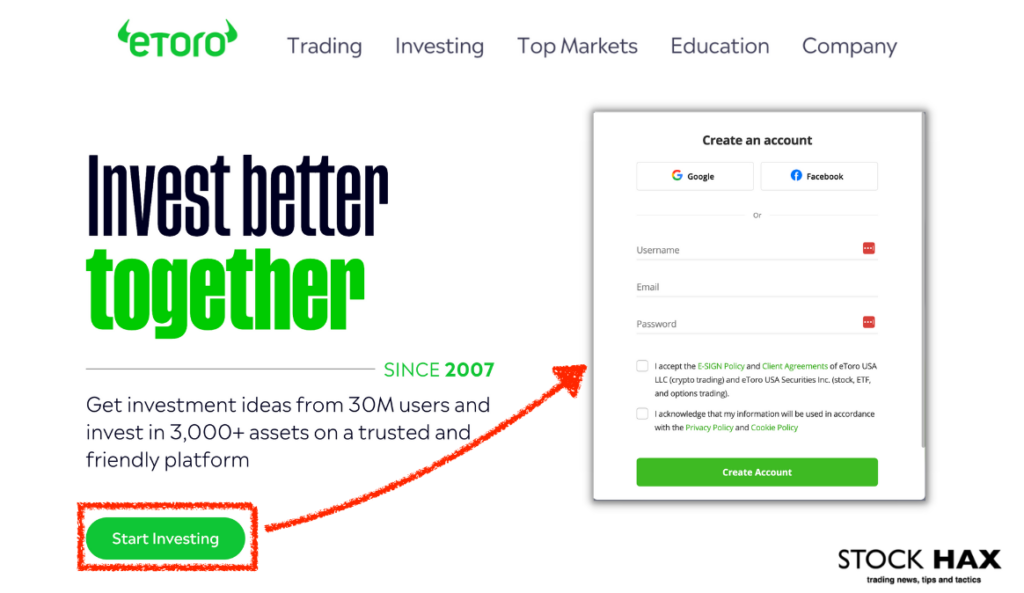 Step 2: Upload ID
In this step, you need to complete the identity verification process. You must upload a document that shows your identity (POI) and one that shows your address (POA). You can use an ID, passport, or driver's license as your POI. Your (POA) should have your full name, address, and date. And should also be at most 3 months old.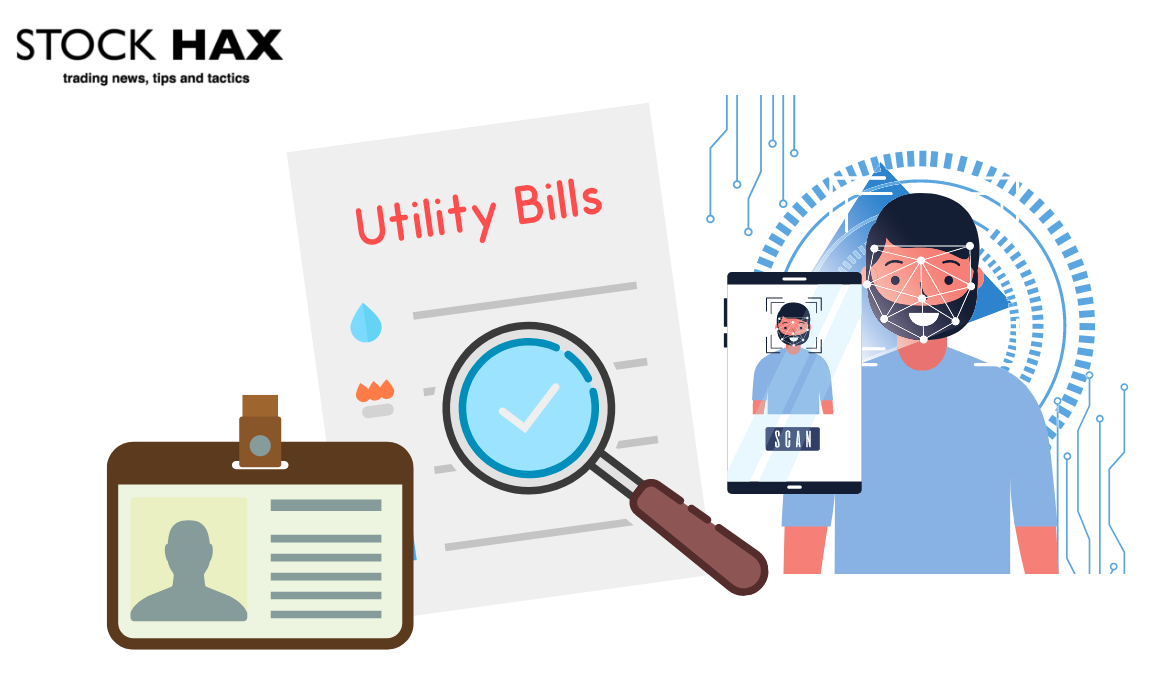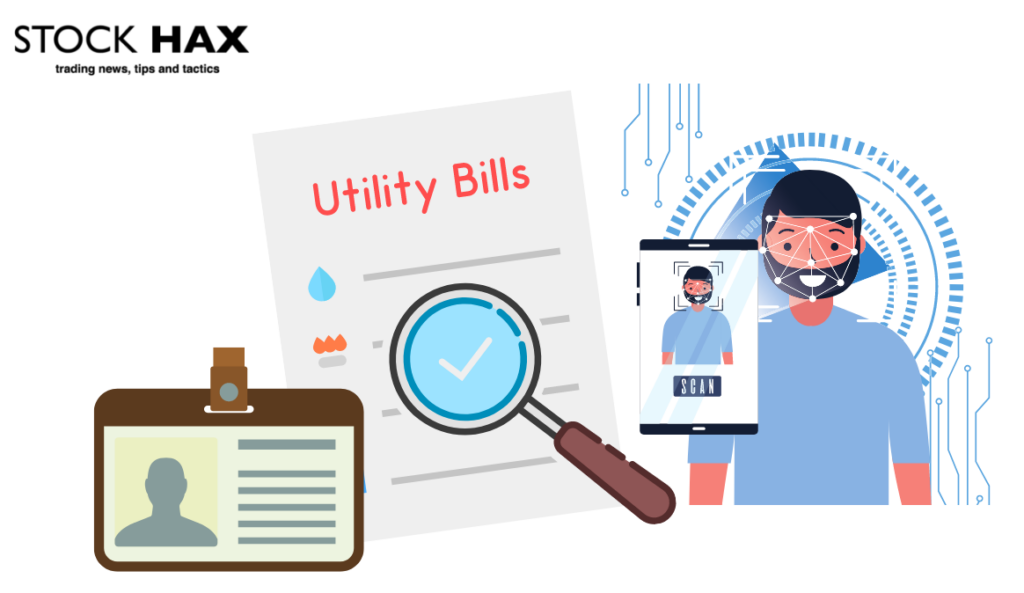 Step 3: Make a Deposit
Now that your account is verified, you can add money to your profile. To do this, go to eToro's menu and click the Deposit Funds button. Then, you choose how much you want to put into TEAM stocks, what currency you wish to use, and how you want to pay.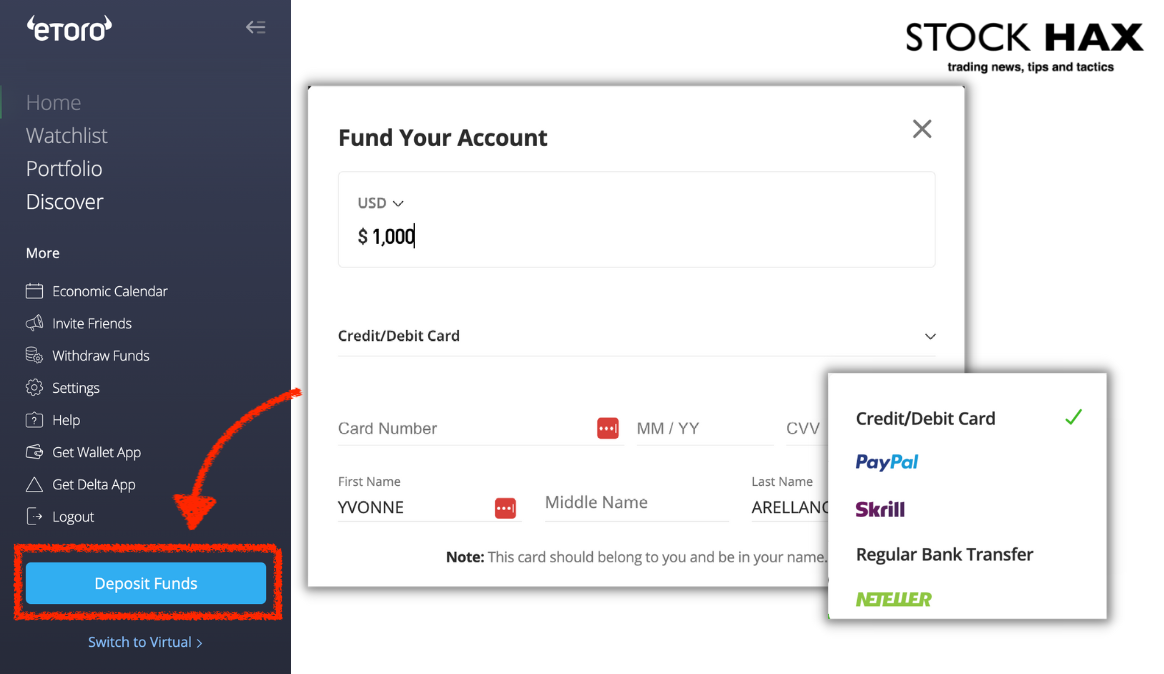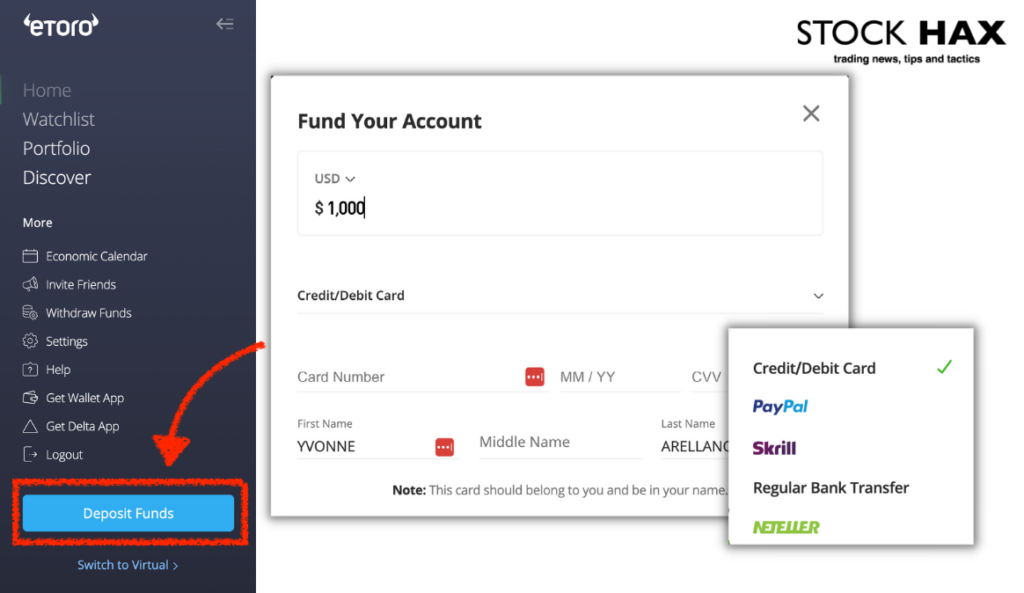 Step 4: Search for TEAM
To find the TEAM shares, type TEAM in the search tab. If you need clarification on the ticker symbol, you can also use the first letters of the company's name, and the perceptive platform will quickly show you the most relevant results.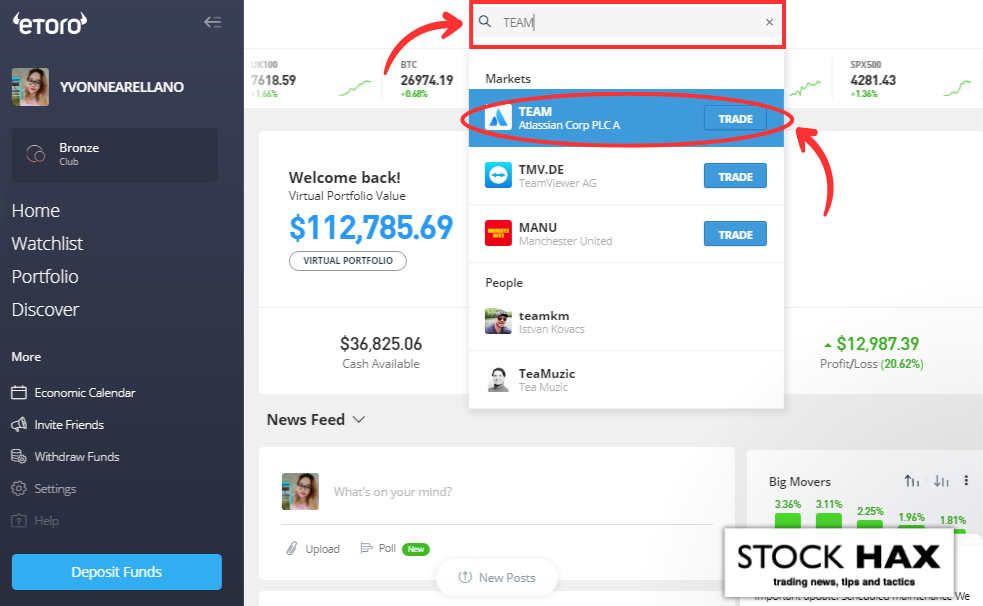 Step 5: Invest in TEAM
Once you pick TEAM, you can easily buy it on eToro. Just click on the Invest button and decide how much money you want to invest or the number of shares you want to get. When you finish the process, you'll see the new assets in your portfolio.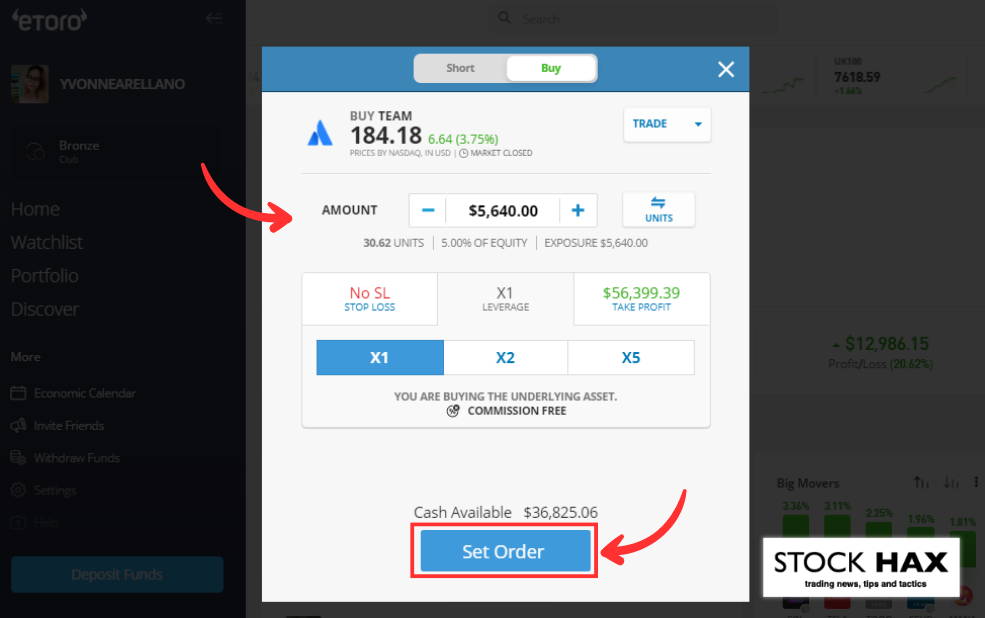 Summary
Atlassian Corporation is a leading software company that has revolutionized project management and team collaboration. The company offers an intuitive set of tools that focus on empowering teams to work more effectively.
The company's products are fully scalable, allowing companies of all sizes to access their services. The key features of Atlassian software include robust collaboration platforms, agile project management tools, and high-speed communication systems.
TEAM stock has experienced a fluctuating price trajectory but has achieved a positive performance over the past 5 years. Positive revenue growth and surprise earnings have helped maintain an upward trend.
Despite a tough year in 2022, TEAM stock price has outperformed the S&P 500 since the start of 2023. If you're interested in buying TEAM stock, you can explore online platforms like eToro for a seamless transaction.
FAQ
How can I stay updated on the performance of TEAM shares?
You can stay updated on the performance of TEAM shares by monitoring financial news, accessing the company's investor relations website, following relevant market indices, and using online platforms that provide real-time stock data.
What are the long-term growth prospects for TEAM as a company?
Assessing the long-term growth prospects of TEAM involves considering factors such as industry trends, the company's competitive position, product and service pipeline, financial performance, and management's strategic plans. It may also be helpful to analyze analyst reports and forecasts.
Does Atlassian pay dividends on its shares?
Atlassian Corporation doesn't currently pay any dividends.
What factors should I consider before investing in TEAM shares?
Before investing in TEAM shares, it's important to consider factors such as the company's financial health, industry trends, competitive landscape, and any potential risks associated with the investment.
Can I invest in TEAM shares through a retirement account, such as an IRA or 401(k)?
Yes, it's possible to invest in TEAM shares through a retirement account like an Individual Retirement Account (IRA) or a 401(k), provided your retirement account allows for individual stock investments. You may need to work with your retirement account provider or custodian to determine the specific investment options available and the process for investing in individual stocks like TEAM.
What are the advantages of investing in TEAM shares through eToro?
eToro offers several advantages for investing in TEAM shares. These include a user-friendly platform, fractional share investing, access to research tools, and a social trading community where you can interact with other investors.
Are there any fees associated with investing in TEAM shares through eToro?
eToro doesn't charge any fees for buying and selling stocks like TEAM; they earn commissions through the bid-offer spread. But they may charge other fees like overnight fees for leveraged positions. It's important to review eToro's fee structure to understand the costs involved before making investment decisions.
Can I trade TEAM shares outside of regular market hours on eToro?
eToro generally allows the trading of TEAM shares during regular market hours and pre-market and post-market hours.
Risk Disclaimer
StockHax strives to provide unbiased and reliable information on cryptocurrency, finance, trading, and stocks. However, we cannot provide financial advice and urge users to do their own research and due diligence.
Read More