This website and its content are not intended to provide professional or financial advice. The views expressed here are based solely on the writer's opinion, research, and personal experience, and should not be taken as factual information. The author is not a financial advisor and lacks relevant certifications in that regard. We highly recommend consulting a qualified financial advisor before making any investment decisions, as the information presented on this site is general in nature and may not be tailored to individual needs or circumstances.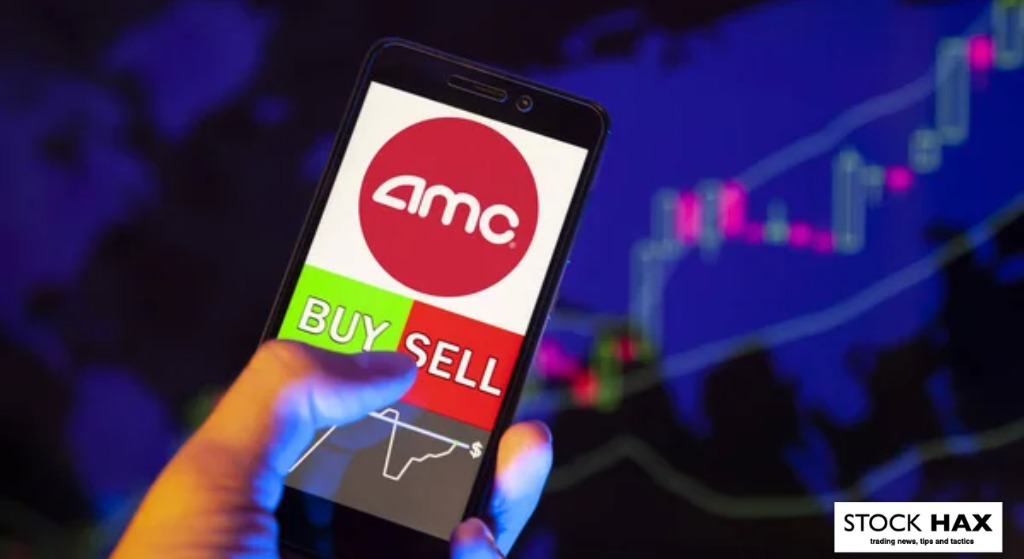 AMC is an American company that operates a global chain of movie theaters. Founded in 1920, AMC has been a part of Hollywood from the very beginning, with one of the most recognizable brands in cinema. Currently, AMC is the largest movie theater chain in the world, with more than 900 theaters worldwide.
While the firm underwent significant financial trouble during the Covid pandemic, it also saw its stock become a darling of retail traders, which helped the firm stave off bankruptcy and restructure its operating plans. Recently, AMC has experimented with dynamic pricing, subscription models, and payments via cryptocurrency in order to accelerate a path toward growth.
AMC Stock Key Features
AMC stock comes in two forms, traditional stock with the ticker AMC and APE AMC stock, which are preferred shares with the ticker APE. The two are theoretically equivalent, and the distinction only exists due to rules limiting how much traditional stock the company could sell. In practice, APE shares trade at a discount.
AMC shareholders can receive certain perks, like a free popcorn at AMC theaters and access to exclusive NFTs.
AMC has been at the forefront of trying to upend the traditional movie theater business model, which has largely stalled in terms of growth. Inspired by the short-lived MoviePass, AMC has experimented with subscription-based models for its tickets.
In the past, the AMC stock has been subject to huge swings as retail traders pile into the shares. AMC was one of the original 'meme stocks', which found huge popularity during the Covid pandemic.
AMC's executive team has leaned into the stock's meme status, with CEO Adam Aron calling himself 'The Silverback' in recognition of AMC's passionate fans, who call themselves 'apes.'
AMC Stock Over the Years – Review
Over the last five years, AMC stock has fallen by a total of 50% due to competition from streaming services and financial difficulties associated with the Covid pandemic. As services like Netflix, HBO Max, and Disney Plus have gotten ever more popular, the frequency of people going out to the movies has continued to decline.
This dynamic created a secular headwind for AMC, and for movie theaters as a whole. The acute difficulties of the pandemic only exacerbated these issues. Although AMC was struggling to fill seats pre-pandemic, ticket sales all but stopped during Covid, pushing AMC into severe financial distress.
AMC Stock in 2023
In 2023, AMC has performed fairly well, rising more than 19.50% since the start of the year. AMC has a beta of greater than 1, meaning it tends to be more volatile than the overall market, so it makes sense that the stock rose greater than the 15% that the S&P 500 has risen.
While AMC's net income is still in the red, with the firm unable to turn a profit, its losses did decline in the first quarter of 2023. This fact likely gave shareholders some optimism for a turnaround. Still, considering the firm's financial situation, it could be acutely exposed to further interest rate increases from the Federal Reserve, which may increase AMC's interest expense.
AMC Stock in 2022
In 2022, AMC stock fell by more than 70%, cratering back to earth from the dizzying heights it achieved as a meme stock in 2021. It's important to be cautious about reading too much into such volatile price behavior, which is likely to reflect naïve trading rather than any changes in fundamental information.
The Federal Reserve's interest rate hikes over the course of 2022 certainly played a role in the fall of the stock. Meme stocks, like AMC, are a sign of the speculative excess in markets that rate hikes are supposed to quell. Therefore, it's unsurprising AMC fell as it did in 2022.
AMC Stock in 2021
In 2021, AMC entered its meme stock era, climbing from a price of around $2 at the start of the year to around $20 by the end of the year. Over the course of 2021, the stock would climb as high as about $60, even as the firm posted some of its worst losses in history.
While there have been many arguments about what drove the stock price increase, including discussions of short squeezes or option hedging activity, it certainly was not AMC's financial position. During 2021, as the pandemic raged, many of its theaters were shut due to social distancing requirements.
AMC Stock in 2020
In 2020, AMC fared very poorly, falling by nearly 70%. Given how strongly AMC's business model was affected by the pandemic, this is unsurprising. In particular, AMC struggled with liquidity issues over the course of 2020, causing it to seek new sources of financing during this time period.
Liquidity issues are always an alarm bell for investors, so such problems likely helped cause an exodus from the stock. At one point, the company admitted that there was substantial doubt it would even be able to remain in business. While the company did eventually survive, 2020 in particular is responsible for many of the firm's lasting troubles.
AMC Stock in 2019
In 2019, AMC had a very difficult year, falling by about 50%. The firm posted losses in three quarters during the year, which drove investors away from the stock. Since 2019 was the last pre-pandemic year, these difficulties cannot be attributed to Covid.
Rather, 2019 was a manifestation of the secular difficulties movie theaters have struggled with in the new era of streaming. As an activity, going out to the movies is far less popular than it used to be. Movie theaters like AMC have yet to come up with a viable business strategy to combat this trend, although not for lack of trying.
Adding AMC to your portfolio is very similar to adding shares of other companies. Since AMC's shares trade on the New York Stock Exchange, its stock can be purchased through nearly any online broker or stock trading platform.
AMC is relatively unique, though, in that it has two sets of stock that are basically equivalent. Somewhat confusingly, AMC the company has a common stock with the ticker AMC and a preferred stock with the ticker APE. The preferred stock was created to have the same contractual rights as the common stock, however, so they are economically equivalent. The preferred stock exists to get around corporate limitations on the amount of traditional stock that AMC could sell, as well as, perhaps, to motivate retail enthusiasm around the ticker APE.
Judging by its higher price, however, the traditional AMC stock is more popular, so we will focus on those shares in this article. It's possible to go the traditional route and purchase AMC to add direct exposure to the company, but there are other options to get exposure to AMC. For instance, AMC's experiments with accepting payments in cryptocurrency have earned the firm a spot in the SoFi Web 3 ETF, which has ticker TWEB. Similarly, Charles Schwab holds AMC in its Crypto Thematic ETF, ticker STCE.
However, it may be difficult to find a mutual fund with significant exposure to AMC. For liquidity and tax reasons, however, many prefer ETFs to mutual funds anyway.
While it's possible to add AMC to your portfolio through many different online brokers, one of the easiest and most intuitive platforms to use is eToro.
Choosing a broker is an important decision that can impact your portfolio performance, so it's important to consider potential fees, commissions, and restrictions associated with any platform. eToro is a broker well-known for being reliable and easy to use, so we will use it to walk through the AMC stock picking process.
Step 1: Open an Account
To start, you'll need to open up an account with eToro. Go to eToro's home page and click the Sign-up button. When you reach the registration page, enter your name, email, and password. To make the process easy, eToro also allows you to sign up through an existing Facebook or Google account.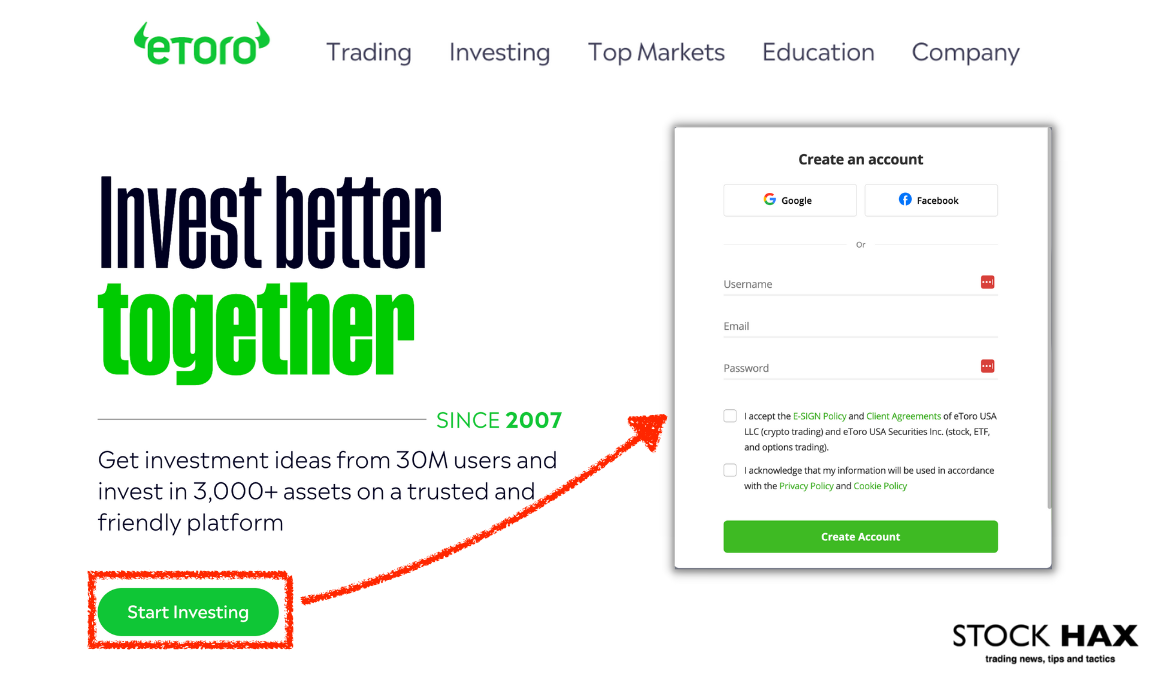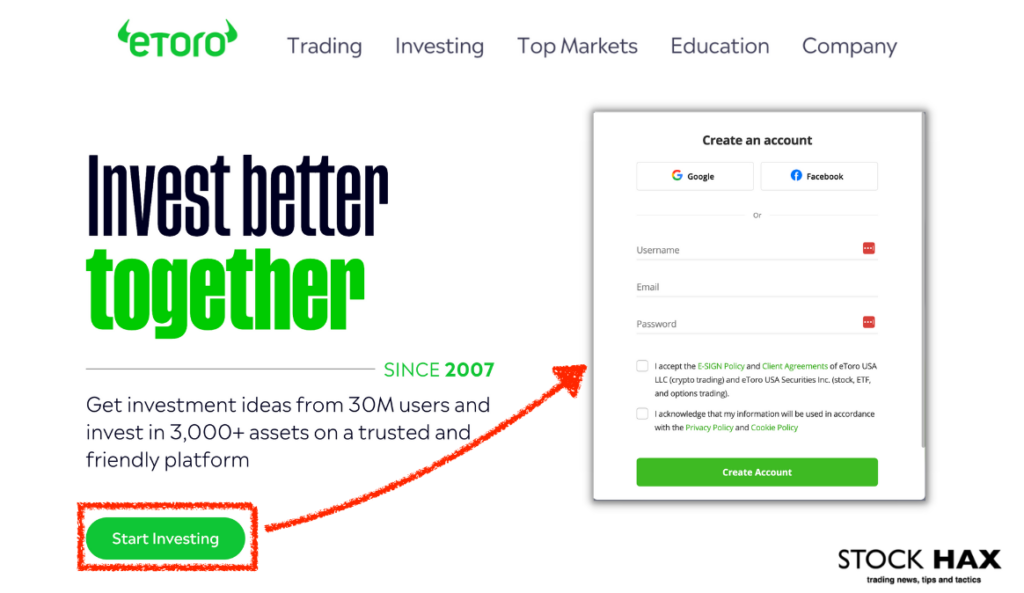 Step 2: Upload ID
Next, you'll need to upload a proof of identity and a proof of address. A proof of identity can be any standard government-issued ID, including a passport or a driver's license. A proof of address, meanwhile, will need to contain your full name, address, and a date within the past three months.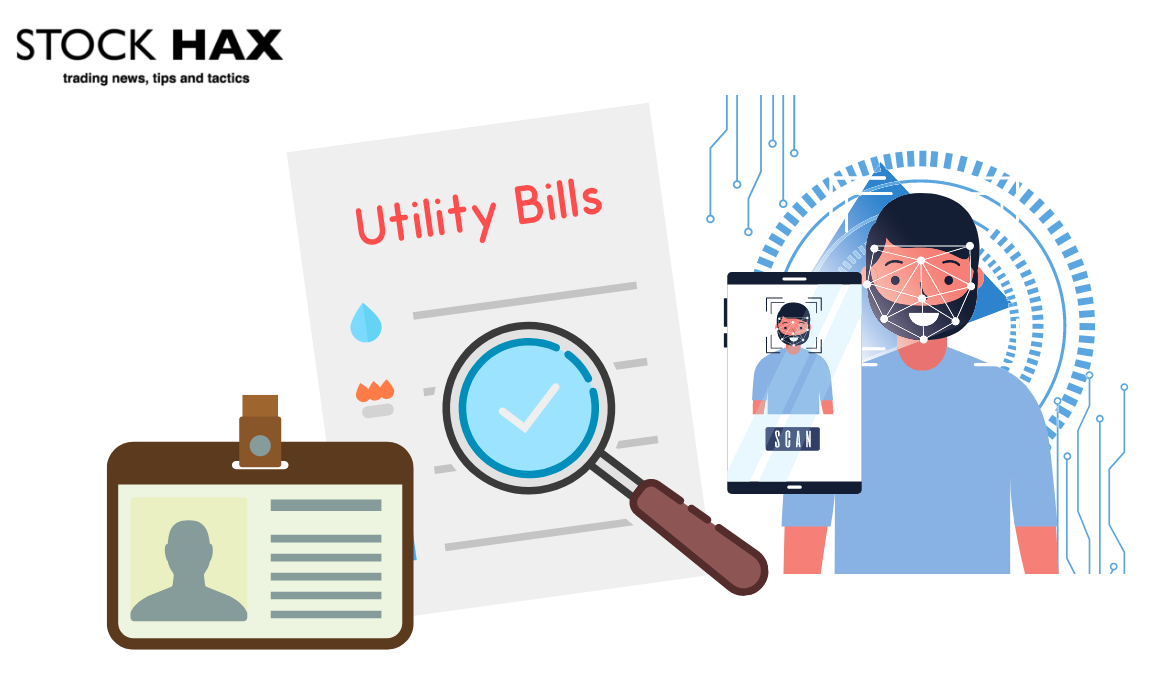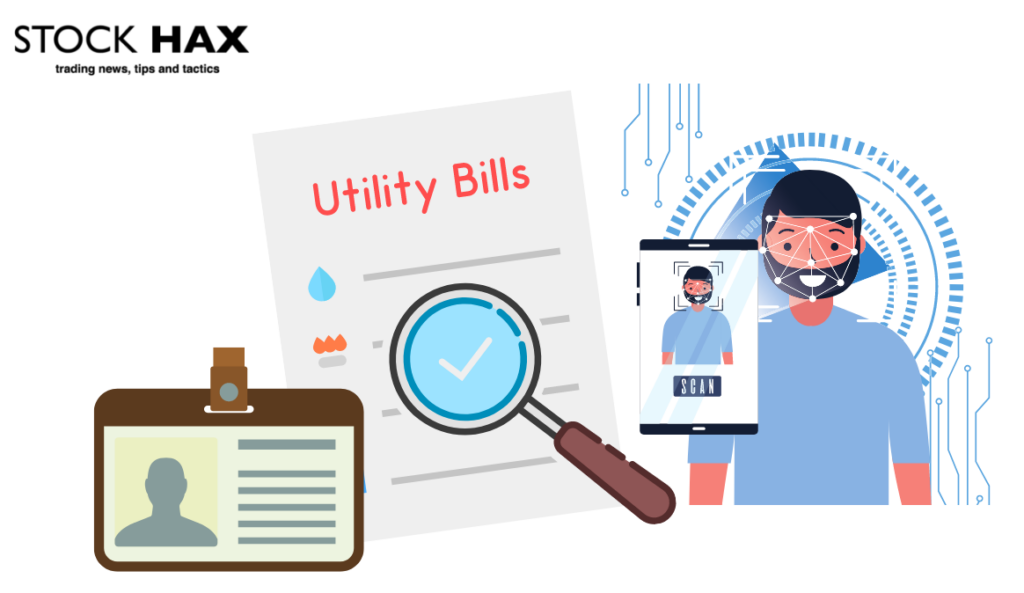 Step 3: Make a Deposit
Once you've verified who you are, you need to fund your account in order to trade. Open eToro's menu and navigate to the Deposit Funds button. Once here, eToro will present you with a list of options for funding your account. You can easily transfer funds via a bank transfer, credit card, mobile wallet, and more.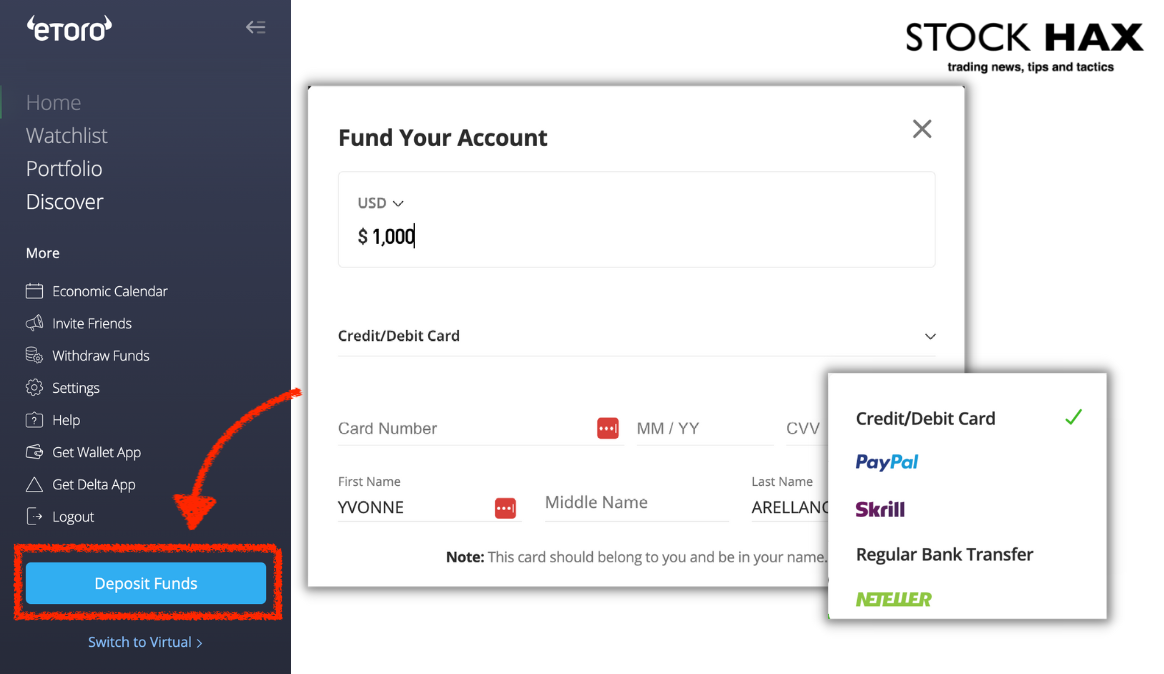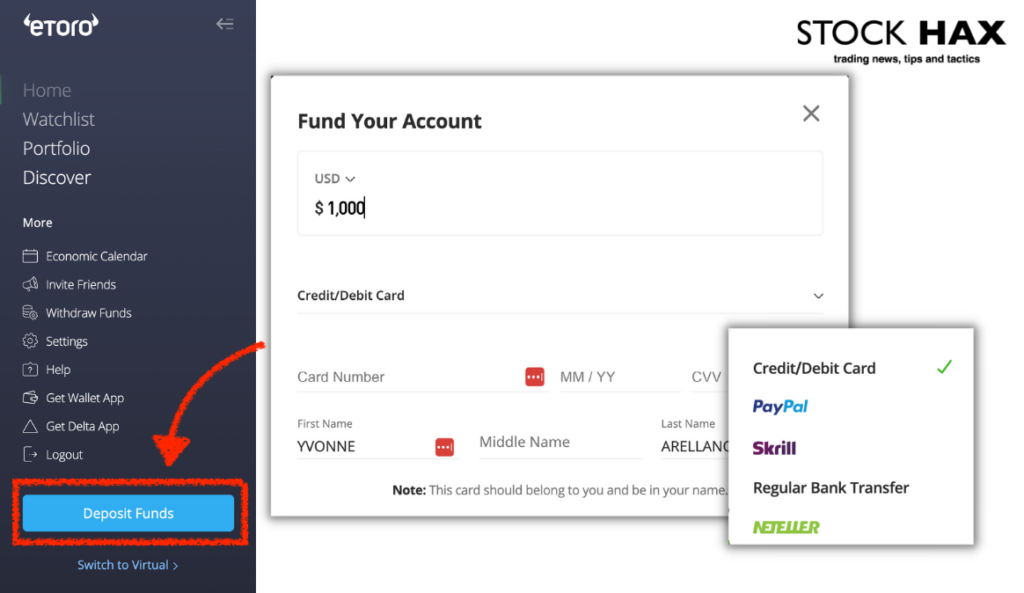 Step 4: Search for AMC
Next, search for AMC shares. Luckily for us, AMC's name is the same as its ticker, so we won't easily forget the stock. Type AMC into the search tab and the stock will appear for us.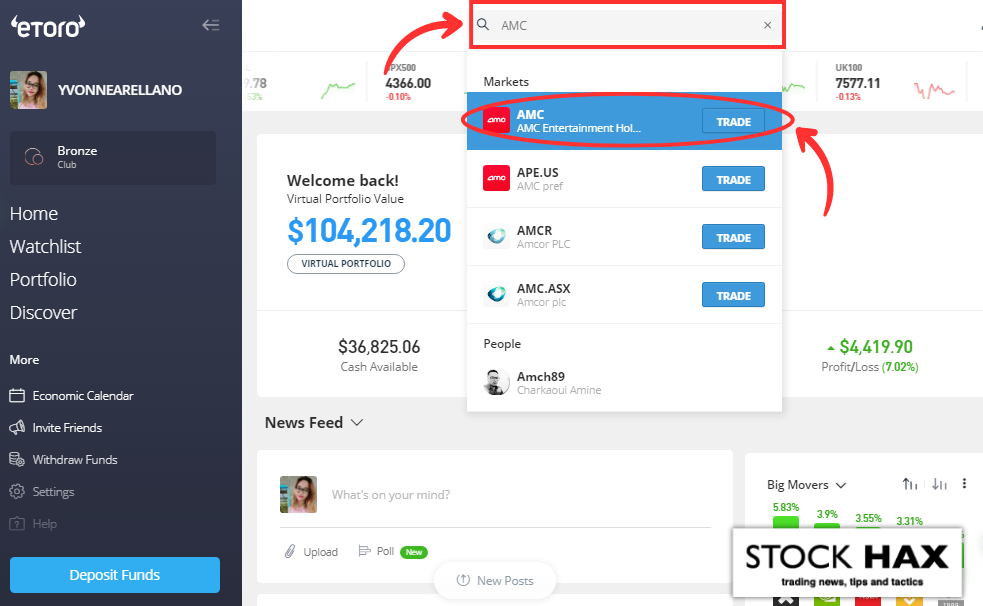 Step 5: Pick AMC
Once you've selected AMC stock, you can finalize your purchase by pressing the Invest button and selecting the number of shares you'd like to buy or the amount of money you'd like to allocate. Once the process is complete, the stock will appear in your portfolio.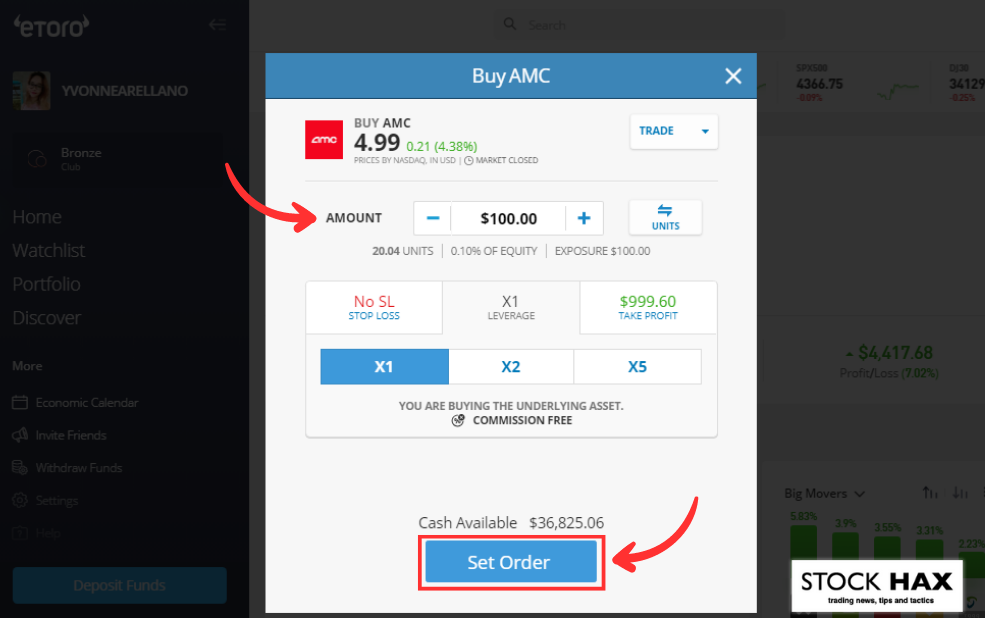 Summary
In this article, we've reviewed a recent history of AMC stock, described some of its key features, and analyzed the difference between AMC shares and APE shares. Finally, we walked through a simple way to invest in the shares through the online broker eToro.
Whether or not making an investment in AMC is a wise financial decision is ultimately up to you. But with the information presented here, you'll be well on your way to making that decision and setting up your portfolio as intelligently as possible. For further information on AMC stock, see below for some answers to frequently asked questions about the stock.
FAQ
Will AMC stock rebound?
It's difficult to say whether or not AMC stock will rebound. The firm has undergone severe financial difficulties due to the pandemic, and the long-term rise of streaming appears to be here to stay. With that being said, AMC was the subject of retail enthusiasm once, so it's entirely possible that such an event occurs again.
AMC is making strides to expand the traditional business model of movie theaters, most notably by incorporating subscription plans and dynamic pricing into its ticketing system. Whether or not this will be enough to turn the firm around is up for debate. Be sure to conduct thorough research to determine the firm's prospects before making any decisions.
Will AMC ever squeeze?
Due to retail stock enthusiasm in 2021, some short sellers may have suffered losses as the price of the stock climbed higher and higher. However, it is difficult to say the exact extent to which short interest in the stock continues to be sizable enough to trigger a 'short squeeze.'
A short squeeze describes a situation in which short sellers are forced to buy back their positions at ever-increasing prices, driving the stock higher and higher. Since 2021, some traders have been expecting an AMC rally to trigger a new short squeeze, which could send the stock even higher. However, there's uncertainty surrounding such an event.
Will AMC survive?
AMC will likely survive, but its long-term troubles could eventually catch up to it. Since the firm managed to survive the worst of Covid by sourcing new liquidity facilities, it seems unlikely that a post-pandemic world would end up killing AMC. With that being said, some business problems are slow-moving, and the results are not always visible for many years.
Consider that if AMC goes under, the firm may continue to operate in some capacity, even while equity holders lose their investments. Therefore, expectations of continued operation are no guarantee for stockholders in the world of corporate restructurings.
Will AMC and APE merge?
While there are agreements in place that AMC and APE will merge, they have been subject to repeated legal action which has significantly slowed down the process. While the two stocks could merge eventually, there is no guarantee for when that process will take place.
Risk Disclaimer
StockHax strives to provide unbiased and reliable information on cryptocurrency, finance, trading, and stocks. However, we cannot provide financial advice and urge users to do their own research and due diligence.
Read More