This website and its content are not intended to provide professional or financial advice. The views expressed here are based solely on the writer's opinion, research, and personal experience, and should not be taken as factual information. The author is not a financial advisor and lacks relevant certifications in that regard. We highly recommend consulting a qualified financial advisor before making any investment decisions, as the information presented on this site is general in nature and may not be tailored to individual needs or circumstances.
Uber Technologies Inc. is a San Francisco-based global leader in ride-sharing and transportation that, through its mobile app, offers users a way to request rides and track their drivers' locations. Operating in over 10,000 cities across 71 countries, Uber has evidently disrupted traditional taxis and car rentals, becoming a dominant force in the industry.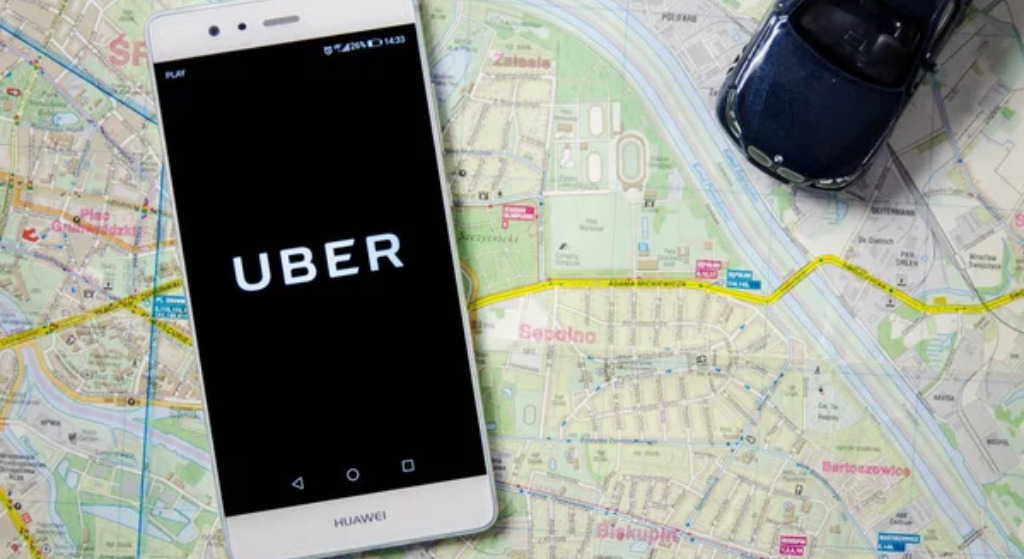 Since its IPO in May 2019, Uber's stock has garnered significant investor interest. However, the stock appears to be very volatile as there have been some challenges regarding regulatory hurdles, profitability concerns, and competition. Nonetheless, Uber seems resilient enough to keep evolving and diversifying into different industries. Specifically, it has invested in digital food delivery through Uber Eats as well as in autonomous vehicles.
In this post, we intend to show you how you can buy the stock but also provide insights into Uber's stock price movements through the "Review" section.
Let's get started…
UBER Stock Key Features
First, let's consider some key features of the company so we can better understand what the status of its business is:
Because of its innovative mobile app and advanced logistics algorithms, the company has revolutionized the way people commute and travel. This technology has the potential to reshape the transportation landscape. However, this industry can attract a lot of competition very fast.

Uber's stock stands out due to the company's global presence, operating in numerous countries and cities worldwide. This extensive reach provides investors with exposure to diverse markets and many growth opportunities. Uber's ability to tap into different customer bases and adapt to varying regulatory environments contributes to its long-term growth potential.

The company also capitalizes on a network effect, wherein the value of its service grows with an increasing number of drivers and riders who join the platform. Such a virtuous cycle can attract more users and drivers to Uber, fostering significant growth and market dominance.
Additionally, there could be more value in the business because of Uber's diversification beyond ride-sharing into the online food delivery market through Uber Eats. Obviously, this expansion provides investors with exposure to the growing sector of food delivery as well.

Last, Uber's strategic focus on autonomous vehicle technology positions the company at the forefront of transportation industry advancements. With significant investments in developing self-driving cars for its ride-sharing fleet, Uber anticipates increased operational efficiency and cost savings. As autonomous technology continues to evolve, Uber's stock holds the potential for increased value, driven by the promising benefits of autonomous vehicles.
UBER Stock Over the Years – Review
Uber's stock price has been very volatile since the company went public, but as it stands, it's only 1.4% down from its IPO price. But let's have a look at the sharpest price swings in order to understand what drivers could be moving the stock price all of these years…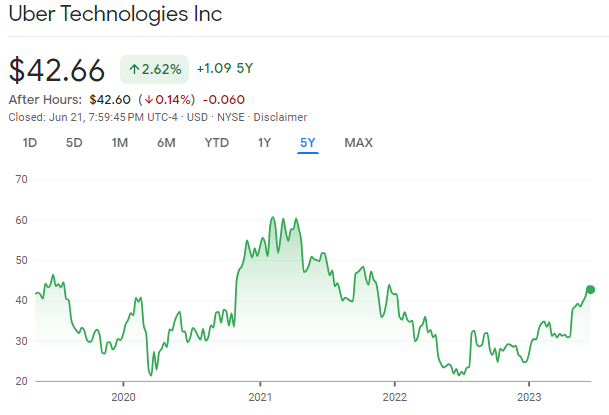 UBER Stock in 2023
May 02: Uber's stock witnessed a surge of 11.55% following its surpassing of Q1 revenue expectations and the optimistic projections of robust bookings growth throughout the remaining year.
Feb. 08: In the aftermath of Uber's fourth-quarter results, which showcased better-than-anticipated revenue and substantial growth in bookings, the shares went up by 5.53%.
UBER Stock in 2022
Nov. 01: UBER experienced a surge of approximately 15%, following the announcement of revenue performance for the latest quarter, which reflected an increase of over 70% compared to the previous year, surpassing the expectations of Wall Street. This improvement was driven by double-digit growth in both customer numbers and trip volume.

Oct. 11: The stock price went down by more than 10%, likely because of the uncertainty over potential changes in the employment status of the company's drivers.

Aug. 02: The company's shares experienced a 15% surge, which followed the release of second-quarter results that exceeded expectations and showcased positive free cash flow.

May 24: Uber fell by 9.4% after Analyst Nikhil Devnani from Bernstein initiated coverage with an Outperform rating and a revised price target of $35, lowered from $45.
UBER Stock in 2021
Nov. 26: The stock price experienced a decline of around 6% after a court ruling mandated that the company cease the majority of its ride-hailing operations in Belgium.

Aug. 04: Following the release of Uber's second-quarter report, which revealed adjusted EBITDA losses higher than anticipated due to driver incentives, its shares plunged by as much as 8% during after-hours trading.
UBER Stock in 2020
Sep. 28: In premarket trading, Uber's shares surged by 5.89%, following a favorable court ruling in London, allowing the company to retain its license.
May 07: Shares surged by 9.3% as Uber's management revealed during the Q1 earnings call that rides have witnessed consistent week-over-week growth for the previous three weeks.
UBER Stock in 2019
Nov. 25: In premarket trading, Uber's shares dropped by 6.4% after receiving news that it has been stripped of its license to operate in London for the second time in a span of two years.

Nov. 04: Following the release of the Q3 report, the stock price declined by 3.9%. While the report surpassed EPS estimates, it fell short of revenue expectations.
Investing in UBER is a straightforward process. To get started, you'll need a brokerage account or a bank account that supports stock trading and provides access to UBER. If you don't have either, then you can sign up for an account completely online. Well-established brokers include Interactive Brokers, Fidelity, eToro, and Charles Schwab.
If you're currently without a broker, we recommend considering eToro. We have found it to be user-friendly enough to make it a fitting option for new traders.
eToro not only provides an intuitive platform, but it also offers a wide range of securities beyond stocks. These include CFDs, forex, commodities, cryptocurrencies, and ETFs, allowing for diverse investment opportunities.
Now, let's walk you through the process of opening an account on eToro and purchasing UBER.
The process of buying stocks is more or less the same across brokerage platforms. Even if you don't sign up to eToro, the guide below will give you an idea of what needs to be done in order to get from registering an account to having the shares you want in your portfolio.
Step 1: Open an Account
To get started, visit the eToro website and locate the "Sign-up" button. Clicking on it will take you to the registration page, where you'll be asked to provide some personal information like your name, email address, and a password. However, eToro also offers the convenience of creating a profile by linking your existing Facebook or Google accounts.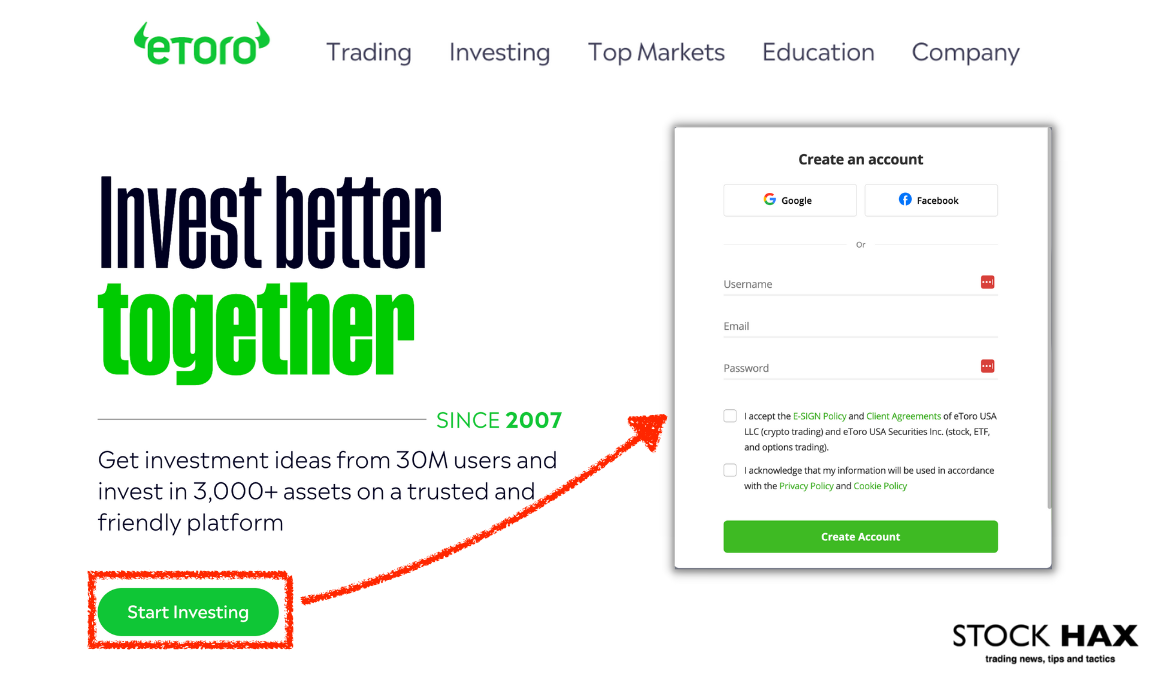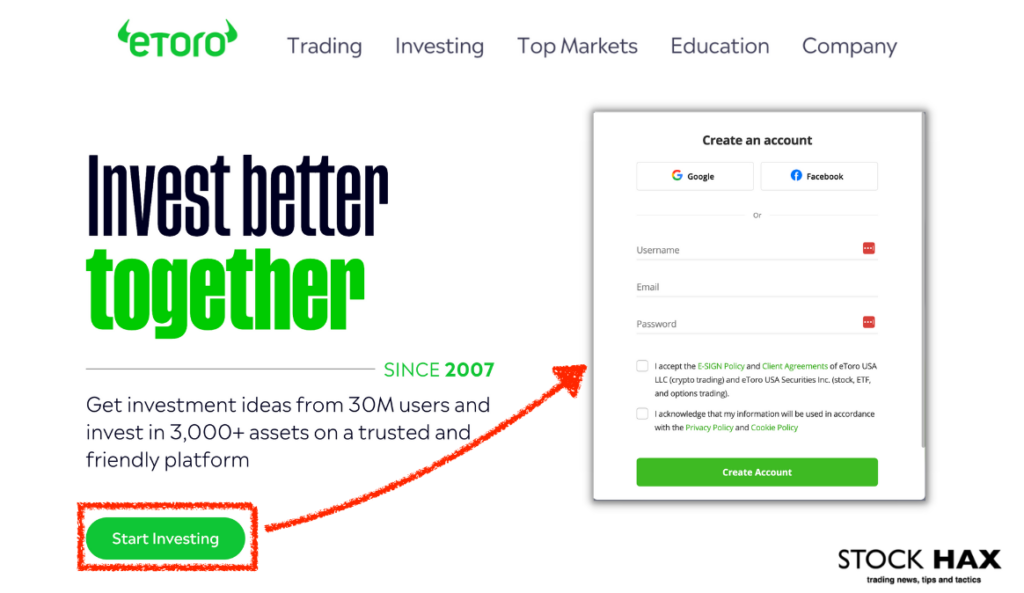 Step 2: Upload ID
Next, you will need to undergo the process of identity verification. This involves submitting documents for proof of identity (POI) and proof of address (POA). Acceptable forms of POI include passports, ID cards, and driver's licenses. The POA document should clearly show your full name, address, and a recent date of issuance, preferably within the last three months.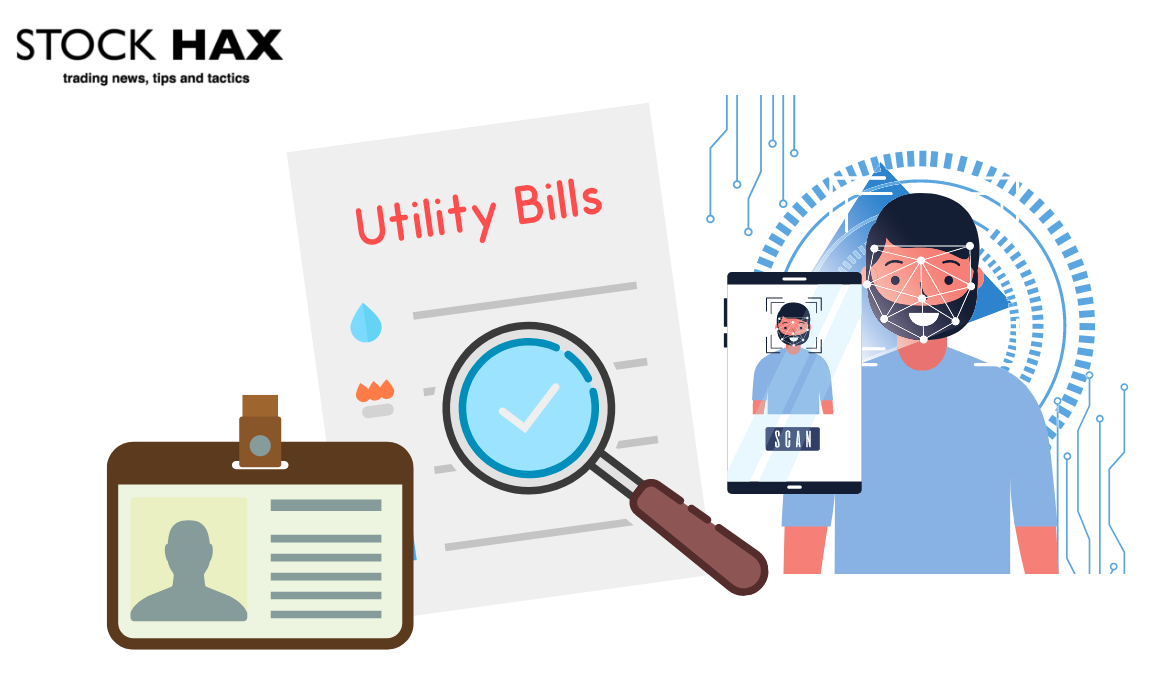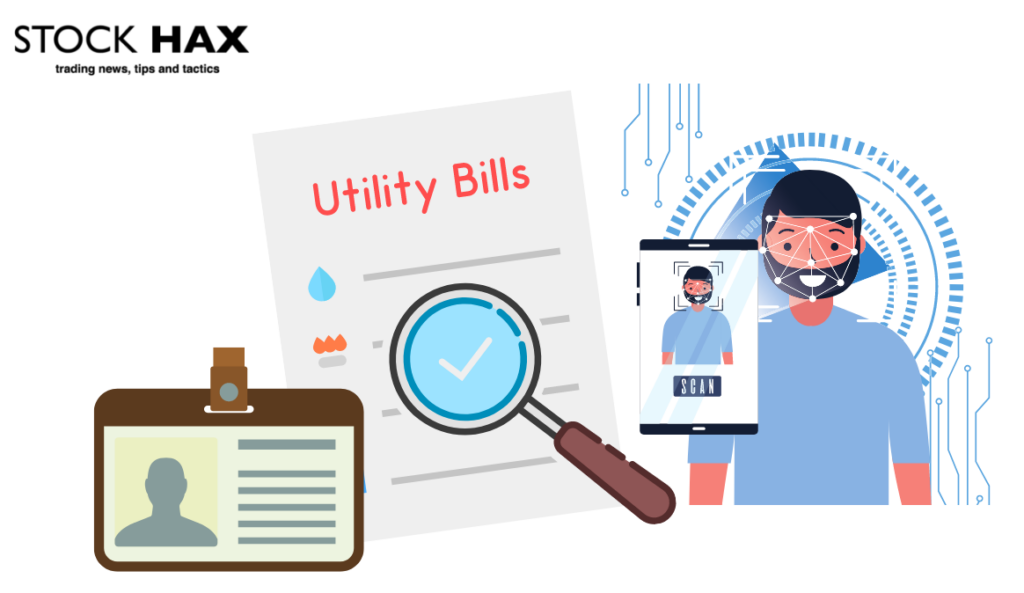 Step 3: Make a Deposit
Once your account verification process is successfully completed, the next step is to fund your eToro account. To do this, navigate to the menu on eToro's platform and locate the "Deposit Funds" button. Clicking on it will allow you to select the desired amount you intend to invest in UBER, specify the currency, and choose your preferred payment method.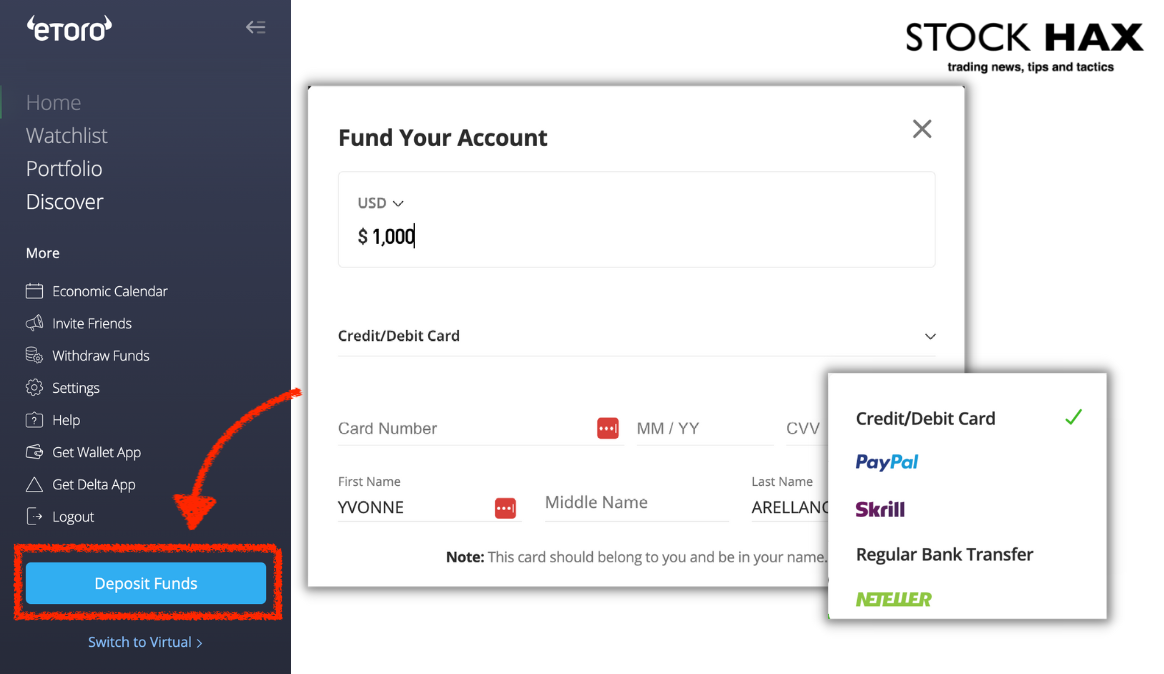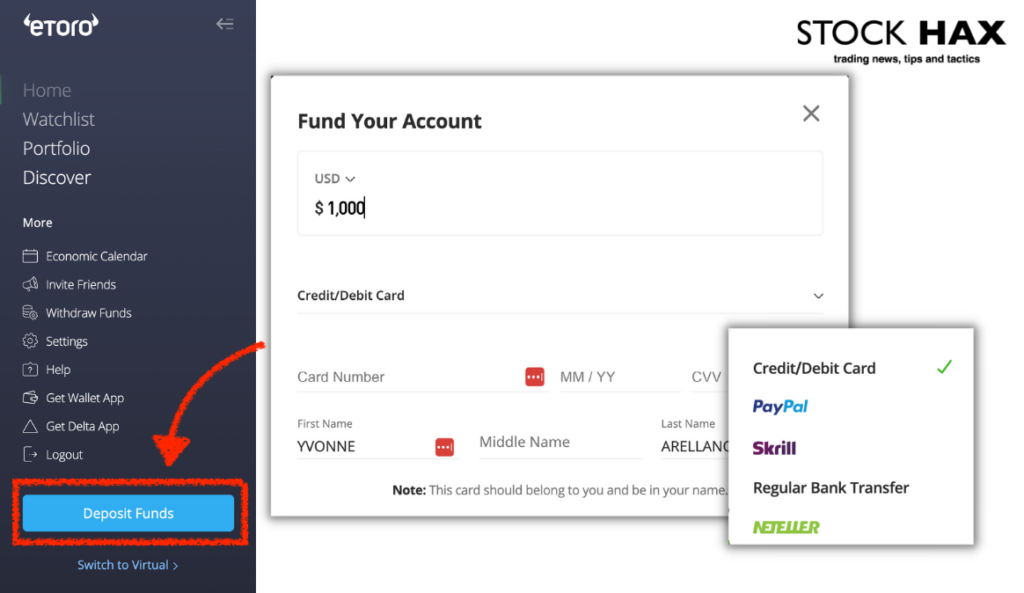 Step 4: Search for UBER
To find Uber's stock on the eToro platform, simply enter "UBER" in the search tab. It's important to note that for any other stocks you may be interested in purchasing in the future, if you are unsure of the ticker symbol, you can type in the initial letters of the company's name, and the platform will present the most relevant results. This feature makes it easier to navigate and explore different stocks and ETFs fast.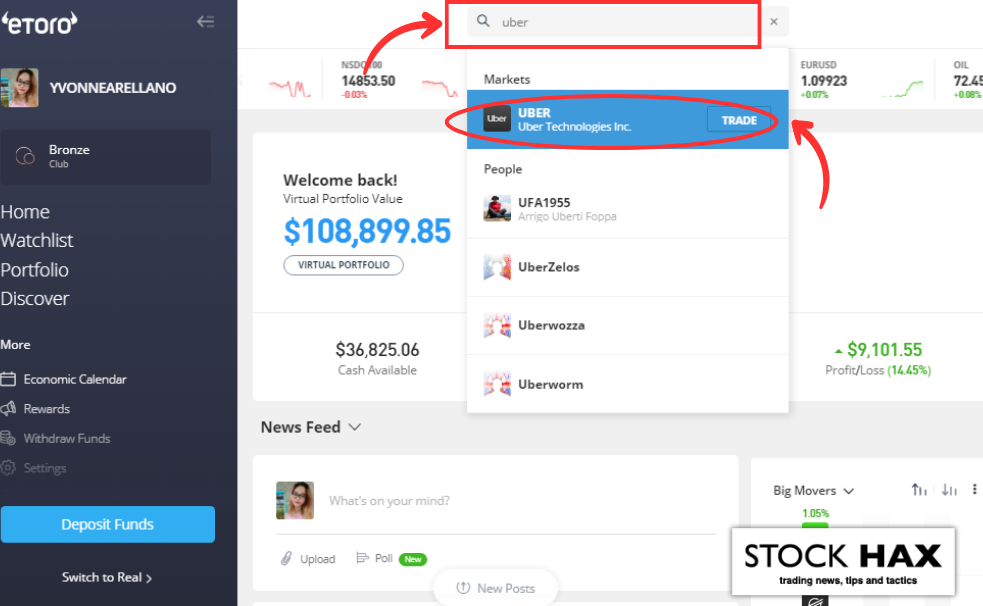 Step 5: Invest in UBER
Last, after you have selected UBER on the eToro platform, you can proceed by clicking on the "Invest" button located in the upper right corner. From there, you can specify the desired amount you want to be invested or the number of shares you wish to purchase. Afterward, you will be able to view your newly acquired UBER shares in your portfolio.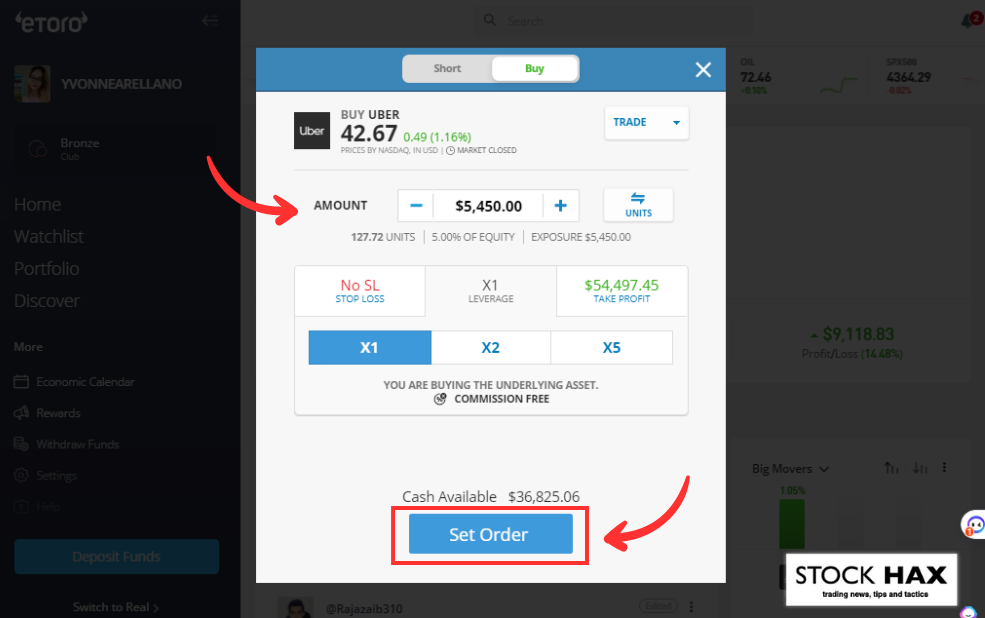 Summary
As you can see, investing in UBER can be simple. What's a bit more complicated is assessing if this is the right investment decision. It's easy to think that just because Uber plays a very important role when it comes to the growth of the industry, investing in its stock is going to yield outsized profits. And yet, reality can and often disappoints.
That is why we wanted to give you the historical context of the stock price behavior as well. Though the stock price seems to be in line with the IPO price level right now, it's difficult to know if it's the right moment to invest. One should take time to look into potential catalysts after understanding what past events seem correlated to the one-day sharpest price movements. This may provide the insight necessary to at least avoid trading the stock during unfavorable periods.
However, when it comes to investing for the long term, you should also do some fundamental analysis as well. In fact, that will be more relevant to you than understanding potential catalysts for short-term price swings. So, take the time to assess the company's profitability, financial health, growth prospects, and valuation. Talking to your financial advisor is also a good idea before you invest to get a professional opinion. After all, this article wasn't to offer you any advice and nobody should interpret it as such.
FAQs
What is the price-to-earnings ratio (P/E ratio) of Uber?
Currently, Uber has a non-GAAP P/E ratio of 41.18 times based on its forward EPS and current price. Interestingly, the sector median has one of 17.26 times, making the stock seem overvalued right now.
What does Uber do?
Uber is a technology-based transportation company that operates a mobile app connecting riders with drivers, offering a convenient and reliable way to request and provide transportation services.
What is the target price for Uber stock in 2023?
According to the predictions of 40 analysts, the median target price for Uber Technologies Inc over the next 12 months is $48, which suggests a potential increase of 16.59% from the current price of $41.17. The highest estimate is $75 and the lowest is $32.50.
What impact has the COVID-19 pandemic had on Uber's stock?
Initially, the COVID-19 pandemic severely impacted Uber's business as lockdowns and travel restrictions led to a significant decline in ride-hailing demand. Consequently, the stock experienced a sharp decline in early 2020. However, as vaccination efforts progressed and economies started recovering, Uber's stock gradually recovered as well.
Is UBER undervalued?
Uber doesn't seem to be undervalued when compared to its sector. First of all, its FWD P/E ratio is 41.18 while the sector median is lower at 17.26. More so, its FWD P/S ratio is 2.34 and the sector median is 1.34. Last, its TTM P/B ratio is at 11.70 while the sector scores one of 2.67.
Risk Disclaimer
StockHax strives to provide unbiased and reliable information on cryptocurrency, finance, trading, and stocks. However, we cannot provide financial advice and urge users to do their own research and due diligence.
Read More