This website and its content are not intended to provide professional or financial advice. The views expressed here are based solely on the writer's opinion, research, and personal experience, and should not be taken as factual information. The author is not a financial advisor and lacks relevant certifications in that regard. We highly recommend consulting a qualified financial advisor before making any investment decisions, as the information presented on this site is general in nature and may not be tailored to individual needs or circumstances.
This article guides users about the advantages of hiring a financial advisor in NYC and lists top financial advisors.
Whether you've been in New York City for years or have just moved into the city, you will need help picking the financial advisor appropriate for your distinct requirements. You need to study your main concerns in financial planning before choosing an advisor.
New York City is famous for its well-known Wall Street, an accepted center of the US financial industry. It hosts financial giants like the New York Stock Exchange, as well as all major banking and financial advisory companies. It has all the major players in the US financial market. This ensures that the big apple has something to cater to the most common financial needs.
If you are in the market for a financial advisor, it is only sensible to start your search for a financial advisor in this financial hub. You can opt for multiple strategies to help you pick amongst the multitude of financial advisory firms, and you can choose according to your needs. These would be firms with the highest number of assets under management, which is also called the AUM. 
The AUM tells us the current market price of assets the firm administers for its clients. The higher the AUM, the more comprehensive the range of services clients will get.
The Benefits of Hiring a Financial Advisor in New York City
A well-structured investment portfolio is the basis of future wealth. However, no matter how well-structured a portfolio is, it can quickly become useless if it is not planned according to your tax events, estate planning, and retirement plans. Investment management must factor in taxes, estate management, retirement plans, and insurance requirements.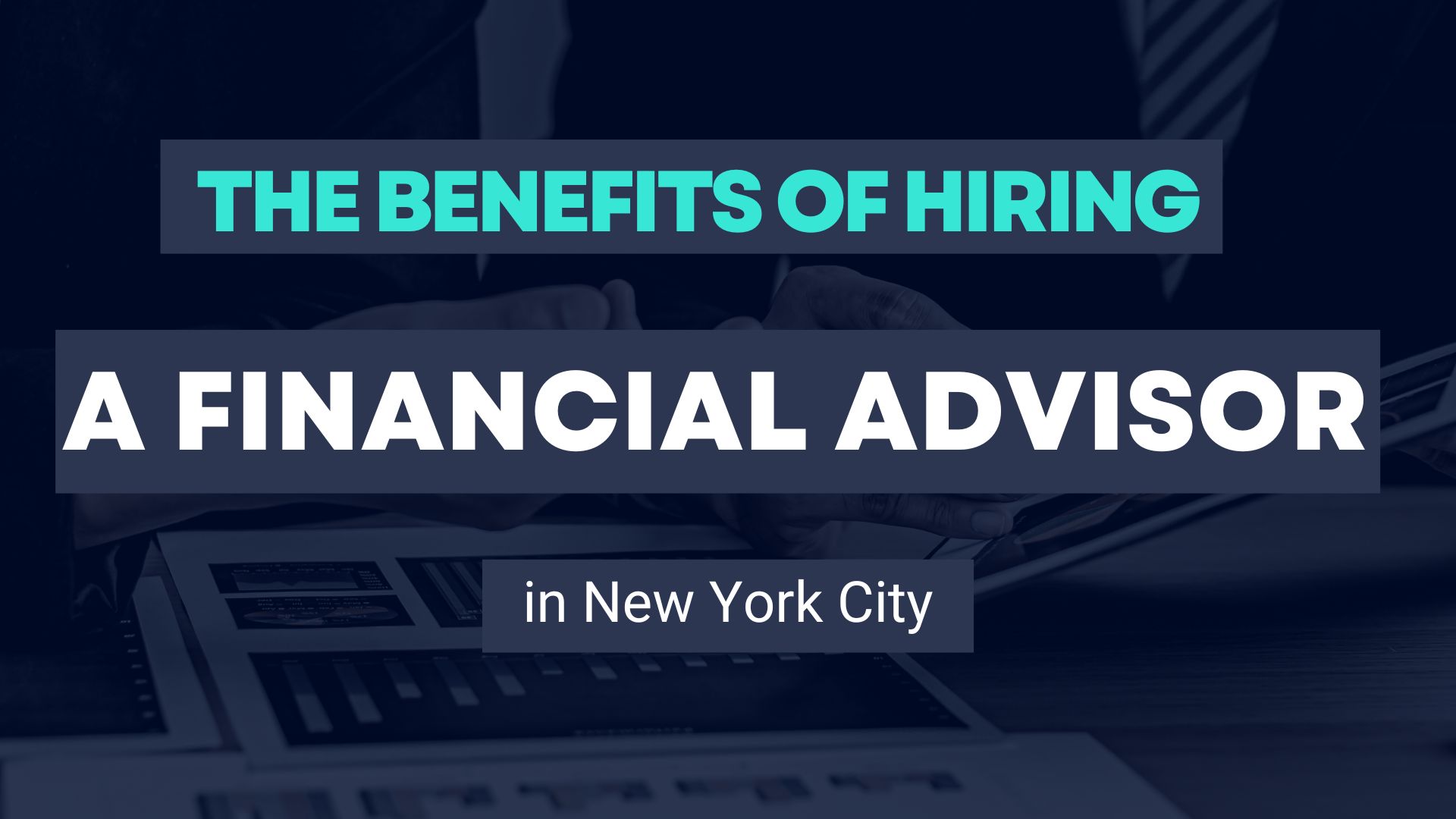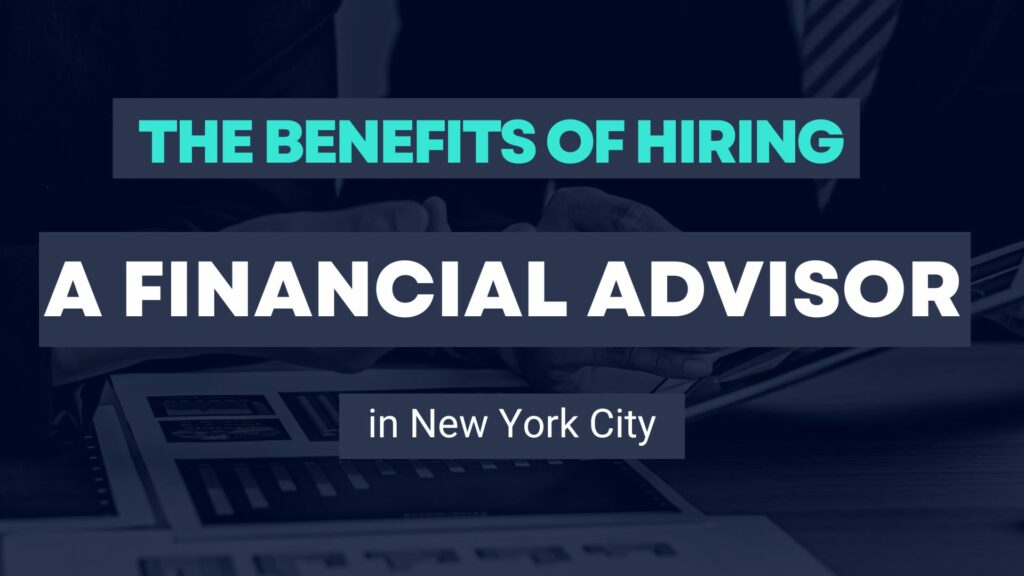 Hiring a financial advisor is a great decision, as this should help you design a compelling long-term investment strategy. Advisors help formulate a strategy to help build a portfolio designed to meet specific financial goals. For instance, they will help you plan appropriately for retirement. However, if you pick an advisor that doesn't suit your needs, you can spoil your investment prospects.
As a resident of New York City, engaging with a financial advisor who also lives in the city and knows the local economy, living expenses, and employment situation can be very effective, especially if your financial situation is deeply linked to these factors.
How to Hire a Financial Advisor in New York City
You need to follow a few basic steps to hiring a financial advisor. These are standard steps that many people would already be following on a commonsense basis.  
1. Decide What Service(s) You Need
Since financial advisors come in different specialties and services, you need to know what you need from your financial advisor. This could be a full-service wealth management or an investment management plan that will address a specific need like tax management or estate services. Many people usually go to a financial advisor to plan their retirement, but that is just the bare basics of what the advisor can do for you.
To figure this out, list what you need help or guidance with and then pick your financial advisory options.
The following is a list of services financial advisors can give their clients.
Financial budgeting and money planning
Debt repayment planning
Insurance management
Retirement plan design
(Stock market) investment
Inheritance management
Estate management
Tax and earnings management
This list shows how much value an appropriately selected financial advisor can offer. The appropriate financial advisor can assist with the overall financial planning (if needed.) this means that they can help you manage all aspects of your short-, medium- and long-term financial life. This means that getting advice from the appropriate financial advisor can help you cut down on financial and tax costs, increase your returns and make more strategic investment decisions.
The right financial advisor ideally helps to protect your capital and grows it enough to make it a legacy for your heirs.
2. Assess Your Financial Capacity and Preferences
Now that you know the range of options you can utilize, go through the charges and commissions that financial advisors apply. You must evaluate which fee structure and service option suits your needs and long-term goals. For instance, evaluate the fee structure that a financial advisor offers. Balancing the services you want and how expensive these services will be will help finalize the financial advisors you can pick.
If you want to hire a long-term financial advisor for multiple services, you can look or a financial advisor able to meet these requirements. Get the flat fee option if you just need one-time advice and want to do the rest yourself. The monthly subscription may suit you more if you wish for ongoing periodic support. 
3. Talk to Multiple Financial Advisors
Once you pick the service options and payment structures that suit your needs, you need to get in touch with some financial advisors and ask them some questions about your requirements.
Some common questions to ask a financial advisor:
Ask them about their range of services
Ask them about their payment options to get a clear idea of their fees
Ask them about their investment strategy
Ask them how they assess their investment performance
Ask them how they will communicate about your plan
Ask them how they will incorporate your specific instructions into your investment plan
Be prepared to converse with multiple advisors to get an idea of who and what strategy you prefer to work with. A blend of charges, services, and customer facilitation can help you to choose according to your needs.
4. Research their Credentials
Once you find a couple or more advisors that you feel are trustworthy enough to handle your financial assets, do some research into their credentials. This is a good practice to adopt, and it's also good to research the company and its background. This is possible by accessing the Investment Adviser Public Disclosure (IAPD) website.
Ideally, it can be helpful to look for information related to the financial advisor and the company, especially about any complaint filed on them or their company.
Finding an appropriate financial advisor is a puzzling task in any situation, but in a city as huge as NYC, this task is even more difficult. This is why along with the guide on shortlisting a financial advisor, they have listed the top ten financial advisory firms in New York City from smaller to the larger firm in terms of Assets under management. The information and values are taken from the US News article 10 Largest Financial Advice Firms in New York City
Wealthspire was started in 1995 and is a comparatively new financial advisory firm situated in midtown Manhattan. The firm has over 270 professionals and often works with young and newly registered small investment advisors.
This firm has no in-house financial products and doesn't offer in-house investments. It is more focused on providing advisory and planning services to its clients. It is more planning-oriented and bases its strategy on helping its clients plan for their financial future. It also operates offices in the East and West Coasts and has $18 billion of assets under management (AUM).
HSBC is short for The Hongkong and Shanghai Banking Corp. it was established in 1865 when it started operations in Hong Kong. Now its based in New York City. HSBC is a global financial service giant offering banking and investment facilities to more than 40 million clients based in 63 countries. Its primary clientele is individuals, but it also has charities and businesses as its clients.
HSBC's financial advisory services include wealth management and personal banking. It currently lists $640 billion as assets under management
A well-known name in financial advisory services, AllianceBernstein has more than 4000 employees and operates 51 offices in 26 countries on 6 continents. Its New York office is one of its four US corporate offices. AllianceBernstein has $735 billion in assets under management
Raymond James & Associates Inc.
Started in 1962, Raymond James & Associates Inc. offers its clients financial advisory services with multiple options. It has independent advisors that work in one of its branches with their separate clients. These Independent advisors use the company's financial products for their own clients.
Raymond James & Associates also has many institutional advisors and brokerage houses that use its asset management, financial planning, and investment solutions services. It has about 8,600 staff working as advisors all through the US and Canada. The company's financial advisors benefit from its equity research division which covers over 1100 companies in multiple sectors.
Raymond James & Associates has about $1.31 trillion in assets under management
Nuveen is an old player in the wealth management sector and has over 120 years of experience in asset management. The company is the biggest farmland investor globally as of 2021 and the top contributor to closed-end mutual funds (data released by Morningstar). The assets under the management of the company are about $1.2 trillion.
A well-known brand in the financial advisory industry for over 40 years. Morgan Stanley holds $1.4 trillion in assets in the 24 countries it works in. Most of these assets are placed in active fixed-income and liquidity investments. Clients can avail of advanced investment and wealth management services through the company's partnership with Eaton Vance.
Based in St. Louis, Edward Jones is located all over the USA and also operates in the Big Apple. The company has around 19,000 financial advisors working for it, and they handle over seven million clients. Edward Jones has been in operation for almost a century now. Its assets under management are $1.8 trillion.
Headquartered in Zurich, Switzerland, UBS is a giant in the financial advisory industry. The firm has offices all over the world. It operates four codependent divisions. These cover wealth management, banking, asset management, and investment banking. The company has $3.9 trillion in assets under management
Charles Schwab & Co. Inc.
Charles Schwab & Co., and TD Ameritrade (it bought in 2020), has a total of $7.3 trillion AUM. Schwab offers a range of financial advisory options. The firm offers personal investment and protfolio management facilities to people, financial advisors, as well as employers.
Its financial advisors are trained in Schwab's Financial Consultant Academy. After finishing the program, financial advisors start working with individuals and families in one of Schwab's offices across the US.
Fidelity Personal and Workplace Advisors
Fidelity Investments is the top financial advisory service in New York City, with over 40 million clients served through its investment services. The company offers individualized assistance through its 200 investor offices in the US. Alone, and phone assitance at a few of its area offices. Fidelity has $ 11.3 trillion in assets under management.
Risk Disclaimer
StockHax strives to provide unbiased and reliable information on cryptocurrency, finance, trading, and stocks. However, we cannot provide financial advice and urge users to do their own research and due diligence.
Read More